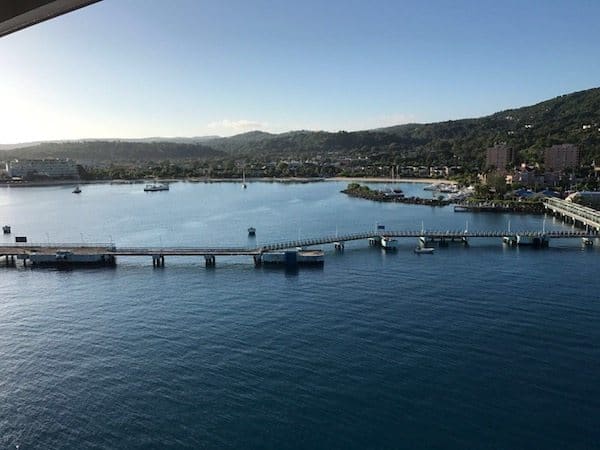 Today started with a knock on the door. Because we had to meet pretty early for today's first shore excursion, I didn't feel like making my way down to the buffet and dealing with all the other people wanting breakfast. Instead, I ordered room service, because I know I'm not alone in thinking there's no better way to kick off the day than with coffee on your balcony. And I also know I'm not alone in saying coffee is a morning must-have, balcony or not.
Speed Demon
I was pretty stoked about being in Ocho Rios, Jamaica, because I'd booked two shore excursions; neither of which I'd ever done and both of which I was excited about. I'm going to do a much more detailed review of both later on, but for now, let me give you my quick-hits take on Dunn's River Falls and bobsledding, two of the most popular excursions in Jamaica and with good reason.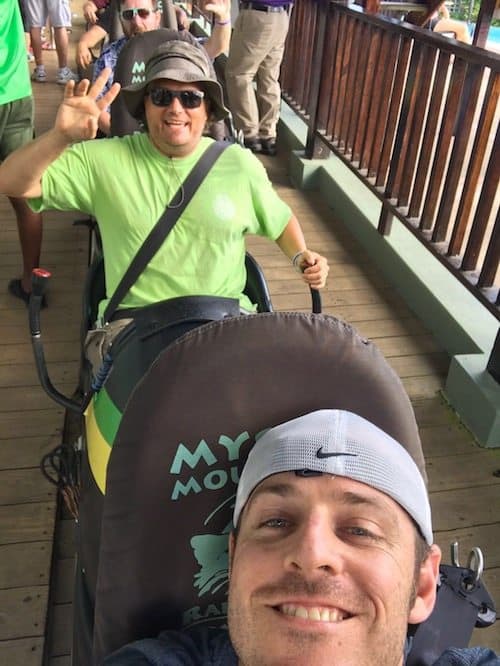 First up was bobsledding, which was about a five-minute bus ride away from where the Vista had docked. Upon arriving at Mystic Mountain, a sprawling park covering about 100 acres of rainforest. There, you take a ski lift up the mountain. Truth be told, this is pretty amazing in and of itself, offering an amazing view as you glide above the treetops and get a bird's-eye view of this unique ecosystem. Upon arriving at the top, you're strapped into a bobsled (which runs on a track), given a lesson on how to operate the brake and off you go, speeding through the jungle. Like I said earlier, I'll do a full review on this down the road, but suffice it to say for now that this excursion blew me away and ranks up there with the best land excursions I've ever experienced. I have no clue how fast I was going – you control your speed or lack thereof with the brake – but it was beyond exhilarating. The ride isn't incredibly long; lasting around a minute, and yet is something I'll always remember.
Once the ride is over, you hop back on the ski lift and enjoy the ride down the mountain, which is probably even more scenic than the trip up. The views are incredible. In fact, you could see the Vista while gliding down.
Walking on Water
Next up was Dunn's River Falls, which is one of the most popular excursions in Ocho Rios. Again, this was something that had been on my list for a while, but I'd never gotten around to it. (And like with the bobsledding experience, I'll have a full review on this at a later date.) Now, one thing to know is that you need to have closed-toe or water shoes in order to take part in this excursion. Apparently, someone didn't completely read the information when booking this adventure. Fortunately for that someone, this happens fairly often, so they happily sell you a pair of water shoes for ten bucks. (That someone was me).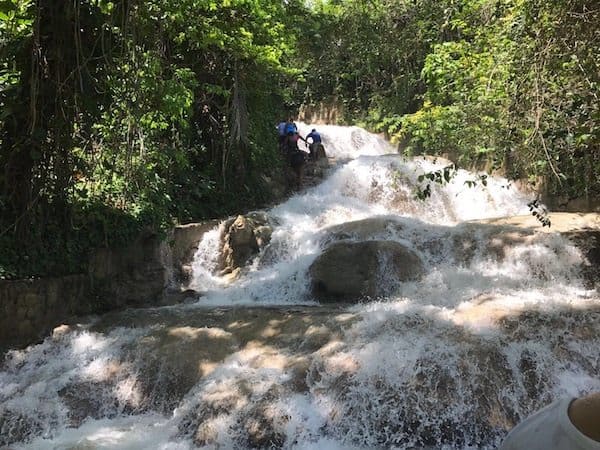 Starting at the bottom of the cascading falls, which look like a staircase, you are able to walk/climb up to the top, which takes around 60-90 minutes to do. It's harder than it looks, and can be pretty tiring, so there are points along the path where you can exit the rushing water and instead take an actual staircase. With pointers from our really friendly and helpful tour guide– who knew exactly what spots to avoid and what rocks were slippery – I stuck with it and made it to the top. While this wouldn't be a great excursion for anyone with mobility issues, there were people in our group that day ranging in age from 7-70, so it's definitely the kind of thing that brochures like to call "fun for the whole family."
Surf & Turf
Once we were back on the ship, it was time to get my lobster fix at the Seafood Shack. I'm not a big fan of mayo, so I tried to shake things up by having it made with butter this time. As you know, I've been trying to watch what I eat, and I'm not sure butter is much better for you than mayo, but it is what it is, right? For $12, you get two lobster rolls and a side of fries. For more on the Seafood Shack, read my review here.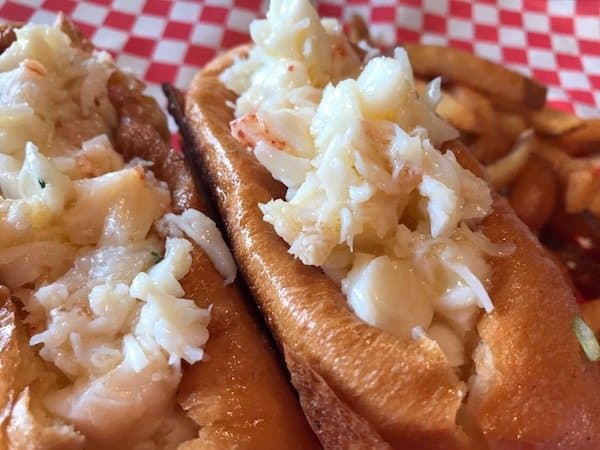 I always like to try and time anything I do when we're at sea in such a way that I can see and photograph the sunset. No matter how many times I watch the sun set on the ocean I never, ever tire of it. Tonight was no exception.
Dinner-wise, we were eating at the Fahrenheit 555 Steakhouse at 9 p.m., which is super late for me. But this probably worked out for the best since I'd had a pretty good-sized meal at the Seafood Shack when we got back to the ship. Unfortunately, I still wasn't as hungry as you kinda want to be to fully enjoy a meal like the ones you get at a steakhouse! That said, I did still manage to "force" myself to eat the shrimp cocktail, buffalo mozzarella salad and a filet mignon. But hey, I passed on dessert!
After dinner, I did a little bit of wandering around the ship – got to walk off some of those calories! – before coming back to the cabin. Tomorrow, we're in Grand Cayman, and I'm planning to take a catamaran to Stingray City. Confession: Stingrays have always freaked me out a little bit, especially after that whole Crocodile Hunter incident so many years ago. But hey, you've gotta face your fears… right?
So until tomorrow… goodnight!