Those who say all Carnival Cruise Line ships are the same will undoubtedly be surprised upon boarding Carnival Venezia. But the big question is: Is the cruise ship right for you?
To answer that question, we'll provide information about Carnival Venezia, from the food and entertainment options, so you'll better grasp what makes this ship so different from the rest of the Carnival fleet.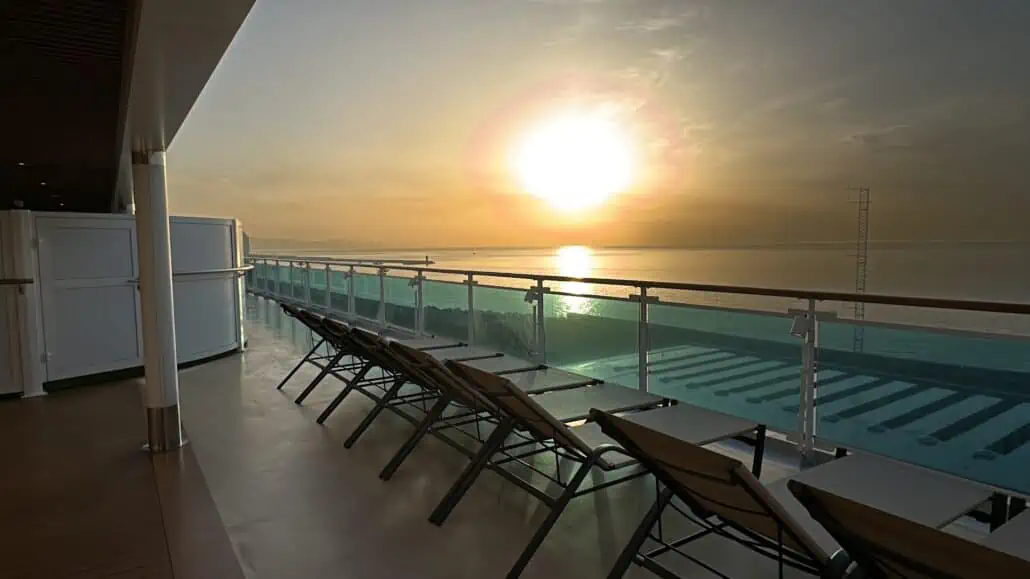 Carnival Venezia, Carnival's kinda new ship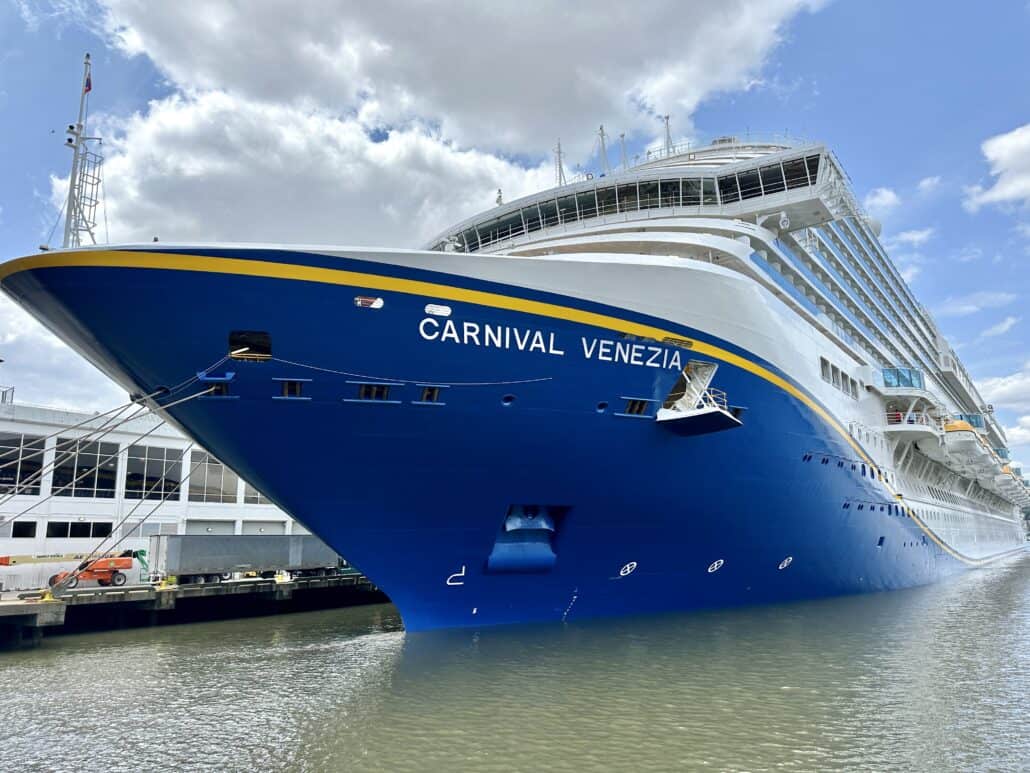 Venezia was initially constructed for Costa Cruises, one of the lines under the Carnival Corporation umbrella. When deciding to transfer the ship from Costa to Carnival, Venezia underwent an extensive drydock, during which several of Carnival's most popular venues were added.
As the name implies, Venezia was heavily themed around the Italian city of Venice, despite being built for the Chinese market.
To explain this new hybrid, Carnival marketed Venezia as offering "Carnival Fun, Italian Style." (This similar approach will be used when her sister ship, Firenze, makes the Costa-to-Carnival move in late 2024.)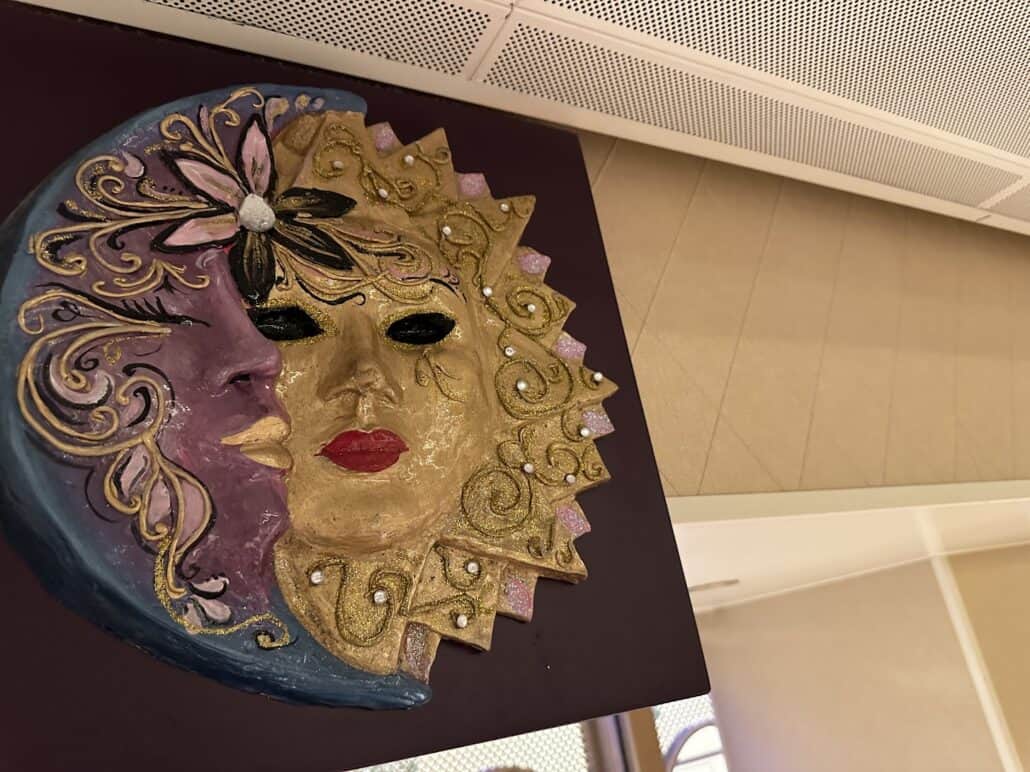 Venezia began sailing year-round from her homeport of New York City in the spring of 2023. The ship is slated to remain there until December 2024, when she will head to Port Canaveral, Florida, for several months.
Carnival Venezia Fast Facts
Guest capacity: 4,208 (double occupancy), 5,260 (all berths full)
Tonnage: 135,225 gross registered tons
Class: Venice-class
Guest decks: 14
What inspired Carnival Venezia's design
The ship's interiors are inspired by Italian architectural design, with the three-level atrium modeled after Venice's main public square, Piazza San Marco.
Here, you'll see a giant white column rising from the bar that anchors the space, a majestic, gold-winged lion perched at the top.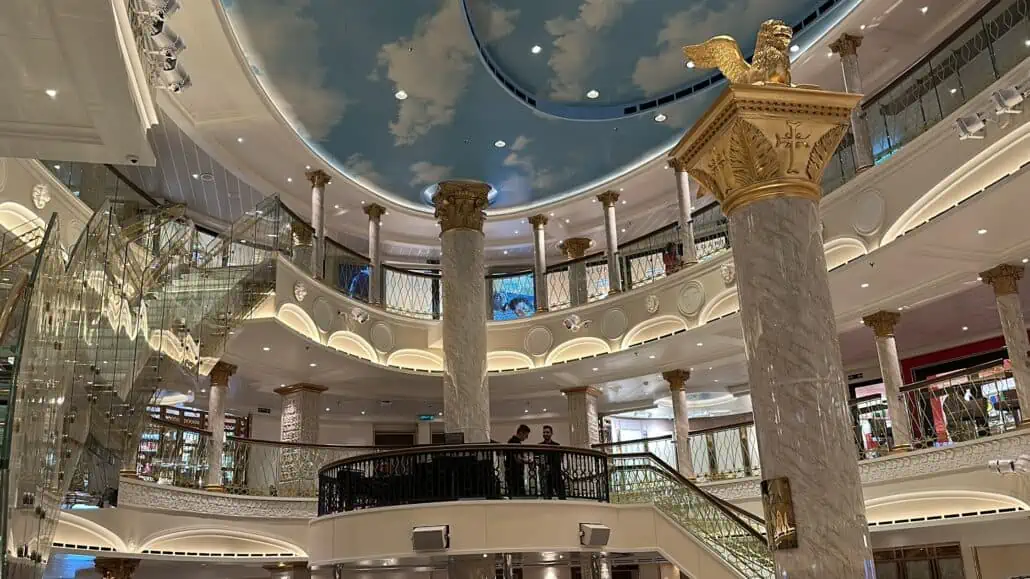 Outdoor spaces, especially the Lido deck, resemble the Italian Riviera. This main pool area features a retractable roof, making it ideal for sailing out of New York City during winter.
The Serenity Deck, meanwhile, takes the concept familiar to most Carnival cruisers and gives it a bit of a twist, playing host to a Spritz bar which (in conjunction with the accompanying seating) provides the area with a pop of color.
While the main pool on the Lido deck is stunning, guests will undoubtedly notice that it's not particularly large and doesn't offer much. But fret not, as another pool is just located toward the ship's rear, along with hot tubs and two decks worth of loungers.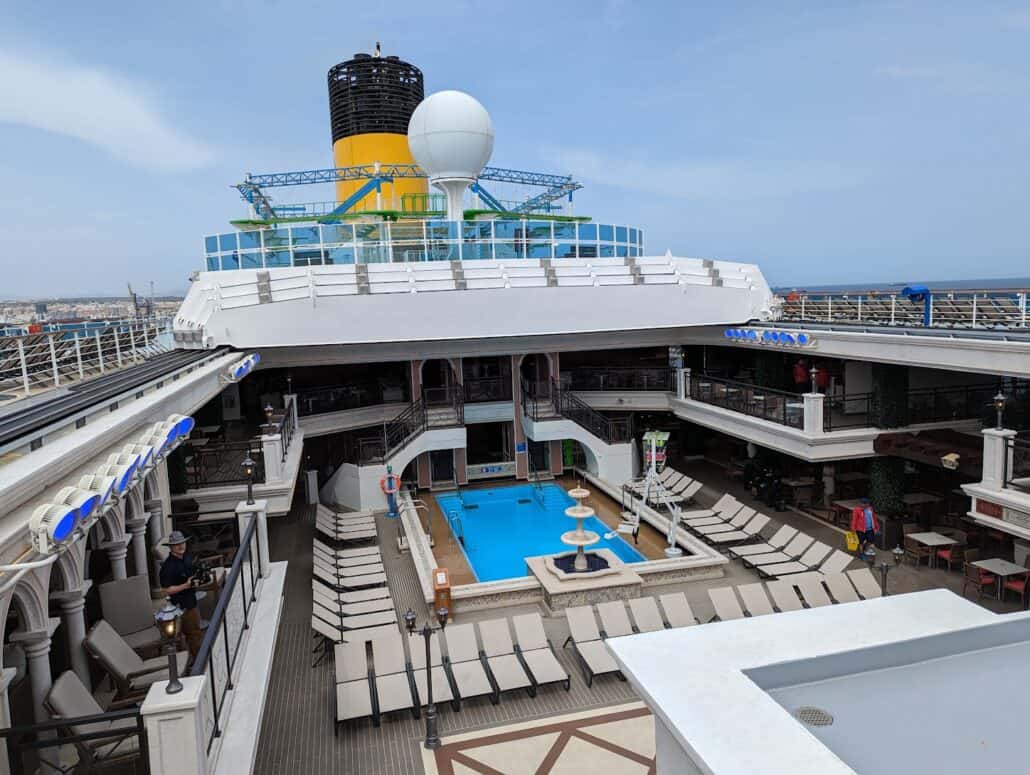 It is also on the Lido deck — and around the pool, where passengers will get a true sense of the "Carnival Fun, Italian Style" theme concept as familiar venues (such as Guy's Burger Bar), which are given new looks and menu items.
There are also new-to-Carnival spaces, including the Rococo Bar, decorated with classic paintings, offering a wide variety of frozen cocktails. (This occupies the space where you'd find the BlueIguana Tequila Bar on other Carnival ships.)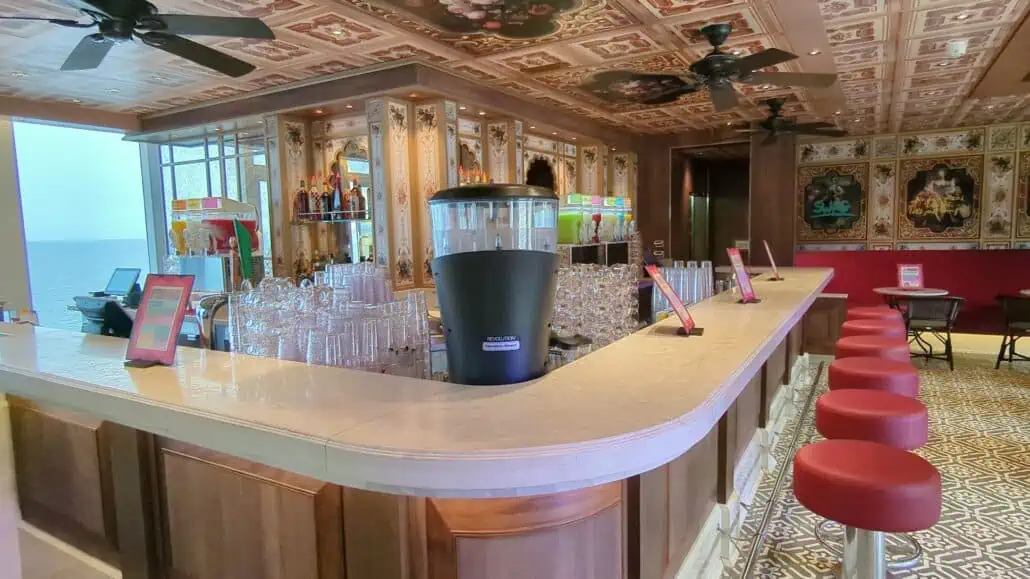 The Italian theme concept can be found in every venue on board. Some touches are more subtle, while others — such as the life-sized gondola plopped into the middle of the dining room — are anything but.
Carnival Venezia's complimentary dining options
We've said that you'll never go hungry on a cruise ship, and that's true of Carnival Venezia. Dining options here range from one of Guy's famous burgers to a full-blown Italian meal that even your meatball-making grandma would love.
Of course, the main dining room is one of the most popular options on any Carnival ship. Here, you'll find two The Canal Grande and Marco Polo restaurants. Both showcase Italian sculptures and architectural designs, offering a different experience.
First is the Canal Grande, which spans two decks on the ship's aft end.
From the moment Carnival began touting the ship's features, the full-sized gondola appeared to "float" on the water made of blue glass tiles, which are attention-getters.
After all, that's not exactly what you'll routinely encounter in a restaurant… whether on land or sea!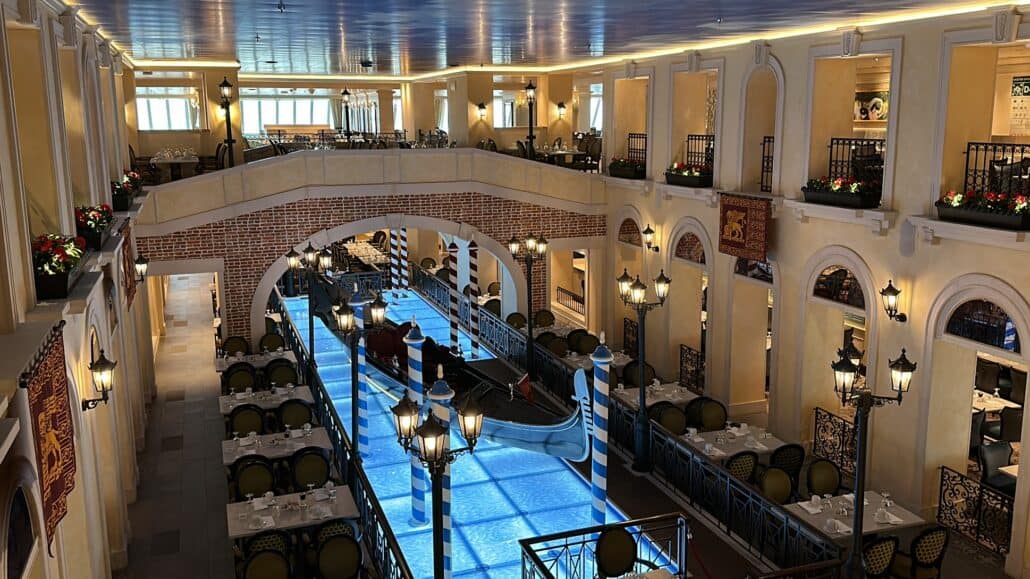 The Marco Polo dining room may not offer eye-popping features, but it manages to pull off the type of intimacy rarely achieved by a main dining room. How? Using structures within the room to carve out smaller spaces while giving off Tuscan vibes.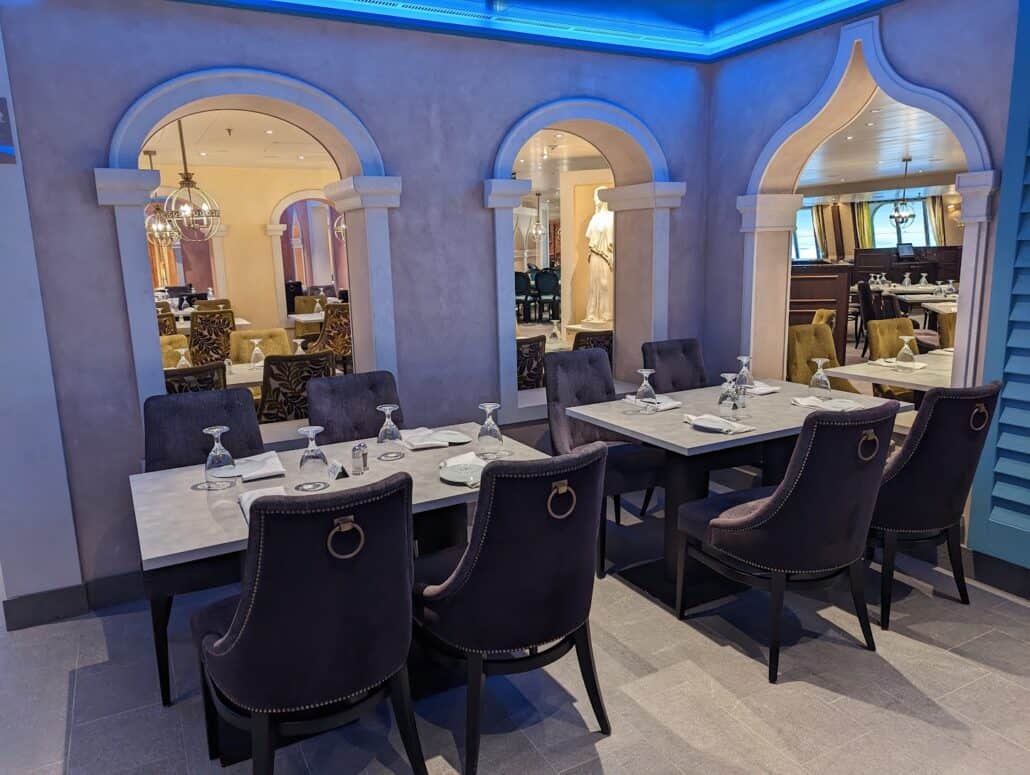 Other complimentary dining venues include an Italian-themed version of the ever-popular Guy's Burger Joint (featuring a pepperoni pizza burger) and the new-to-Carnival Tomodoro, offering up a menu of Italian and Mexican faves, such as meatballs and tacos, respectively.
While both restaurants are located near the main pool on the Lido, the aft area of deck 10 is where you can find Pizzeria del Capitano. Plus, there's the Lido Marketplace buffet, with various stations serving everything from salads to stir-fry.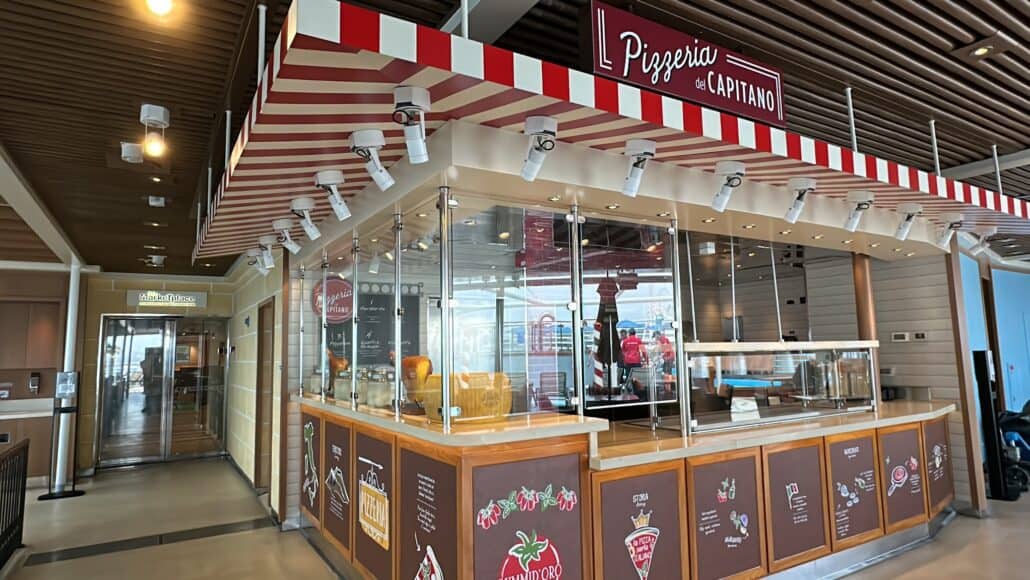 Elsewhere, the La Strada Grill is a quick-serve venue with a menu featuring sandwiches, salads, and a tremendous mac-and-cheese side dish.
Carnival Venezia's specialty dining options
Want something different and willing to pay for it? Look no further, as you'll find several specialty dining restaurants aboard Carnival Venezia, including the new-to-Carnival Il Viaggio, an upscale Italian restaurant with a menu designed to take you on a culinary journey across — where else? — Italy.
This might best be considered Cucina del Capitano on steroids (at $42 per person, with a price to match).
As on other Carnival ships, Bonsai Sushi is the place to head for fresh rolls and other Asian-inspired treats. This is a great place to grab lunch on a sea day, although it can get crowded.
And if you want to enjoy the dinner-and-a-show concept of Bonsai Teppanyaki, it's best to make a reservation, as there's limited seating available, which gets filled up fast.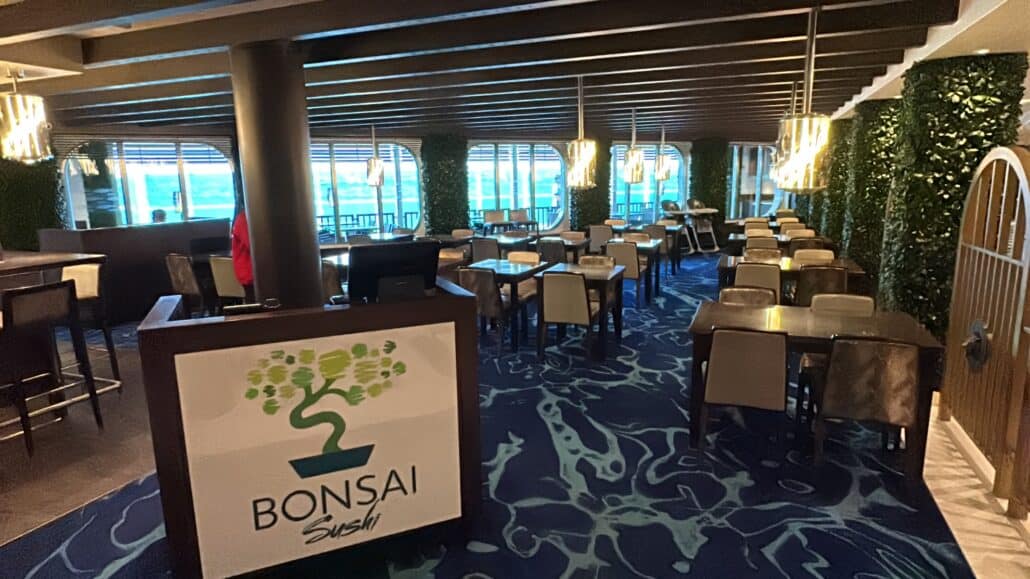 Another popular venue you must visit is Fahrenheit 555 Steakhouse, perfect for cruisers to celebrate a special occasion; it is almost impossible to snag a table by two or three days into any sailing. (With the ship's Italian theme concept, it will be interesting to see Il Viaggio managing to become a last-night favorite.)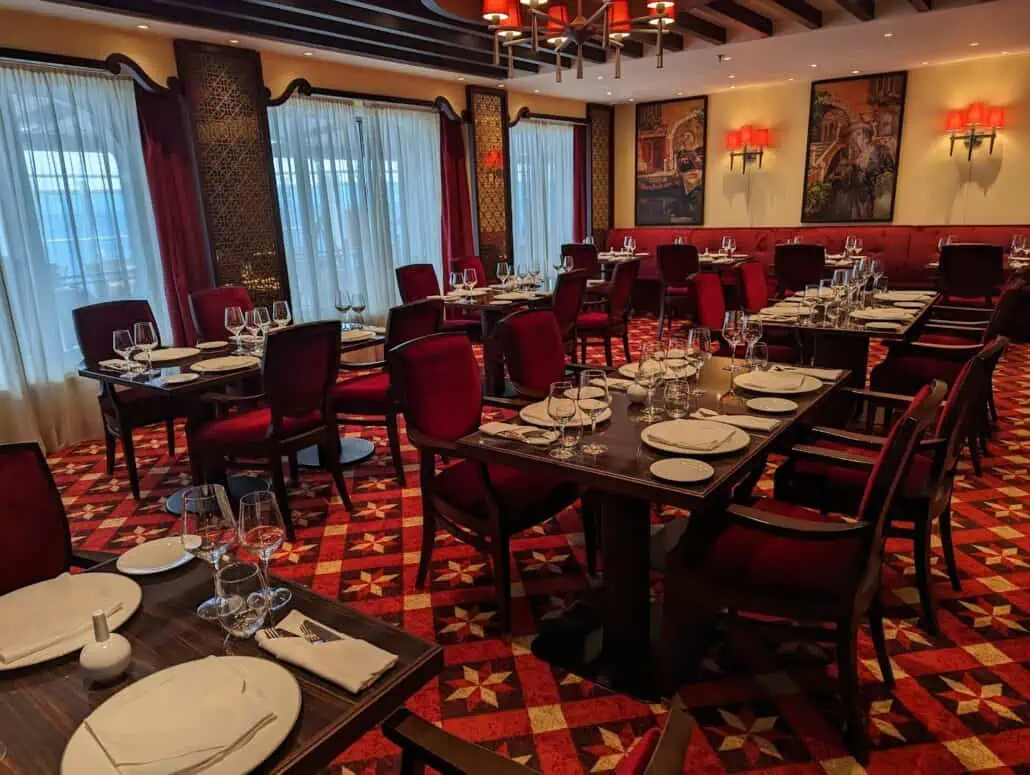 Those looking for fresh seafood of the non-sushi variety can head to the aft section of deck 10 to hit the Seafood Shack. Whether you're looking for a lobster roll or fried shrimp, this offers reasonably priced food dinner (or, on sea days, lunch).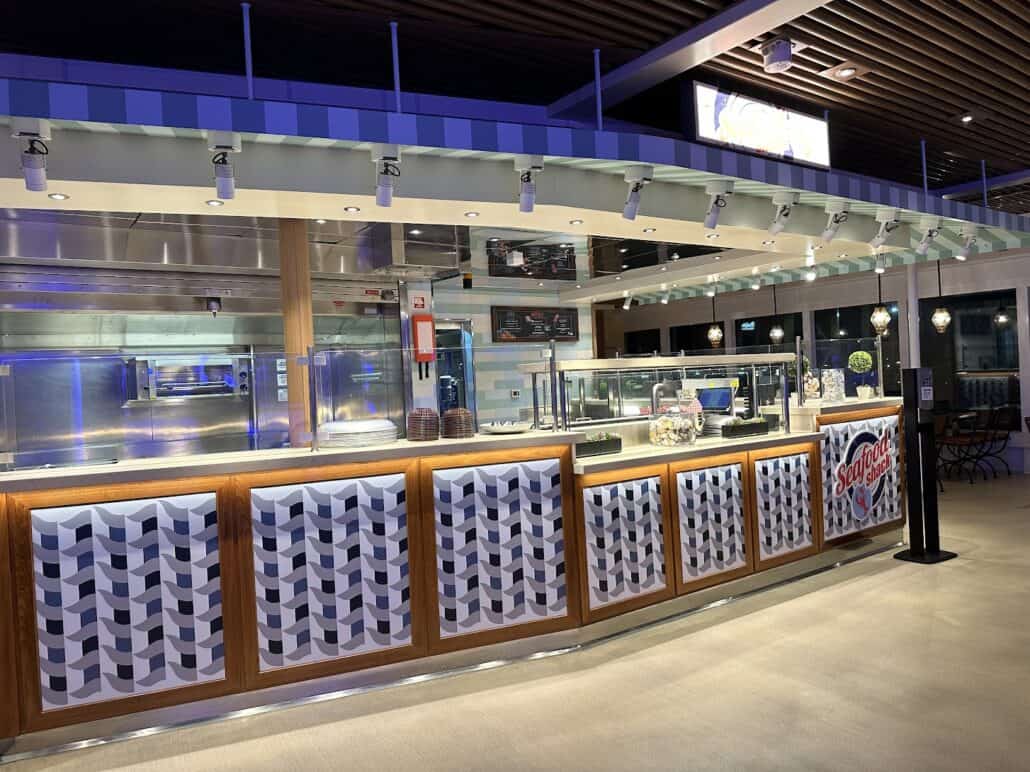 For the ultimate Carnival foodie experience — not to mention an incredible way to impress someone on date night — try to grab a reservation for the Chef's Table. This special, multi-course meal is truly a stunning place, and includes the galley tour.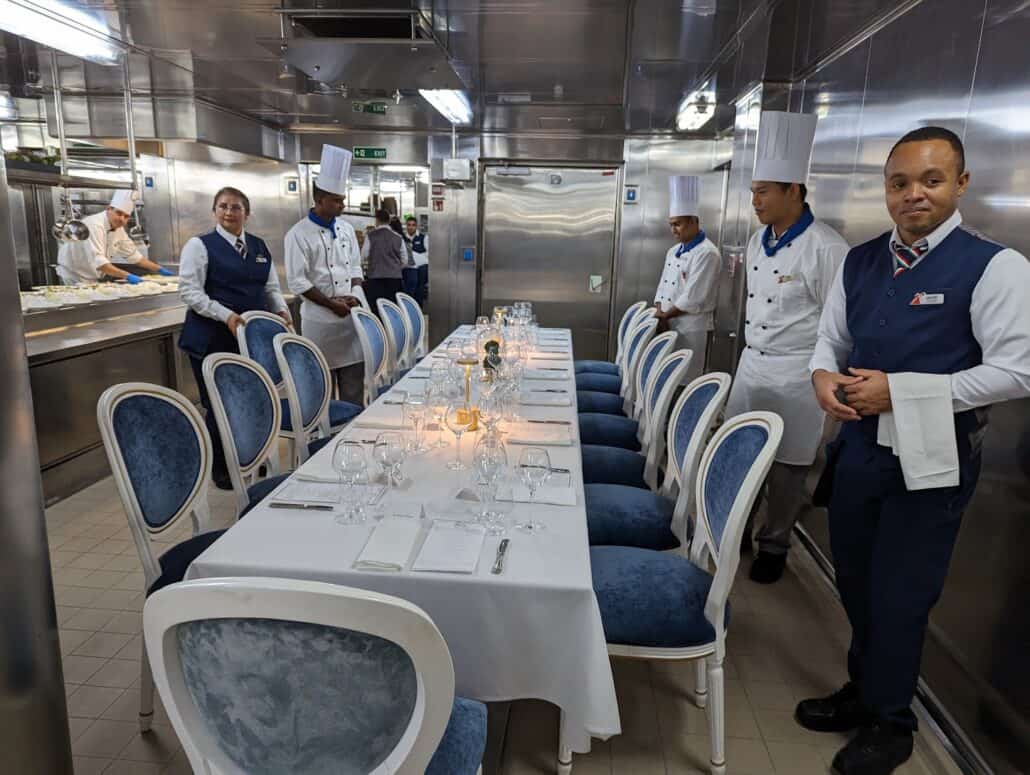 Where to grab a drink on Carnival Venezia?
Aboard the ship, you won't be thirsty (unless you see a hottie at the pool), as Carnival Venezia has many bars.
Note, however, that there is no RedFrog Pub or BlueIguana Tequila bar. Instead, you'll find several new-to-Carnival watering holes, which will certainly become favorites.
For example, if you're sitting poolside on the Lido deck and jonesing for a frozen cocktail, you'll be delighted by what's served up at Rococo.
The decor is described as "Baroque goes pop," with staid portraits, which give them a modern (and somewhat cheeky) look, while the menu features frozen concoctions made with popular Italian flavors such as limoncello.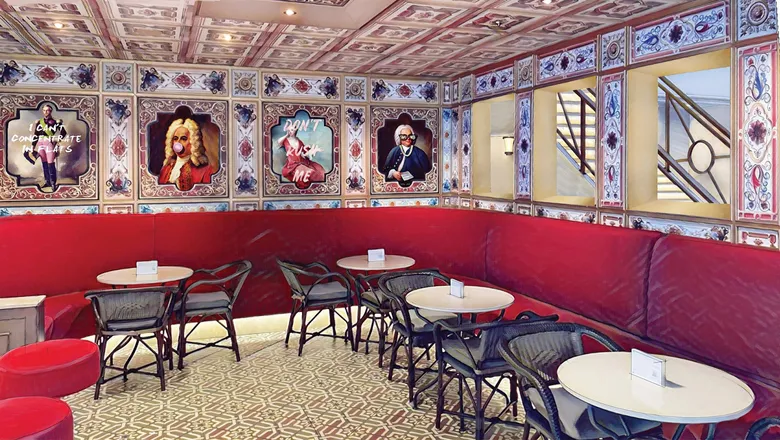 On Deck 5, you'll find Amari, which will remind you of the Alchemy bar, only that the former teems with red colors.
The menu here includes several of Alchemy's most popular drinks, made with various Italian bitters and liqueurs. Just like at Alchemy Bar, Amari is staffed by knowledgeable mixologists who handcraft a cocktail to your specifications.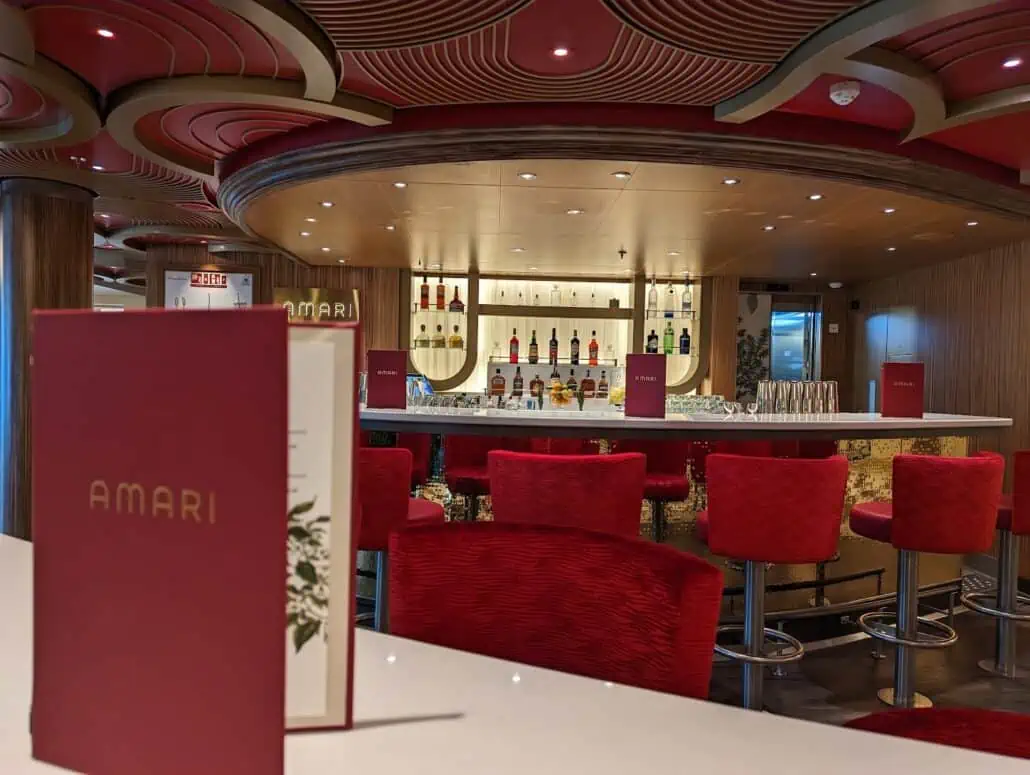 Nearby on Deck 5 is Frizzante, which oozes bubbliness, featuring prosecco, spritzes, bellinis, and Italian beers. You can also find Italian coffees and biscottis at Frizzante, which will undoubtedly prove a popular pre-dinner drinks spot for those planning to dine at the nearby Il Viaggio.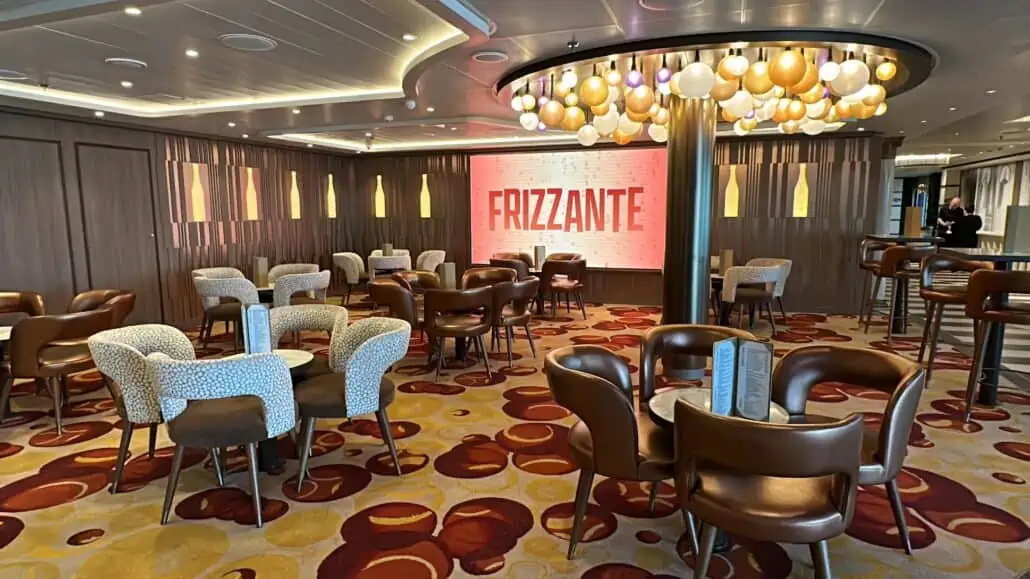 For many guests, their first drink will likely be served by the bartenders at Piazza San Marco. Why? Because that's the location of the atrium bar, and it is where passengers first enter upon boarding the ship.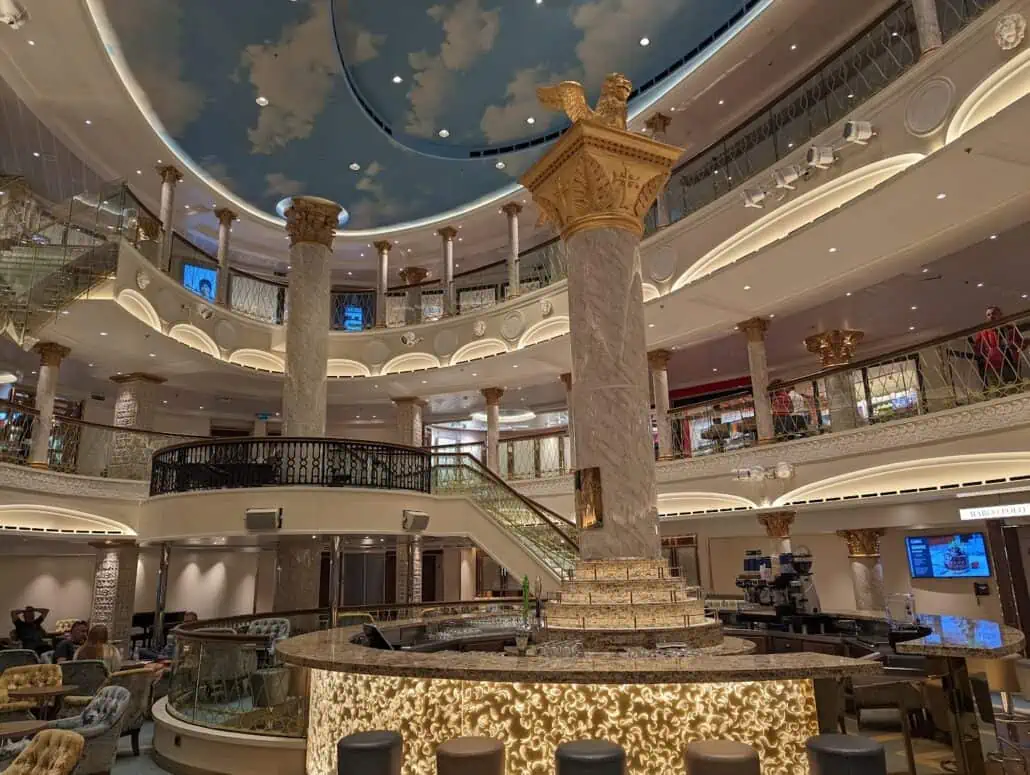 Deck 4 is where you'll find Venezia's Heroes Tribute Bar, a space designed to honor members of the armed services — past and present — and their families. The several large screens directly behind the bar will make this a popular spot for sports watchers.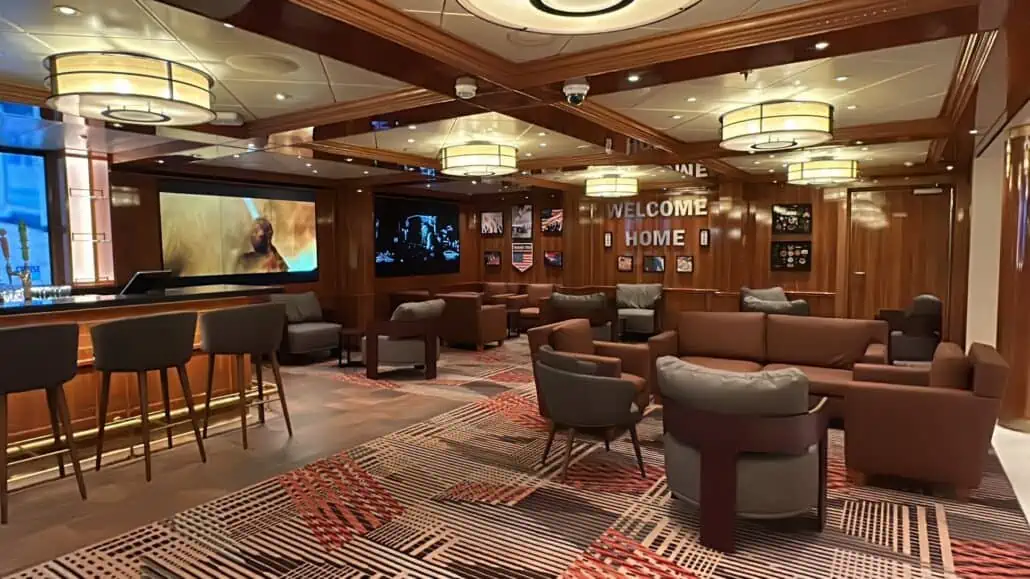 Piano Bar 88 can be found midship on Deck 5. As the name implies, Piano Bar 88 is the spot to hit if you want to grab drinks and sing with the piano man. While nights here typically start on the sedate side, they almost inevitably turn raucous as the night goes on!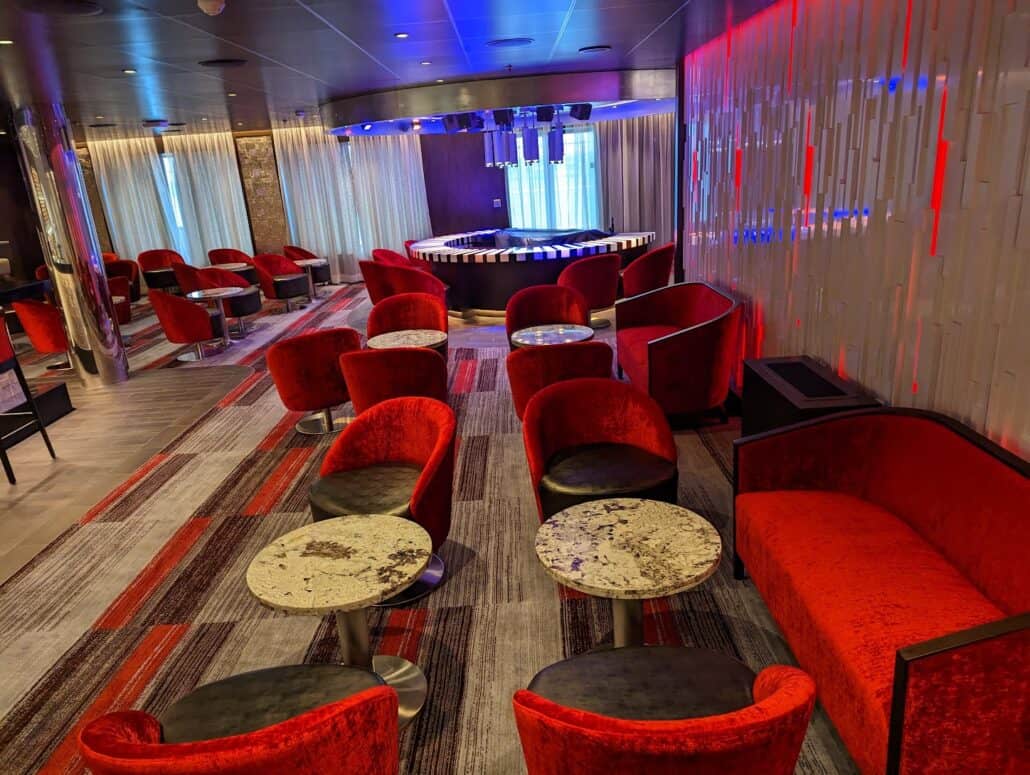 If the Gondola Lounge looks familiar, it's the ship's version of Ocean Plaza. Located on Deck 5 midship, there's a large dance floor, a stage (perfect for live performances every night), and much more comfy seating.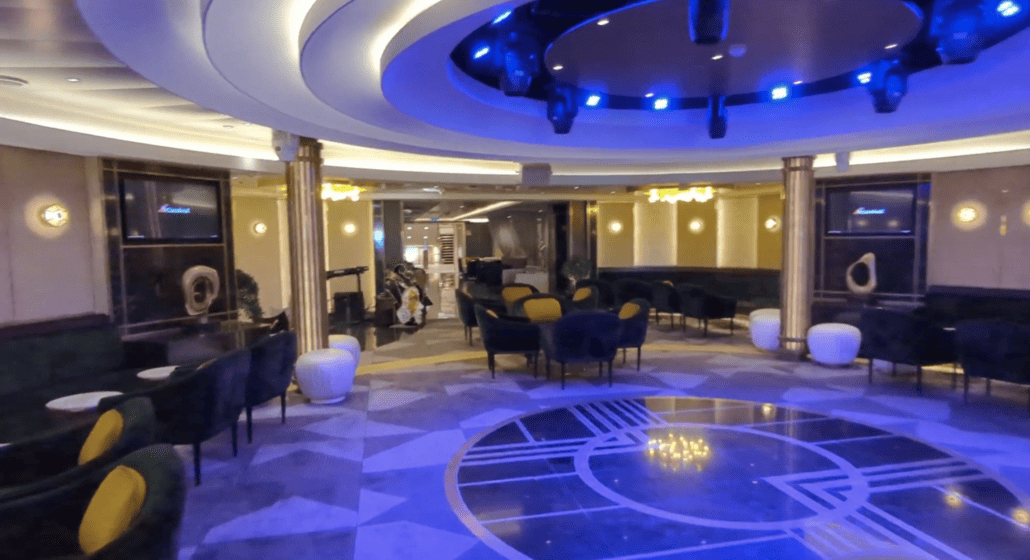 Perched on the very aft of Deck 5 is the Carnivale Bar and Lounge. During the morning, this space is only accessible by those staying in Terrazza-level staterooms, although it is open in the afternoon and evening.
Inspired by the elegance of masquerade balls, the place teems with classic cocktails and fine Italian wines, which are the highlights here.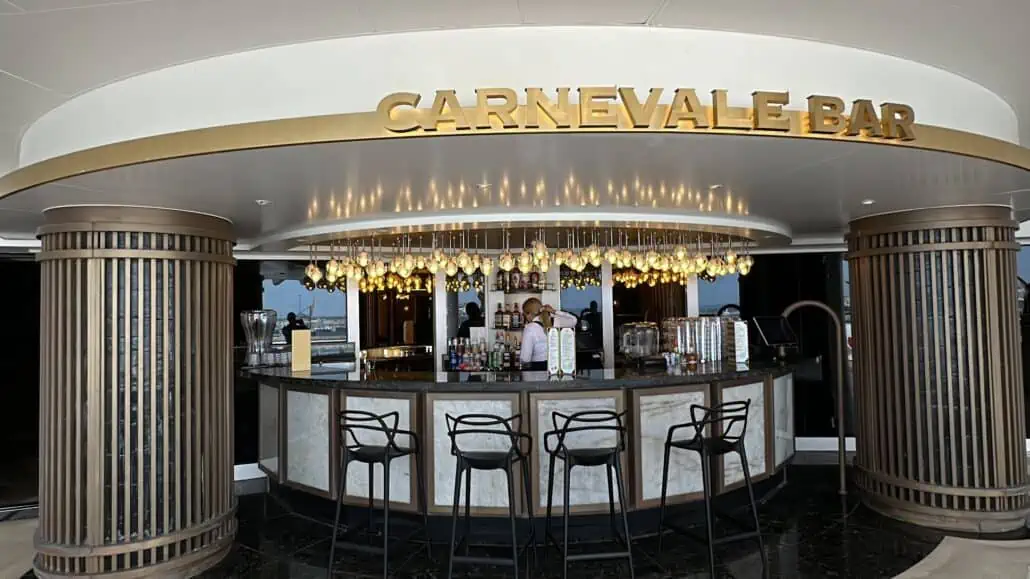 Just beyond the Carnivale Bar, you'll see the Terrazza Carnivale. As the name implies, this area is only available to Terrazza-level guests during the daytime. But once the sun sets, the bar and surrounding areas morph into a fantastic place to enjoy the views while sipping drinks and lounging on comfy furniture.
Only steps away from the pool aft of Deck 10 is the Burano Bar, named after an island in the Venetian Lagoon of Northern Italy.
This is the bar from which your drinks will be served if you're hanging out in the hot tub or on one of the many loungers.
Also nearby is the Serenity Deck, where you'll see the Serenity Spritz bar.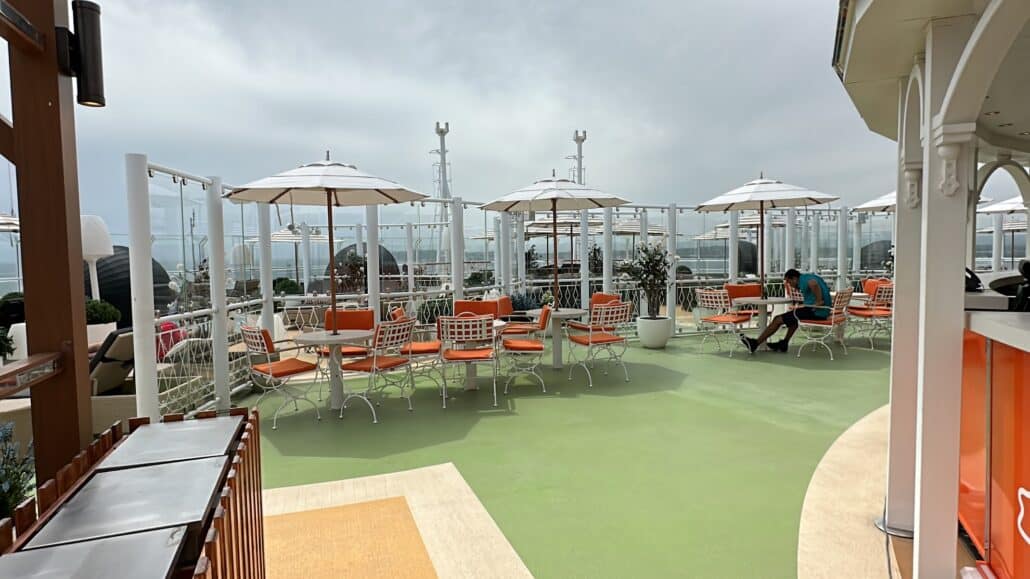 Carnival Venezia's cabins and suite accommodations
Carnival Venezia cabins range from swanky suites to cozy inside staterooms. One thing you won't find on this particular ship, however, is the family harbor staterooms featured on similarly-sized Carnival vessels.
While Carnival does not offer a ship-within-a-ship concept like Norwegian Cruise Line's Haven or Celebrity Cruises' Retreat, the Venezia features Terrazza staterooms.
Like the Havana area found on other Vista-class ships, staterooms within the Terrazza have exclusive daytime access to an outdoor lounging area known as Terrazza Carnivale. You'll find hot tubs, a bar, and killer views here.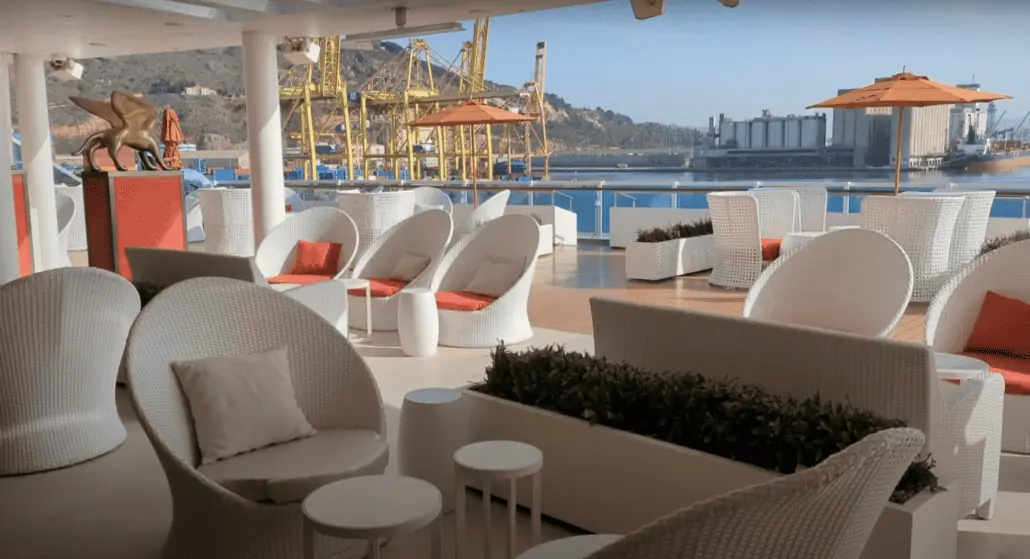 Terrazza staterooms are available in a variety of categories, including interiors (great for those looking to save a bit of money), balconies (including some with aft-facing views), and Terrazza Cabanas, which, like their Havana brethren, offer stunning terraces and a hammock perfect for hanging around in (pun intended).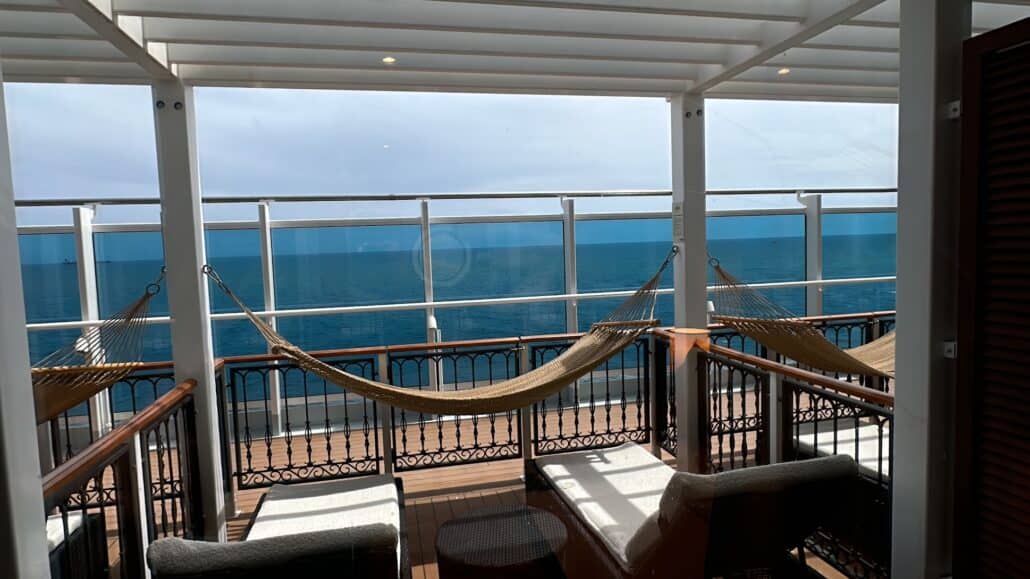 It's worth noting, however, that the Terrazza Cabanas do not offer privacy.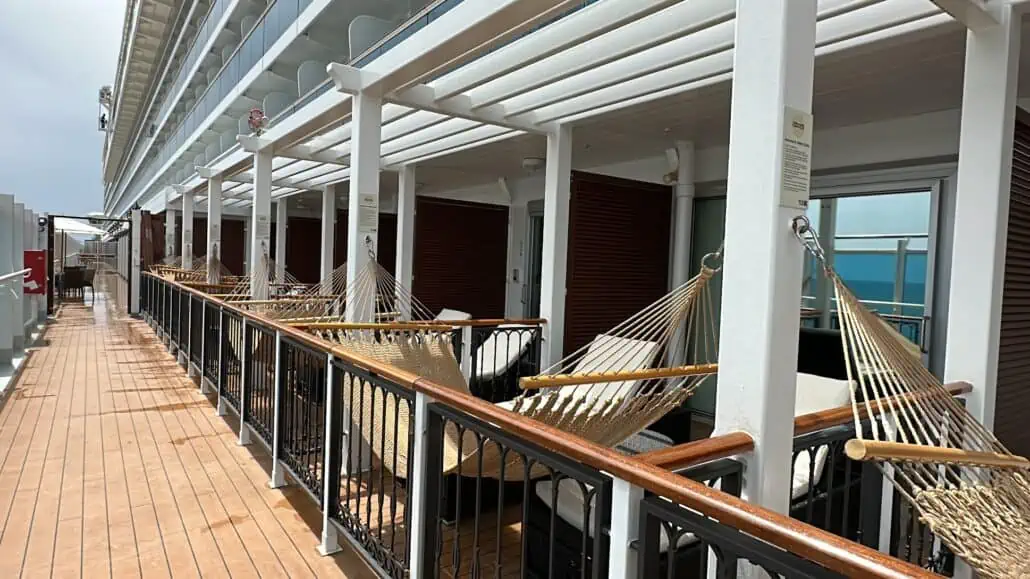 Perhaps the swankiest of these suites is the Terrazza Premium Balcony staterooms, which sit on the very back of the ship and offer large, wrap-around balconies and plenty of privacy.
Those staying in Terrazza staterooms are given wristbands that must be worn to access the Terrazza Carnivale area. Perks include a champagne toast at sail away and a free sea day brunch in the Fahrenheit 555 Steakhouse.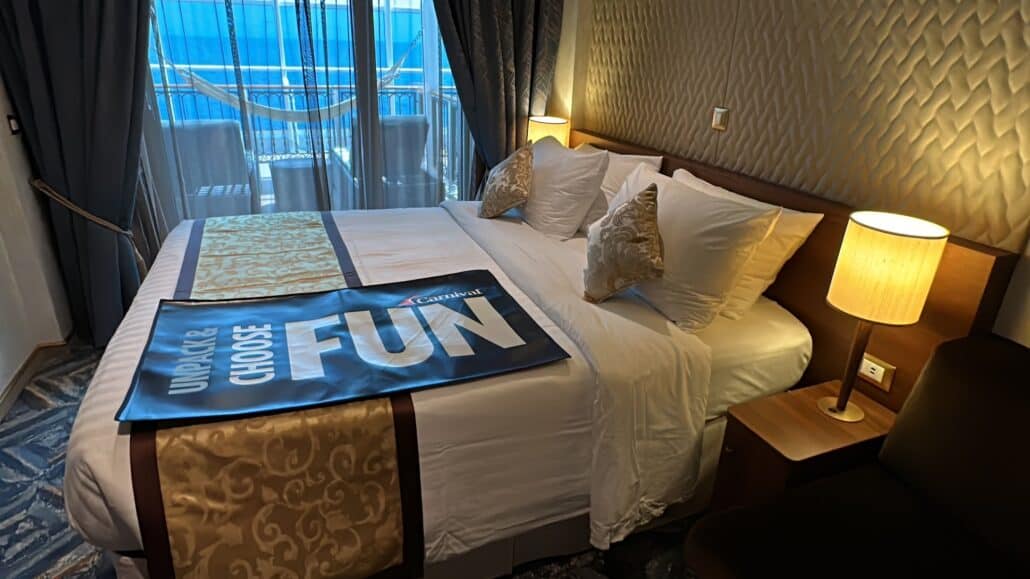 It's important to note that all guests booked in Terrazza-level staterooms must be at least 12 years of age at the time of sailing.
Whether in or out of the Terraza area, staterooms on Venezia are modern, with a slightly more upscale feel which you won't find on some of the line's other ships.
This is particularly apparent in the bathrooms, which feature glass doors in the shower, sinks with four legs as opposed to your basic fiberglass molding, and Italian-themed gold-framed mirrors.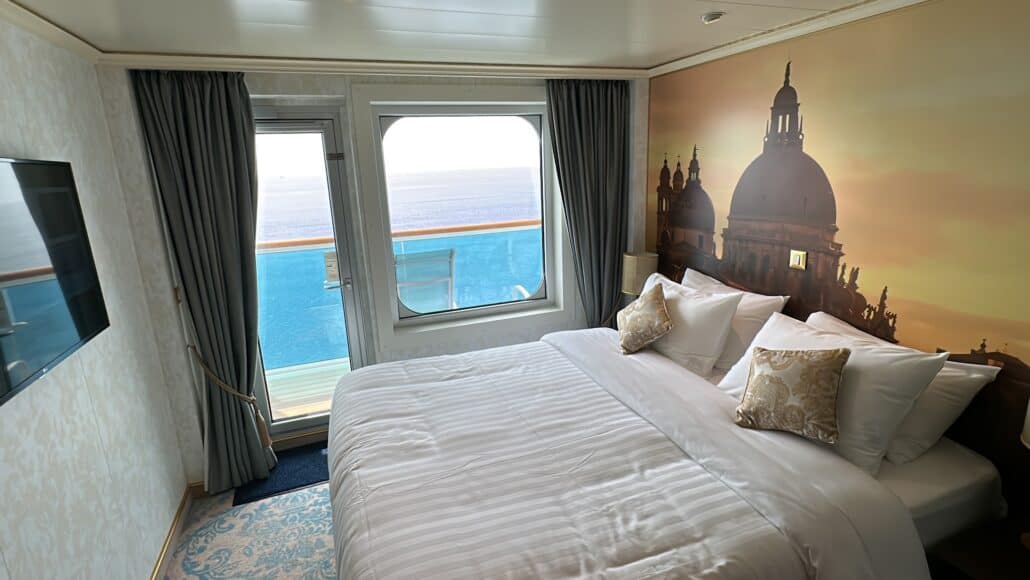 The rooms here also feature wall art from various Italian locations, which adds to the Italian ambiance. As with other areas of the ship, the staterooms feel new, which makes sense, given they haven't been around that long.
Activities for kids of all ages
Admit it: You like hitting the waterpark on a Carnival ship as much as the kids do. Fortunately, the one on Carnival Venezia will not disappoint.
This line knows how to keep the entire family occupied, and the WaterWorks area is no exception, which offers three slides (one enclosed) and a splash pad for kids.
If there's one thing missing aboard the ship, it's a giant dump bucket. Additionally, there are plenty of loungers in the area.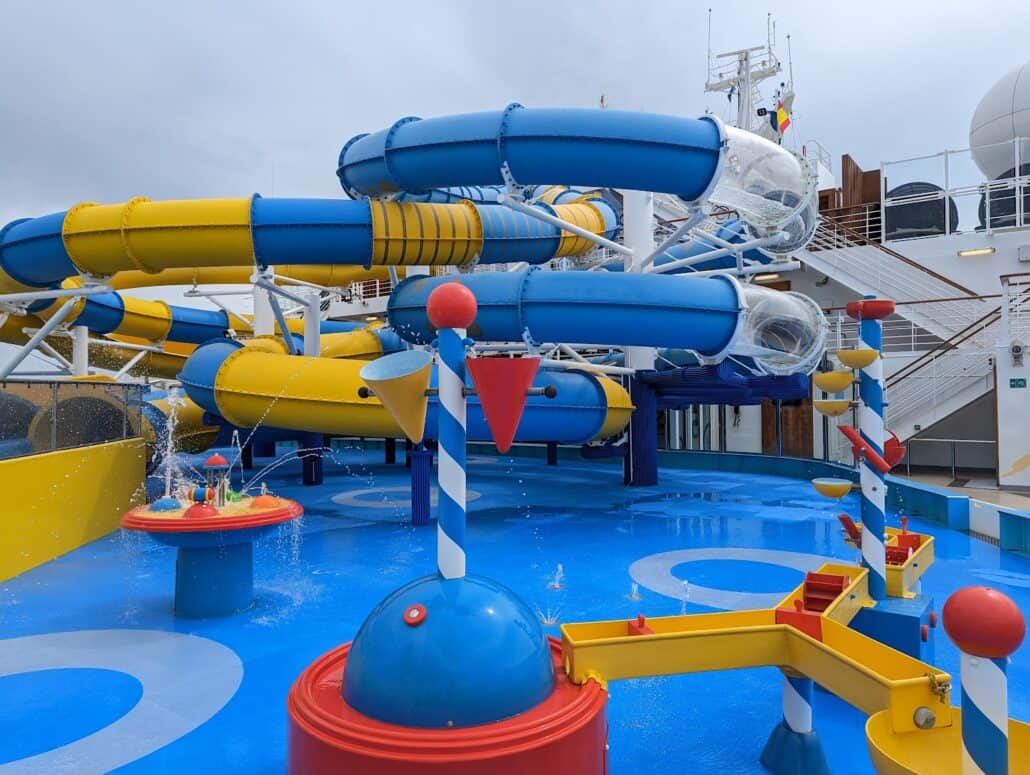 Near the waterpark is the Serenity Deck.
As on other Carnival ships, this is an adults-only retreat, making it the perfect place to curl up and read a book on one of the many comfortably-padded loungers.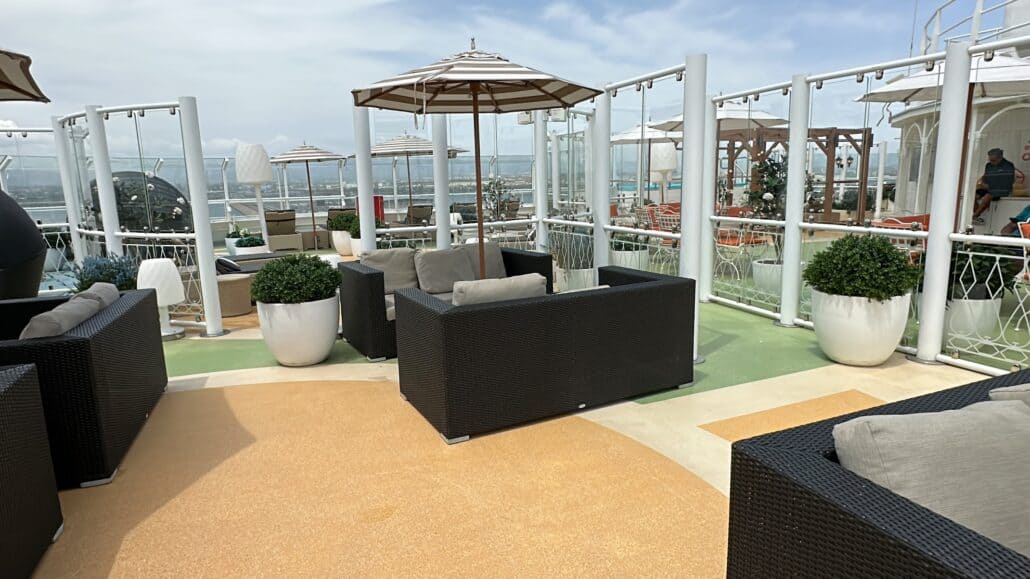 You'll also find the Serenity Spritz bar, perfect for those wanting to augment their time with an adult beverage. You'll find a nice grouping of tables and chairs near the bar.
While Venezia has a version of The Warehouse Arcade on board, it's in a rather odd location. To access the space, guests must first find a small sign on Deck 11, which leads to a staircase (the arcade is actually on Deck 12). Inside, however, the kid-friendly zone is packed with various money-eating, ticket-dispensing games.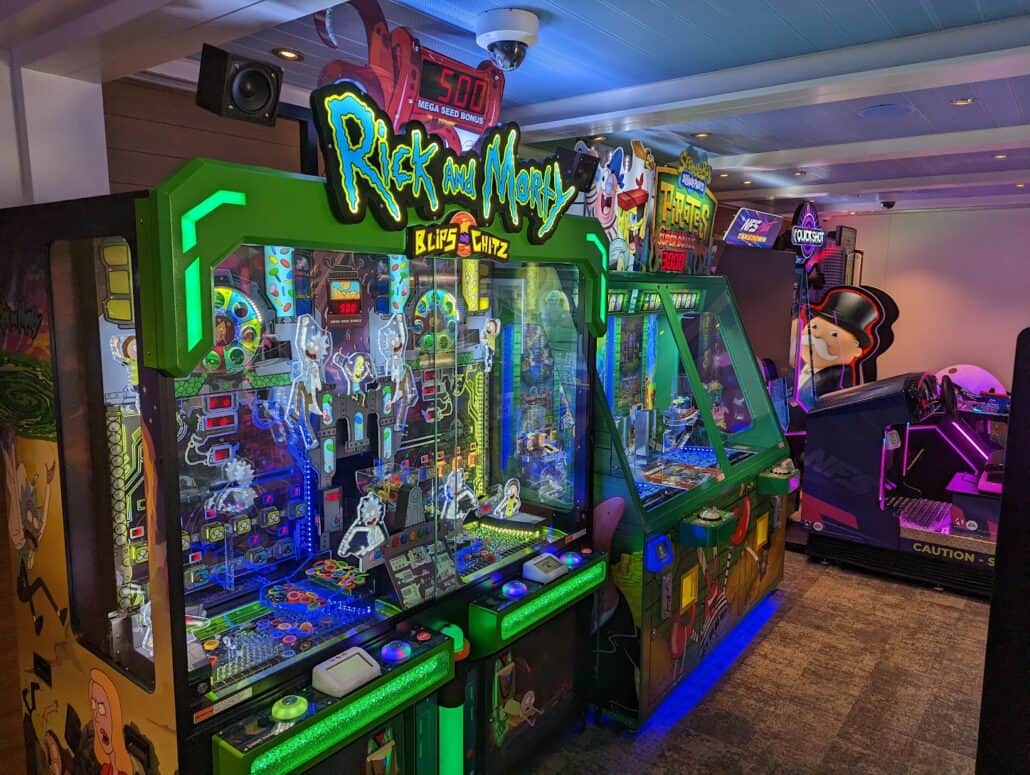 Deck 12 is also home to the mini golf course, which extends up to Deck 14. (Remember: Carnival ships don't have a 13th deck.) This upper deck is also where you'll find a ropes course perfect for those ready to test their tightrope-walking skills.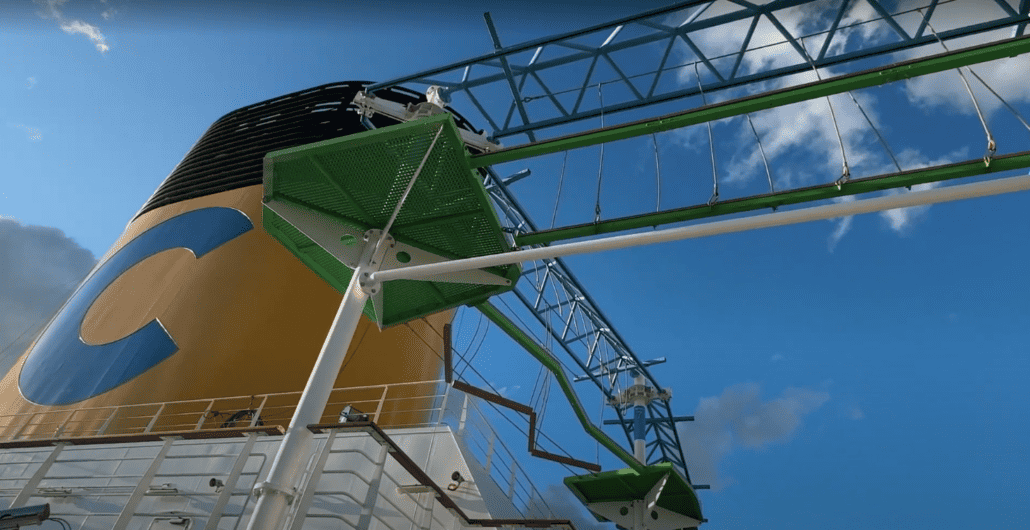 What's on tap, entertainment-wise?
Like the other ships in the fleet, Carnival Venezia knows that to keep several thousand people entertained, you need a wide variety of options for them to explore. Of course, one of the big crowd-pleasers is the Playlist Productions on deck 4's Teatro Rosso.
The space is also available for games such as Deal Or No Deal and (of course) Bingo, and other activities.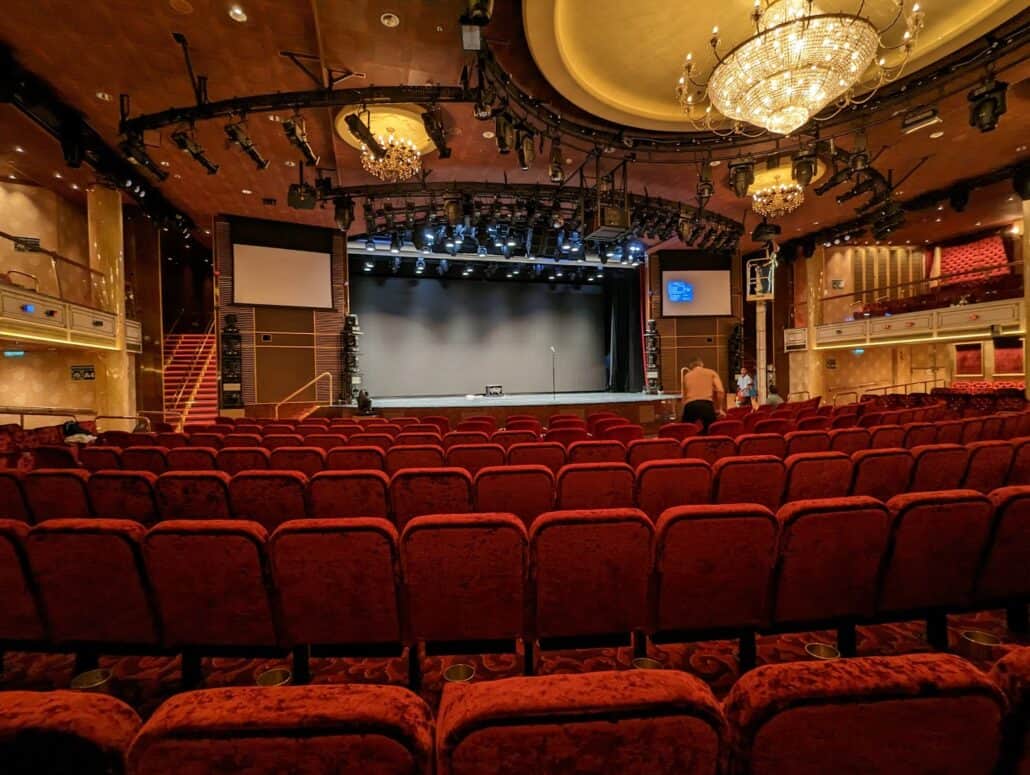 If you prefer watching movies under the stars, you may head to Deck 10's Lido for Dive-In Movies. After all, how often do you get a chance to watch a movie while hanging out in a pool?
Comedy shows are held in the Limelight Lounge, which doubles as the Punchliners Comedy Club. When not playing host to family-friendly and more adult-themed laugh fests, the Limelight is also a great place to do various activities, from karaoke to late-night dance parties.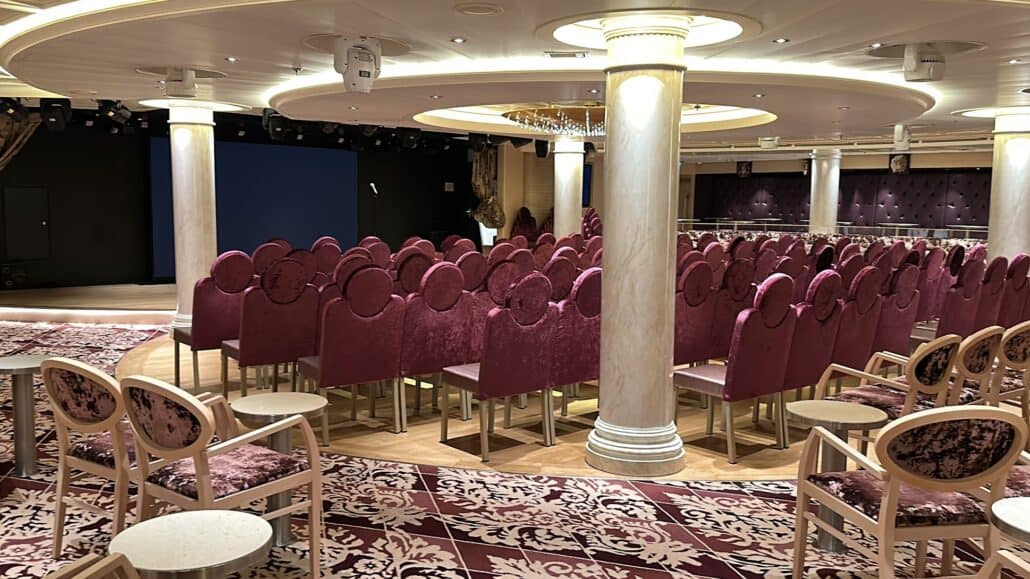 If you want more fun, head for the Venezia casino, midship on Deck 4, where smoking is allowed in some parts of the casino. There is also an entirely non-smoking and completely separate casino annex.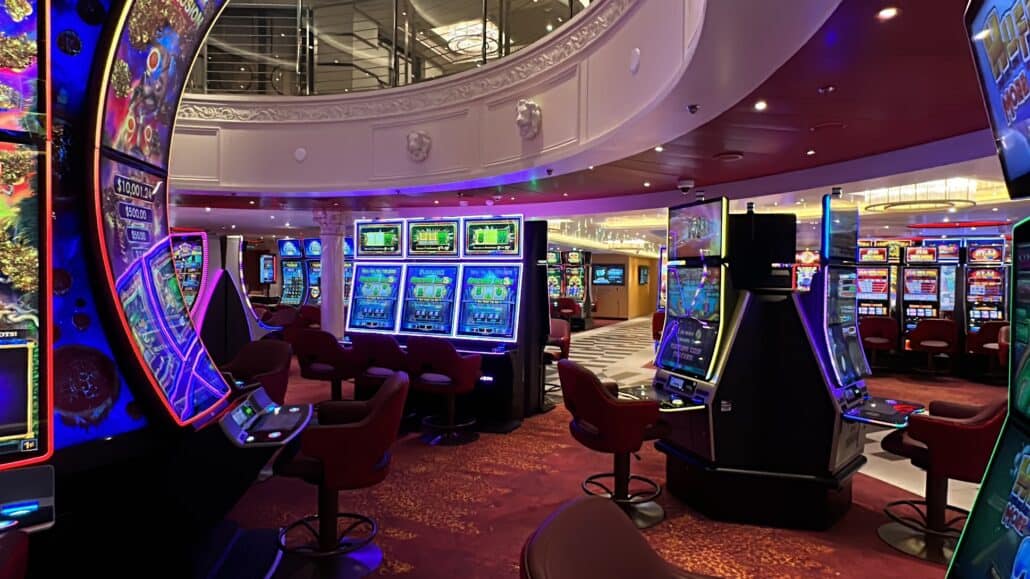 If you consider shopping a form of entertainment, Venezia is very likely to tickle your fancy. Because the ship was initially designed for the Chinese market, more space is dedicated to retail shops than you'd typically find on a Carnival vessel.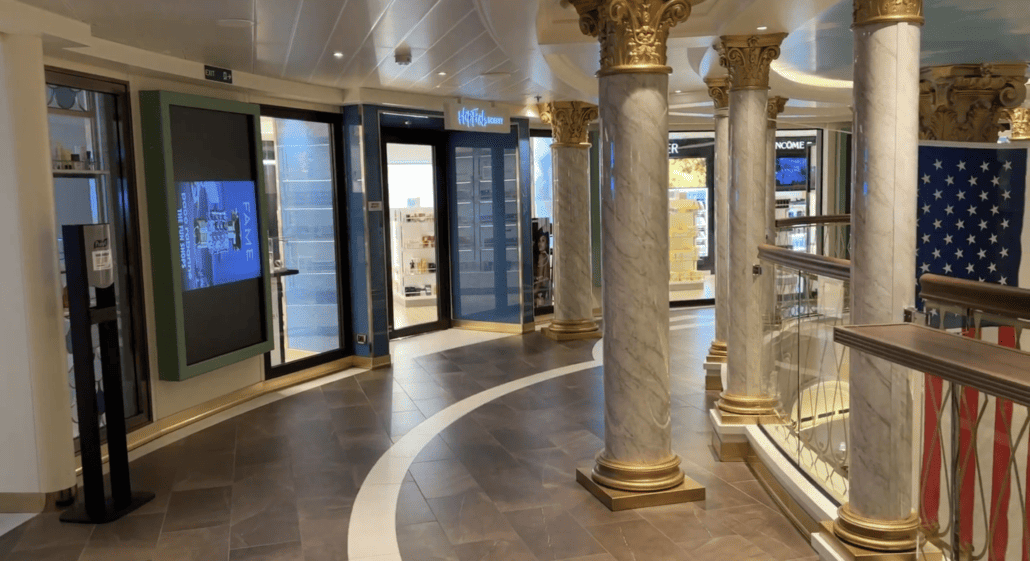 That means you'll find everything from the first Rolex boutique at sea — just in case you want to treat yourself after hitting the casino! — to leather goods and even "pre-loved" purses and accessories in a shop called "What Goes Around Comes Around."
The Cloud 9 Spa
Nowadays, imagining a cruise ship without a spa and a casino is hard. While Venezia has a branch of Carnival's famous Cloud 9 Spa, it is not nearly as expansive as on other similarly-sized ships. That is partly because you won't find the ever-popular thermal suites here.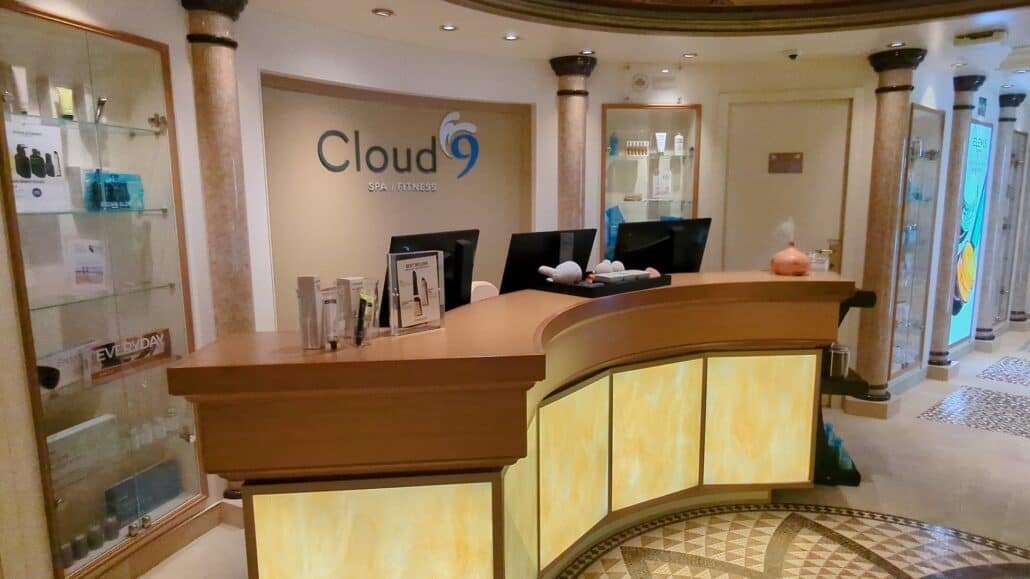 If there's an upside, the locker room facilities offer a free sauna, rainfall shower, and soaking tub. It's also worth noting that the tub is not a hot tub or hydrotherapy pool that fits several guests. Instead, it is an actual soaking tub designed to be used by one person at a time. Both the men's and women's changing rooms offer these amenities.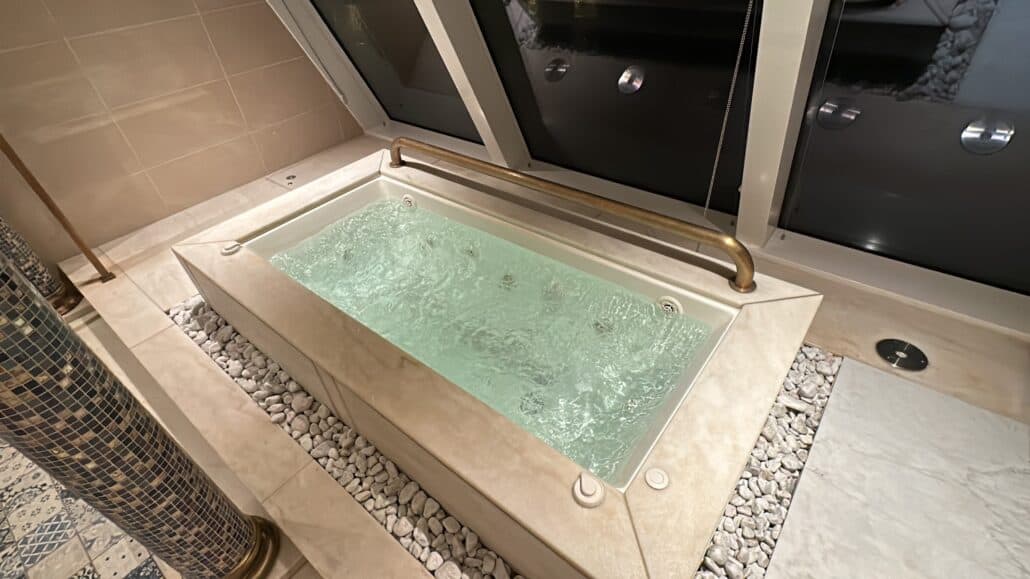 While the spa is where you'll find salon services on Venezia, they have been given their own space — complete with the below Instagram-worthy entrance — on Deck 5, just off the atrium.
This is the place to head if you want a blowout, haircut, manicure, or beard trimming before your big night out. Reservations can be made at the Cloud 9 Spa, the salon, or the Carnival Hub app.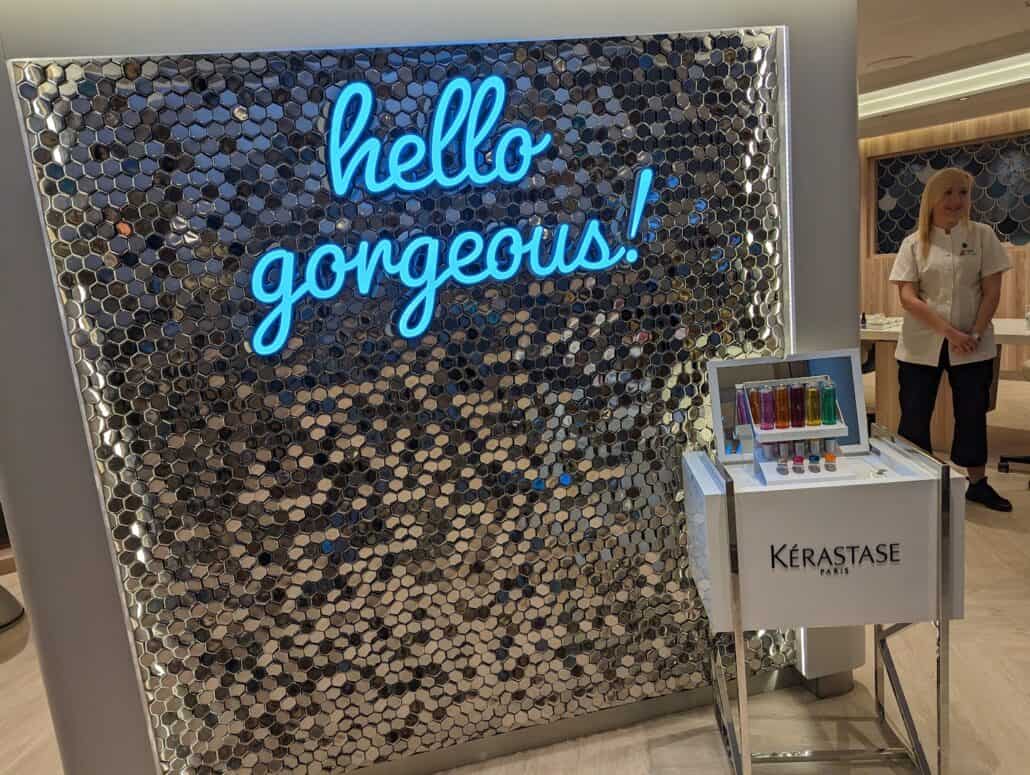 Is Carnival Venezia right for you?
While we're big believers that you can have a great time on any cruise, we also know that you'll have a better time if the ship aligns with your preferences for a vacation. Carnival Venezia offers fun-filled activities, amenities, etc., but they might not be everyone's cup of tea.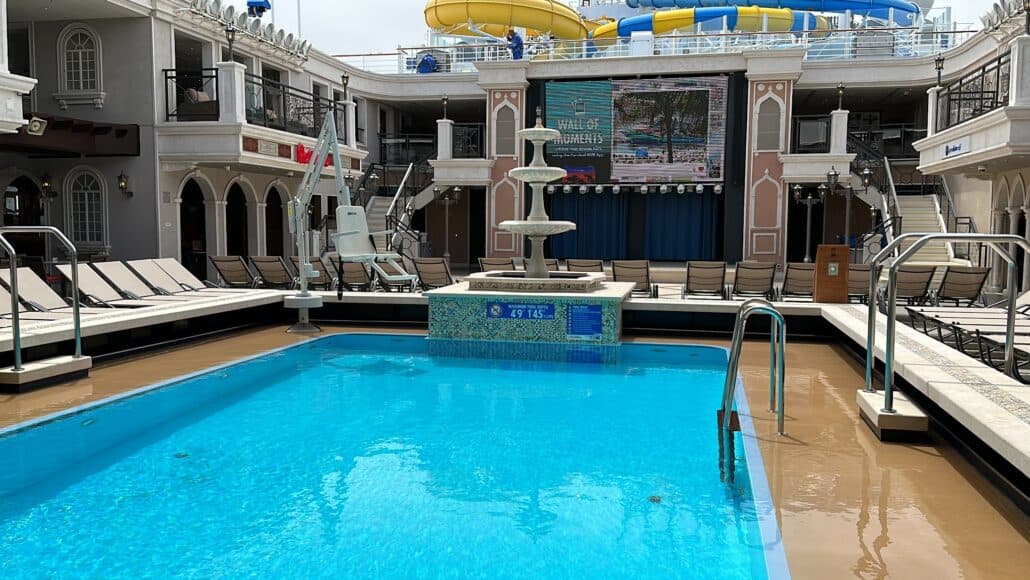 During our recent time on board, we spoke to several longtime Carnival cruisers who didn't care for the ship. When pressed why, they replied that it was simply "too different" from what they're used to—which is understandable.
If you are looking for the same experience you can have on most other Carnival Cruise Line ships, you might wind up disappointed.
But those who like the idea of a totally different Carnival ship will likely enjoy Venezia— a cruise ship offering endless thrills and new twists.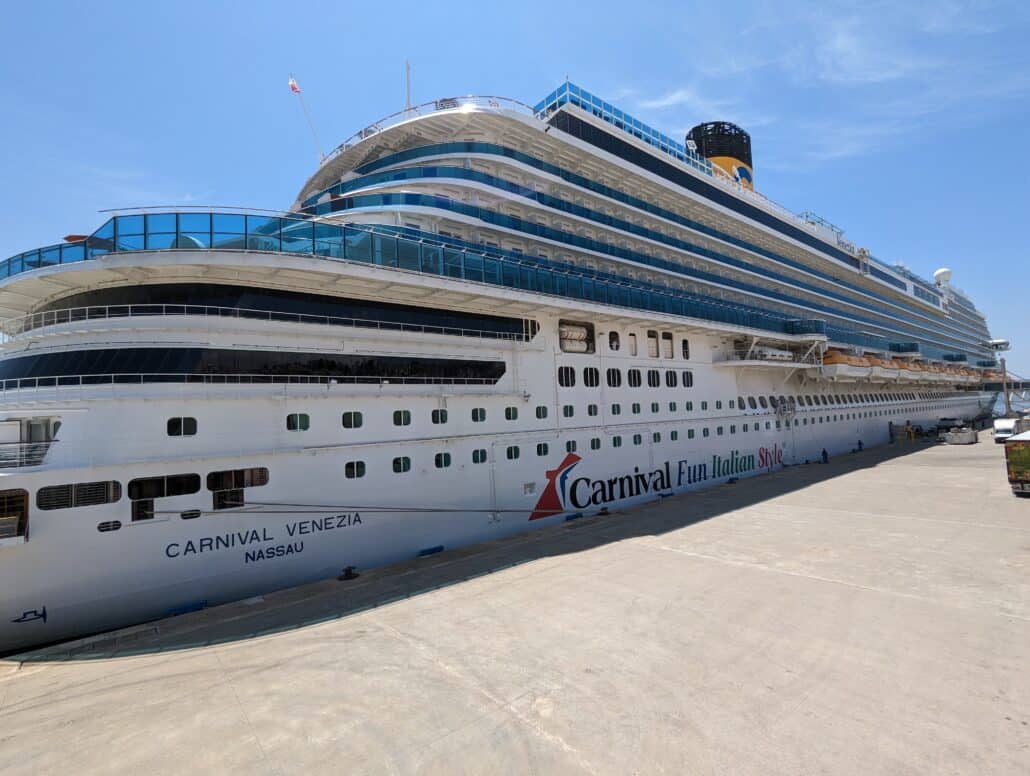 Watch Carnival Venezia Review and Tour (2023)
Go Deeper: Carnival Venezia Features New Bars, Italian-themed Guy's Burger Joint