Viking announced today that it has opened its 2024 schedule of sailings on the Mississippi River.
The line's first custom Mississippi River vessel, Viking Mississippi, will debut in August 2022 and sail voyages between New Orleans and St. Paul. Since announcing the ship's initial sailings in 2020, several have already sold out through the 2023 sailing season. The demand has led Viking to open 2024 sailing dates sooner than originally planned.
"We are pleased with the continued response and support we have received from loyal guests and valued partners ahead of our new Mississippi River sailings," said Torstein Hagen, Chairman of Viking. "As we begin to restart ocean operations this spring, we also look forward to a new chapter in 2022 when we begin sailing our first U.S. river voyages."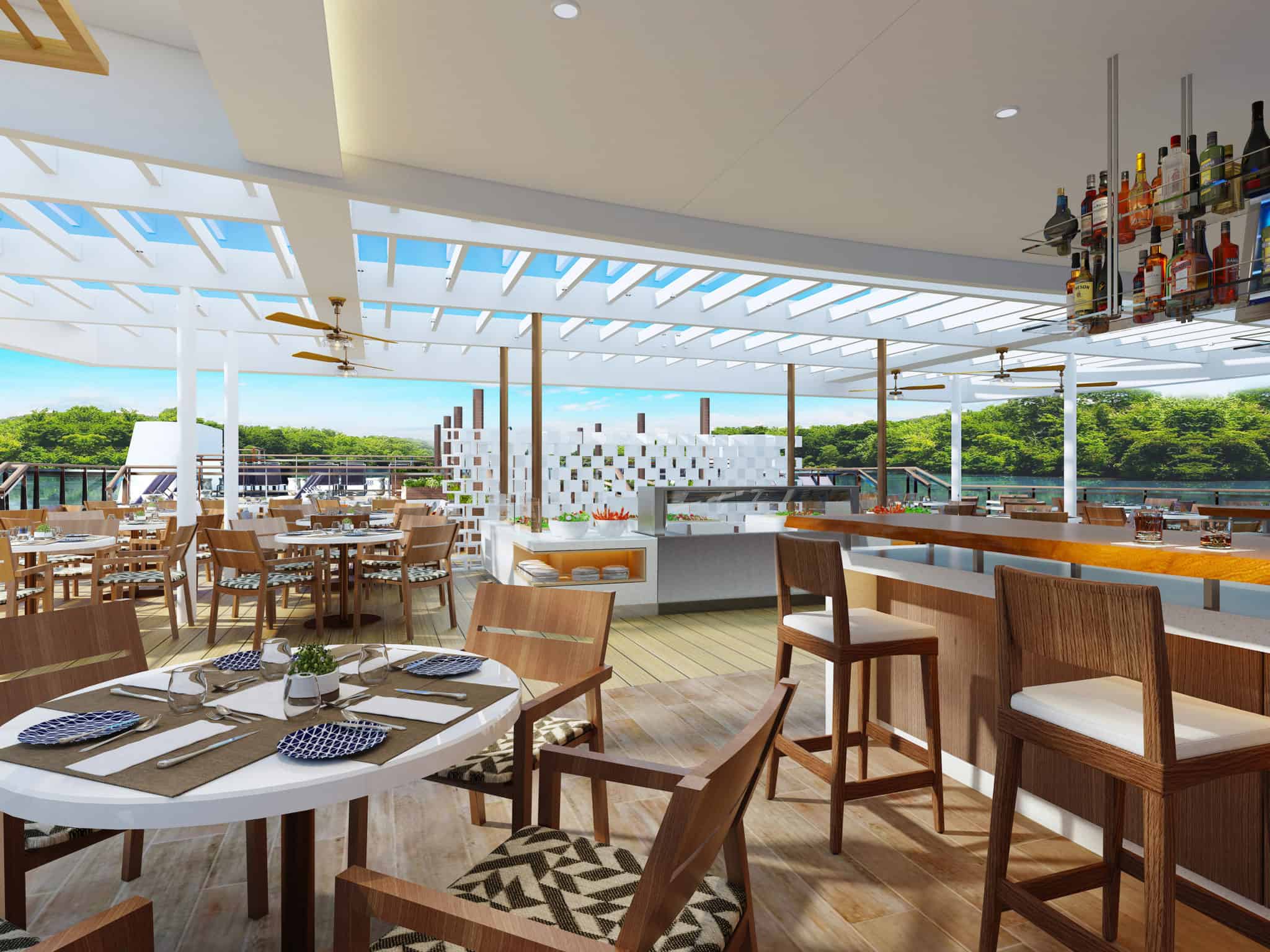 Viking's arrival to the Mississippi will represent a major commitment to tourism in many communities along the river, with 17,600+ guests expected to visit the region during the first full sailing season in 2023.
2022-2024 Viking Mississippi Itineraries
America's Great River — 15 nights from New Orleans to St. Paul
Experience nearly the entire length of the Mississippi River on this journey from the Gulf of Mexico to the northern United States. Port calls include Natchez, Memphis, St. Louis, and La Crosse. Multiple sailing dates are available in June, July, September, and October 2023 and 2024. Pricing starts at $10,999 per person.
America's Heartland — 8 nights from St. Louis to St. Paul
The Upper Mississippi offers rich beauty around every turn of the river. This voyage introduces guests to the locks and dams that control the flow of the heartland rivers. Passengers can hear stories of settlers migrating west; learn about Lewis & Clark, Mark Twain, John Deere and the Amish and Norwegian migrations; experience the regional music like polka and Norwegian folk; and taste regional cuisine showcasing local beer, produce and Wisconsin cheese.
Multiple voyages are available from August to September 2023 and 2024. Pricing starts at $4,399 per person.
READ MORE: Viking Announces Summer 2021 Bermuda & Iceland Cruises
Heart of the Delta — 8 nights from New Orleans to Memphis
This cruise on the Lower Mississippi is infused with American history and culture. Tour the area where the migrating French and Acadians settled; immerse yourself in the culture and lessons from the American Civil Rights Movement; discover the music of the South—jazz, blues and gospel; and experience the life and food culture of the south, from Cajun and Creole to the famed "dry" Memphis BBQ.
Multiple sailing dates are available in November 2022 as well as January to June and October to December 2023 and 2024. Pricing starts at $4,399 per person.
New Orleans & Southern Charm — 8 nights New Orleans roundtrip
This exploration of the Lower Mississippi allows passengers to learn about Civil War history at notable sights, sample Cajun and Creole cuisine, and take in the sights of French-influenced ports like Baton Rouge, Darrow, and others in Louisiana and Mississippi. Multiple sailing dates are available in November and December 2022, as well as January and December 2023 and 2024. Pricing starts at $3,999 per person.
Mississippi Holiday Season — 8 nights from Memphis to New Orleans
In December 2022, passengers can explore the Lower Mississippi during a special holiday cruise. This eight-night journey includes privileged access to Graceland, Cajun cuisine and shopping excursions, and a visit to look at the light displays and historic homes in Natchez and Baton Rouge.
Onboard festivities include special regional dining and treats for the holidays. Multiple sailings are available in December 2022. Pricing starts at $3,999 per person.
The Ship
Holding 386 passengers in 193 all exterior staterooms, the new Viking Mississippi has been inspired by Viking's fleet of river and ocean ships. It will feature the line's iconic Scandinavian design, as well as public spaces that are familiar to repeat guests, but have been reimagined for Mississippi River voyages.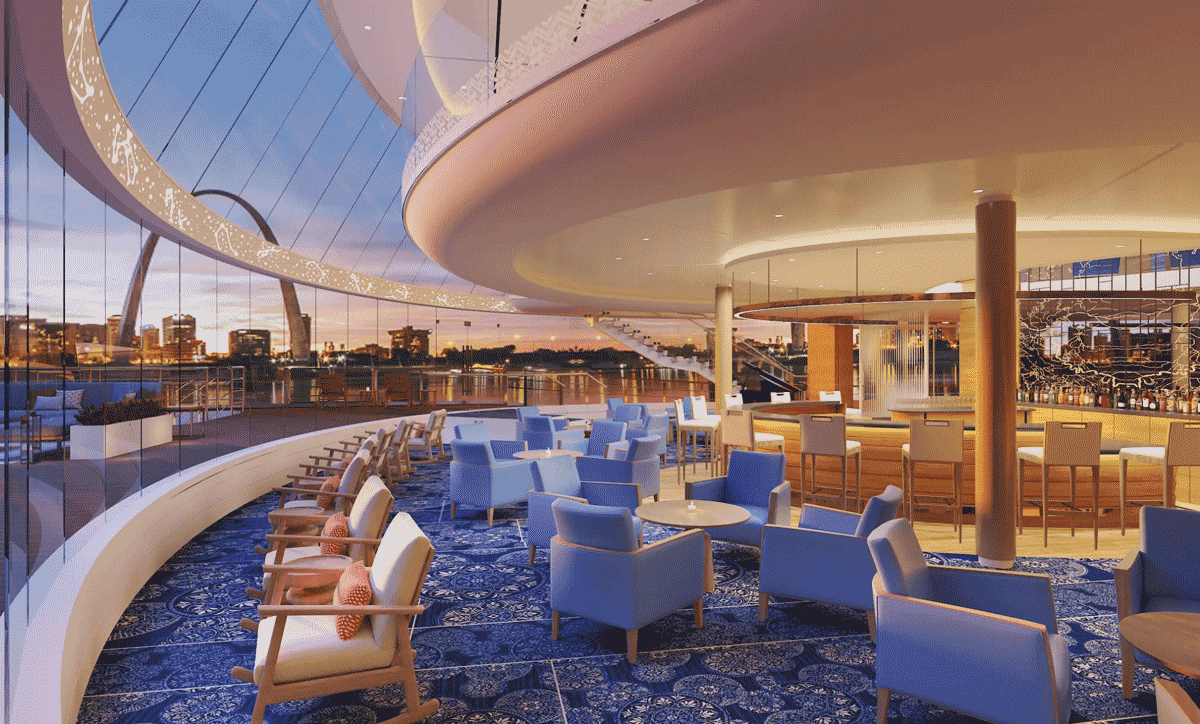 There will be seven stateroom and suite categories to choose from, all with either French Balconies or Verandas, king-size beds, large glass-enclosed showers, and heated bathroom floors.
As is familiar to Viking's ocean guests, Viking Mississippi will feature a two-story Explorers' Lounge near the bow of the ship, with floor-to-ceiling windows that open to The Bow — an outdoor seating area with prime riverside views.
The vessel will also include an infinity plunge pool, casual dining on the Aquavit Terrace, and an outdoor promenade deck that circles the entire ship.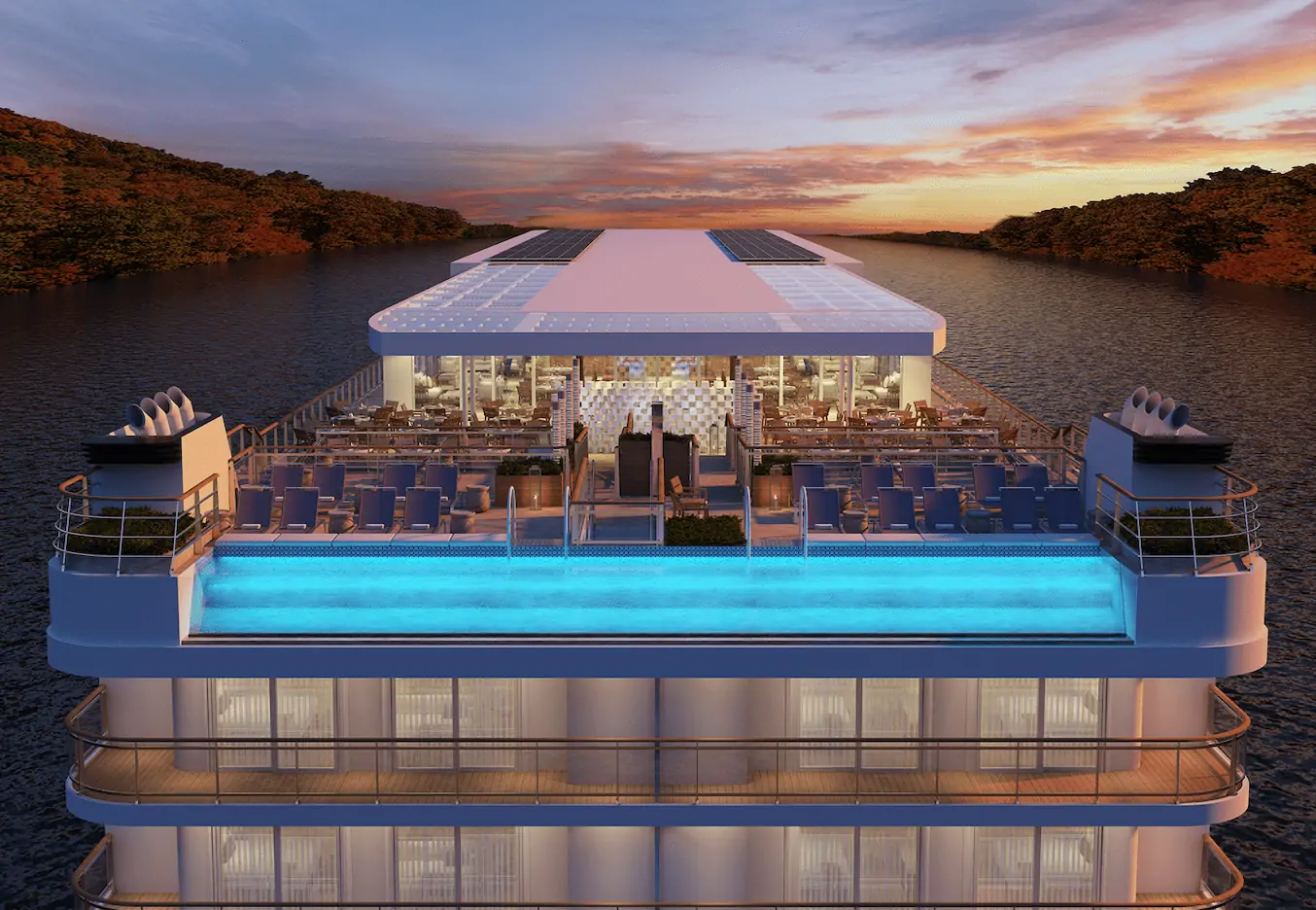 Currently under construction in Louisiana, the five-deck Viking Mississippi will be the most modern cruise ship in the region when it debuts. Every voyage will include one free shore excursion in each port of call, all onboard meals, beer and wine with lunch and dinner, self-service laundry, 24/7 room service, and wifi access.
READ MORE: Viking Takes Delivery of Latest Ocean Cruise Ship