Virgin Group Founder Sir Richard Branson and Virgin Voyages President and CEO Tom McAlpin hosted a 'Ship Tease', where key details were revealed about what sailors can expect on the first of three ships, coming to the high seas in 2020. Live from Fincantieri's shipyard in Genoa, Italy, they also celebrated the laying of the keel for the first ship, marking the commencement of construction.
What We Learned About Virgin Voyages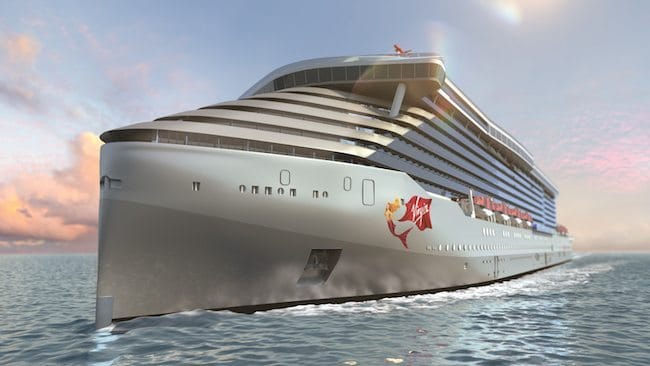 Bookings are on sale now
It will be an adults-only experience
86% of all cabins will feature a sea terrace
93% of all cabins will feature an ocean view
The first of the 3 midsize ships, each weighing in at 110,000 tons and featuring around 1,400 cabins, isn't expected to arrive until 2020. Her sister ships will then make their debuts in 2021 and 2022. The first one will sail from Miami, Florida.
Virgin Voyages On Sale Now
The final announcement from the cruise line is that it is now "open for business" at virginvoyages.com. Future sailors and travel partners can place a $500 refundable deposit for access to an exclusive pre-sale before it goes on general sale.
In 2015, Sir Richard Branson announced the launch of Virgin Voyages at an event in Miami, Florida. Until now, the company has been slow to reveal details of the upcoming vessels and experience.
SaveSave