Royal Caribbean's first Icon-class ship, Icon of the Seas, is one of the most-anticipated new cruise ships right now. The cruise line is marketing the vessel, which is set to debut in January 2024, as the "best family vacation in the world," and based on what I've seen so far I do think it will be among the top options for families who love lots of action-packed fun.
As someone who has been on a dozen ships and covers the cruise industry daily, this is the ship I'm personally most excited about right now. The Icon-class is an evolution of the Oasis-class in a major way, and I think this is one of the reasons it will be so successful; it's building on the platform of an already extremely popular lineup of ships. Here, I thought I'd compile five of the things I'm most excited for on Icon of the Seas, based on what's been released about it by Royal Caribbean so far.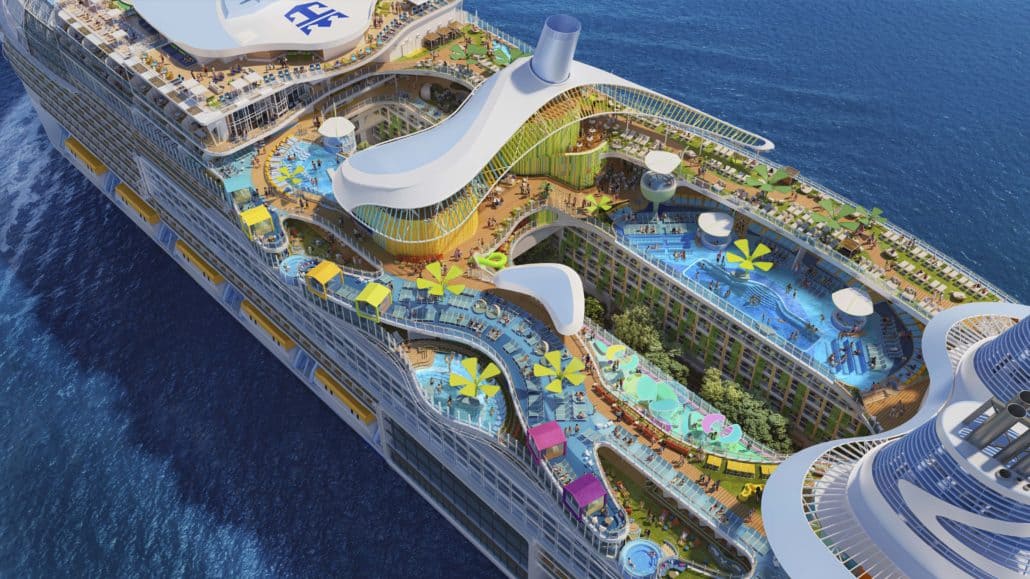 1. AquaDome
Like the Oasis-class ships, Icon of the Seas will have a space for high-dive shows. But unlike the Oasis-class ships, it won't be an open-air spot at the aft — instead it will be a glass-enclosed dome on the forward part of the top deck. The AquaDome is actually one of the eight "neighborhoods" on Icon, and it encompasses more than just a theater space for the diving shows. By day, the AquaTheater itself will serve as a hangout space, complete with a circular waterfall that's also used during the evening shows.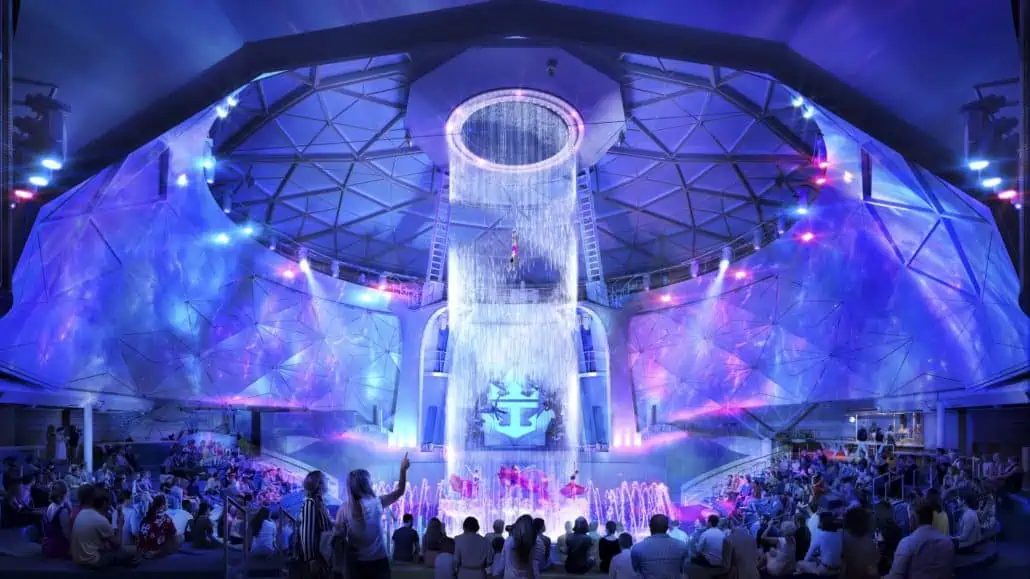 It will also house restaurants — including Hooked Seafood — a coffee shop called Rye & Bean that transforms into a bar at night, and retail space. The AquaDome will also be home to The Overlook, which is like Icon of the Seas' massive take on an observation lounge. It will include a variety of seating areas, as well as The Overlook Pods — elevated conversation nooks with 360 degree views.
If all of that wasn't enough, the rear sides of the AquaDome will actually include cabins, whose floor-to-ceiling windows are some of the dome's geometric glass panels.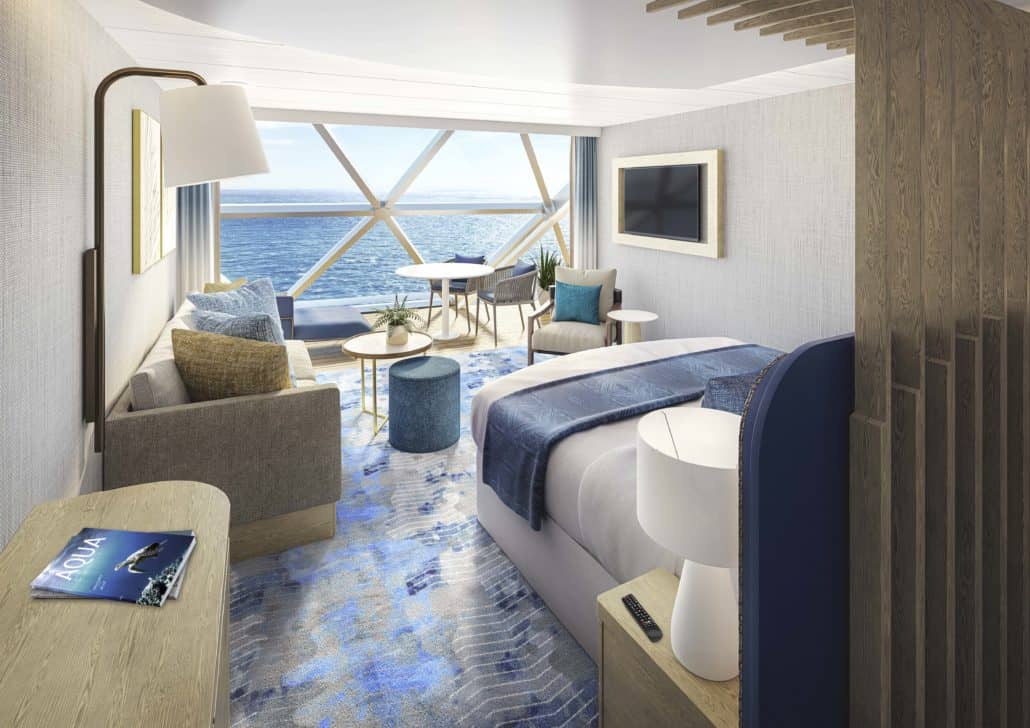 The AquaDome is an entirely new concept for Royal Caribbean, and I think it's a fantastic move as they evolved the Oasis-class blueprint to create the Icon-class. The AquaTheater's location at the aft on the Oasis-class ships is great when you're actually attending a show, but seems like a waste of valuable outdoor space during the day. In its place on Icon is the Splashaway Bay kids' water park and infinity-style pool, which to me is a very smart use of an open-air area that will get a lot of sunshine.
In addition to that, I am someone who loves observation lounges on cruise ships. I often miss them when I'm on a vessel that doesn't have one. The Overlook is right up my alley both in terms of practical architecture — giving me that observation lounge space — as well as with interior design. The renderings (especially the mood lighting at night) remind me of the moon Pandora in the film Avatar, which I love everything about.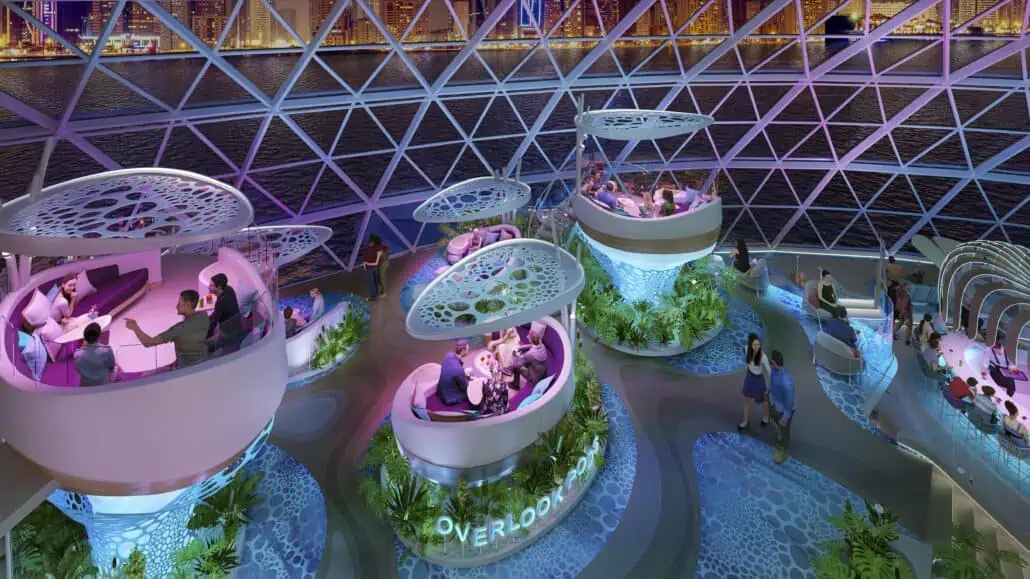 2. The Hideaway Pool
I predict that the Hideaway Pool is going to be the *it* pool on Icon of the Seas. It reminds me of those pools you see suspended between two buildings or the pool at the top of the Marina Bay Sands hotel in Singapore. Located in the beach club-inspired Hideaway neighborhood, the Hideaway Pool is suspended mid-air eight stories up. It features full-size daybeds surrounded by water, with the space also offering cushy loungers, a nearby bar, and a resident DJ.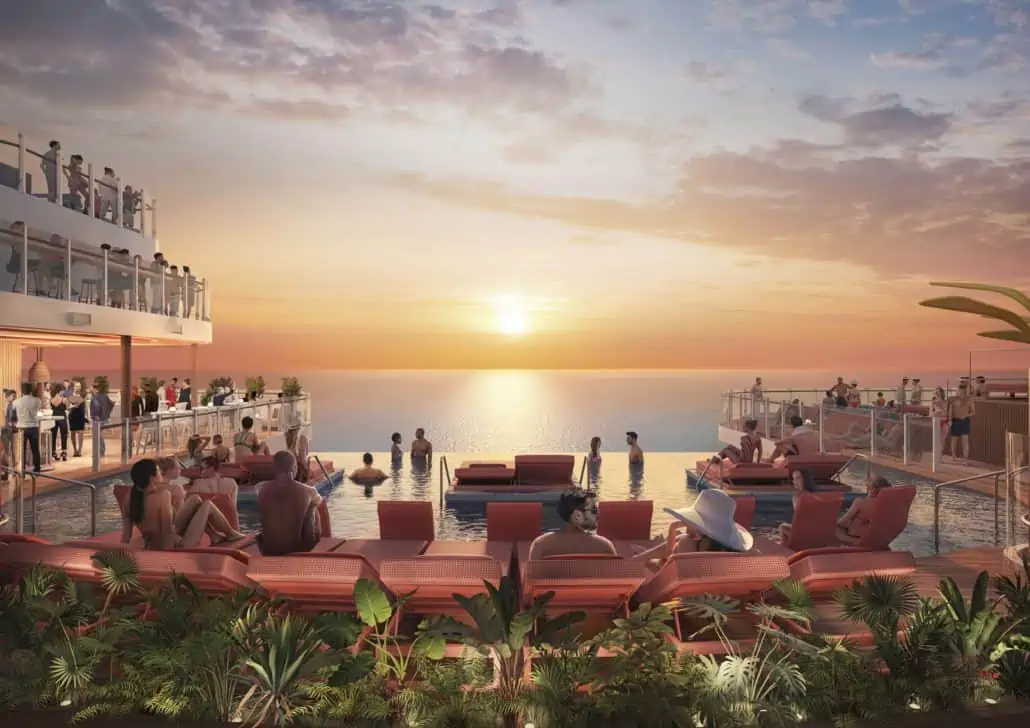 I remember when Viking and MSC Cruises pioneered the first infinity pools at sea, which was such a novel and exciting feature for a cruise ship at the time. I love the connection that they create with the ocean and it's amazing to see them on so many ships now. I feel that with the Hideaway Pool, Royal Caribbean is taking that idea a step further and creating something with a bit of a sense of danger (though it will be perfectly safe!) and a lot of height, which will be so fun to experience.
MORE: Wonder of the Seas Dining Guide: Which Restaurants Are Complimentary?
3. Lemon Post
Why am I so excited about a family bar located in a neighborhood geared towards young kids? Because of its lemon theme! I have a certain affinity towards lemons, which is why I was very excited when Royal Caribbean announced this particular venue on Icon.
Lemon Post is an open-air venue located in the Surfside family neighborhood right next to the Splashaway Bay water play area on deck seven. It will feature two menus: one for kids and one for adults. To let Royal Caribbean explain the concept: "With color changing drinks, unique souvenir cups and performative pours, this is not your ordinary lemonade stand."
While the actual menus are not out yet — and likely won't be available until the ship actually debuts — we can only guess that this bar will offer up lots of citrusy, fruity, refreshing beverages perfect for families to enjoy during a hot afternoon spent in the water. Based on the rendering, the interior design will feature lots of lemon elements with an — of course — yellow and green color scheme.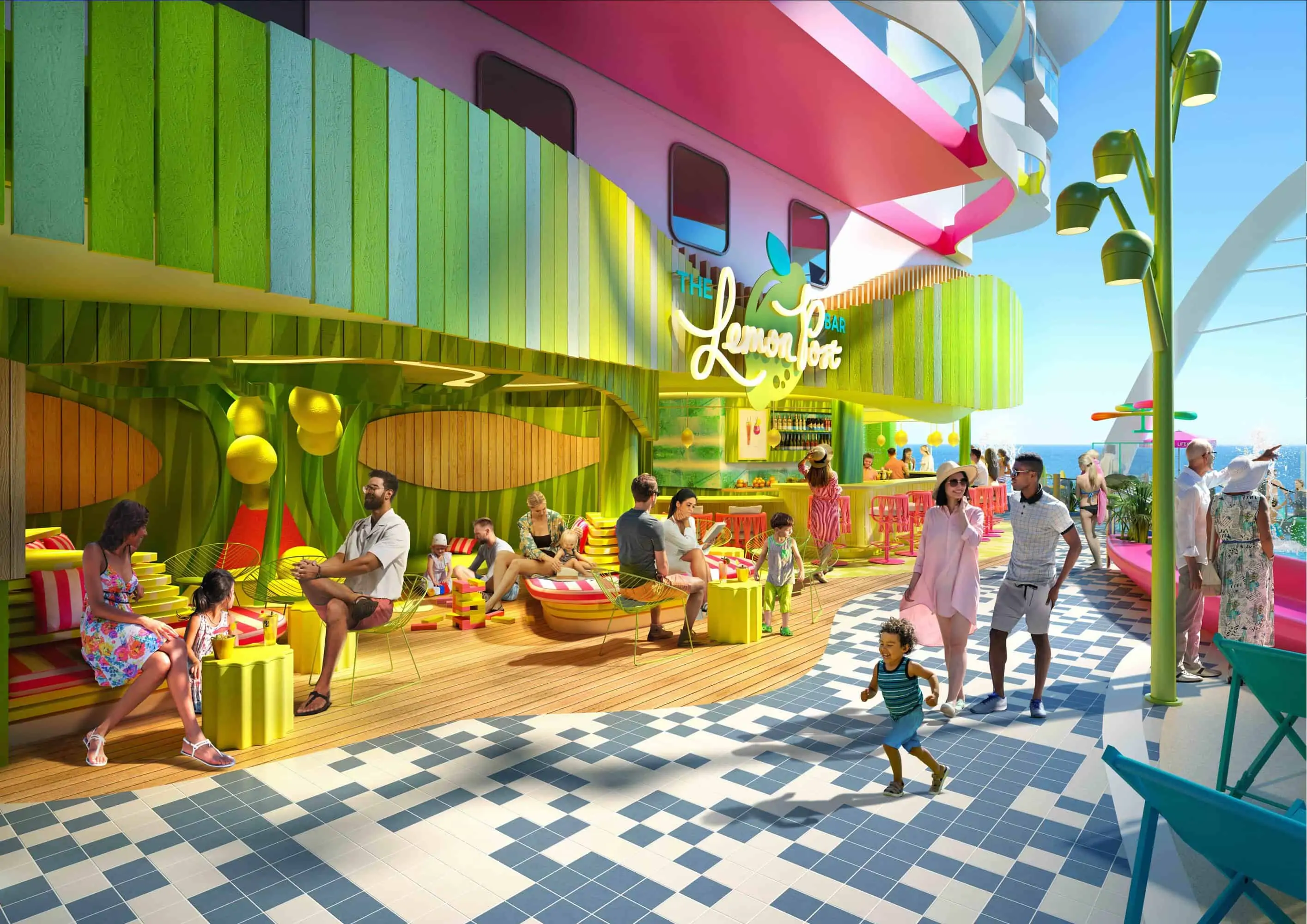 You can bet that if/when I get a chance to sail Icon of the Seas, I'll be taking photos at Lemon Post and posting them on Instagram ASAP. After all, I have to keep up my lemon-loving reputation!
4. Thrill Island
Thrill Island is another neighborhood on Icon of the Seas, and — as its name implies — this is where the ship's most thrilling activities can be found. The focal point is the six waterslides, which help comprise what will be the largest waterpark at sea (17,010 square feet!), fittingly called Category 6. The waterpark will represent a lot of firsts for the cruise industry, including the first family raft ride at sea, the first duo mat racing slides at sea, and the tallest drop slide at sea. Thrill Island will also offer a fresh take on Royal Caribbean's classic rock climbing wall, and a shipwreck-themed mini golf course.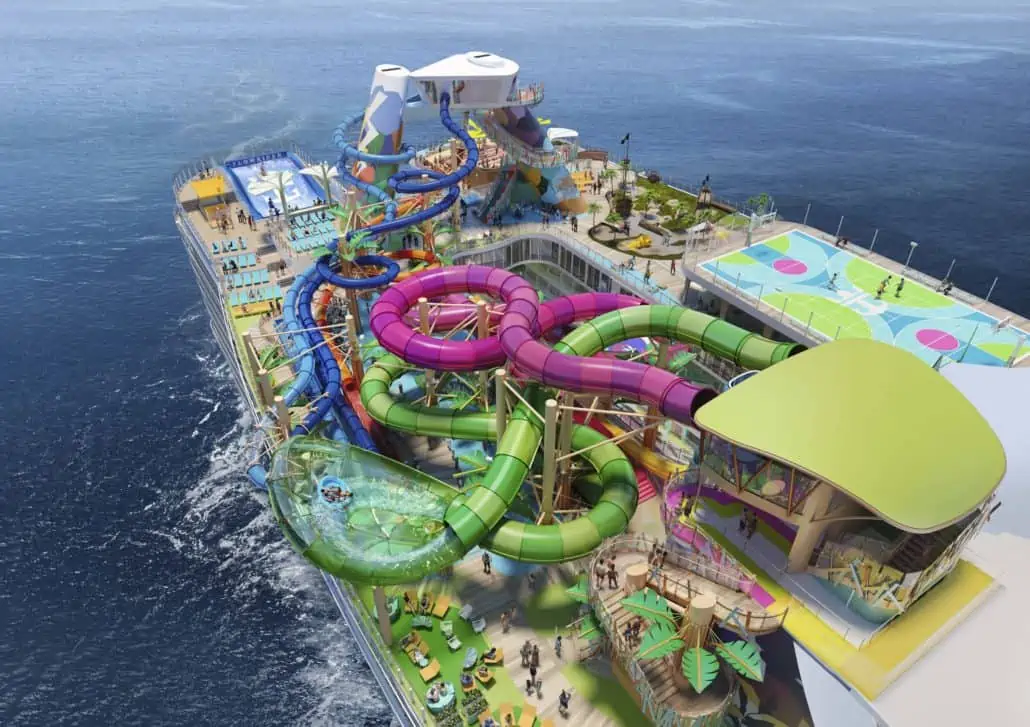 I'm a big fan of waterslides, and the fact that Icon will have six is a huge plus for me. I also really enjoy rock climbing walls and themed mini golf — the more interesting and detailed the theming, the better!
Another aspect of Thrill Island that really puts the "thrill" in the name is Crown's Edge. Royal Caribbean describes it as "a fear-inducing challenge that's part skywalk, part ropes course, part thrill ride and an all-out test of your courage." It takes guests over the side of the ship, including a part where you're literally dangling over the ocean.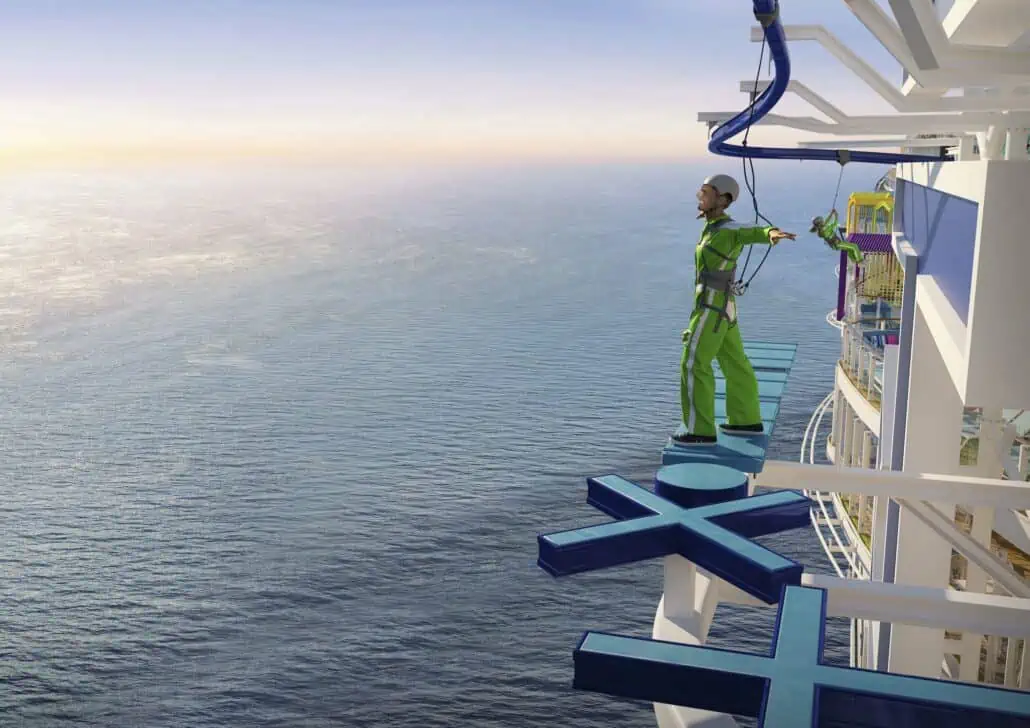 THIS is part of Thrill Island that I'm a little apprehensive about. I'm not against ropes courses and I've done them, but they're not my favorite either. I just know that the fact you have to step off a platform and essentially "zip line" for a short distance over the edge of the ship might be a little too much for me to actually enjoy. But for thrill seekers and those who don't get horribly wobbly legs on ropes courses, this will be just the ticket. Otherwise, I'm absolutely pumped for everything that Thrill Island has to offer!
5. Family Staterooms
Even though I won't be utilizing any of Icon of the Seas' family staterooms anytime soon, I think they're one of the most innovative, unique features of the entire ship — which is saying a lot because Icon is absolutely brimming with Royal Caribbean's next-level innovation.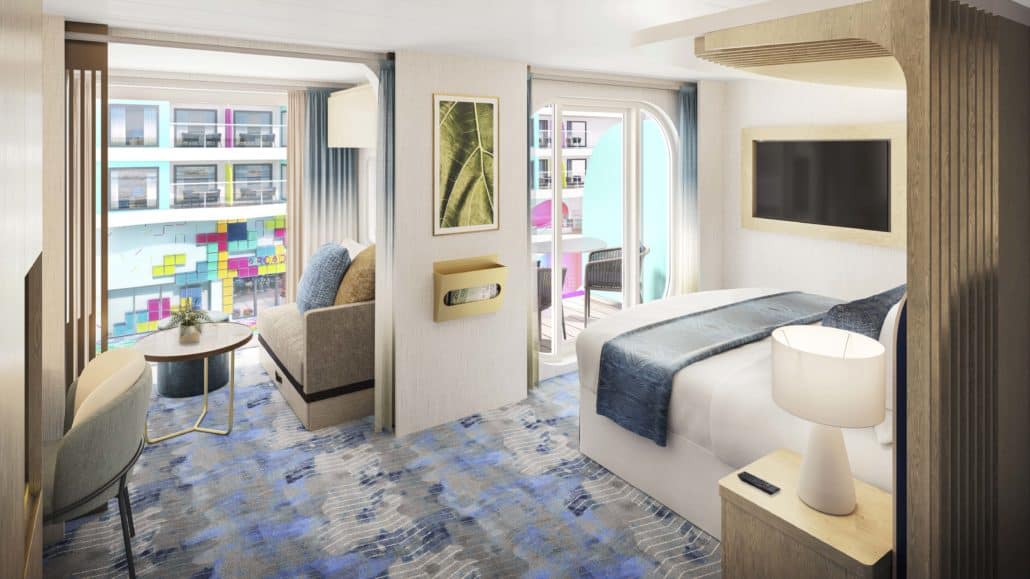 There are quite a few "family" stateroom categories to choose from on this vessel, including the Family Infinite Ocean View Balcony, Surfside Family Suite, and the Surfside Family View Interiors. Without getting way down into the details — which vary slightly for each category — I'll just list a few features that some of these staterooms have which I think are so fun and have been so well thought-out for families.
Split bathrooms
Separate kids' alcove with bunk beds (each with its own TV!)
Games (such as Scrabble) and chalkboards on the walls
Separate kids' hangout nook
Close proximity to the Surfside family neighborhood (some even overlook it)
Icon of the Seas will also feature an evolution of the massive only-one-per-ship Ultimate Family Suite, which can be found on Symphony and Wonder of the Seas. On Icon, the multi-story accommodation is called the Ultimate Family Townhouse and it opens right out into the Surfside neighborhood, putting the family who stays in it right in the heart of the action.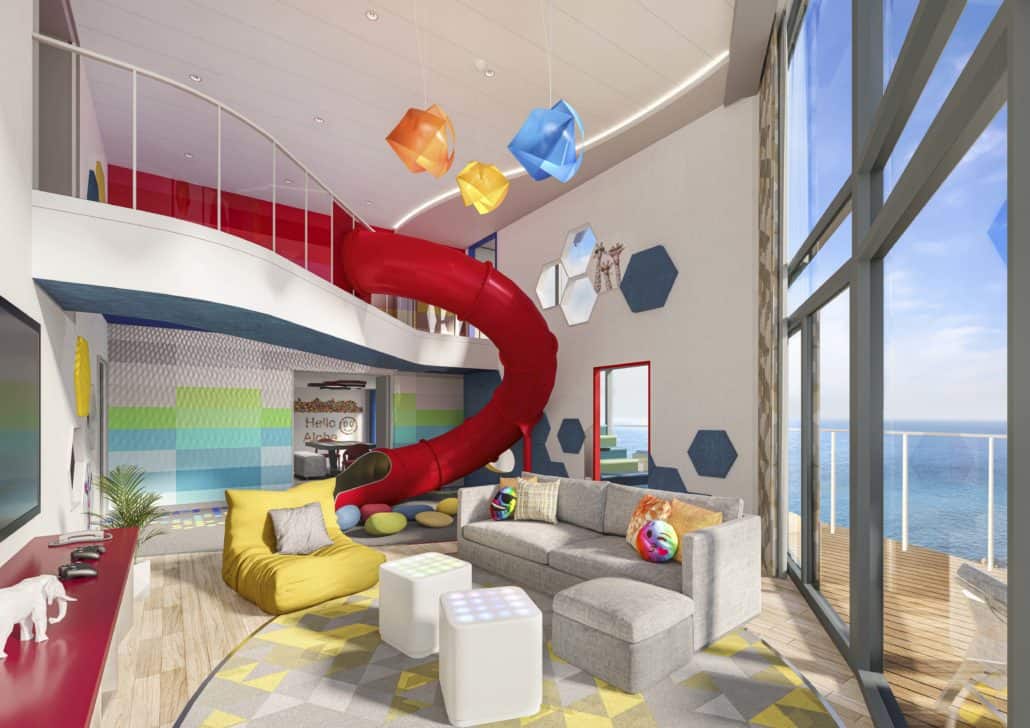 There you have it! These are the things I'm most excited for on Icon of the Seas. What are you most looking forward to on board?
READ NEXT: What's on the Horizon For Royal Caribbean? Two Upcoming Ships, a New Private Island, and More.
Pin it!