It's hard to imagine a more highly-anticipated ship than Carnival Cruise Line's Mardi Gras. After a delay of over a year — remember, her original launch date was summer of 2020! — the company finally rolled out the red carpet to allow around 800 guests to explore Mardi Gras' venues, sample the tasty treats she has to offer, check out those swanky suites and yes, ride the Bolt roller coaster.
Welcome Aboard!
So let's get this out of the way first: Yes, Bolt is amazing. Borderline indescribable… but more on that in a just a little bit.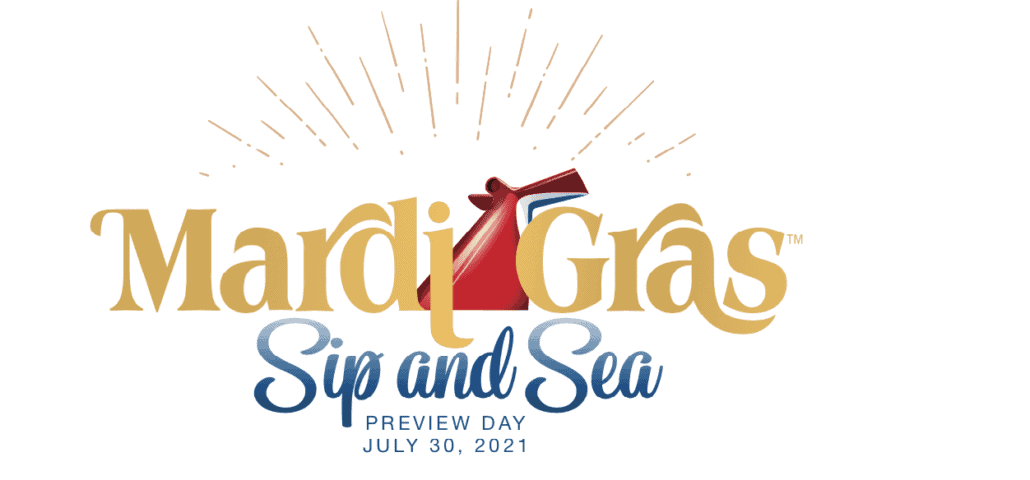 The day kicked off with Carnival Cruise Line president Christine Duffy welcoming everyone aboard for what was dubbed a "Sip & Sea." The event's name, she explained, was derived from a southern tradition. "A sip-and-see is what a family hosts when they have a new baby that they want to show off to their friends and family," she explained. "Well, Mardi Gras is our new baby, and we have been waiting a lot longer than nine months to deliver her!"
Acknowledging that it's been a rough 18 months for the industry, Duffy said that Carnival alone had been forced to cancel over 3 million guests' cruises. "We've cancelled, we've rebooked, we've cancelled, we've rebooked and finally," she said to massive applause, "we've cancelled, we rebooked and we are sailing!"
After listing many of the ways in which Mardi Gras is a game-changer for Carnival, Duffy addressed the proverbial elephant in the room… or should we say, atop the ship. "In case you haven't heard," she quipped, "there's a roller coaster on the ship… her name is Bolt and yes, she's a girl, I've decided, since the ship is, too."
Like us, Duffy admitted, "I have been waiting three years to ride Bolt!" And while today was the official ribbon-cutting, the exec confessed that she and Carnival Corporation president Arnold Donald took the coaster for a spin last month. "I'm not going to be riding today," she added, saying that it "really messed up my hair."
As for the cost to ride the coaster, Brand Ambassador John Heald, fresh from having taken it for a spin, indicated it would be $15 for two laps.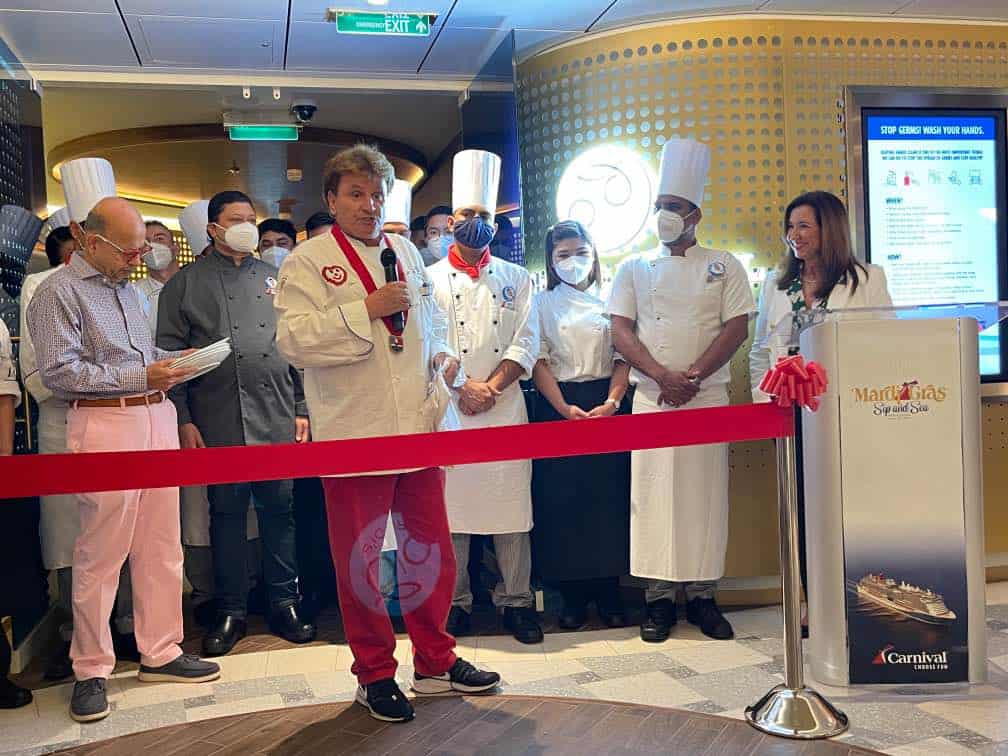 Duffy was busy, dashing from one onboard event (the Bolt ribbon cutting) to another (the grand opening of Carnival Cruise Line's first ever sit-down seafood restaurant, Rudi's Seagrill). During the latter event, celebrity chef Rudi Sodamin presented Duffy with a chef's jacket of her very own. "My husband will be very jealous," she laughed, admitted that he's the chef in their household.
While I didn't get a chef's jacket, I did get an opportunity to chat briefly (and grab a selfie) with Sodamin, who has a long relationship with Carnival Corporation and is on the Culinary Council at Holland America.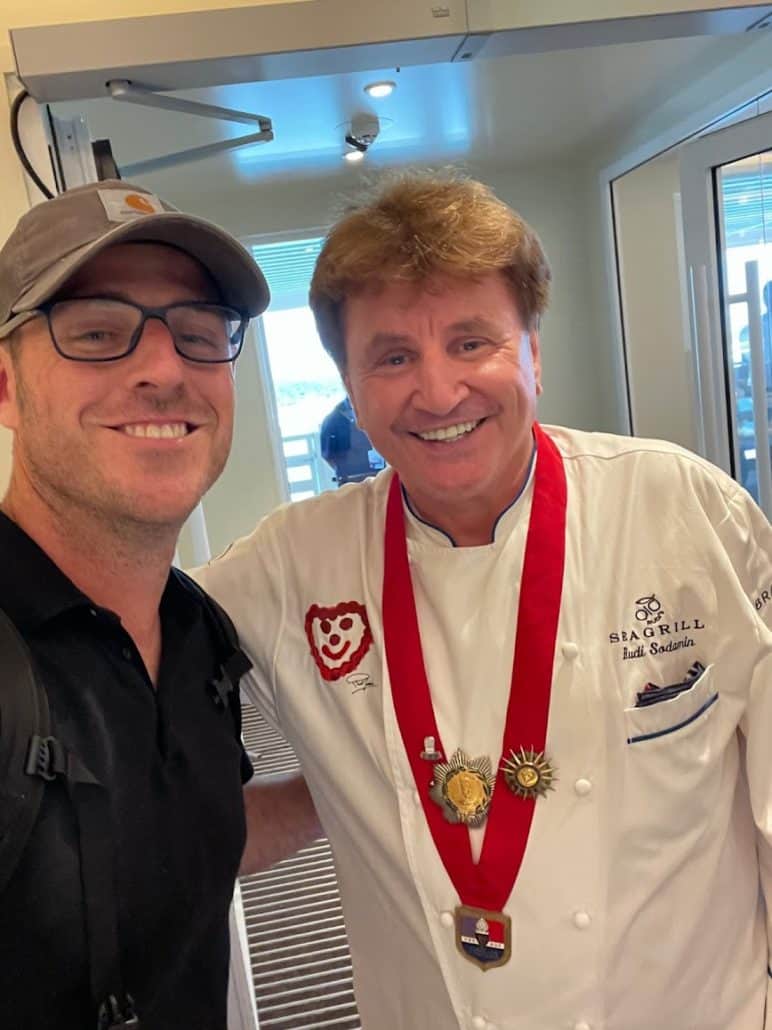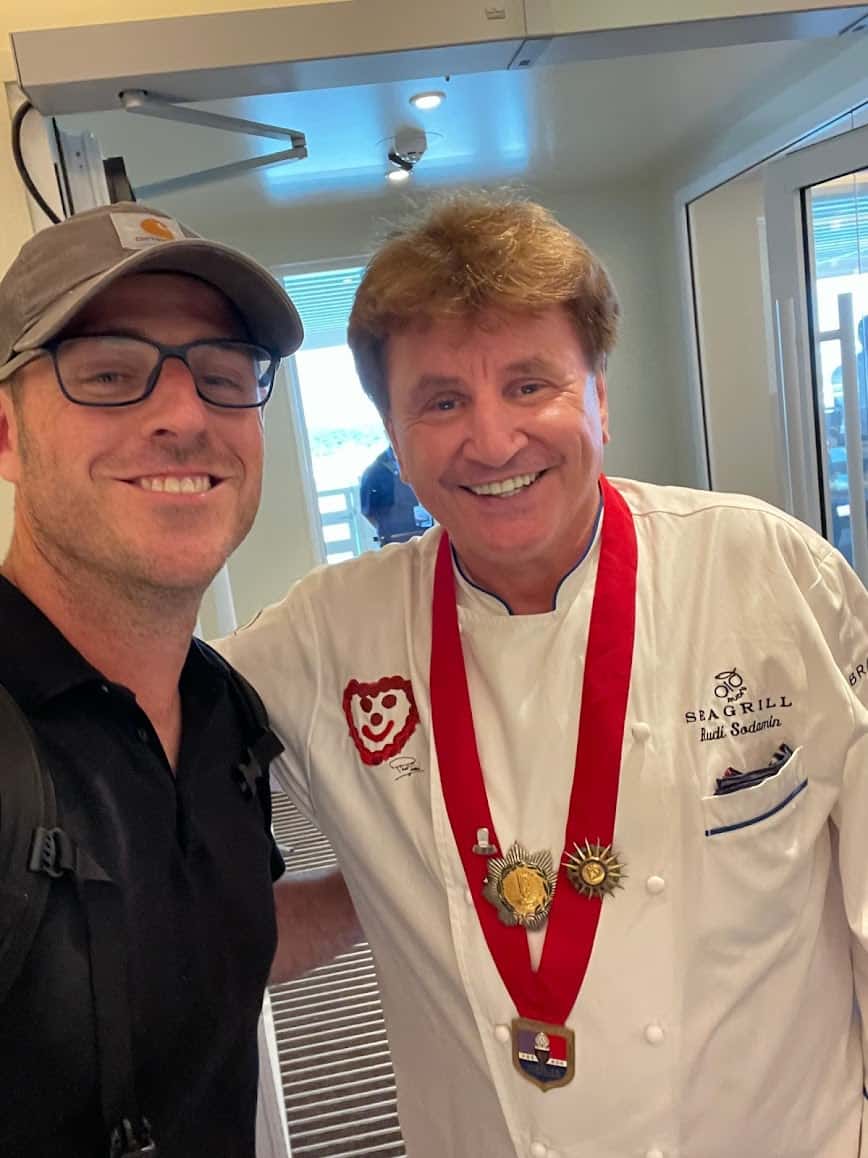 There was no shortage of red ribbons waiting to be cut as one new space after another was dedicated. Among them was the Heroes Tribute bar, a relatively new concept designed to pay tribute to past and present veterans, a group whom Carnival quite proudly carries more of than any other line.
As you might expect on a Carnival ship, food was both much discussed and to be found around every corner. One of the most popular grab-and-go items? The sandwiches at Shaquille O'Neal's Big Chicken.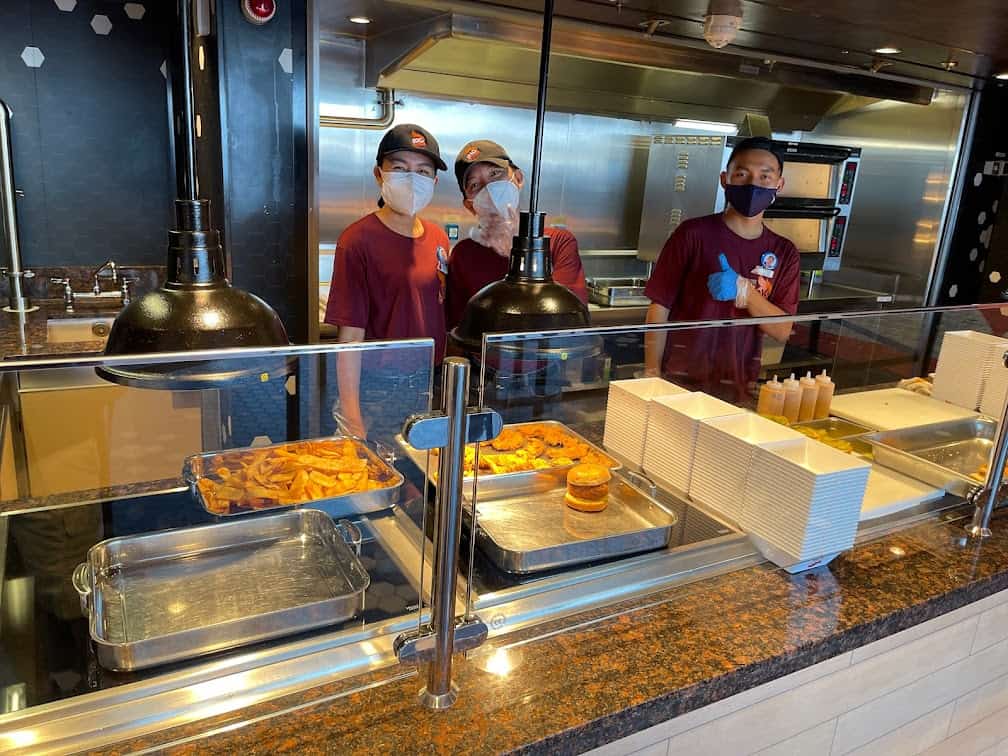 And then there's Bolt.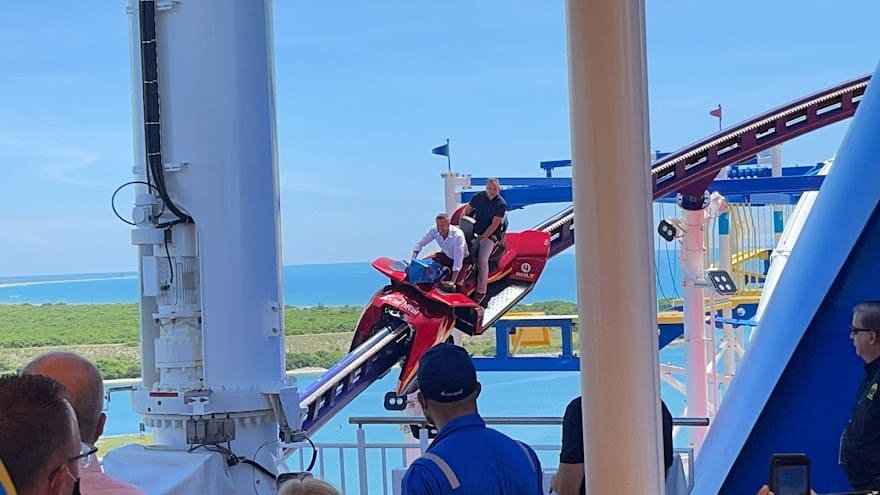 Given how thrilling this coaster is when the ship is docked, it's almost hard to imagine what it will be like to experience the thrill ride when the ship is out in the middle of the ocean. (It is, however, something I'll be able to fill you in on later this week, as I'll be among those setting sail on Mardi Gras' maiden voyage.
Although the day started with the atrium's much-discussed three-story wall of glass covered by digital screens, we later got to see not only what was behind those screens but the cool process of transformation.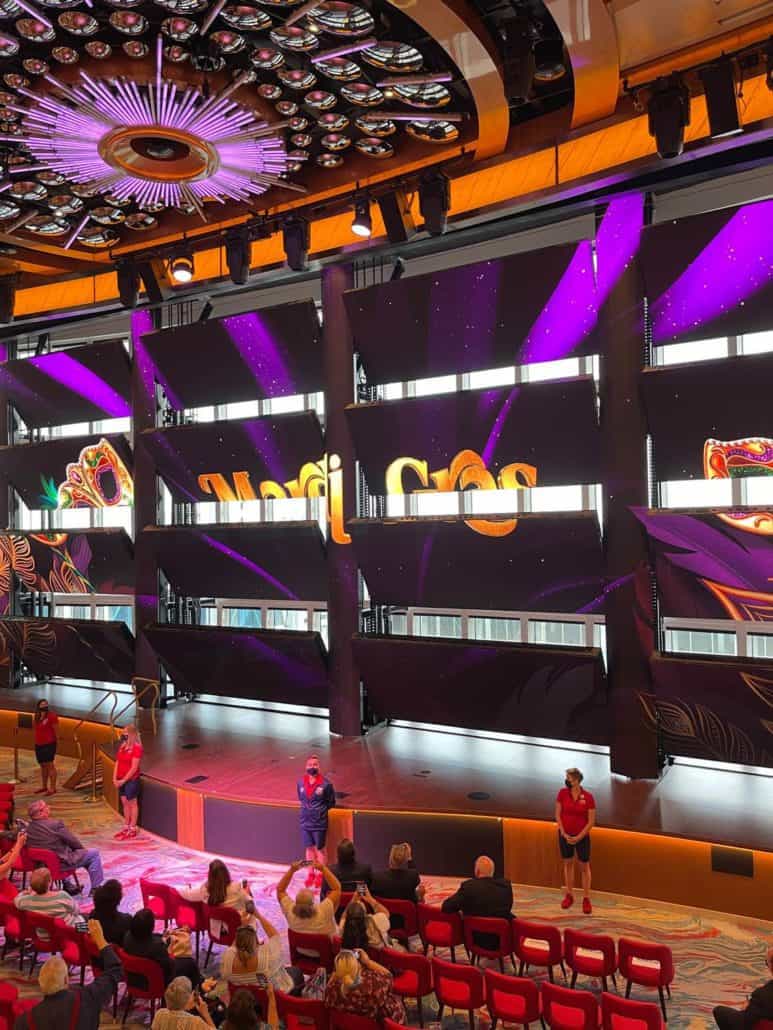 In some ways, it reminds me of Two70 aboard some Royal Caribbean ships. Like that space, this should provide some pretty spectacular views when the ship is at sea. As it is, that wall of glass makes for a heck of a first impression when passengers board, given that this is the space into which they'll enter!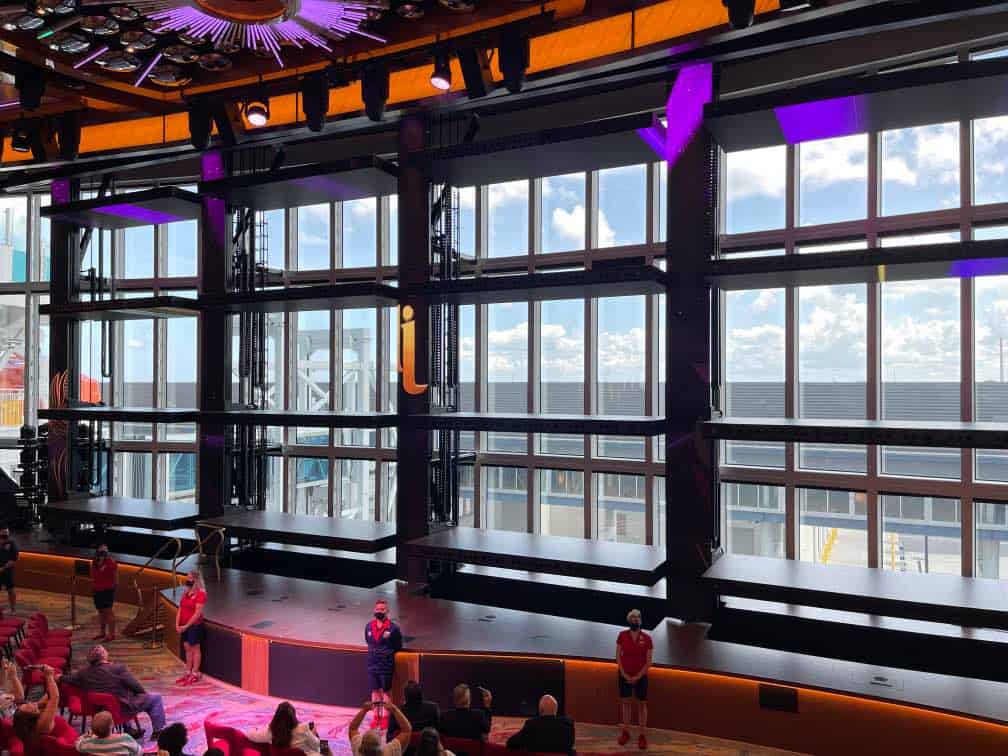 As most Carnival regulars know, the cruise line has had a long-standing affiliation with St. Jude Children's Hospital, raising over $22 million (thanks in part to the always-fun Groove for St. Jude deck parties). This afternoon saw the unveiling of a sculpture inspired by artwork done by some of that facility's patients.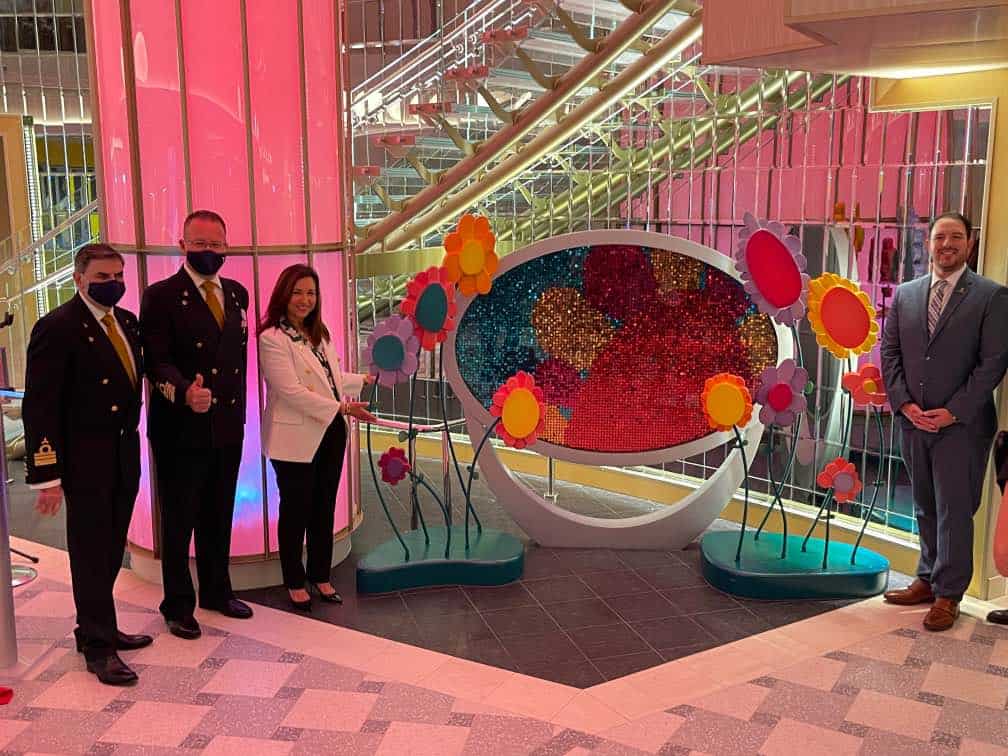 "Today's event was five years in the making and it was simply amazing watching everyone enjoy all that this game-changing ship has to offer… life and in-person!" said Duffy of the festivities. Meanwhile, stay tuned to Cruise Radio all week as we bring you updates from the first official sailing of the Mardi Gras!