If you're a cruising pro, you're probably good at packing some clothes with a little wiggle room for the tail end of the cruise. Depending on who you ask, the average cruiser can gain anything from a couple pounds to 10 pounds per sailings – but you don't always have to tip the scale.
I'm not writing this because it's common sense. I'm writing this because I applied it to my own life, and lost 14 pounds in October – five of those days I was on a cruise!
Here are 10 things I did daily to make sure I didn't gain cruise weight.
1. Find the Gym 
This is obvious, but also works. The first thing I did was find the gym before it got too crowded with ship tours. On my last sailing, the gym was all the way forward on Deck 10. It offered panoramic views of the ocean, which made my daily three-mile run amazing!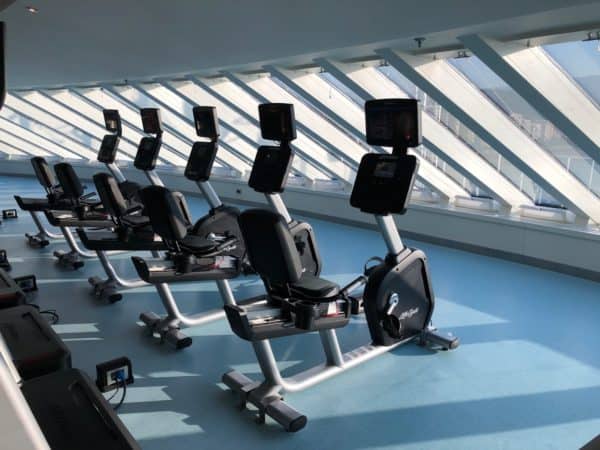 2. Don't Be Afraid to Snack 
To keep your metabolism cranking, don't forget that snacking is allowed around the clock. I found myself grazing more often than not, and that's okay. Just don't overdo it. Consider grabbing a small snack instead of a Guy's Pig Patty Burger!
3. Eat in Moderation 
On the other end of the spectrum, don't forget to eat in moderation. In the land of all-you-can-eat entrées and pizza, it's easy to overindulge. Be conscious of what you're doing.
4. Active Port Activities 
You don't have to buy a shore excursion to be active in port – there are plenty of other opportunities. In Nassau, I walked from the pier to Junkanoo Beach. In Half Moon Cay, I walked from one end of the beach to the other. The more snorkeling, hiking, and swimming, the better.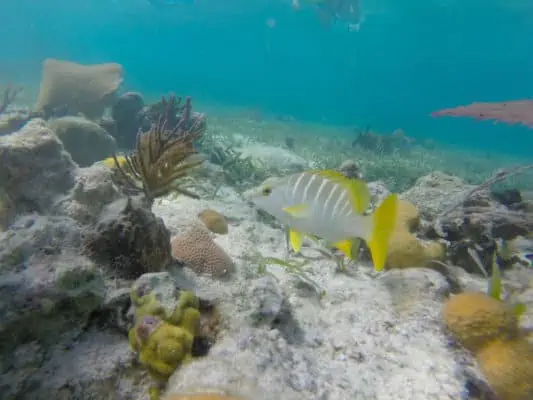 5. Limit Frozen Drinks 
One of the grandeurs of a cruise is experiencing your first frozen drink – but enjoy these in moderation! A piña colada on a cruise ship can have over 6oo calories. Adding chocolate brings that number up even higher. Instead, think clear alcohol. My go-to drink is vodka and club soda.
6. Find New Places to Eat
Give the buffet and burger joint a break, and venture around the ship to find new, healthier options. During lunchtime, Carnival Sunshine has a salad bar set up in Ocean Plaza and a Mongolian Wok set up in JiJi's Asian Kitchen.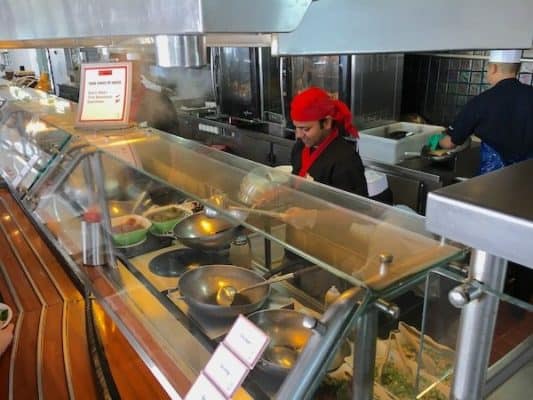 7. Don't Fall for Weight Loss Scams
Body wraps are all the rave right now. In fact, I can't log into my Instagram or Facebook without someone trying to sell me a body wrap.
I think Web MD says it best, "Any loss of inches is going to be temporary. Wraps cannot take the place of a healthy diet and exercise."
8. Take the Stairs
Obvious, but not always done (or not always up to be done, if we are being honest). My room was on deck one, and I admit, I took the elevator sometimes (mostly when I was with my parents). But when I was alone I took the stairs to breakfast, lunch, and dinner. Also, when it came to disembarkation, I took the stairs to the bottom decks to get off the ship. The feeling of having a mini-heart attack will only last for a few minutes, I promise.
9. Try Earlier Dinner 
Dining early allows time for walking around the ship, which gets your digestion going. I personally like to take a stroll on the jogging deck for a couple of laps – to take in the fresh sea air and to clear my head.  The only downside to early dining is missing the sunset-view from your dinner table.
10. Hydrate
I found myself drinking a lot of water throughout the day. Not only because the sun (and booze) dehydrates you, but because the more water I drank, the less I wanted to eat at dinner – and I love to eat. A good tip is pre-ordering a case of water for your stateroom before sailing. Or, if the cruise line allows, carry a case on with you.
I'd love to hear if you have any weight loss tips or ways to avoid packing the stretchy pants.
Disclaimer: I'm not a personal trainer, so I only know what worked for me.
Pin this! ↘︎