We all have that friend who does the humble brag about how they "eat and eat and just never seem to gain weight!" Well, I'm going to go out on a limb and assume that those people have never been on a cruise. Because as those of us who have know all too well, cruise weight gain is a real thing. Back in 2011, I managed to gain 11 pounds over the course of a seven-night sailing. On another cruise in 2016, I put on another seven pounds. The problem? Um… I like to eat. The solution? Well, that's what we're here to talk about today.
Deciding To Change My Cruise Weight Gain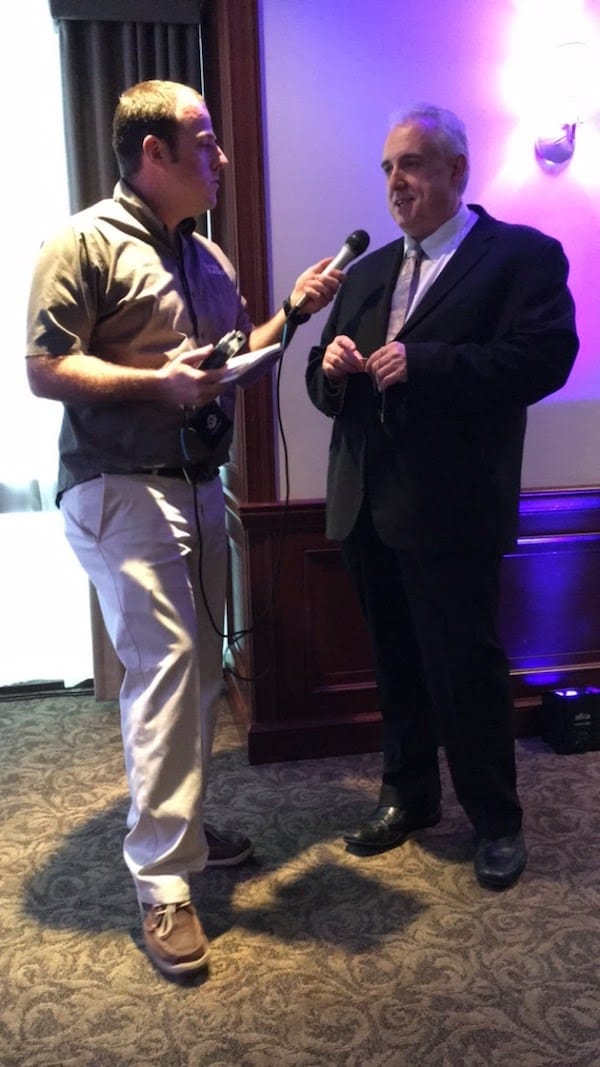 Earlier this year, I decided it was time to lose some weight. No this wasn't one of those New Year's resolutions situations. Instead, this was motivated by the fact that I simply did not feel healthy. And after seeing a picture of myself, taking while I was interviewing Carnival's Brand Ambassador John Heald, I knew I had to get the situation under control. I didn't have a specific goal in mind as to how much I wanted to lose, I just knew I wanted to feel better about myself.
I also knew this would involve more than a few trips to the gym. I'd been a member of one for four years and, realizing that I rarely had time to go, opted to save the $23 a month membership fee and focus instead on changing my eating habits. Frankly, the gym wasn't doing anything for me that going for a run in the fresh air couldn't.
My mornings went from not eating breakfast at all to downing  a spinach and banana smoothie. Lunch transitioned from burgers and fries to far healthier options like salads, soups, and wraps. And I ditched my usual dinners of burgers and starches in favor of salmon, chicken, and turkey. I'll admit, at first I feared that I'd get bored with my new, healthier food choices and begin cheating… but it turns out that there are a whole lot of people out there who are also trying to eat better, and willing to share their tips. Pinterest became my new best friend.
Avoiding Cruise Weight Gain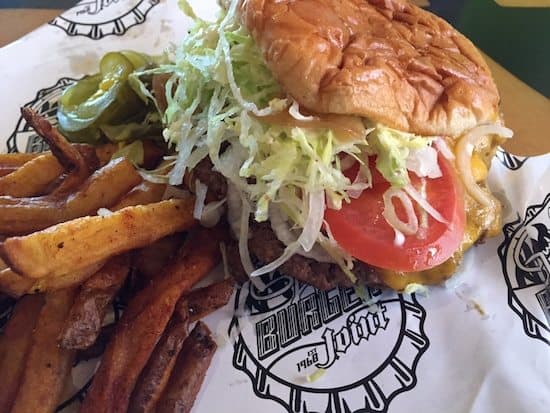 Two months into this diet – which was really a whole new way of looking at food – came the challenge I'd been kind of dreading: a cruise. Honestly, I was scared. Scared that I would dive mouth-first into the buffet, double-fist burgers, and trade spinach shakes for ones made out of ice cream and vodka.
As it turns out, I've managed to figure out a pretty decent way to avoid gaining weight when I cruise – which is fairly often. Now look I'm not a nutritionist, so I'm not here to tell you how you should eat. I'm also not looking to food-shame anyone for whom eating is a big part of cruising. I have friends who think of their weeks at sea as a "cheat week" and, yes, I have friends who eat everything in sight while sailing and never put on a pound.
But the fact that you're reading this article means maybe, just maybe, you're interested in how I avoid putting on weight while cruising. So here's my basic eating schedule.
Breakfast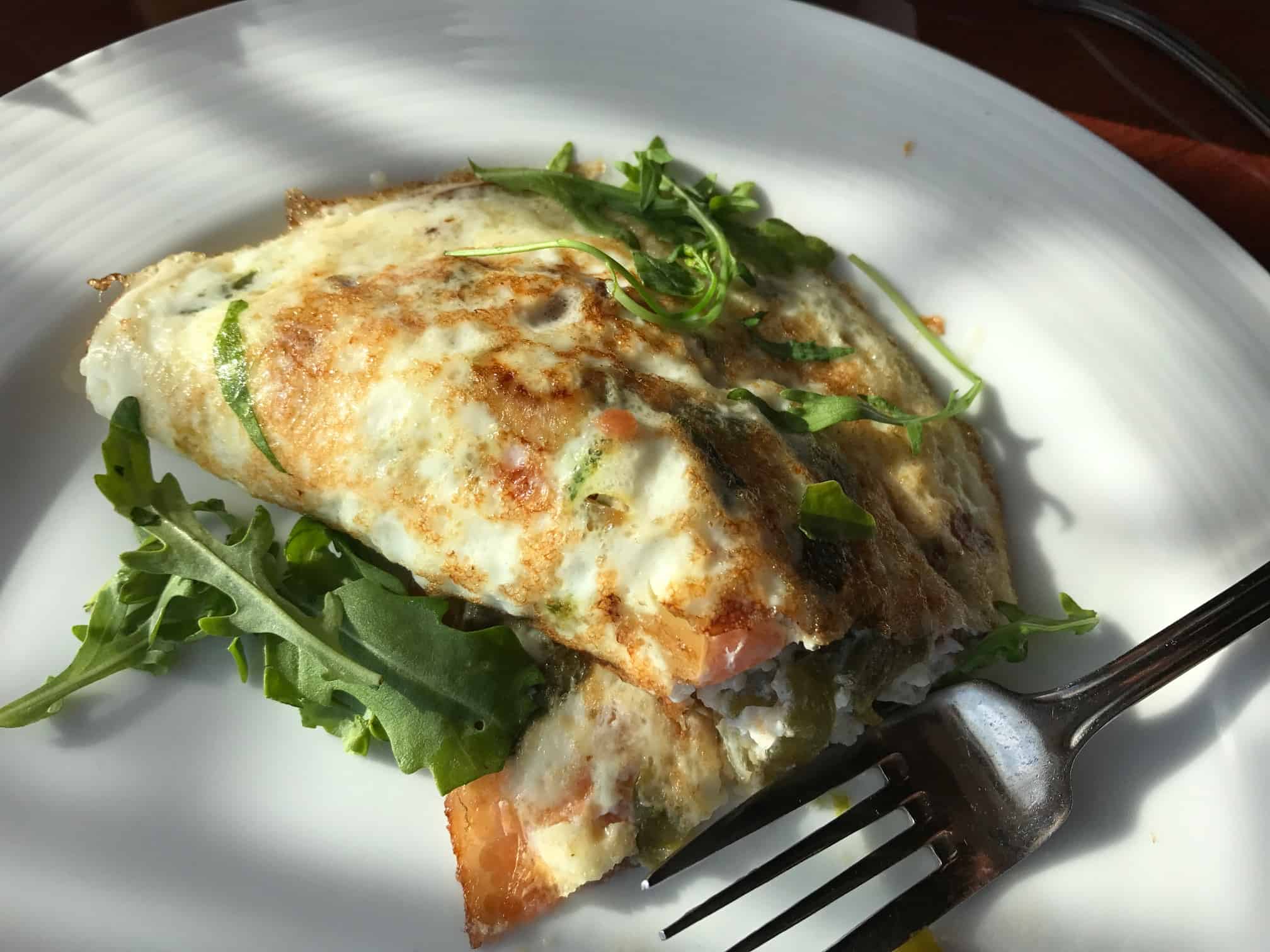 I'm big on getting an early start to the day. And by early, I mean I'm up around 5 a.m.,  so I start the day with coffee, water, and a banana from room service. I love waking up and having my meal there, waiting for me! Then I go to the gym for a three mile run. (I may no longer be paying for a gym at home, but why wouldn't I take advantage of the free equipment onboard a ship?)  By 7 a.m.,  I'm ready to eat a real breakfast. The only reason I start with a banana is because I take multivitamins and probiotics, and they warn you against taking those on an empty stomach.
My big breakfast tip to avoid cruise weight gain: Avoid the buffet. Instead, head to the main dining room… and not just because it's nice to let other people bring you food. It's way too easy to overindulge at the buffet. Sure, you can also over-do it in the dining room by ordering three entrees and four sides of bacon, but most people I've talked to agree that they tend to eat better during a sit-down meal than at the buffet. As an added bonus, the dining room will also often offer options you might not find at the buffet, such as an egg white omelette.
Lunch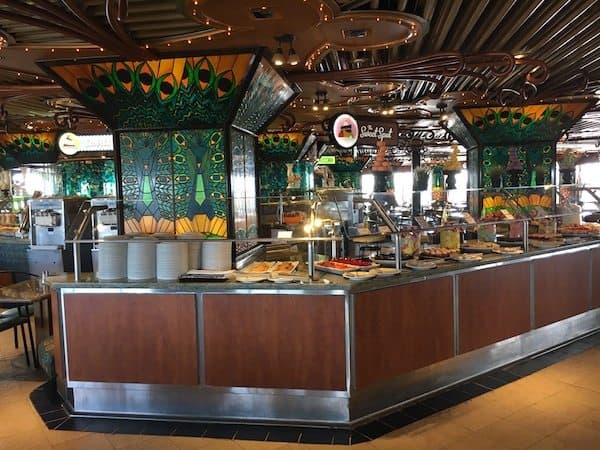 There's food everywhere on a ship, so obviously it's easy to just swing by the buffet or a fast-food type venue and grab something. But whenever possible, I do lunch in the main dining room, too. Again, it limits the temptations. Sometimes, out of sight means out of mind. If I don't see the fried fish and french fries or the macaroni and cheese, my craving for them is easier to avoid. As if the choices at the buffet weren't bad enough, they also tend to have stacks of plates the size of a basketball hoop, making it far too easy to load up on food. Often, the menus in the main dining room have sections offering up healthy options, even during lunch time.
Dinner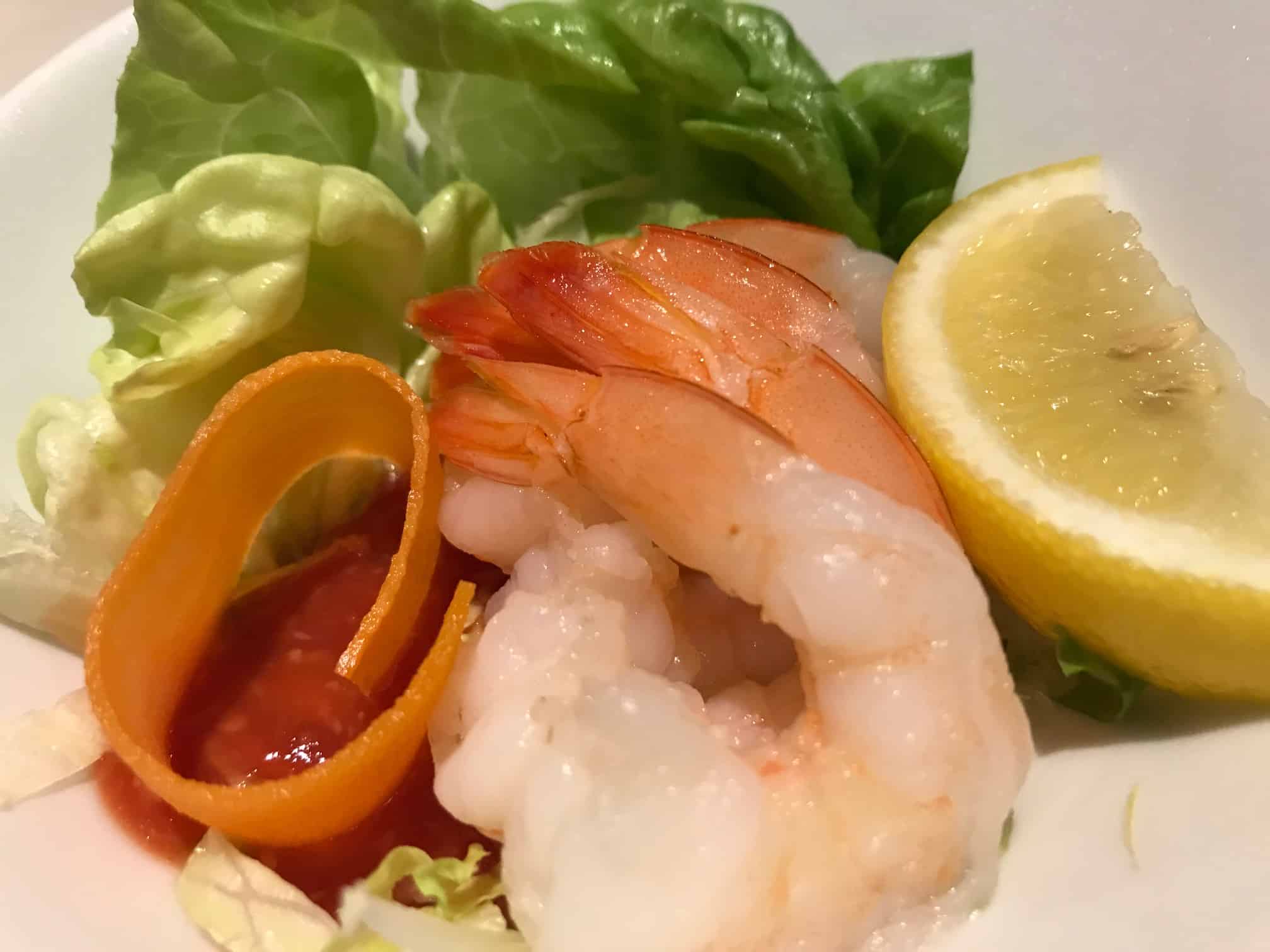 If there's a meal on which I let myself go a little wild, it's dinner. I'll order an appetizer or two, the main course and a dessert. And yes, sometimes (as anyone who reads my trip reports knows) I'll order two desserts, too. I try and minimize the damage by upping my intake of water and avoiding the bread basket. I know my weaknesses, and they include carbs. I'm one of those people for whom one piece of bread isn't enough, so it's best just to avoid that slippery slope entirely.
I know some of you are thinking, "Doug, this is all great advice and everything… but I know for a fact you have a weakness for Guy's Burger Joint, BBQ, and lobster rolls, so I don't know who you're trying to kid!" And you are not wrong. But I do my best to remember that very old, very true saying about "moderation in all things." Instead of swinging by Guy's for a burger once a day, I'll limit myself to once or twice per cruise. Not only does this cut down on my calorie intake, but it also makes me appreciate the treat more.
Other Tips To Help Avoid Cruise Weight Gain 
Walk three miles throughout the day. That doesn't always mean going to the gym, it could be walking around the ship or the port of call you're in.
Always take the stairs. Not only do I not wind up wasting time waiting for an uncrowded elevator, but I get in a lot of exercise this way. During a recent 4-night cruise, for example, I climbed 141 flights of stairs.
Stick to clear liquors. I've mostly cut out beer and fruity drinks. Of course, I bend this rule if someone is buying a round… It would be rude not to!
Avoid late-night room service. Yes, I'll occasionally cave in and order something, but I really try not to. When you order from room service at 1 a.m., odds are good you're going to order something bad. Plus, you're going to go to bed right after eating it, meaning you have absolutely no shot of working a single one of those calories off.
Book a forward or aft stateroom. Whenever possible I try to be at the very front or very back of the ship thus guaranteeing that I will be doing even more walking. Of course this won't work for everyone, because many find that if they don't stay midship, they suffer seasickness. I feel though, that it helps me against cruise weight gain.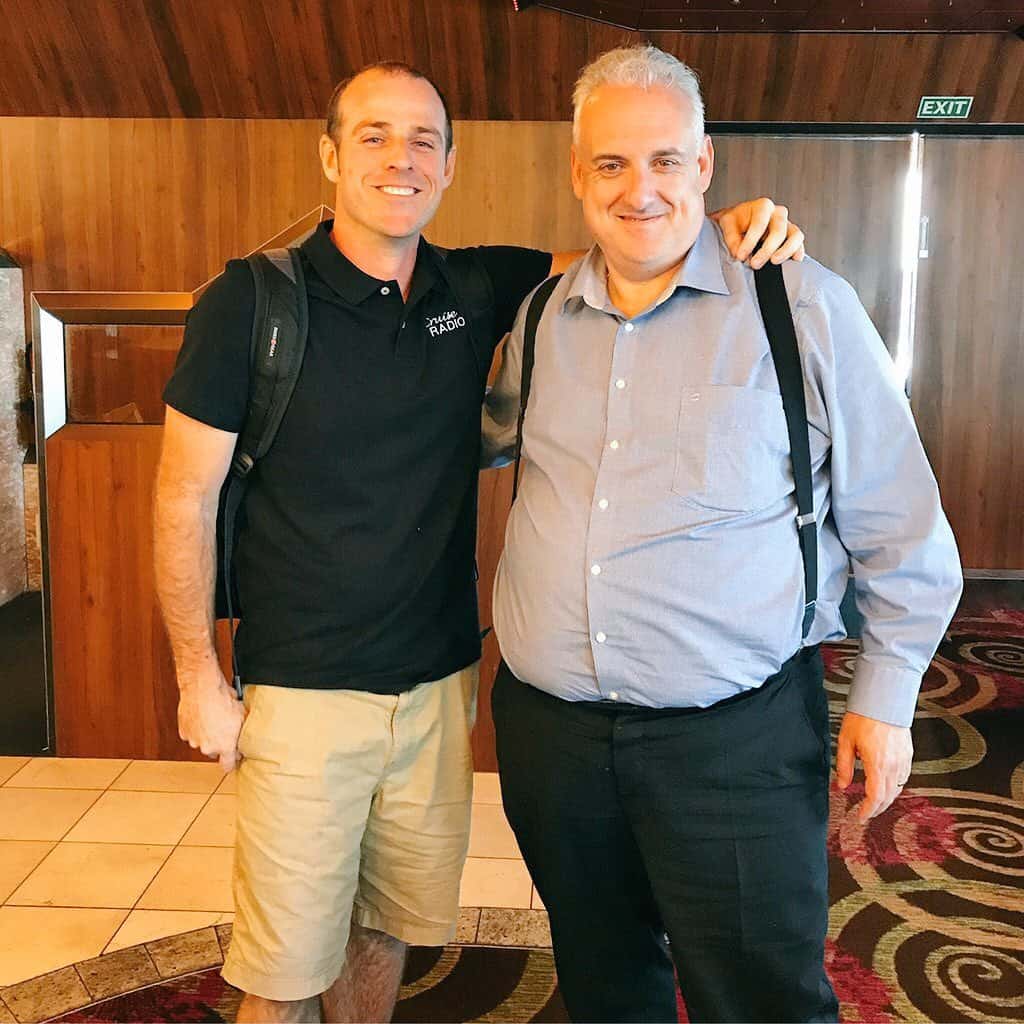 At the end of the day, every cruiser has to do what's right for them. Some will decide that a vacation is not the time to diet, but rather to splurge. Others might find some of my pointers helpful and try implementing them in order to avoid coming home with the unwanted souvenir of a few extra pounds.
Do you struggle with cruise weight gain? What do you do to battle it?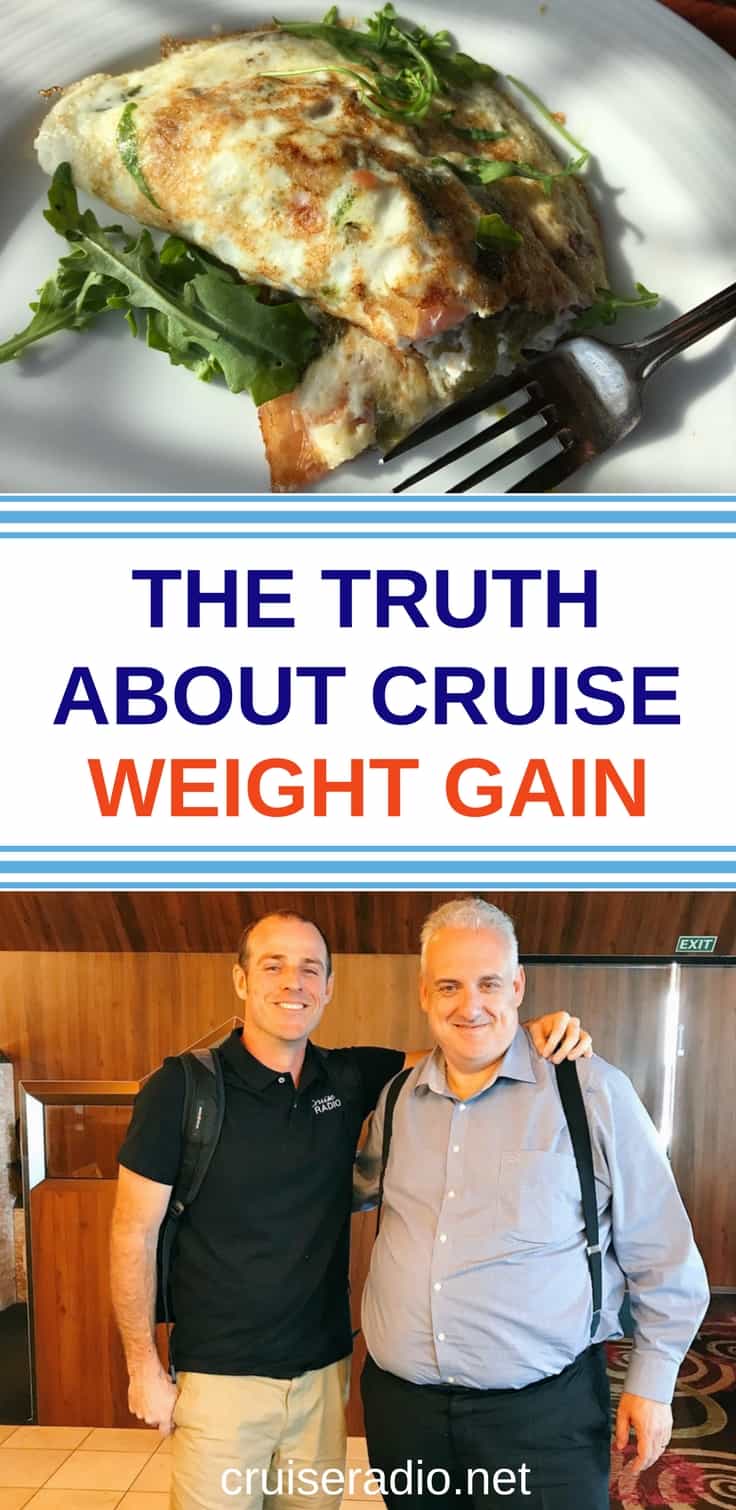 SaveSave