As with every cruise line, there are things you'll want to be aware of before you set sail. Today, we will focus in on Norwegian Cruise Line, and give you 12 things you should know before you sail with them.
12 Things To Know Before Sailing Norwegian Cruise Line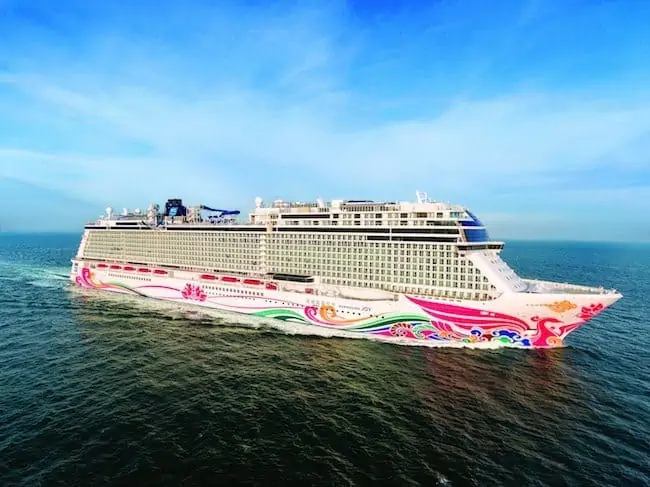 1. Make Reservations in Advance.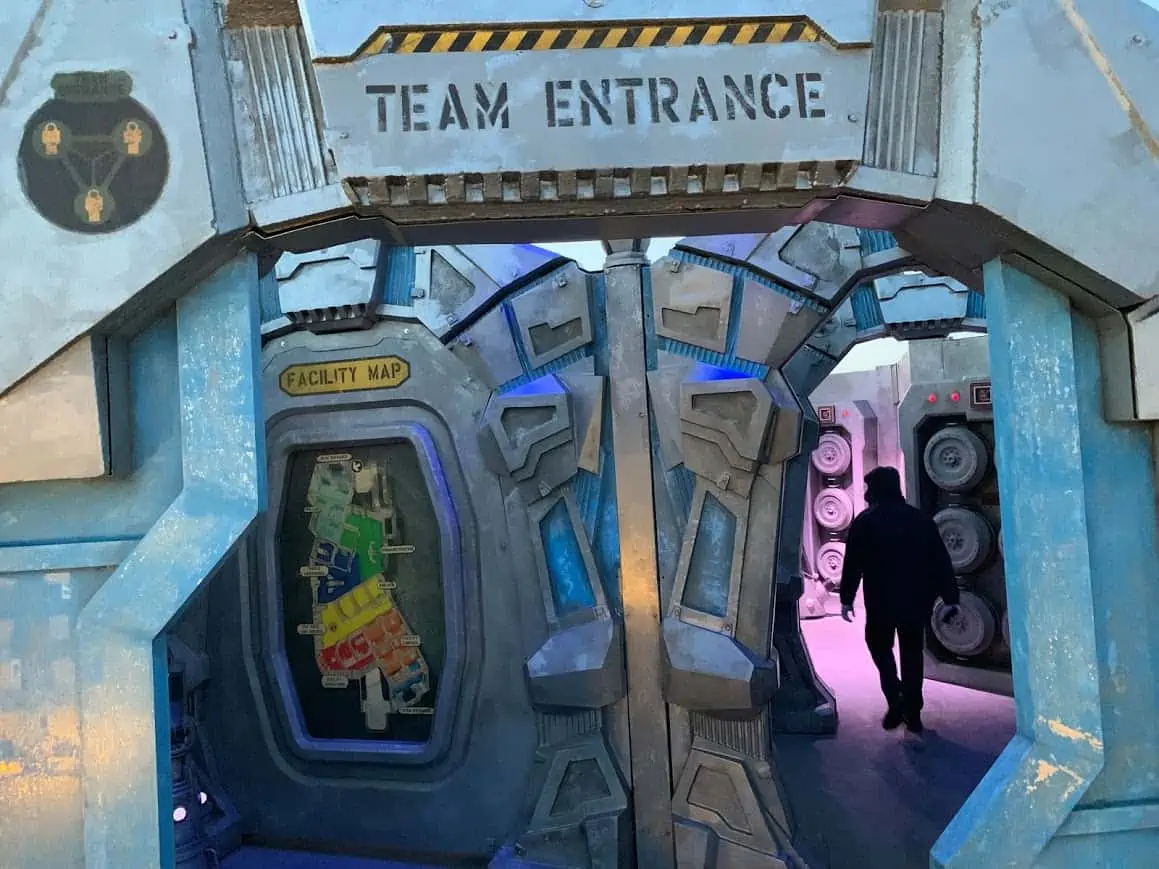 This cannot be stressed enough — even though Norwegian Cruise Line touts their "Freestyle" concept, there are things you'll want to reserve in advance. Ships are large and carry several thousand people, many of whom want to do the same activities and eat in the same specialty restaurants as you.
Things like popular evening shows, spa treatments, big-ticket attractions such as go-karting or laser tag, and specialty dining should be reserved. If you are able to make those reservations before your cruise, that's the best option. If you can't make them until you get on the ship, do so as soon as you can after boarding. 
It's also a good idea to book your shore excursions ahead of time. This is going to be true no matter what line you travel on. The earlier you book, the more options you'll have available to you. 
The other reason to make any and all reservations you can before boarding? It gives you more free time to do what you're actually there to do… relax and enjoy your vacation!
2. Snag a Vibe Pass.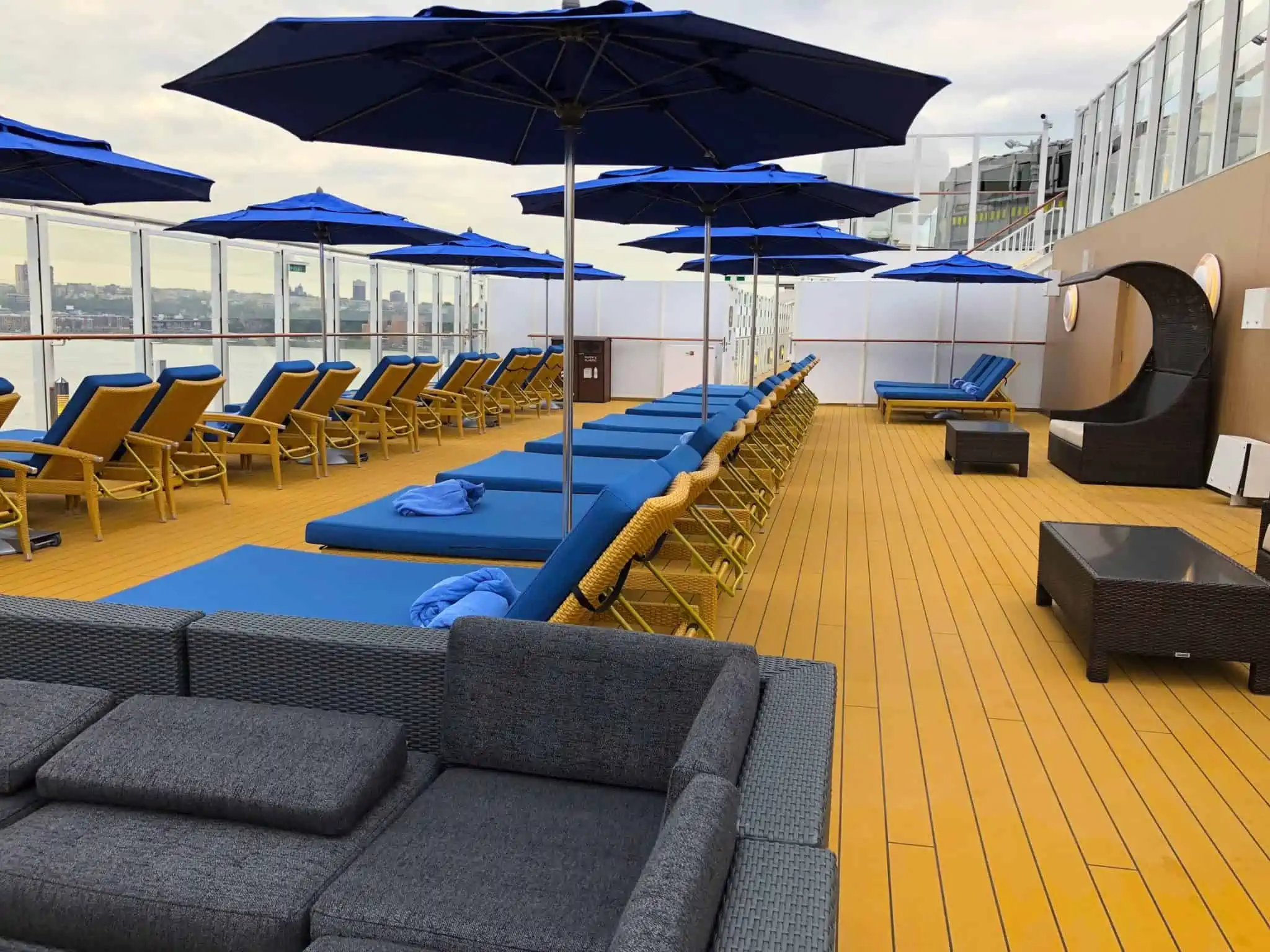 Found on the Breakaway and Breakaway Plus class ships is a sundeck just for adults called Vibe Beach Club. Don't confuse this with Spice H20, the free adults-only space found on most Norwegian ships, including those offering Vibe Beach Club.
The Vibe Beach Club features a full-service bar, hot tubs, a large shower, day beds, and padded loungers. Want to elevate your experience? Consider renting a cabana for an extra charge.
Aside from the fact that it's adults-only, the best part of Vibe is that it's capacity controlled. There are a limited number of passes sold per cruise, which prevents the area from ever feeling as crowded as the main pool deck. Passes can't be reserved ahead of time and are on a first-come, first-serve basis. 
Generally speaking, they are sold at the Guest Services desk, but Norwegian sometimes arranges for passes to be sold inside a venue. Make sure to know in advance where you should be heading if you want to guarantee a pass. 
It's also important to note that anyone in your party who wants a pass has to be present at the time of purchase. In other words, dad can't run ahead and snag passes for himself and mom while she's sipping that first beverage at the atrium bar.
3. Be aware of what the drink package does and doesn't include.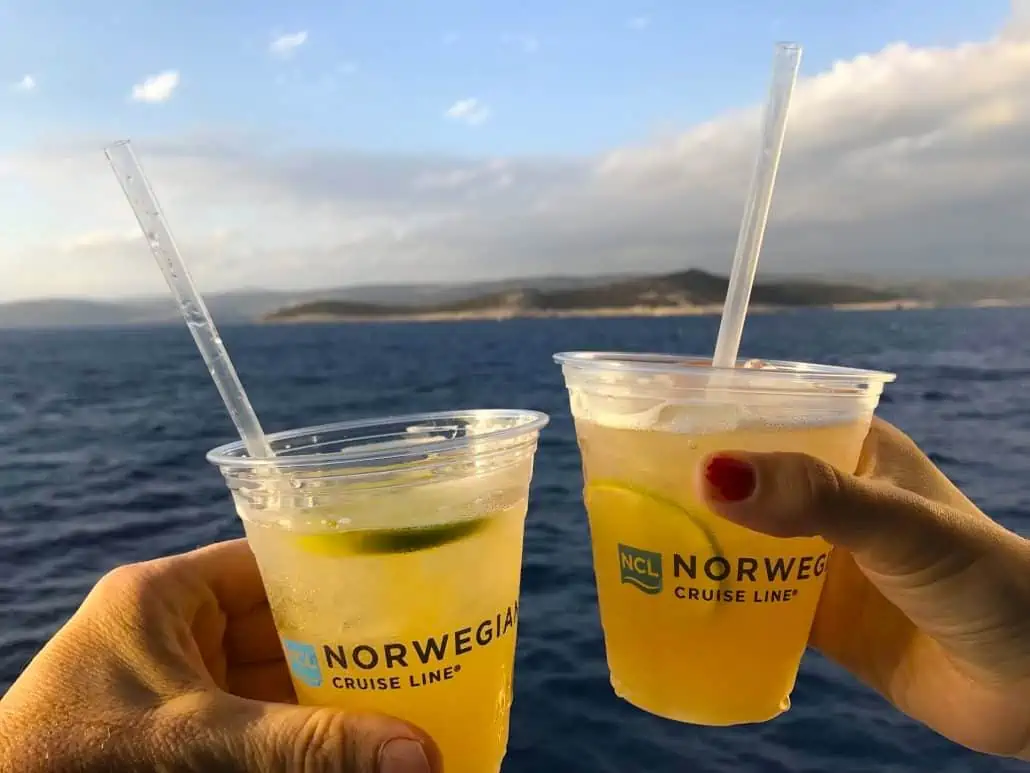 Norwegian Cruise Line has four beverage packages. If you're planning to purchase one, or are getting it free as part of your booking promotion, it's important to be aware of what is and isn't included in it. 
The first is the Premium Beverage Package, which costs $99 per person/day and includes a wide variety of sodas, juices, beers, spirits, cocktails, wines by the glass, and bottled or draft beer up to and including $15 during the entire cruise. If you're taking advantage of the "Free Open Bar" perk that's often available as part of the Free At Sea promotion, this is the package you'll be receiving.
The second, the Premium Plus Beverage Package, costs $128 per person/day. It includes everything the first package does, plus higher-end wines and spirits, select bottles of wine, still and sparkling water, fresh juices, energy drinks, and specialty coffee. 
There is no by-the-glass price cap on this package. If you receive the Premium Beverage Package as part of your Free At Sea promotion, you can pay a per-day, per-person fee to upgrade to the Premium Plus package.
Norwegian also offers a wine and beer package as well as a soda program for both adults and children. 
It's important to read the fine print when choosing a drink package so that you aren't disappointed once you get onboard and realize that something you wanted isn't included. For example, the Premium Beverage Package does not include bottled water or specialty coffees, but the Premium Plus Package does.
There's no sharing allowed, and if one person 21 years old or above purchases an alcoholic package, anyone else in the same cabin that's of age must also purchase the package. If you're an adult sailing with kids and get the alcoholic package, your kids are required to have the soda package.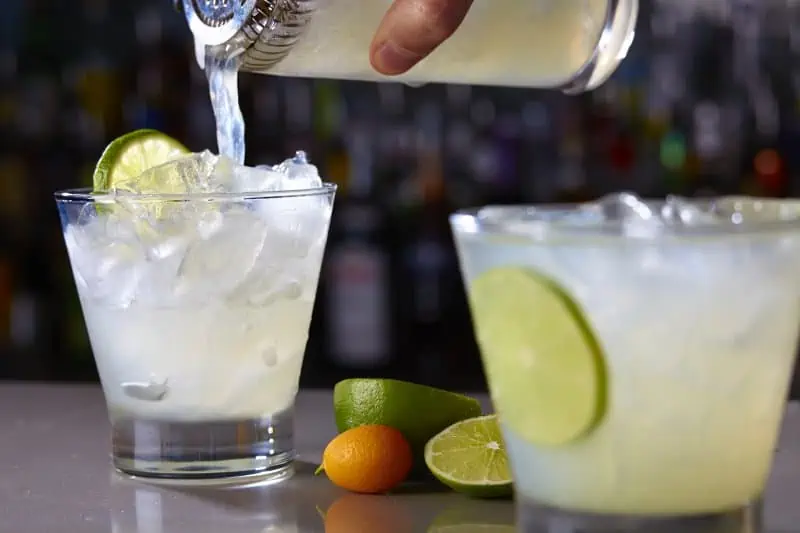 4. Know the 24/7 Dining Options.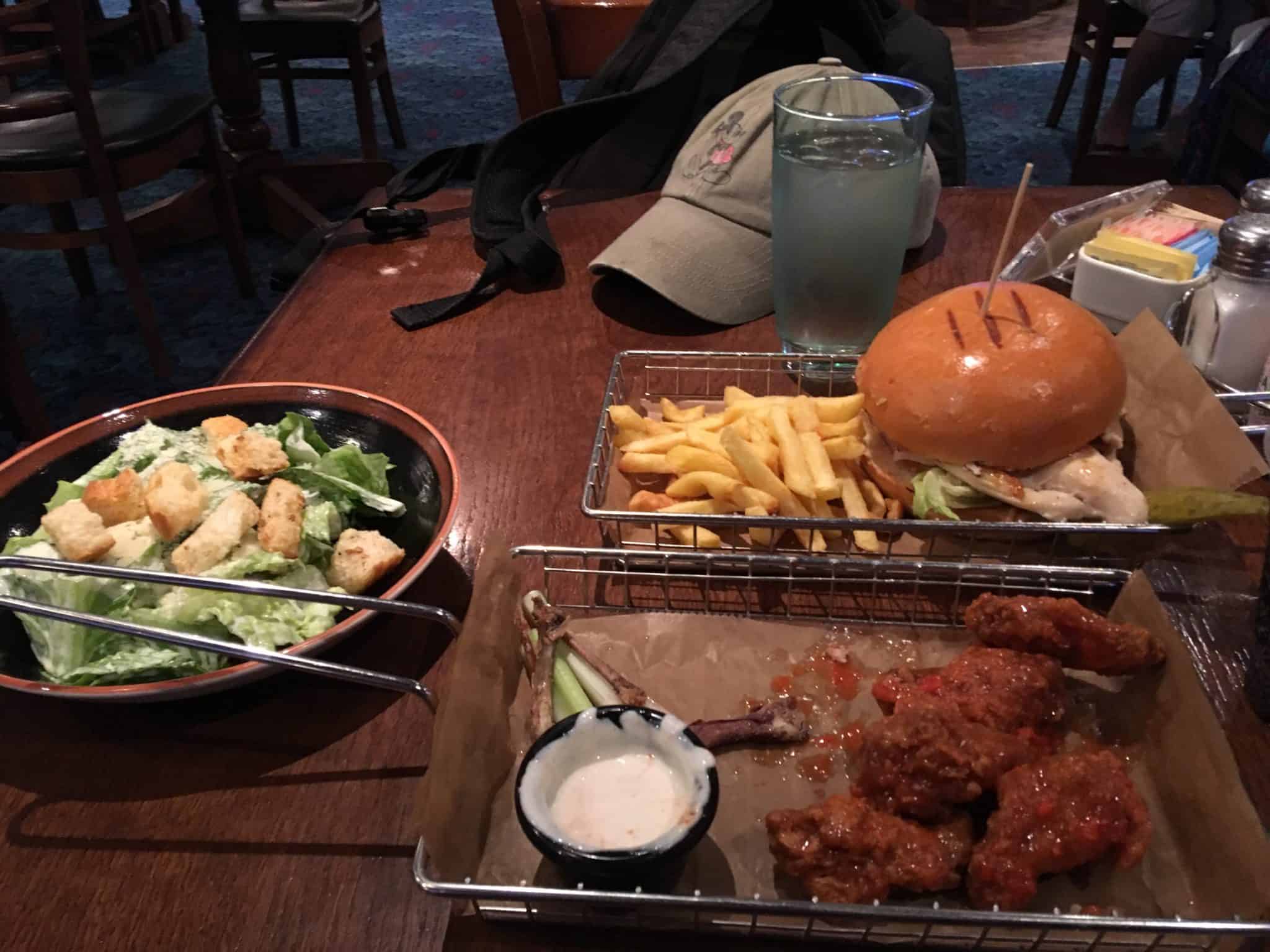 If you've been out at one of the ship's nightclubs or bars well past midnight, there's a good chance you'll be looking for something to eat before your head hits the pillow. Most times, this is when passengers will head back to their cabin and order up some room service. This is a great option if you want to enjoy some snacks in bed, but you'll wind up paying a fee for the privilege on Norwegian — gone are the days of free room service on many cruise lines.
If you want some different options or don't want to pay for room service, Norwegian Cruise Line has two of our favorite complimentary restaurants at sea — The Local Bar & Grill and O'Sheehan's Neighborhood Bar & Grill. Your ship won't have both of these venues, but it will have one or the other and they're pretty much the same. 
MORE: Dining Options on Norwegian Cruise Line
These casual sit-down venues are open 24/7 with a pretty decent selection of offerings for breakfast, lunch, and dinner. They're a perfect spot to duck the buffet crowds for breakfast. Daytime menu items include burgers, salads, wings, hot dogs, nachos, and fish and chips. There's even a small dessert list to satisfy that sweet tooth — no matter the time of day!
5. Take advantage of your Latitudes Rewards perks.
Norwegian's loyalty program is known as Latitudes, and it's one of the better cruise rewards programs out there. The program has six tiers.
The first is Bronze, which you'll automatically be enrolled in once you've completed your first cruise. 
Members earn one point for every cruise night sailed, or two points per night if staying in the Haven (aka Norwegian's ship-within-a-ship area) or most suites. 
Each tier comes with its own set of perks which are built upon each time you level up. Basic Bronze perks include a bottle of sparkling wine, access to an online newsletter, a 10 percent onboard merchandise discount, and more. The next level up, Silver, grants access to an exclusive onboard cocktail party and discounts on things like spa treatments and photos.
As one progresses up to the higher tiers, benefits include things like a behind-the-scenes ship tour, concierge service, dinner with ship officers, dinner for two at two specialty restaurants, priority tender tickets, free laundry service, and priority restaurant and entertainment seating. 
Best of all? Reach the Ambassador level and you'll actually receive a free cruise. (Of course, doing so also requires you to have earned at least 700 points!)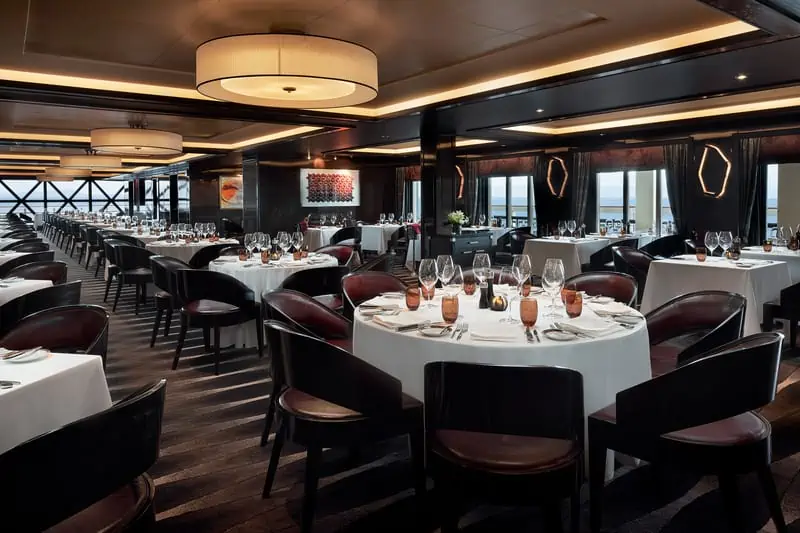 6. Keep an eye out for laundry promotions.
Most Norwegian ships do not offer self-service laundry. And while it can get pricey to send things to the on-board cleaner, there are two different ways you can save some money should you find yourself running low on clean clothing.
At least once during most voyages, you'll receive a notification — often stuffed inside the Freestyle Daily newsletter — indicating that they are offering a reduced rate on a bag of laundry.
Generally, it will provide the opportunity to fill one laundry bag and have it cleaned, folded, and delivered to your stateroom for a flat fee. While prices may vary, on our last sailing the going rate was $29.95 during the special. 
While that may sound expensive, it's actually a pretty good deal, especially when compared to the per-piece pricing that's normally in effect. The key to getting the most bang for your buck is, of course, to focus on items that, were you to be paying a per-piece fee, have the higher price tags. The bags can be a bit on the small side, too, another reason to pick your items carefully.
The second offer is only available to Latitudes members, but it's further proof of just how valuable this program can be. Those achieving the Gold tier get 50 percent off a single bag of laundry, while those who are Platinum and above can have one bag of laundry done at no charge.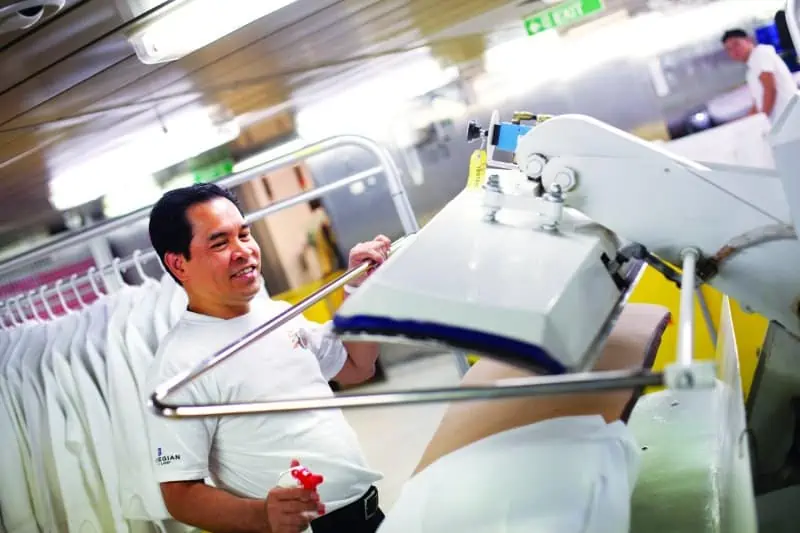 7. Use the Late Night Fun Zone for kids.
Want to enjoy a romantic dinner or maybe cocktails in the moonlight without the kids? Norwegian Cruise Line can help you carve out a little private time. Parents can drop their little cruisers off at the Late Night Fun Zone, where the trained Youth Staff offer group babysitting in Splash Academy, which is the kid's club. There, they will enjoy movies, toys, and activities. 
The hours for Late Night Fun Zone are typically from 10:30 pm to 1:30 am. It costs $6 per hour, per child; or $4 per hour, per child for siblings. If no kids are registered or dropped off by 11:30 pm, the center closes for the evening. Norwegian recommends that parents who want to take advantage of the program have their kids signed up by 8 pm the day prior, but it's not required.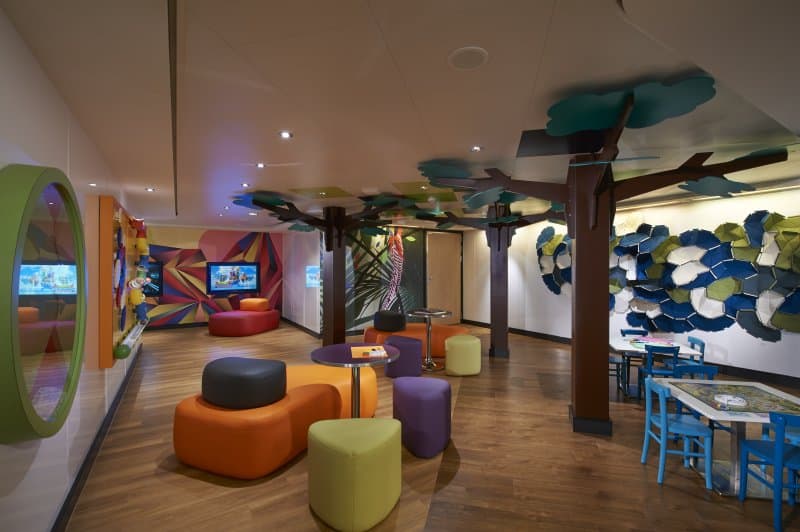 8. Download the Cruise Norwegian app.
If you're taking a Norwegian cruise and you've got a smartphone, do yourself a favor and download the cruise line's app in advance. We recommend downloading it as soon as you've booked your cruise if for no other reason than to initiate your countdown clock! 
As you'd expect, the app has multiple levels of functionality, all of which will help when it comes to planning your vacation. You can make reservations for things like dining, activities, and entertainment before your cruise either online at MyNCL or through the Cruise Norwegian app. These platforms also offer the ability to book shore excursions. Once on the ship, your reservations display in an easy to read, organized format on the app. You'll be able to see what's coming up next in your day with just a quick glance at your smartphone.
READ: 11 Frequently Asked Norwegian Cruise Line Questions
The app also affords the ability to check-in just before embarkation day, purchase onboard gifts such as wine or flowers, and review your onboard account and purchases. 
Other features included on the app are the daily cruise schedule, restaurant menus, a Group Chat messaging function to communicate with friends and family on the ship, and disembarkation information. Note that the Group Chat requires a small fee, but the other functions are free. You do not need to purchase a wifi package to use the app, but you do need to connect to the ship's wifi network.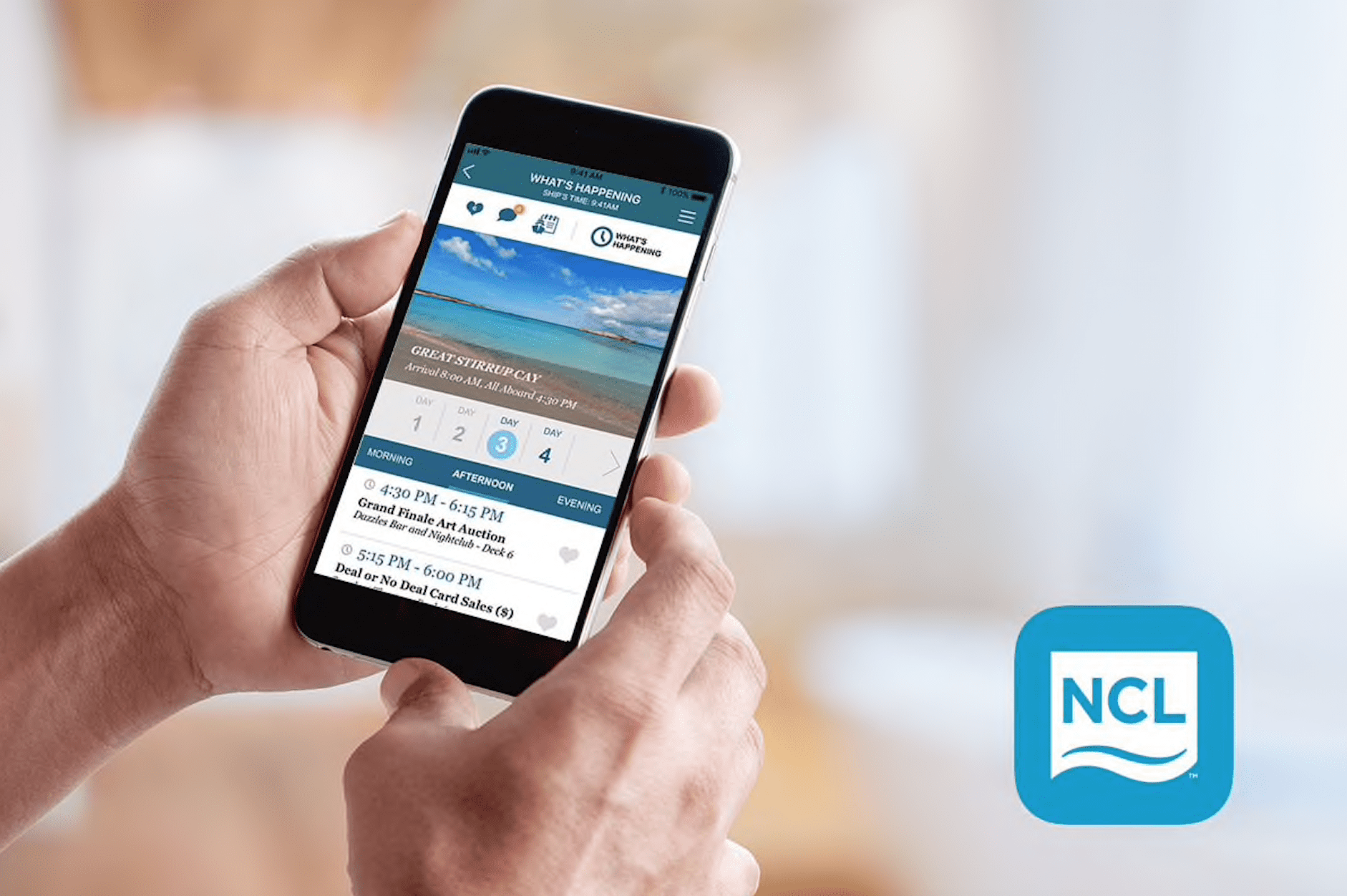 9. Check out the Thermal Suite.
Given that the thermal suite is one of our favorite spots on Norwegian ships — and they sell a limited number of passes — we probably should keep this to ourselves. But because we want you to have the best time possible, trust us when we say that a thermal suite pass is worth considering.
When most people think of a spa, they picture massages, seaweed wraps, and facials. While you can get all of those and more on board Norwegian's ships, they also feature thermal suites which might be the closest thing to heaven this side of the Pearly Gates.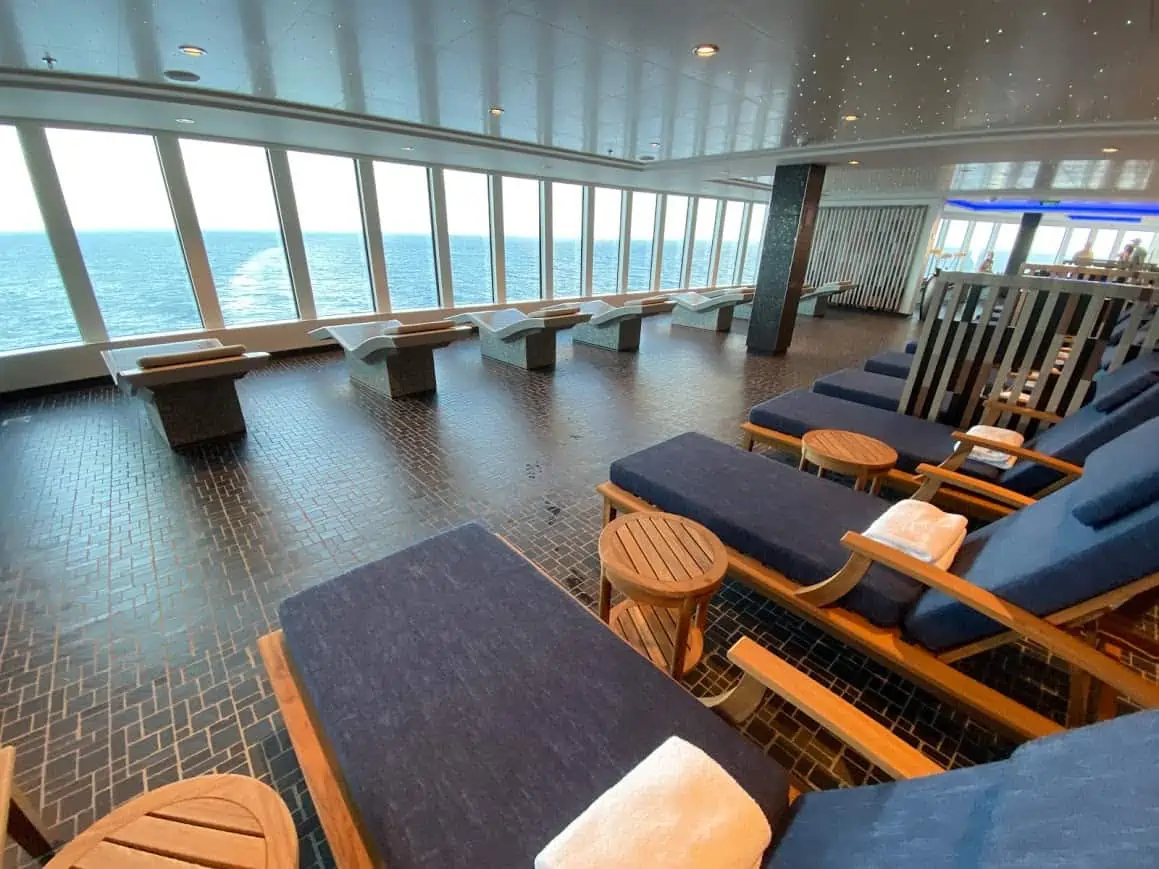 For the uninitiated, the thermal suite is where you'll find steam rooms, saunas, thalassotherapy pools, heated loungers, snow rooms, salt rooms, and more. Not every ship will offer every amenity, but each will offer a wide enough variety that you'll thank us for having sent you. 
Some of Norwegian's spa thermal suites even have stunning ocean views thanks to panoramic windows. A thermal suite is available on every Norwegian Cruise Line ship except Norwegian Joy, Sky, Sun, and Pride of America.
To receive access to the thermal suite, you can buy a pass for the duration of your cruise, or a day pass. You can also book a spa stateroom, which comes with thermal suite privileges. If you're looking to buy a pass, head to Guest Services as soon as you embark because they sell out quickly.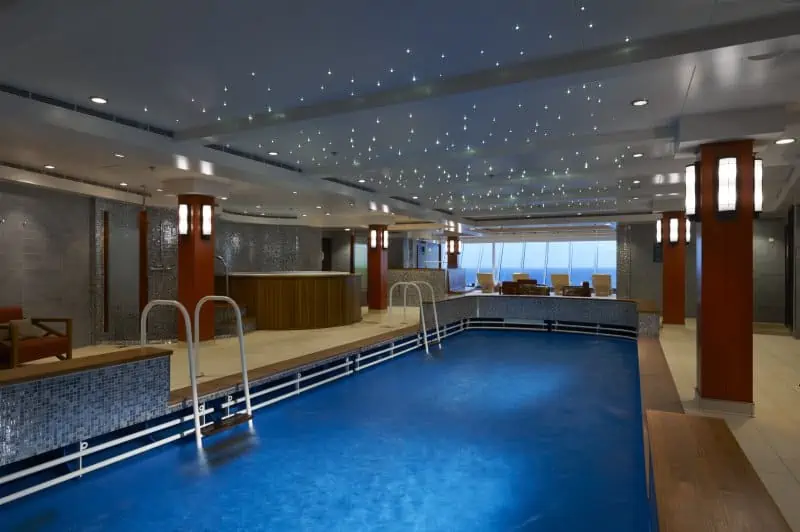 10. Look into CruiseNext Certificates.
At some point in your cruise, you're going to say to yourself, "Man, this is the life" and start counting down to your next voyage. That's the moment you should head directly to the Cruise Next desk — usually located in the atrium — and pick up a CruiseNext certificate. Why? Because doing so will literally lead to the cruise line giving you free money.
Here's how it works: You give them $250 as a deposit toward your next cruise, and they automatically apply a $100 onboard credit to your current cruise. It's that simple. 
REVIEW: Norwegian Cruise Line Cagney's Steakhouse
You don't have to know when or where you're going to cruise, you simply have to use the CruiseNext certificate within the next four years. If for some reason you later decide not to cruise, you can transfer the certificate to a friend or family member. 
The more CruiseNext certificates you buy, the more onboard credit you earn for your current cruise. There are rules and restrictions, of course, but the offer is available for use on all Norwegian ships except Norwegian Sky and Norwegian Sun, which are three to five-day cruises and offer a lower onboard credit value.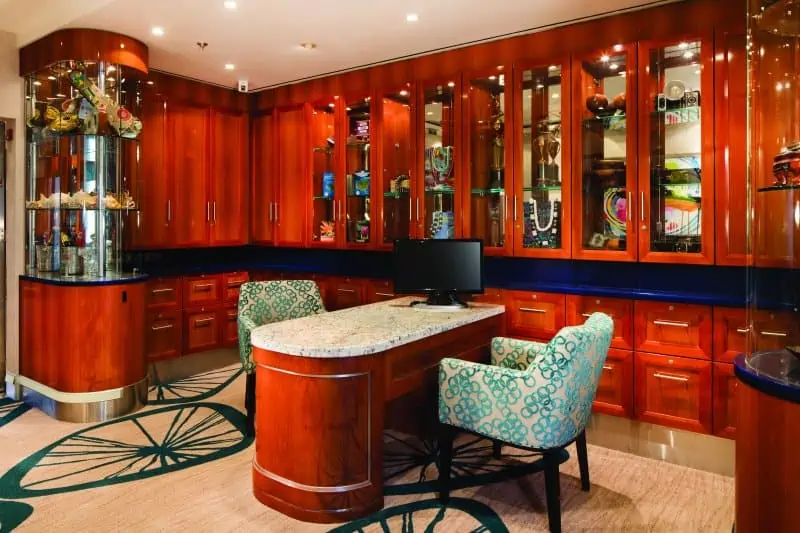 11. If you want a quiet, romantic dinner, head to Le Bistro.
If you want a special dinner with your significant other but don't wish to follow the crowd and go to the steakhouse, consider making a reservation at Le Bistro. 
The sophisticated venue serves Norwegian's contemporary take on classic French cuisine. Le Bistro is themed after one of France's many small eateries, with few tables, a quiet atmosphere, and unobtrusive music. The cruise line touts it as being "the most elegant and formal restaurant" in its fleet. 
Le Bistro's mouth-watering menu includes dishes such as Coq Au Vin, Duo De Canard, and Filet De Boeuf Grilleé. Desserts include Vanilla Crème Brûlée, Profiteroles, and Chocolate Napoléon. There is also an extensive wine menu.
Le Bistro can be found on every ship in the fleet except Pride of America. On Norwegian Joy, the venue has waterfront seating available. The dress code is smart casual, and pricing is a la carte. As an added bonus, Latitudes members who have reached the Platinum level or above can enjoy dinner for two at Le Bistro — including a bottle of wine — on the house.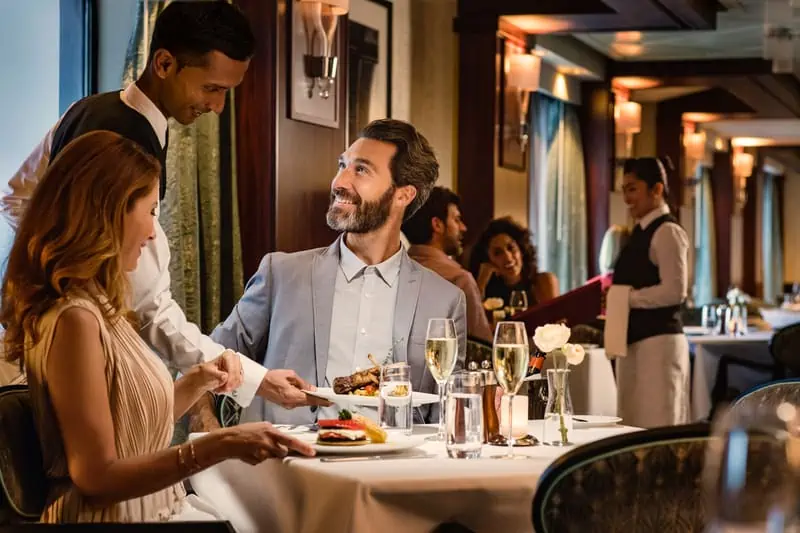 12. The alcohol tastings are not to be missed.
Want an excuse to do a little day drinking? As far as we're concerned, you're on a cruise and that's excuse enough. But should you need a better rationalization, sign up for one of the onboard liquor tastings. 
Over the course of your typical week-long sailing, there will be opportunities to do margarita, mojito, wine, and bourbon tastings, to name a few. The sessions will be advertised in the Freestyle Daily and are often also advertised at the bars hosting the event.
The tastings generally last about 30-45 minutes, during which a bartender will teach you a little bit about the drinks being served. They come at a cost, usually between $15 and $20 per session. If you happen to have purchased the Premium-Plus Beverage Package, you'll receive a 40 percent discount on all tastings.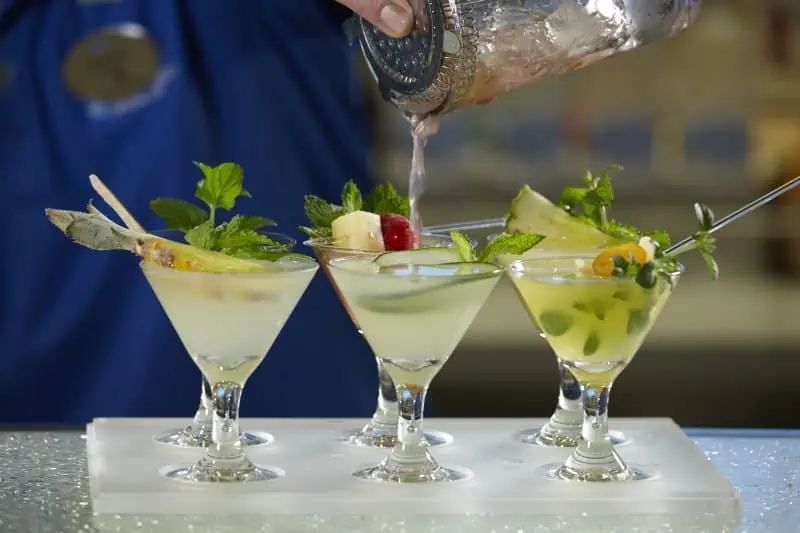 We hope that this list is helpful for anyone who may be considering Norwegian Cruise Line for the first time, or is a repeat cruiser that wants to make sure they're getting the most out of their voyage.
Tour Norwegian Encore [VIDEO]
Pin it for later!