Spending a day in Cozumel usually means fun in the sun, and perhaps the occasional drink. One thing Cozumel has is a bunch of beaches, and they range from free up to $85 per person. The expensive ones are typically an all-inclusive experience while the free ones are normally a no-frills, but still free!
1. Sunset Beach
Known as one of the best snorkeling beaches in Cozumel, Sunset Beach is also one of the closest beaches to San Miguel.  It features a bar and restaurant, and is home to Sand Dollar Sports' diving, scuba, and snuba staging area.  They've also taken a lot of time to make sure the entry into the water is guest-friendly, meaning you won't cut your feet on coral or rocks.
Located 1/4 mile beyond Villa Blanca – take the only road that leaves San Miguel to the south.
2. Playa Palancar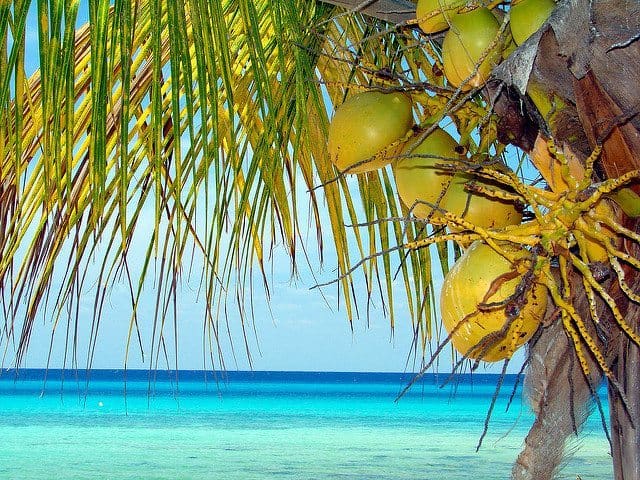 While this is a free beach, they do charge you for two beach chairs and an umbrella, at an inexpensive $10.  If you're looking for a quiet beach to relax away from big crowds, this is a great one for you, and is known as one of the best.  You can go jet skiing, snorkeling, parasailing, kayaking, and have a drink and bite to eat at the restaurant.
Trip Advisor members reported that their cab ride from the cruise pier to the beach was about $20-25 US dollars.  So it's a bit further away, but well worth it if you want serenity and a pristine oceanfront!
3. Paradise Beach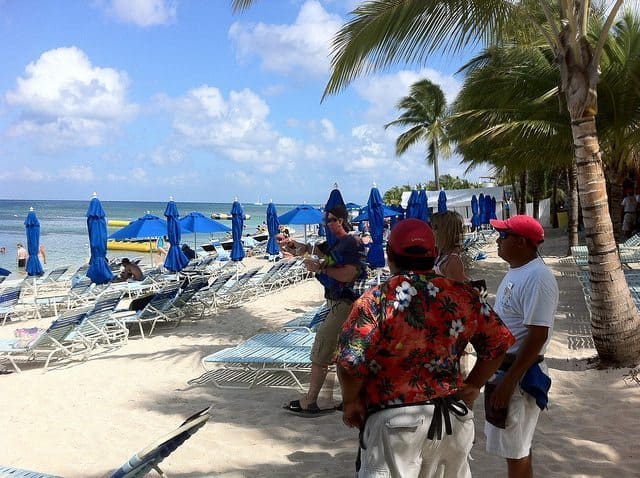 Admission to Paradise Beach is set at $3 and that gets you a chair on the beach or by the pool. Located only five miles from the International Pier, this pristine oasis offers food and beverage service right from your beach chair, three shops with beach toys, souvenirs, and more, and a pool with access to free wifi.
For $18 per person, adults and children alike get access to Paradise Beach's array of water inflatables, including trampolines, slides, and climbing structures.  This pass also includes access to snorkel gear, kayaks, and stand-up paddleboards.
Paradise Beach has a dedicated taxi stand for cruise guests. For 1-4 passengers, your taxi fare will be around $15 from the cruise pier.  For a taxi van that holds up to 8 passengers it will be around $30. (These are per ride, not per person!)
4. Playa Corona Beach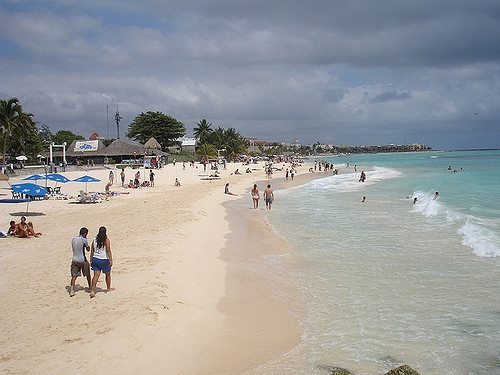 Playa Corona is one of the oldest beaches in Cozumel and is a popular destination for snorkeling and scuba diving – in fact, it's considered one of the best snorkeling beaches in Cozumel.  Admission to the beach is free, and you can either bring your own gear or rent it (only snorkel gear is offered).  Around 100 yards offshore is the south end of Chankanaab reef, and people say that the water there is even clearer than in Chankanaab National Park.
Ashore you'll find a bar with all of the usual beverages that you would expect while on vacation, as well as a restaurant serving up authentic Mexican food from the family that's owned the property for over 30 years.
What beach do you go to in Cozumel?