If you're going on a Western Caribbean cruise, chances are you'll want to spend at least one day hanging out on the beach. After all, heading to the Caribbean without hitting a beach is like going to Walt Disney World and not paying your respects to Mickey Mouse.
There's no shortage of beaches from which to choose, and if you ask 10 people which one is their personal favorite, well, let's just say their answers won't likely help you to narrow down the choice. However, maybe we can help at least a bit with this guide to some of our favorite spots to visit when sailing an itinerary to these popular ports.
1. Cozumel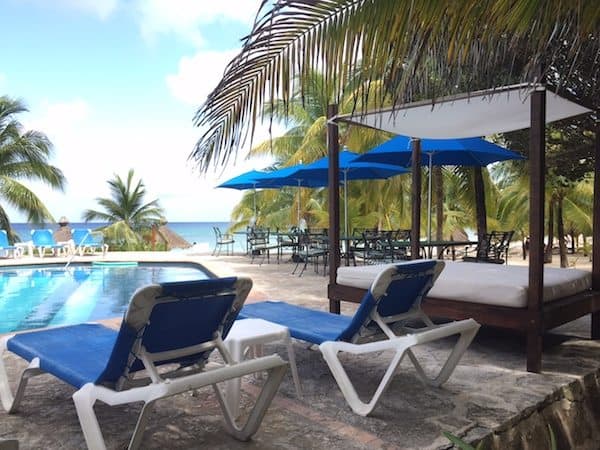 The most popular beach in Cozumel has to be Playa Palancar, in part because it is one of the few beaches you'll find in the area with free access.
While there are several public access points, most visitors choose to purchase a day pass at one of the beach clubs such as Mr. Sancho's, Nachi Cocom, Playa Mia, or Chankanaab. Sure, free is nice, but having access to things like restrooms, bartenders and snacks is better. 
If you are looking for a white sand beach, clear water, and an "all-inclusive" atmosphere, then any of the above-mentioned locations will probably fulfill your needs.
READ MORE: Mr. Sanchos Beach Review 
Mr. Sancho's and Playa Mia both have large children's water areas, giant inflatables in the ocean, and other attractions which make them popular with families. Nachi Cocom, on the other hand, has a more laid back, quiet feel, especially since they limit the number of guests on any given day. On the other hand, it's worth noting that they also have fewer amenities. That said, they do still have a restaurant, bar and beautiful swimming pool. Want to make the day as relaxing as possible? Book a beachside massage.
READ MORE: Nachi Cocom Review
None of these beaches will feel secluded or particularly private, but the beach club atmosphere certainly is fun and guarantees a great time. A taxi from the cruise pier is the easiest way to access the Cozumel beach clubs.
2. Costa Maya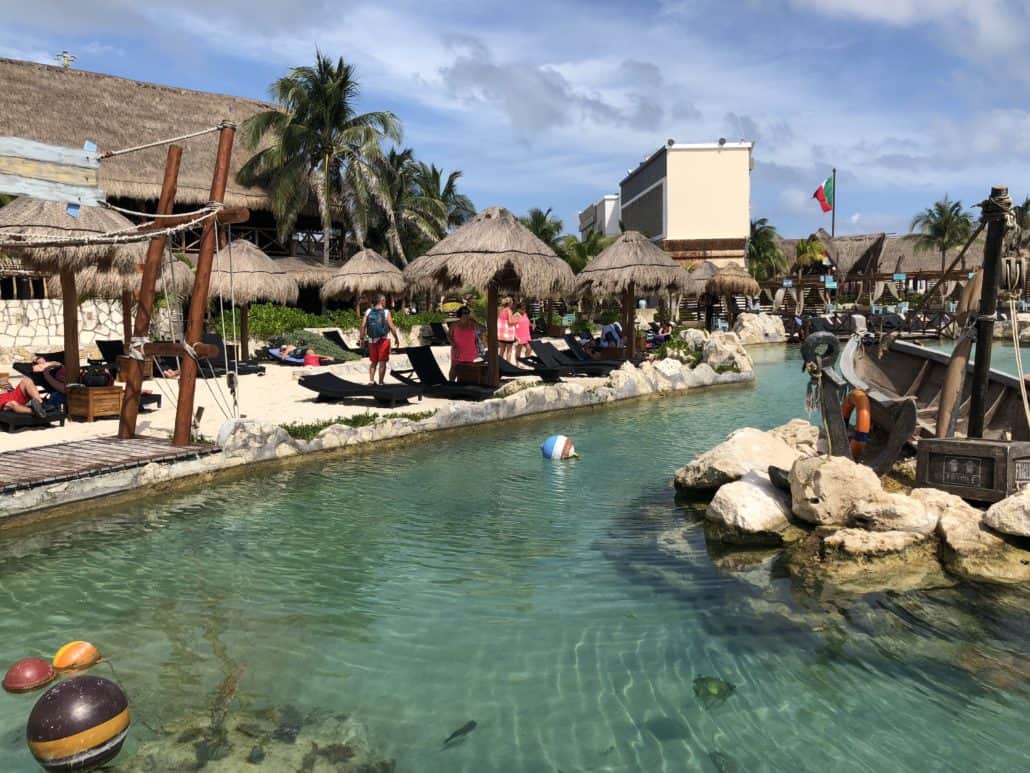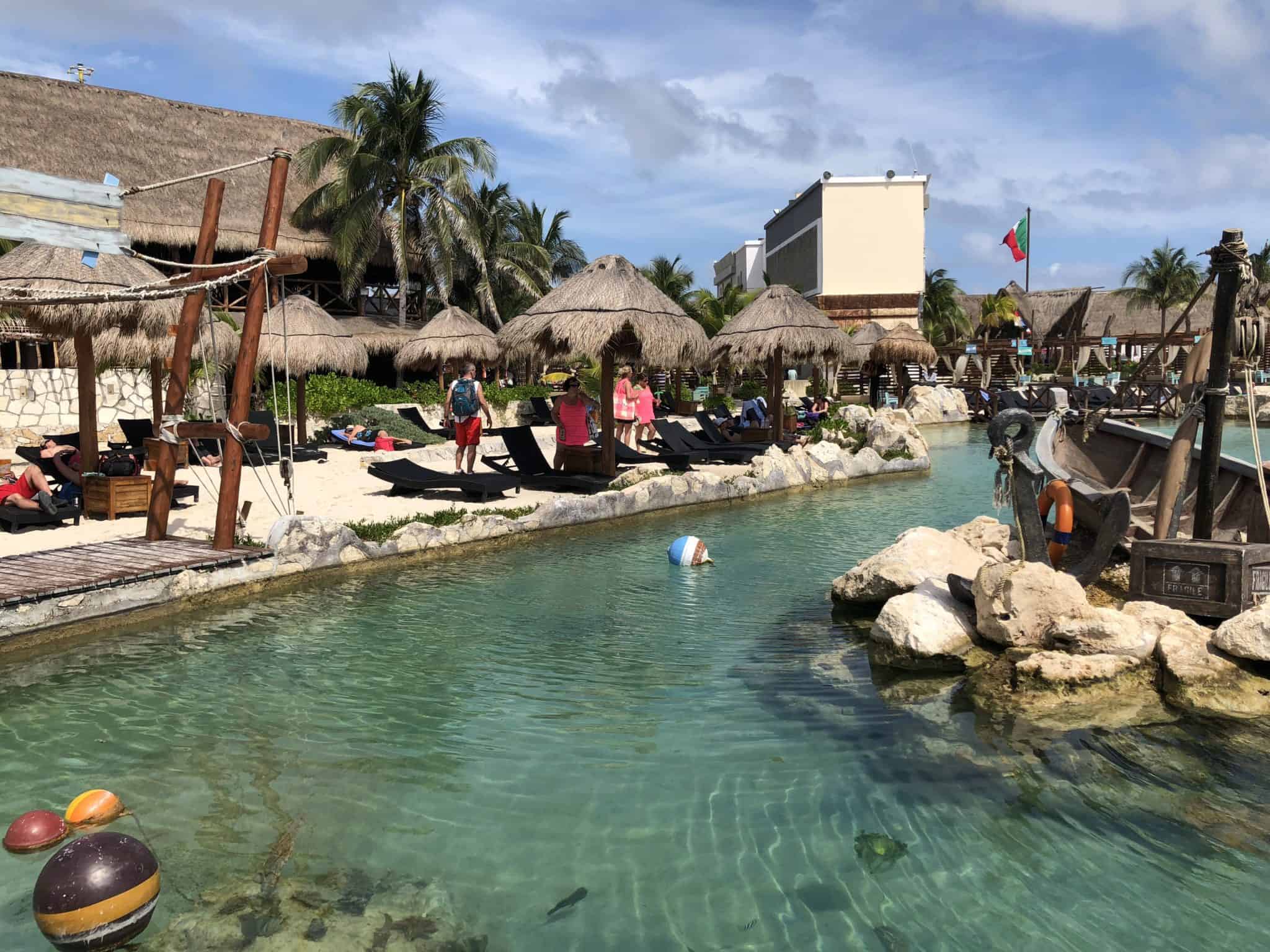 The cruise port of Costa Maya does have a small "beachy" area, with a swimming pool with a bar right off the dock. If all you want to do is lounge in the sun and relax, that might just be the perfect spot for you, and it doesn't get much easier to access. 
However, in part because of the fact that it's so close to where the ships dock, this area does become very crowded, very quickly.! With just a tiny bit more effort, you can spend the day in the lovely beach town of Mahahual.
Here you'll find not only a beach, but a fun and laid-back promenade lined with shops, restaurants, and bars. And while it may not be quite as convenient as simply walking off the ship, it's not all that difficult to reach. After leaving the port area, you have the option to take the trolley bus or taxi (either of which will run you around $3 per person) about ten minutes south, to the town.
A popular dining choice of cruisers is Forty Canones (40 Cannons) which has delicious food and a prime location right on the Caribbean Sea. Patrons can relax in a lounger, order food and drink (a la carte) and spend the day relaxing in beautiful surroundings.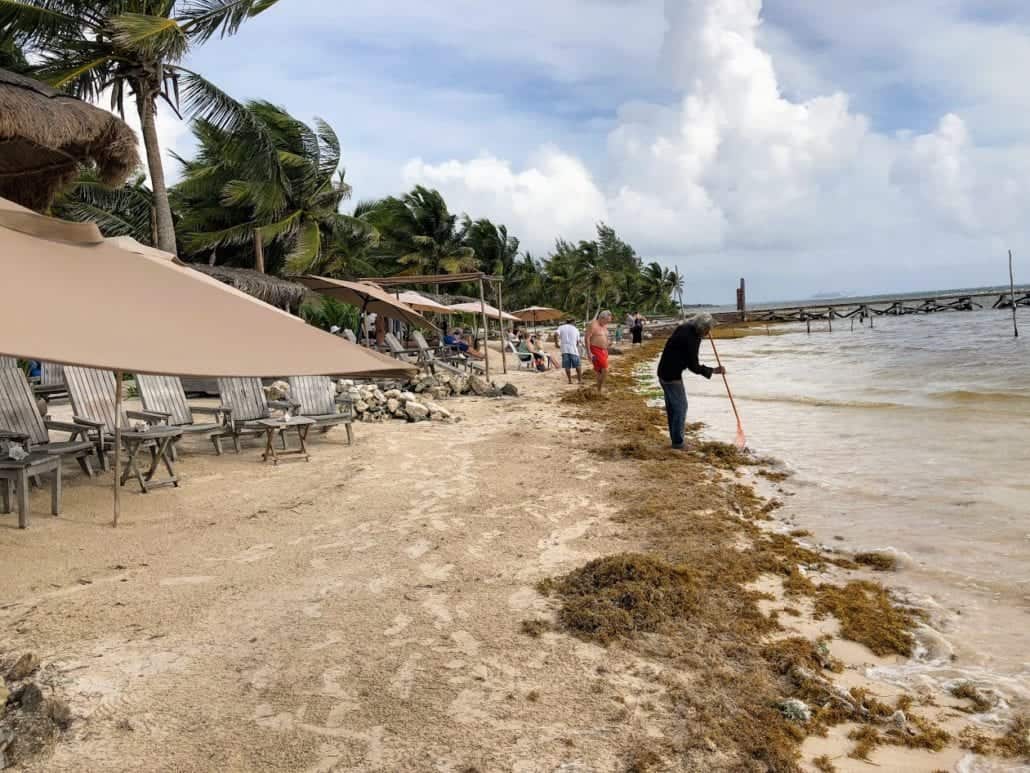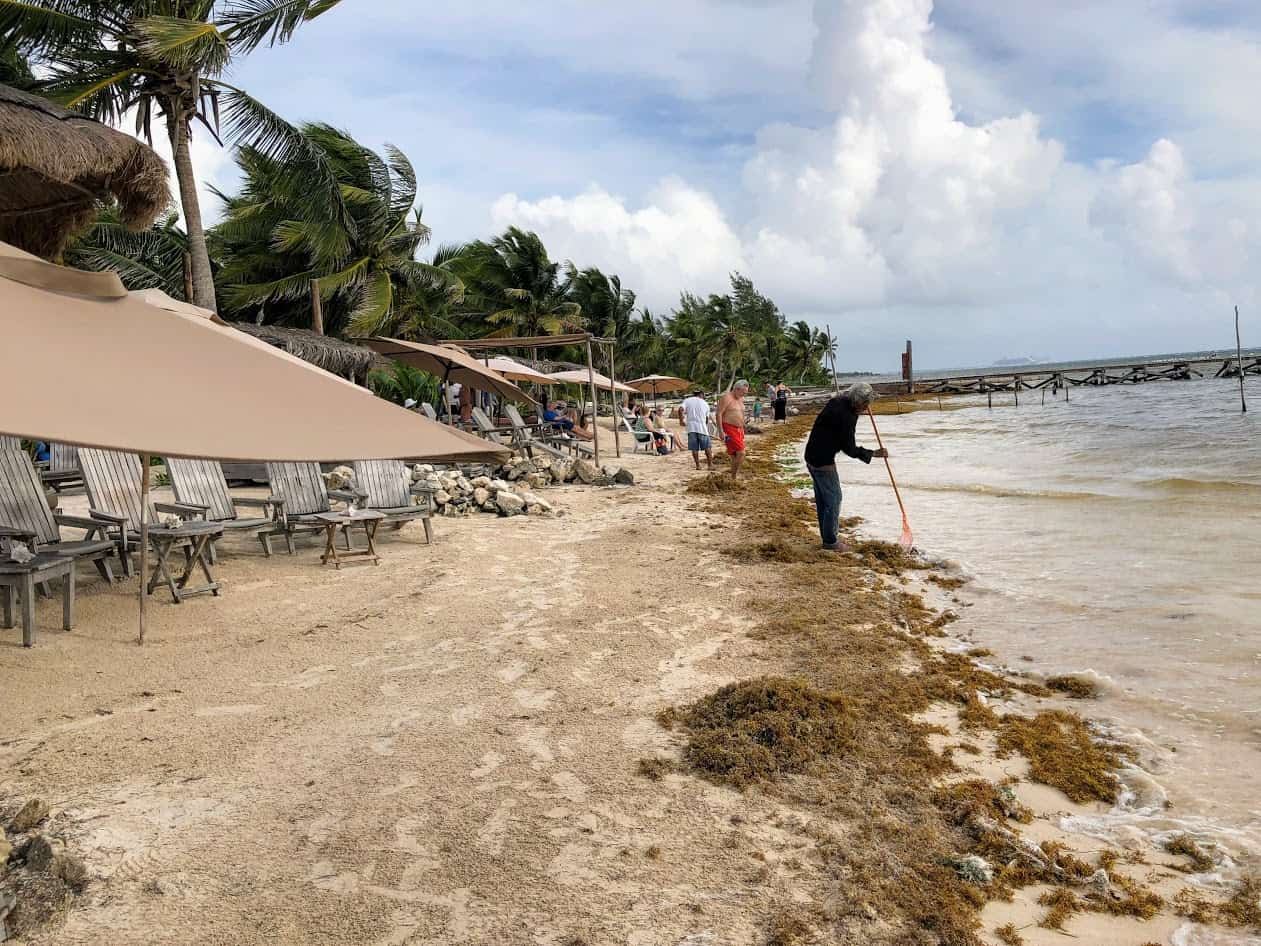 This part of the Caribbean does have a seasonal problem with seaweed, but the locals do their best to keep it cleared away. When you are ready to return to the ship (give yourself at least an hour before the all-aboard time, just be play things safe), simply get back on the trolley or grab a taxi.
3. Grand Cayman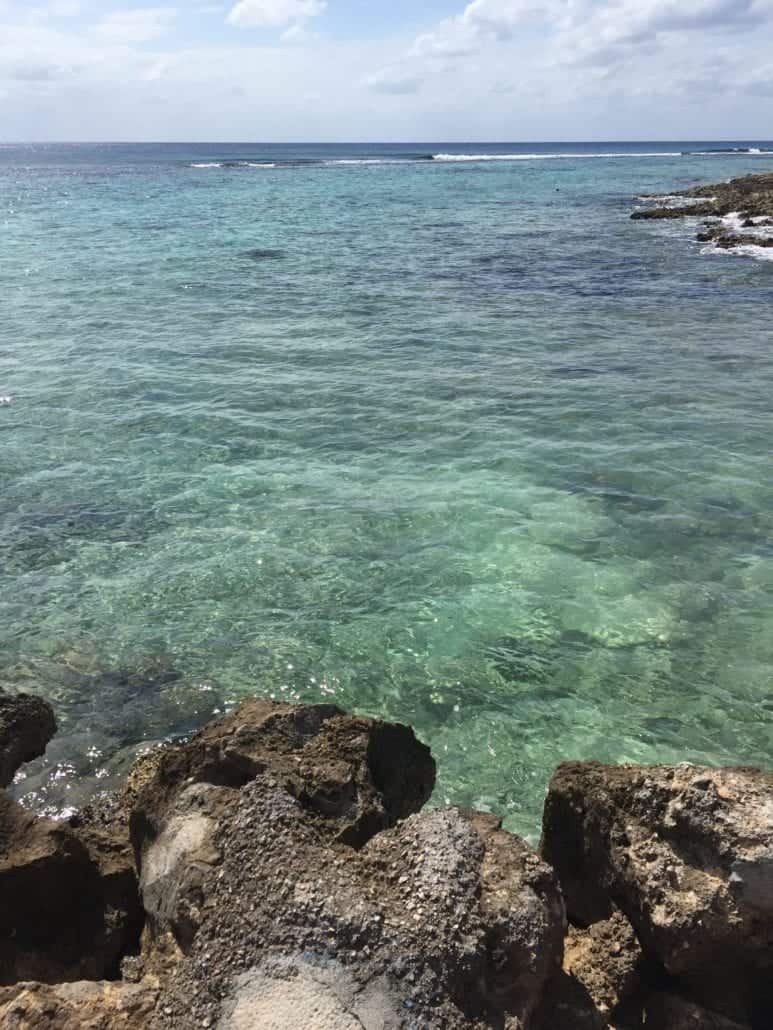 If your perfect beach consists of crystal clear waters with sugar-white sand, then the famous Seven Mile Beach in Grand Cayman might just be calling your name. While certainly not a secluded hideaway, Seven Mile is one of the most famous seaside locations in the Caribbean for a reason. 
A short $4 per person taxi ride from the cruise dock to the Royal Palms Beach Club and then a measly $2 entrance fee gives you access to the beach and pool. For reasonable additional fees, visitors can rent loungers ($12), umbrellas ($15 will get you one big enough to cover two loungers) or even cabanas for four people. Want a cabana on the beach? That'll run around $125. If you'd rather sit poolside, that's quite a bit cheaper at only $75.  
The food is delicious and there's even a swim-up bar, meaning you can get your tropical drinks without actually leaving the pool. Most days you can find a DJ here as well.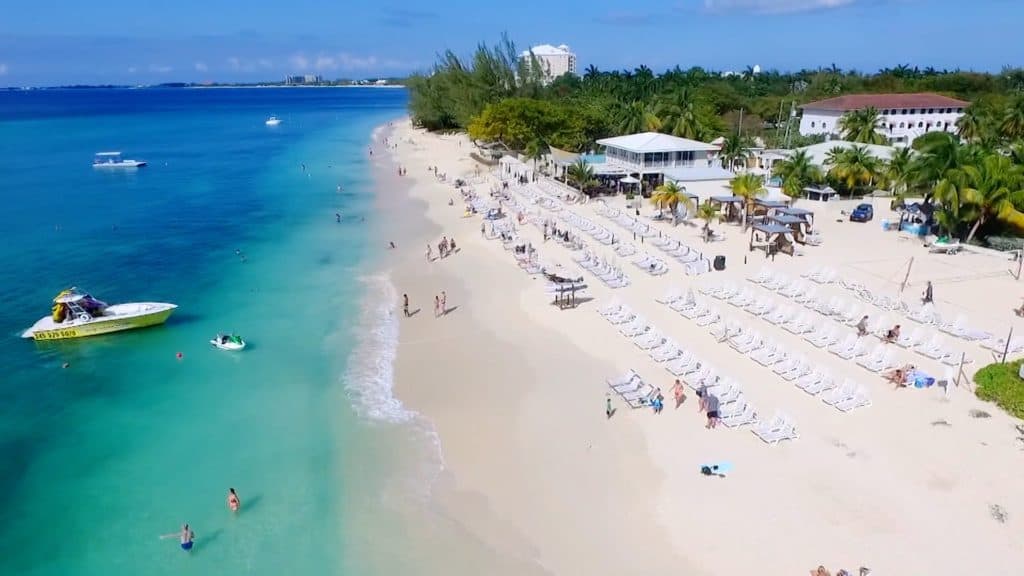 If the scene at Royal Palms is a little too civilized for your taste, your taxi can take you up the road a bit to Governors Beach Access. Governors Beach is free and open to the public. The same shimmering clear water and white sands await you, but be warned that there are no facilities (and yes, that includes restrooms). 
There are often chair rentals available from enterprising locals and the occasional food truck or ice cream vendor will swing by. A little further up the coast is Calico Jack's beach bar, which is more developed than Governors Beach, and offers the advantage of restaurant facilities, restrooms for patrons, and chair rental. It is also a public beach with no fees.
4. Belize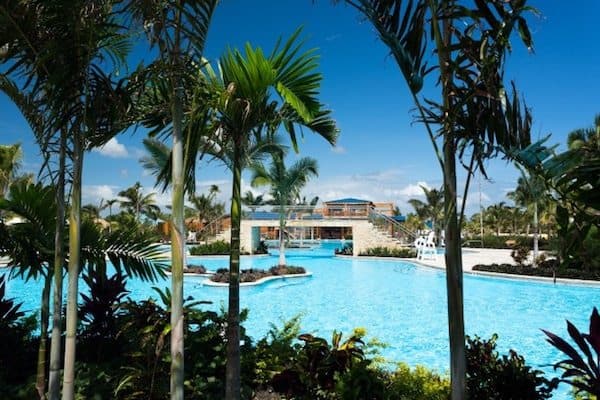 Home to the world's second-largest barrier reef, Belize has some beautiful beaches. Harvest Caye is one of the small islands dotting the coast, and it is privately owned by Norwegian Cruise Line. Being owned by the line has some advantages such as cleanliness and the ability to offer a range of activities and services.
On the other hand, it also means that prices at onshore bars, shops, and excursions are higher than they would be from local operators, though still in line with what the prices are on the ship.
The beach on the island is pristine and gorgeous. White sand and clear waters are the order of the day with over 2,500 loungers available at no charge and clamshells for a reasonable $30.
The beach here is wide and studded with coconut palms that not only are lovely to look at, but also provide shade. If you find the area nearest the ship to be too crowded, simply continue down the beach and you will find the sand becomes less occupied. The water is generally very warm and clear, a delight to swim in.
In addition to the beach, there is also a giant sparkling pool, kids splash pad, and nature park, not to mention pay-to-play activities such as kayaking, ziplines, paddleboards and optional excursions to the mainland.
You will have to bring cash on the island as your cruise card is not accepted here.
5. Roatan, Honduras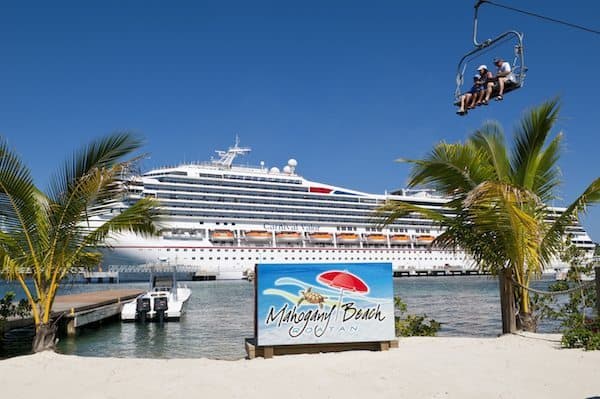 If snorkeling in a beautiful reef referred to as "Mandy's Eel Garden" sounds appealing, then West Bay Beach may be right up your alley. One of the unique things about West Bay is that the stunning reef is right off-shore and accessible to snorkelers right from the beach. The easiest ways to reach West Bay is either on a ship's tour or by grabbing a taxi to any number of local hotels that sell Day Pass options and rent water equipment.
The beach itself is somewhat small, but the sand is a beautiful white and the water is clear and inviting. Also, since it is lined with restaurants, bars and small hotels there is no shortage of spots to take a seat and enjoy the day beneath the sheltering palms.
In addition to West Bay, Roatan has the port of Mahogany Bay for Carnival Corporation guests (Carnival Cruise Line, Holland America, Princess Cruises and Costa Cruises).
Located toward the center of the island, Mahogany Bay has a very nice beach that can be accessed directly from the cruise pier with a short walk, or guests have the rather unique option of taking what's known as "The Magical Flying Chair", although you and I would probably just call it a chair lift. The ski lift-like system takes guests from the welcoming center to the beach. Passes cost $14 for adults, $8 for kids, and are good all day long. West Bay can also be reached from Mahogany Bay via a ship tour or taxi.