This is my review of Nachi Cocom, located in Cozumel. Cozumel offers plenty to do with its natural protected settings and Mayan roots. Still, when visiting the port on a Western Caribbean cruise, the Mexican island may be the perfect place to plan for a beach escape.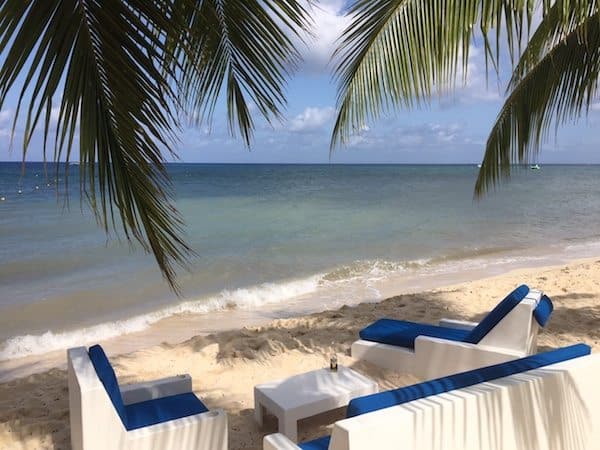 And for those looking to relax on the beach with friendly service, quality amenities, constant drinks, and full lunch service, the all-inclusive Nachi Cocom Beach Club and Watersports is a great place to consider.
This full-service beach club, just minutes from the cruise pier, is a perfect way to pass the day in Cozumel, Mexico.
Nachi Cocom Cozumel Review
Booking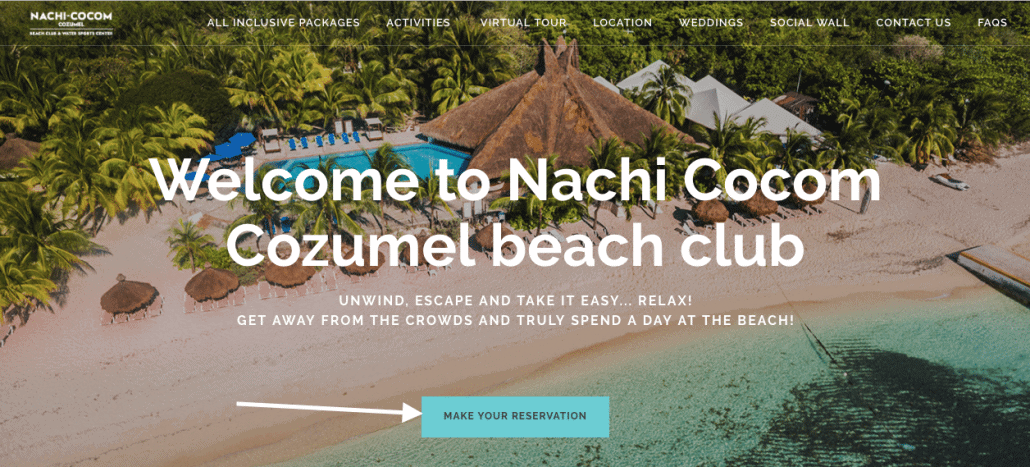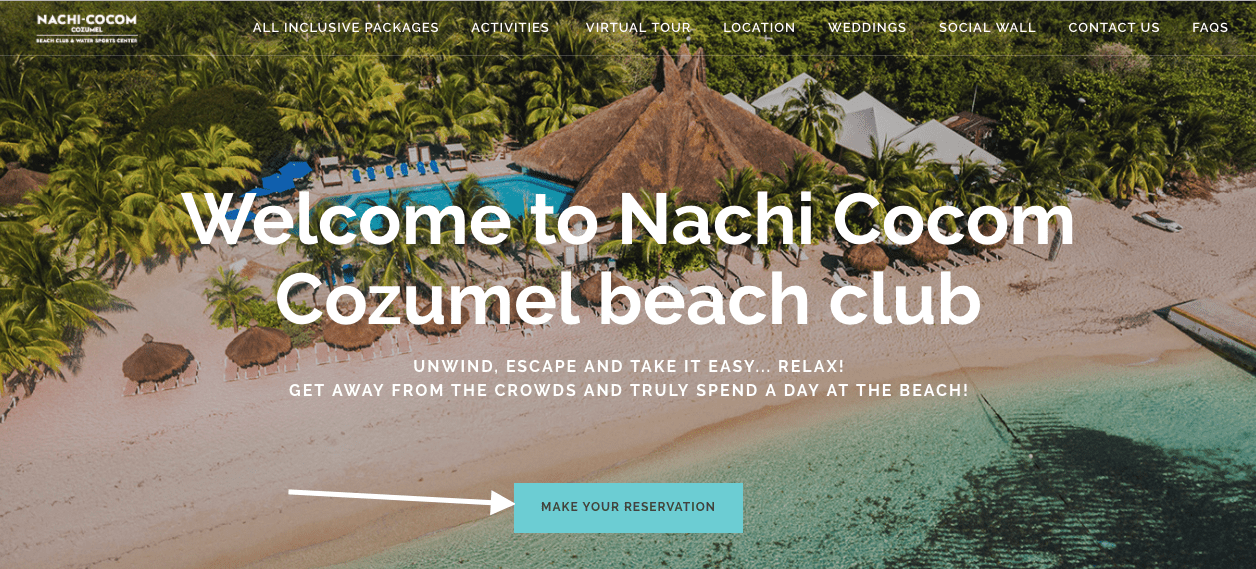 Visitors need to book online through the Nachi Cocom Beach Club website. Expect to pay a 20 percent deposit when you book, with the rest of the balance due when you arrive at the beach club (credit cards only).
Since they limit the access to 130 patrons per day, all bookings are non-refundable except under specific circumstances such as a massive storm (hurricane) that closes the beach club or if the cruise ship did not make the port of call in Cozumel or had an itinerary change.
With the limited availability, space is a premium, so it is recommended you book early during the busy cruise season of November through April.
Getting There
Since Nachi Cocom is a private beach club and not offered as part of any cruise line excursion, passengers are on their own for transportation. But don't worry; the taxi system in Cozumel at the pier is efficient and easy to navigate.
After walking through the maze of shops, visitors will notice the taxi hub with an official price list based on distance and number of passengers.
Also, when arriving, a gentleman is there to answer questions and make sure the people (traffic) keep moving and all the cruise passengers are quickly off to their destination.
All of the taxi drivers speak (and often prefer) English, and everything is priced in USD (no need for Mexican pesos).
The short ride gets you to the club in just 10 to 15 minutes and will cost $17 for 1-4 people, $23 for five people, or $34 for 6-8 people.
Prices are the same on the return, and when guests of the beach club are ready to head back to the pier, all they need to do is tell the reception desk at Nachi Cocom, and a taxi will be there within minutes.
All-Inclusive Pricing
Nachi Cocom is solely an all-inclusive beach club with no options to pay a-la-cart. The day costs $69 per adult, $39 for children 12-15 years old, $19 for children four to eleven years old, and is free for kids three and under, with the club staying open until 6:30 p.m.
Pricing includes an open bar complete with multiple beer options, soft drinks, bottled water, cocktails – especially those tropical ones requiring a blender – and plenty of tequila.
Additionally, you'll get a full Mexican lunch, including appetizers, salad, a main entree, and dessert. Selections made from the menu are also written in English.
Finally, if the service is exceptional, it is customary to tip the servers before leaving (not after each round of drinks).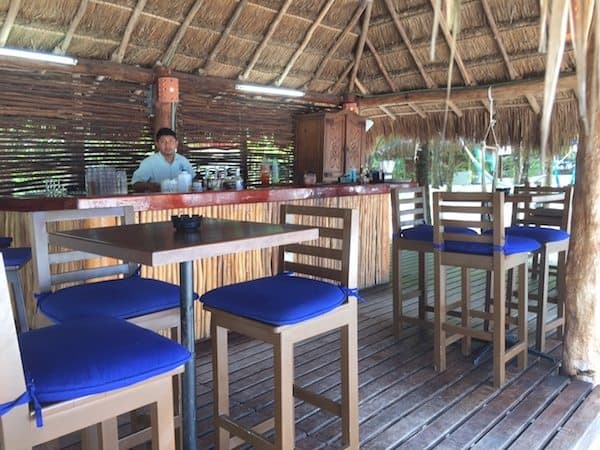 Amenities
Once inside and taking care of the remaining balance, someone escorts your group to select one of the many lounger chairs to start the day. Take a towel from the cruise ship (the place does not provide them for free) and place it down to set up shop.
Some lounge chair areas have shade under palm trees or smaller beachside palapas; some are in the sun for soaking up the rays, and others are even by the pool and not on the sand at all. Plenty of options exist.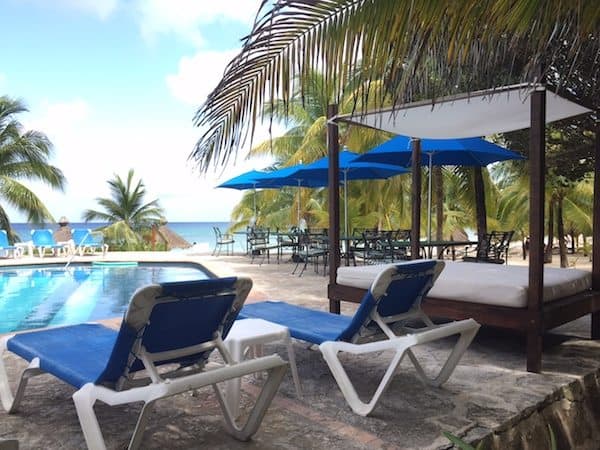 Once settled, the server is happy to take an order for drinks, and the day begins. Lunch begins at 11 a.m. Cozumel time (remember this may not be your "ship" time).
Lunch is served on your lounge chairs or available at tables under the main palapa. Fellow guests and veterans of Nachi Cocom recommended appetizers served beachside with the full main meal at the tables. Great advice.
The menu offers plenty of Mexican options with some popular bar food such as chicken wings and nachos. For the Mexican dishes, the shrimp ceviche and fajitas were popular favorites.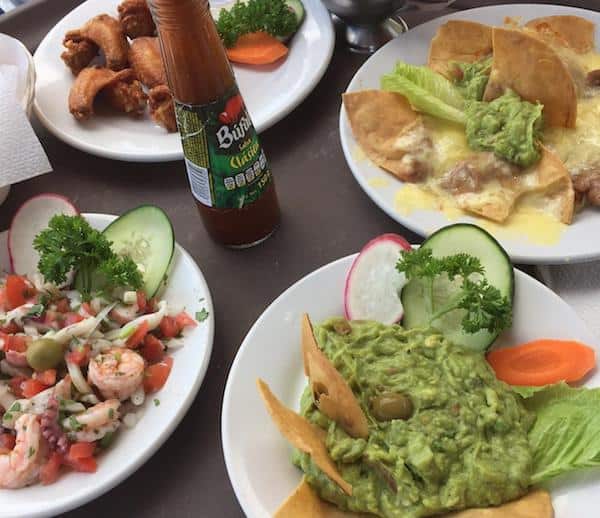 Besides lunch and a beach time siesta on one of the many hammocks, the club also has a pool and hot tub complete with swim-up access to the bar for drinks. A soak can become a great chance to socialize between sessions, relaxing on the lounge chairs.
It is also important to note even with a limited amount of daily guests, the beach club had two sets of bathrooms, and more importantly – each was clean.
For-Fee Extras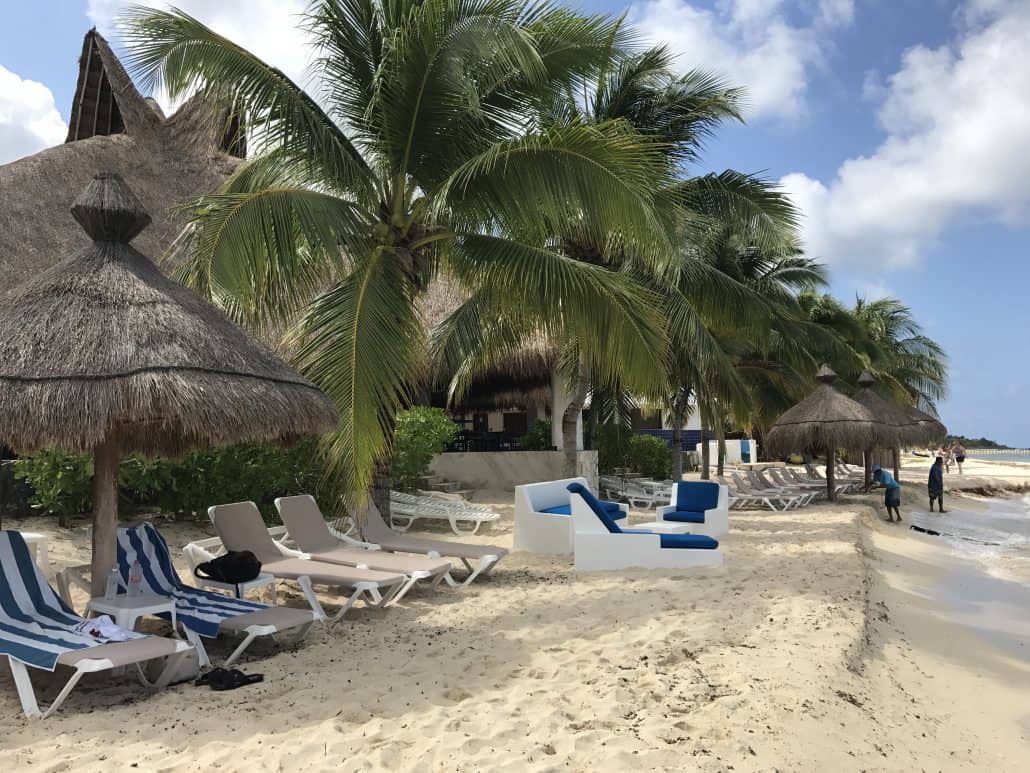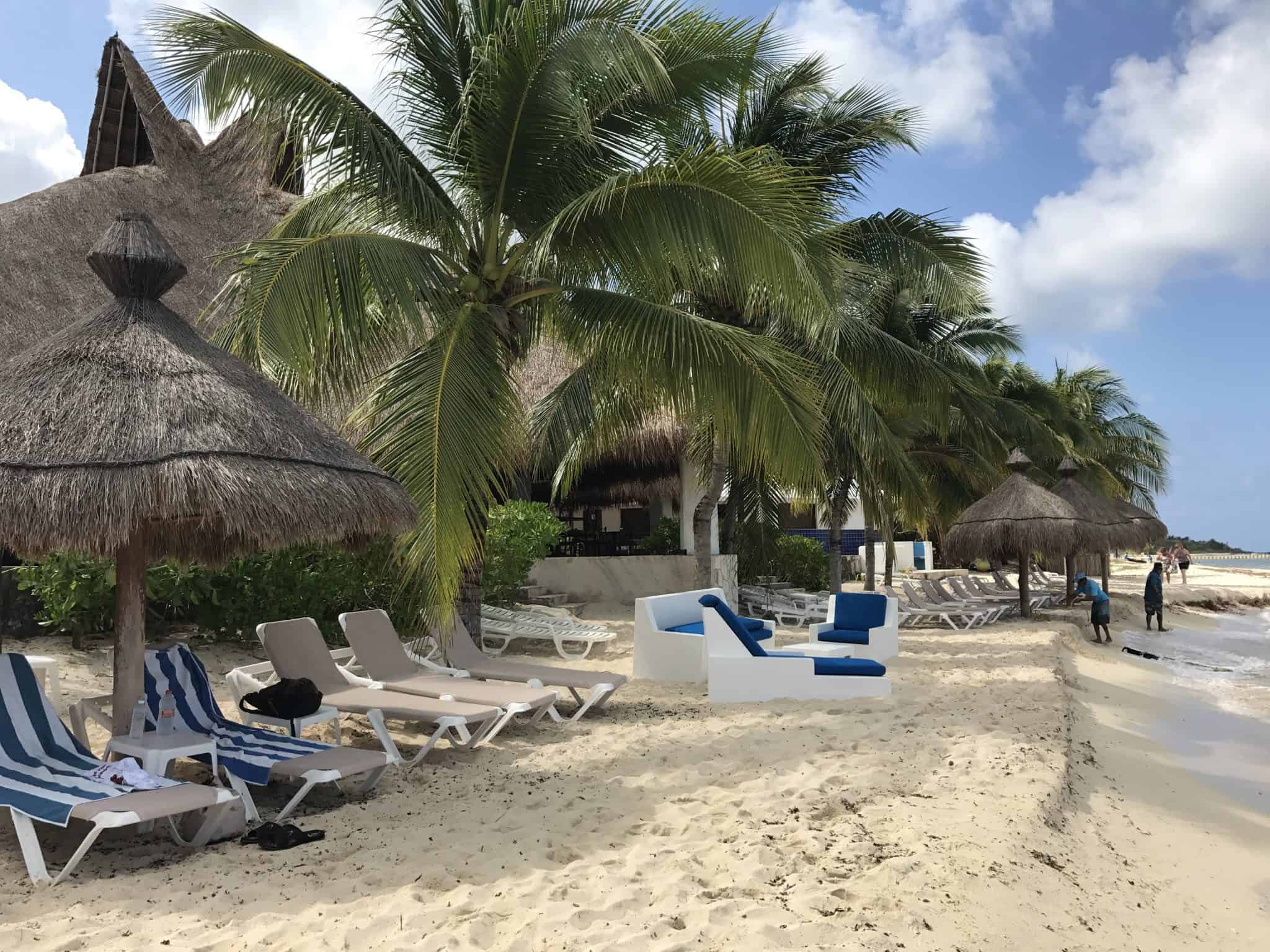 Upon exiting the taxi on arrival, guests are handed sombreros and asked to pose for a photo. Welcome to Nachi Cocom. Then, after the entrance, personal photography is encouraged.
Wi-Fi is also available for a fee if guests want to stay connected, although don't expect it at the beach.
The same photographer will attempt to sell you the image upon leaving without too hard of a push; there isn't too much pressure or stress here.
But if the day is picturesque, as many are in Cozumel, the beach club offers photography services for hire beyond the framed entrance photo.
Also, further up the beach, under the cover of the palm trees, a small palapa exists and offers massage services.
Expect to pay $75 per hour or $40 for the ½ hour with the option to select from a menu of services. Maybe it's time for a tired feet massage or the classic neck, back, and shoulders?
Water sports are also available from vendors on the beach. Parasailing is an option, along with a banana boat ride.
For those interested in snorkeling, two daily tours are available in the morning (9 a.m. and 11 a.m.) and include fins, mask, and new snorkel for $38 per adult, $30 for kids 12-15 years old, and $25 for kids 4-11 years old. A $2 National Park is also collected on the one and ½ hour tour.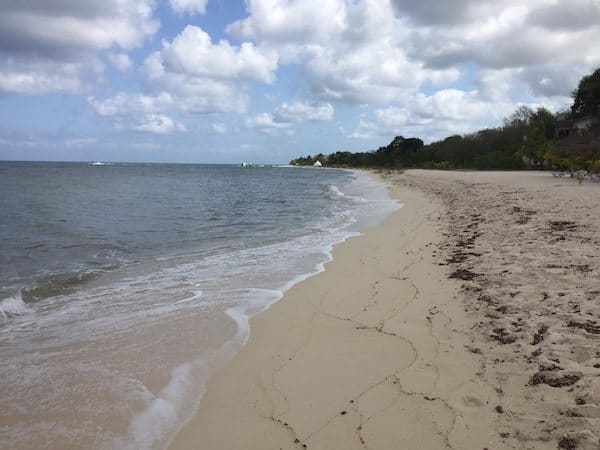 Final Thoughts
Nachi Cocom is just down the beach from Mr. Sancho's Beach Club and offers a similar escape at the same price point.
But with its limited numbers and no pay-as-you-go concept, this beach club is often considered a more relaxing and tranquil option when in Cozumel. But don't let the relaxing atmosphere or the siesta on the hammock stop you from ordering one last beer for the taxi ride back to the pier.
Video of Nachi Cocom
Craig Zabransky contributed to this article. Craig is a travel writer with a focus and love for Mexico. Catch more of his stories on stayadventurous.com and follow him on Instagram @StayAdventurous.