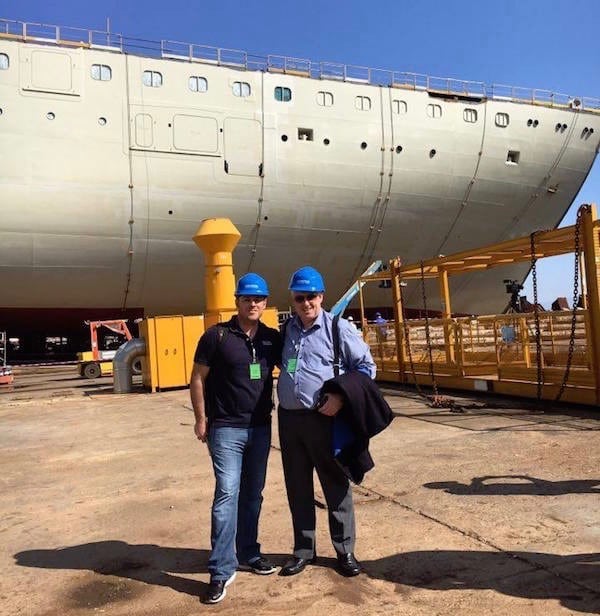 It's probably safe to say that John Heald, Carnival's chief cruise director, is one of the most recognized faces in the business. Whether doing live broadcasts from around the world on his Facebook page or interacting with fans who mob him wherever he goes, his warm smile and jocular persona have made him a household name among Carnival cruisers. I recently had a chance to catch up with the very busy guy during the naming ceremony for Carnival Vista, and he took the time to answer a few questions submitted by Cruise Radio listeners and readers.
1. Every ship is different. What do you think makes Carnival Vista special? 
JH: The crew. Without the crew, this is just another ship. But the crew on here, they're proud. They've taken ownership of the vessel. They love it, and we love having the guests here to enjoy them.
2. What's your favorite spot on the ship, and why?
JH: I absolutely love our Serenity deck on this ship. We've got the new Salad Creations bar, so at lunchtime, you don't have to leave. Get a huge salad with protein and salad and stuff. And right behind it is the Havana bar. I think in Miami, having a proper Latin Havana bar is going to be huge!
3. What feature aboard Vista would you like to see rolled out on other ships in the fleet?
JH: The new cabins. I think the fact that we have Havana suites with patios, the family harbor… I would love to see us do more speciality cabins. I can tell you on Carnival Horizon, there are going to be some new things that everybody is going to go, "Oh. My. Goodness!"
4. You've spent the past few weeks on the Vista. What is the thing you're hearing most from guests about the ship?
JH: I think outside of the crew, they absolutely love [the dining] choices.
5. You've been with Carnival for over 25 years. How has cruising changed?
JH: 20 years ago, before we put all the bells and whistles on the ship, after the show had finished, there was maybe one or two places to go, and everybody would go outside, walk with the ones they love and listen to the sounds of the sea. And then people stopped doing that, because everything was indoors. But now, you've got all these outdoor areas. And I think the fact that people are coming full circle and are listening to the sea and being romantic again is wonderful!
To hear to my full interview with Heald, including his tip to first-time cruisers and thoughts on toilet paper, click here to listen.
Featured photo: John Heald FB