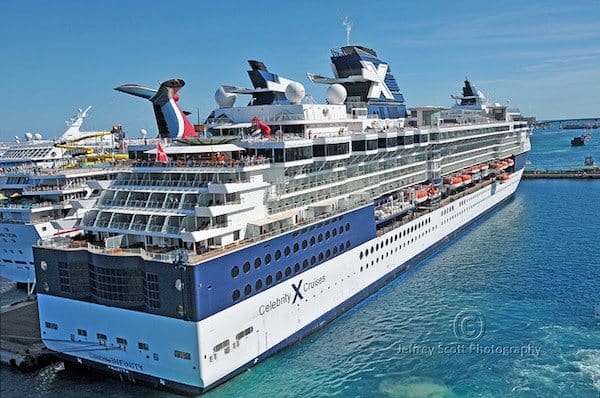 If you're anything like us, you've recently come to the realization that 2016 is quickly slipping away. "Where the heck did this year go?" you're probably asking, even while dreading the upcoming holiday season. (Unless, of course, you're one of those people who love every cookie-baking, gift-wrapping, card-sending, party-planning moment, in which case… more power to ya!) But if there's one positive thing about this year coming to an end, it's that we're cruising toward 2017… emphasis on the word cruising! And when planning next year's vacations, we'd like to encourage you to consider kicking 2017 off with a bang by booking a January sailing. With that in mind, let us explain why we think it's one of the best times of year to set sail!

1. Cheaper rates
Christmas is a wildly popular time for people to cruise, especially with their families. After all, the kids are out of school, making it much easier for clans to take a group vacation. And since we all studied the law of supply and demand in school, it doesn't take a genius to realize that cruise lines are going to charge premium prices at times of year when their product is most in demand! But around mid-January, prices drop and some great bargains can be found!
2. Fewer kids
People who take a "less is more" approach when it comes to traveling with children know that it's far easier to avoid winding up in an elevator with knee-high button pushers when school is in session. Given that most schools take off a whole lot of time between Thanksgiving and January 2nd, fewer parents are willing to yank their kids out of school two weeks into the new year.
3. It's gift card season right now
By booking a trip for early January, you still have a few months to make sure everyone knows you'd love a gift card as a holiday gift. Whether it's from your Secret Santa at the office or the mother-in-law who has never once given you anything useful, gift cards from your cruise line of choice will help pay for a special dinner or maybe the cocktails that'll help you unwind after the stressfest that the holiday season can be!
4. The timing's perfect
They say a new year is a time for new beginnings. What better way to kick off 2017 than by sitting on the deck of a cruise ship, starring off into the distance and pondering the year to come? If you happen to reside in a place that is buried under a couple inches (or, God forbid, feet!) of snow during the winter months, that's an even better reason to head for someplace warm!
5. Hurricane season is over
In recent weeks, we've all watched (or maybe even experienced) hurricanes and tropical storms wreak havoc upon the itineraries of cruisers. Typically, "hurricane season" ends around November 30th. So by January, your odds of having a tropical storm of epic proportions rise up to ruin your plans are far slimmer. Of course, it could still happen… but even if it does, heck, you'll be on a ship. And the way we see it, everything is better – even storms – when we're at sea!
Have you ever cruised in January? 
photo: Jeffery Scott Photography/flickr