1. Short Weekend Sailings
Majesty of the Seas has three and four night itineraries to the Bahamas, so they're the perfect cruise if you want to get away, but can't afford time or money to go for a full week.  The ship visits ports such as Coco Cay (Royal's private island), Nassau, Port Canaveral, and Key West.  I was on a three night sailing back in July, and it was a really enjoyable little cruise.  Coco Cay was my favorite port; that little island is so full of beauty and things to do like snorkeling!
2. Smaller Ship
It's usually a toss up between whether people prefer a ginormous ship or a smaller one where there's less walking and more peace.  If you're the latter, Majesty of the Seas is a perfect ship for you.  Weighing in at just over 70,000 tons and featuring just 12 decks, in today's standards it's a smaller cruise ship.  It doesn't take much walking or time to get from one end to the other, and most everything you'll want will always be close by.  Even though it doesn't have flashy features like waterslides or zip lines, it works.  There's still a gym, rock climbing wall, pools, and a basketball court.  If rest and relaxation is what you crave without the huge flow of people constantly swirling around, Majesty is the perfect choice.
3. Superb Crew
Being the first cruise I'd ever been on, I can say with assurance that it was a great one, and that had a lot to do with the crew.  I was beyond impressed with how accommodating they are, and how friendly and caring they truly are about you as a person.  They take time to ask questions and get to know you, instead of rushing to do their job and not giving a second glance.  Two people really stick out to me – our head cabin steward and our waiter in the main dining room.  The cabin steward was excellent, bringing an ice bucket in record time when we requested, turning down our room to perfection, and doing everything in such a timely manner.  Michael, our waiter, was also excellent.  He would ask us how our day was and always took our orders with a smile, sometimes suggesting things if we asked.  It was easy to tell he loves what he does, and is wonderful at it.  From what I could tell, the crew aboard Majesty are trained very well and are really passionate about good service, and it shows.
4. Quiet Corners
Going along with the fact that Majesty of the Seas is a smaller ship, there are a lot of hidden places to escape to.  It's not that they're a big secret or particularly hard to get to, but there are several areas where there's just less traffic while still having a beautiful view.  There are several decks at the stern that are open to walk around and stand at the railing gazing at the ocean, but a lot of people don't venture back there.  Some decks even have lounge chairs just to sit, relax, and enjoy the view. There are also some outside hallways on the sides of the ship lined with lounge chairs where it's the same situation; there's really not many people out there because it's not really a main pathway to anything.  We had a really relaxing evening before dinner just sitting out there enjoying the ocean, and it was probably the quietest public area I'd experienced on the ship.
5. Competitive Pricing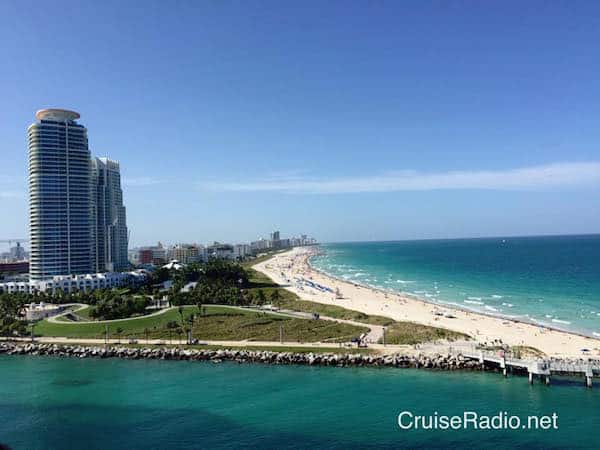 Since the Miami cruise market is so saturated with cruise ships heading off on three and four night sailings to the Bahamas, the pricing will be very competitive. Our three night cruise was $600 for the two of us, that included taxes and fees. Not a bad price for a long weekend getaway.