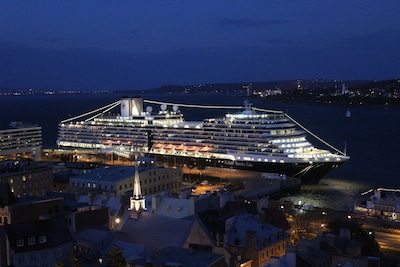 Cruising in Europe is definitely a bucket list item. But, in the meantime – and for a lot less money – book a cruise to Quebec City in the Canadian province of Quebec. Found on Canada/New England cruises offered by most cruise lines, this port offers European old world charm without price tag.
Because there's so much to do here, we recommend visiting the official site of the city to help you plan your trip: www.quebecregion.com/en/.
In the meantime, here are 5 things to do in Quebec City:
1. Historic Quebec City. There have been books written on everything to see and do in just Historic Quebec City. Because this is just a Top 5 list, we'll cover some of the biggest highlights you'd find on a sightseeing tour of this UNESCO World Heritage Site.
The Fortified City Walls – Quebec City is the only fortified city in North America north of Mexico. Today, you'll find almost 3 miles of walls with charming gates to explore. As you take your tour, you'll find out how the city's defenses changed through the years as you discover cannons, loopholes and fortresses.
Château Frontenac – the world's most photographed hotel and a designated National Historic Site of Canada, this hotel sits prominently in the Quebec City skyline. Don't forget to ride the funicular down to the city streets.
Old Québec – centuries-old architecture, cobblestone streets, grand plazas, historic sites, open-air art gallery, shops, entertainers, even horse-drawn carriages are just part of the draw of the charm and treasure you'll find here
2. Plains of Abraham. New York City has Central Park, London has Hyde Park and Quebec City has the Plains of Abraham. It's one of the world's largest urban parks where you can find an assortment of activities: walking, cycling, cross-country skiing and more. Before it became the famous urban green space it is today, it was originally battlegrounds, including the 1759 Conquest in the battles between French and English Empires. The park was created to honor the memory of these combatants. Even famous musicians know a good thing: Paul McCartney and Celine Dion joined the 400th Anniversary celebration for the city and rocked out with hundreds of thousands of fans here.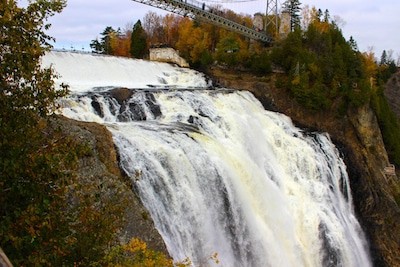 3. Montmorency Falls Park. Standing 272 feet tall – higher than Niagara Falls – Montmorency Falls is a don't miss site in Quebec City. For the best views, you'll want to visit Parc de la Chute-Montmorency. You'll be able to take a Gondola ride or walk the trails to the top of the falls. For a closer view, take the suspension bridge over the crest of the falls. Based on the season you're visiting, you'll find even more attractions. In winter, the spray of the falls freezes at the foot and forms a huge 'sugar loaf.' In summer, the water's illuminated and there's even an international fireworks competition in July and August.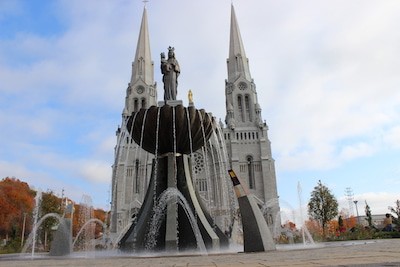 4. Sainte-Anne-de-Beaupré Basilica. Known as a 'place of miracles' for over 350 years – especially when it comes to curing the sick – it was originally built as a shrine to Sainte-Anne. Over a million visitors make the journey every year to the site, North America's oldest pilgrimage site. The Basilica has hundreds of stained glass windows, the nave and works of art. You'll also find churches outside the front entrance left by those who've been healed or cured by Sainte-Anne (the patron saint of Quebec City). To visit, you'll leave the city and head to the countryside of the Côte-de-Beaupré region.
5. Ghost Tours of Quebec. Looking for a different way to see a different side of Quebec City? As the sun sets on this charming town, you can be on your way to a ghost tour, or evening lantern walking tour of Old Quebec City. You'll hear stories that showcase the darker side of the city. This tour is something you'd book on an overnight port stay here – it's not usually offered by your cruise line. For more details, check out ghosttoursofquebec.com/.
Tips
Download the app. Quebec City Tourism developed an official app that shows you reviews, maps, places to stay, eat and shop. It's pretty much everything you need to know about Quebec City in the palm of your hand.
If you have kids who love Disney's Frozen, be sure to visit Hôtel de Glace, an ice hotel that actually had a room inspired by characters from the movie.
Have you been to Quebec City yet? What's your favorite excursion in this charming city?
Have you subscribed to Cruise Radio yet? Subscribe to us on iTunes and Stitcher Radio Network.