MSC Cruises is currently in the process of designing their private island in the Bahamas, called Ocean Cay MSC Marine Reserve.  The ground breaking will be next month.  The cruise line is spending an estimated $200 million to create a lush island perfect for their guests, while also staying conscious of the marine and plant life they're working with and around, to ensure it is all well taken care of and protected.  The island will include six distinct beaches, and is slated to open in October 2018.  Here are some things you need to know about it.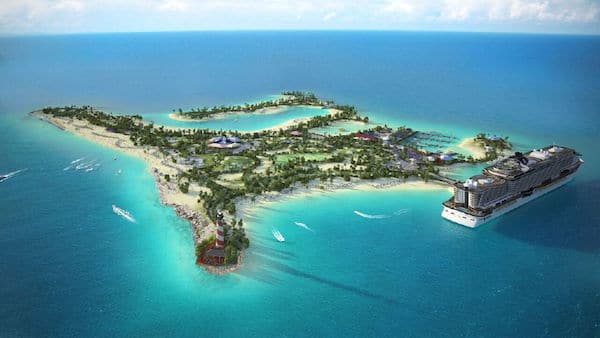 1. It includes a pier
The seafront will hold a purpose-built berth and pier, so no long tender rides to be found here!  The ship will dock right by the island, and guests will be able to walk right on and off as they please.  Another thing to note is that while docked at Ocean Cay, all onboard services will stay open; even the casino.
2. It has special spaces for MSC Yacht Club guests
The northwest corner of the island will be exclusively for MSC Yacht Club guests.  It will include a spa and wellness sanctuary, as well as massage huts and private bungalows for ultimate relaxation.  Getting there will be as easy as pie, too, because the island will have a network of walking paths, as well as bike rentals and other transportation options.
3. It's also a marine reserve
MSC is quoted as saying "the project (island) will transform the local economy base from resource exploitation to resource conservation."  The cruise line is really dedicated to making sure they're not going to disrupt the island's underwater offshore ecosystem too much, and that the new human life there will coexist seamlessly with the marine life.  They're also staying true to indigenous Caribbean flora ashore; bringing more than 80 plants from the region to be planted across the island.
4. It is full of nightlife
One nice thing about the pier and no need to tender is that it makes it so much easier, and safer, to participate in the island's lively nighttime activities.  There will be live music and entertainment at a 2,000-seat amphitheater, as well as several restaurants and bars.  The island will also include a variety of shops, so there are lots of options.  Whether you want to watch the sunset from the beach, or have a drink in a bar, there will be something for you when the stars come out.
5. It has an island-crossing zip line
Zip lines are one of the coolest things to do on vacation, and it makes it ten times better when you have a beautiful view.  Ocean Cay will include one, and we're betting it'll be a gorgeous site on the way across.  The island will also include a family beach with a kids' restaurant, a quiet inland lagoon, and a pavilion for weddings and parties.
Edit: In September 2016, MSC Cruises announced that they are pushing back the opening date from November 2017 to October 2018. This is reflected in the updated article.
Pin this! ↘︎