On April 29, Disney Cruise Line revealed lots of new details about its upcoming ship, Disney Wish. The vessel is the first of three new ships that will be built for Disney at Meyer Werft shipyard through 2025.
While there are still lots of design features, amenities, and venues that have not been announced yet, we learned a lot during the cruise line's virtual reveal event. Here are five features on Disney Wish that we are most excited about so far:
1. Arendelle: A Frozen Dining Adventure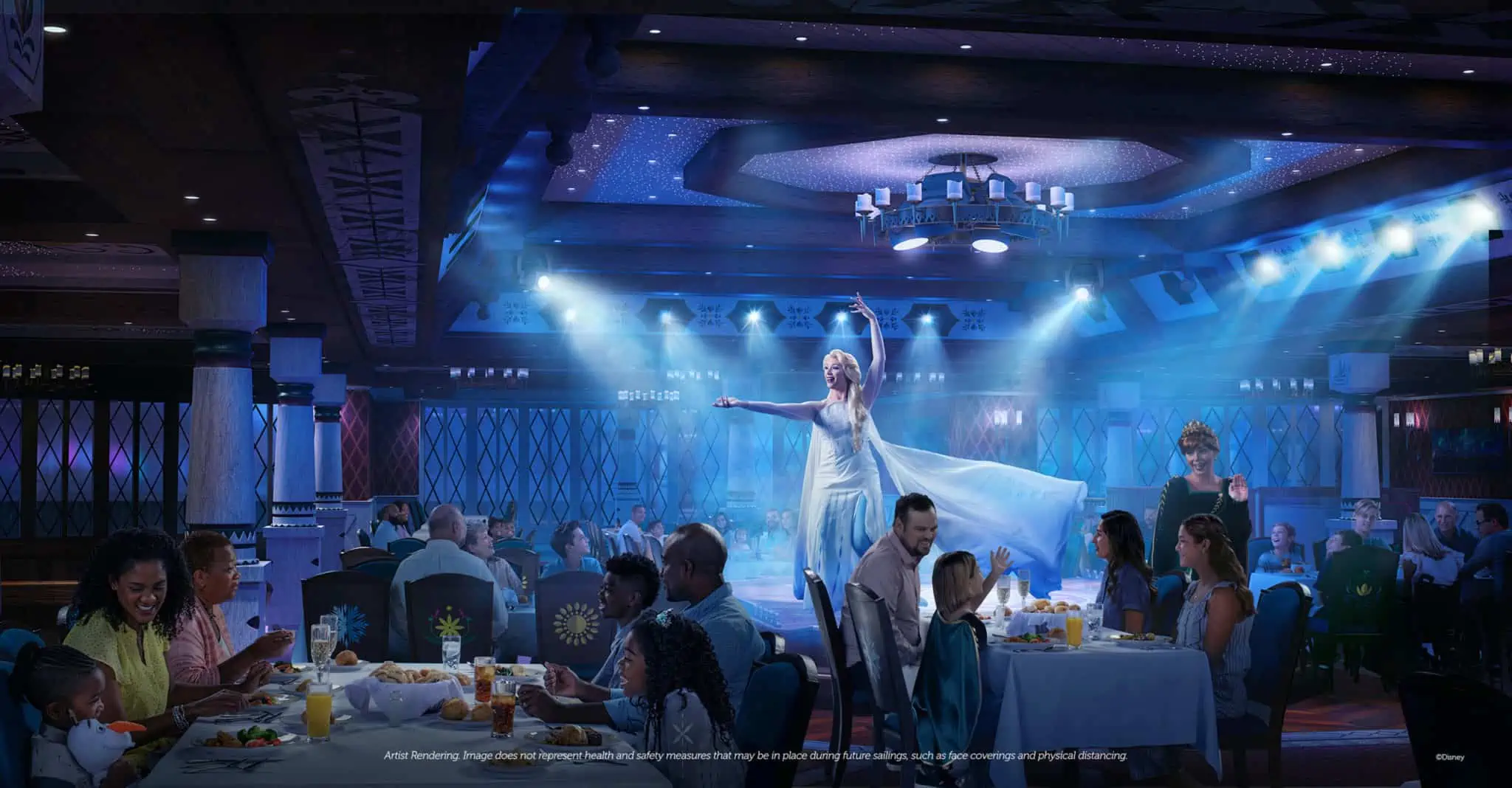 As a big Frozen fan (especially Frozen 2) and an even bigger fan of the actual country of Norway, the Arendelle restaurant has me especially excited about dinnertime on Disney Wish. 
Arendelle: A Frozen Dining Adventure will be one of the main dining rooms aboard the ship. Disney Cruise Line does what is called rotational dining, where throughout the cruise, guests rotate through the three main restaurants for dinner along with their waitstaff. It offers everyone the opportunity to experience each restaurant at least once or more throughout the trip, depending on the length of the voyage.
The theme of the Arendelle restaurant will take place post-Frozen 2, where a celebration is taking place to celebrate Anna and Kristoff's engagement. According to Disney, "Elsa and Olaf will host the celebration with catering provided by their friend Oaken's 'Hearty Party Planning Service… and Sauna' and live entertainment by 'local' musicians who specialize in Nordic renditions of familiar Frozen songs."
Not only will guests be entertained, but they can also join in on the fun with table crafts and sing-alongs. The menu will combine modern, family-friendly foods with flavors and ingredients of the Nordic region.
All in all, I think that kids will be absolutely enthralled (who am I kidding, adults too!) with the entertainment and activities in this restaurant, and it will be neat to see passengers try new things with the Scandinavian-inspired menu.
2. Star Wars: Hyperspace Lounge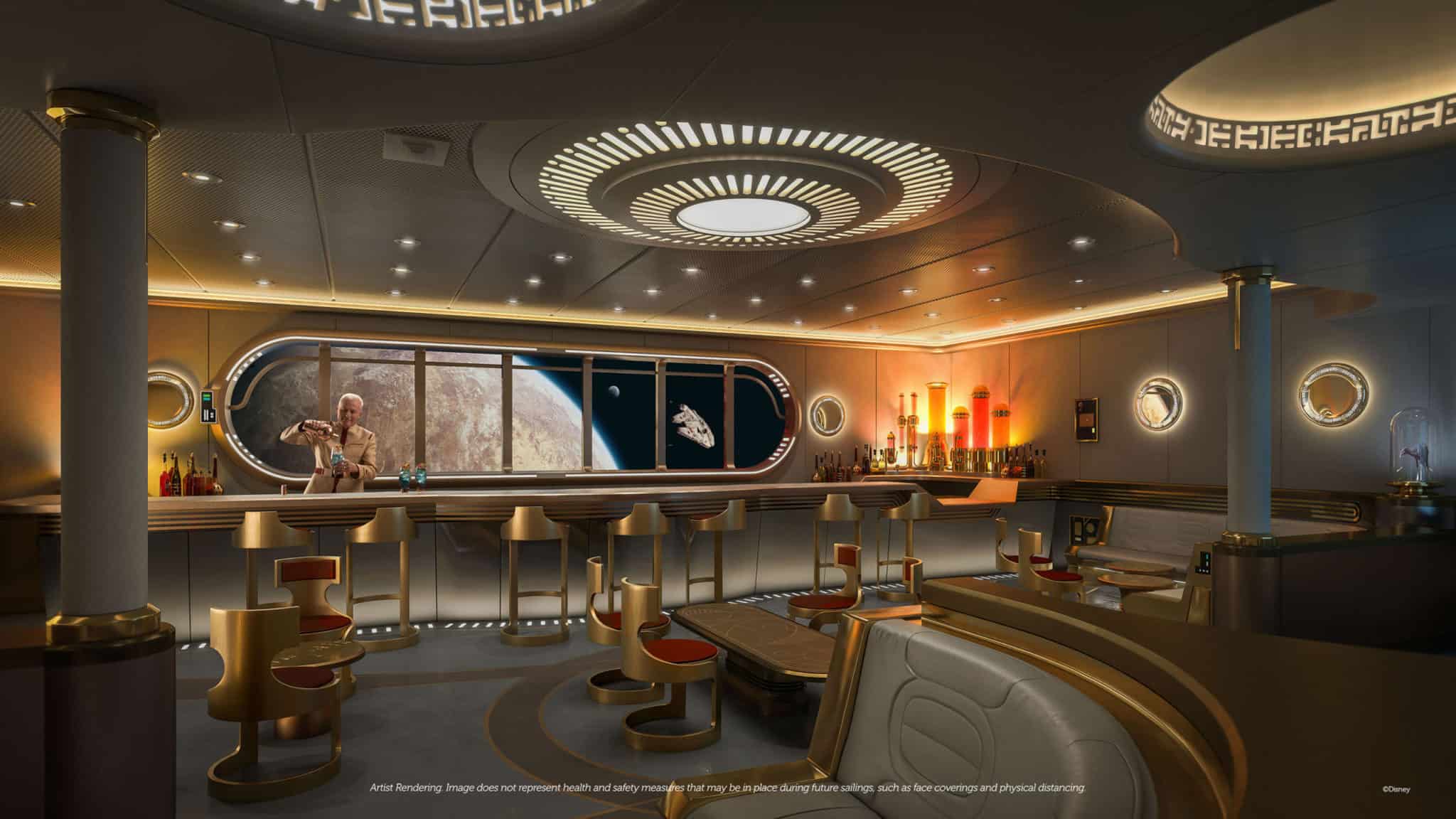 I've only gotten into Star Wars in the last year or so, and really enjoyed the movies and The Mandalorian series.
I would say that I'm most excited about this bar/lounge because of that, and that's definitely partly true. However, I have a feeling I would still be pretty enthusiastic about it even if I'd never seen a Star Wars film in my life — it's just that cool!
Star Wars: Hyperspace Lounge will be one of many bars and lounges just for adults on Disney Wish, and will feature a sleek interior inspired by star cruisers similar to Dryden Vos' ship in "Solo: A Star Wars Story." A panoramic virtual window will see iconic space ships flying by, and transport patrons to locations such as Tatooine, Batuu, Mustafar, and Coruscant.
The lounge will offer fun tasting experiences and serve themed cocktails inspired by the Star Wars universe.
3. AquaMouse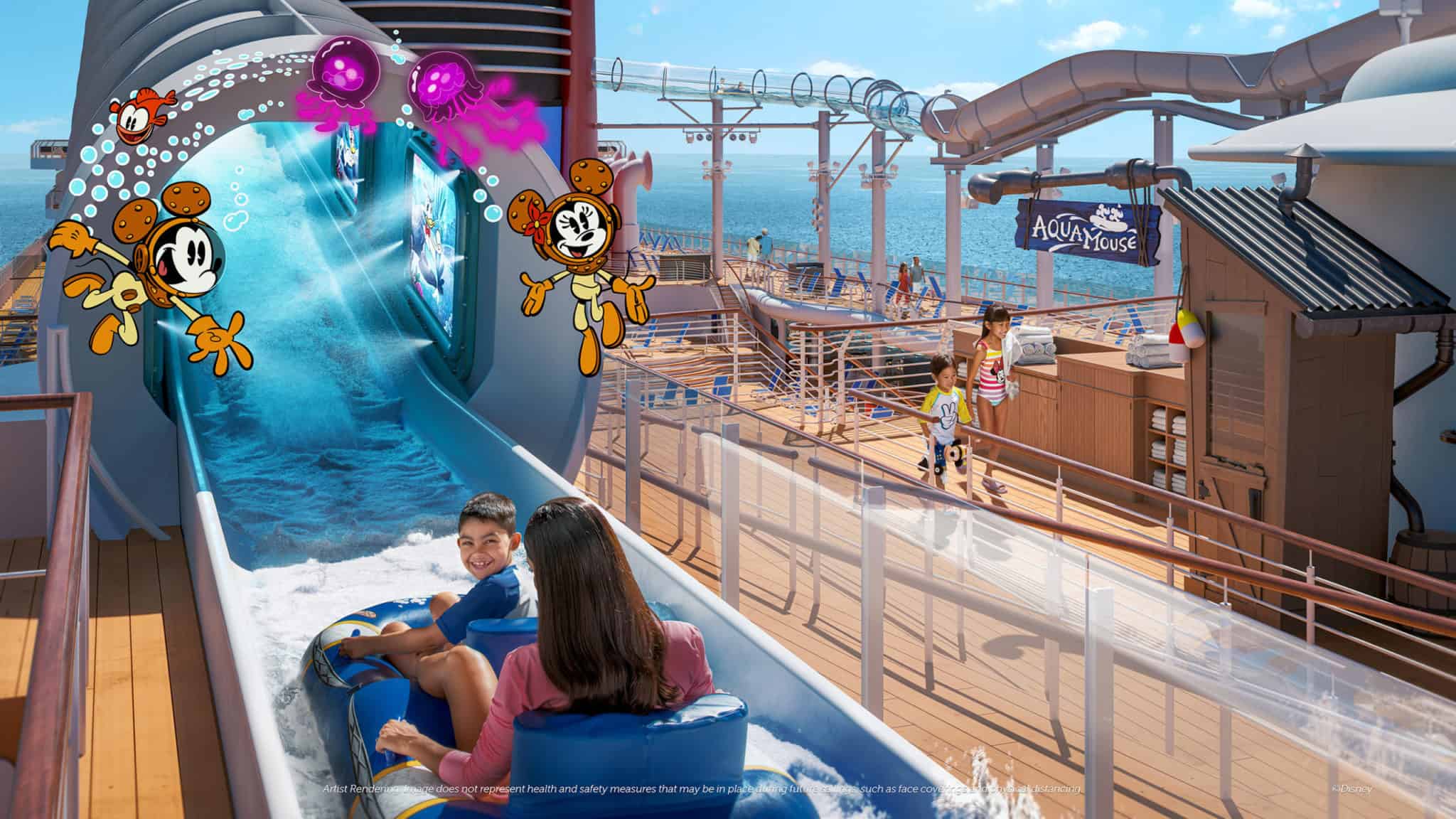 The upper pool deck on Disney Dream and Fantasy are pretty recognizable not only for Mickey's iconic likeness and color palette, but also for the AquaDuck water coaster that sits high above the edges of the ship. But we're not here to talk about Dream and Fantasy, we're here to talk about Wish. And this ship has a fun evolution of the AquaDuck, called AquaMouse.
Disney is touting AquaMouse as its "first-ever attraction at sea," with the 760-foot long water ride immersing passengers in "The Wonderful World of Mickey Mouse" animated shorts. It will feature its own story, called "Port Misadventures," told using show scenes, lighting, and special water effects.
The grand finale? A soaring loop over the edge of the ship with clear views all the way down to the sea, along with a sweet sendoff message from Minnie and Mickey.
READ MORE: Disney Summer Cruises to Require Vaccinations, Pool Deck Reservations
4. The Oceaneer Club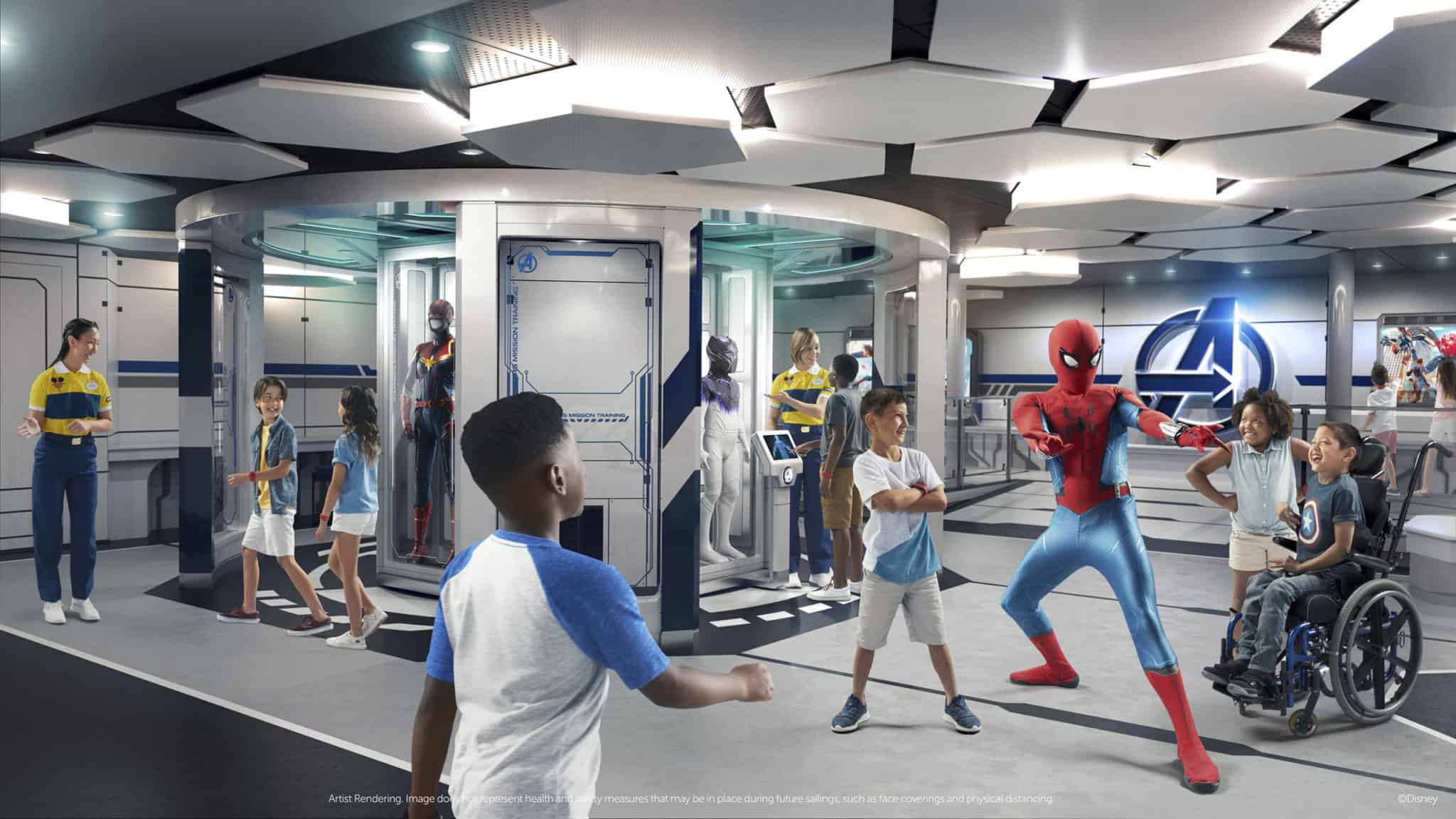 The Oceaneer Club will be familiar to past Disney Cruise Line passengers, as the kid's club name has not been changed for Disney Wish. However, that's just about where the similarities end. Disney Wish will feature an entirely revamped Oceaneer Club, where kids ages 3 to 12 can learn and play in three differently-themed areas.
At Marvel Super Hero Academy, young "recruits" train to be the next generation of Super Heroes with the help of heroes like Spider-Man, Black Panther, Ant-Man, and the Wasp.
In Fairytale Hall, young princes and princesses can do arts and crafts projects at Rapunzel's Art Studio, read and act out stories in Belle's Library, and unlock their "icy powers" during a series of gesture-based games at Anna and Elsa's Sommerhus.
In the Imagineering Lab, kids can discover secrets of world-renowned Imagineers through hands-on activities and experiments. They can even design their own rollercoasters, then climb into a capsule to (virtually) ride their creation.
Perhaps the best part of Disney Wish's Oceaneer Club, in my opinion? There will be a secret door in the ship's Grand Hall atrium to a slide — which takes kids straight down into the Oceaneer Club's central hub. I've always loved secret doors and hidden rooms, so this just makes me want to be a kid again!
5. Quiet Cove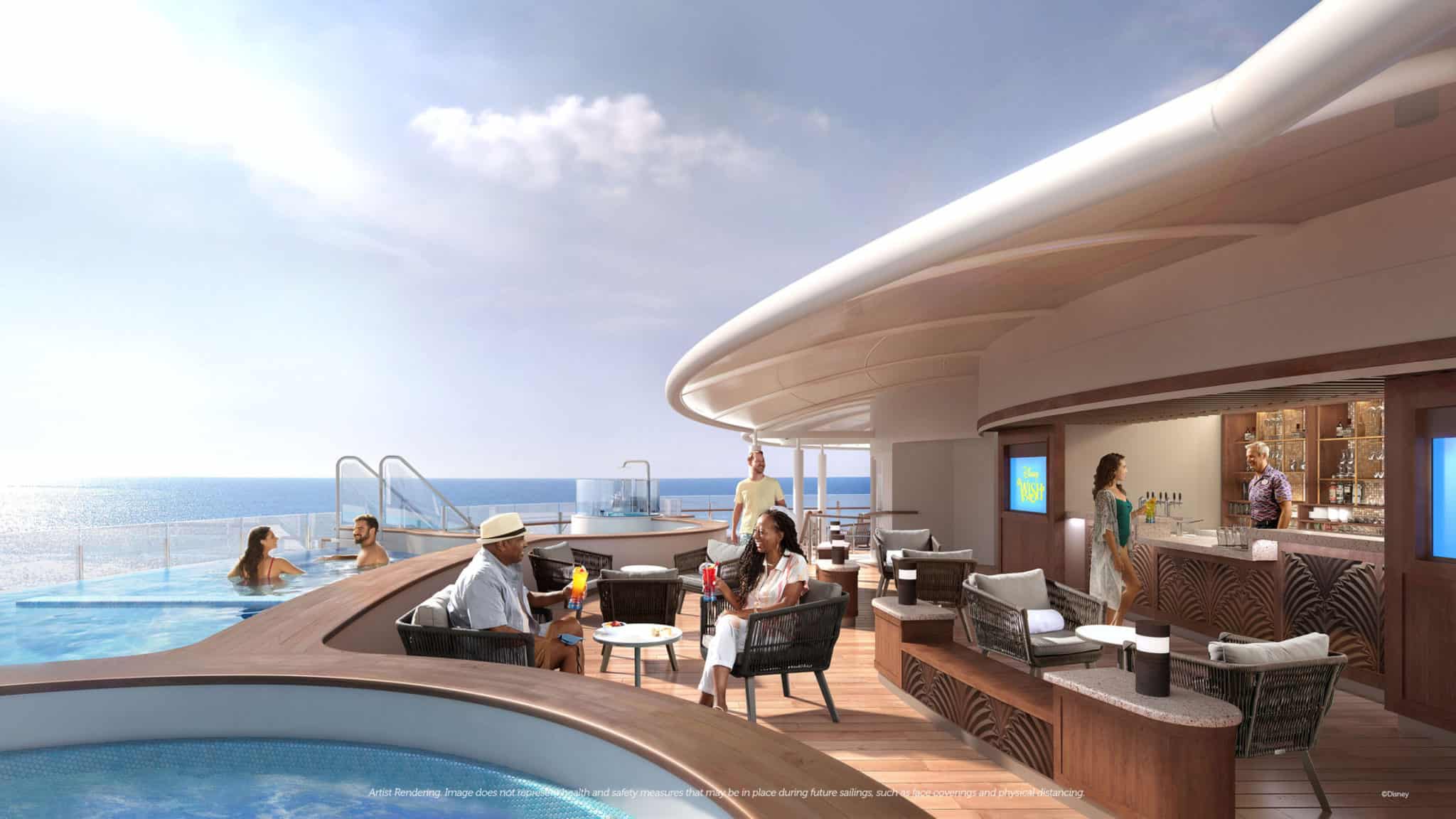 While the kids are hanging out in the Oceaneer Club, adults can slip away to the ship's Quiet Cove Pool District for some relaxation in the sun.
On Disney Wish, the Quiet Cove sundeck will be located at the aft, making for beautiful views of the ocean. For the first time on Disney Cruise Line, this area will include an infinity pool — something I've noticed is becoming more common across the cruise industry (and I'm not complaining one bit)!
Nearby will be the popular Cove Bar, as well as the chic Cove Café with a fresh new Moana-inspired theme.
READ NEXT: Overview: Cruise Lines That Are Sailing in Summer 2021
Pin it!