While we tend to only think of Carnival cruise rooms in four categories – interior, ocean view, balcony, and suite – there are many more sub-categories within each of these of different room types.
That's why we've compiled these 5 hacks for selecting a stateroom on Carnival – so you can get the best room for your needs at the best price.
1. Select Upper/Lower Rooms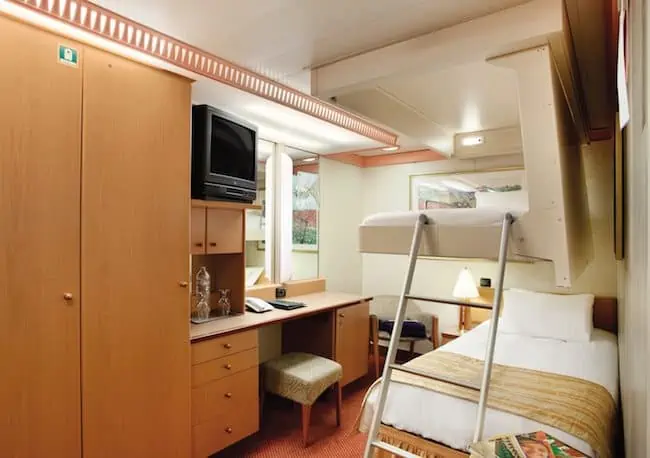 If you're planning to cruise on Carnival Triumph, Carnival Victory, or Carnival Sunshine, these ships have special rooms where you can book an "ocean view" for the price of an interior. These rooms are located in the aft of the ship on Deck 2 at the corners (e.g., rooms 2444 and 2445 on Triumph), and their odd shape (wrapping around a crew staircase) is what sets these rooms apart. While Carnival's booking engine clearly distinguishes between "Interior Upper/Lower" rooms and "Interior Upper/Lower – Porthole" rooms, indicating the latter room option includes a porthole window, these rooms are oddly enough categorized as 1A "Interior Upper/Lower," making them among the cheapest rooms on the ship.
However, they actually have not just one but two ocean view-sized picture windows. The only catch here is that they are indeed upper/lower rooms, meaning they have only a twin bed and a bunk bed above. So while it may not be an ideal room for a couple, it's perfect for two friends or a parent and child who may be cruising together.
Read More: 7 Worst Cruise Cabin Locations
2. Scenic Ocean View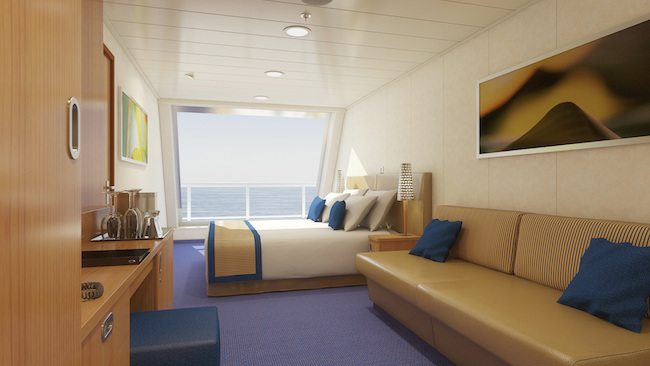 You can find these rooms on almost any ship, located in the forward upper decks. These rooms take the term "ocean view" to a new level with floor-to-ceiling windows featuring electronic screens that roll up or down at the flick of a switch. They're one price level below the cost of a balcony but offer much more luxurious views than a standard ocean view.
3. Corner Ocean View


Like many rooms that are situated at the corner of a ship, these uniquely shaped rooms offer more space for the same price as a standard ocean view room. Plus, thanks to their odd angle, they feature two picture windows rather than just one. These rooms sell out quickly, though, so book far in advance if you want to sail in one.
4. Cove Balcony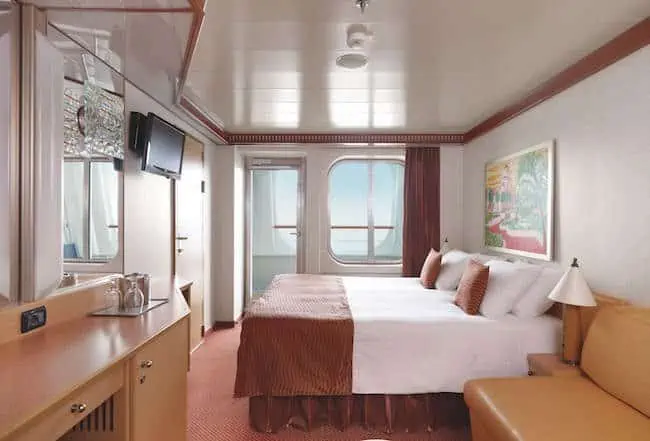 Found on Deck 2 of Carnival's Dream and Vista-class ships, these balconies are only two decks above the water line. Their proximity to the water includes the sound of the rolling ocean and the occasional spray of salt water, so cruisers either love or hate these balconies. However, their "cove" structure means you're completely closed off from neighbors on all sides by curved steel walls, offering privacy that can't be found on a standard balcony. And since the lifeboats hang above these balconies on Deck 3, they're also shaded from sun and rain.
5. Aft Wraparound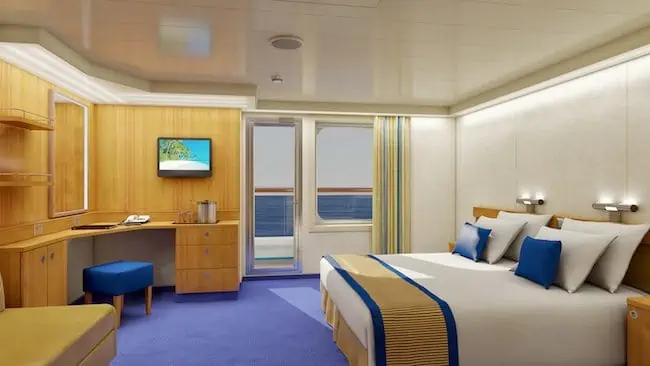 Technically named "Premium Vista Balconies," these rooms are found in the aft corners of Conquest-class ships and Carnival Sunshine in the upper decks. However, they're more commonly called "aft wraparounds" because of the fact that the balconies to these rooms literally wrap around the corner of the ship, giving you the largest balcony space onboard by far – even more than a suite room. While they cost a bit more than a standard balcony room, they're still cheaper than a suite, plus you get unbeatable 270-degree views from your private space.
Photos: Carnival Cruise Line
SaveSave
SaveSave