Have you ever walked into a space on a cruise ship and felt an immediate sense of calm? It could be the solarium, a peaceful sundeck away from the busyness of the lido deck, the spa, or any manner of serene venues.
One thing that I think helps instantly create a more peaceful atmosphere on a ship — or anywhere for that matter — is lots of plants and greenery. And you may not have ever sailed a ship that had lots of plants onboard, but there are ships with spaces like that out there! Here, I want to tell you about six such spots.
1. Central Park — Royal Caribbean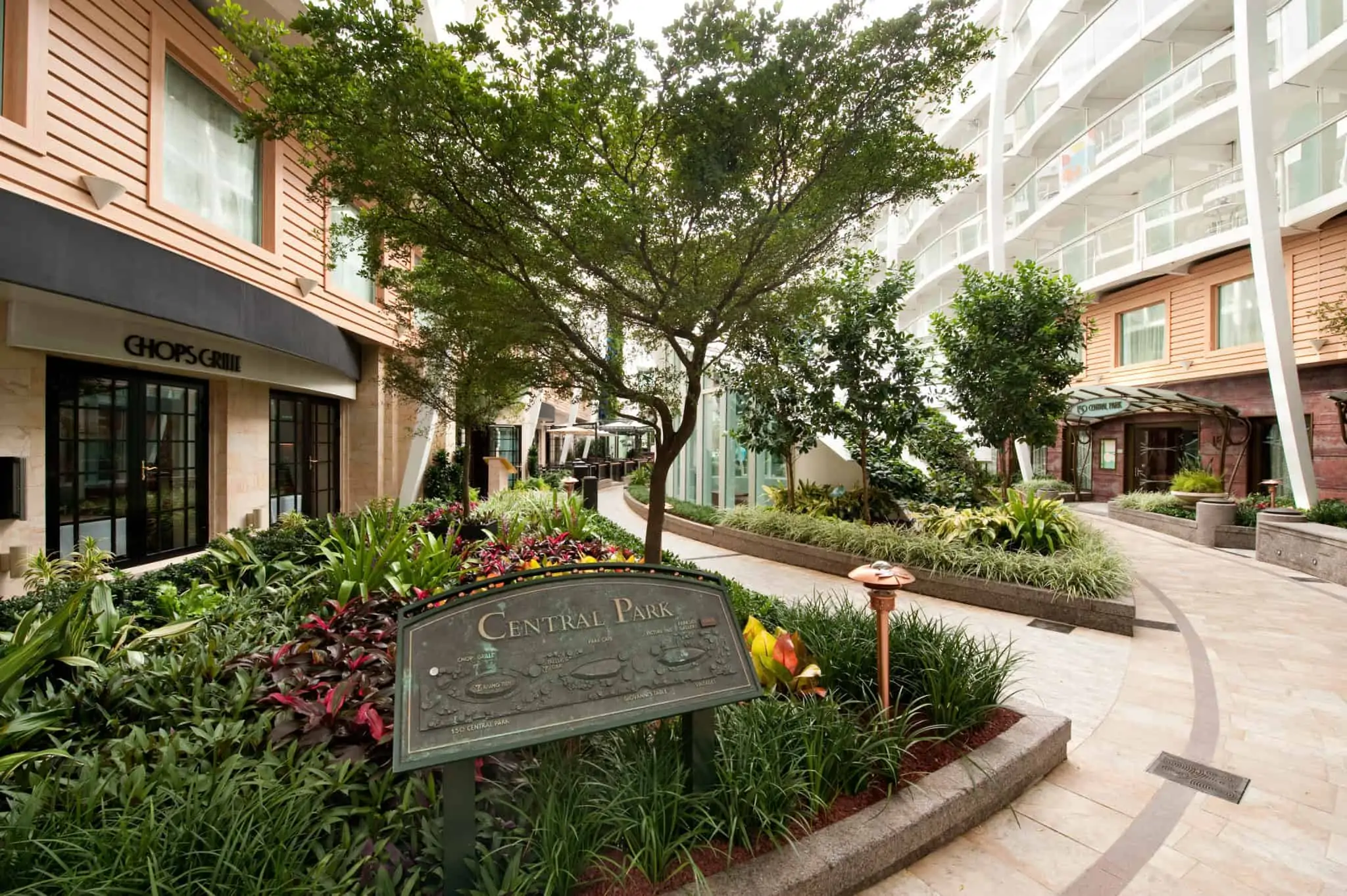 Ships: Oasis, Allure, Harmony, Symphony, and Wonder of the Seas
The very first area that came to mind when I was thinking about this article was, of course, Royal Caribbean's famous Central Park neighborhood. When Oasis of the Seas debuted in 2009, it rocked the cruise industry and changed the way we thought about cruising forever. It was the largest cruise ship ever built at the time (and is now only surpassed by her three sister ships) and was divided into areas that the cruise line called "neighborhoods." One of these was the greenery-filled, open-air Central Park, lined with upscale restaurants and bars with both indoor and outdoor seating, as well as shops that made it reminiscent of Central Park in New York City. 
The concept was a smashing success, and Central Park proved to be popular among passengers. Now there are five Oasis class ships, and all boast the light-filled space. Take a stroll through the park and you'll be surrounded by thousands of trees, shrubbery, vines, flowers, and other plants all suited for the subtropical weather in the Mediterranean and Caribbean — where the Oasis class ships most often sail.
2. Rooftop Garden — Celebrity Cruises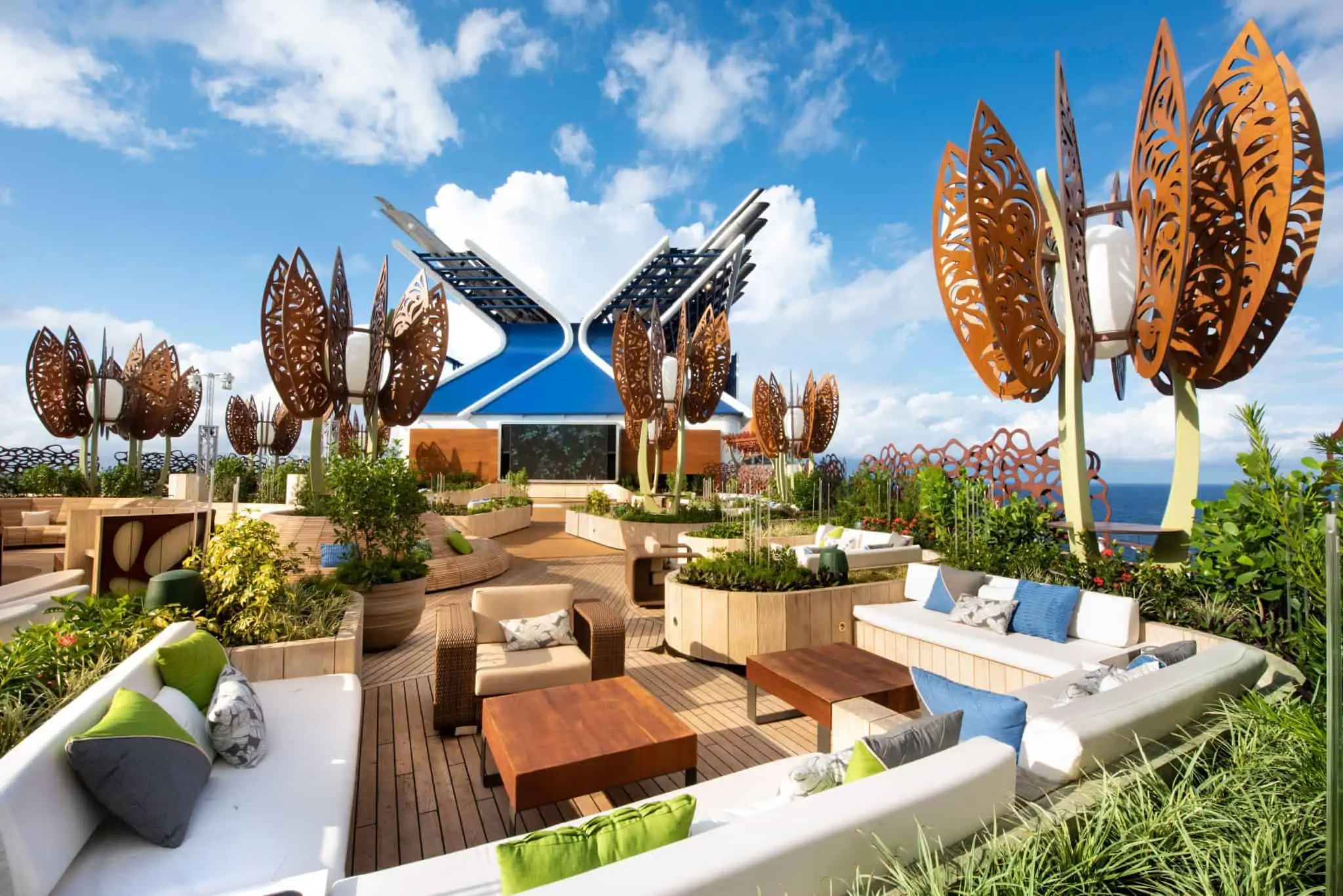 Ships: Celebrity Edge, Apex, Beyond, and Ascent
When details were first coming out about Celebrity Edge before the vessel debuted in 2018, one of the things I loved most was the Rooftop Garden, a new space for Celebrity. The Rooftop Garden is a sundeck at the top of the ship, filled with an eclectic mix of plants and metal sculptural elements. If you need any confirmation that this is a very unique and well-thought-out space, you should know that it was designed by famed architect Tom Wright, who also designed the Burj Al Arab in Dubai. The sundeck is filled with seating, perfect for enjoying a sunny afternoon at sea with friends, or for enjoying an after-dinner cocktail at night. 
The Rooftop Garden area also features an al fresco restaurant, called Rooftop Garden Grill. Open for lunch and dinner, the venue "serves up gourmet backyard favorites," according to Celebrity. You'll find things like sandwiches, burgers, wings, and salads on the lunch menu, and grilled and smoked meats at dinner — complete with Mason Jar S'mores for dessert.
3. Eden — Celebrity Cruises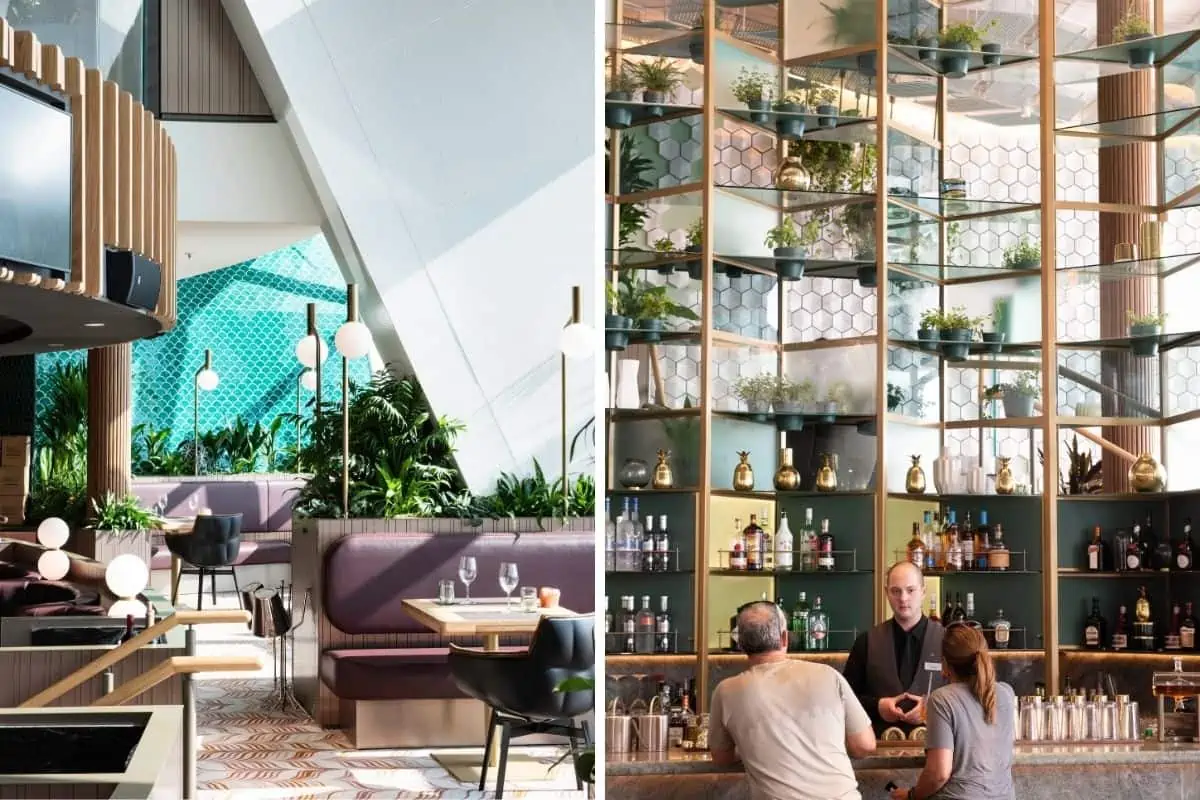 Ships: Celebrity Edge, Apex, Beyond, and Ascent
Another space on Celebrity Edge that probably intrigued the entirety of the cruise media when it was first announced is a three-story multipurpose indoor space called Eden. The light-filled lounge is flanked by floor-to-ceiling windows, as well as plant life in just about every corner. 
Eden takes on many forms and has many functions, depending on the time of day. Not only is it a lounge with many conversation areas for intimate gatherings, but it's also a restaurant… and a bar… and a performance venue. During breakfast and lunch, the Eden Café is open for business, serving up light bites. For dinner, the Eden Restaurant offers a nature-inspired menu with uniquely presented dishes. Off to the side, the Eden Bar features a multi-story "Library of Plants," filled with edible plants and herbs that are used in the handcrafted cocktails on the menu. 
READ MORE: 5 Best Cruise Lines for Adults
4. Lawn Club — Celebrity Cruises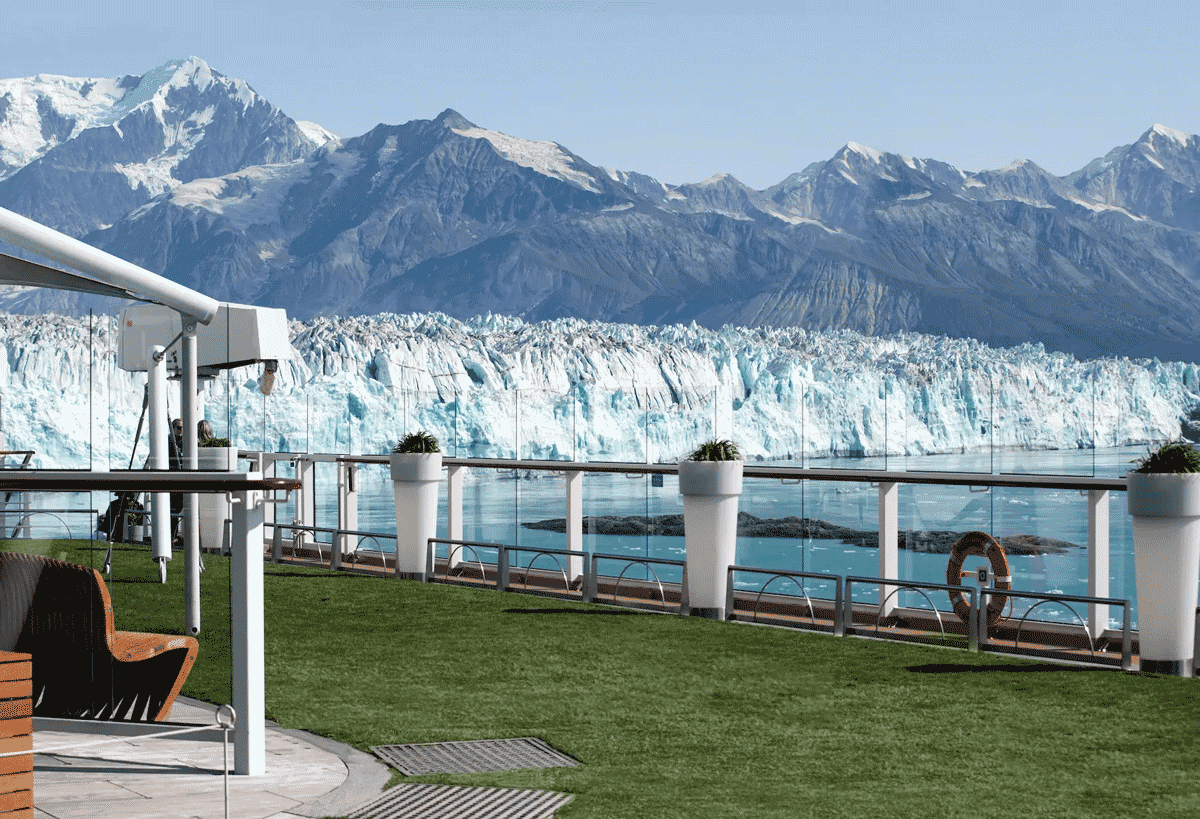 Ships: Celebrity Solstice, Eclipse, Equinox, Reflection, and Silhouette
If you haven't figured out by now, Celebrity Cruises is big on natural spaces filled with living greenery. An older example of this is the Lawn Club, which can be found on five of the line's ships. The upper sundeck features — you guessed it — a real grass lawn. It's perfect for playing lawn games, having your own little picnic, or catching some live music. 
On Celebrity Silhouette and Reflection, you'll also find the Lawn Club Grill there, which serves up hearty barbecue fare in the open air.
5. Living Walls — Crystal Cruises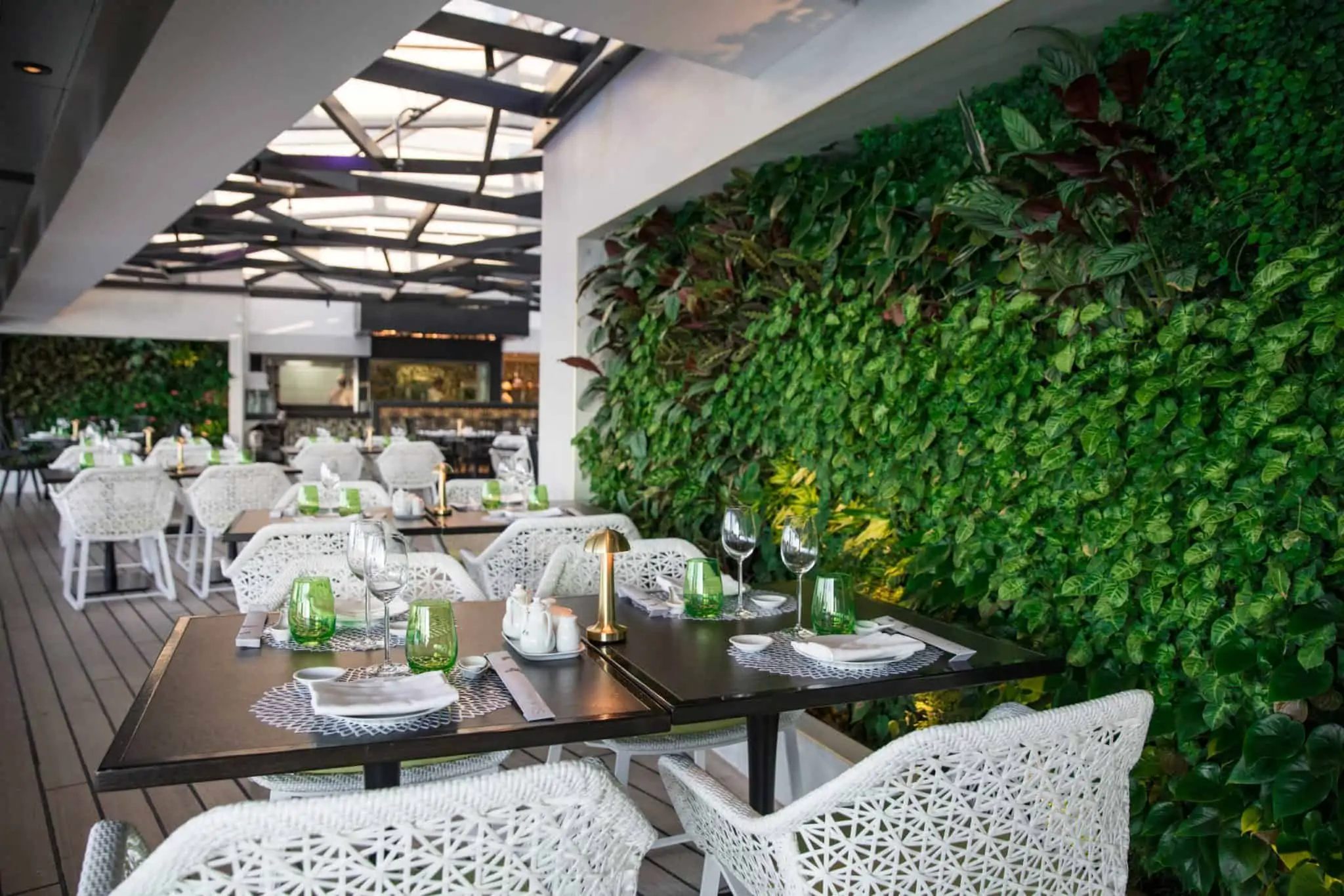 Note: As of early 2022, Crystal Cruises is no longer in business. The future of these two ships is not yet known.
Ships: Crystal Symphony and Serenity
I'm a big fan of living walls — they add so much life and vibrancy to a space. Before beginning research for this article, I didn't know that Crystal Cruises even had them on any of their ships. On Crystal Symphony, you'll find living walls in the Silk Kitchen and Trident Grill area, which are adjacent to each other. On Serenity, you'll find them in Trident Grill and Scoops ice cream bar area, which are also adjacent to each other. The al fresco eateries are natural spots to add some plant life, and really bring another level of serenity to the already intimate and luxurious ships. The ships' teams of onboard florists, who handle things like flower arrangements and special events décor, are also in charge of these living walls. 
How do these plants stay happy and healthy growing out of a vertical wall? Well, they need to be specific types of greenery that can sustain that type of situation, and their root systems are suspended in two to four inches of soil to help ensure that gravity won't take over.
6. Herb Garden — Viking River Cruises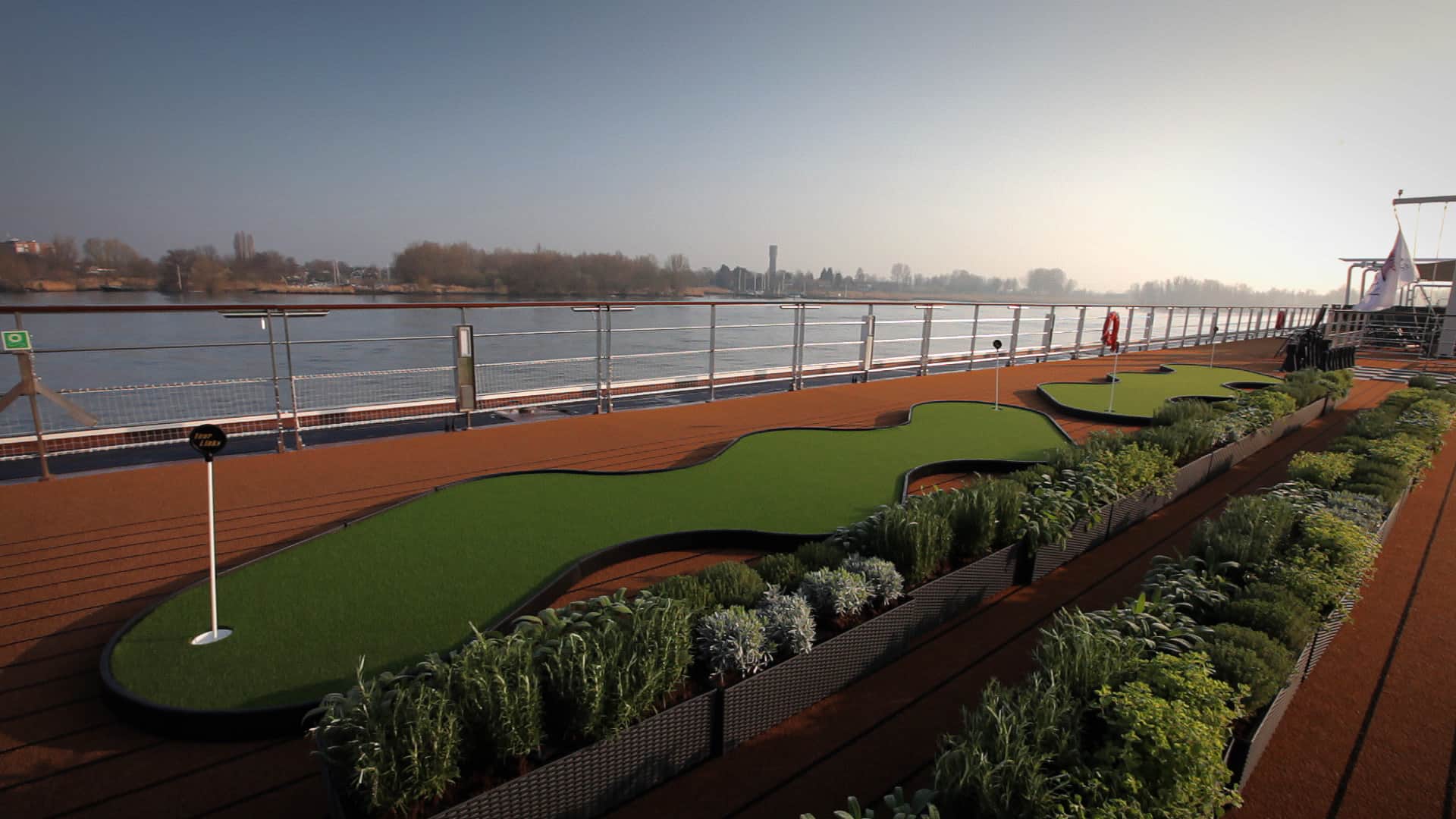 Ships: All Viking river longships
This meal tastes SO fresh, you may think on a Viking river cruise. If it's filled with delicious herbs, we likely know the secret as to why. 
All of Viking's longships that ply the rivers of Europe, Asia, and beyond contain an organic herb garden right out on the open deck. Alongside adding fresh flavor to various meals, the herbs are also used as table decorations.
READ MORE: 7 Ways Celebrity Edge is Changing Cruise Vacations
We love to see the creative ways that cruise lines choose to incorporate greenery into their ships. What's your favorite plant-filled spot that you've experienced onboard?
Pin it for later!