A sea day is a perfect time to take full advantage of all the activities a cruise ship has to offer, even if your plan is as simple as sleeping in and going to the sea day brunch. With so much happening onboard a ship on a sea day, it can be hard to decide what to do.
7 Ways to Spend a Sea Day
1. On the Deck

The lido deck is the place to be on sea days, which is why the term "chair hog" exists. You might want to claim your spot early, because the lido deck is sure to be the busiest space on the ship on a sunny sea day. And it's no wonder too, given everything that goes on such as the live music, the drink mixing competitions, surf simulators, the hairy chest contests, the rock climbing walls, the ice carvings… There's so much to enjoy. And if the bar waiter is taking forever to bring your drinks because it's busy, just tip them a few bucks and it's likely your next round will get to you a lot quicker.
2. In the Pools

What better way to cool off than by taking a dip in the pool? These days, most ships have multiple pools, and most also designate one to be an "adults-only" pool if you'd prefer a quieter retreat. Depending on the ship, there may also be an onboard water park or a water slide for some afternoon fun. Don't forget about the hot tubs, too!
3. Around the Ship

Although the lido deck may typically be the "hot spot" onboard, the inside of the ship is just as lively on a sea day. Indoors you'll find shops hosting sales, art auctions, bingo games, liquor samplings, trivia, movies, free health seminars, and more. To make sure you don't miss out on any of the fun, take full advantage of the ship's daily planner each day.
4. In the Spa

Vacation and relaxation are basically synonyms, so why not spend a day in the spa? Practically every ship has its own steam rooms and saunas, and some of the newest ships even offer such luxuries as a thalassotherapy pool, aromatherapy showers, and heated-stone beds. If you want to treat yourself, you could also book an appointment at the spa, whose services range from mani/pedi and hair care appointments to treatments like massages, acupuncture, facials, teeth whitening, and even botox.
5. In the Casino

Another way to spend a day at sea is betting on your odds in the casino. There are usually events going on such as a slot tournament or a Texas Hold 'Em tournament for a low-cost buy-in, or you can simply play around the tables or machines as you please. Just don't forget to tip your dealer, even if you don't win.
6. At the Bars and Restaurants

With so much variety in food on a cruise ship, don't be shy about eating a second breakfast before eating an early lunch… as well as a second late lunch. I know I've been known to eat more times per day than I can count. After all, the food is included in your fare, so why not take advantage of eating as much as possible. It's also fun to spend the afternoon "bar hopping" around the ship, attempting to visit every bar that's open. Many bars also have games; for example, Carnival's RedFrog Pub has board games at the bar tables, hosts a beer pong tournament in the afternoons, and almost always has a live musician to enjoy.
7. On your Balcony

If you've booked a balcony stateroom, a sea day is the perfect time to take advantage of your private deck space. Grab lunch to-go or call in room service and enjoy your meal while basking in the sun outside your room. The only thing better than admiring the ocean views on a cruise is doing so in complete privacy.
What do you do on a sea day?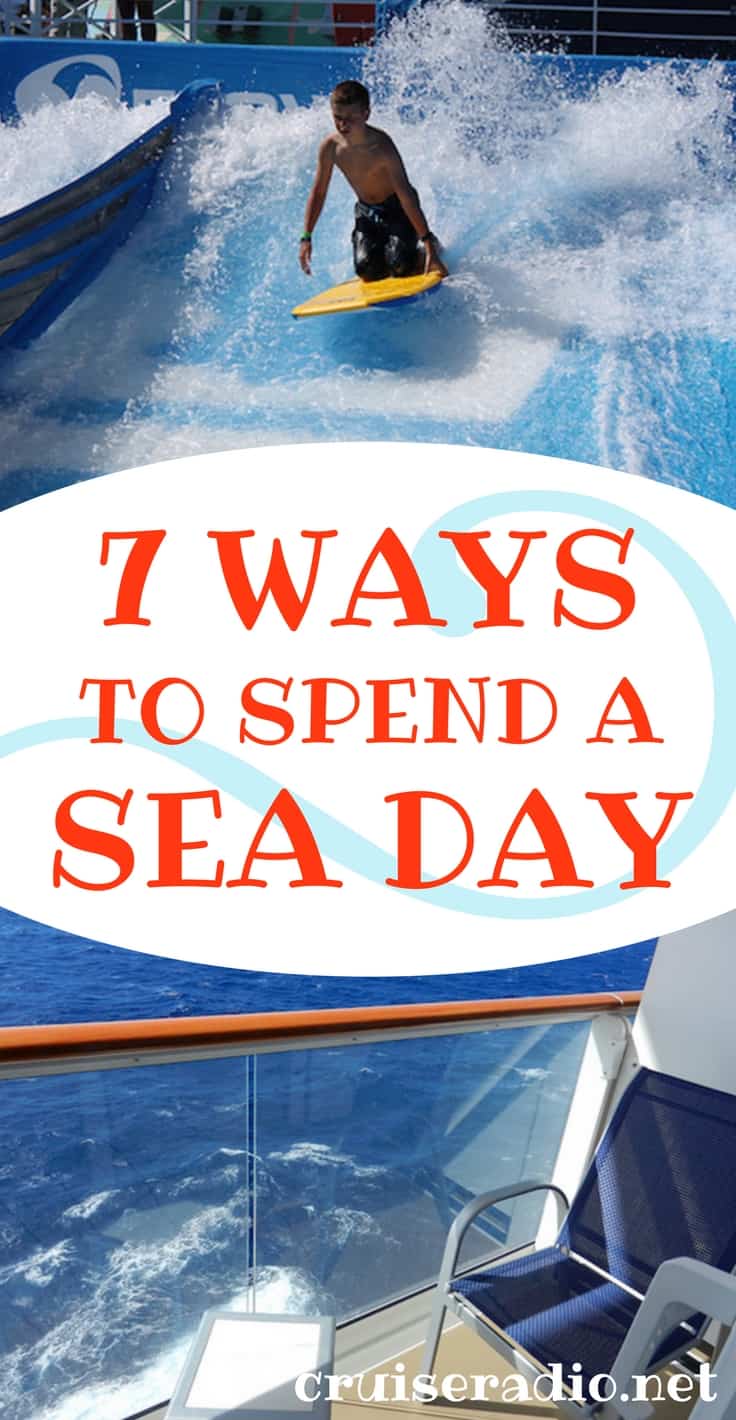 SaveSave
SaveSave