Selecting the right destination sets the stage for a great family vacation. If you're seeking inspiration for your next family cruise, you've come to the right place. Cruise lines are catering to families with kid-friendly activities and amenities, making it easier than ever for families to explore the world by cruise ship. There are so many amazing cruise destinations from which to choose.
Here are nine of the best destinations for your family cruise vacation:
Alaska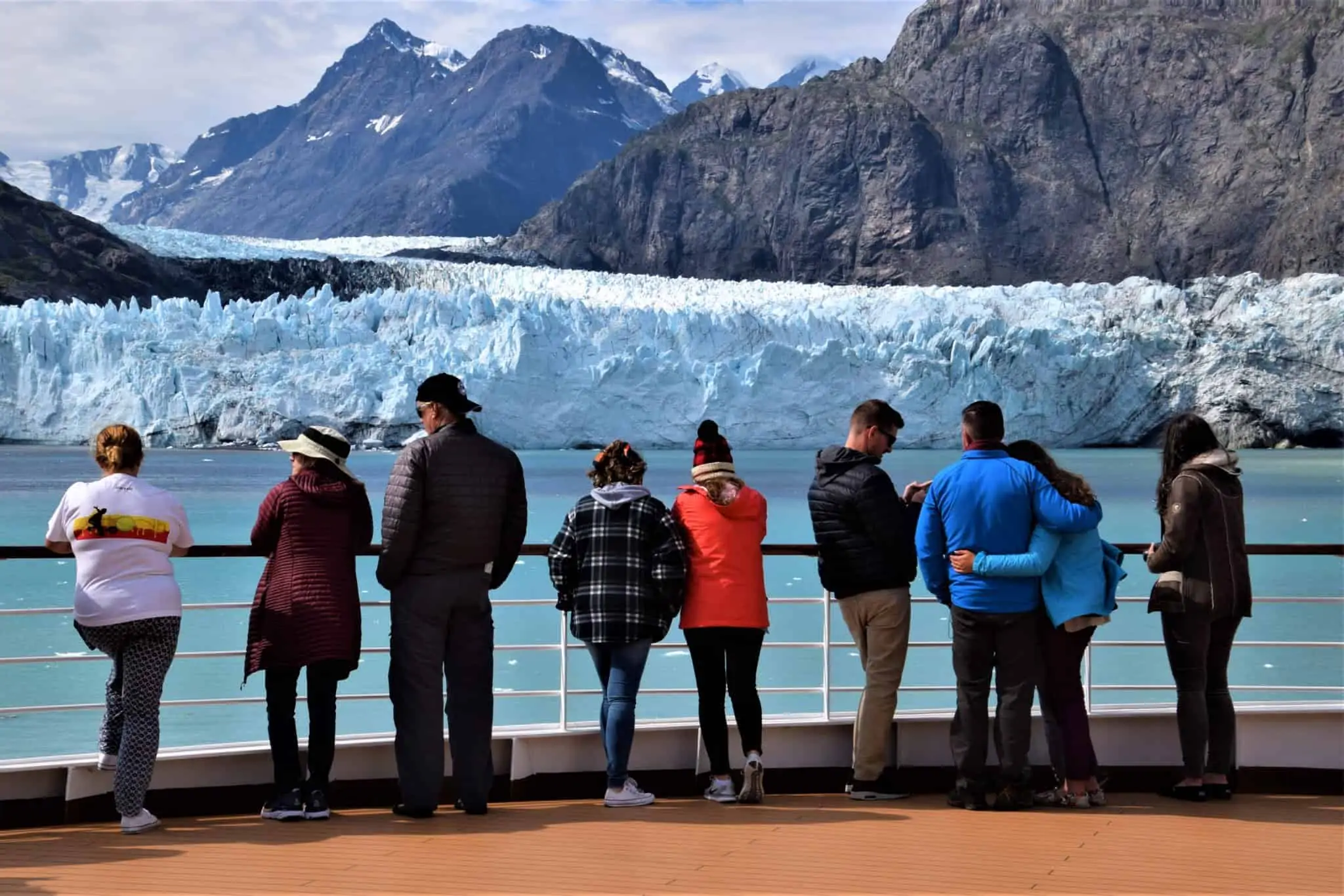 Alaska is a family vacation playground. The state's scenic beauty, abundant wildlife, and vast opportunities for outdoor exploration attract droves of family vacationers. Cruises are an ideal way for travelers to see America's stunning 49th state, especially for families and multigenerational groups. 
Many of Alaska's most beautiful sights and coastal areas are best accessed by water, including spectacular Glacier National Park. Families can choose from a variety of Alaska itineraries including round-trip Inside Passage sailings from Seattle and Vancouver, one-way Gulf of Alaska voyages between Vancouver and ports near Anchorage, and longer sailings from California. Family-friendly small ship sailings from Juneau and other Alaskan ports are available as well.
Shore excursions are often the highlight of family cruises to Alaska. Families can take breathtaking helicopter rides to walk on glaciers, learn about Alaska's sea creatures on boat trips, see massive whales breaching on whale watching tours, kayak along pristine waterways, go panning for gold, mush a team of friendly huskies on a dogsledding adventure, and take scenic railway tours. On additional multi-day land tours into Alaska's interior, families can often visit Denali National Park & Preserve, Kenai Fjords National Park, Anchorage, and Fairbanks.
Bahamas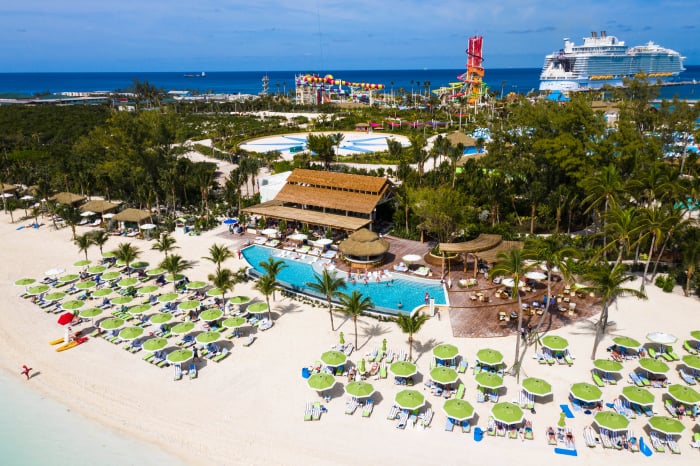 The Bahamas are a popular choice for short family cruise vacations. These sunny isles are located just a few hundred miles or less off the coast of Florida, making them easy to reach on a Bahamas family cruise getaway. Many Caribbean cruise itineraries include a port in the Bahamas as well. 
The subtropical islands of the Bahamas are home to stunning white sand beaches, crystal clear waters and a number of kid-friendly attractions. Nassau and Freeport are the main cruise ports of call. Families can visit the massive resort waterpark at Atlantis for an exhilarating adrenaline rush, get out on the water for sailing and snorkeling adventures, take a pirate tour, head to the beach for the day, go exploring on bikes or ATVs, and much more.
A number of cruise line private islands are also located in the Bahamas. Families with kids of all ages will enjoy Royal Caribbean's Perfect Day at CocoCay. This private island serves up a wide array of adventures including Thrill Waterpark, the Caribbean's largest wave pool, a zip line, and an exclusive beach club with overwater cabanas. Award-winning Half Moon Cay, a 2,400-acre private island, is very popular with Holland America Line and Carnival Cruise Line guests.
Families love Disney Cruise Line's idyllic Castaway Cay, featuring palm-studded beaches, water play areas, boat rentals, a snorkeling lagoon and special meet-and-greet opportunities with Disney characters. Ocean Cay MSC Marine Reserve, MSC Cruises' private island featuring eight white sand beaches and evening entertainment, is a paradise for families who enjoy beaches and water sports.
READ MORE: 7 Best Cruise Lines for Babies and Toddlers
Bermuda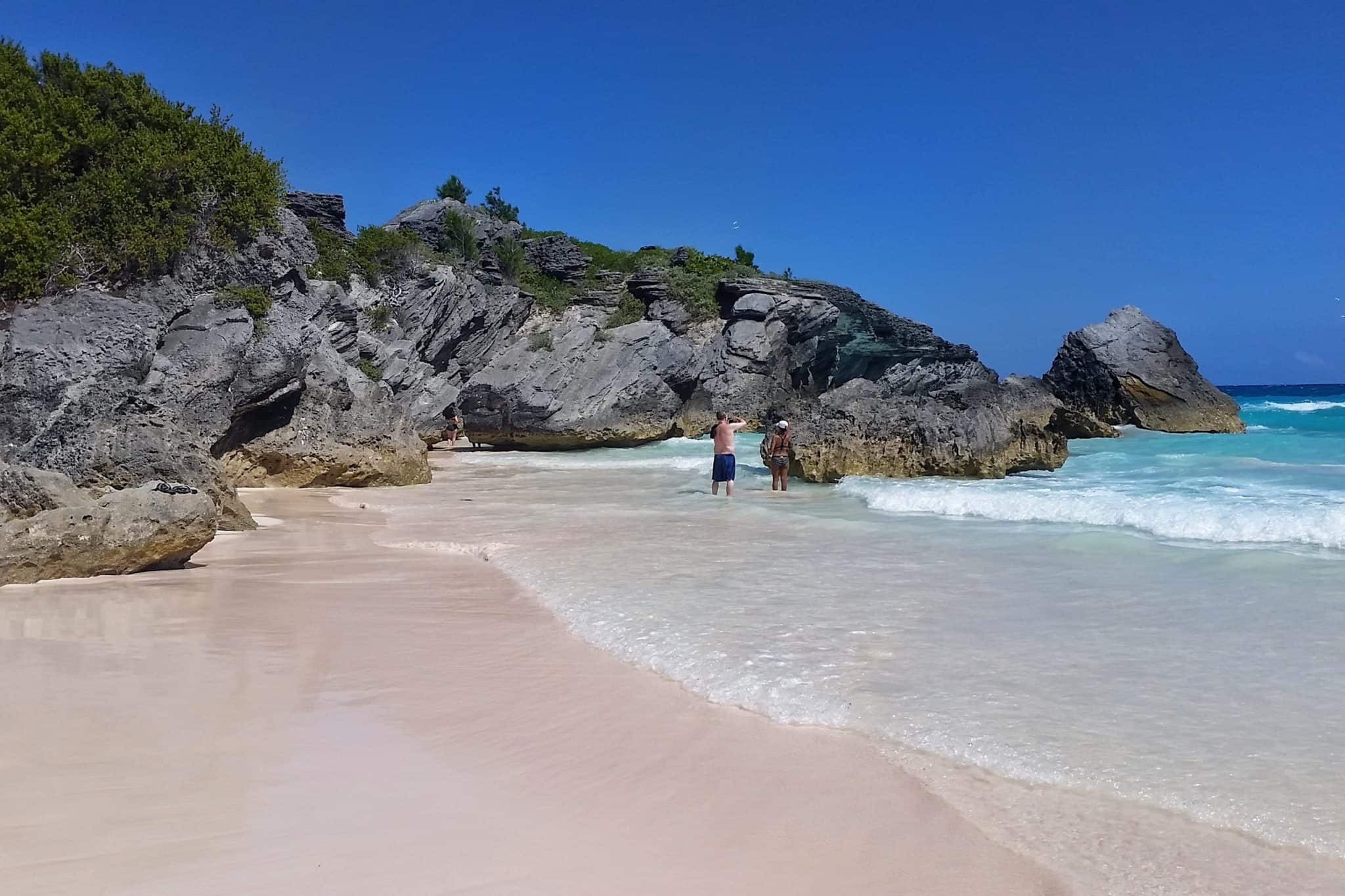 Located about 650 miles off the coast of North Carolina, Bermuda is an ideal destination for cruising families. The island is well known for its beautiful pink sand beaches, exciting water sports, world-class golf courses, scenic beauty, and historic charm. There are attractions and activities for all interests and age groups on this lovely island.
Families often head straight to one of Bermuda's stunning beaches to enjoy the day. Bermuda's Horseshoe Bay Beach has been named as one of the top beaches in the world by TripAdvisor, and it's one of the most photographed spots as well. Warwick Long Bay Beach and Elbow Beach are two of Bermuda's other pink strands.
The clear turquoise waters around Bermuda are a wonderful place for cruising families to spend their time in Bermuda. Parents and kids can go snorkeling, scuba diving, kayaking, reef fishing, or simply enjoy a catamaran sail for a few hours. Bermuda's underground crystal caves are one of the island's unique attractions. Climbing Gibb's Hill Lighthouse and biking along the Bermuda Railway Trail are fun for families, too.
Canada/New England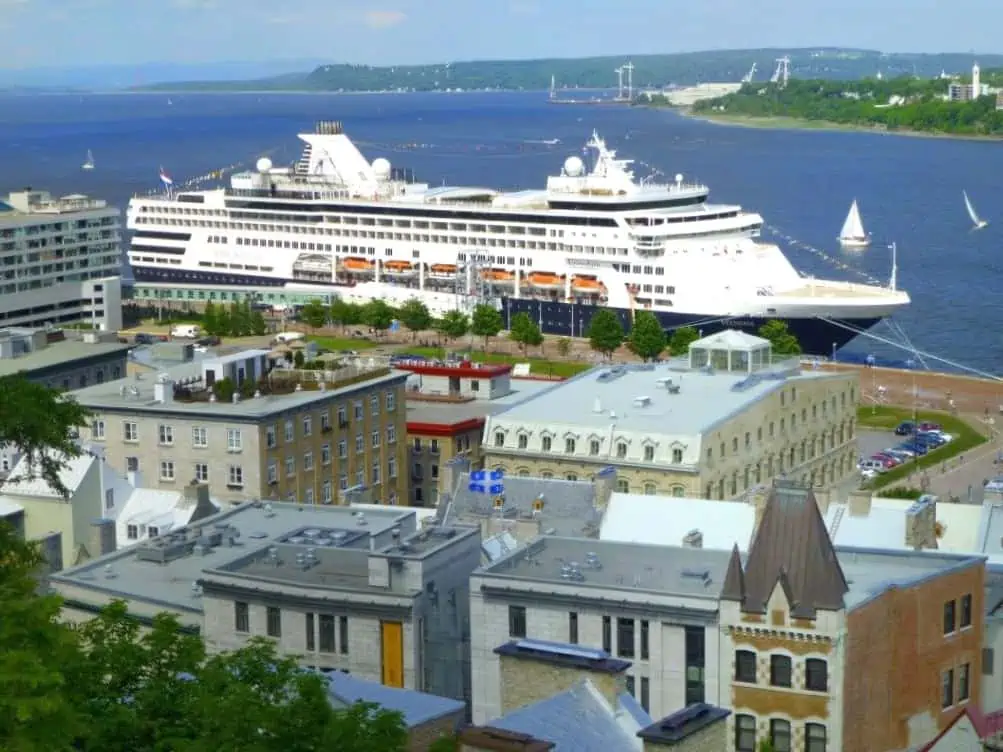 Cruises through Canada and New England offer tons of fun for families and multigenerational groups. The ports of call on this itinerary offer exciting excursions appealing to all interests and ages, making this a great itinerary for family reunions and celebratory events. Heading north to Canada and New England can also be a great way to avoid summer's sweltering temperatures.
Canada and New England ports are loaded with spectacular sights. Located just a few miles from Quebec City, massive Montmorency Falls towers almost one hundred feet higher than Niagara Falls. Adventure-loving families can walk across the suspension bridge above the falls or take the aerial tram for a superb view. Other top spots include Cape Breton's Bras D'Or Lakes and visiting the Bay of Fundy when cruise ships visit Saint John.
There are plenty of opportunities for learning on this itinerary, too. Families can visit Halifax's Discovery Centre and the Museum of Natural History filled with fossils and artifacts. Kids can practice their French while touring in Montreal and Quebec City and sample French crepes and croissants in an outdoor café. Prince Edward Island, the setting for Anne of Green Gables, is another favorite port of call for families as well.
Caribbean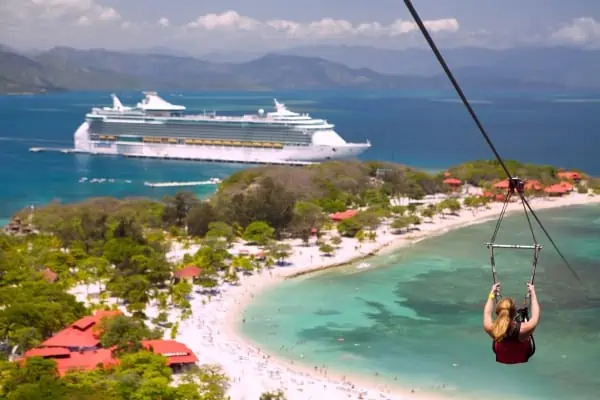 The tropical islands of the Caribbean are a superb destination for families with kids of all ages. Family Caribbean cruises are a great choice for vacationers seeking world-class beaches, a wide variety of watersports, kid-friendly attractions, historic sites, and lots of opportunities for cultural exploration. The Caribbean's laid-back vibe is a big plus for families, and every island offers unique experiences as well.
The Caribbean archipelago contains more than two dozen island nations and dependent territories, so vacationers can choose from a variety of family Caribbean cruise itineraries. Eastern Caribbean cruises frequently visit Puerto Rico, the Dominican Republic and the Virgin Islands, as well as private islands and ports in the Bahamas. Western Caribbean cruises are popular with families, often visiting destinations and private ports in Belize, Grand Cayman, Jamaica, Mexico, and Roatan, Honduras. Southern Caribbean cruise itineraries venture further into the West Indies region, visiting tropical isles such as Aruba, Antigua, Barbados, Bonaire, Curaçao, St. Lucia, St. Kitts, and others. 
Vacationers have a wide array of exciting shore excursions to choose from on their family Caribbean cruises. Beach days often reign supreme, but there's so much more to experience in these destinations. Families can dive and snorkel along the world's largest living barrier reef, take a catamaran cruise, explore underground rivers and jungle trails, fly through the tropical forest canopy on a zipline, get up close to wildlife and marine mammals, have fun at a theme park, and visit historic monuments. Enjoying these family Caribbean cruise adventures together will create memories to last a lifetime.
READ MORE: Which River Cruise Lines Are Best for Kids?
Hawaii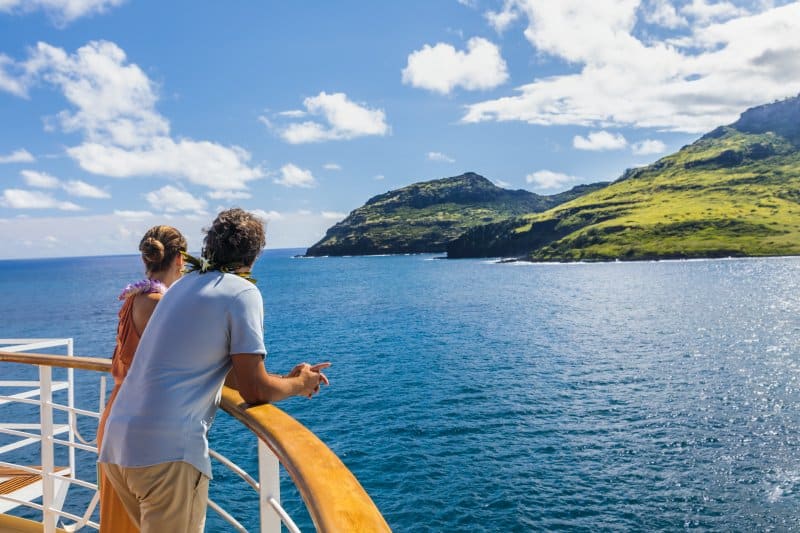 Hawaii cruises are on many families' wish lists. The spirit and culture of the islands welcomes families as soon as they arrive. They can enjoy gorgeous beaches, exciting adventures, breathtaking scenery, and unique cultural and historic attractions on their Hawaii cruise family vacation.
Hawaiian cruises for families are a particularly good choice for first-time visitors to the islands, as they allow families to experience several islands on one trip and then return to their favorites in the future for a longer stay. Memorable seven-night, round-trip Hawaii cruises depart on Norwegian Cruise Line's Pride of America from Honolulu, Oahu and visit the Big Island of Hawaii, Kauai, and Maui. Family-friendly small ship cruises depart from Molokai and include stops in Lana'i, Maui, and the Big Island of Hawaii.
There's so much to do on Hawaii cruise family vacations. Families can learn about our nation's history at Pearl Harbor's USS Arizona Memorial, bike ride down Maui's towering Haleakala Volcano, or journey along the island's famed Road to Hana. Other options include snorkeling and take surfing lessons from a pro, seeing huge humpback whales on a whale watching tour, visiting Hawaii Volcanoes National Park, enjoying an authentic luau experience, and so much more. Just choose your favorite activities and design the best Hawaiian experience for your family in each port of call.
Mediterranean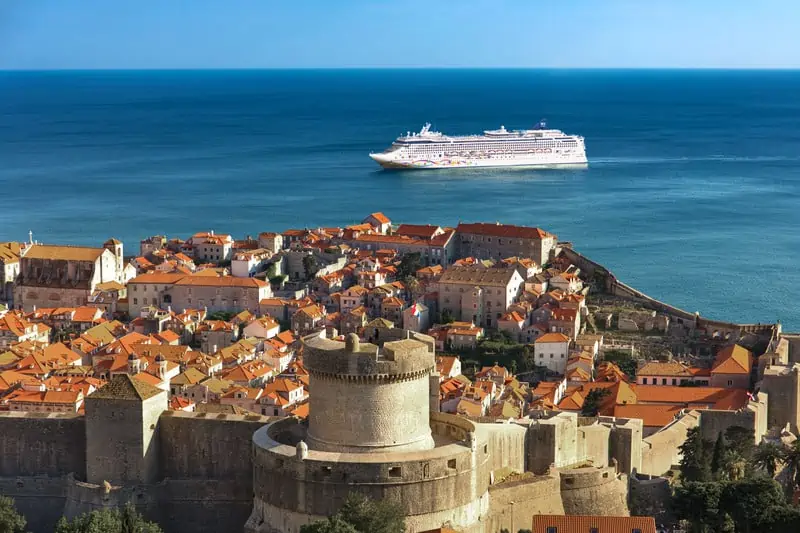 A Mediterranean cruise with kids is the ultimate field trip for families and multigenerational groups. Mediterranean cruises provide a tantalizing combination of learning, adventure, and cultural experiences for all ages and interests. Family-friendly Mediterranean cruises are one of the easiest and most cost-effective ways for families to see this beautiful region.
A number of cruise lines offer family-friendly Mediterranean cruises, offering a wide range of exciting itineraries. Western Mediterranean cruises generally visit captivating cities and enchanting ports in Spain, France, Portugal, and Italy. Those seeking the best Greek island cruise for their family should check out Eastern Mediterranean itineraries, which often visit awe-inspiring cities and stunning isles in Italy, Greece, Croatia, and Turkey.
Mediterranean cruises with kids provide families with a memorable sampler of the region's highlights. Families can take a gondola ride through Venice's narrow canals, visit the Colosseum and other famous sites in Rome, walk the walls of the old city in Dubrovnik, wander among Santorini's whitewashed houses and blue-domed churches, explore remains of ancient civilizations in Athens and Pompeii, relax on sun-drenched beaches, and savor pizza and gelato in every port of call. There's a wealth of things to see and do, so remember to pace yourselves and have fun. The wonders of Europe will be waiting when you're ready to return.
Mexico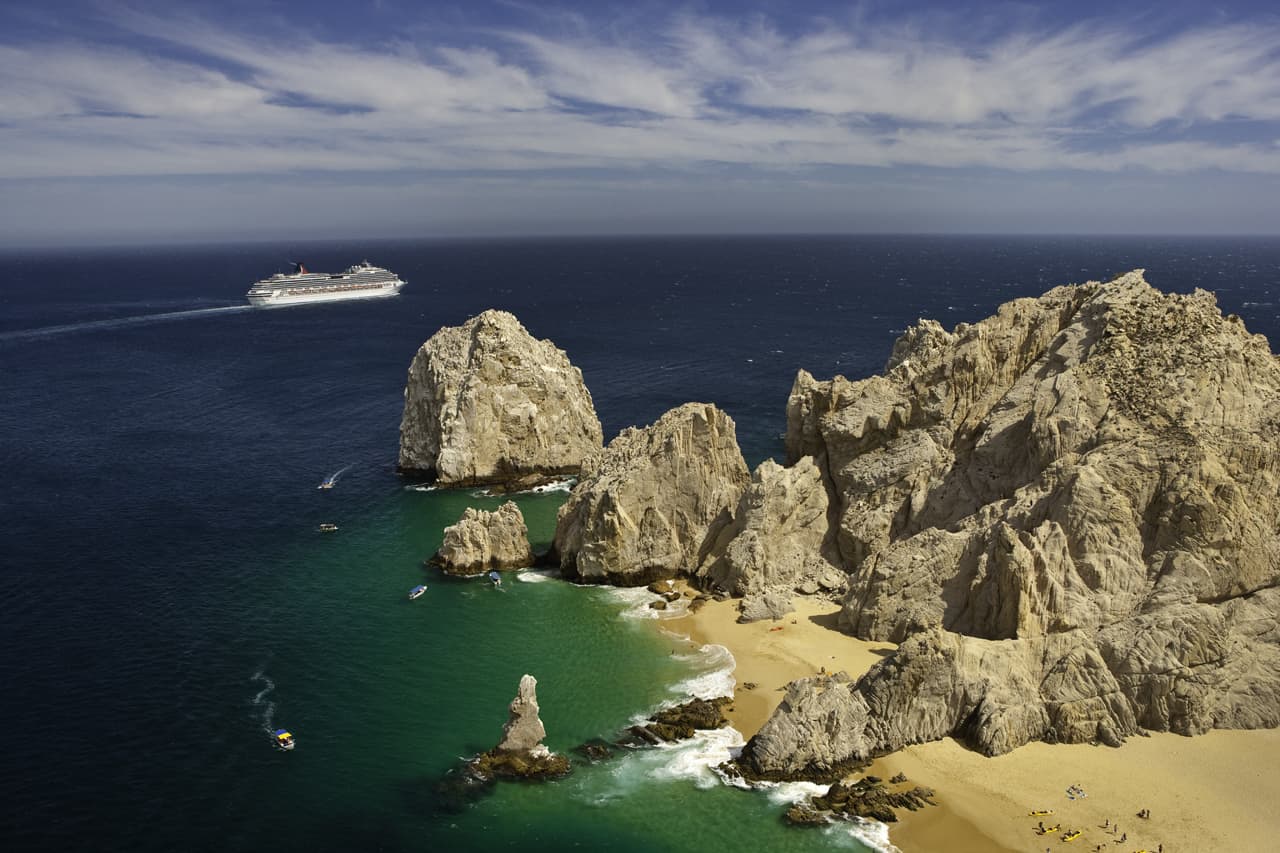 Mexico is a top vacation destination for families. The country features beautiful beaches, incredible archeological sites, an abundance of exciting attractions and watersports activities, and cultural charm. Sunny skies, breathtaking scenery, and the warmth of the local people add to the appeal.
Many Caribbean cruises often include ports of call along Mexico's Caribbean coast. These cruises include popular ports like Cozumel and Costa Maya. Cruise lines also offer itineraries along Mexico's Pacific Coast, which can be great choices for those seeking a family cruise departing from California. Favorite ports on these itineraries include Cabo San Lucas and Puerto Vallarta. Family-friendly small ship cruises also feature itineraries focusing on Mexico's nature-rich Baja Peninsula.
Mexico is a picture-perfect destination for a family cruise vacation. Adults and kids will love playing together on Mexico's miles of beautiful beaches, snorkeling and diving in spectacular marine parks, exploring Mayan ruins and crystal clear cenotes, getting their thrills on zip lines and ATV tours, and enjoying a host of wildlife-oriented activities. Don't miss sampling some of Mexico's delicious cuisines at family-friendly restaurants, too.
READ MORE: 11 Family Theme Parks Near Cruise Ports
Northern Europe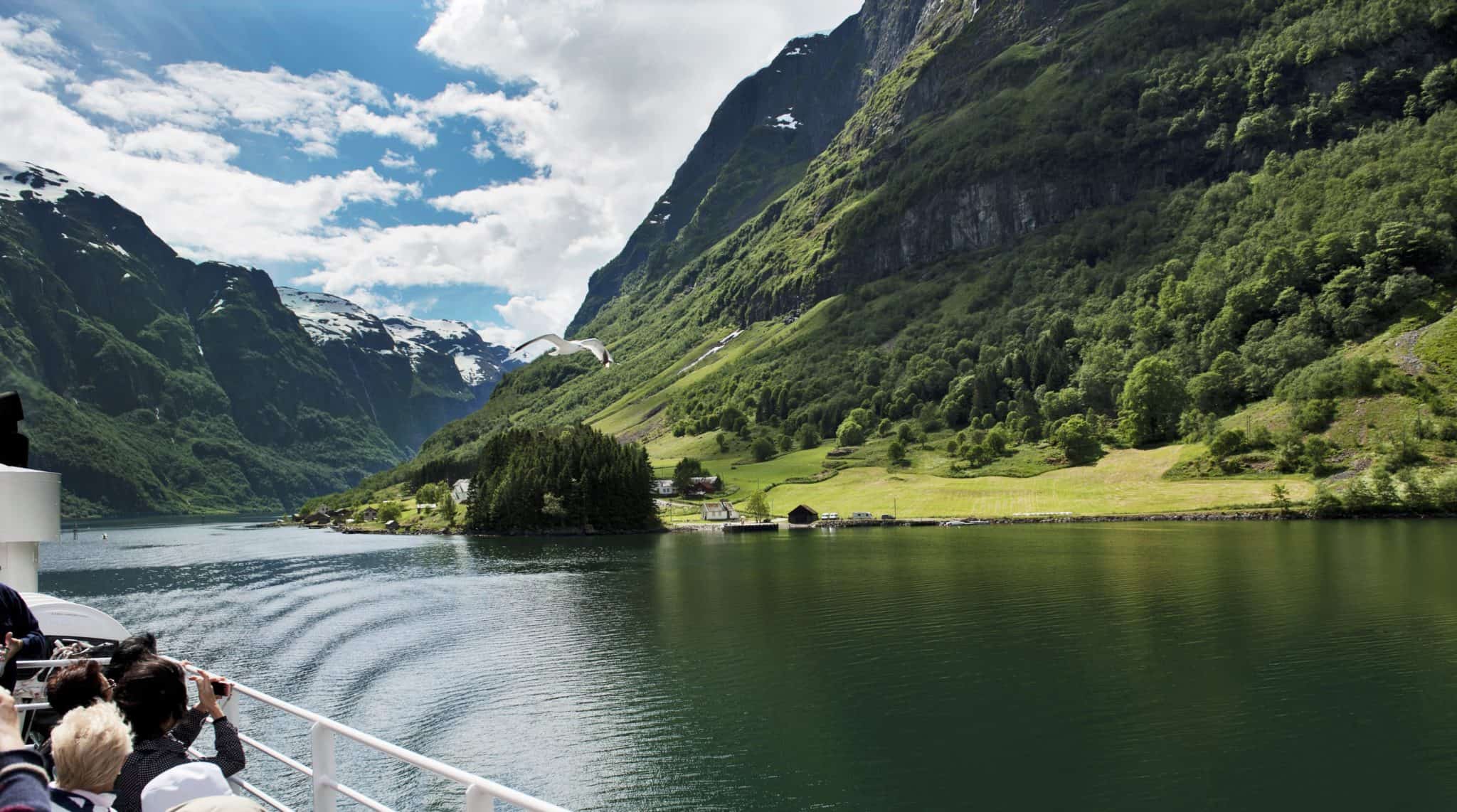 Northern Europe has become a sought-after family cruise destination in recent years. Parents and grandparents are seeking out the best Baltic cruises for families and Norway itineraries have become increasingly popular, in part due to Disney's epic Frozen movies. On cruises in Northern Europe, families can sail through spectacular fjords, discover cities rich in cultural heritage, marvel at dazzling waterfalls, explore ancient castles, and play together in the Land of the Midnight Sun. During wintertime small ship cruises along Norway's coast, families may experience the Northern Lights as well.
Families considering cruising in Northern Europe can choose from a variety of itineraries. Some of the best Baltic cruises for families depart from London or Copenhagen, sailing to such ports as Stockholm, Oslo, St. Petersburg, Helsinki, Estonia's Tallinn, and cities in Germany. Norway cruises may originate in the same cities or Amsterdam, sailing north to Bergen and some of Norway's idyllic storybook towns including Geiranger, Alesund, and Flam. 
Northern Europe family cruises weave a rich tapestry of breathtaking sights, learning opportunities, memorable adventures, and cultural experiences. Families on Baltic cruises can walk through history in Berlin, tour opulent palaces and amazing museums in St. Petersburg, learn about Viking history in Stockholm, walk the medieval city walls in Tallinn's Old Town, and play in Copenhagen's Tivoli Gardens.
Norway family cruises offer awesome outdoor activities and cool experiences including riding the steepest standard-gauge railway in the world in Flam, kayaking along deep blue fjords, taking a funicular ride to the top of Bergen's Mount Floyen, exploring iconic UNESCO World Heritage cities, and visiting historic fortresses. Keep an eye out for trolls — their statues can be found everywhere.
Additional Family Cruise Destinations
Families seeking out unique vacations on small ship cruises have plenty of options from which to choose. Other enticing destinations include family cruises in the Galapagos and the Amazon region, Central America/Panama Canal voyages, family-friendly river cruises in Europe and Asia, and small ship Arctic and Antarctica cruises. There are plenty of kid-friendly cruise destinations out there just waiting for you to explore!
Pin it for later!