American Cruise Lines has announced that its newest riverboat, American Symphony, was christened on Tuesday in Natchez, Mississippi. The christening marks the cruise line's fifth new riverboat in four years, and the line's continued growth on the Mississippi River.
American Cruise Lines and the City of Natchez hosted a celebration by welcoming cruise guests, as well as the communities of Natchez and Vidalia to be a part of the official christening events.
A festive presentation was held at the Natchez Convention Center, which included musical performances by the Victory Belles, as well as speeches and special appearances from the vessel's godmother Asya Branch, Miss USA 2020 and Miss Mississippi 2018, as well as local government officials and cruise line executives.
Immediately following the celebration, cruise guests and community members gathered at the Ferry Street Landing for the christening ceremony, where Asya Branch was joined by honored guests, Cynthia and Denise Patterson in christening the ship. Cynthia and Denise are sisters and American Cruise Lines' Eagle Society Members. Together, with their late mother Lois, they've taken 28 cruises across the U.S. with American Cruise Lines.
MORE: Holland America Details 2022 Celebrity Chef Culinary Cruises
The debut of American Symphony will soon be followed by sister ship American Serenade, which is scheduled to debut early net year. Two new coastal vessels will bring the fleet to 17 small ships, exploring 34 different states.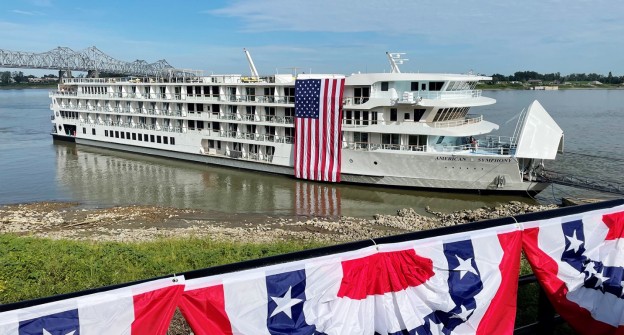 American Symphony holds 175 guests in all-balcony staterooms, including suites and single cabins. The vessel showcases the cruise line's Modern Series hallmark — a patented opening bow and retractable gangway — as well as the deck five skywalk with an ellipse skylight, which cantilevers over the deck four café.
The riverboat also includes spacious lounges, a grand dining room, a fitness center, and a wellness-yoga studio.
American Symphony's sold-out inaugural cruise is following an eight-day Lower Mississippi River itinerary which departed New Orleans on Saturday, August 27 and will conclude in Memphis, Tennessee on September 3.
READ NEXT: 16 New Cruise Ships Debuting in 2023