Troubled cruise line Bahamas Paradise has reportedly sold Grand Celebration, one of the two ships which comprise its fleet.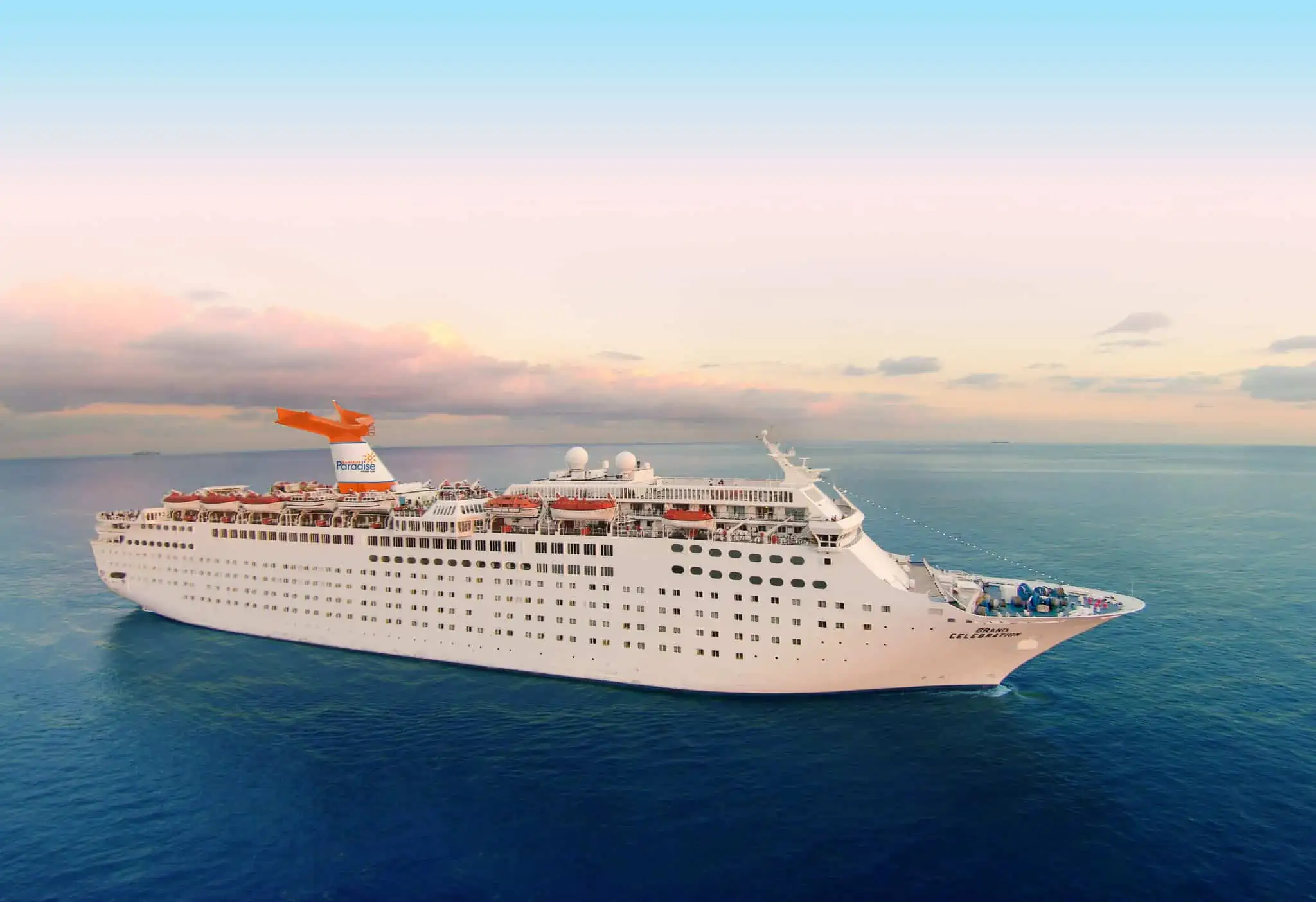 Another Ship Reportedly Sold For Scrap
According to numerous reports, the Grand Celebration was sold for scrap and is currently on its way to Bhavnagar on the coast of India. The town is best known as the home of Alang, the world's largest ship-breaking yard.
Despite mounting evidence that the ship is on what would be her final voyage, industry site Tradewinds reported that Bahamas Paradise's Chief Executive, Oneil Khosa, was disputing that the ship had been sold and was attempting to find out where the rumors had started.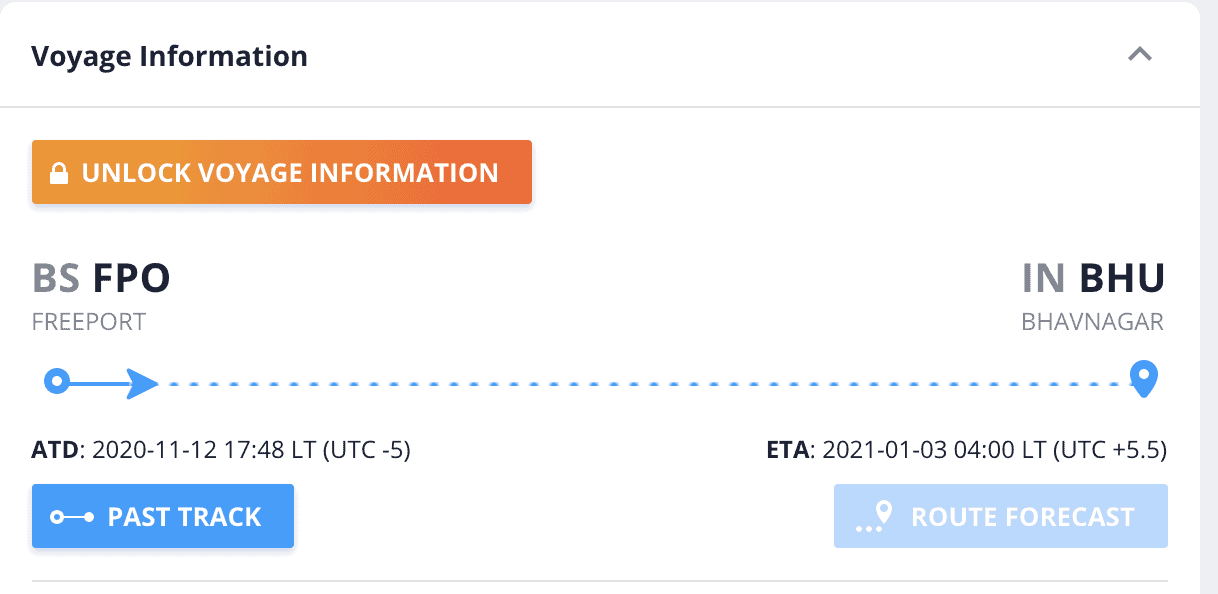 Asked for comment by Cruise Radio, a rep neither confirmed nor denied that the ship had been sold, saying only, "We will get back to you with an official statement this week."
Only hours after the Centers for Disease Control lifted the no-sail order which had been in place since March, the website for Bahamas Paradise suddenly went dark. By the next morning, the site had been scrubbed of any and all information about the ships or their itineraries. Instead, a single message was placed on the homepage and remains there as of November 15th.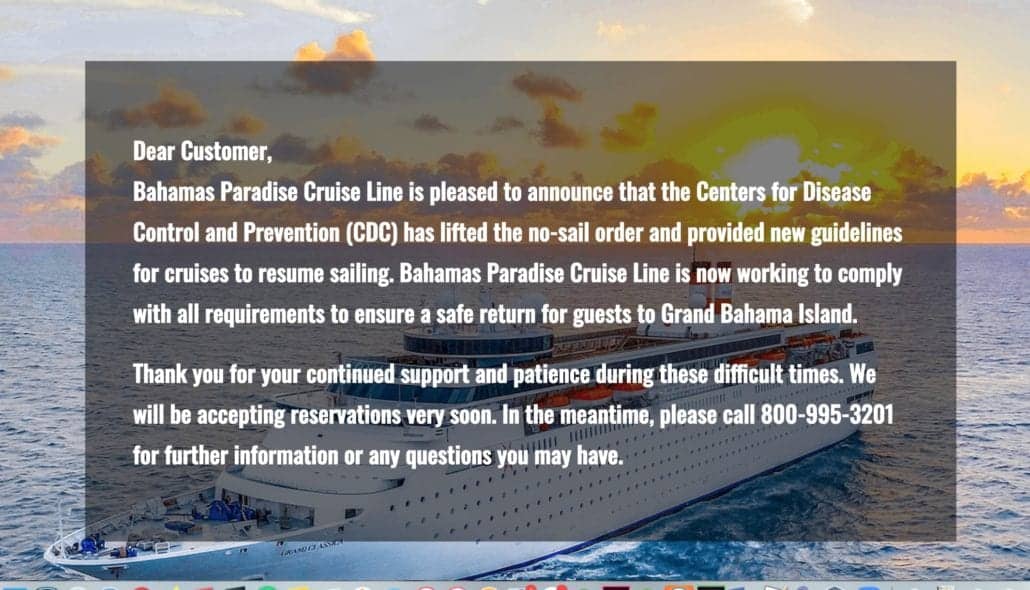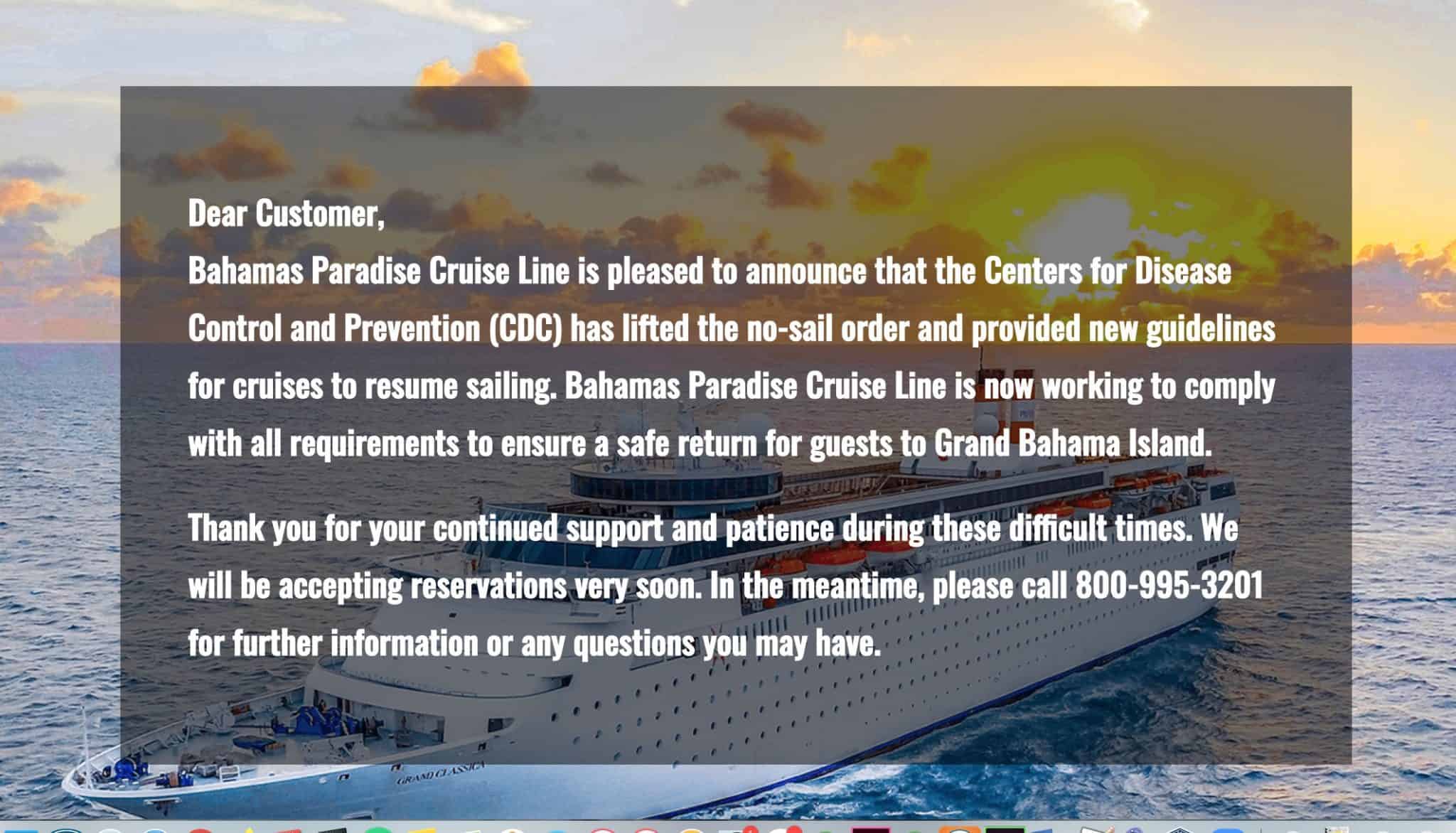 "Dear Customer," it reads. "Bahamas Paradise Cruise Line is pleased to announce that the Centers for Disease Control and Prevention (CDC) has lifted the no-sail order and provided new guidelines for cruises to resume sailing. Bahamas Paradise Cruise Line is now working to comply with all requirements to ensure a safe return for guests to Grand Bahama Island."
The note goes on to thank their clients for their continued support, adding they "will be accepting reservations very soon."
Judge Rejects Settlement Amount
This is only the latest problematic development for Florida-based Bahamas Paradise Cruise Line, which earlier this summer found itself at the center of a lawsuit filed by disgruntled crew members who alleged they were being forced to stay on board the company's ships without pay.
In June, Khosa reportedly promised a $1,000 good-faith payment would be issued to each employee on or before July 25th. But the situation only grew tenser when that date came and went with no payment made to the employees.
In August, the employees filed a class-action lawsuit again the cruise line that ended with the company agreeing to pay $875,000 in unpaid wages to its crew. However, in early November a federal judge declared that the agreed-upon amount was "wholly inadequate" and ordered attorneys for both parties to return to the negotiating table.
Grand Celebration is one of two ships owned by the cruise line. No word yet on if or when the Grand Classica will begin operating again.