One of the most popular ships in the Carnival Cruise Line fleet will get a new home next spring. The line revealed that the Carnival Sunshine will begin sailing out of Charleston, South Carolina in May of 2019, replacing the Carnival Ecstasy, which is currently homeporting there.
"With its convenient location and strong tourism appeal, Charleston is one of our most popular homeports," said Christine Duffy, president of Carnival Cruise Line. "Carnival Sunshine not only provides guests sailing from Charleston with a newer, larger ship with so much to see and do, but also underscores our commitment to our year-round operations from this port."
Where Carnival Sunshine Will Sail
It's expected that the Carnival Sunshine — which will sail four- and five-day trips — will ferry around 220,000 passengers from Charleston to the Caribbean during its first year of operation. The four-day cruises will visit Nassau, while five-day trips will also swing by the private island paradise of Half Moon Cay.
For those looking to do a longer sailing out of Charleston, Carnival Sunshine will also operate an 11-day Carnival Journeys cruise from December 3-14 of 2019. That sailing will call upon St. Thomas, Aruba, Bonaire, Grand Turk and Half Moon Cay. These longer sailings also feature unique on-board experiences, including an opportunity to sample local cuisine and even a 1980s-themed Throwback Sea Day!
Other Carnival Repositioning News
With cruising becoming more popular each year, the Carnival Sunshine represents a great "entry-level" ship for first-timers who might be intimidated by larger ships such as the Carnival Vista or upcoming Carnival Horizon. Big enough to offer a plethora of amazing venues — including the Alchemy and Havana bars, JiJi Asian Kitchen, RedFrog Pub and, of course, Guy's Burger Joint — it's also intimate enough to be perfect for a romantic getaway.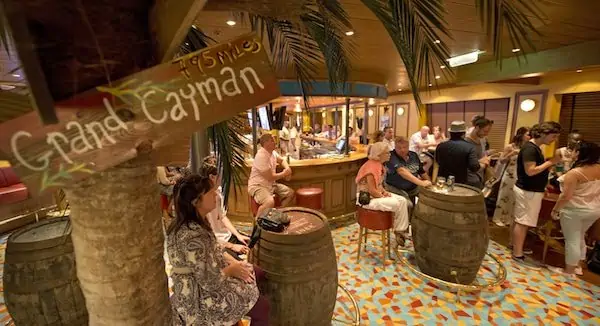 Meanwhile, the Carnival Ecstasy will move from Charleston to Jacksonville, Florida, where it will also operate four- and five-day cruises beginning in May. The round-robin of repositioning news continues as Carnival Elation, which is currently based in Jacksonville, will shift to Port Canaveral.