Carnival Cruise Line is now the proud owner of their 26th ship. During a traditional maritime handover ceremony today at the Fincantieri shipyard in Italy, the company was given the metaphorical keys to Carnival Horizon with a slew of dignitaries and executives in attendance. During the ceremony, the shipyard presented Horizon's captain, Luigi De Angelis, with a glass vessel containing some of the water into which the ship was first floated, as is keeping with tradition. (Luigi is a 22-year veteran of Carnival, having also helmed this ship's sister, the Carnival Vista, during her inaugural season in Miami.)
What's Next For Carnival Horizon?
Horizon will now make her way to Barcelona, Spain, where she will do four sailings in the Mediterranean (including her maiden, 13-night Mediterranean cruise) before repositioning to New York City for a series of sailings to both Canada and the Caribbean. While in New York City, the ship will play host to her Godmother, the legendary Queen Latifah, who will be joined by another celebrity, whose identity has not yet been revealed.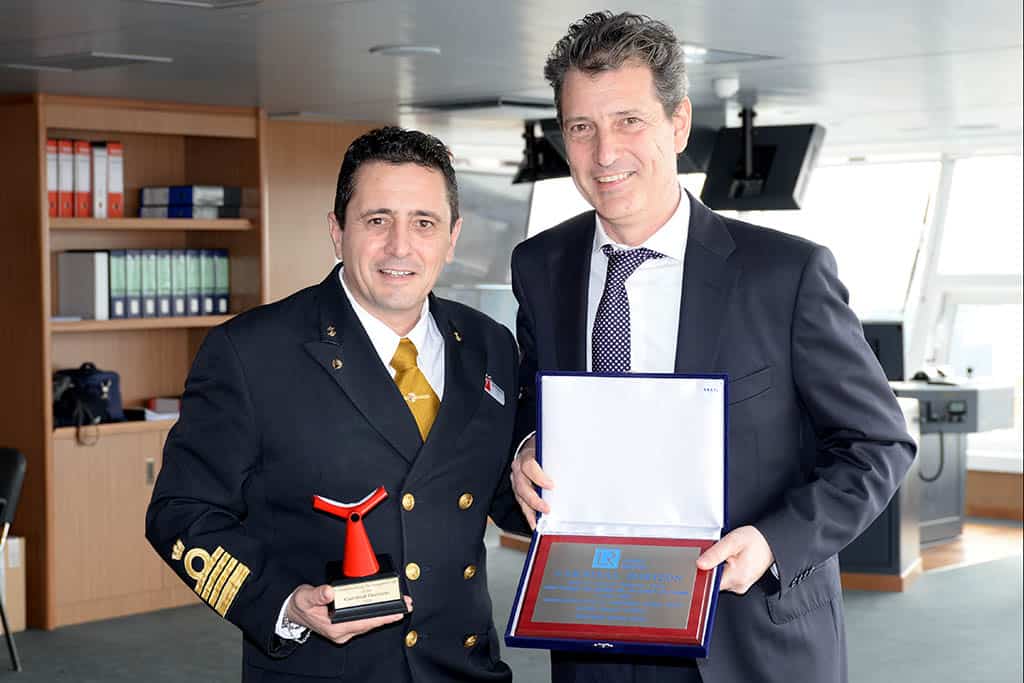 The ship — which will be joined next year by a third Vista-class vessel, the Carnival Panorama — is introducing several venues which will be brand new to the Carnival fleet. While Carnival loyalists are already very familiar with Guy Fieri's poolside burger joint, Horizon will feature his first shipboard BBQ restaurant, Guy's Pig and Anchor Smokehouse Brewhouse, which will offer complimentary lunch options and for-fee a la carte dinner menu at night. You can see the menu and prices by clicking here.
Also new to Carnival is Bonsai Teppanyaki, featuring two 16-seater hibachi grills located inside Bonsai Sushi, which will offer three seatings a night. (This one will fill up fast, so it's important to make reservations if you want to snag a table!)
Of course, you'll also find items that are carried over from Carnival Vista, like the IMAX Theather, the thrilling SkyRide and ropes course, Seafood Shack, Alchemy Bar, BlueIguana Cantina and much more.