Costa Cruises officially took delivery of its new ship, Costa Firenze, today from Fincantieri's Marghera shipyard in Italy. The handover ceremony took place digitally via a YouTube live event.
The 5,200-passenger Costa Firenze is part of a development plan for Costa that includes seven new ships to be delivered by 2023. Firenze is the fourth of these new vessels, with three more to come. Of the 14 ships that are currently part of the Costa fleet, 11 were built by Fincantieri.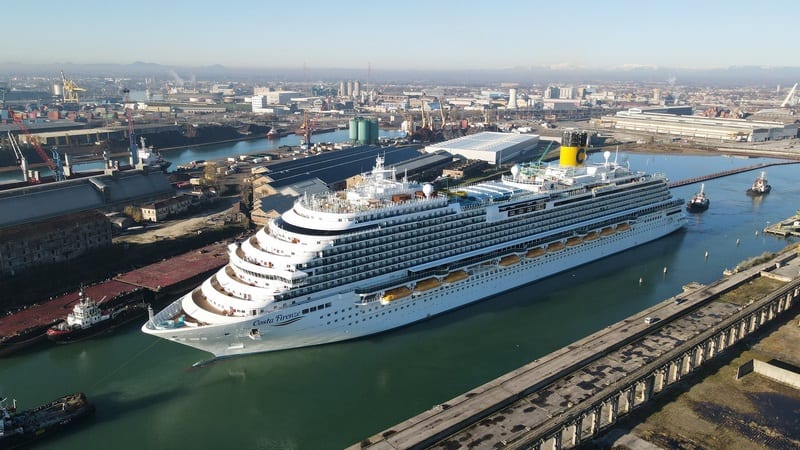 "The handover of the new Costa Firenze is a sign of hope and restart for the whole cruise and tourism ecosystems. This ship represents the most tangible evidence of the will of our group to restart. Our hope is that people will soon be able to travel again and that more ships will set sail and contribute to the revitalization of tourism in Italy, Europe and globally," said Michael Thamm, group CEO of Costa Group and Carnival Asia.
"Looking beyond the pandemic, Costa's goal is to design the future of sustainable and zero emission cruising and we hope  that our long-lasting partnership with Fincantieri can bring our companies to work together on a roadmap that can lead to this ambitious yet essential objective."
READ MORE: Carnival Takes Delivery of First Mega Cruise Ship
Costa Firenze's interior design is a celebration of the Tuscan city of Firenze, or Florence, the cradle of Renaissance art and culture. Common spaces are reminiscent of a stroll through a street or square in the city, right down to the colors. Drinking and dining options are inspired by Mediterranean fare, with a wide variety to choose from with 13 bars and seven restaurants.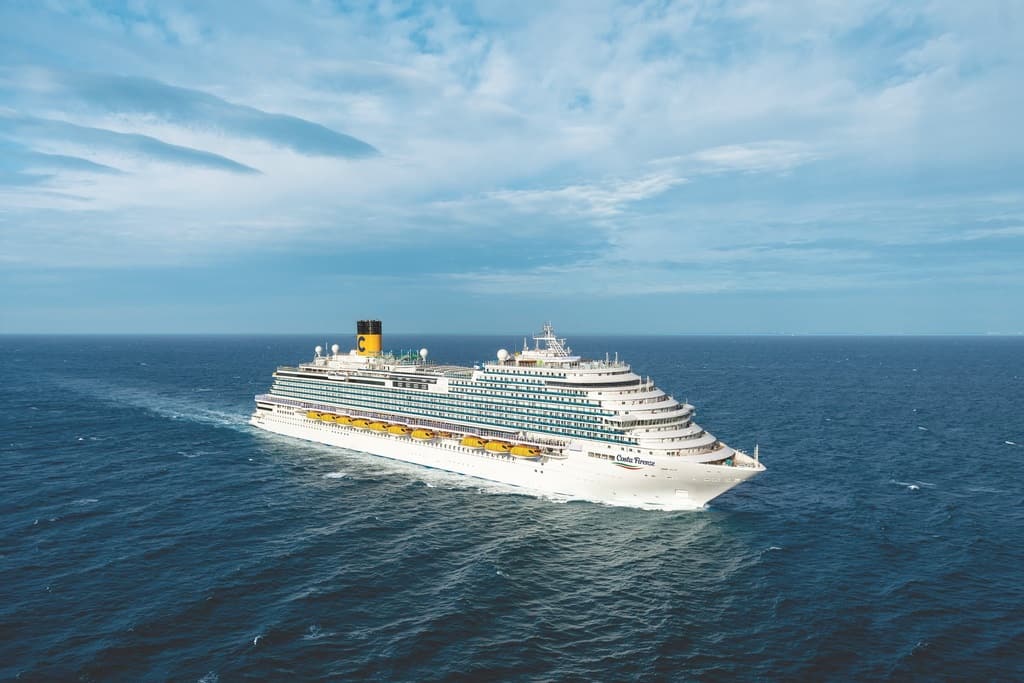 Mario Zanetti, chief commercial officer of Costa Cruises and president of Costa Group Asia, said that "The concept of the Costa Firenze is inspired by an iconic city, which represents Italian art, taste and refinement in the world's collective imagination. We have designed this ship to offer our guests a unique experience, especially for the family target, with a specific offer of entertainment and services."
Costa Firenze is also one of Carnival Corporation's many new "green" ships, and it has been acknowledged by RINA with Green Star 3 — a notation covering all the main aspects of a ship's environmental impact and requiring maximum protection and prevention across areas such as waste, black water, machine oil, greenhouse gases, sulfur oxides, and more.
Costa Firenze will spend her inaugural season in the Mediterranean in 2021, sailing two different weeklong itineraries in the western Mediterranean. The first itinerary, available from February 28, 2021, will include Genoa, La Spezia (Florence), Naples, Valencia, Barcelona, and Marseille.
The second itinerary will be available from May to October 2021, and include Genoa, Civitavecchia (Rome), Naples, Ibiza, Barcelona, and Marseille. After October, Firenze will move to Asia to join sister ship Costa Venezia, which debuted in March 2019.
READ MORE: A 138-Day World Cruise Has Been Set for Late 2022