Carnival Cruise Line is continuing the fleet-wide makeover of its ships which began with Mardi Gras. 
The latest ship to receive the striking new livery? Carnival Legend, which is currently undergoing a drydock in Marseille, France.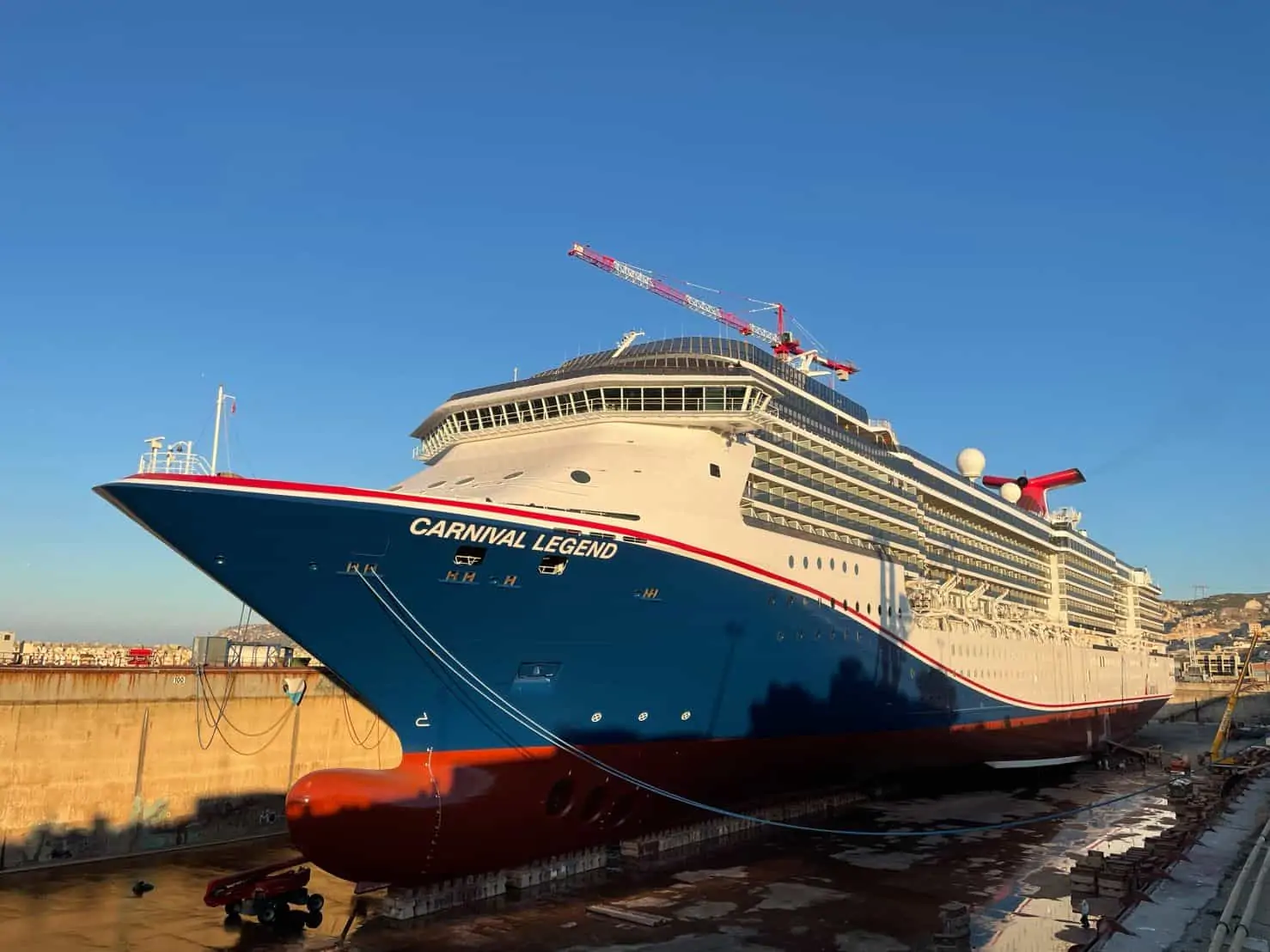 Gone is the long-standard white hull formerly favored by Carnival, replaced with the red, white, and blue look first introduced on Carnival's Mardi Gras.
Now that Legend is sporting the updated livery, the number of Carnival ships has transformed six.
Talking about the change shortly after it was introduced, Carnival Cruise Line President Christine Duffy said, "When we first saw the hull design for Mardi Gras, we knew it was something special and, particularly as we get ready to celebrate our 50th birthday, we're delighted to incorporate this stunning livery as a signature exterior design element across our fleet."
FIRST LOOK: Carnival Magic Gets New Paint Job
The new hull design pays homage to maritime tradition and patriotic colors, and its design is highlighted by a stately navy blue inspired by officers' uniforms.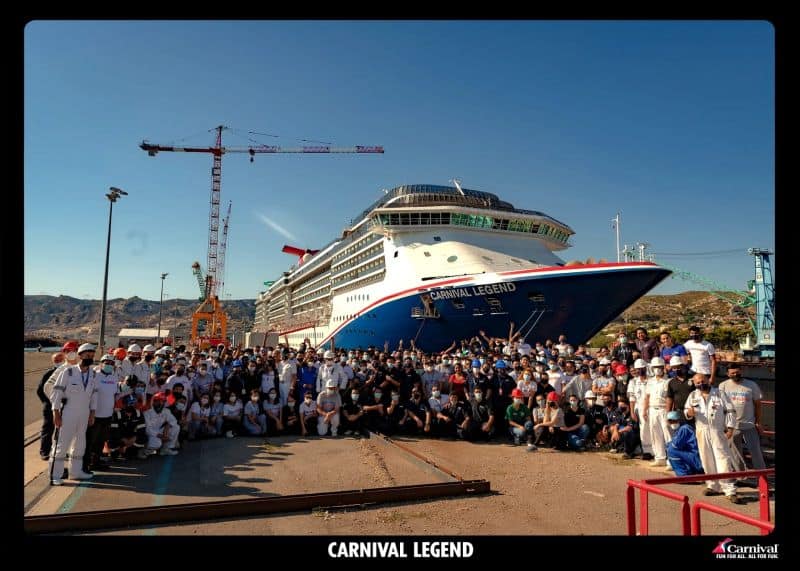 Soon after the new hull was unveiled on Mardi Gras, the same treatment was given to Carnival Magic, Carnival Valor, Carnival Glory, and Carnival Dream, with Legend becoming the most recent recipient.
Carnival Legend is scheduled to return to service on November 14 from Baltimore with a seven-night sailing. The ship will head for the Bahamas following a visit to Bermuda with stops in Nassau, Half Moon Cay (or Princess Cays), and Freeport.
Launched in 2001, Carnival Legend is one of four Spirit-class vessels — the others being Spirit, Pride, and Miracle — three of which sail from North America. Carnival Spirit is deployed year-round in Australia.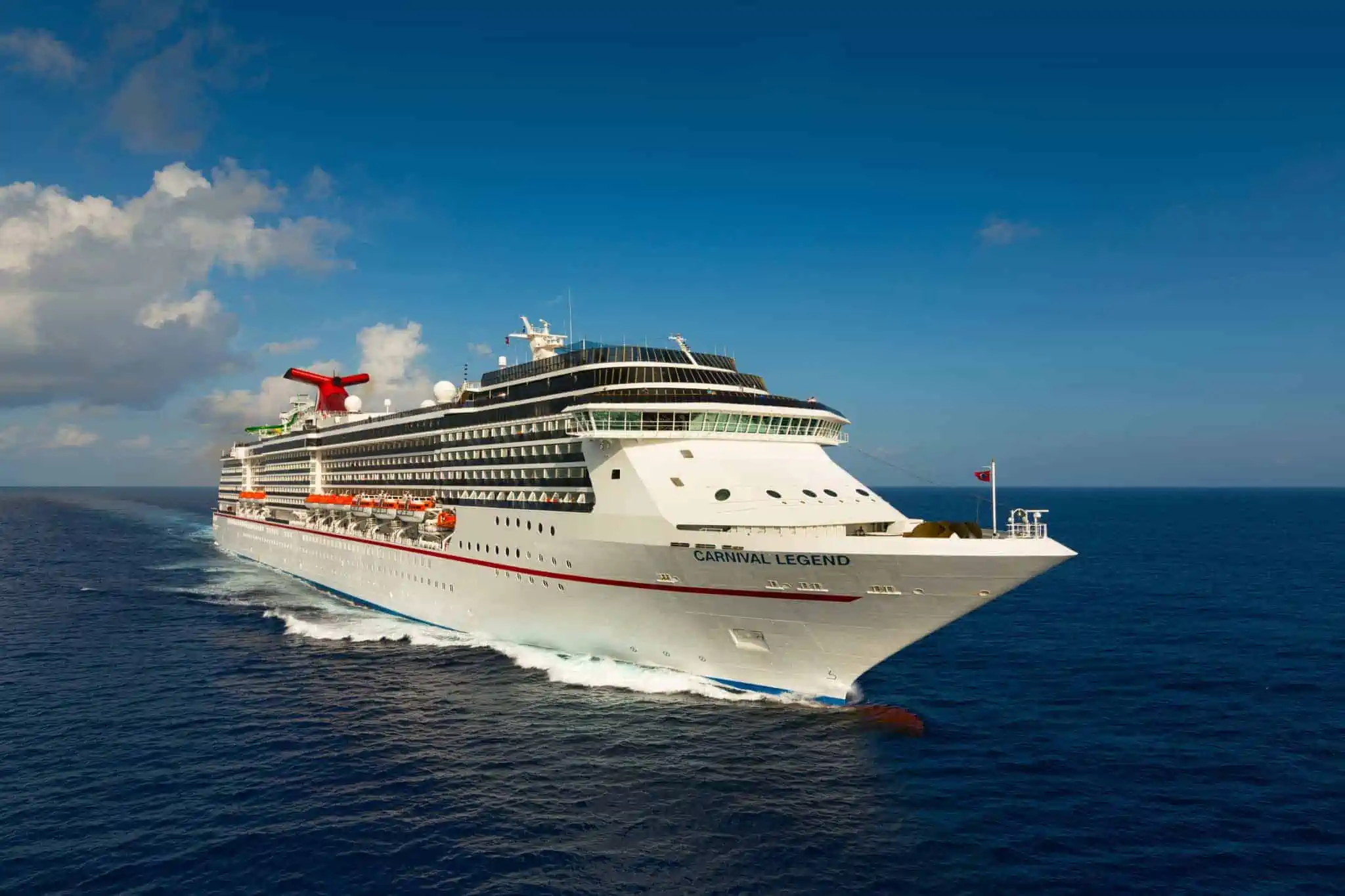 At only 88,500 gross registered tons, it remains a popular ship for the brand, especially those who want the Carnival Fun Ship experience but aren't necessarily drawn to some of the line's newer, bigger vessels. While Liberty's capacity tops out at just under 3,000 passengers (assuming double occupancy per stateroom), Mardi Gras holds 5,282 at double occupancy.
READ NEXT: Carnival Introducing In-Terminal Testing