If you've wanted to sail Carnival Splendor or Carnival Spirit but haven't had the chance, your time has come. The cruise line announced late last week that Carnival Splendor will join Spirit in North America in the coming months.
Last week, Carnival announced that Spirit would be leaving the South Pacific through at least fall 2023. Shortly after, the operator canceled Carnival Splendor's down under voyages through fall 2022.
As of Monday morning, it hasn't been announced where in North America Carnival will homeport Splendor.
Canceled Carnival Australia Sailings
Carnival Splendor sailings through and including September 26, 2022
Carnival Spirit sailings through and including October 5, 2023
A note on Carnival Australia's website says, "As the COVID-19 situation continues to evolve, we are sorry to share the news that Carnival Cruise Line is pausing operations for selected Australian sailings departing from 15 March 2020 through to and including 26 Sep 2022."
Carnival Spirit was based in Brisbane, Australia, and Splendor in Sydney, sailing South Pacific voyages.
The Australian government has kept its international ban on cruise ships in place since March 2020 and doesn't look to be letting up anytime soon. Its current ban holds through May 2022. The constant return-to-cruise extensions are forcing cruise operators to sail towards more lucrative waters.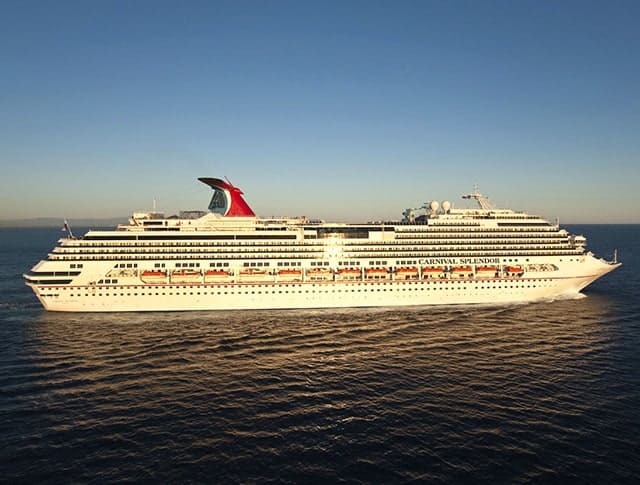 Carnival Spirit Already En Route
As of Monday morning, Carnival Splendor is off the coast of Dubai. According to the cruise ship tracking website CruiseMapper, Carnival Spirit is in the Gulf of Aden, en route to transit the Suez Canel. The ship will likely crew up once in the Mediterranean Sea before making the transatlantic voyage to Jacksonville, Florida to restart operations on March 7.
In another move, Carnival announced last week that both Carnival Sensation and Carnival Ecstasy would be put out to pasture. Sensation will not be returning to cruising, and Ecstasy will cruise from Mobile, Alabama starting March 5 through the middle of October 2022. The cruise port then will be without a ship until Carnival makes operational adjustments in 2023. The replacement has not been named.
READ NEXT: Carnival's VIFP Loyalty Program and Benefits