In a surprising move, Carnival Cruise Line announced Thursday evening that two ships will be leaving the fleet. In line with this development, the company also announced several cancellations.
Which Ships Are Leaving the Carnival Fleet?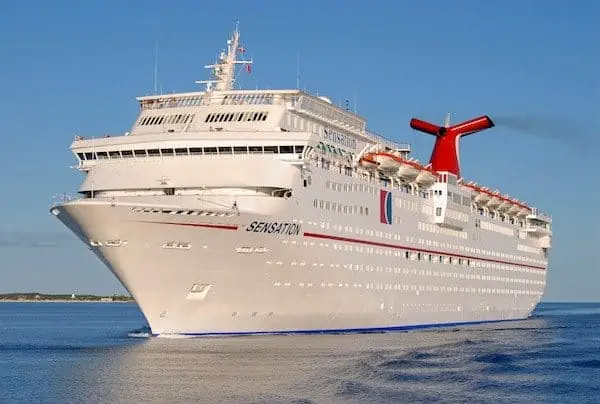 Only days after saying that the Carnival Spirit would be replacing Carnival Ecstasy in Jacksonville, the company now says that while this is true, it is a temporary measure. Carnival Spirit will now sail from that port for departures between March 7 and April 9 of this year. The following two cruises after April 9 have been canceled, and a new ship from within the fleet will be assigned to Jacksonville effective April 23. There's no word as of yet as to which ship that will be.
Things are in a similar state of flux where sailings out of Mobile, Alabama are concerned. Carnival Ecstasy will reposition to that port for sailings between March 5 and October 10 of 2022. But Carnival Sensation sailings which had been planned for October 15, 2022 through September 30, 2023 have been canceled. The cruise line says that it will be announcing "a new operating plan" for cruises out of Mobile, but no further details were available.
Australia Remains a Question Mark
With sailings on indefinite hold in Australia — no ships will be sailing before at least May of this year — it's not surprising that changes will be made there as well. Carnival has canceled all sailings of Carnival Splendor from June 10 through September 26 of this year. Similarly, Carnival Spirit sailings from June 5 of 2022, through October 5 of 2023, have been canceled. Again, Carnival says that plans for a two-ship return to Australia will be announced when they are confirmed.
READ MORE: What You Need to Know About Carnival's VIFP Program
What does this all mean? That both Carnival Sensation and Carnival Ecstasy will be leaving the fleet. Sensation is currently not sailing and will simply not resume operations. As for Ecstasy, her last sailing will be the October 10, 2022 departure from Mobile.
In a statement, Carnival Cruise Line president Christine Duffy said, "Our guests have remained passionate and supportive throughout the restart and 2022 gives us plenty of reasons for enthusiasm and excitement as we reach full operations in the U.S., prepare for our 50th birthday celebration, and await the arrival of Carnival Celebration this fall."
She added that the line's "very loyal guests, our vibrant homeport strategy and our fleet of popular ships are strengths to our advantage as we adapt to changing opportunities and circumstances."
READ NEXT: Do You Need A Passport to Cruise?