As hard as it is for many of us to imagine, Carnival Ecstasy has made one last passenger trip before exiting the Carnival Cruise Line fleet.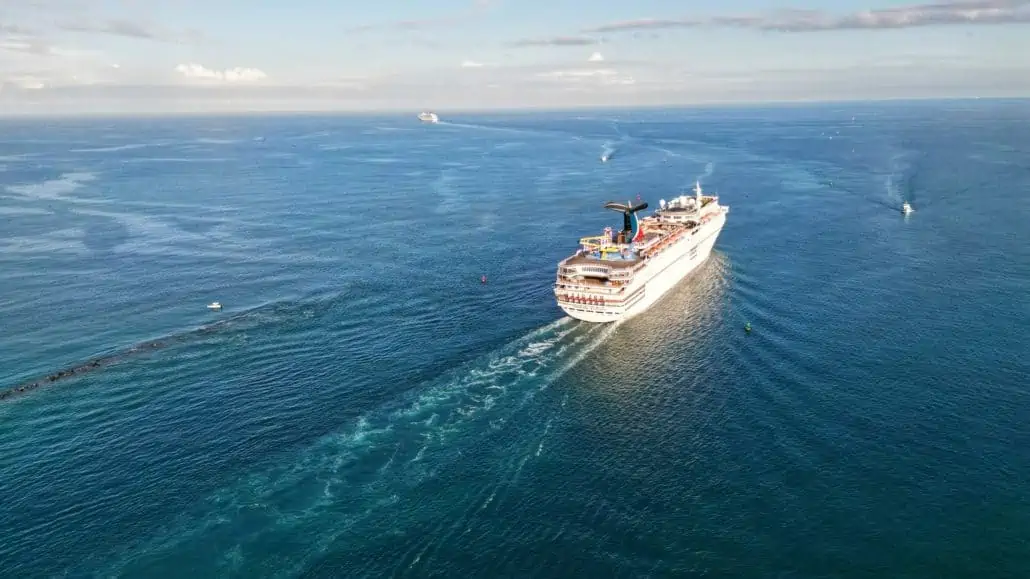 Carnival Ecstasy Specifications
Just The Facts
Gross Tonnage:
70,067
Year Built:
1991
Length:
855 feet
Passenger Count:
2,052 at double occupancy
Crew:
920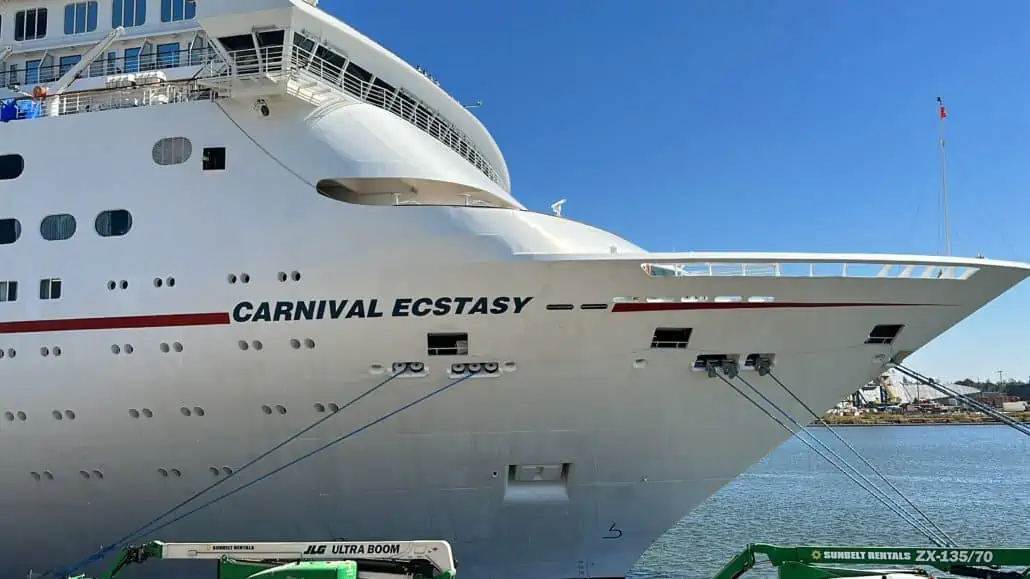 Saying Farewell to Carnival Ecstasy
Carnival Cruise Line announced in February 2022 that Carnival Ecstasy would leave the fleet after a 31-year run as one of the most popular and versatile vessels in the "Fun Ship" fleet.
Originally scheduled to be the first cruise ship to resume service from Jacksonville post-COVID, Carnival Ecstasy's final voyage under the Carnival Cruise Line banner is on October 10, 2022 — a five-day sailing from Mobile, Alabama, to Cozumel and Progresso, Mexico.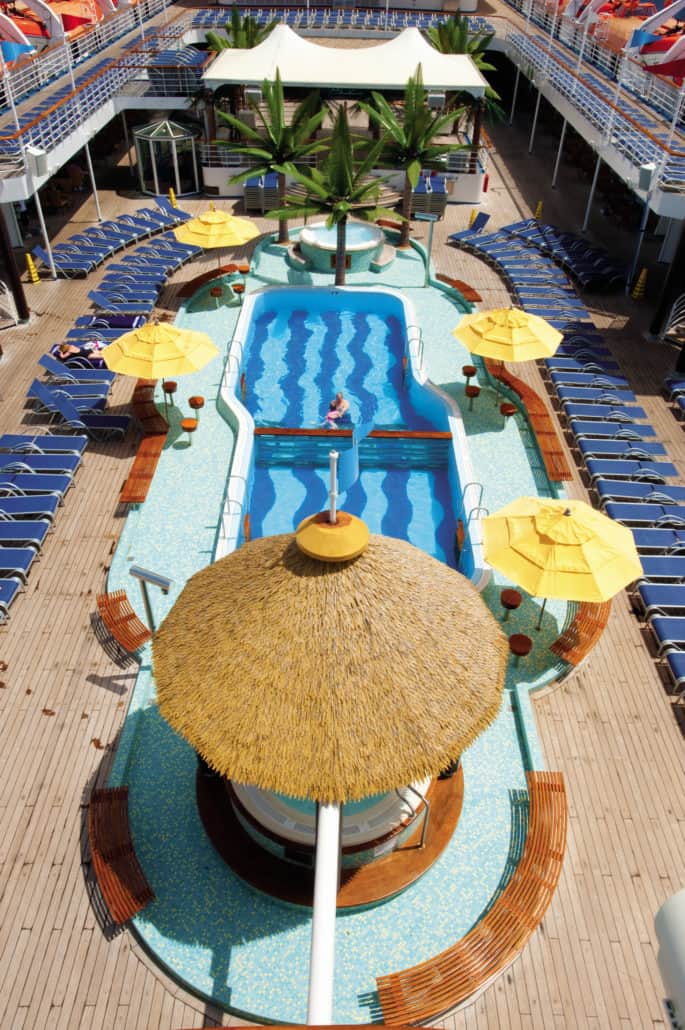 In addition to her manageable 70,000-ton size, short cruise itineraries and a wide array of venues made her the perfect venue for charters and special sailings such as the Carnival LIVE concert series.
But what made Carnival Ecstasy such a popular "Fun Ship" was her innovative interiors that changed how guests thought about cruising – once on board, they immediately knew this was no ordinary cruise ship.
Let's take a look at what made Carnival Ecstasy so special. 
Carnival Ecstasy: The Encore to Carnival Fantasy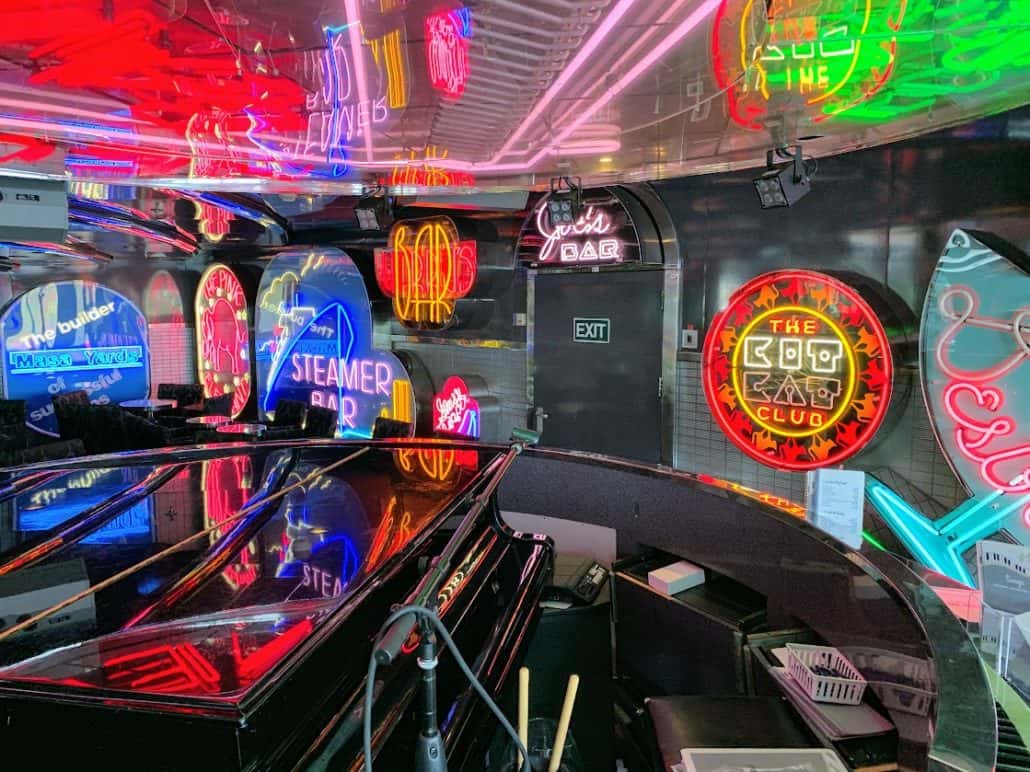 When Carnival Fantasy debuted to much fanfare in 1990, introducing some never-before-seen innovations, the obvious question would be, "What can you do for an encore?"
Enter Carnival Ecstasy, the second in the Fantasy class debuting in 1991, fast becoming a fan-favorite for her over-the-top Joe Farcus-designed interiors, including a real Rolls Royce positioned along the promenade.
In early 2022, the Rolls Royce was removed from Ecstasy and shipped to Carnival Celebration, where it will debut on the upcoming LNG-powered ship on November 6.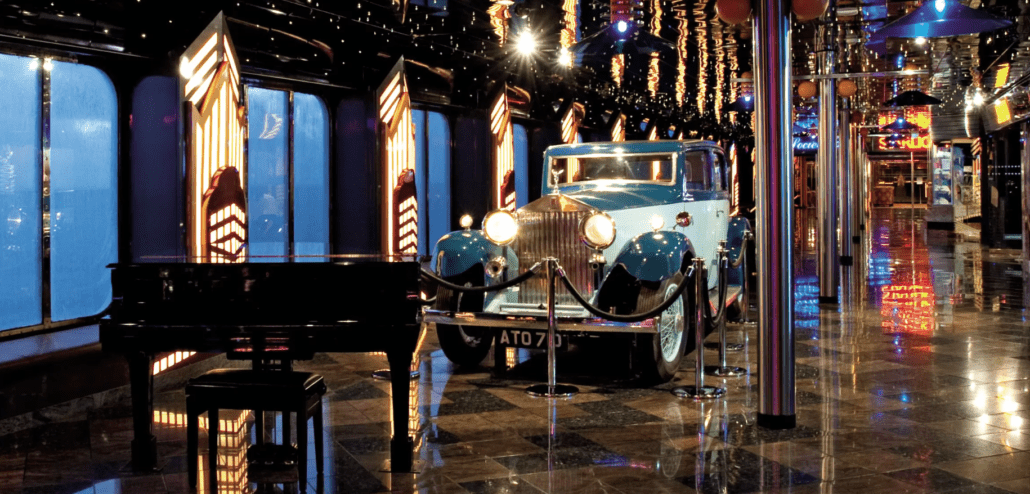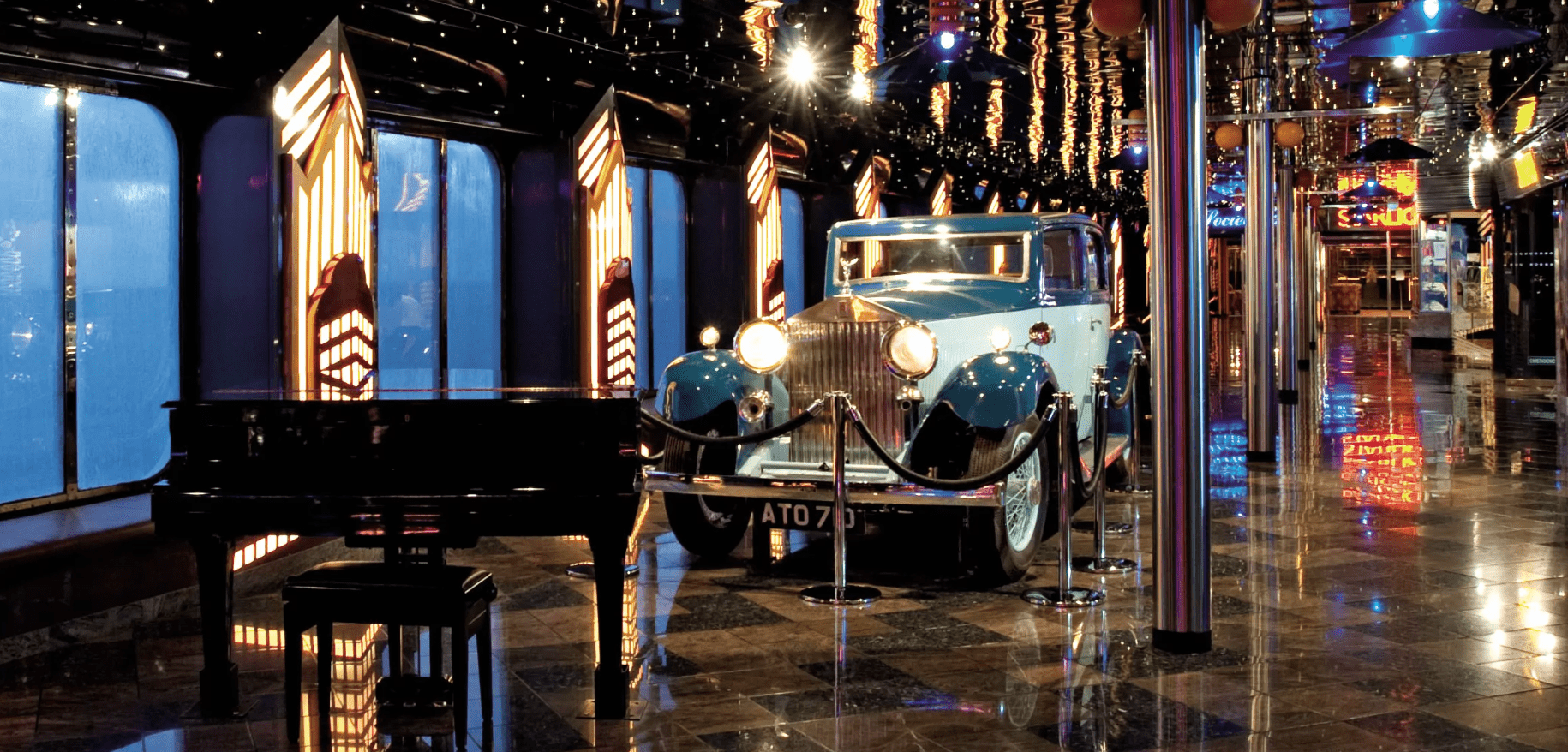 Although not known at the time, six additional Fantasy-class ships would join Carnival Ecstasy and the namesake Carnival Fantasy to create the largest number of ships introduced from a single class — with eight Fantasy-class ships at one point plying the waters of the Caribbean, Gulf of Mexico, and the West Coast.
Like her predecessor Carnival Fantasy, Carnival Ecstasy featured a wide variety of onboard features – a soaring seven-deck-high glass-enclosed atrium with an ever-changing expanse of changing lights, a 12,000-square-foot spa, a massive casino, acres of teak-planked decks highlighted by a 114-foot-long corkscrew water slide, and multiple dining areas, including an expansive poolside Lido restaurant.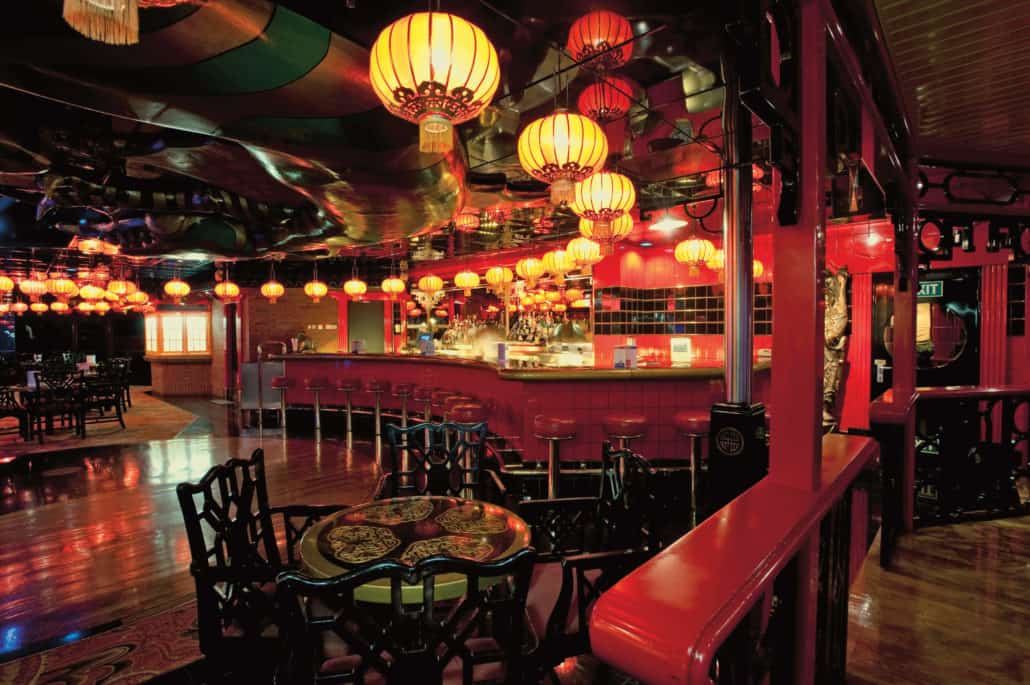 But what really set Carnival Ecstasy apart was her unforgettable décor, a hallmark of world-renowned designer Joe Farcus, who employed the term "entertainment architecture" to describe his thought process in designing what some have proclaimed as "Las Vegas at sea."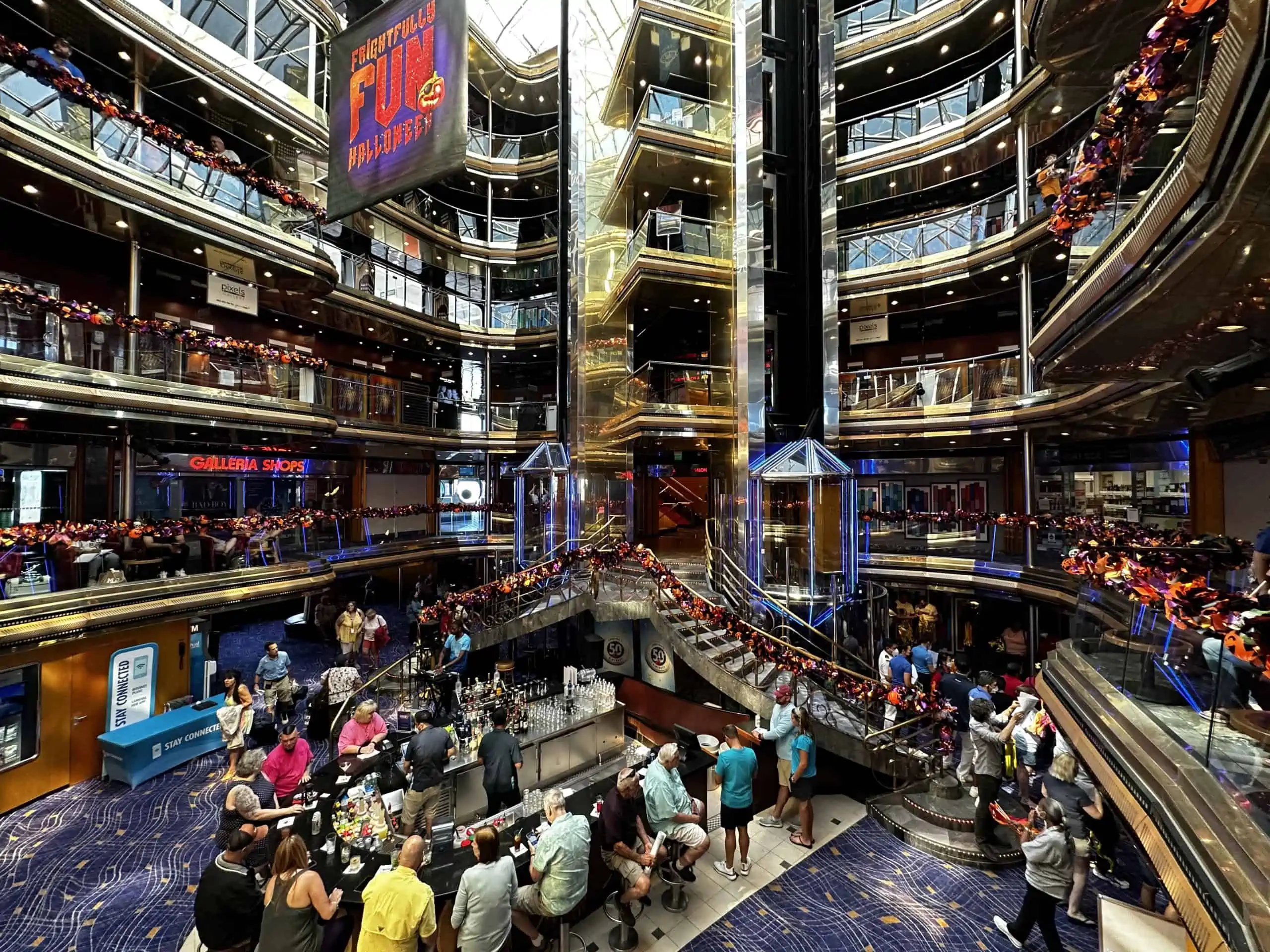 Living up to Farcus' motto of "It's no place like home," his vivid imagination was on full display with memorable spaces like the clubby Explorers Club library featuring a massive globe and the aforementioned Rolls Royce Café featuring a 1934 Rolls-Royce Saloon that he found scouring the English countryside, as well as the Neon Bar, a veritable museum of vintage neon signs, a lounge inspired by a Chinatown street complete with red lanterns dangling with gold tassels and lion-headed sculptures, and the aptly named Stripes Disco, a monument to bold simplicity. 
Fun Facts about Carnival Ecstasy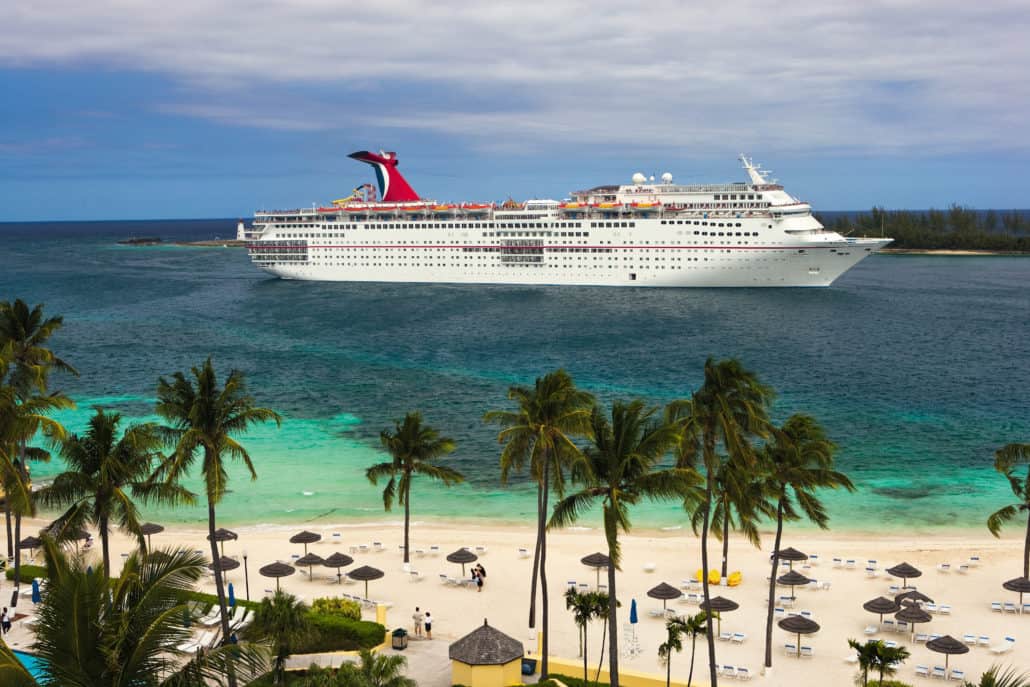 Carnival Ecstasy made headlines for all the wrong reasons in July 1998 when the aft of the ship caught fire as she was departing PortMiami, with extensive coverage across the globe, even in the pre-Internet era.
Carnival Ecstasy's godmother is Kathie Lee Gifford, who starred in the cruise industry's first national TV campaign in the 1980s. This was Gifford's second stint as godmother, serving in this role for the since-retired Celebration in 1987. 
With the retirement of Carnival Fantasy, Carnival Ecstasy had the distinction of being the "most mature" ship in the Carnival fleet at 31 years. 
Like other Fantasy-class ships, Carnival Ecstasy once had a topless deck typically used by European guests with prominent "No Cameras Allowed" signs displayed as guests ventured up the stairs.
Carnival Ecstasy was initially constructed with a massive 10-ton interactive art sculpture called Double Helix that rose 24 feet in the ship's atrium, rotating clockwise and counter-clockwise. It was replaced in the early 2000s with a raised lobby bar following the tremendous popularity of the first atrium lobby bar that debuted aboard Carnival Elation in 1998.
Carnival Ecstasy's Upgrades Through the Years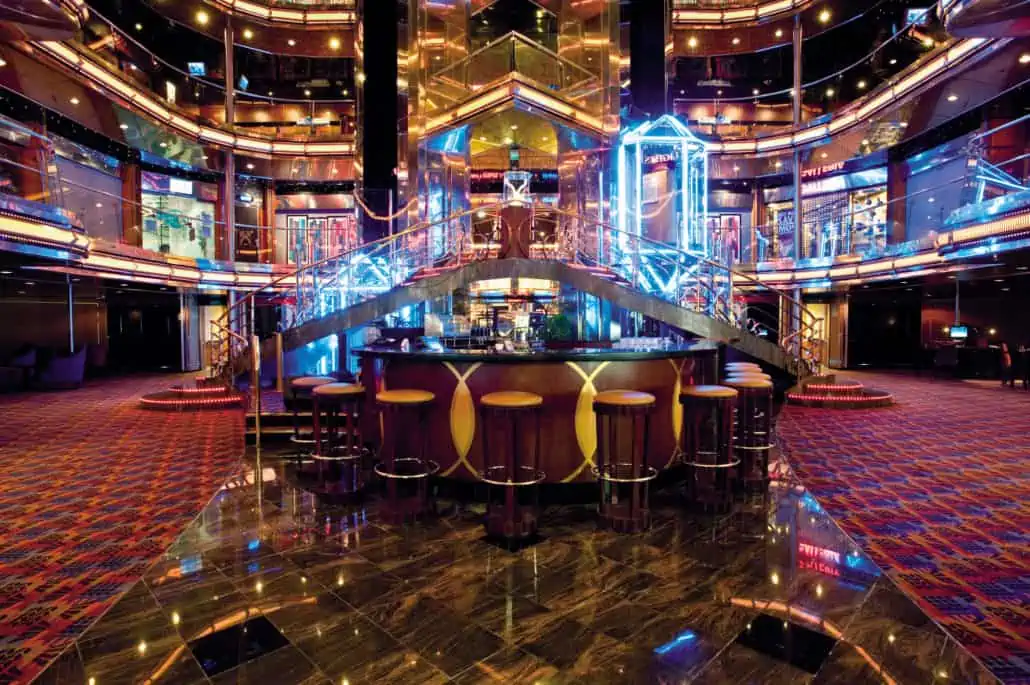 Considering that Carnival Ecstasy joined the fleet in 1991, it should come as no surprise that she has seen her share of dry docks over the years, all part of Carnival's efforts to modernize its fleet, equipping vessels with popular features like sprawling water parks that have become standard in the industry.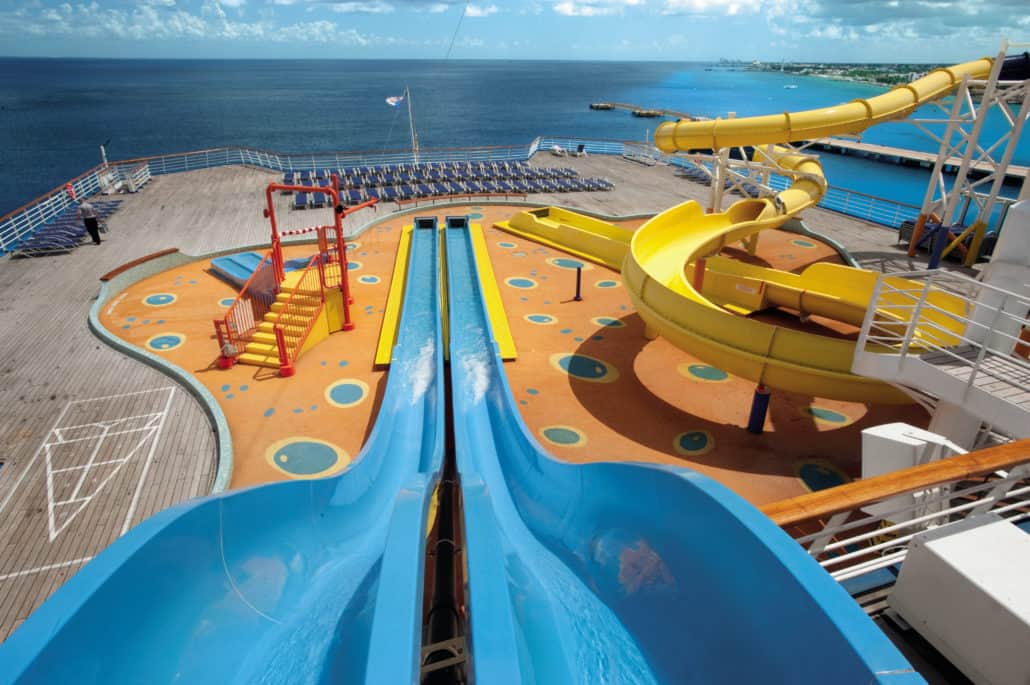 Many of the company's signature features were incorporated into the Fantasy class before making their debut – albeit on a grander scale – aboard newer, larger ships going forward. 
The ship's most recent dry dock, which took place in 2019 at Grand Bahama shipyard in Freeport, added such popular features as Bonsai Sushi Express, the Warehouse video arcade, and the Dreams Studio, along with ongoing routine maintenance expected for a decades-old vessel.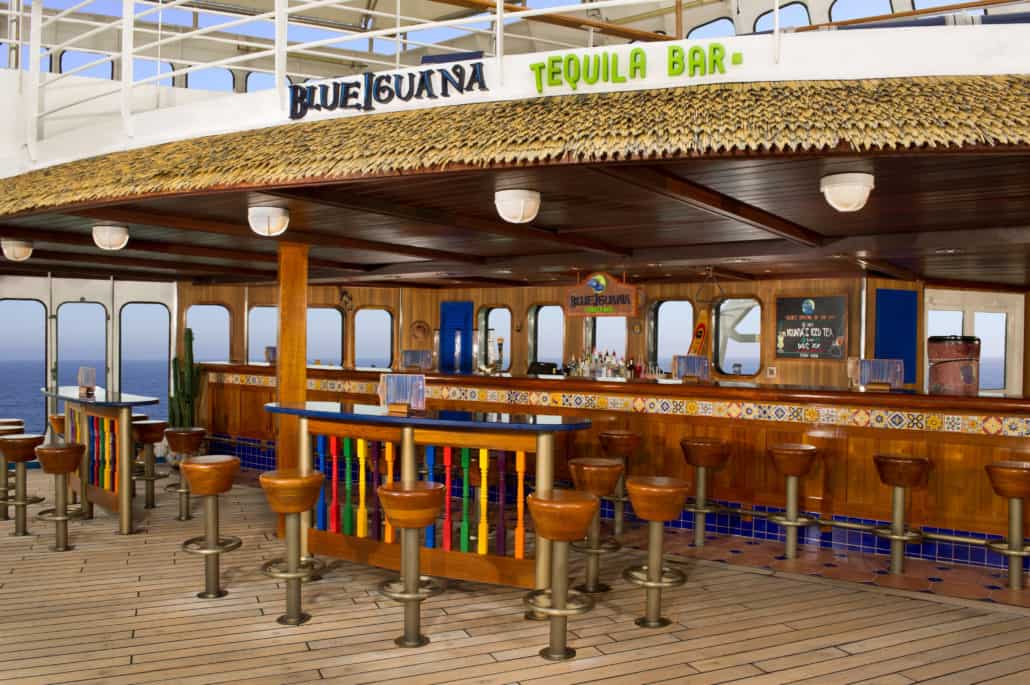 Another large-scale refurbishment took place in January 2017 when several poolside outlets, including Guy's Burger Joint and BlueIguana Cantina, were added, along with the popular Cherry on Top sweets shop and the cocktail pharmacy-themed Alchemy Bar on Promenade Deck.  
Three years before that, two poolside watering holes, the RedFrog Rum Bar and BlueIguana Tequila Bar, were added as part of a major dry dock that also saw the upgrading of ClubO2 and a host of cosmetic enhancements.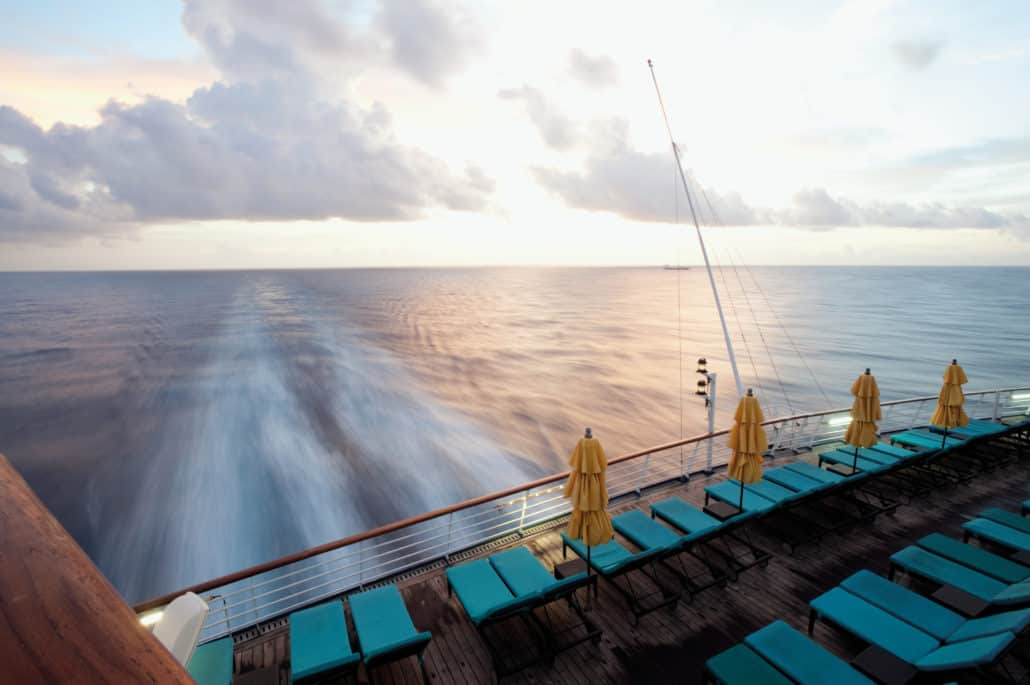 One of the ship's largest renovation projects took place in 2009, part of the Evolutions of Fun enhancement program for the Fantasy class, which set the standard for other dry dock projects going forward and introduced several top-deck features that were expanded for other ships.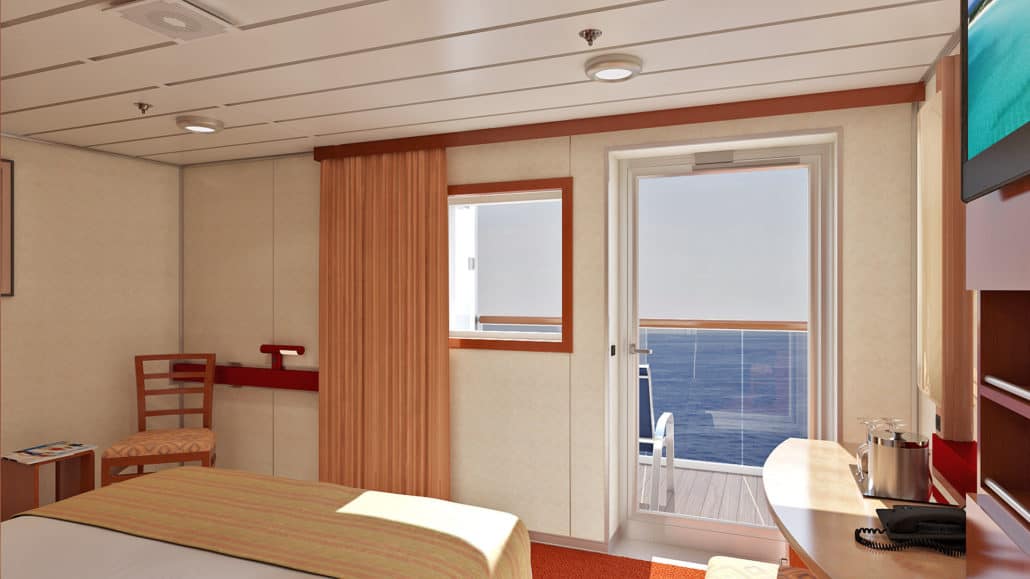 These included a WaterWorks aqua park with a 300-foot-long water slide, dual racing slides, and a kiddie splash area.
Other new features were the first-ever Serenity adults-only retreats, a new resort-style pool highlighted by thatched huts and faux palm trees, new Circle "C" tween facilities, 98 new balconies added to existing oceanview staterooms, refurbished owners' suites, new elevator lobbies and renovated public restrooms and two new dining options – Mongolian Wok and Rotisserie – within the Lido restaurant.
In 2006, the open-air City Sports Park featuring a mini-golf course, along with an expanded play area called Children's World and a conference room (a groundbreaking concept at the time), were added as well.
Fantasy-Class Cruise Ships:
| Ship | Entered Service | Retired |
| --- | --- | --- |
| Carnival Fantasy | 1990 | 2020 |
| Carnival Ecstasy | 1991 | 2022 |
| Carnival Sensation | 1993 | 2022 |
| Carnival Fascination | 1994 | 2020 |
| Carnival Imagination | 1995 | 2020 |
| Carnival Inspiration | 1996 | 2020 |
| Carnival Elation | 1998 | In Service |
| Carnival Paradise | 1998 | In Service |
Saying Goodbye to Carnival Ecstasy
Looking back over a 30-plus year run for any cruise ship is a trip through history, but Carnival Ecstasy was truly a groundbreaking ship, operating both shorter cruises and longer length voyages from a variety of North American homeports, including Charleston, Jacksonville, Miami, Port Canaveral, and Galveston, introducing Farcus' vision of entertainment architecture to over 5.5 million cruise passengers across the globe.
Despite several dry docks that added a host of new features, in the end, Carnival Ecstasy's demise was the result of newer, larger ships with more bells and whistles that consumers expect out a vacation.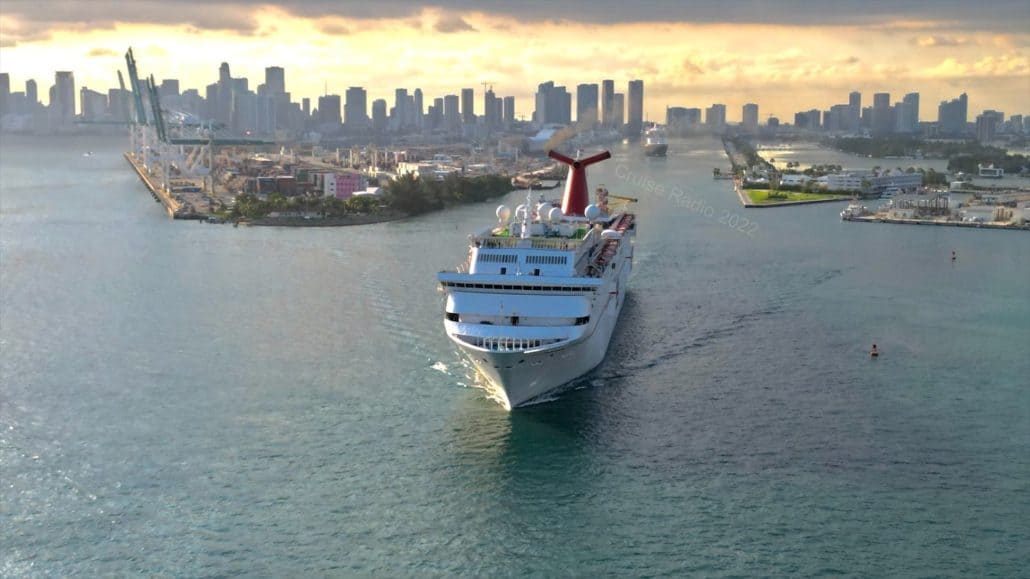 In what is said to be a package deal to the scrapyard, Carnival Sensation was also retired from the fleet in early 2022, leaving just Carnival Elation and Carnival Paradise, both of which entered service in 1998, as the remaining Fantasy-class ships — a somewhat sad commentary on the most successful series of ships ever introduced. 
They say all good things come to an end, and that is certainly the case with Carnival Ecstasy, which made an indelible mark on cruising, bringing a sense of fun and whimsy rarely seen in today's mega-liners.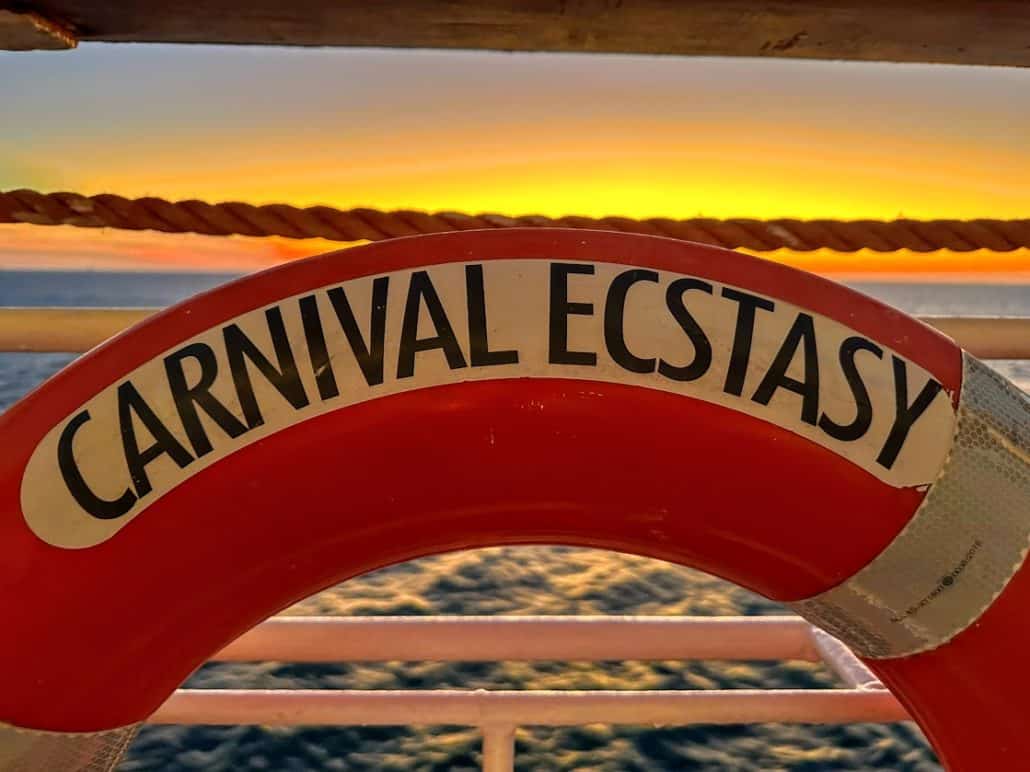 If you didn't get to sail her before the decommissioning, there are always Carnival Ecstasy ship models and Christmas ornaments on eBay to keep the memories alive.
Other ships in our Last Look series: