The Fun Times is the most important piece of paper out there when it comes to a Carnival cruise, (other than your cruise documents). The Fun Times is a newsletter which essentially serves as your guide to everything happening around the ship.
Want to know what time they start serving breakfast in the buffet? The Fun Times will tell you. Looking to get your groove on? The Fun Times will tell you where to go. Basically, any question you could think to ask will be answered by this awesome little newsletter, which is delivered to your room daily. And because it's going to play such a big role in your vacation, we thought it might be worth taking a little time to offer you some advice on how to get the most out of it.
See the Fun Times from a 2018 Carnival Cruise Line sailing here.
From Carnival Capers to Fun Times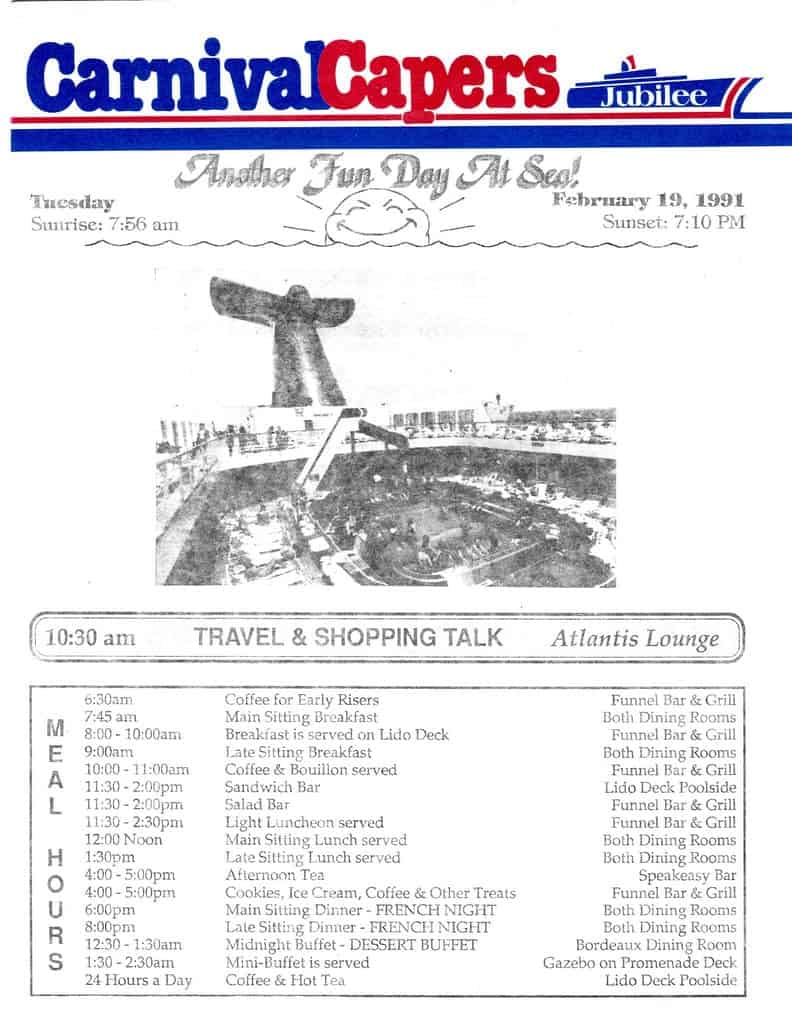 The Fun Times has come a long, long way since it was first introduced. In fact, for years, they were known as the Carnival Capers. In a hysterical blog post, Carnival Brand Ambassador John Heald reflected on the days when crew members would be "sitting in our cabins… in our underpants… typing the day's activities out on bits of paper and gluing them to an empty piece of legal size paper, thus creating the daily program of events and meals." (You can read his entire post here.)
Since then, the newsletter has morphed into the Fun Times we all know and love, a tri-fold piece of paper that is jam-packed with info and easily tears along the sides in case you want to pocket the daily schedule. You can also access the Fun Times on the Carnival Hub app, which means that if you forget what time the Hairy Chest contest begins by the main pool, you can just whip out your phone, open the app, and make sure you don't miss the hilarity.
Read More: 11 Reasons to Download the Carnival Hub App
Getting The Most Out Of The Fun Times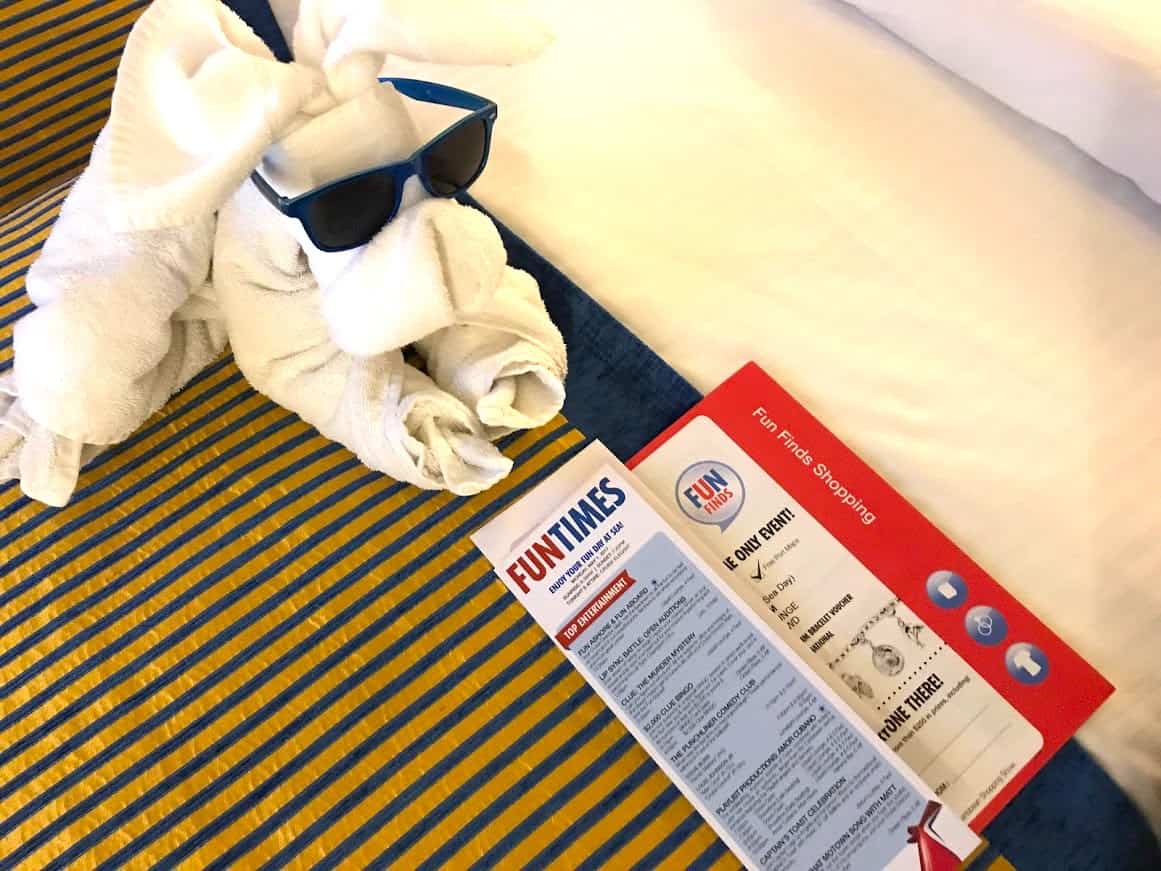 I always like to suggest that people bring highlighters with which to mark up the Fun Times. If you're traveling with the family, you can give everyone a different colored Highlighter so they can mark what they're interested in and, voila! You've got a color-coded plan for the next day. Because the Fun Times is delivered each night, you can end the day by making a plan for tomorrow… giving everyone something to look forward to.
Read More: 10 Tips for Carnival Cruise Line
One thing to keep in mind as we move forward is this: Although some elements of the Fun Times remain the same from week to week on ships doing a regular itinerary, there's no guarantee that will be the case. You'll often see people in message boards or on various social media platforms asking if someone has the Fun Times from a particular ship and/or itinerary. And while they're great if you want to get an idea of what to expect as far as onboard activities and such, it's important to remember that things could be different on your individual sailing.
What You'll Find Right Up Front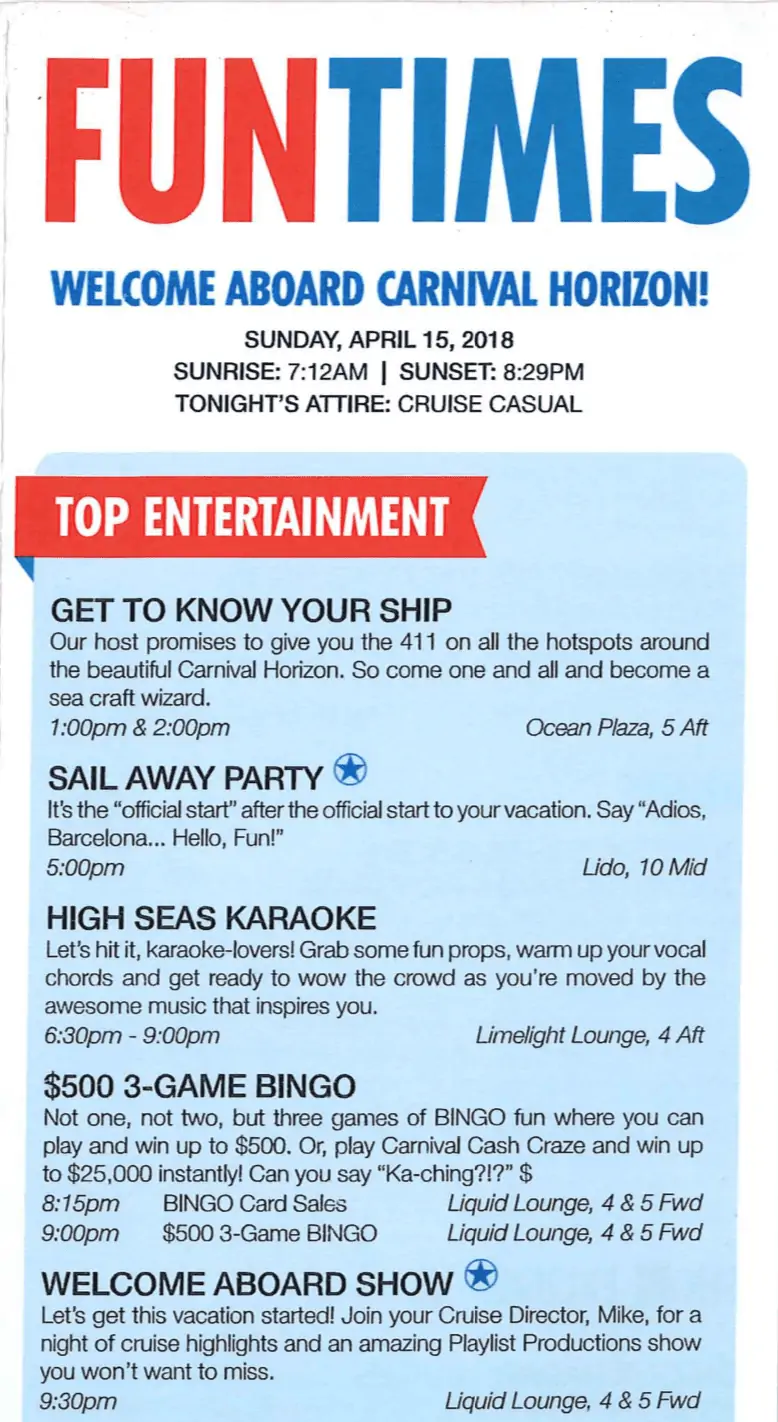 On the very top of the Fun Times, it gives you the basics, including the day, date (great for souvenir purposes), what port you'll be pulling into and the times of sunrise and sunset. By about the midway point of your cruise, you'll be amazed at how much you rely on this information. You'll turn to your dinner companions and say, "What the heck day is tomorrow… and where will we be?" Trust me… it happens!
Speaking of dinner, one of the most important bits of info you'll find on the front page of the Fun Times is the dinner attire. Will it be cruise elegant (formal night) or cruise casual? They'll also draw your attention to a few of the big attractions, entertainment wise. What they highlight will vary depending on whether you're in port or at sea, but it will often including information on the acts appearing in the Punchliner Comedy Club that evening, what time Bingo will be starting, and info on whatever theme night you should prepare for.
The Fun Times is particularly useful on sea days… mainly because there are so many things going on around the ship! The crew works hard to keep everyone entertained, so it's definitely worth looking at the schedule to see which of the many scheduled events are must-do for you and your travel party! When the ship is in port, most of the guests are off so a majority of the top entertainment options will be mostly after sail away or the nightlife.
Everything You Need To Know About the Fun Times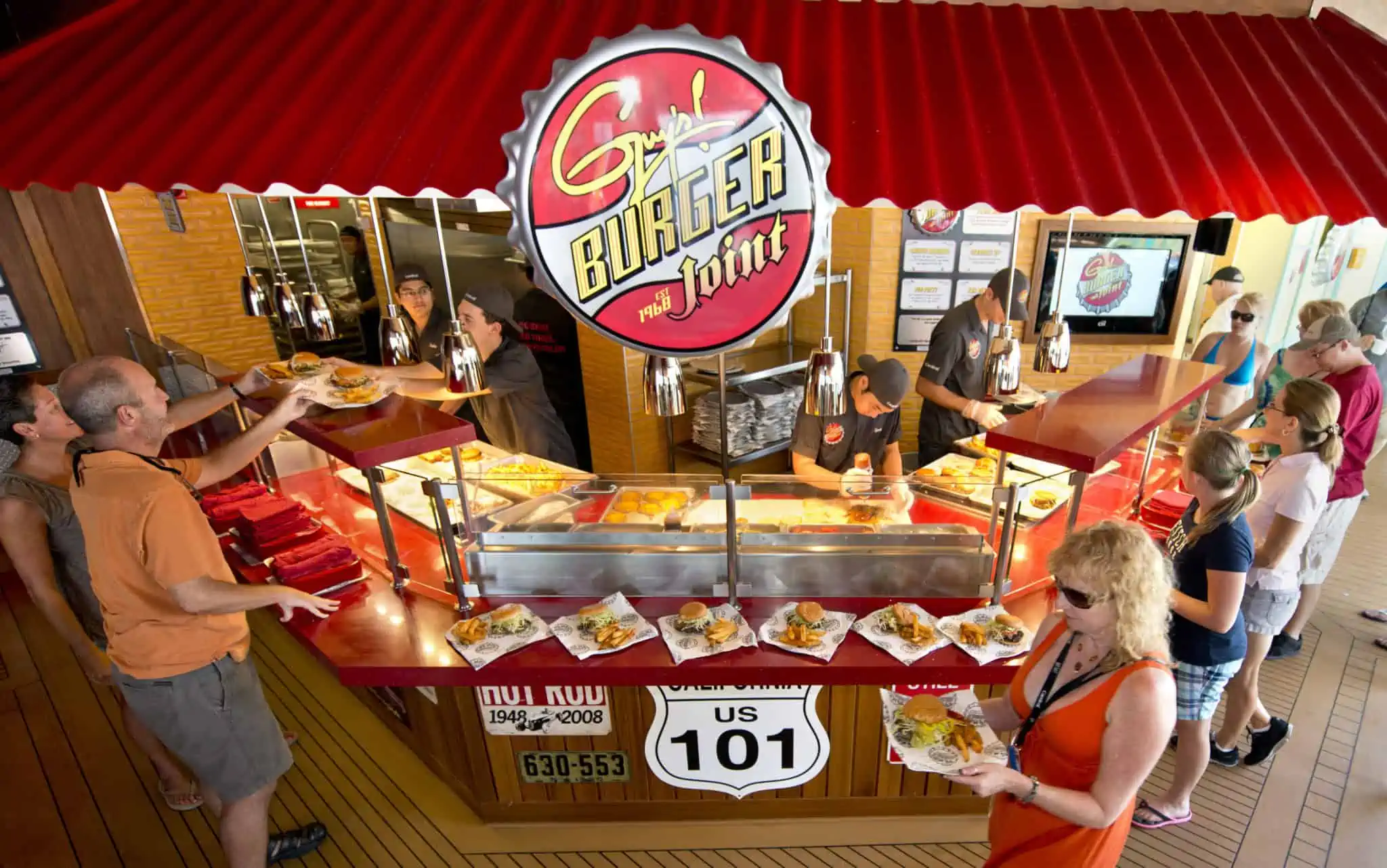 Having been doing this for as long as they have, Carnival has the layout of the Fun Times down to a science. You can quickly scan and find information on exactly what you're looking for. Some of the sections include:
Food
Not every venue is open at all times, so it's helpful that this section is broken down into Lunch, Dinner and "Hungry For More." That last category includes things like the 24-hour Pizzeria del Capitano, midnight buffet, and ice cream station. Also helpful? They list not only the hours each venue is open, but exactly where to find it!
Drinks
Need to know which bar is open the latest… or maybe the earliest? (Hey, no judgments here… who doesn't love starting the day with a Bloody Mary!?) This is the spot to look. Again, it tells you not only the hours, but where you'll find the various bars.
Pools
There are enough water features on the typical Carnival ship that they need their own section on the Fun Times. Not only does it list the pools, but you'll also find out what hours the towel stations, hot tubs, and water slides are open.
Sports & Games
You'd expect to find info on the miniature golf course, basketball court, and clubhouse here. What you might not expect is that it also lists the library hours.
What's Happening
This is where your highlighter is going to get a real workout as you read through the list of events taking place around the ship in an hour-by-hour format. From as early as 7 a.m. until late at night, everything from the Hot Seat promotions in the casino to the Love Your Lips seminar in the spa will be listed here, telling you the time and location of each event.
The Big Round-Up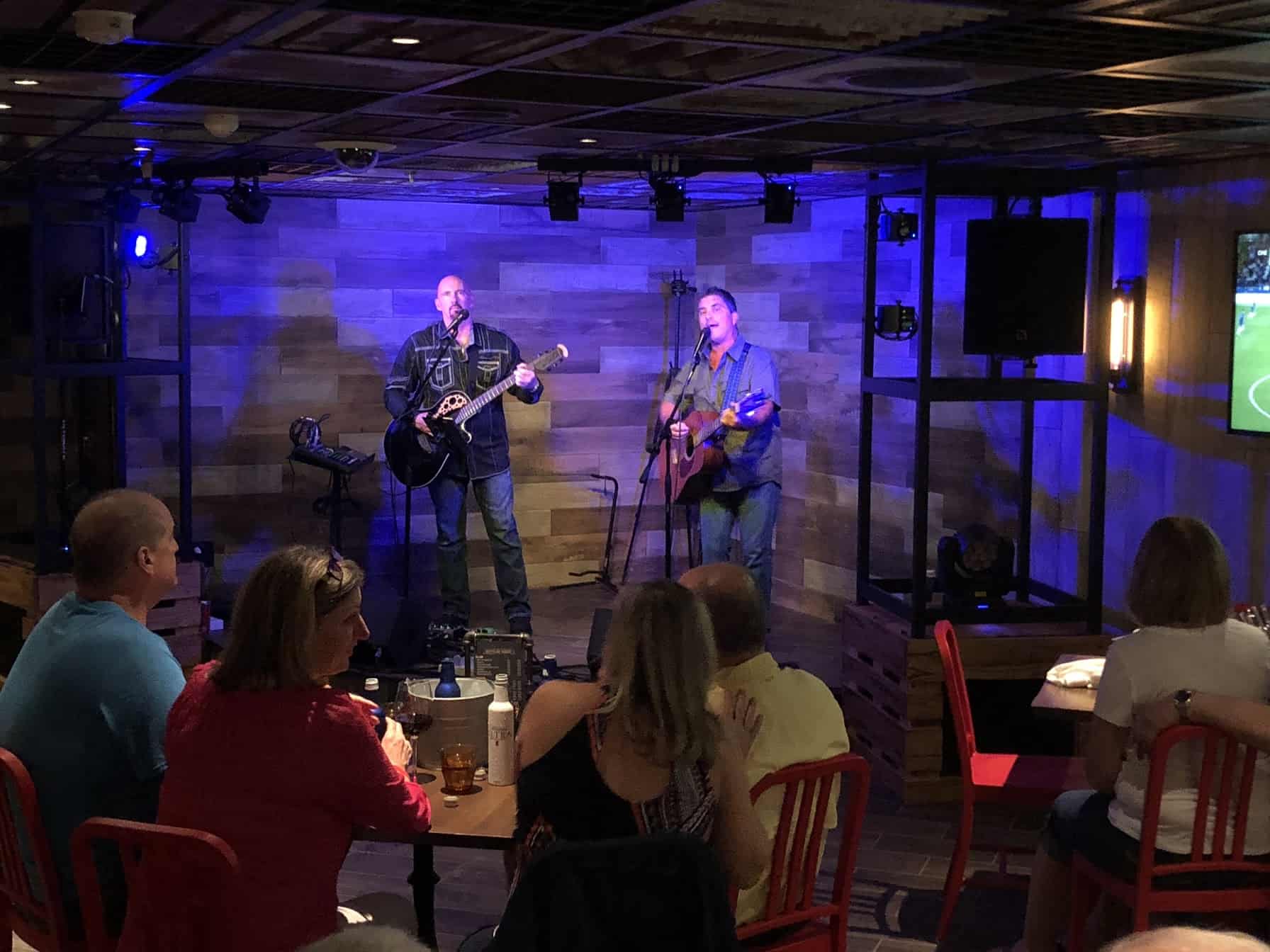 The final page of the Fun Times is called All In A Day's Play, and it's sort of an abridged version of everything that came before, giving extra attention to certain events. This is where they'll list the Drink of the Day, pitch some of the spa treatments, remind you about shore excursions which can be booked, and more. This page also features a rotating series of categories, but will usually include a listing of all the different places around the ship you can hear live music or a DJ, any special events planned for tees, specials being offered in the Fun Shops (as well as the hours they will be open), and any special promotions or tournaments being run in the casino that day.
It's often said that modern cruise ships are like floating cities, so I like to think of the Fun Times as sort of like a small-town newspaper, giving you all the highlights (but without the police blotter!). Plus, as an added bonus, they make for a great souvenir, as well as a memory-jogger if, once you get back home and start posting photos, you forget where the heck you were on which day.