Carnival Cruise Line announced that Carnival Horizon will expand their Seuss at Sea program with a Dr. Suess WaterWorks water park. Located on Deck 12, Carnival Horizon's Dr. Seuss WaterWorks will offer two distinctly different slides.
New Water Park on Carnival Horizon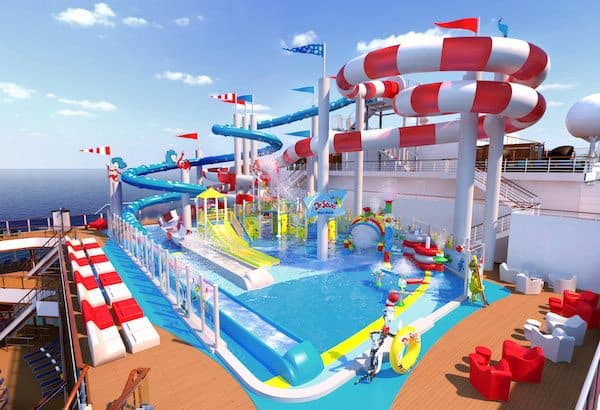 The Cat in the Hat slide will feature an enclosed raft slide offering more than 450 feet of twists and turns. Better still, the entrance to the slide will actually be a giant replica of the titular feline's famous red-and-white hat! The slide itself will also be red-and-white, which should make Horizon pretty easy to spot no matter how many ships are docked at a pier!
The Fun Things slide is after named after those infamous troublemakers, Thing 1 and Thing 2! An enclosed body slide, this one will distinguish itself with a polka dot-motif and offer 213 feet of slippery fun.
"Our ships are designed as the ultimate seagoing playgrounds," says Carnival President Christine Duffy, "and Carnival Horizon will take this concept to the next level."
Look for Dr. Seuss characters to decorate the entire area, with memorable phrases from the books displayed on the clear partitions surrounding the facility. And of course, the good doctor's presence will be featured in other parts of the ship, including the Dr. Seuss Bookville area, the Green Eggs & Ham Breakfast (offering guests the chance to break bread with The Cat In The Hat and some of his pals) and the Seuss-A-Palooza Parade and Story Time.
About Carnival Horizon
Like sister ship Carnival Vista, Carnival Horizon will have many of the same features like Family Harbor staterooms, IMAX, and Havana suites.
Currently being built in Italy, the Carnival Horizon is set to debut in April 2018. She will spend her first year sailing various itineraries from the Mediterranean and New York City before repositioning to Miami in Fall 2018.
photo: Carnival