If you're one of those people who leaves the ship's nightclub or casino at midnight and is dying for something to eat, pizza is often your only option. But this week, Carnival Cruise Line Brand Ambassador John Heald announced that a new late-night menu for munchie-seeking revelers has been rolled out on the Carnival Horizon.
What's On The Menu?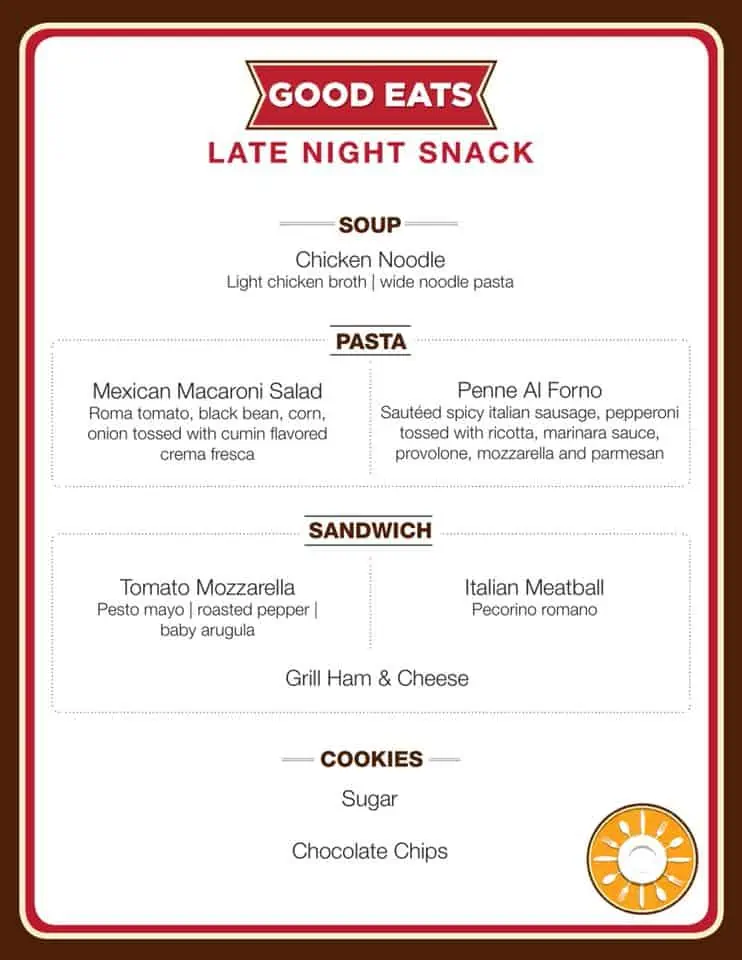 The new Lido buffet snack menu — dubbed the "Good Eats Late Night Snack" menu — is available from 11:30 p.m. until 1 a.m., making it the perfect spot for those who simply won't be able to hang on until breakfast! The complimentary menu features a variety of options, and will be served in addition to — not in the place of — the 24-hour pizza that Carnival has long offered to late night diners.
So what does the new menu feature?
Chicken Noodle Soup featuring a light broth and wide noodle pasta
A Mexican Macaroni Salad with Roma tomatoes, black beans, corn and onion tossed with cumin-flavored crema fresca
Penne Forna with sauteed spicy sausage and pepperoni, tossed with ricotta and marinara sauce, provolone, mozzarella and parmesan cheeses
A Tomato and Mozzarella sandwich with pesto mayo, roasted peppers and arugula
An Italian Meatball sandwich with pecorino romano cheese
Grilled Cheese & Ham
Sugar Cookies
Chocolate Chip cookies
Given how important food is to cruisers, it's not surprising that lines are constantly tweaking their offerings. Last fall, the line's popular steakhouse made several changes, while new deli menus were introduced on several ships. Generally speaking, new menus are tested (and sometimes tweaked) on one or two ships before being rolled out across the rest of the fleet.
Horizon is Carnival's newest ship, the second of three planned Vista Class vessels, with the Carnival Panorama set to join her sisters in 2020. Bookings for the Panorama opened last month, while the Horizon is currently doing a series of Mediterranean sailings before heading for the United States to spend the summer in New York City before relocating to Miami, Florida.