With the highly-anticipated launch of the Carnival Horizon coming soon, cruisers are seeking out as much information as they can get… and we're here to help. Whether you're already booked or deciding if this is the right ship for you, read on for a look at the vessel's restaurants, entertainment options and more!
Fast Facts
Her First Voyage: The Horizon will do several round-trip sailings out of Barcelona beginning on April 2, 2018, before setting sail May 9 on a 14-day transatlantic to New York City. 
Number Of Passengers: The ship will be able to carry 3,960 guests at double capacity.
Her Stats: While it's never polite to ask a lady such things, Horizon will weigh in at 133,500 Gross Tons. She'll be 1,062 feet long and 15 decks high.
Itineraries: Upon arriving in New York City, Horizon will spend the summer doing 4-day sailings to Bermuda and 8-day sailings to the Southern Caribbean. In September, the ship will relocate to Miami to do a variety of Caribbean-bound voyages.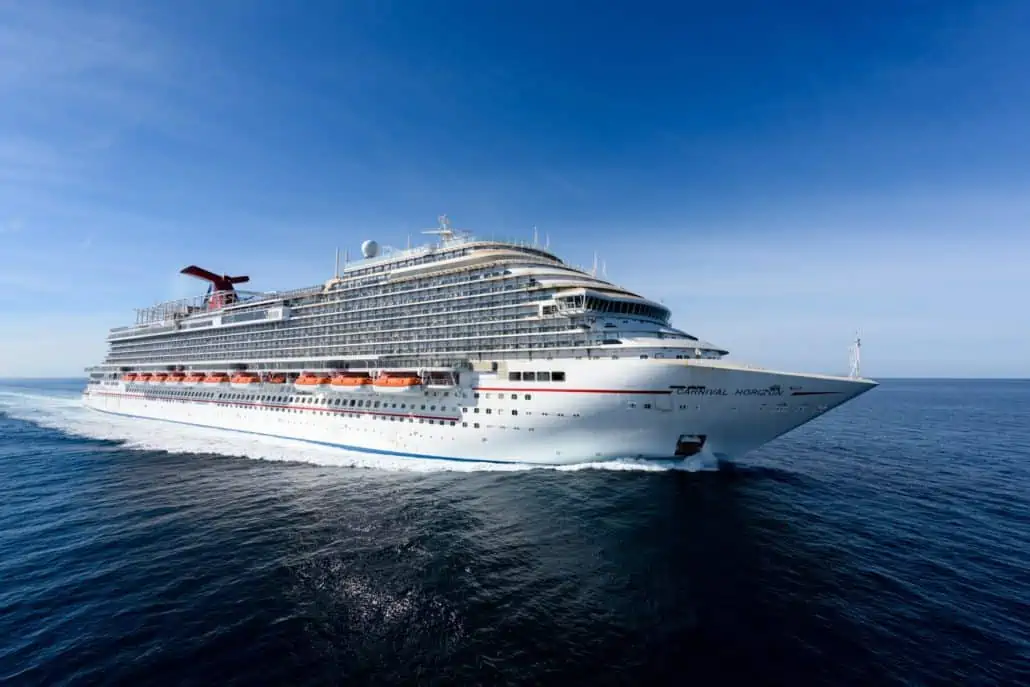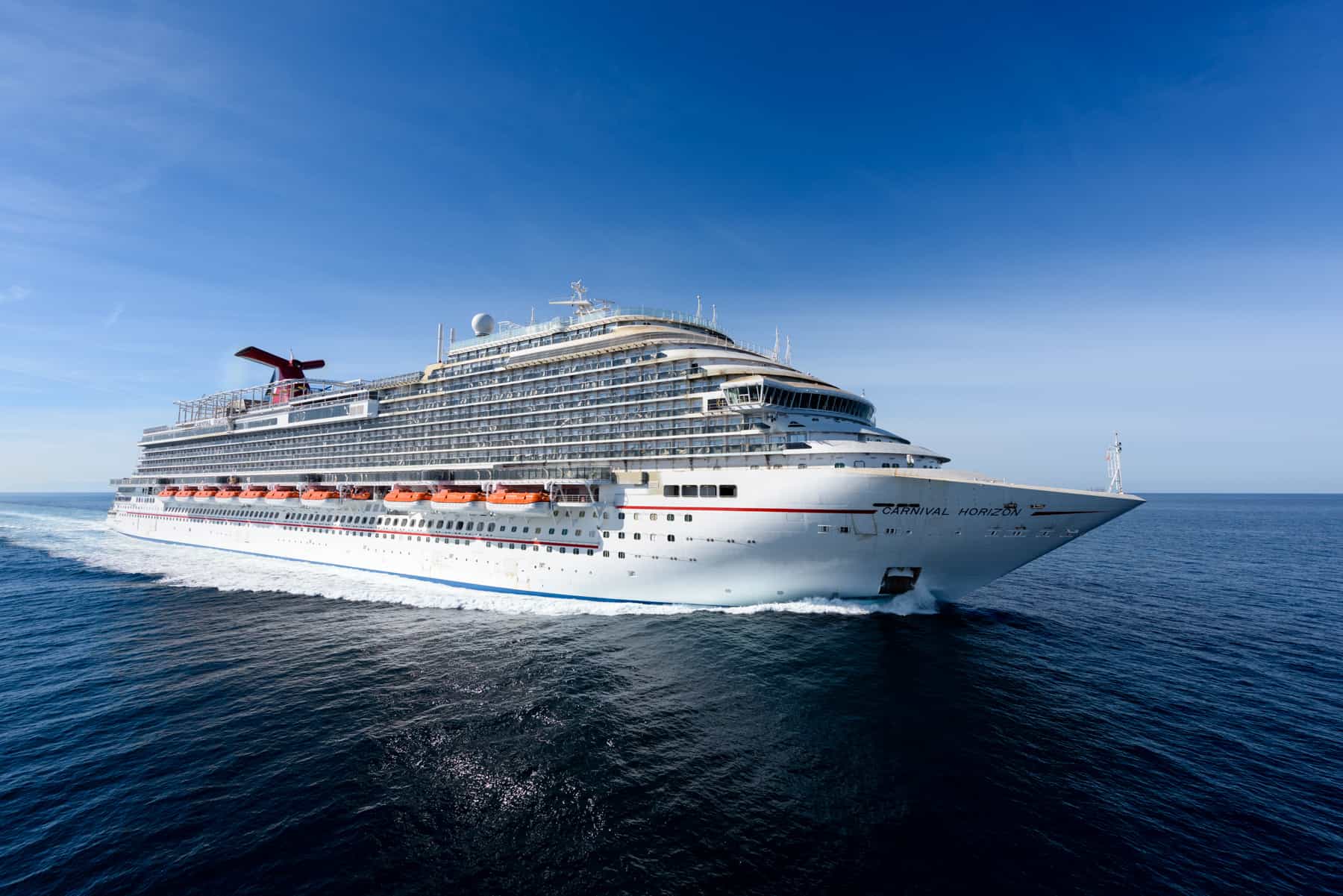 The Carnival Horizon is the second Vista-class ship, and will be followed by the Carnival Panorama in 2019. She'll be a true sister-ship to Vista, featuring many of the same restaurants and features which proved popular on the first-in-her-class vessel, including the SkyRide and the wildly distinctive LED Dreamscapes featured in both the atrium and casino. (People who've never actually seen the Dreamscape funnels in person sometimes struggle to understand their appeal, but trust us: They are seriously cool. Need proof? Look at some of the cool images featured... and then imagine them moving!)
What's New On The Horizon?
Given the popularity of Vista, it would have been easy for Carnival to simply crank out a twin sister. Instead, they'll be introducing several new concepts, dining venues and a whole slew of new entertainment options. In a promotional video for the shows, Robb Wagner, media producer for Playlist Productions, explained that Carnival was upping their game by "introducing video game technology" and "using that technology to create immersive environments" designed to "make the audience feel more like they're stepping into a world versus sitting down to watch a show."
READ MORE: Full Details On Horizon's New Shows
Among the new shows being rolled out, the one we're perhaps most intrigued by is Soulbound, a New Orleans-set spectacle combining soulful songs with special effects which will take viewers to a variety of locations… including a haunted cemetery and apothecary. (Anybody else think that, given that last set, the Alchemy Bar will be the perfect place to have drinks before or after seeing Soulbound?) The other shows are Celestial Strings (which combines classical and pop music in a garden setting, complete with "aroma-infused" sets) and Vintage Pop (in which contemporary songs are given a classic jazz vibe with a little help from a 6-piece orchestra). In addition to these, Amor Cubano: A Caribbean Dance Romance —  which made its debut on the Carnival Vista — will be imported. Meanwhile, if there's one big change many are hoping to see on Horizon, it's better sightlines than can be found on Vista, where many of the theater's seats have obstructed views.
Guy Fieri's Newest Restaurant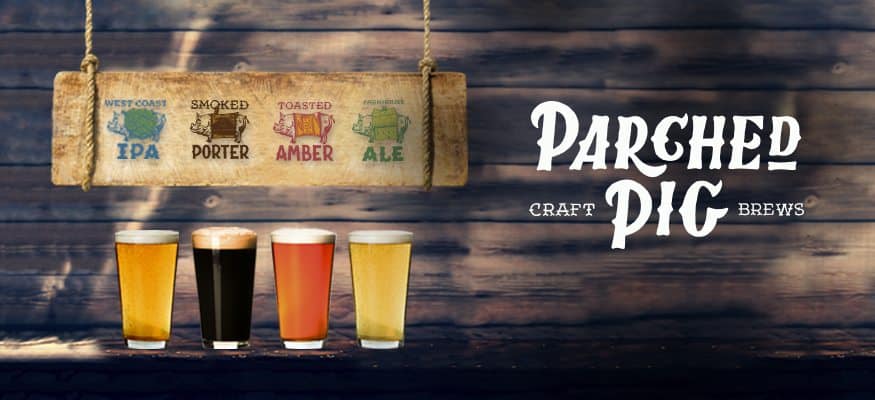 On the food side, Carnival Horizon will offer a couple of concepts that are new-to-Carnival, including the latest offshoot of the line's partnership with celebrity chef Guy Fieri. This time around, Fieri's offering up Guy's Pig & Anchor BBQ Smokehouse. And because it's a crime in at least 4 states to eat things like smoked brisket or babyback ribs and not wash them down with a cold beer, the joint will also serve as a brewhouse offering up an exclusive line of Parched Pig beers. During the day, the restaurant will serve up free grub, while the more extensive dining menu will come with a fee. (And yes, the ship will also have a Guy's Burger Joint, aka the perfect poolside grub… and yes, the Burgers will still be free.)
Another first-for-Carnival addition will be Bonsai Teppanyaki. The for-fee restaurant (which will be open for lunch on sea days and dinner every night) will offer a menu spotlighting authentic delicacies from the Far East. But as anyone who has ever experienced a Teppanyaki restaurant knows, half the fun is the show put on by the amazingly talented chefs. It's also the perfect setting for group fun, as the chef's work at custom-built stations at the center of an eight-seat table. Bonsai Teppanyaki will feature to such set-ups, but with seating limited, it's definitely a venue one should plan to make reservations for.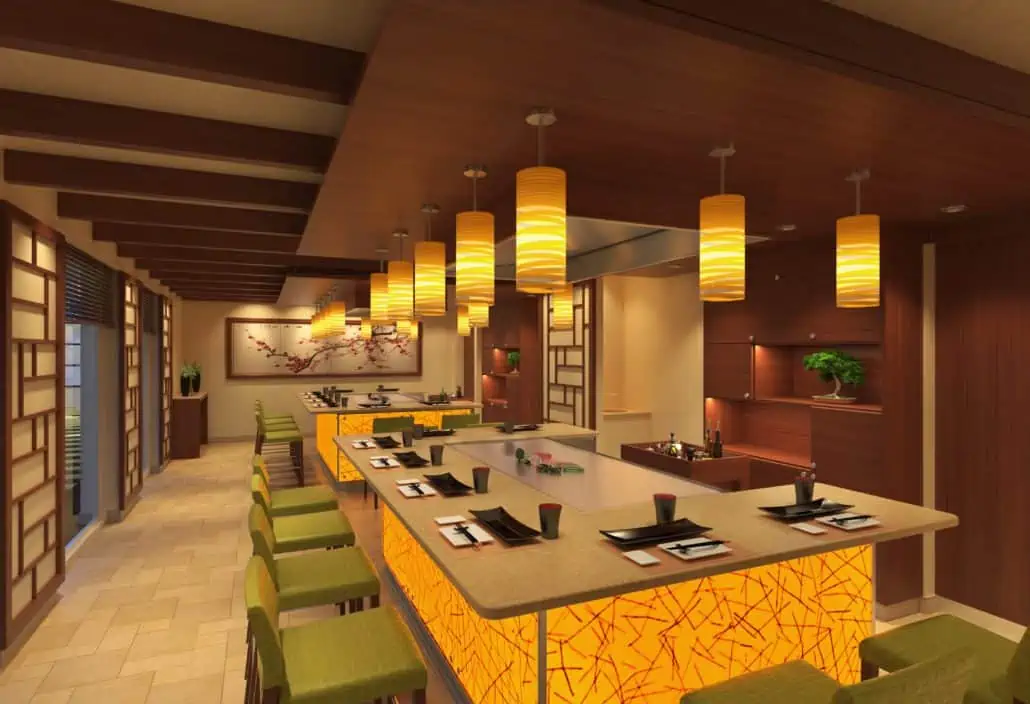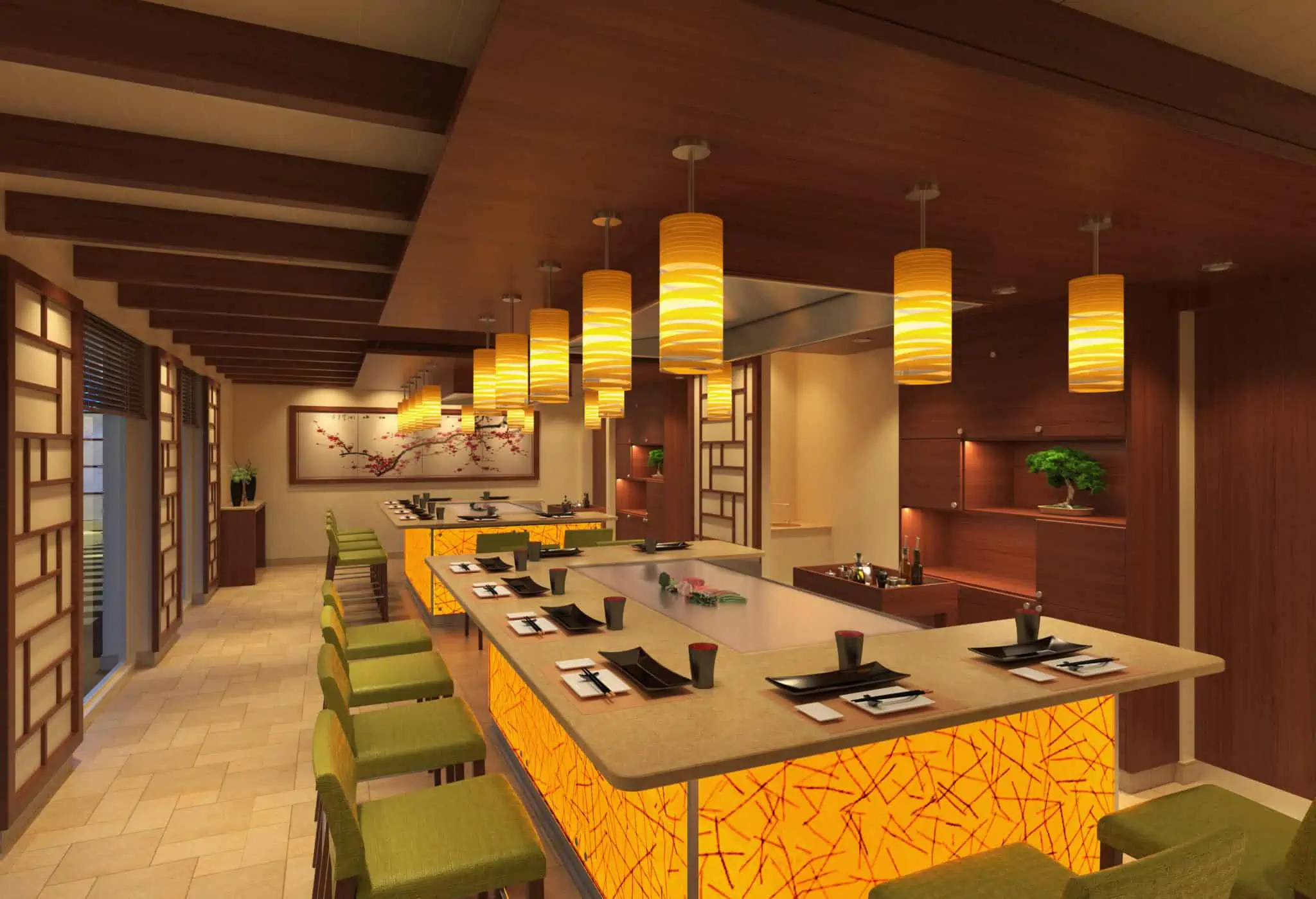 Horizon will also feature an assortment of the venues which have proven popular on other ships, such as the  JiJi Asian Kitchen, Fahrenheit 555 Steakhouse, Cucina Del Capitano. For all your grab-and-go needs there's also the BlueIgunana Cantina (located near the midship Beach pool), as well as the Seafood Shack and Pizzaria del Capitano (both located by the aft-facing Tides pool). There is also, of course, the various options offered by the buffet. And if you happen to be hanging out in the adult's-only Serenity area on sea days, you'll be able to enjoy one of the healthiest options on board, the do-it-yourself salad bar. Finally, for what promises to be the best dining experience you'll ever have at sea, sign up for the once-in-a-lifetime meal that is offered by the Chef's Table.
Pick A Room, Any Room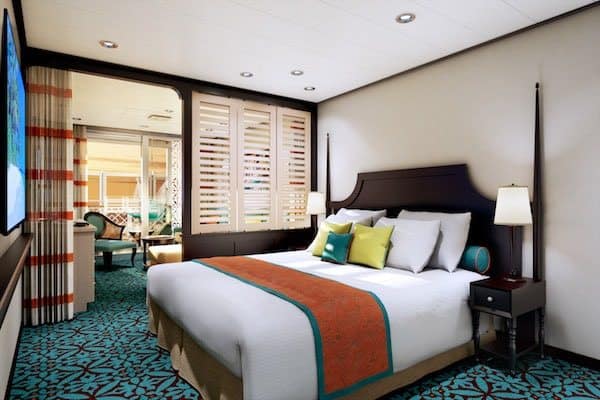 As on the Vista, the Horizon will offer the widest variety of stateroom options ever featured on a Carnival ship. The Family Harbor staterooms and suites are perfect for both single and extended families, especially given that they include access to a special lounge featuring snacks, games and a comfy place for clans to hang out and maybe even make new friends. But the most popular rooms on the ship will surely be those located in the Havana area. Ranging from interiors to suites, these beautifully decorated rooms also come with exclusive daytime access to the Havana Bar & Pool (which isn't open to other guests until after 7 p.m.). It's important to note that all guests staying in the Havana area must be 12 years old and above.
The Cloud 9 Spa rooms are perfect for those looking to get their relaxation groove on. They grant passengers free access to the thermal spa, Elemis toiletries, bathrobes, slippers and more. One of the nice things about the Spa rooms is that they come in everything from an interior to a suite, making them affordable to a wide variety of budgets.
Important Things To Keep In Mind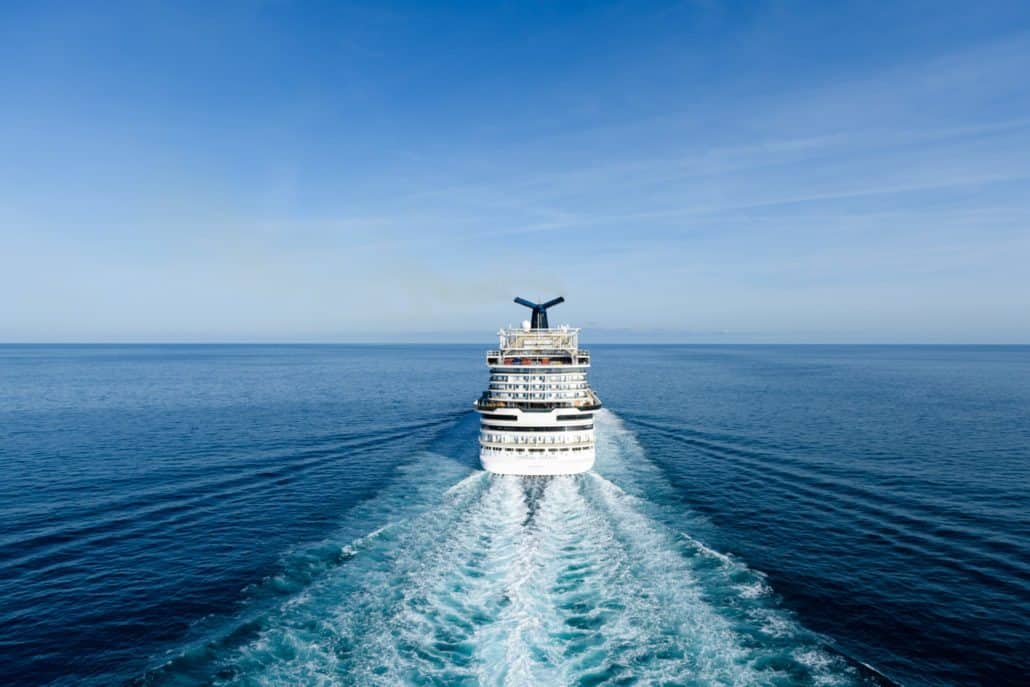 As the Carnival Horizon is a new ship, it could take a while for the kinks to be worked out. Those sailing on the first few voyages should — as with any new ship — keep that in mind. If you're the type of person for whom a few bumps in the road can ruin an entire trip, it might be worth letting the ship and her crew settle in before taking them for a run.
When trying to decide what stateroom is right for you, be sure to consult the deck plans. Make sure you're not located above a theater or below a bowling ally. Until the ship has been sailing for a while, actual reviews of various decks, let alone specific cabins, won't be available… so using the deck plans will be your best bet!
One of the coolest sections of the ship, the Havana Bar & Pool, is off limits to guests who aren't staying in the Havana section… until after 7 p.m. But be sure to visit, because it's got spectacular views and is sure to be one of the hottest spots on the ship nightlife wise.
Be sure to check the Fun Times to see when restaurants which are only open limited hours are serving. There's nothing worse than getting psyched up for a meal… only to find out the restaurant isn't open!
The newest venues on the ship — such as Bonsai Teppanyaki — will also be the most popular. Once you've locked in your trip, consider making reservations so that you can enjoy the restaurants you consider Must-Do.