It was a night of tasty treats, cool cocktails and special guests as Carnival Cruise Line shared all kinds of information about the upcoming Carnival Mardi Gras.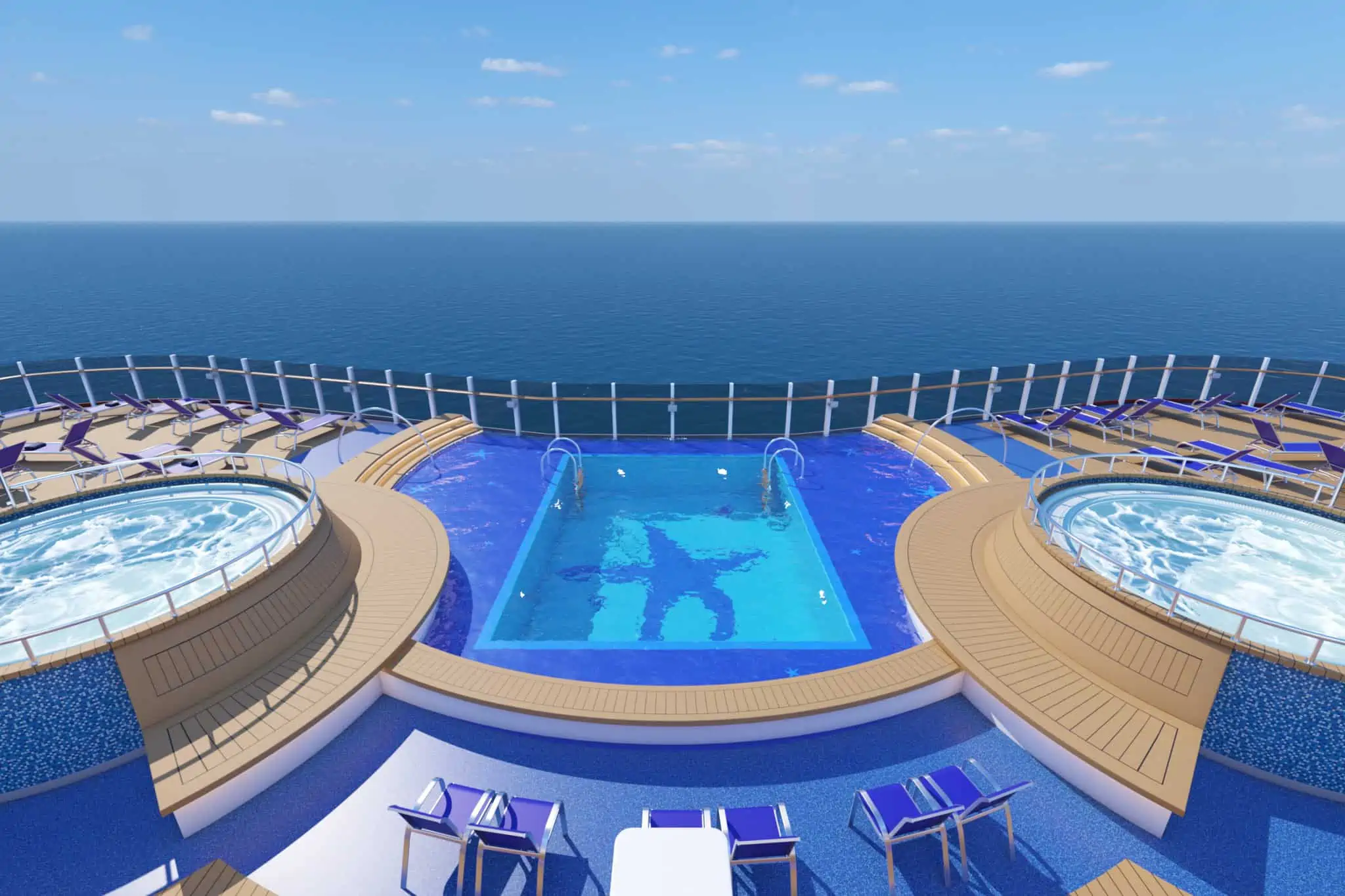 Although the ship won't actually take on passengers until August of 2020, we now know some of the exciting new venues they'll find on board (including a two-story tiki bar!) and who'll be serving as cruise director.
Street Eats On The Lido Deck
During an invitation-only "deck party" at Current in midtown Manhattan's Chelsea Piers, Carnival offered up a preview of what(and who) will be found on Mardi Gras, including open-air eatery Street Eats(a fleet-wide first), a cool new bar designed to feel like you're hanging with friends in the backyard and that two-story tiki bar we mentioned earlier.
READ MORE: Mardi Gras Construction is Officially Underway [PHOTOS]
"The sheer variety of food and beverage venues on board Mardi Gras is unlike anything we've ever offered before," said Christine Duffy, president of Carnival Cruise Line, adding that the ship would also feature the longtime favorites that people love.

In keeping with the game-changing nature of Mardi Gras, two new venues will alter the feel of the Lido deck while also giving cruisers new places to sip and nosh. Street Eats will be an open-air eatery featuring three different kiosks, each of which will offer a rotating menu inspired by street foods. Think grab-and-go, making it perfect for hanging out by the pool. The three new spots combine with the Seafood Shack to create a boardwalk vibe, especially given their location and the view.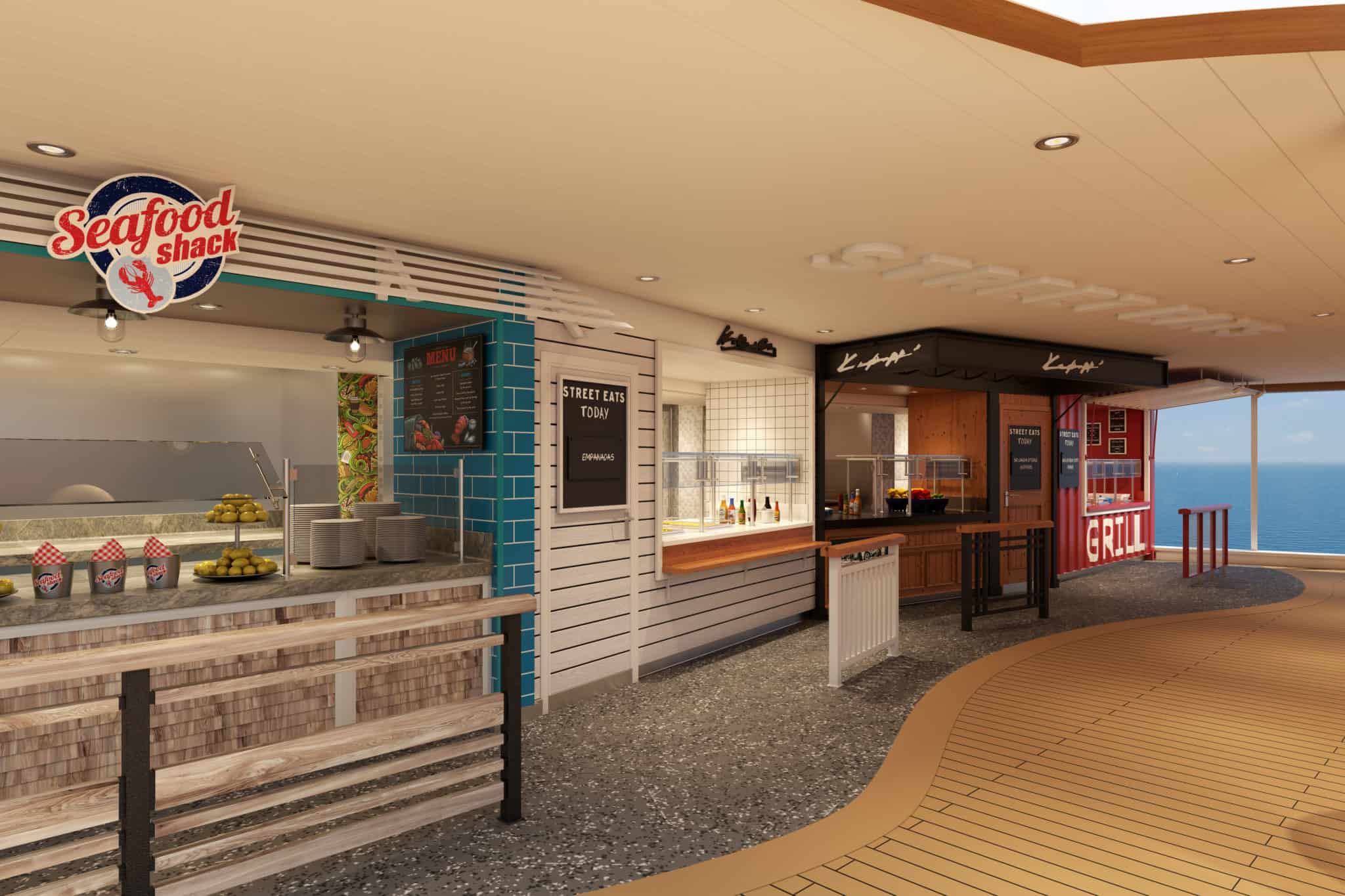 The first window will feature small plates like empanadas and falafels. Next up will come a window featuring steamed eats like bao buns or Siu Mai. Finally, there's kebabs and satay at a plancha-style window.
News that the nickel-and-dime crowd will love? All three of the new joints will be complimentary.
Welcome To Tiki Bar Heaven
Maybe the coolest spot on the newly-designed Lido, promises to be the RedFrog Tiki Bar. Could there be a better place than this South Pacific-inspired paradise, to sit and watch the world go by?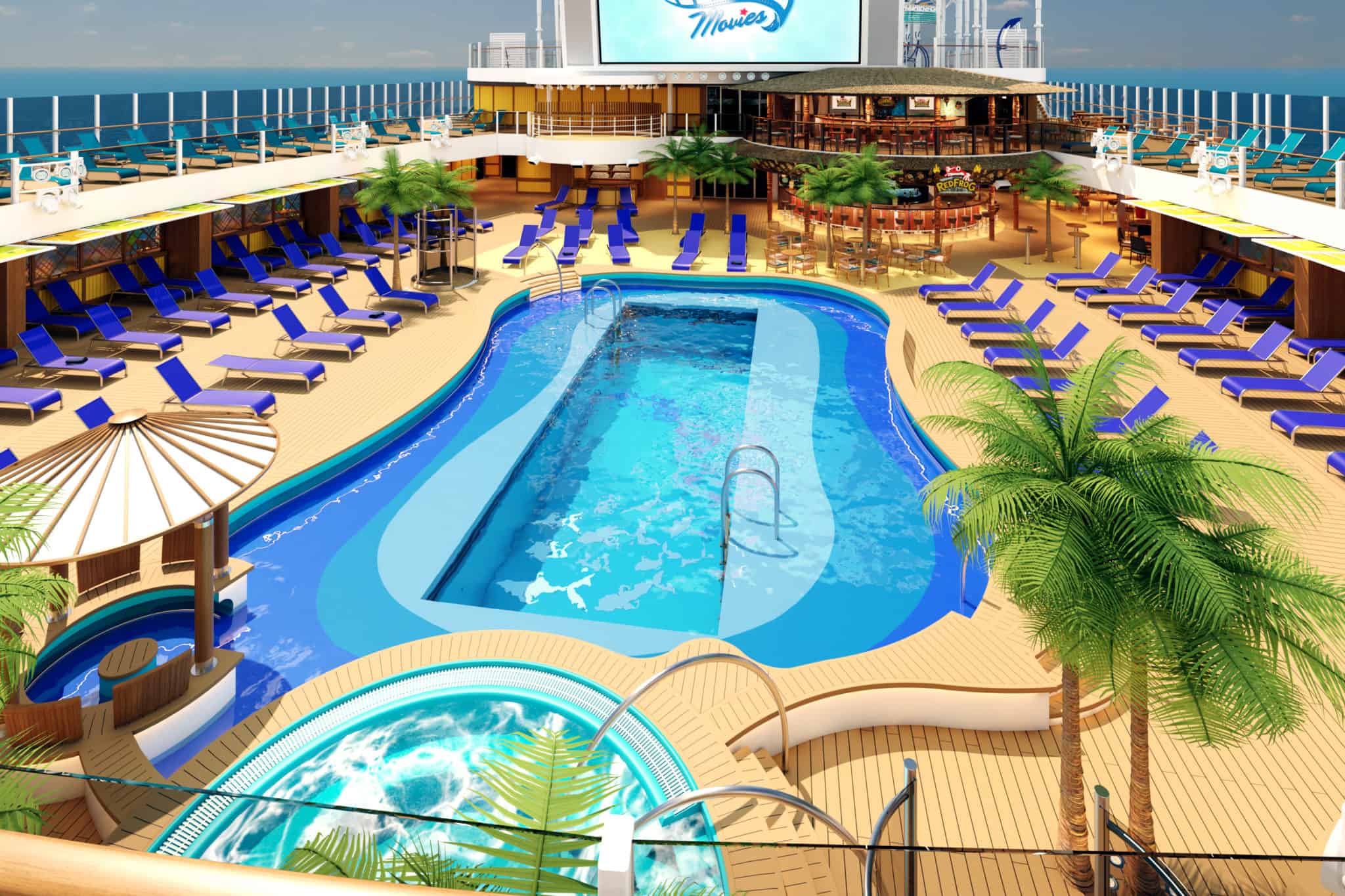 Serving up playful rum-based cocktails like a Polynesian Punch and the Jungle Bird, this two-story playground will feature exactly the kind of decor you'd expect, complete with tiki totems and bright colors.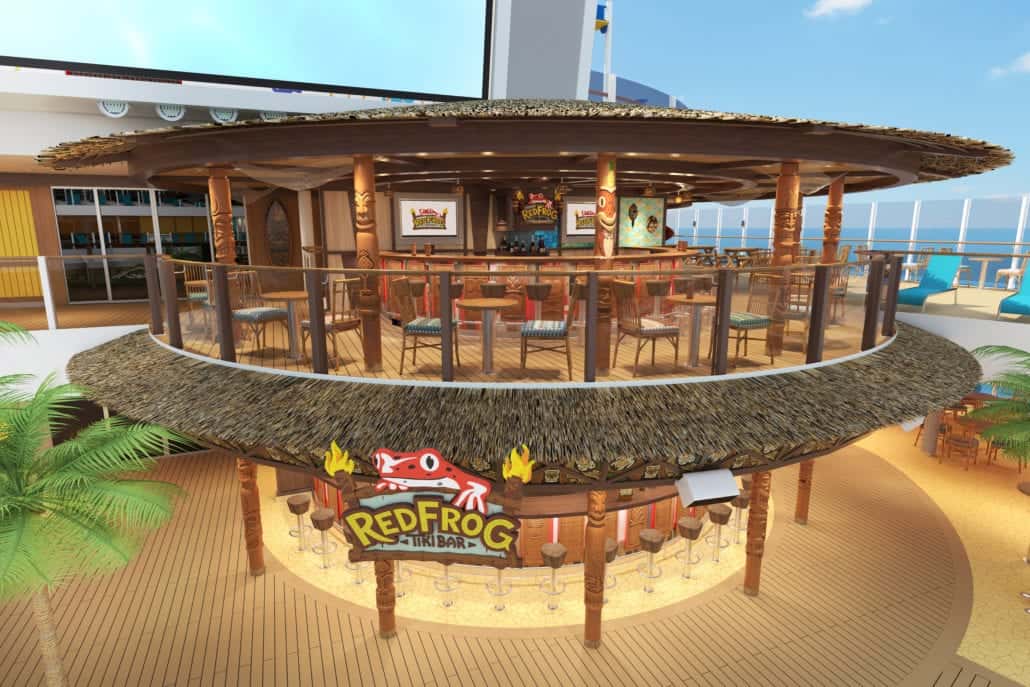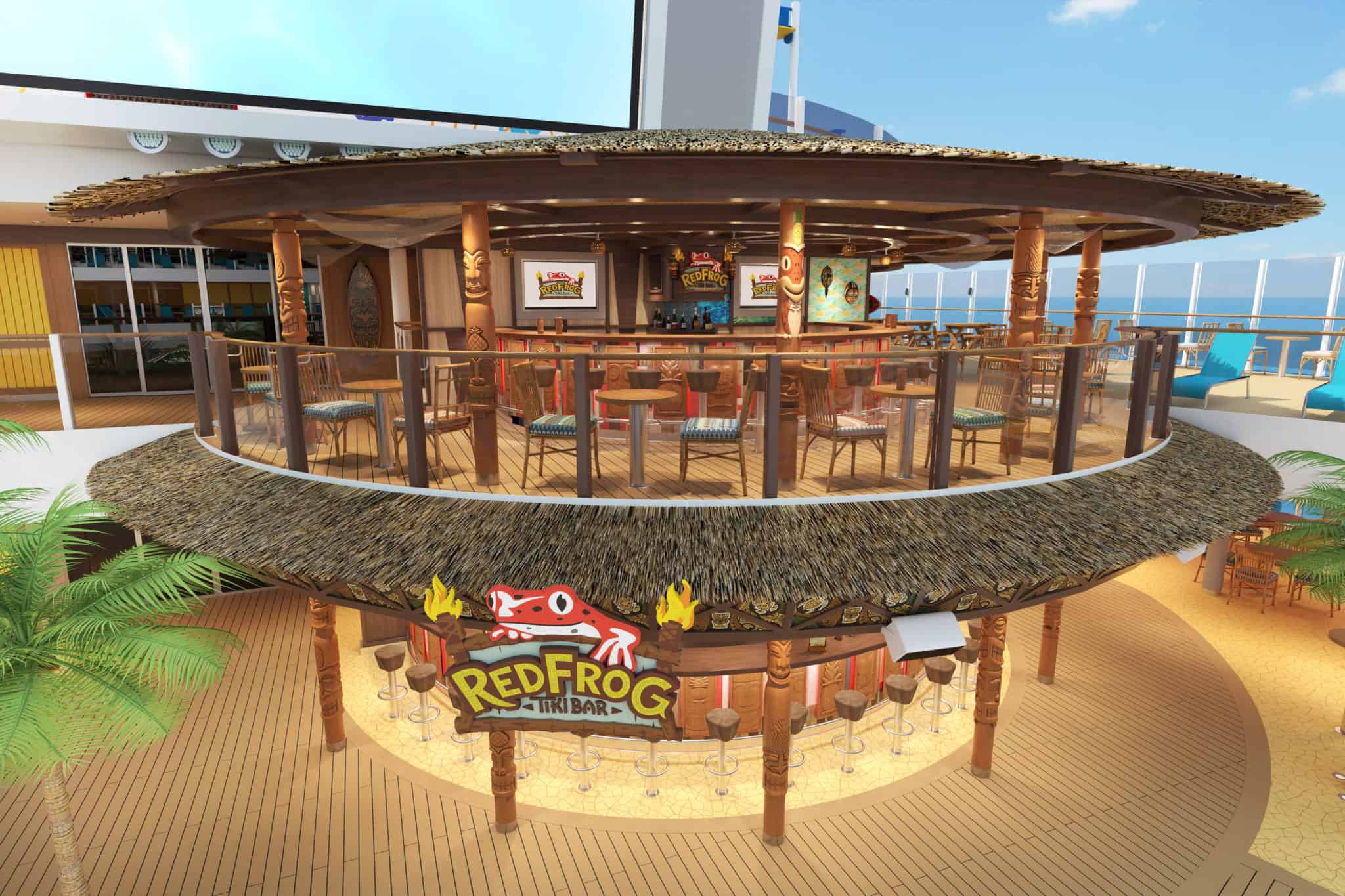 The Biggest, Best Backyard Party Ever?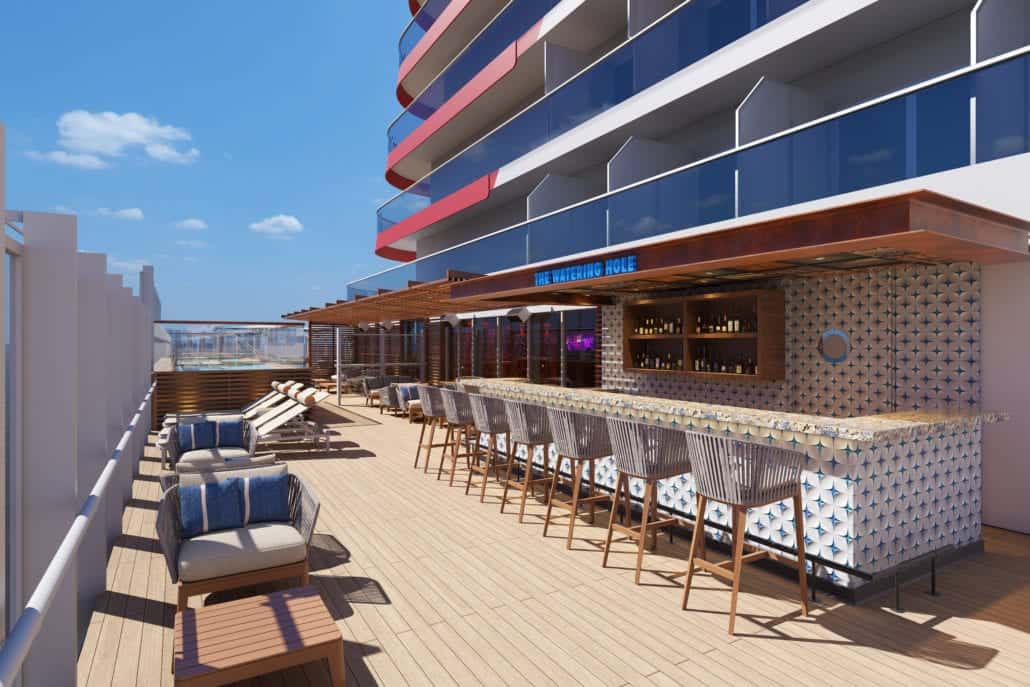 Meanwhile, the Summer Landing zone will play host to The Watering Hole. As the name might have tipped you off this will be a bar, but designed to have the vibe of hanging out with your friends in their backyard. Well, if their backyard happened to have killer views of the ocean.
Since no backyard party would be complete without barbeque, it's appropriate that Summer Landing will also host an expanded version of Guy's Pig & Anchor Smokehouse/Brewhouse. Meanwhile, The Watering Hole will serve up summer-inspired cocktails like the Watermelon Cooler and Tequila Sunset, as well as Carnival's own canned and draft beers.
All This And Shaq's Restaurant, Too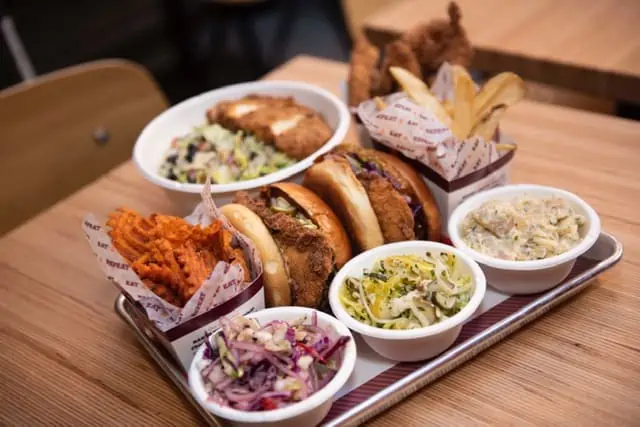 Also on hand for the event, Tuesday evening was Carnival's CFO (Chief Fun Officer), Shaquille O'Neal, who was excited to introduce attendees to his Big Chicken restaurant. "Big Chicken is a labor of love featuring all of my favorite fried chicken recipes," he said, adding that he'd actually developed them with his mom.
This won't actually be the first Big Chicken outlet(that's located in Vegas) or even the first on a ship (that will be introduced on the Carnival Radiance in the spring of 2020), but it will be the largest at sea.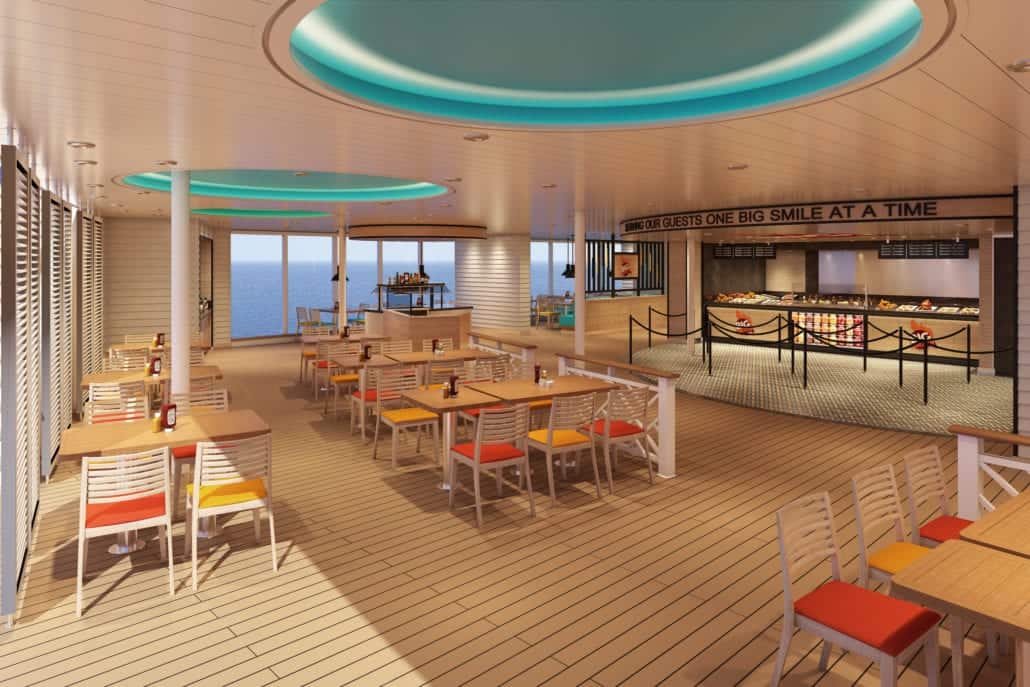 In Other Mardi Gras News…
While Mardi Gras will introduce new venues, the ones that have become fan-favorites over the past few years will still be featured as well. Not only will there be a Guy's Burger Joint on board, but it'll be the largest on any Carnival ship. The BlueIguana Cantina will continue to serve up tacos, burritos and the like on the Lido deck.
READ MORE: Matt Mitcham named Cruise Director for Carnival Mardi Gras
Meanwhile, the event also served as the perfect place for popular Carnival cruise director Matt Mitcham and entertainment director Hugo Hidalgo to announce some big news of their own. "We're having a baby," joked Mitcham before revealing that the duo would be joining the crew of the Mardi Gras.
"It's a huge honor," admitted Mitcham of being asked to take on a new ship. And already, he was working the new venues into his plan to keep people pumped up. "That tiki bar is two stories… that gives me twice as many places to work the crowd!"
Watch Video of New Mardi Gras Venues