Carnival Cruise Line's next Excel-class ship, Carnival Jubilee, will feature two brand-new zones: Currents and The Shores.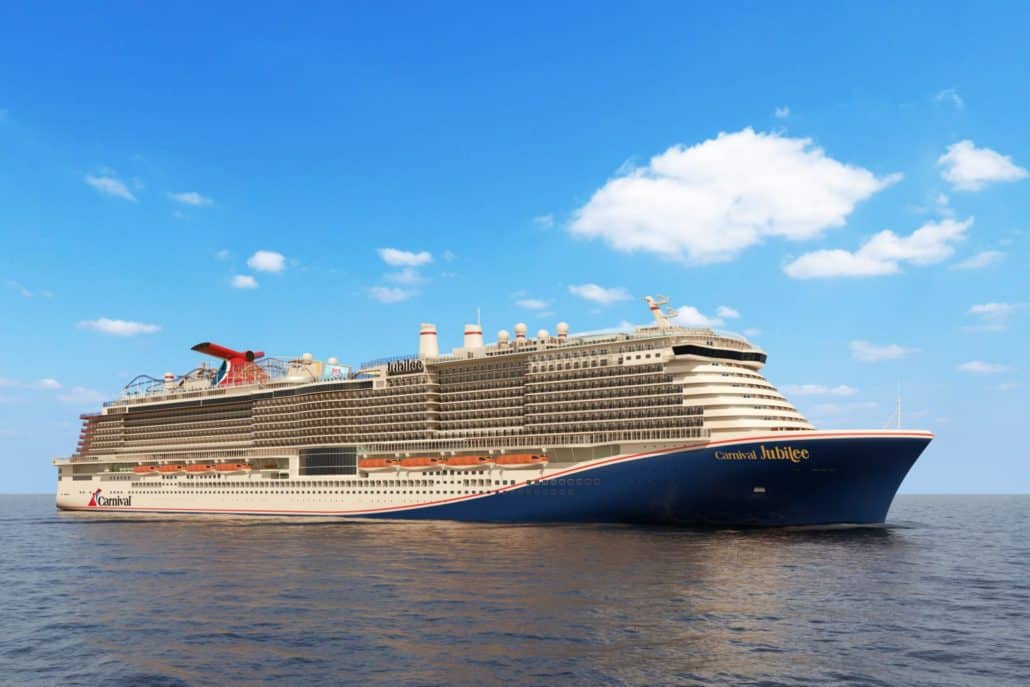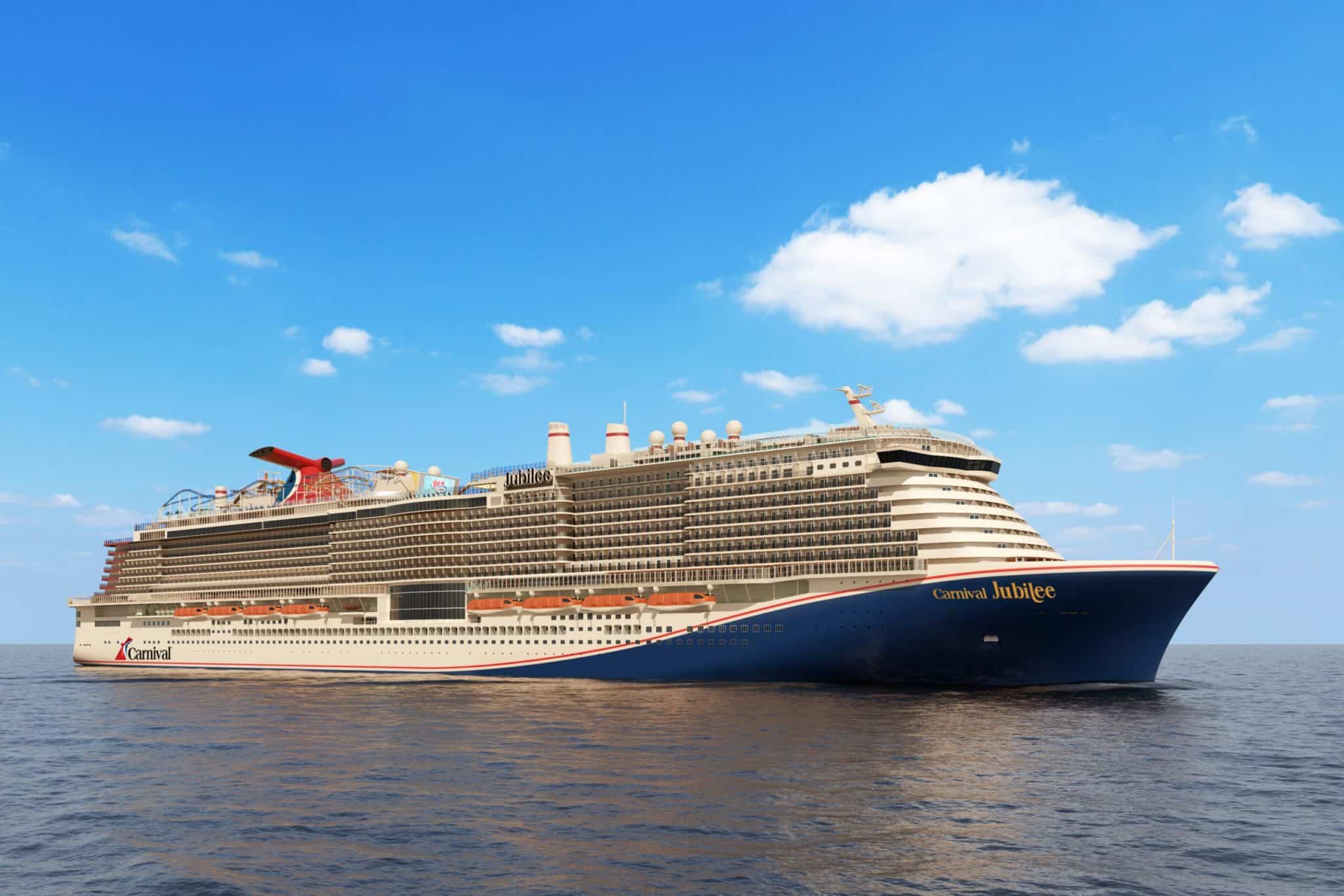 Currents
Currents, which will be on decks six and seven, is a transformative space that takes passengers below the waves to underwater worlds — both realistic and fantastical — in a beautiful space that changes from day to night. The portals to the sea are made of six huge LED windows which — along with a wave-shaped LED ceiling, theatrical show lighting, and captivating sound design — will create a variety of immersive environments for guests to enjoy as they try new cocktails and dishes.
Venues in Currents include:
Dr. Inks, PH.D
Eight crafty octopus arms adorn this fun bar, inspired by a clever octopus who spends her time philosophizing about life underwater. Unique ocean-themed drinks will be available here such as color-changing cocktails, jellyfish and layered shots, and playful items featuring sea foam, boba pearls, and unique garnishes.
Dr. Inks' fun personality is at the center of the experience, and comes to life through her musings on the menu and her favorite books, journals, and fountain pens on display.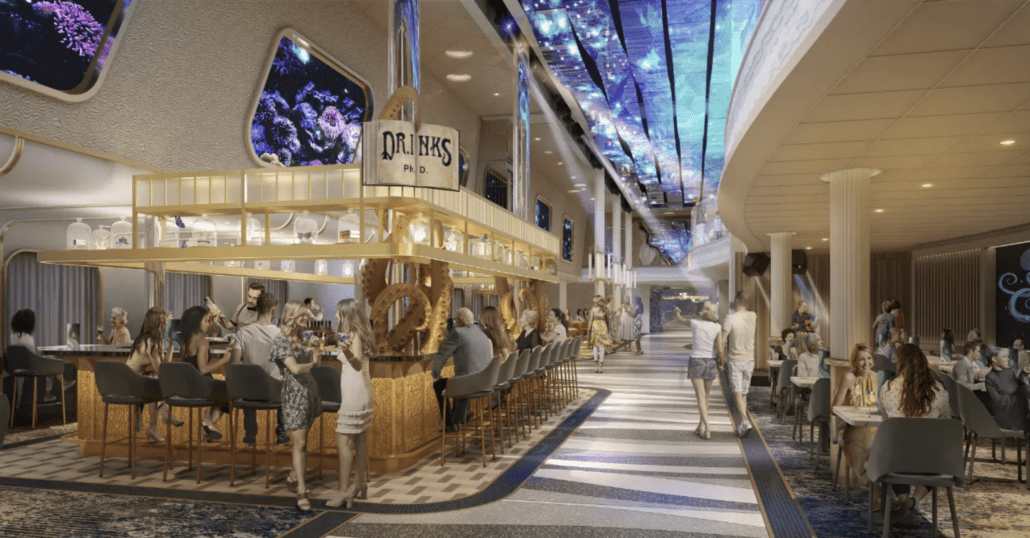 The Golden Mermaid
This ultra-stylish lounge is home to a mysterious golden mermaid who swims to the depths of the oceans to find long-lost treasures of ancient civilizations and uncovers secret cocktail recipes. Beverages inspired by precious gemstones and metals are made with edible glitter, as well as drinks presented in pretty glassware and adorned with graceful garnishes. The live band on stage will provide a lively backdrop to fun conversation, and the lounge seating is the perfect place to relax with a drink before or after dinner.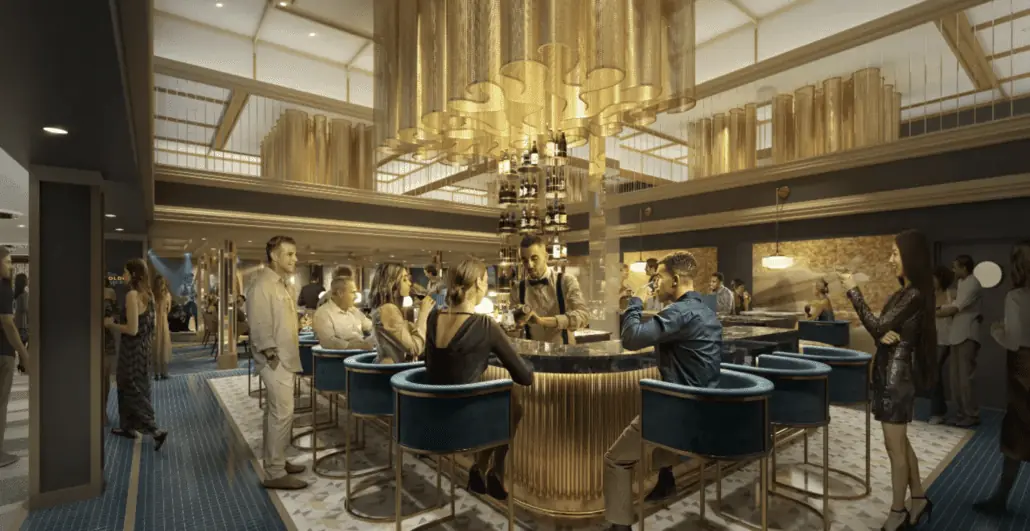 Emeril's Bistro 717
Carnival's Chief Culinary Officer, chef Emeril Lagasse, is back with guest-favorite creole cuisine, an expansive seafood selection, and an expanded raw bar. Named after Carnival Jubilee's hull number at the Meyer Werft shipyard in Germany, the bistro will serve a rich breakfast with dishes such as shrimp and grits, poached eggs, and sweet beignets.
Passengers will also enjoy lunch and dinner with seafood creations such as creole boiled shrimp, fresh oysters, stone crab (seasonally), lobster, and Louisiana cuisine such as jambalaya, barbecue shrimp, and duck and sausage gumbo.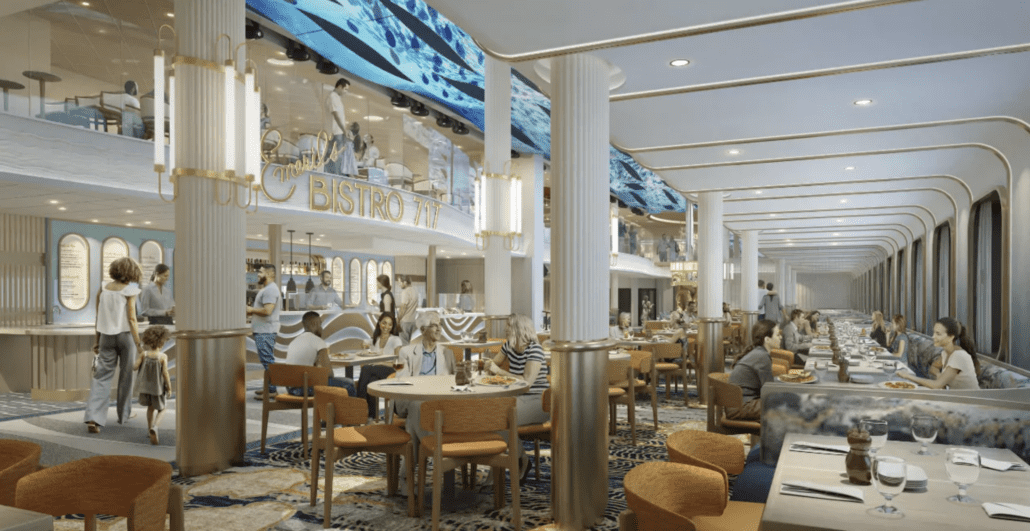 Currents will also include the Alchemy Bar and Carnival Kitchen.
The Shores
On deck eight, The Shores is the place where the ocean meets land, a zone inspired by the ways people enjoy the seaside including piers, boardwalks, and beaches. A three-deck-high fish school art installation rises from deck six all the way to deck eight to bring guests up from the Currents below to the surface.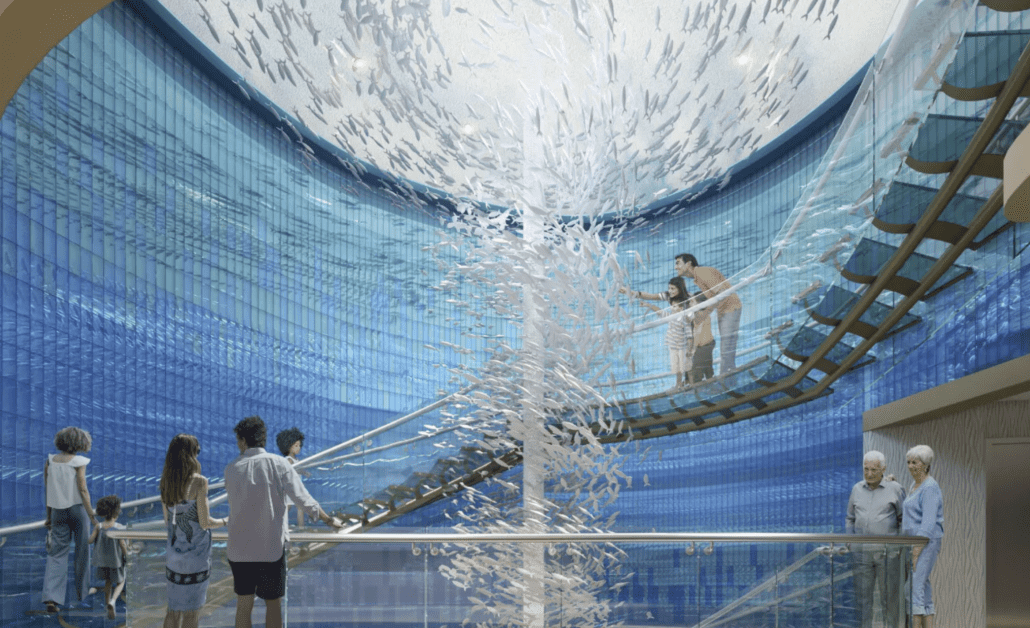 Passengers will stroll along the boardwalk alongside colorful designs, including a fun ferris wheel-inspired ceiling feature as well as casual indoor and outdoor seating areas. Fresh hot pizza will be available at Coastal Slice, and sandwiches and hot dogs can be found at Beach Buns.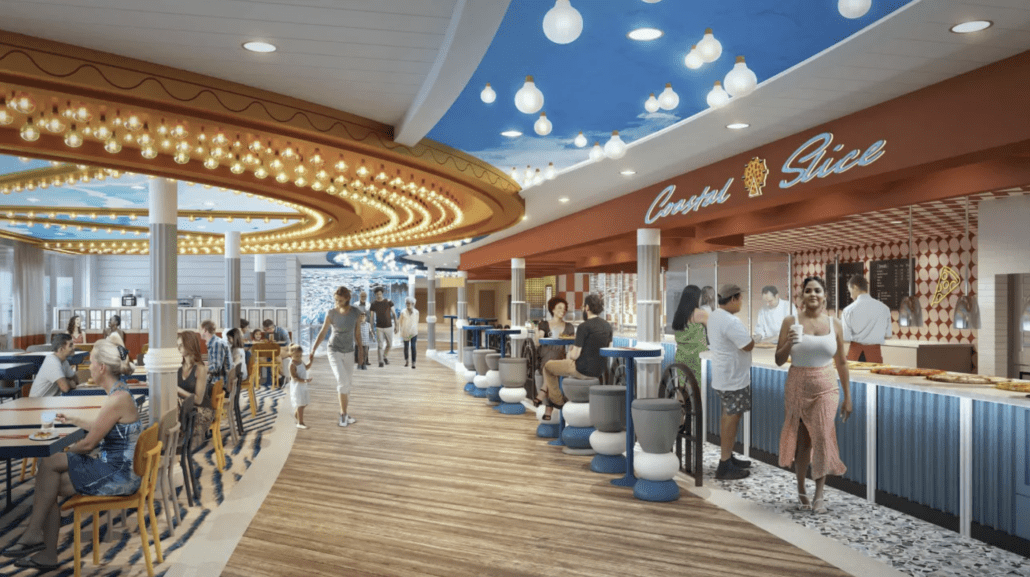 Marina Bar features fun nautical designs and comfortable lounge seating for enjoying coffee and cocktails inside by the boardwalk or outside by the sea. Rudi's Seagrill and Cucina del Capitano return with indoor and outdoor seating.
MORE: A Picky Eater's Guide to Dining on Carnival's Mardi Gras
Returning Zones
The other four zones will be familiar to guests who have sailed Mardi Gras or Carnival Celebration.
Grand Central
The heart of the ship, this area is the atrium, spanning decks six, seven, and eight. It features JavaBlue Café, Piano Bar 88, The Punchliner Comedy Club, Cloud 9 Fitness Center, Cherry on Top candy store, Bonsai Sushi and Teppanyaki, shops, the casino, and the theater.
At night, the zone transforms as movable LED screens and a stage provide an entertainment space.
The Ultimate Playground
The BOLT roller coaster returns in this top-deck zone, featuring all-electric, motorcycle-inspired vehicles that race along an 800-foot track. Other aspects of this zone include the WaterWorks aqua park, a mini-golf course, a basketball court, and a ropes course.
Summer Landing
Beyond The Shores zone, Summer Landing will continue deck eight's relaxing vibe. It's home to Guy's Pig & Anchor Smokehouse | Brewhouse, the Heroes Tribute Lounge, The Watering Hole bar, and The Patio — which features a pool and hot tubs.
Lido
This poolside zone spans decks 16 and 17, and is home to the Carnival Seaside Theater, two-story RedFrog Tiki Bar, BlueIguana Cantina, and Guy's Burger Joint. Shaq's Big Chicken restaurant, Seafood Shack, Street Eats, the lido buffet, the arcade, and the kids' and teens' clubs ensure this area has something for everyone.
Carnival Jubilee Sails From Galveston
Carnival Jubilee will first sail from Galveston on December 23, 2023, joining Carnival Breeze and Dream in operating western Caribbean voyages from Texas year-round. In 2024, Carnival will increase its deployment in Galveston to four ships when Carnival Miracle begins operating a new series of longer cruises from the port.
READ NEXT: Carnival Celebration Overview & Review: What You Need to Know [PHOTOS]