Our Carnival Celebration review and an overview of Carnival Cruise Line's second Excel class ship. If you're looking for an unforgettable cruise experience, Carnival Celebration may be what you're looking for. But before you put down a big cruise deposit, make sure you read this review and watch the tour in its entirety to make sure the vessel isn't too large for you.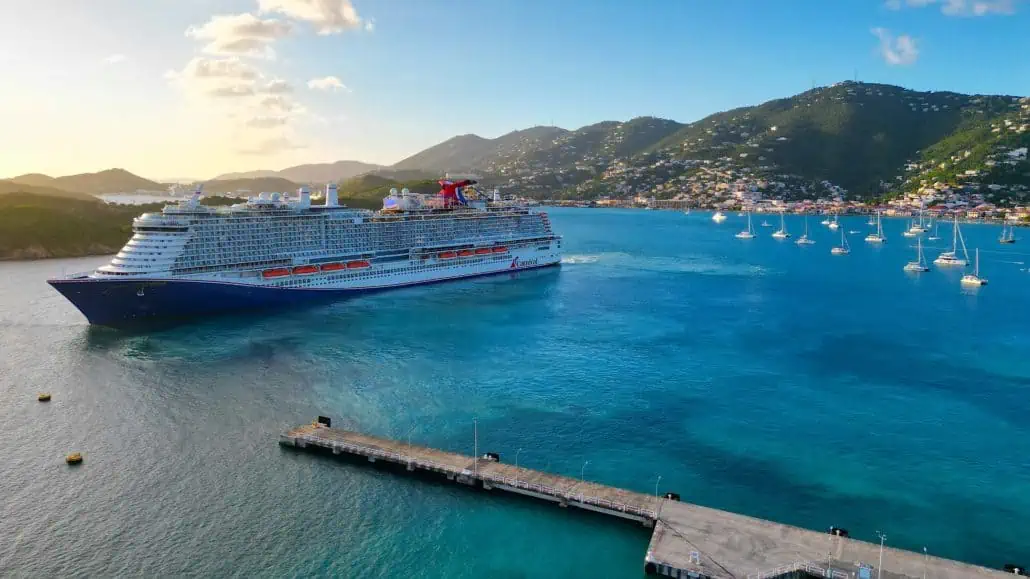 This ship offers a wide range of amenities and activities, making it perfect for families, couples, and solo travelers alike. In this review, we'll take a closer look at everything Carnival Celebration has to offer.
Carnival Celebration Quick Facts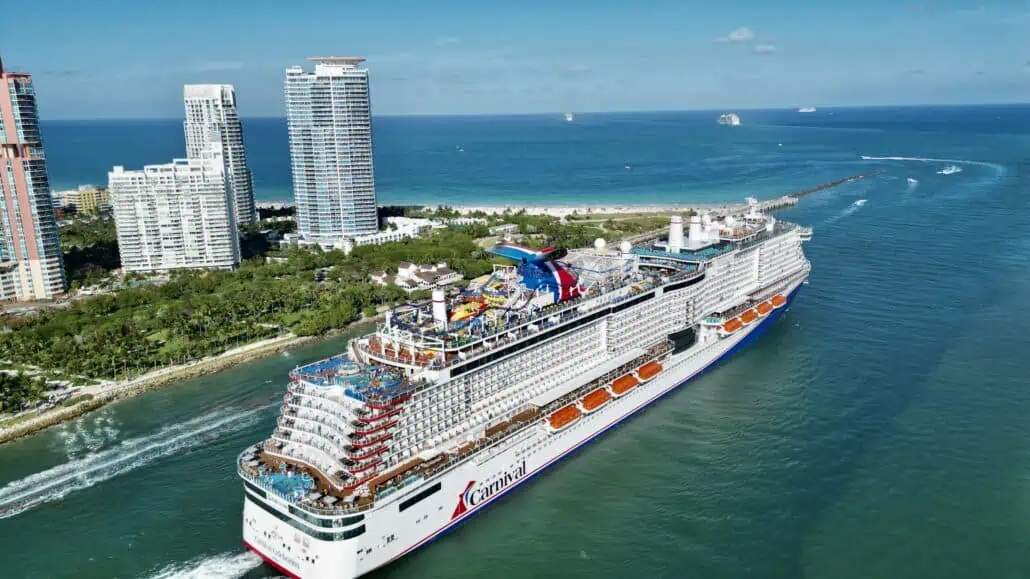 Line: Carnival Cruise Line
Built: 2022
Passengers: 5,282 (double occupancy)
Class: Excellence
Routes: Eastern and Western Caribbean
Best For: Families, multigenerational groups, couples, and singles
Not For: Those looking for an intimate cruising experience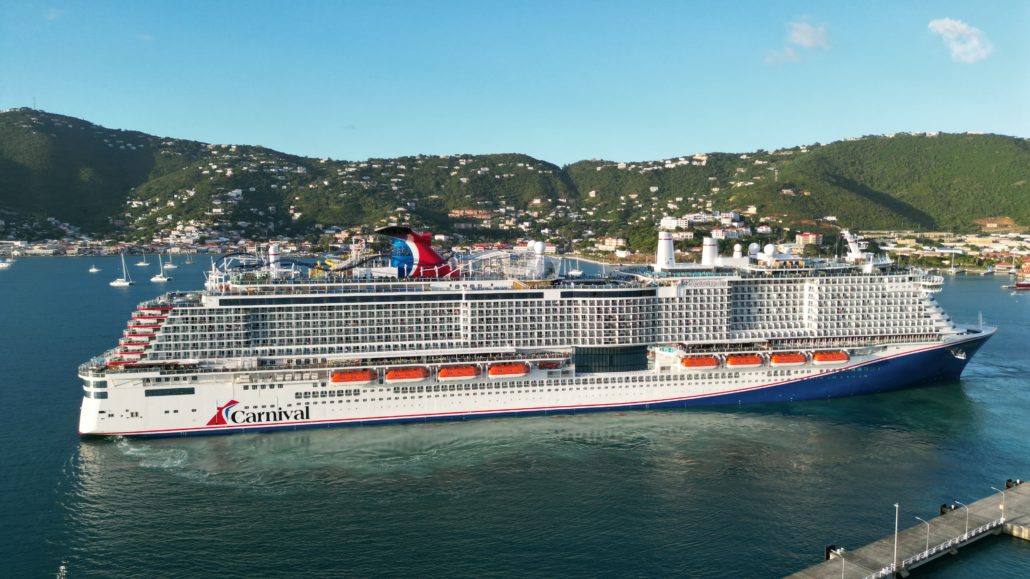 Highlights:
Loft 19
BOLT Roller Coaster
Ropes course with a zip line
Gateway Zone with Carnival artifacts
Guy's Pig and Anchor Smokehouse | Brewhouse
Carnival Celebration Review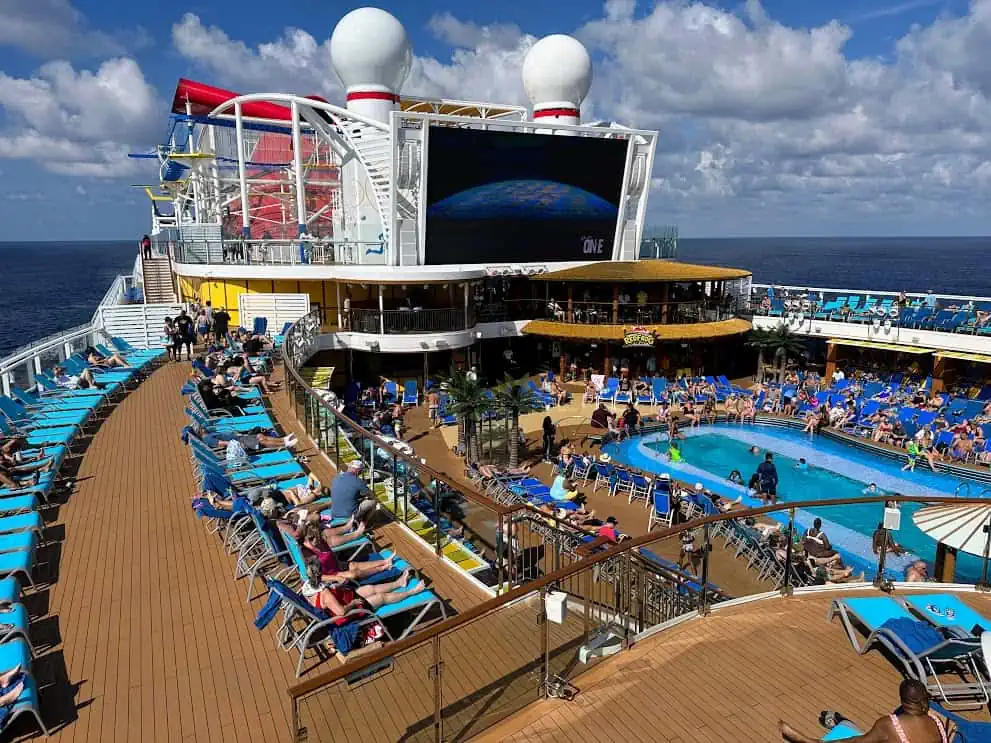 Carnival Celebration is Carnival's second Excel-class ship, and she's almost a twin of her older sister, Mardi Gras.
As with Mardi Gras, Carnival Celebration feels light years removed from some of the line's earlier ships, with a mega ship vibe and interior design that gives it the feel of a beachside resort as opposed to the New York New York hotel on the Vegas strip.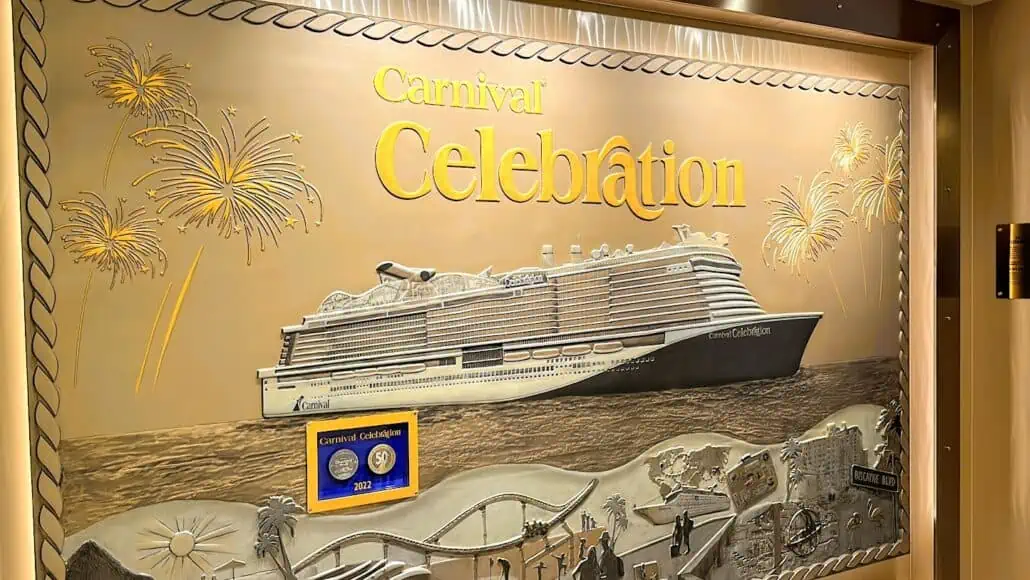 This class ushered in a lot of firsts for Carnival Cruise Line, including designing a mega ship to keep 6,400 people occupied while avoiding crowds at the same time. The vessel is heavily reliant on technology, and the HUB app is almost always required for dining, spa, and shore excursion reservations, along with checking in for anytime dining.
Design
When designing the Excel class (the third of which, Carnival Jubilee, will be introduced in December 2023), Carnival set out to reinforce the connection between passengers and the ocean.
Using the zone concept that was first introduced on Mardi Gras and akin to Royal Caribbean's neighborhood concept on its Oasis class vessels, the ship doesn't have deck names but rather zones and deck numbers. Once you get the hang of it, it's quite easy.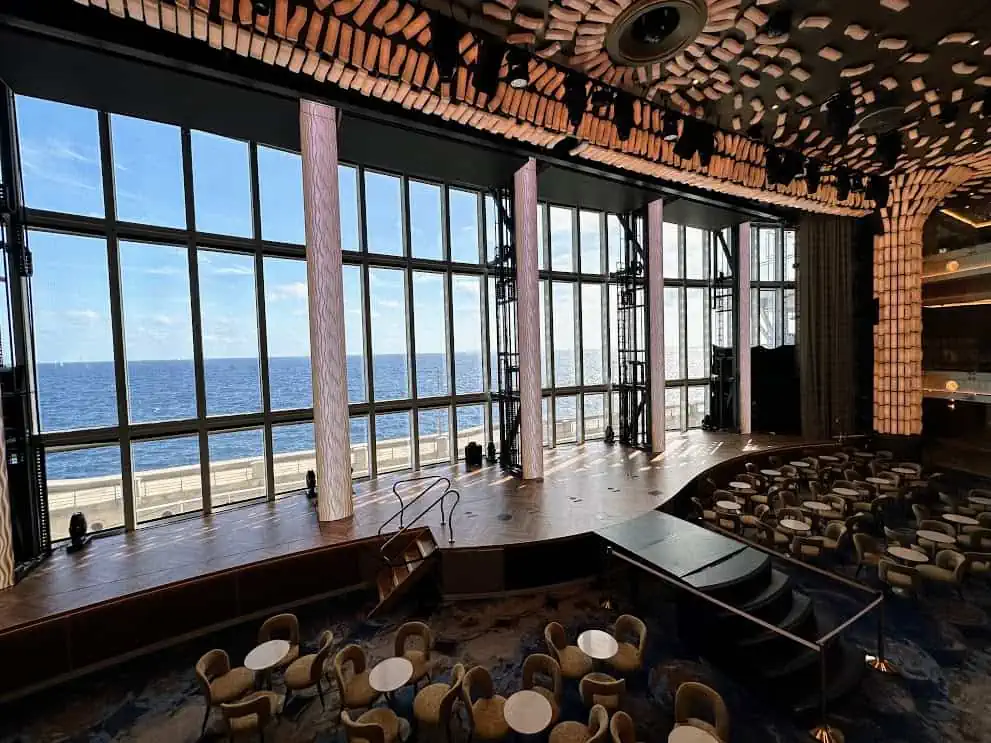 The six zones on Carnival Celebration include Celebration Central, Gateway, Summer Landing, Lido, The Ultimate Playground, and 820 Biscayne.
Wherever possible, Celebration offers spectacular views and plenty of outdoor seating. Whether zipping around on the BOLT roller coaster or kicking back in Summer Landing, this is a ship that practically demands that you take in the view wherever you go.
Celebration makes an amazing first impression thanks to the fact that upon embarking, passengers are greeted by the three-deck Celebration Central side-facing atrium. This space is the beating heart of the ship, as it not only houses the Tropicale on deck six, but also the Aquaria Bar on deck seven. Anchored around the atrium across decks six, seven, and eight are dining options, shopping, and bars.
If you've sailed on other Carnival ships, walking onboard you may recognize something you've seen from a past Carnival ship: the Rolls Royce taken off of Carnival Ecstasy before it was decommissioned in October 2022. It now sits prominently on deck six, right outside Cherry on Top, the line's specialty candy shop.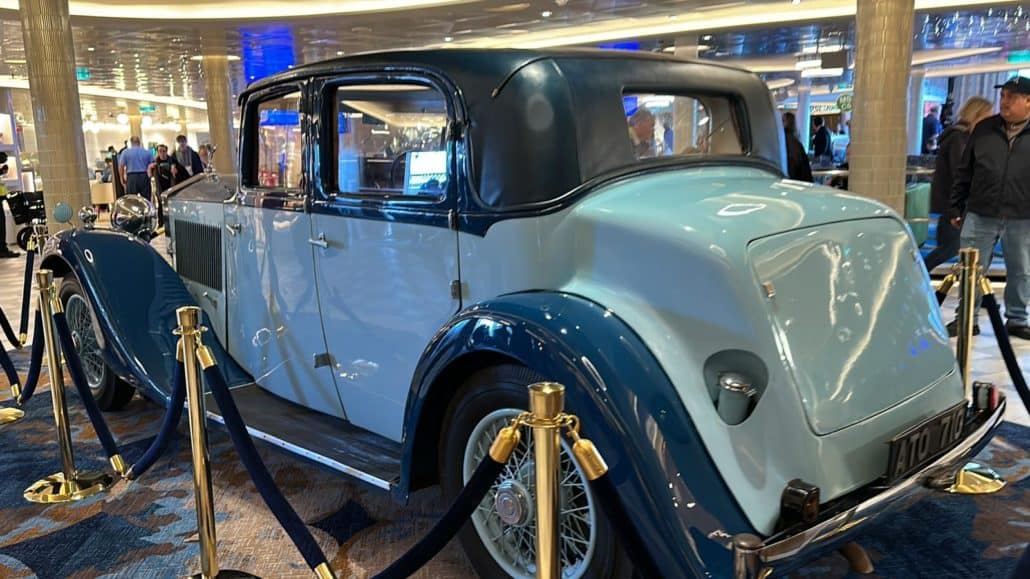 Activities Found on Carnival Celebration
While you could easily spend your vacation doing nothing but relaxing, you might actually have to work hard at it, because there's a lot going on at all hours of the day and night.
Up on deck 18, The Ultimate Playground will keep you busy with thrills. The BOLT roller coaster is a major draw at $15 for two laps around the track.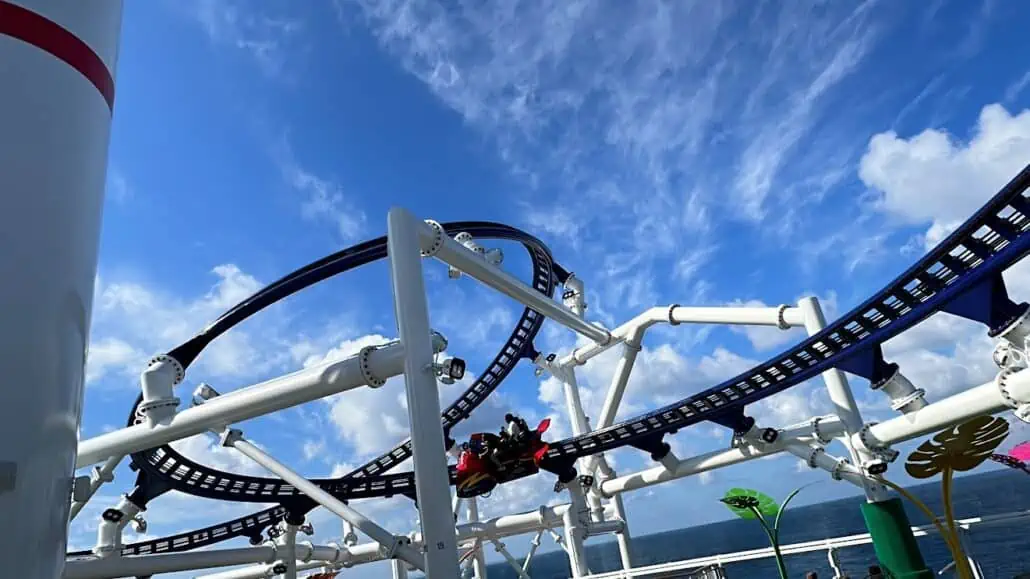 It does have certain regulations like a 300-pound weight limit per rider, absolutely no cameras or phones (even a GoPro), close-toed shoes only, and a reservation requirement. There's also the ropes course that's perfect for your inner adventurer.
Feeling only semi-daring? The course offers a separate path for those who aren't keen to hang 180 feet above sea level.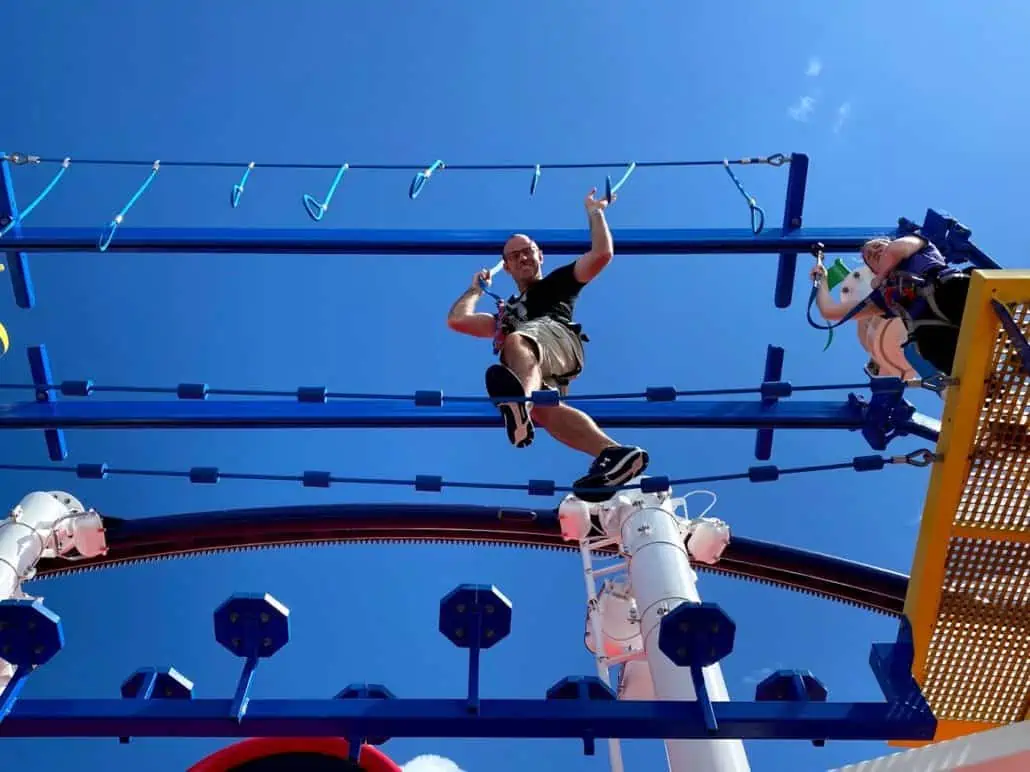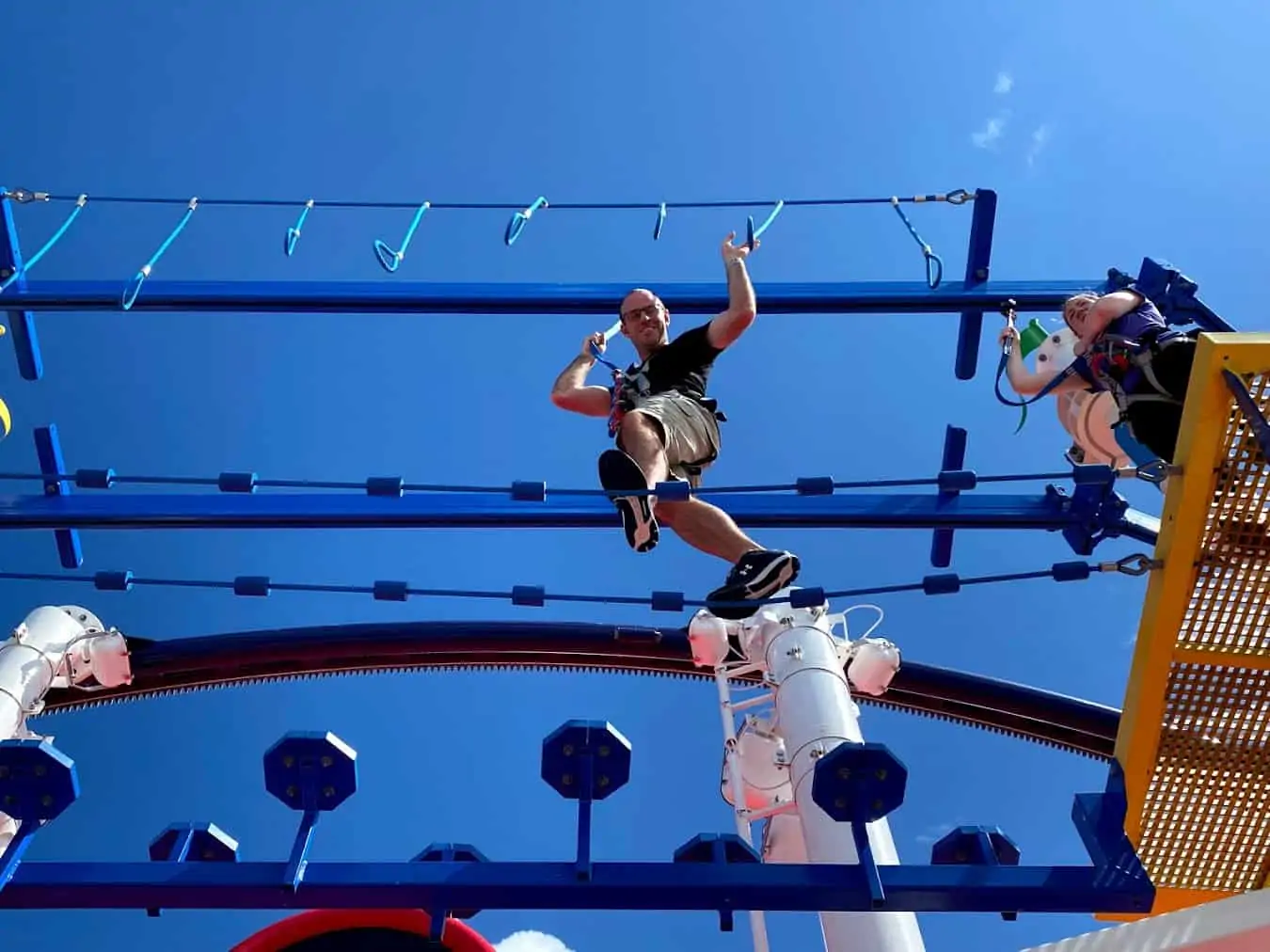 The ship also features the obligatory jogging track, basketball court, and mini-golf course. But you'll also find unusual offerings like Twister, foosball, and even a selection of outdoor workout equipment.
Want to take in an evening film? The Seaside Theater screens movies beneath the stars and offers different themes each evening. It may have one of the best sound systems of any cruise line I've been on — the bass really hits and you can easily get lost in the movie.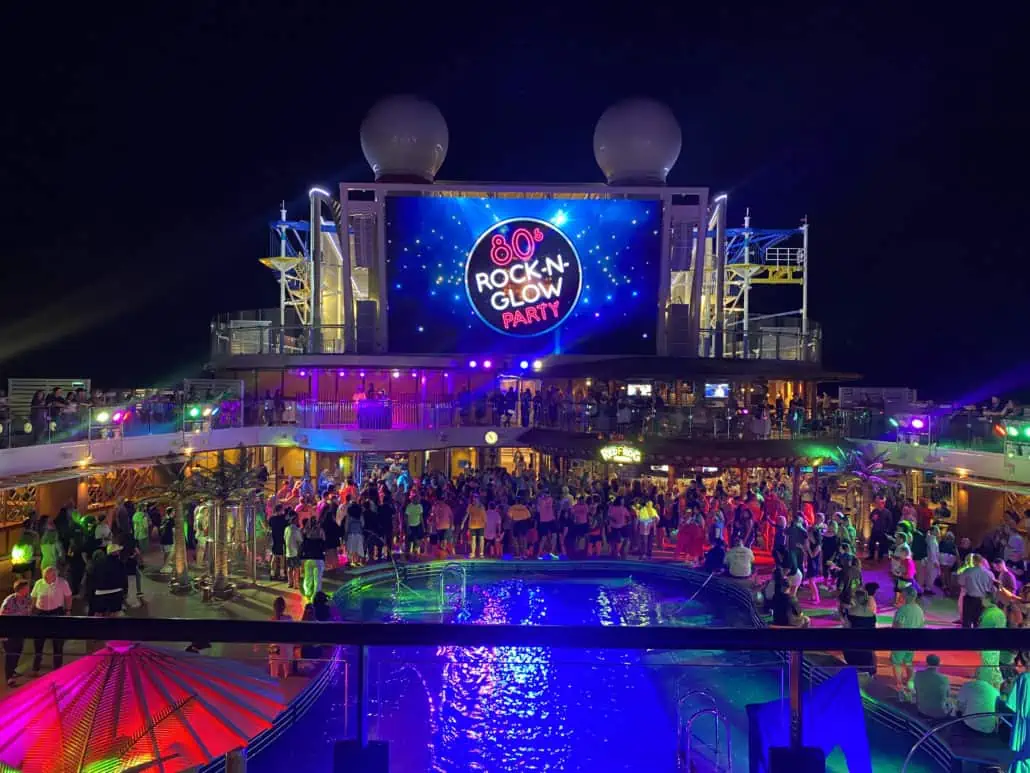 Deck 8 and 16 are where you'll find a few different pools. Deck 8 has the aft pool and a couple of rectangular pools on the starboard side of the ship.
The Lido Zone has the Beach Pool, located midship, which is the one that tends to get the most crowded, although the Tides Pool — perched as it is on the back of the ship — is the place to be. It's quieter and features two hot tubs. What's extra nice about this pool is that there's plenty of teak seating around it to just stick your feet in the water, as well as a pool shelf if you'd like to sit in the water without actually getting all the way into the pool.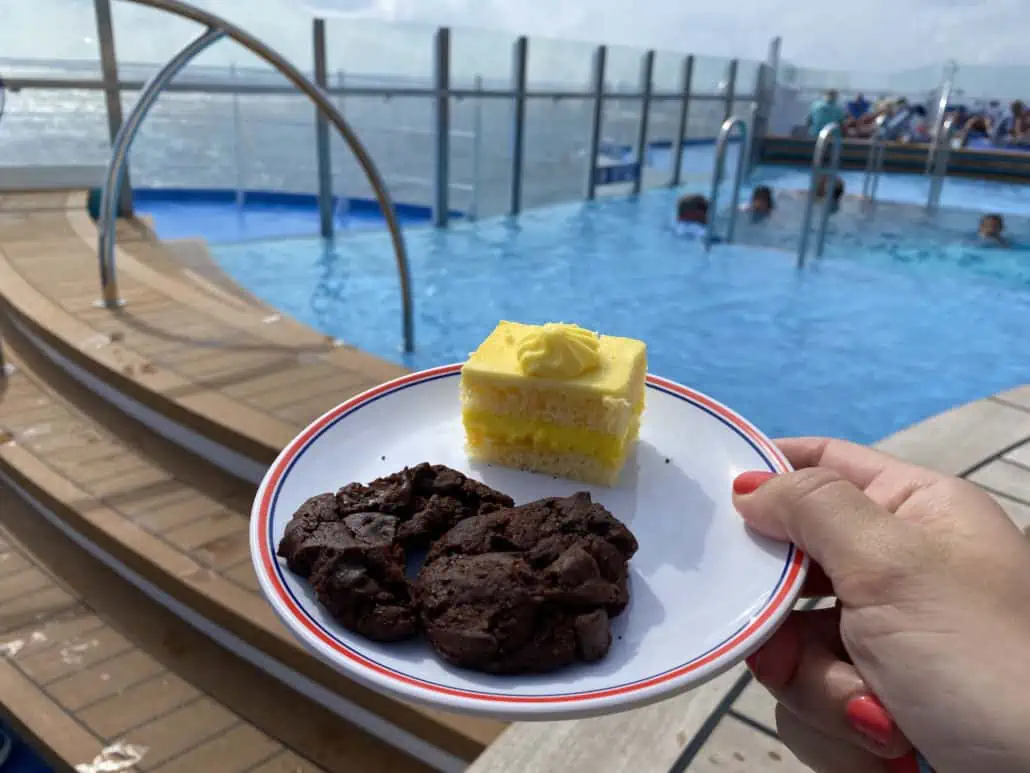 Adults looking for a little peace and quiet should head forward to Serenity on deck 18, which is reserved for the 21+ crowd. Some of the most comfortable loungers, daybeds, and clamshells will be found here, as will hammocks, hot tubs, a full-service bar, and the Fresh Creations salad bar on sea days.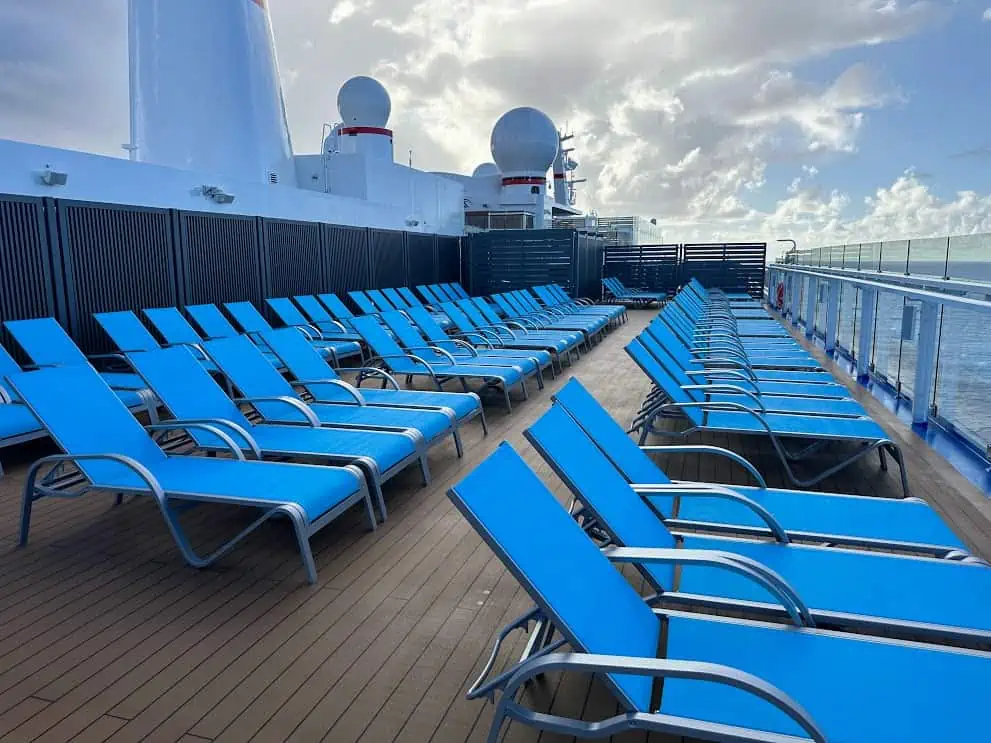 Unlike on some ships, the staff does a pretty good job of making sure kids are kept out of this adults-only haven. A quick tip: keep in mind that because of Serenity's spot on the ship, it can get very windy — especially at nighttime.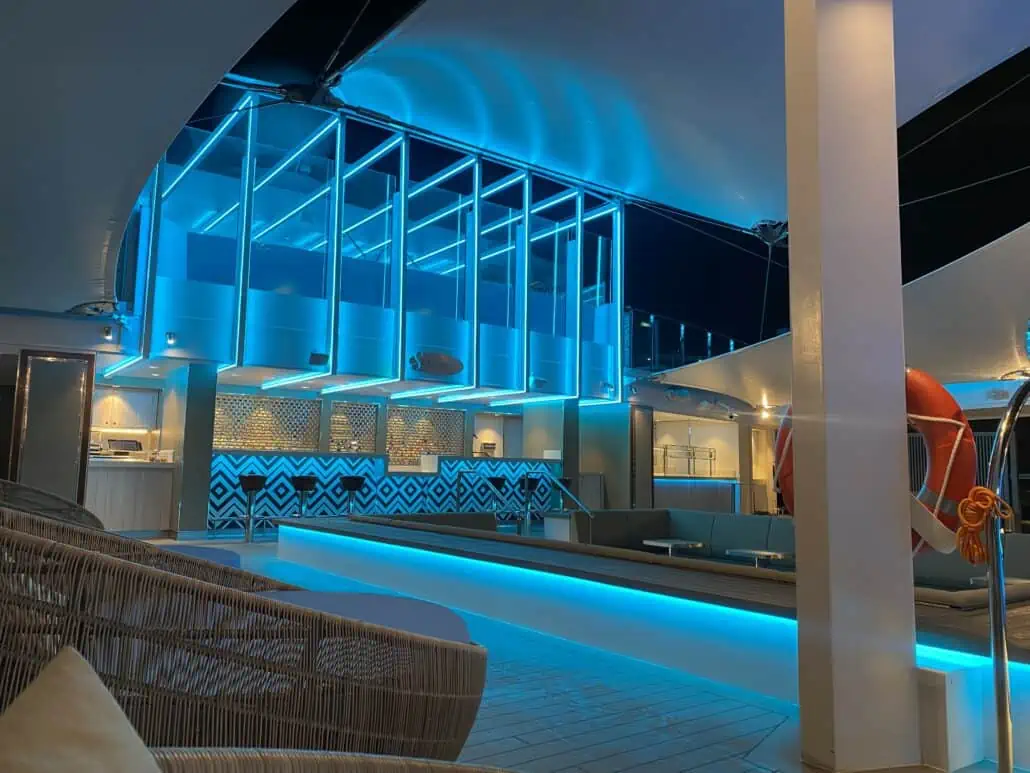 If you're looking to splash around, the WaterWorks aqua park is wildly popular with the younger set thanks to features like a drop slide where the bottom falls out, a 500-gallon dumping bucket, and a kids splash park.
There's an almost never-ending series of events — from Bingo and trivia to karaoke and dance classes — on decks six, seven, and eight.
And finally, if all this activity has left you worn out and in need of a little pampering, the Cloud 9 Spa offers a variety of massages, treatments, and more.
RELATED: 9 Things To Know About Carnival Celebration Before Boarding
Carnival Celebration Entertainment
Carnival Celebration not only has the four Playlist Production shows, three of which are brand new, but it also has new shows added to the Celebration Central atrium including The Most Magnificent Circus which takes guests on a journey using trapeze acts, singing, dancing, and other stunts. If you're looking to attend this show (or any evening production show in Celebration Central) get there at least 30+ minutes prior to showtime, as seating fills up very quickly.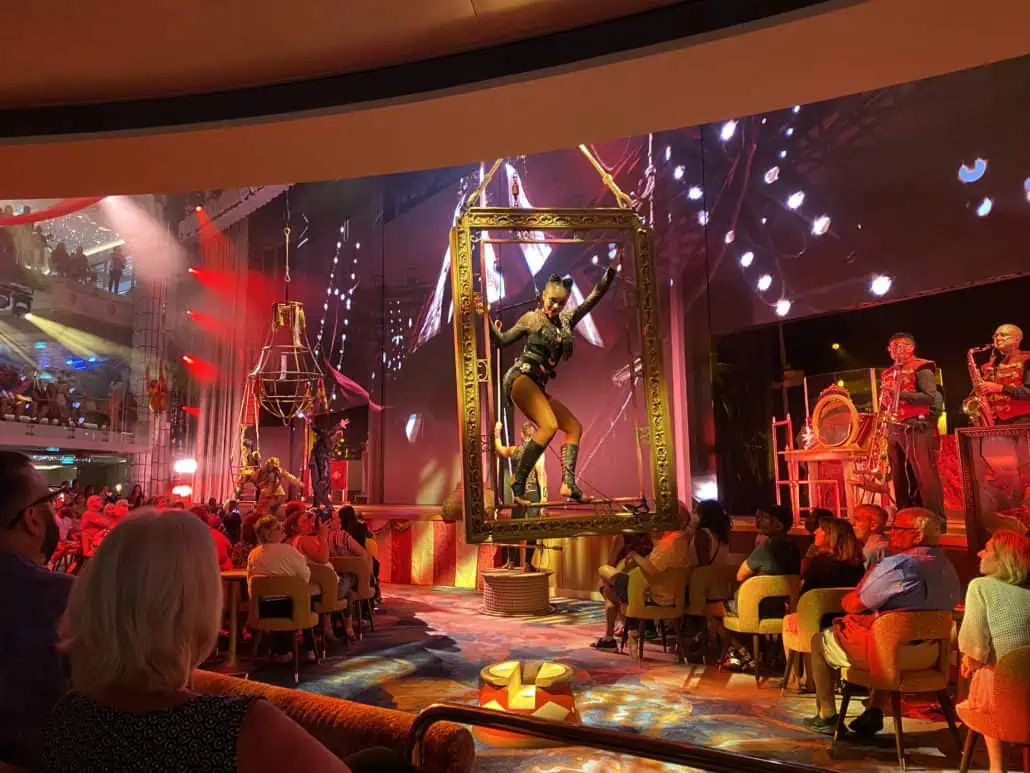 The Punchliner Comedy Club runs family-friendly and adults-only shows throughout the cruise and like on Mardi Gras, it finally has its own venue located on deck six forward.
The previous Punchliner home, the Limelight Lounge, is used for karaoke and presentations, and the space also transforms into a nightclub with a DJ and a whole lot of dancing. Deck eight's Havana Bar really comes alive at night thanks to live Latin music that keeps people moving until the early morning hours.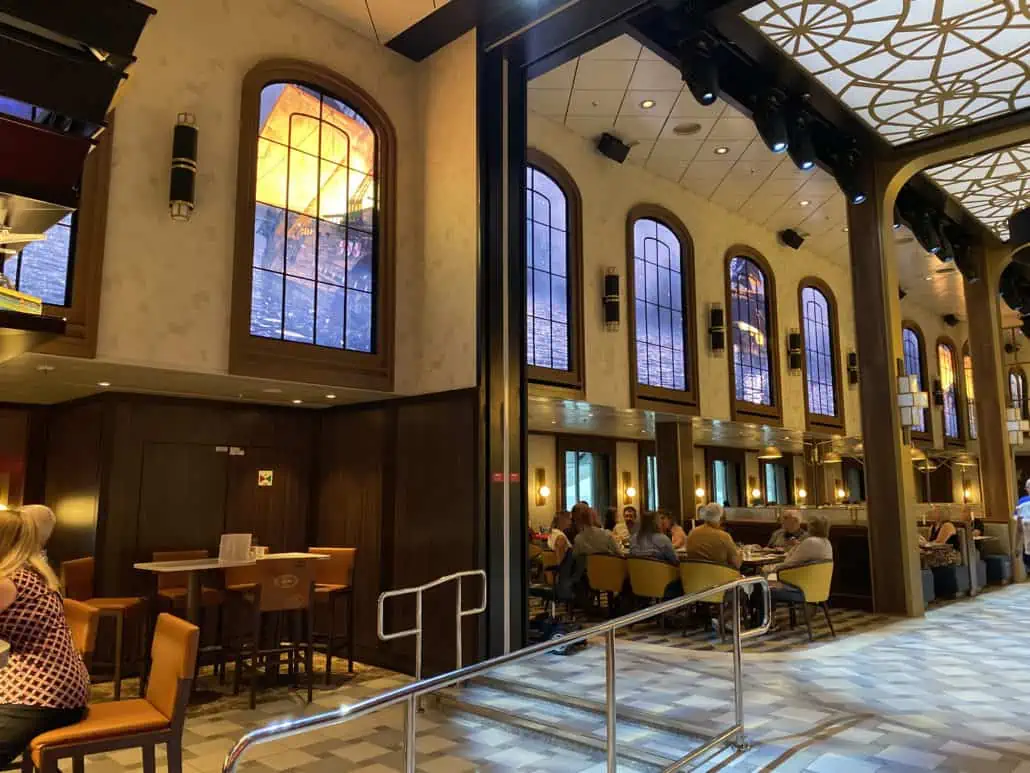 The travel-themed Gateway zone on deck six features virtual "windows," which periodically spring to life during a 15-minute time travel-themed show that involves lighting, sound effects, and even the departure board above the Latitudes bar. And speaking of the Latitudes Bar, this is the place to be if you want to try interesting cocktails inspired by destinations around the world.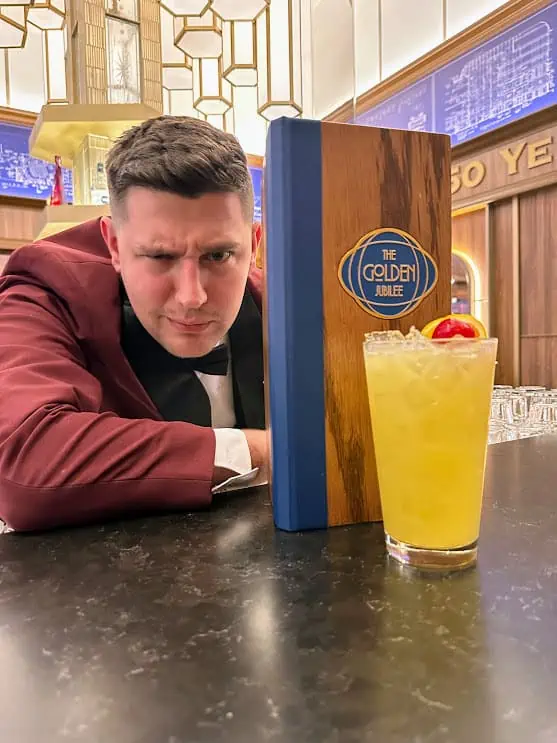 There's also the Golden Jubilee Bar you'll find history and relics of Carnival past with sketches of previous Carnival ships on the wall and even artifacts dating back to Carnival's very first ship Mardi Gras in 1972.
Live music is also a big after-dinner draw at the Pig & Anchor Smokehouse|Brewhouse, which replaces the popular RedFrog Pub on the Carnival Celebration. The house band has a range from classic rock to chart-topping songs across all genres.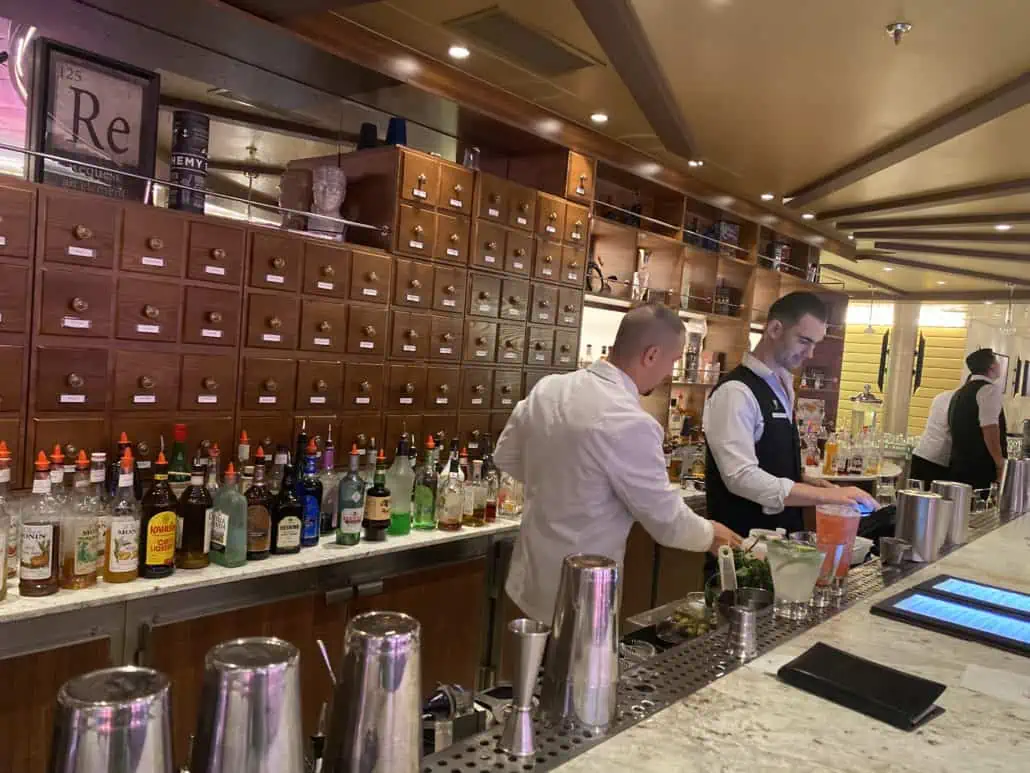 Carnival favorites Serenity Bar, Alchemy Bar, Piano Bar, and atrium bars are also found onboard.
Carnival Celebration Dining
In addition to the two main dining rooms Festivale and Carnivale that are located mid-ship and aft, respectively, there's a plethora of places to eat to suit every palate.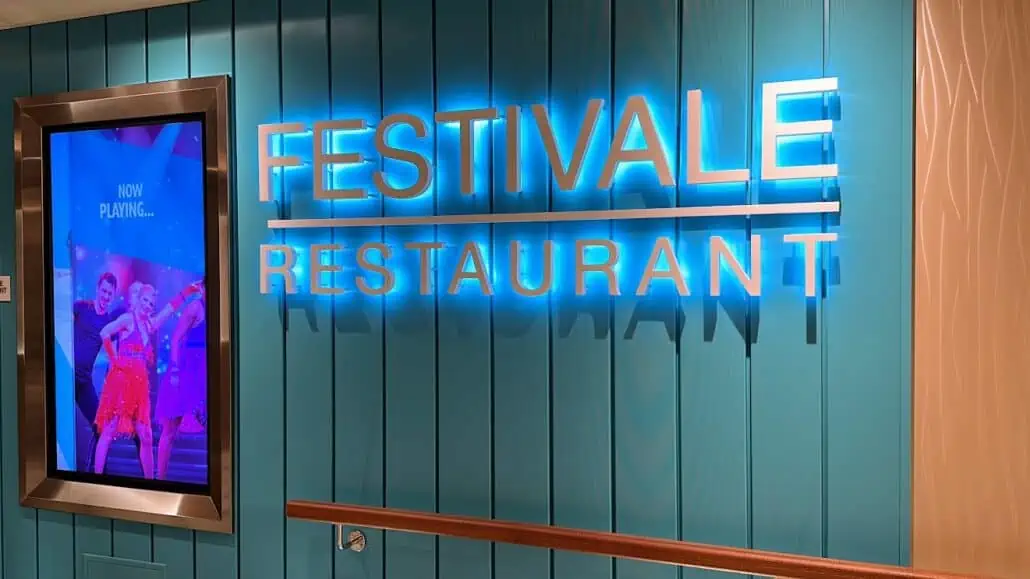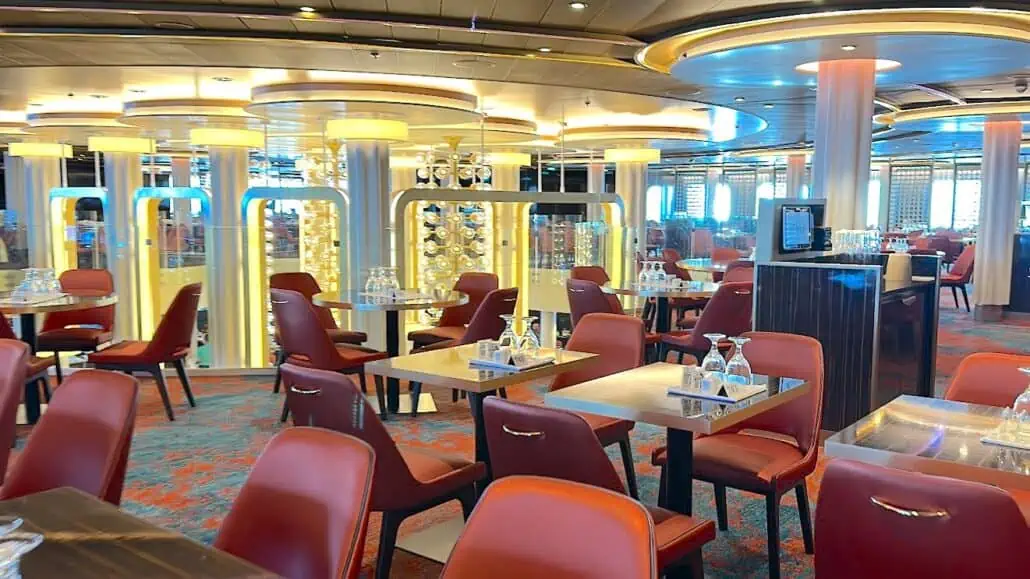 Poolside, you'll still find Carnival's Lido Marketplace which has typical buffet fare along with a hot dog stand, shwarma, and homemade gelato. I was pleased with the quality of the food in the buffet as well as its design and layout — the crowds move smoothly throughout this space.
Food and drink venues are where Carnival Celebration really comes to life, especially with its string of celebrity partnerships. You can still grab a quick bite from Guy's Burger Joint, which has been moved to deck 17 (one above lido pool), or a burrito from the BlueIguana Cantina.
But some new concepts that were previously introduced on Mardi Gras have also carried over, like the Street Eats food stalls that are poolside with different daily offerings of fries, steamed Asian dumplings, and Greek food. I highly recommend checking these out — they're great little snacks and can also serve as side dishes to other foods on and around Lido. Seafood Shack is also located in the Street Eats section, but this one you have to pay for.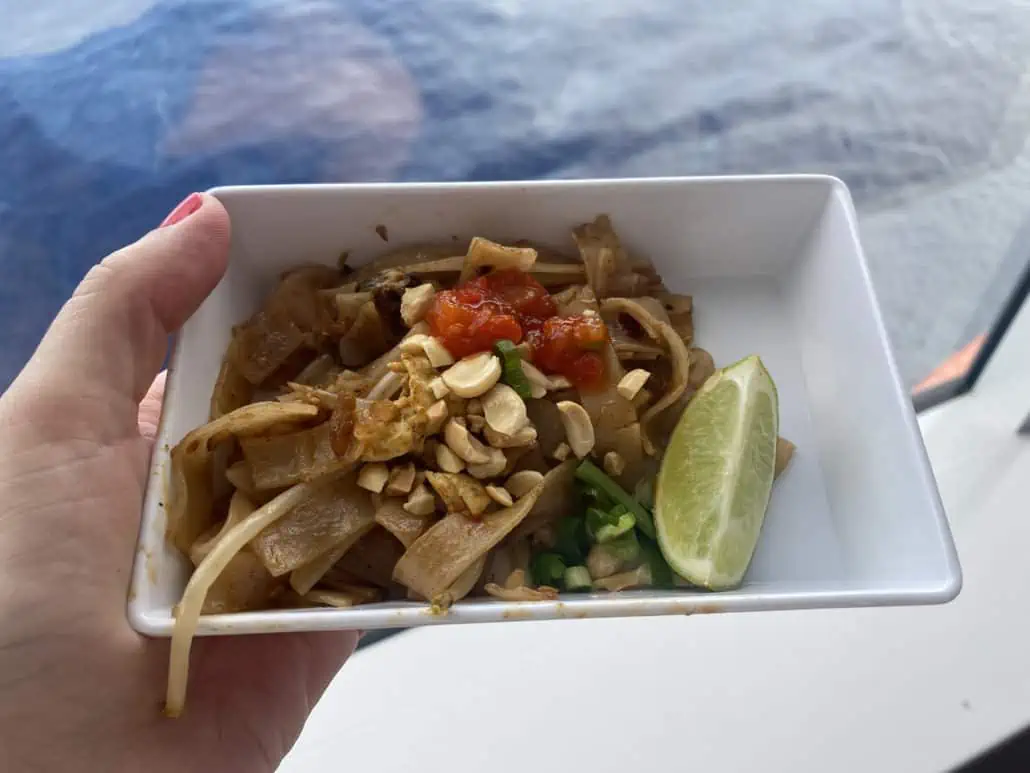 On the very back of 16 is Big Chicken, a complimentary fried chicken counter-service venue that has different types of fried chicken sandwiches and chicken strips. In the morning, they serve to-order omelets and a killer honey chicken biscuit sandwich.
Down on deck 8, Guy Fieri's Pig & Anchor Bar-B-Que offers a mouthwatering BBQ during lunchtime.
At dinner, Guy's Pig & Anchor Smokehouse|Brewhouse offers different menu items like brisket, smoked barbecue salmon, the Pig & Anchor melt sandwich, and banana pudding. Unlike the Vista-class ships which run an a la carte menu at dinner, it is complimentary on both Mardi Gras and Celebration.
Bonsai Sushi and Bonsai Teppanyaki are both onboard Celebration. Taken from the Japanese hibachi steakhouse experience, this is lunch/dinner and a show combined thanks to the chefs whose flying cutlery and witty banter keep passengers entertained while their meal is being prepared.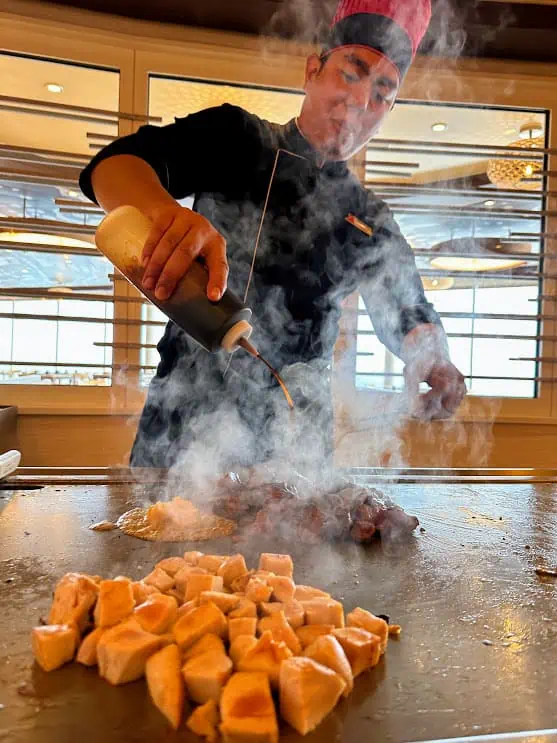 Be warned: The for-fee venue does two seatings a night, with 10 guests at each of the three tables, so if this hot spot is a must-do for your squad, make a reservation. If you can't find a dinner reservation, they sometimes open up lunch seatings on select days at two different times, noon and 1:45 pm.
First introduced on Carnival Magic in 2011, Cucina del Capitano is the Italian restaurant that continues to be a staple on Carnival's newbuilds with delicious foods and huge portions. Some staples are the chicken and eggplant Parmesan, mozzarella and tomato salad, and tiramisu. Cucina is also complimentary for lunch and dinner. On previous classes of ships, there is still an $18 fee to dine here (and it's well worth it — just bring your appetite).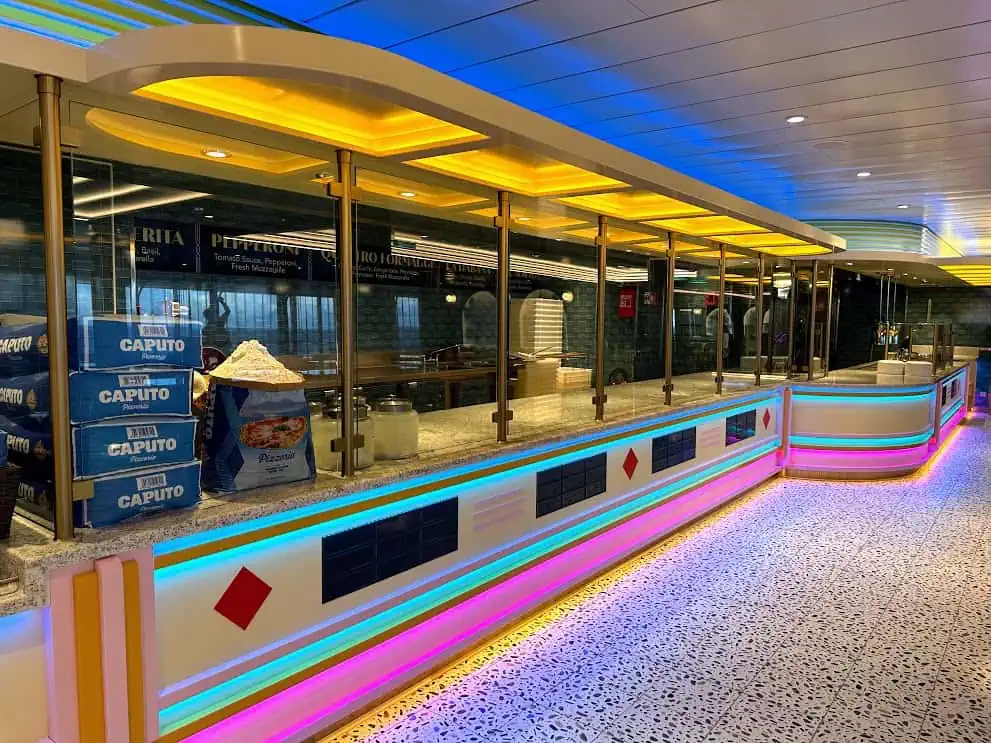 Within an eyeshot of Cucina are Miami Slice and Deco Deli, the pizza joint and the panini shop.
Chibang was also introduced on the Excel class and offers both Mexican and Chinese food. You can dine here for both lunch and dinner with two different menus served at each seating.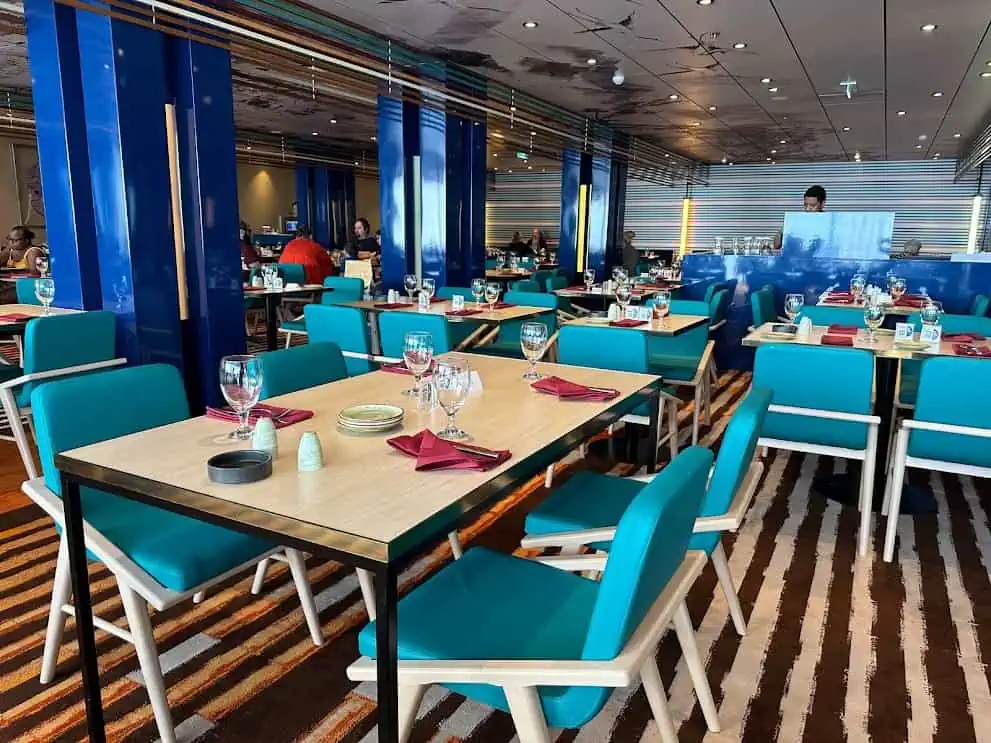 You may be asking yourself why they're free on the larger ships but not on the Vista or Dream-class vessels. It's because with the ship carrying just over 6,000 guests at full capacity, there needs to be plenty of places to dine without causing a complete log jam at the main dining room. To alleviate the crowds, Carnival made three venues complimentary instead of charging.
Last but not least is Emeril's Bistro 1397 located on deck 6, which features everything New Orleans. The a la carte counter service venue has everything you'd find if you were spending some pre-cruise time in The Big Easy. Barbecue shrimp, oysters, crawfish, jambalaya, crab, Cajun steamed shrimp, and beignets are all on the menu. You can get breakfast, lunch, and dinner here.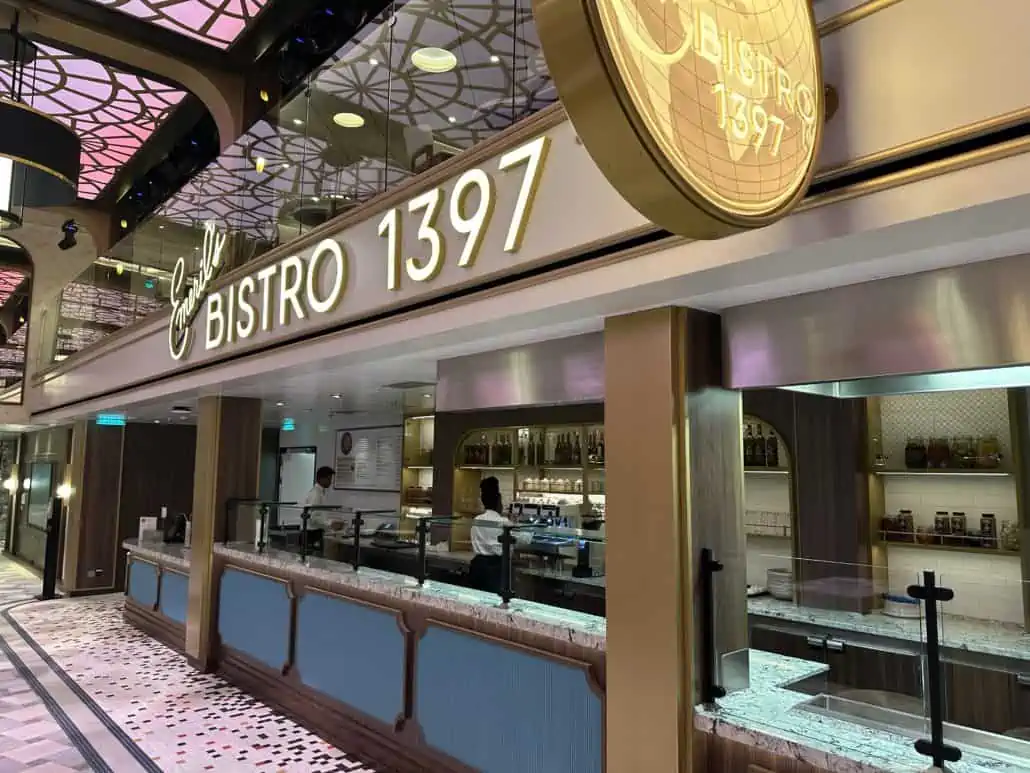 RELATED: Carnival Celebration Dining Guide: Which Restaurants Are Complimentary?
Carnival Celebration Cabins and Suites
Carnival knows that it caters to more families than any other cruise line, and it's one of the reasons the line offer such staterooms ranging from a simple interior to Excel Suites, with a pricing range to match.
The Excel Suites are the top-tier one-bedroom suites on the ship, some of which have a hot tub on the balcony. Guests staying in an Excel suite also have access to the Loft 19 area, a dedicated and restricted area on deck 19 only available to those staying in the cabins or paying for a cabana for the day or week.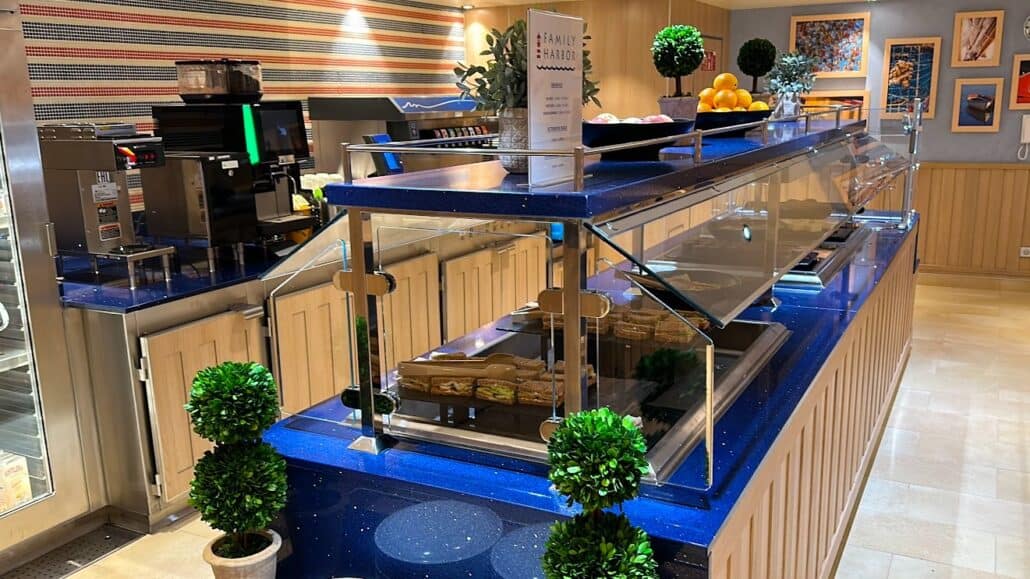 Having proven popular on the Carnival Mardi Gras, the Family Harbor staterooms — complete with a shared lounge offering a breakfast buffet, ice cream, video games and more — have been replicated on deck 4 midship.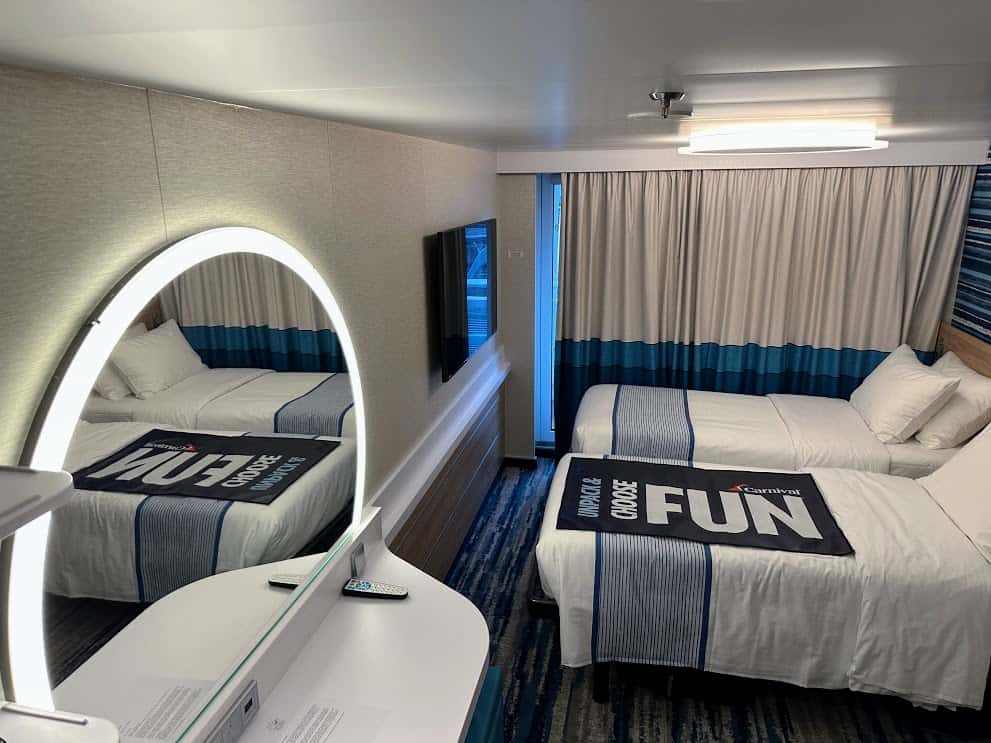 Although in a different location than the Vista class, the Havana staterooms are located on the port side on deck eight. Included in these cabins are your own lanai (if in a lanai category stateroom) and access to the exclusive Havana Retreat area that includes its own pool and bar.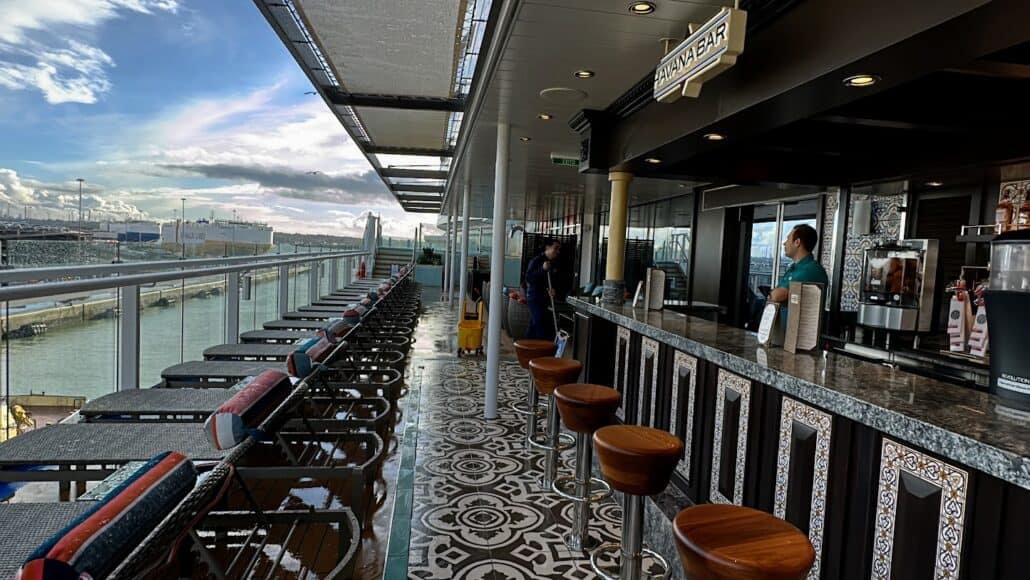 Be advised that Family Harbor and Havana staterooms, which come in a variety of categories, book quickly. If you're looking to book one, don't drag your feet.
Kids & Teens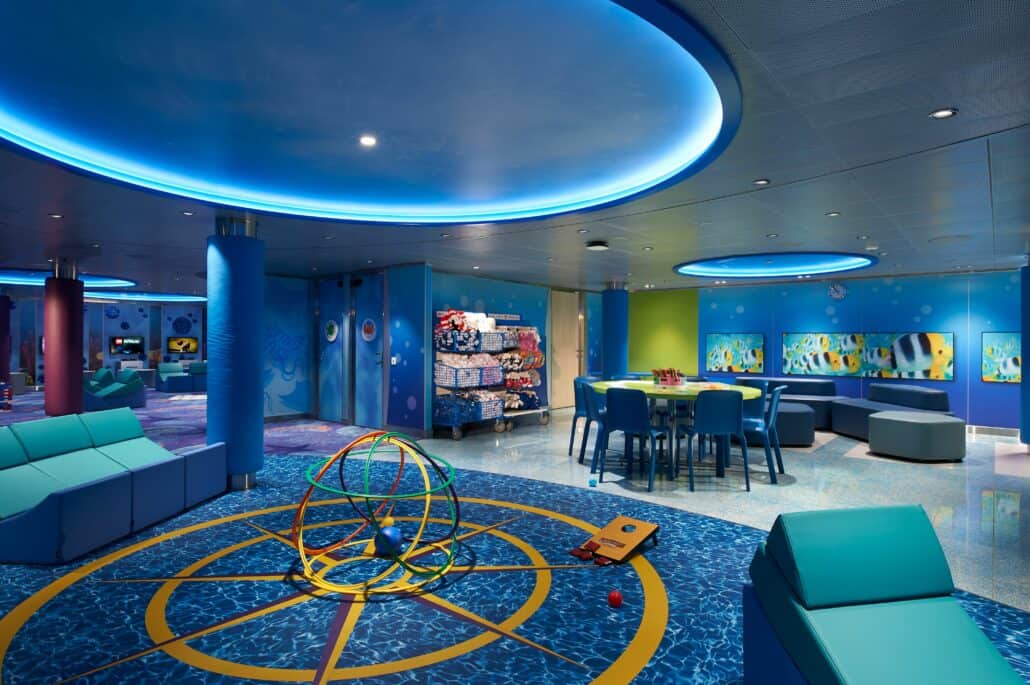 With all those kids on board, Carnival works hard to keep them entertained. Camp Ocean offers a variety of supervised, age-based group activities for kids 2-11, all of which have a nautical theme. For the 12-14 year-old set, there's Circle C, while Club 02 is where the 15-17 year olds can be found.
The teens have a trendy patio on deck 17 that's located behind Guy's Burger Joint and is a quick walk from the ice cream machines.
And proving that fun truly knows no age limit, the whole family will enjoy hanging out at Dr. Seuss Bookville, which is almost as colorful and unique as the creations found in the author's books, around which the space is designed.
Carnival Celebration Review: Final Thoughts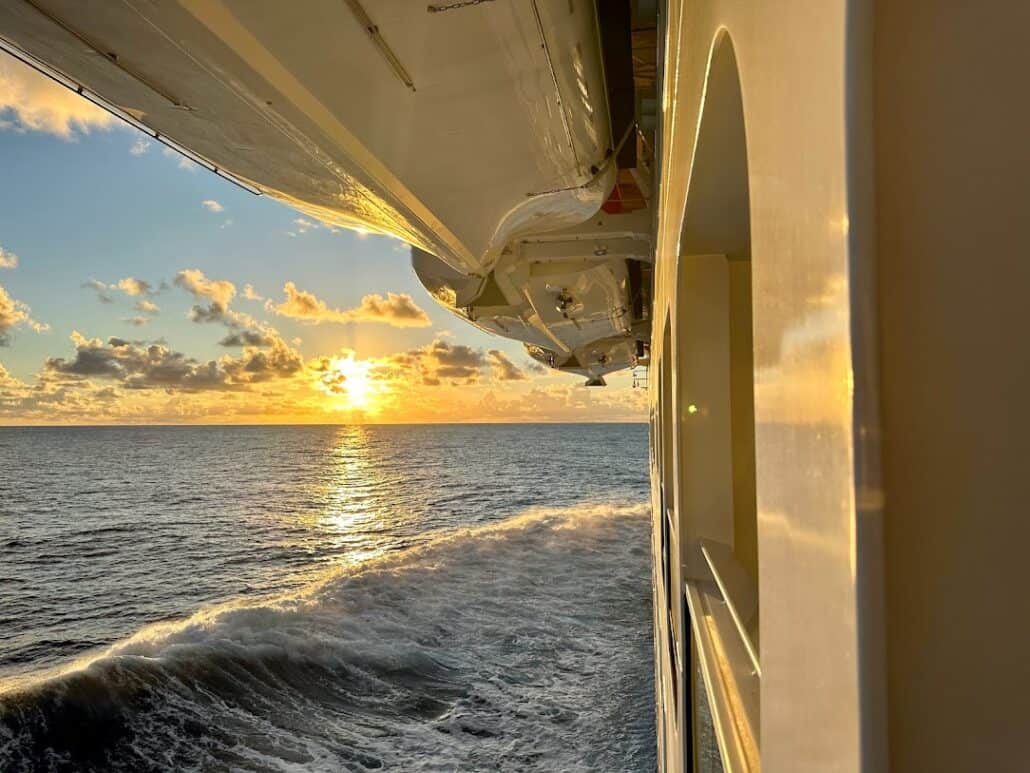 After spending over 20 days onboard Carnival Celebration, I can say the changes — both large and small — are very welcome. The number of food options included in your cruise fare seems endless, and quality food. I would suggest doing your research before sailing because to the average Carnival cruiser who hasn't sailed an Excel class ship could get lost.
With great food, great entertainment, and plenty of adult spaces (both included and paid), I wouldn't hesitate to sail Carnival Celebration again once the prices come down a bit.
Carnival Celebration Review and Cruise Ship Tour
READ NEXT: 11 Top Deck Cruise Ship Attractions
Sarah Bretz and Doug Parker both contributed to this article.
Pin it!