Ever since I sailed my first Carnival LIVE sailing, I knew I wanted to do another one. When I saw that Tim McGraw was headlining two shows, I knew I HAD to go – but which ship? Since I'm in northern Florida, the only obvious choice was Carnival Liberty from Port Canaveral. This is my three-day trip report from Carnival Liberty.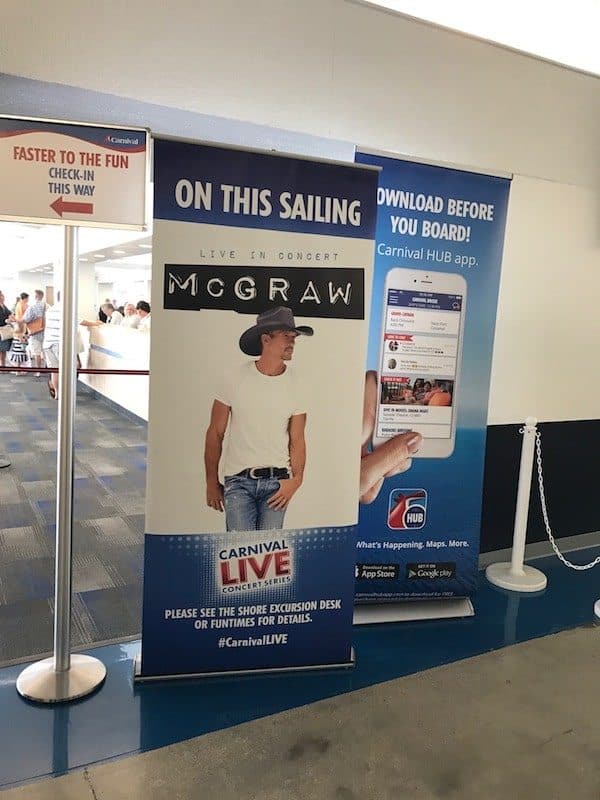 It's been said that I'm a cruise addict. There's no denying it. I go to the port to watch ships leave, I take massive amounts of photos (to the tune of over 100,000 now) and will book a cruise 18 months out, just so I have something to look forward to. Not to mention, countless amounts of weekly texts from friends and family members asking every cruise question in the book. So it's no surprise that when I saw a cruise on Carnival Liberty for $199 and it was a Tim McGraw concert sailing, I had to book it.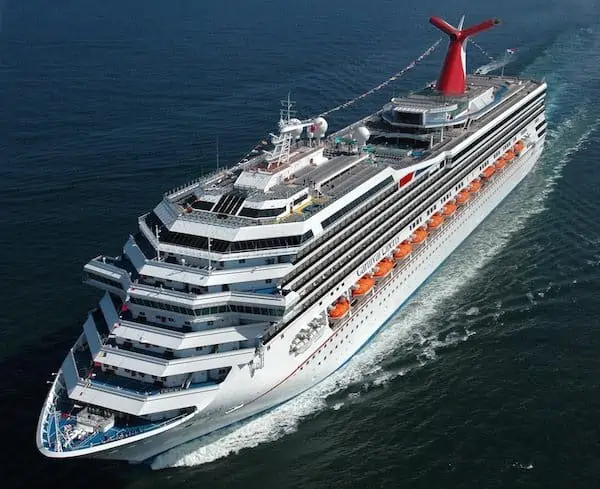 Being that I live two hours from Port Canaveral, I drove down there the morning of the cruise. I made it in two hours flat! Parking at the pier was $64 for three nights; a bit of a rip off if you ask me. I'd suggest using an offsite parking lot like GoPortCanaveral for half the price and efficient shuttle service. Port Canaveral is known for sticking it to the cruiser, and the latest price increase is more proof.
Once I checked my bag, entered the cruise terminal, and made my way through security, I went to the check-in area with the rest of the platinum, diamond, and Faster to the Fun guests. The check-in process was flawless and I waited for about 15 minutes before boarding. Once they started boarding, things moved very quickly. Almost no one stopped for photos. From checking in to boarding the ship was 30 minutes.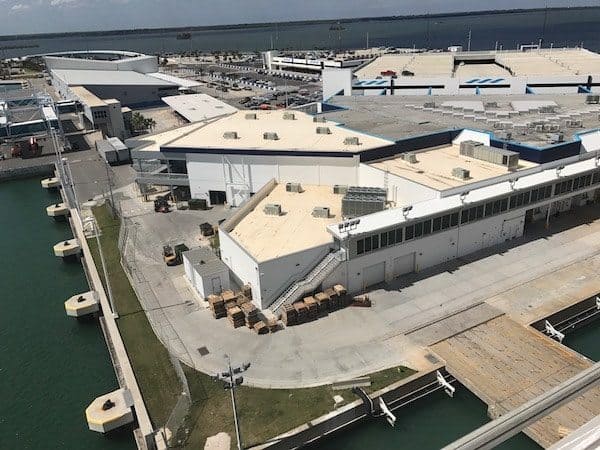 The ship was a throwback to what I remember back in 2011, after her Fun Ship 2.0 renovation, and then again in 2014 when she first came to Port Canaveral. Interesting decor with colorful chandeliers and lights. A lot of dark colors in the atrium. The first stop was to the main theater to see the layout for the Tim McGraw show. Then it was off to the stateroom – an oceanview room on the second deck, midship. Since I am platinum, my stateroom was ready. I ordered two cases of bottled water for the voyage ($4.50 per case). Normally that is in the room waiting for you, but it didn't wind up arriving until later that night.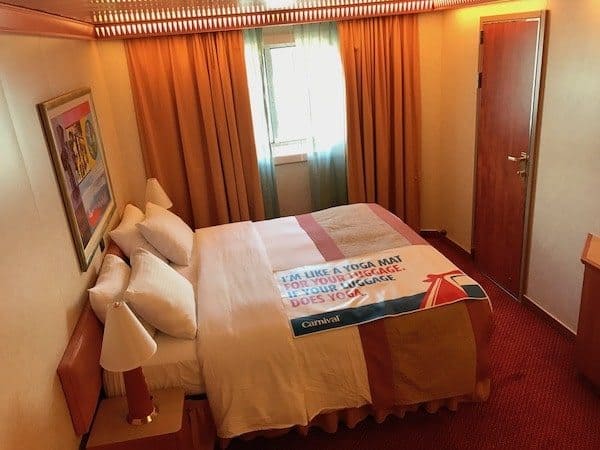 The ship had a BBQ joint upstairs where the old fish and chips station used to be. I was excited, but not excited enough to skip Guy's Burger Joint. I grabbed a burger there and then went upstairs to check out the BBQ joint. This isn't a Guy's branded BBQ yet, though I expect it to be in the future. They have the same sauces and meat selections as Guy's Pig & Anchor BBQ on Carnival Vista. The burger and BBQ were both awesome.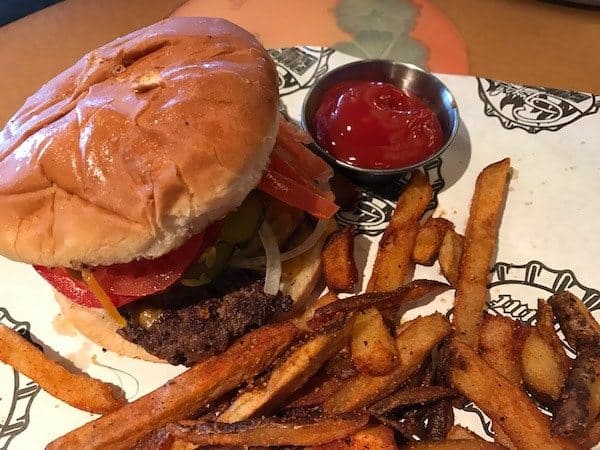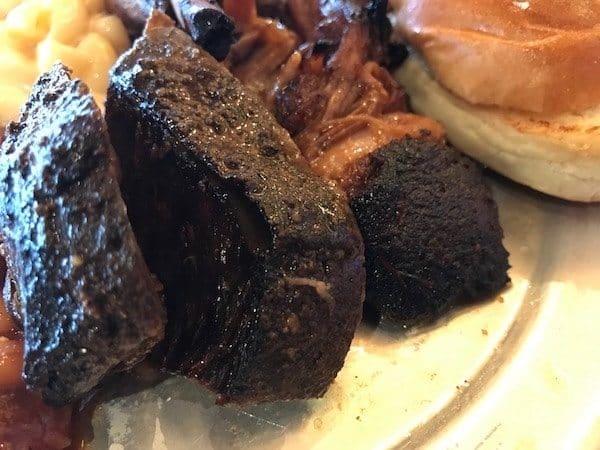 The lifeboat drill was about 30 minutes and then it was time to cruise! We started moving as soon as we were released from the muster station. That's when I went up to the top deck to get some sailaway pictures. The last few times I was at Port Canaveral, it was to watch the sailaway from Fish Lips, so it was nice to be on the ship itself this time. Disney Cruise Line had a ship there and they sailed after us, so we had the harbor to ourselves.
Carnival has this special where if you book the steakhouse on the first night of the cruise, you get a free bottle of wine, so that we did. The steakhouse reservation was at 5:30, and it was excellent as always. Even though the menu is the same across the other Carnival ships, this steakhouse had a darker feel to it. The food was delicious as always. Instead of going for the 18 oz cowboy cut, I went with the petite filet and lobster tail.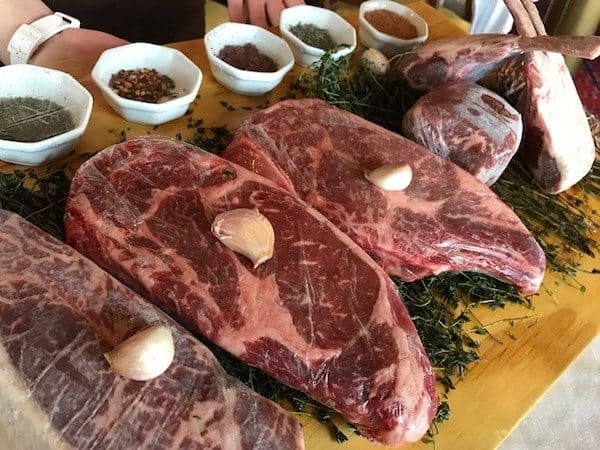 Dinner was over by 7:30 and it was off to Dr. Seuss' birthday party. Hosted by the cruise director Donkey, they had a balloon drop in the main atrium followed by a ton of cupcakes, cookies, and cakes. Even The Cat in the Hat made a special appearance. There seemed to be a lag of things to do between dinnertime and the first welcome aboard show because after the birthday celebration, there were no activities until 10:45.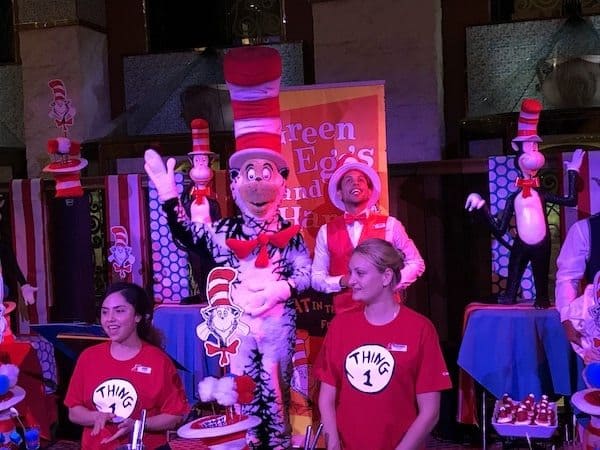 Not gonna lie, I was in bed by 9 pm after going non-stop all day. Am I getting old or what?