When the first roller coaster at sea debuts on Carnival Cruise Line's Mardi Gras next year, it'll be unlike anything you've ever ridden before. Thanks to its unique design, no two rides will be alike. Plus, you'll be able to walk away with some pretty nifty souvenirs!
What Makes Bolt Different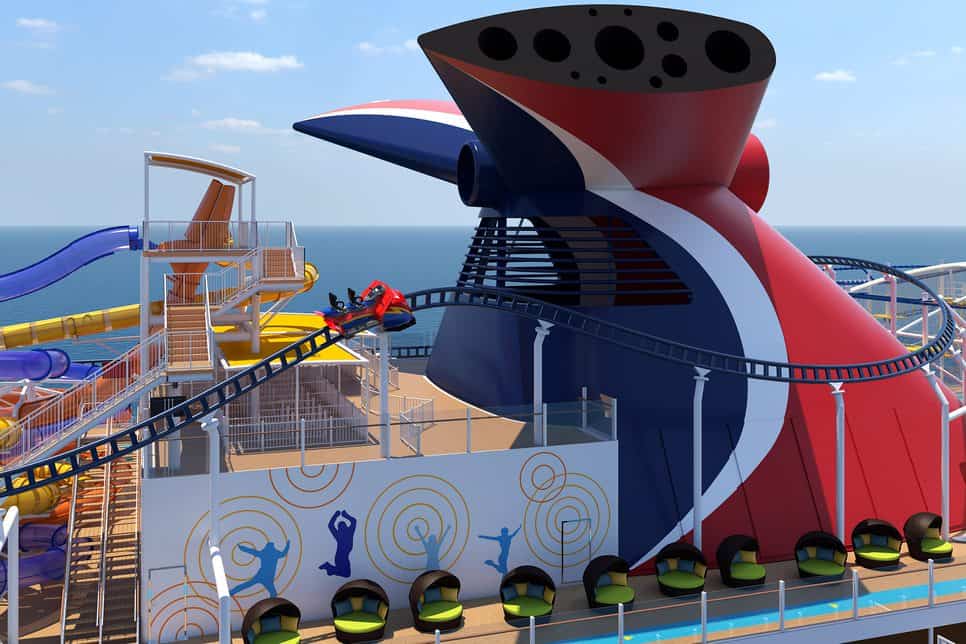 Let's start with the small stuff that was revealed during the International Association of Amusement Parks and Attractions Conference this week. Christine Duffy, president of Carnival Cruise Line, who was joined by Chief Fun Officer Shaquille O'Neal, gave new details about the coaster, named Bolt.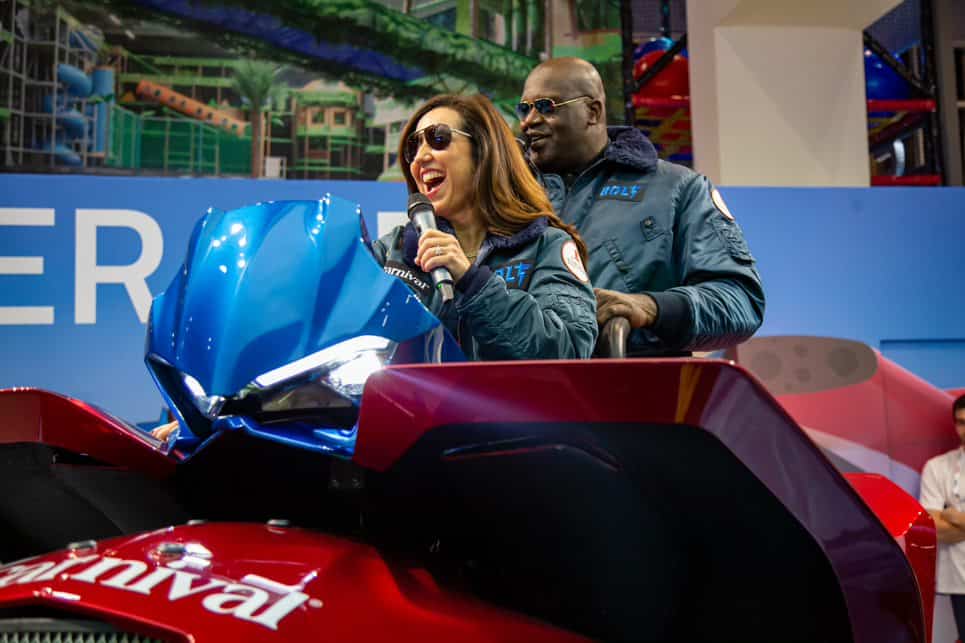 Duffy revealed that the ride's all-electric, motorcycle-inspired vehicles will feature metallic red-and-blue stripes (much like the famous Carnival whale tail), as well as an eye-catching yellow lightning bolt.
But if you're not all that interested in how the vehicle looks, how about how it sounds. Or more specifically, what sounds you'll hear while riding. Thanks to speakers, passengers will hear an array of experience-enhancing sound effects.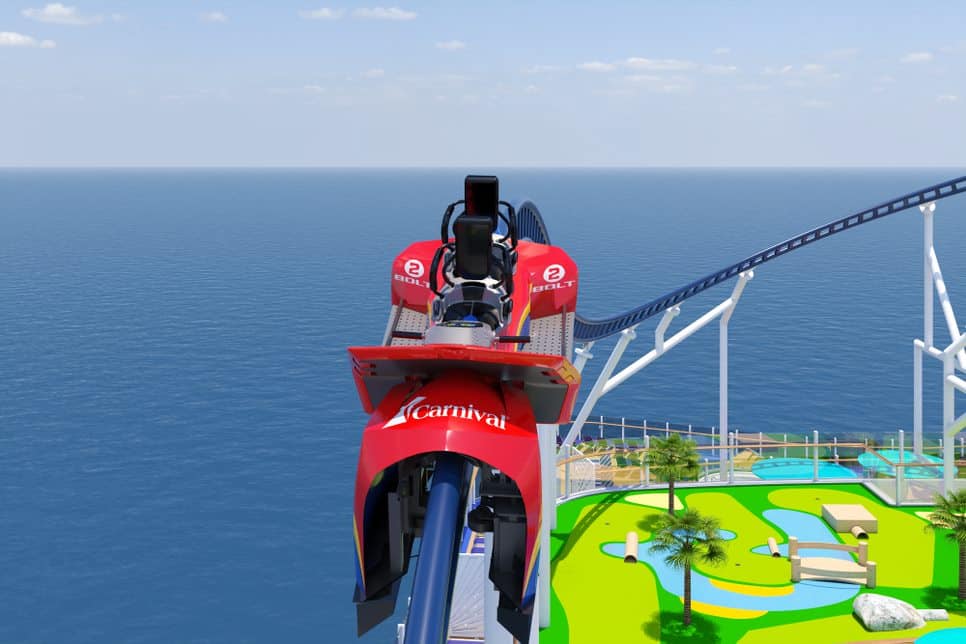 Each ride vehicle will also feature a digital speedometer so you can see just how close to the 40 mile-per-hour mark you get. (Remember, riders control their speed so, as Duffy said, "Whether [they] want to get an adrenaline rush or take it slow and enjoy the breathtaking views, Bolt will have it all!"
The Ultimate Playground
With Mardi Gras having six themed zones, the roller coaster will — not surprisingly — take centerstage in The Ultimate Playground. Spanning decks 18-20, this will also be home to the largest WaterWorks aqua park in the Carnival fleet, which will feature three slides.
Blue Lightning is 312 feet of high-speed thrills and turns.
Orange Thunder will drop the floor out from under guests before sending them to the splash zone.
Carnival's signature Twister slide, back by popular demand, stretches along 265 feet of thrills for kids of all ages.
Of course, no WaterWorks would be complete without a 150-gallon PowerDrencher bucket and a play area designed just for kids.
READ MORE: How Carnival Mardi Gras Will Change Carnival Cruise Line Forever
The Ultimate Playground will also have an expanded SportsSquare complex topped by a 600-foot-long ropes course (the longest in the Carnival fleet, for those keeping track), a 9-hole miniature gold course, jogging track, outdoor fitness equipment and basketball court.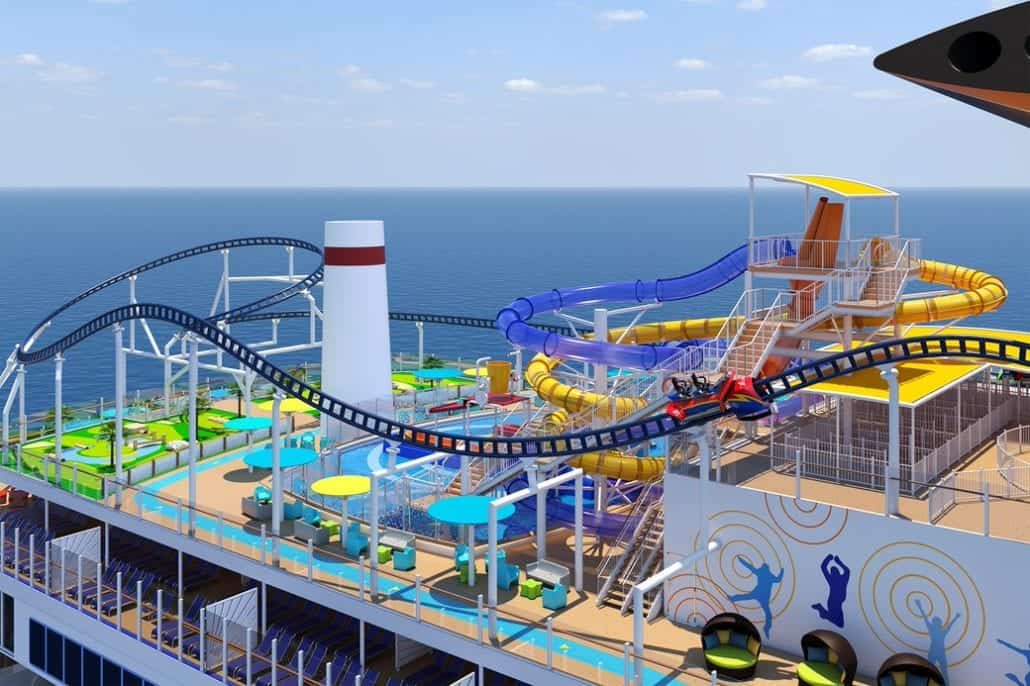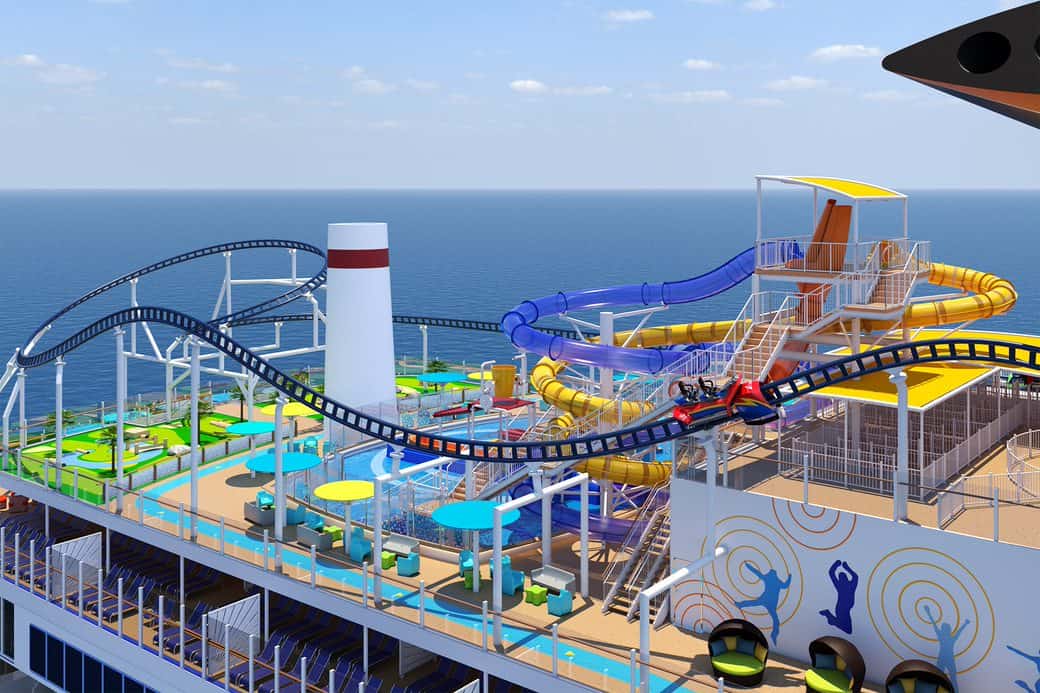 Mardi Gras is expected to officially join the fleet in Europe on August 31, 2020 before heading to New York City for a few special voyages. After that, she'll reposition to Port Canaveral for year-round 7-day Caribbean cruises starting in October 2020.
Currently under construction at the Meyer Turku shipyard in Turku, Finland, Mardi Gras is slated to enter service in Europe Aug. 31, 2020, before repositioning to New York for a series of voyages then shift to Port Canaveral for year-round seven-day Caribbean cruises beginning in October 2020.