When Carnival Cruise Line announced late last year that Mardi Gras would feature a top-deck roller coaster, they definitely got people talking. And although the ship's arrival is still so far away that Carnival will introduce two other ships — the brand-new Panorama and the refurbished, renamed Sunrise — before Mardi Gras' 2020 roll-out, we couldn't wait for more details.
So we recently sat down and chatted with Carnival's Director of Innovation, Glenn Aprile, to find out more about the Bolt coaster… and here's what we found out.
1. This has been in the works for quite a while.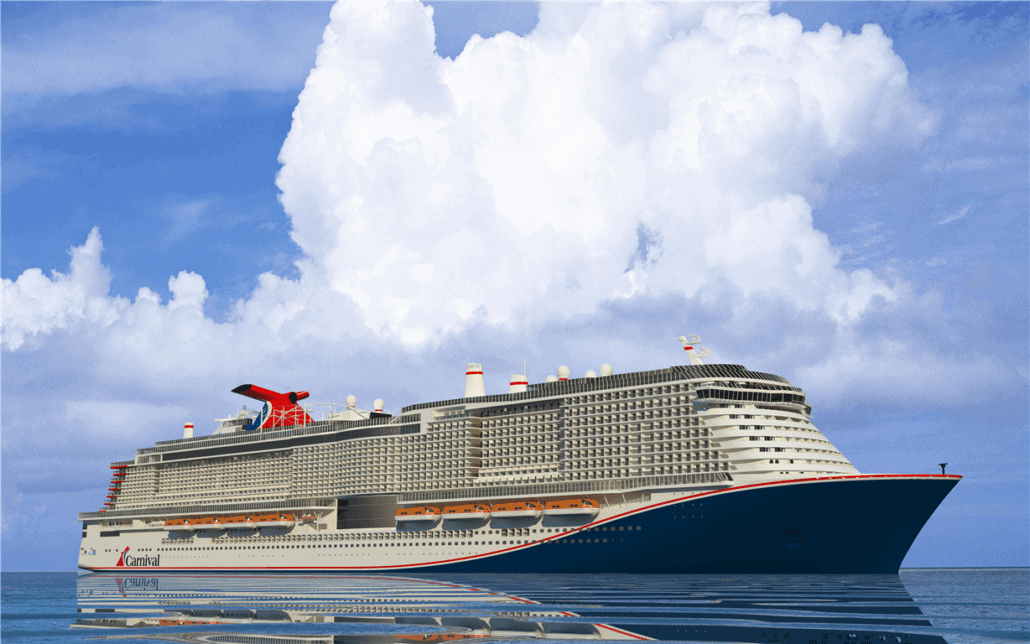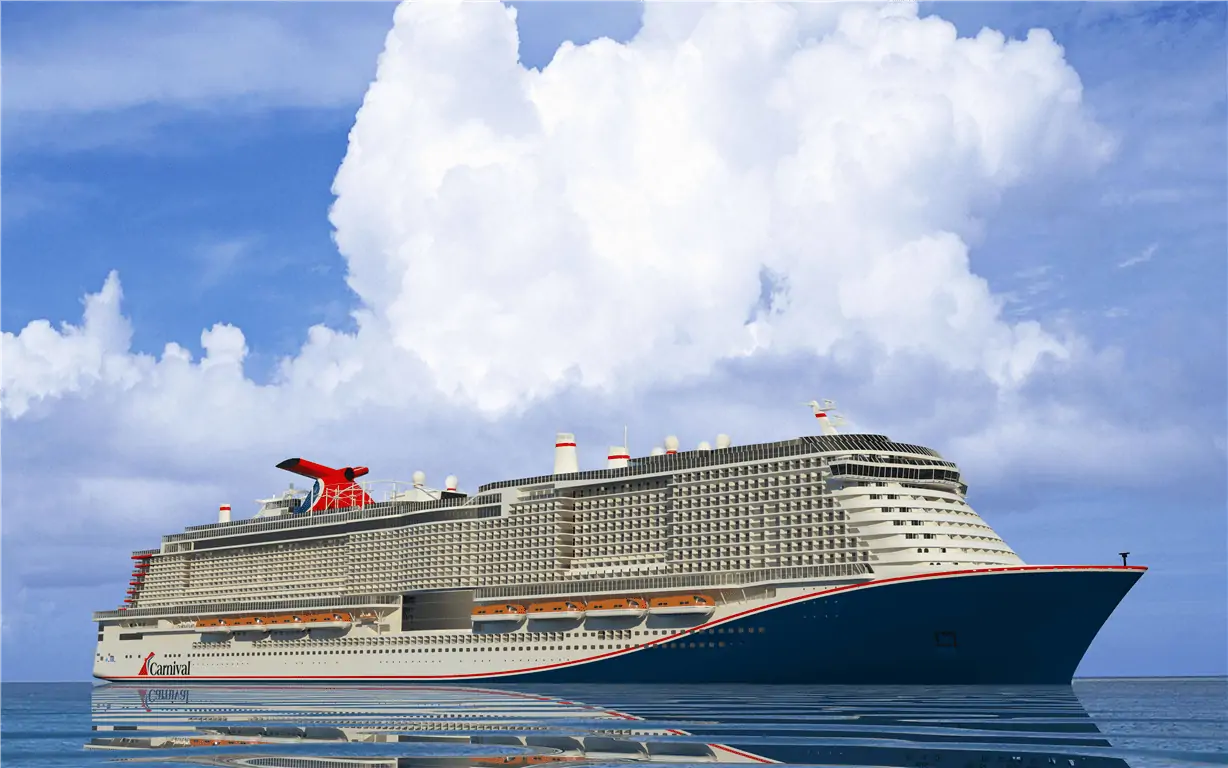 Think it's going to be tough to wait for Mardi Gras and her coaster to arrive? Imagine how Aprile and his team feel. "This was a collaborative effort that we started talking about around three years ago," he admits, "when the idea of putting a roller coaster on top of Mardi Gras came up during an internal brainstorming session."
Even at that point, it wasn't exactly a new concept. "I'd say the idea of putting a roller coaster on top of a ship has been tossed around in the industry for decades. It's just that the time finally came when we decided to stop dreaming about it and actually make it happen, and be the first ones to do it."
2. It's definitely been a labor of love for coaster-fan Aprile.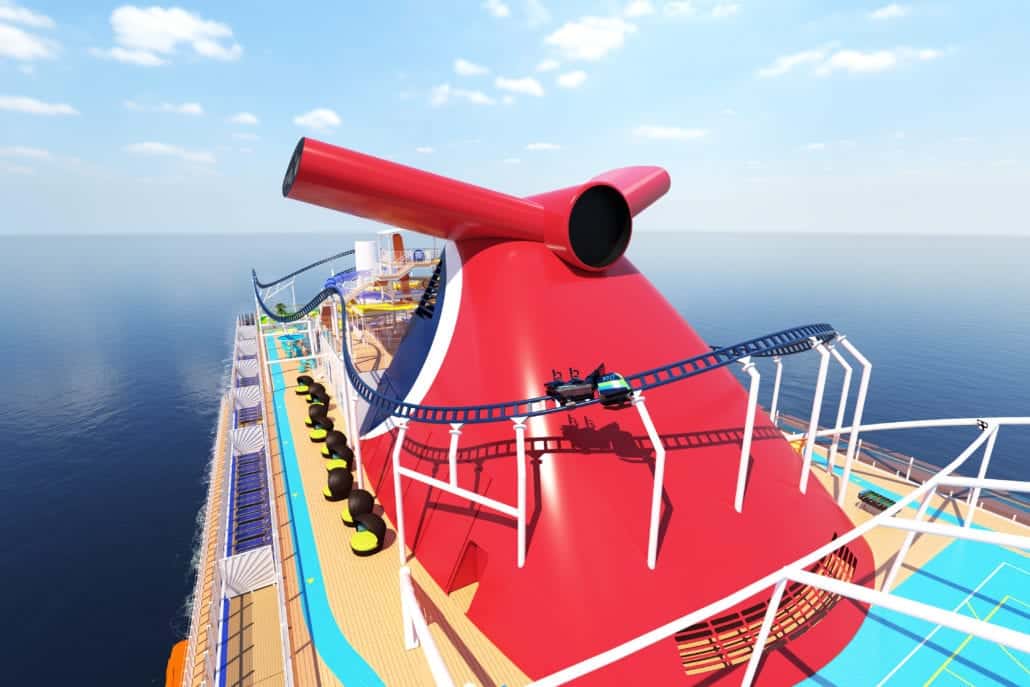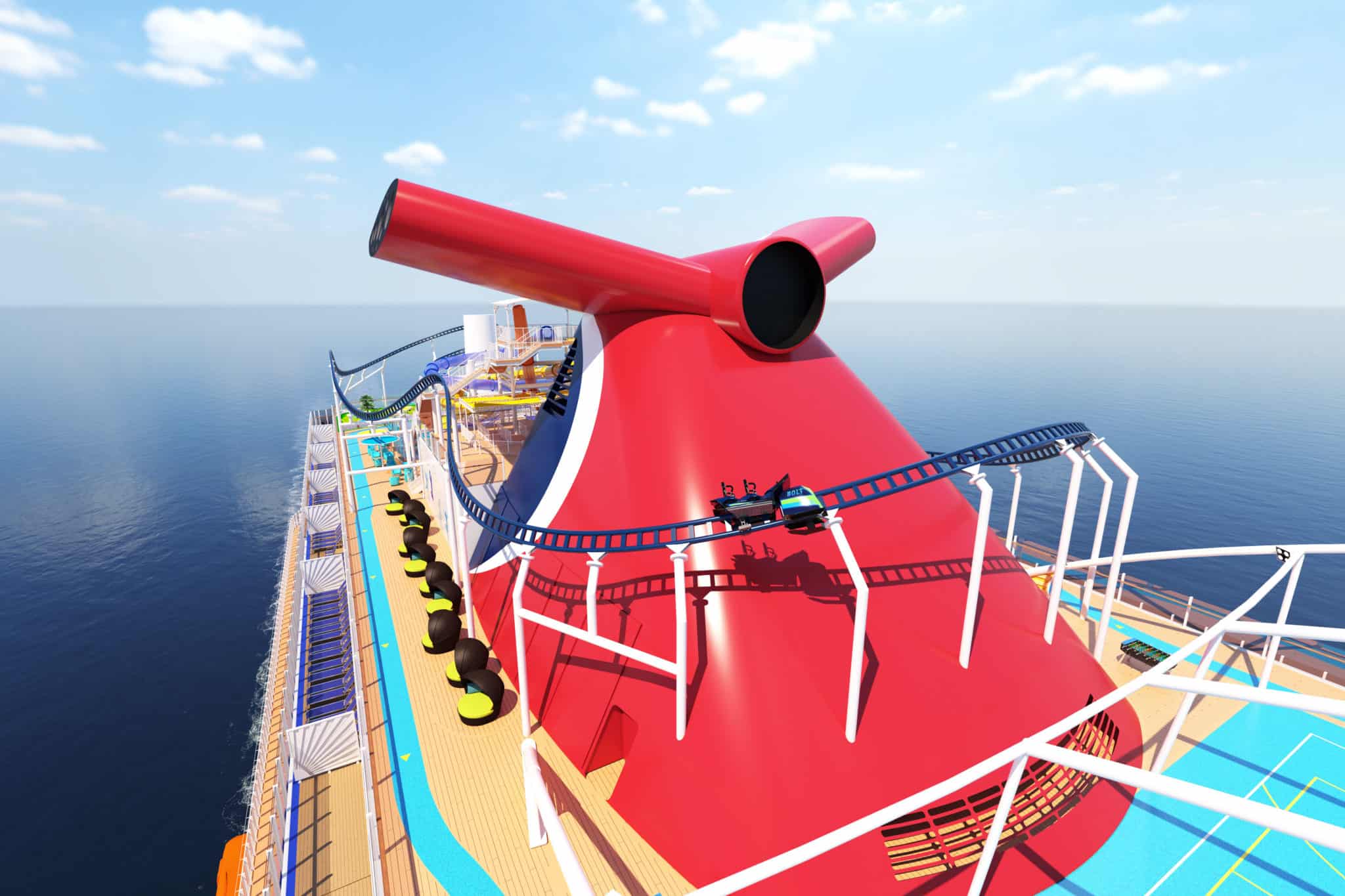 "I grew up going on cruises and roller coasters," Aprile shares, "because my parents took me on my first cruise when I was 9-months old, and my mom always really loved roller coasters. So our family vacation were always to amusement parks or on a cruise." As a result, his reaction upon learning that Carnival would be putting two things he loved together was predictable. "We were all super excited," he laughs. "Like I said, it's one of those things you've always dreamed about, and we really wanted to get it done. We knew it was going to be awesome."
3. The timing was finally right.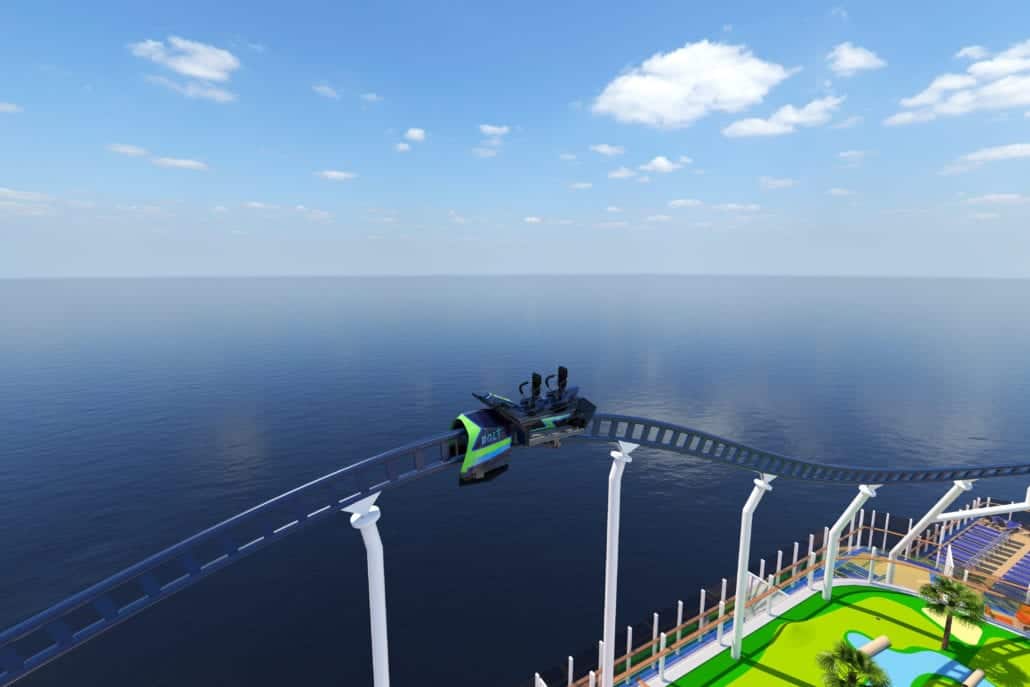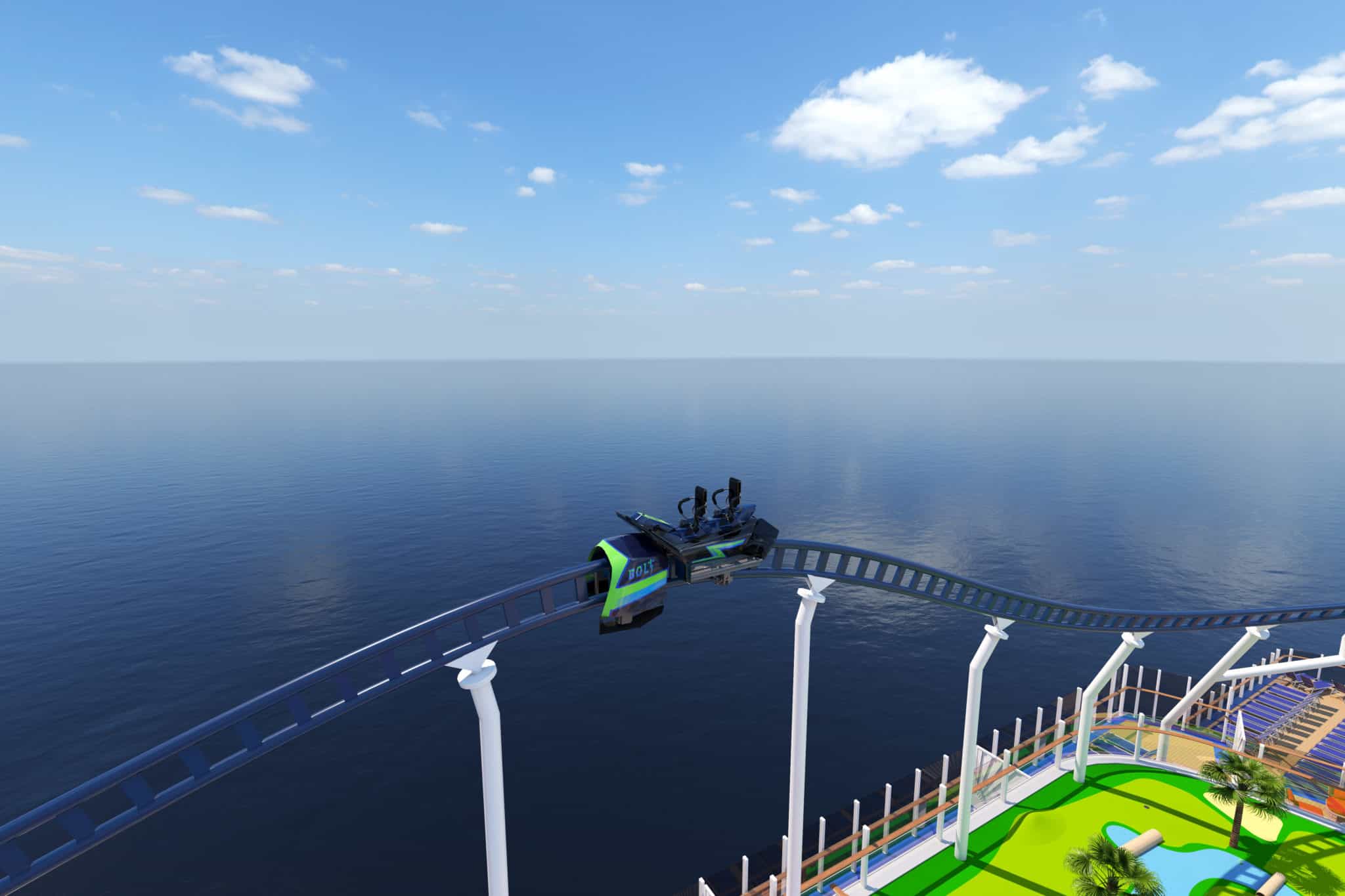 If the idea has been kicked around by various cruise lines for so long, what took so long for it to become a reality? "In order to do something like this, it can't be an afterthought," Aprile points out. "It has to be done early on in the process of designing the ship." And, to be sure, the project has presented his team with more than a few challenges. "Obviously, it's a very complex project," he says, "so you need to surround yourself with a lot of experts in the fields of engineering, safety, noise-and-vibration, design,  and shipbuilding, of course.
Any time you're putting something massive and heavy like a roller coaster on the top deck of a ship, you need to be studying the stability impact for the ship and also the structural aspects of the ship to make sure it can support it. Another challenge is optimizing the layout because you want to put something significant on the ship, but you also want to make sure that you… use the space efficiently so that we have room for all the other things that we want to offer on those decks."
READ MORE: What We Know About Carnival Mardi Gras 
4. Bolt is like nothing you've ever experienced before.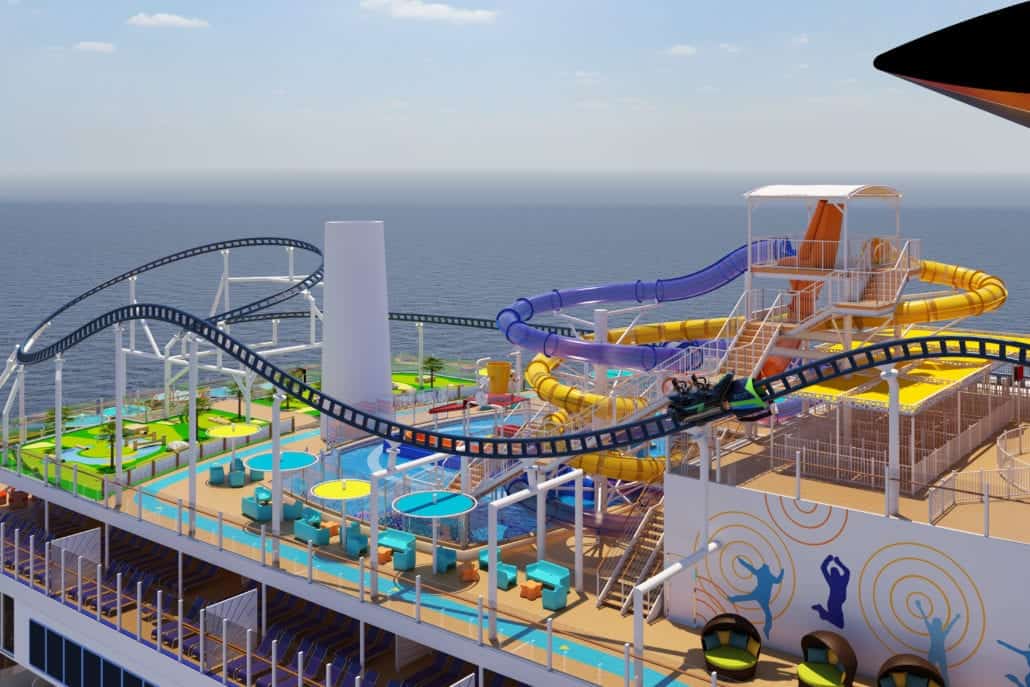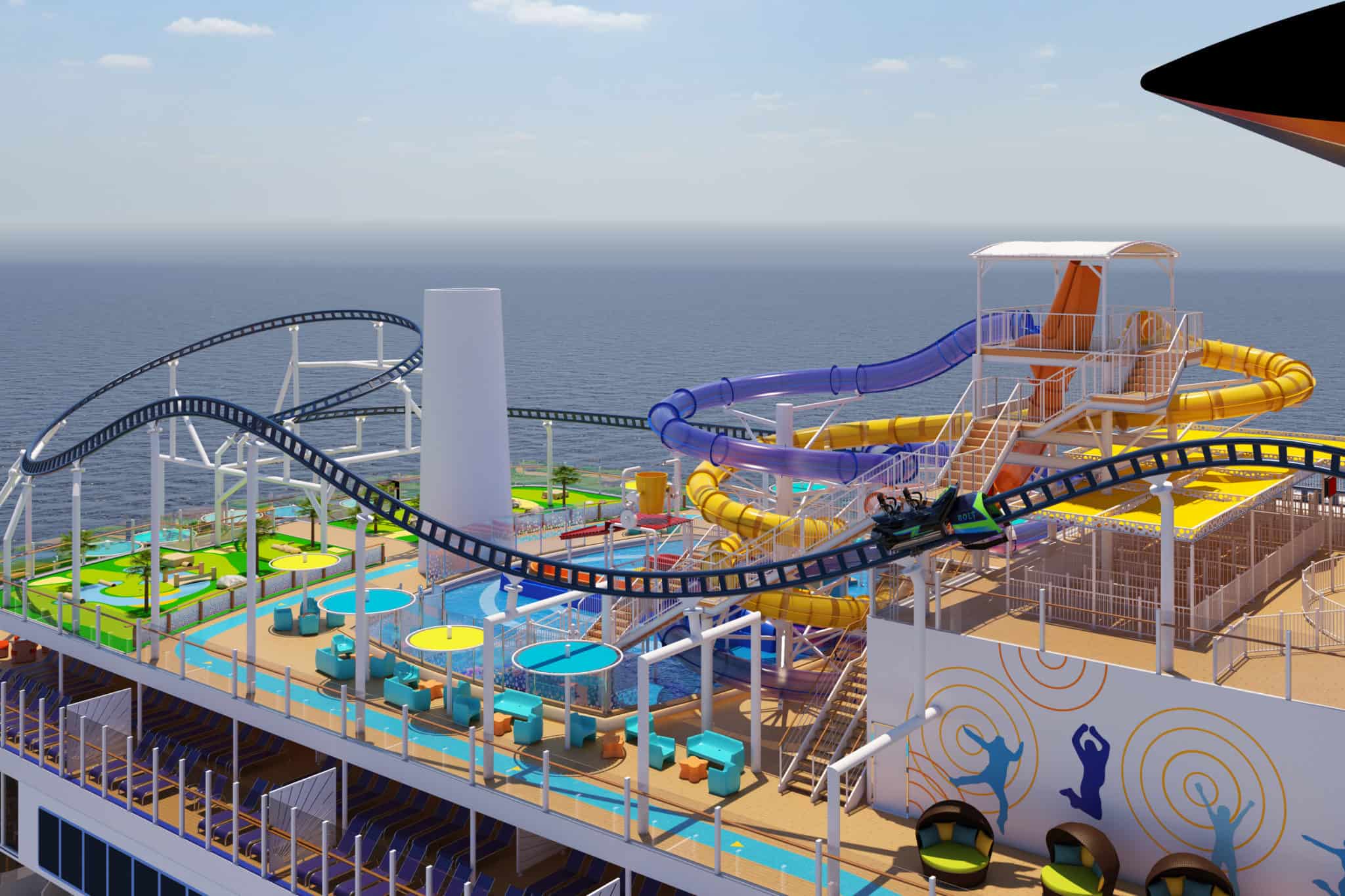 Another factor making this the right time was the type of attraction being put on the top deck. Unlike traditional coasters, Bolt is powered by electricity (as opposed to the forces of gravity taking over after an initial lift or launch). "It's relatively new [technology] in the amusement industry," the designer explains, "so that also makes it really exciting for us.
We're not just introducing something that's never been done on a cruise ship before, we're introducing something that's relatively new in the marketplace of amusement rides." And Aprile knows of what he speaks since the team got to give a similar ride a test spin. "We were able to ride one in Germany, near where it's manufactured, outside of Munich," he says. "And it was amazing… especially the moment when it first launches and you feel the acceleration."
5. The noise was a major concern.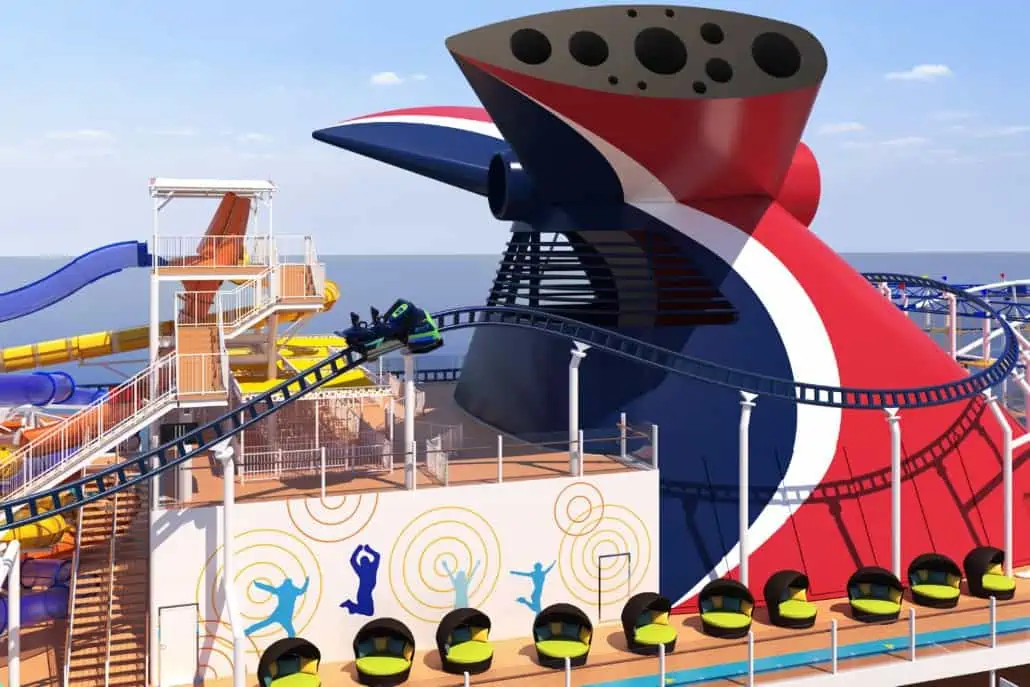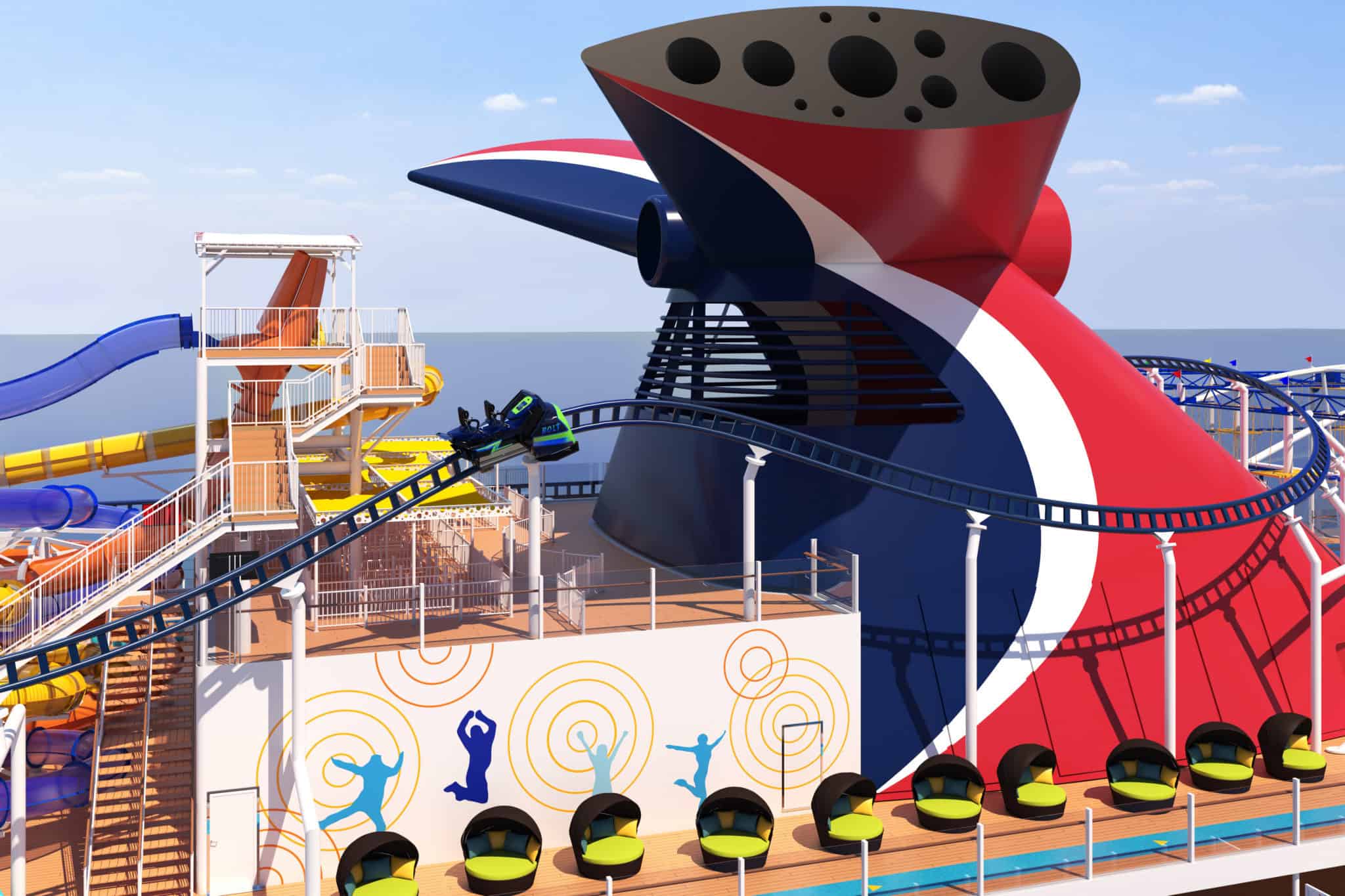 "When you see a roller coaster in an amusement park," Aprile explains, "they're very loud. One of the beauties of Bolt is that it's super quiet, and it's one of the reasons we picked this technology. I think guests will barely hear it when it goes by. You'll probably hear guests at some moments, but you'll barely hear the ride at all. And that was really important to us because the thing will be zooming by above areas where people are walking around and enjoying other activities. We did not want the ride to be a disturbance to the other things that were happening in and around where Bolt was situated. But this ride is super quiet."
READ MORE: Sneak Peek At Carnival Mardi Gras' Staterooms & Suites
6. Bolt is unique in more ways than one.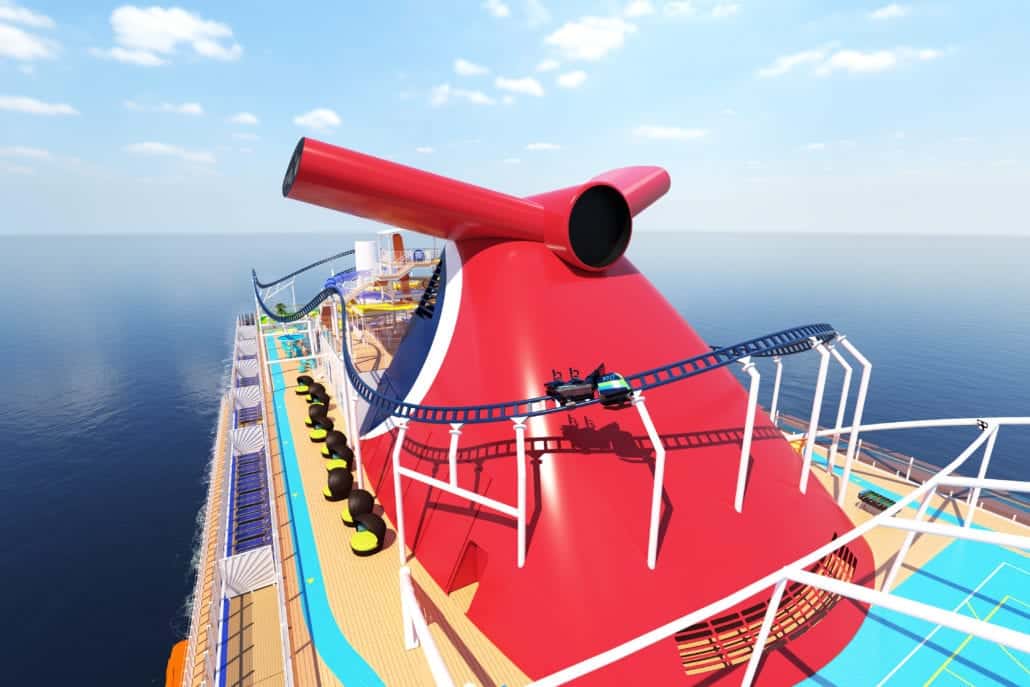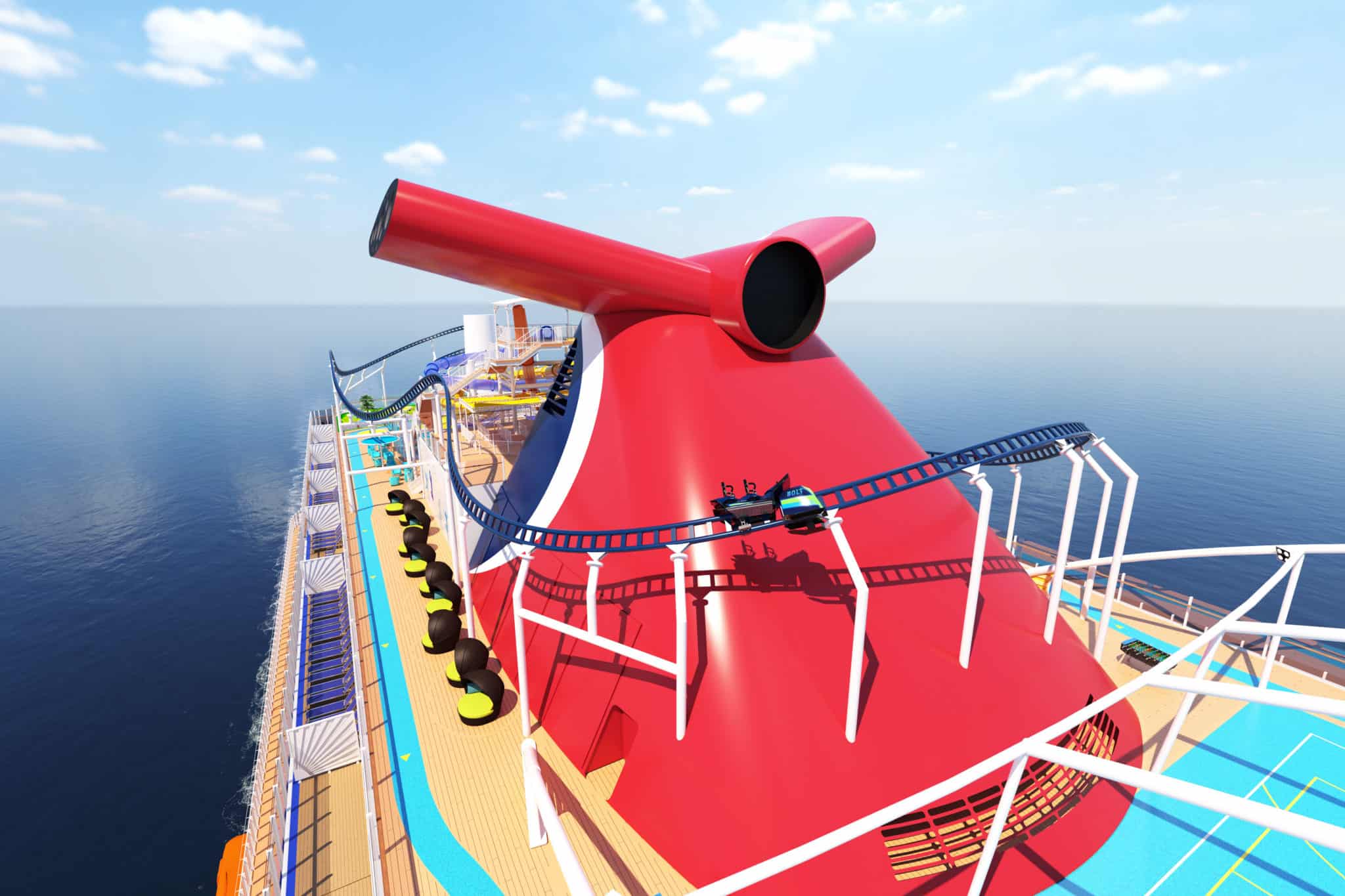 Even as he and his team were testing out the land-based version of the ride in Germany, Aprile's mind was reeling at "the thought of being able to experience that on the top deck of a cruise ship, with the ever-changing views? I really just can't wait.
One of the beauties of it is you ride it one day, and you're out at sea. You ride it another, and you're in port. Your scenery is constantly changing because you're on a ship. There isn't anyplace else in the world where you can ride a roller coaster and actually be in one place and ride it, and then try it again in another location."
7. They're already hard at work on the next big thing.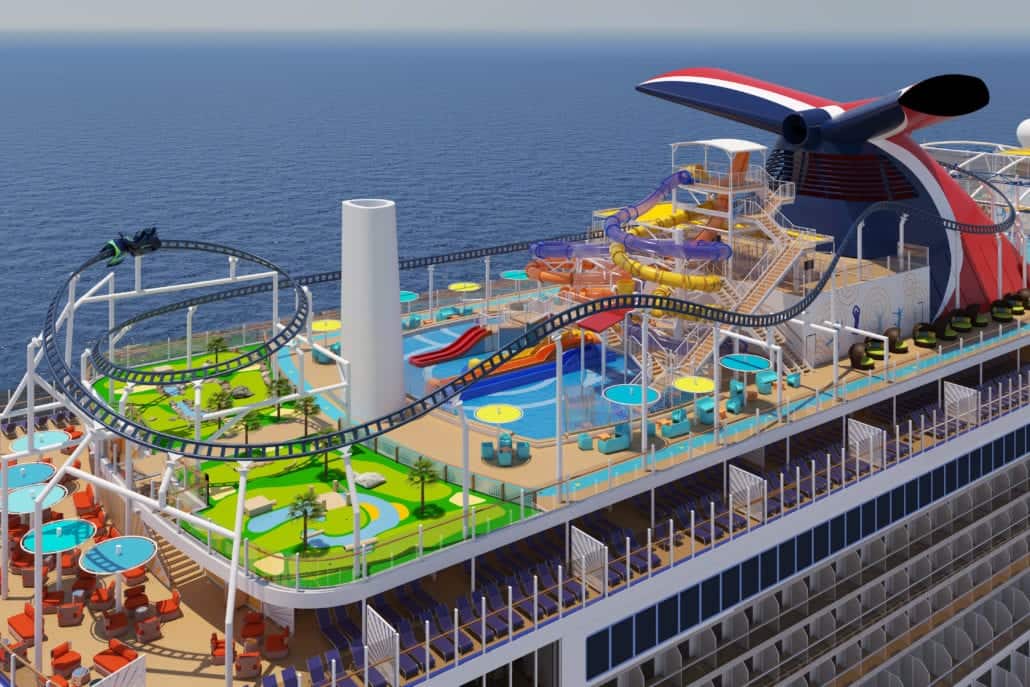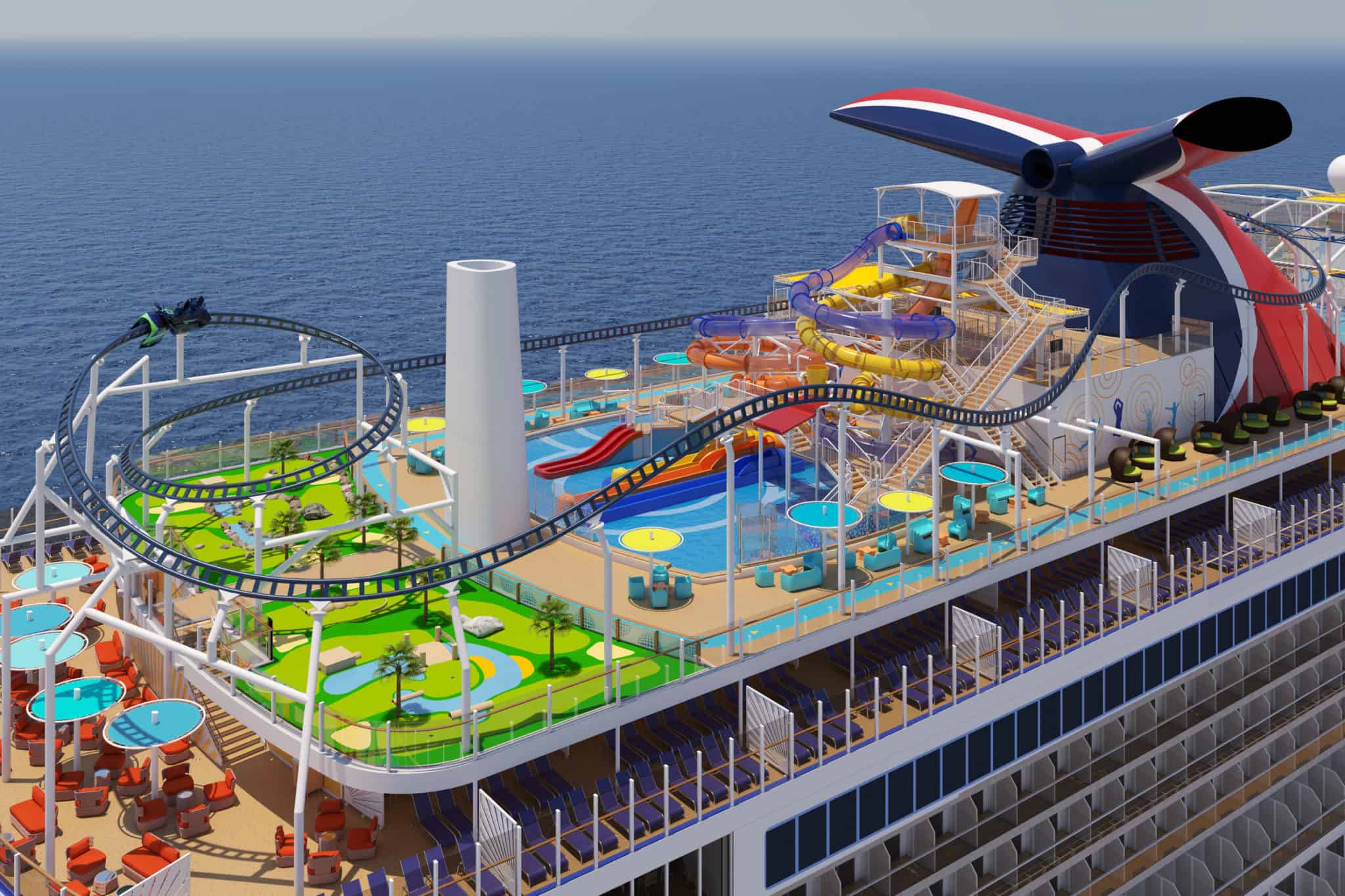 Given that Aprile is the director of innovation at Carnival, it's probably not surprising that he's already trying to top himself. After all, the moment one raises the bar, the inevitable question becomes, "What's next?" A smiling Aprile says enthusiastically, "I'm confident that we will be able to answer that question." Try as we might, however, he remained tight-lipped as to what the future might hold, except to tease, "I really just can't wait for the additional announcements to come."
Watch BOLT: The Ultimate Roller Coaster