With over two dozen categories of Carnival Venezia cabins, one of the most important decisions you will make when booking is what kind of stateroom you'll want.
While different people look for different things, the good news is that this ship has something for every taste and budget.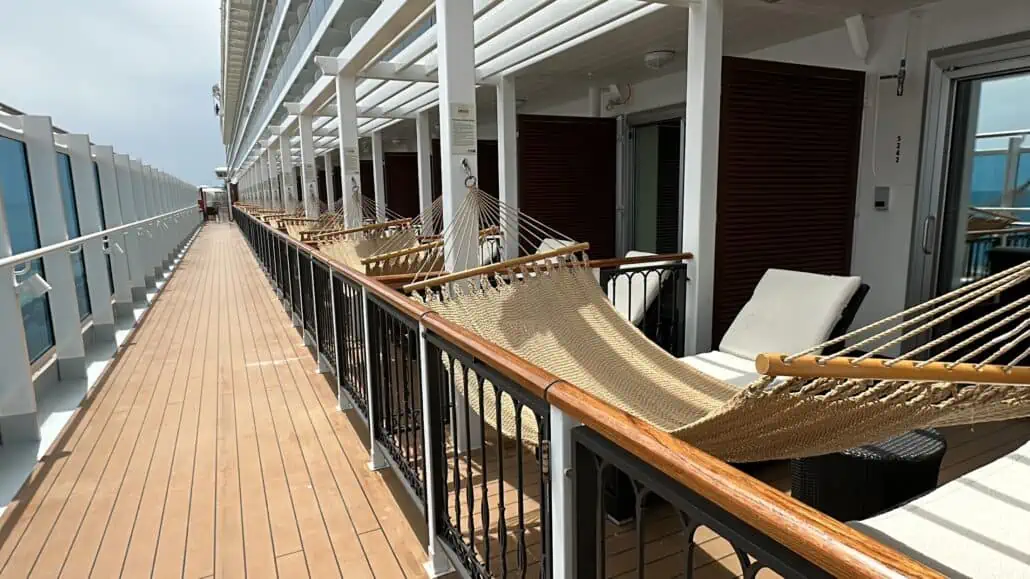 How To Choose A Carnival Venezia Cabin Category
At first, figuring out exactly what category to book can seem incredibly daunting.
But it's not as intimidating as it seems, especially once you realize there's not much difference between a 4B interior stateroom and one classified as a 4C.
More often than not, these subcategories refer to location or even how the room is configured.
There are, however, things you should take into consideration. For example, no matter what type of stateroom you choose, you'll want to look at the ship's deck plans to find out precisely what is above and below the cabin you're considering.
For example, say you're considering a stateroom in the forward section of Deck 6. A quick look at the deck plans will tell you that the ship's theater is directly below, on Deck 5. This might not be ideal for people who crash early and are light sleepers.
Our advice? Whenever possible, find a sandwiched cabin — there are staterooms above and below the one you're considering!
Carnival Venezia Stateroom Types
There may be various stateroom types on Venezia, and some may have strange names. Still, ultimately, the categories are similar to what you'll find on other ships: Inside, oceanview, balcony, and suite.
Sure, things get a little complicated when you throw in words like "cove," "cabana," "patio," and "Terrazza."
Or the fact that there are seven different types of balconies. We will break things down for you.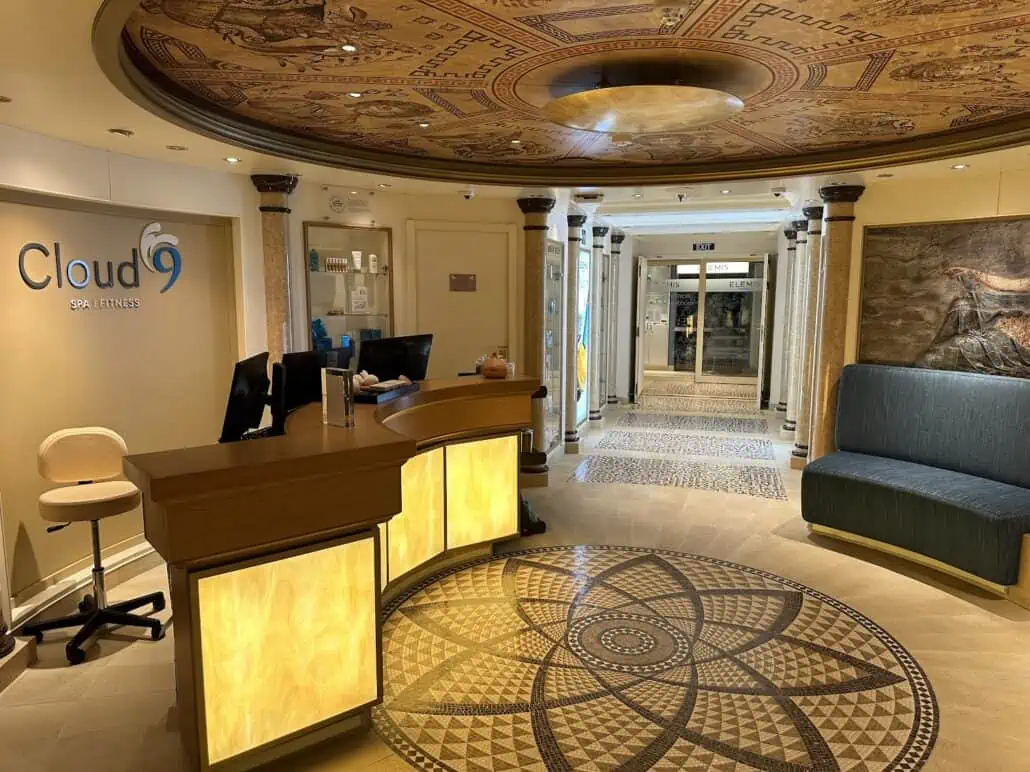 Before we dive into what's what, you must know a few things, first, let's talk about what you won't find on this ship, cabin-wise:
There are no Family Harbor or Cloud 9 Spa staterooms on board. While both are popular on other similarly-sized Carnival ships, we won't describe or define them since they can't be found here.
Let's also establish that when we start talking about Terrazza staterooms, those are pretty similar to what's known as Havana staterooms on other Vista- and Excel-class ships.
Likewise, the Terrazza Carnevale area is essentially the Havana area. But more on that later.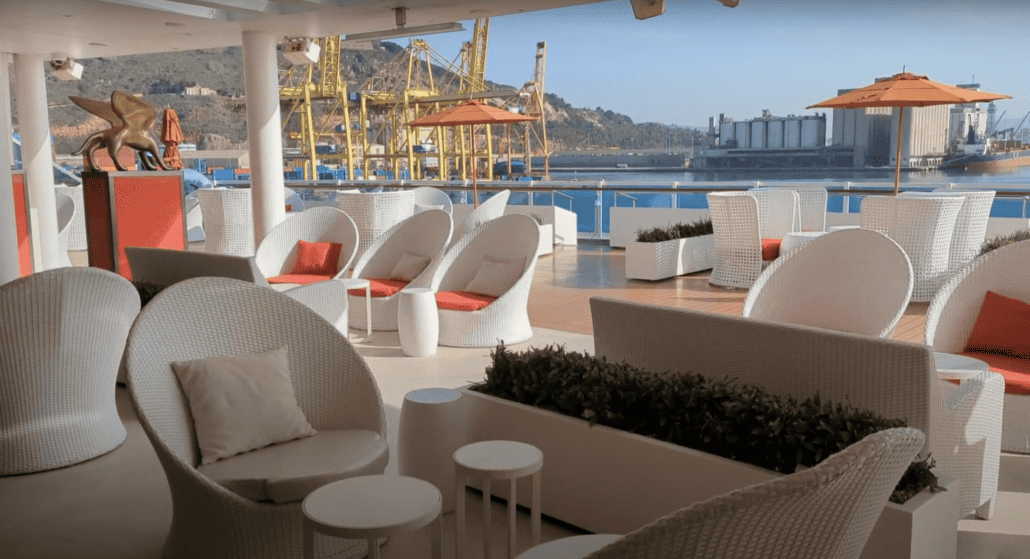 The standard Carnival Venezia staterooms come with USB/USB-C plugs by the bed and vanity, two twin beds (which can be converted into a queen), a vanity, closets, two-night stands, and a bathroom in which you'll find a shower with a glass door. (Thankfully, there are none of those awful, clingy, plastic shower curtains to be found here!
Venezia Staterooms, By Category
As we mentioned at the start of this story, there's a stateroom for every budget covering various types. There are 2045 guest staterooms on Venezia, meaning that at double capacity (each room having two guests), the ship sails with 4090 passengers.
If the ship is sailing at full capacity — meaning each stateroom holding the maximum, it is designed to hold — that brings the total to a whopping 5,263.
Let's take a closer look at not only the major categories (interior, ocean view, balcony, etc.) but the subcategories contained within each of those.
Interior Cabins
There are just under 800 interior staterooms on this ship… but it's important to know that not all interiors are created equal. Within the "interior" classification, there are three different categories.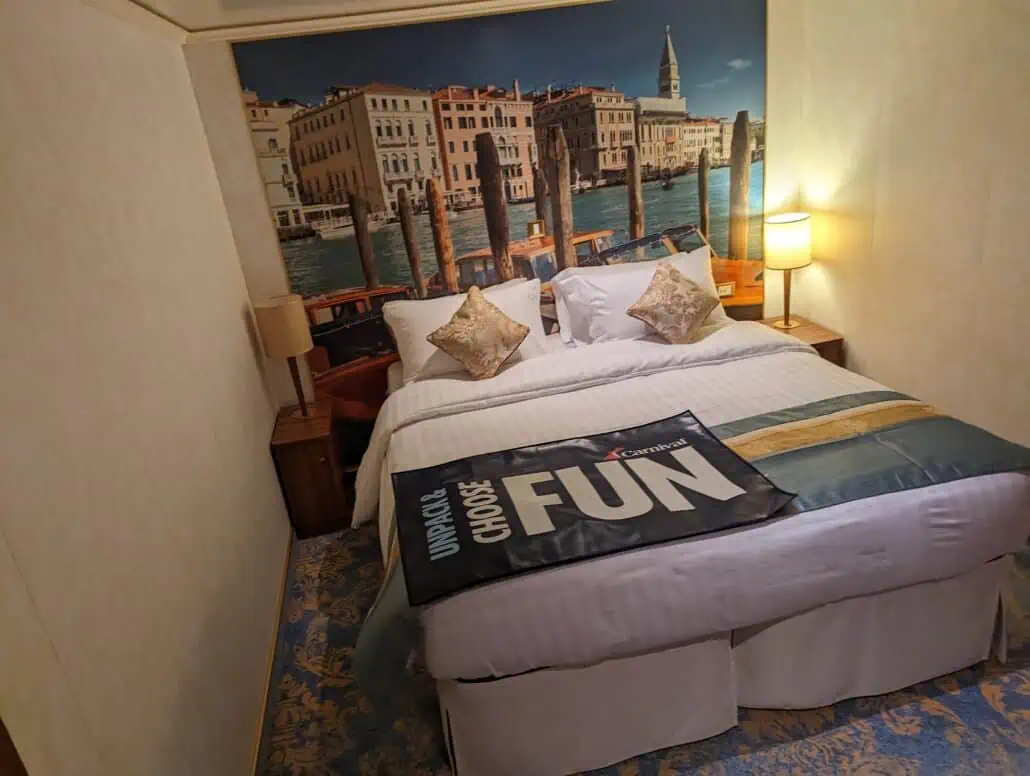 • Interior Upper/Lower. These are essentially the cheapest staterooms on board, designed for cruisers on a budget.
Ranging between 150-175 feet, they're creatively designed to maximize the available space via a layout that features one twin bed (lower) and a Pullman (upper), which pulls out of the ceiling.
This means there's more floor space than in a standard room with two twin beds (or one queen) on the floor. You'll find 21 available on the ship, a few of which have portholes.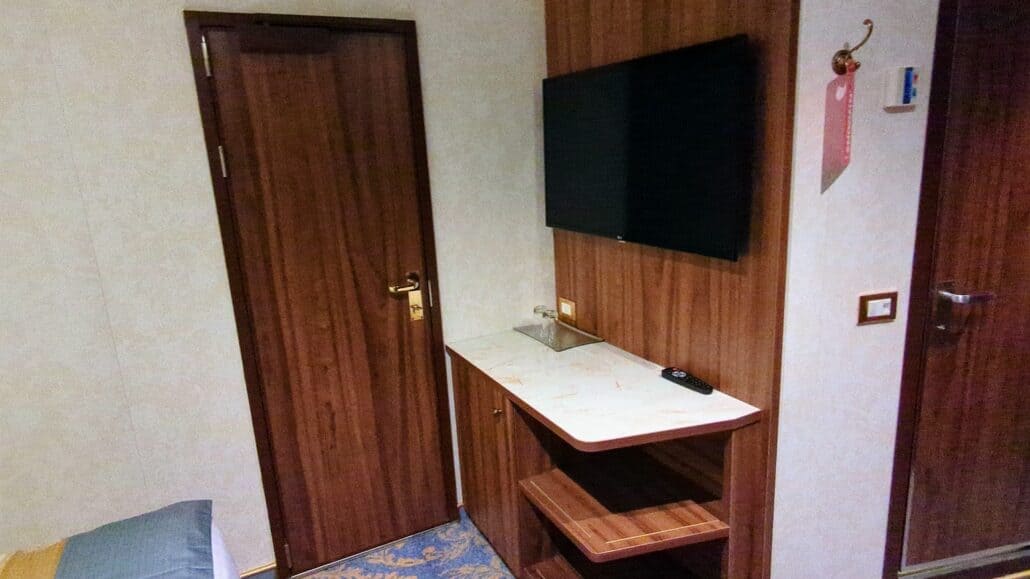 • Standard Interior: There are 761 of these staterooms on board, meaning the only category in which you'll find more are standard balconies (of which there are 904). These feature two twin beds (which can be converted to a single queen) and range from 159-189 feet. Proving that it pays to do your research, some of these have portholes or even "picture windows" with obstructed views of an observation deck.
• Terrazza Interior: Also known as "Terrazza Carnevale Interiors," these 14 staterooms are generally the most expensive of the interior staterooms.
They are also the cheapest way to gain exclusive daytime access to the Terrazza area, which features two hot tubs, a bar, a specially-curated brunch on certain sea days, and other perks. Size-wise, they range from 159-189 feet. It's important to note that all guests staying within the Terrazza must be at least 12 years of age at the time of sailing.
Ocean View Cabins
You might think that some of the rooms listed as "interiors" should be "ocean views," especially the ones which have portholes or "picture windows."
But when it comes to staterooms that are classified as Ocean View, there are 273 in total. And as with Interior staterooms, there are various permutations, explaining why "standard" rooms in this category run between 200 and 265 feet.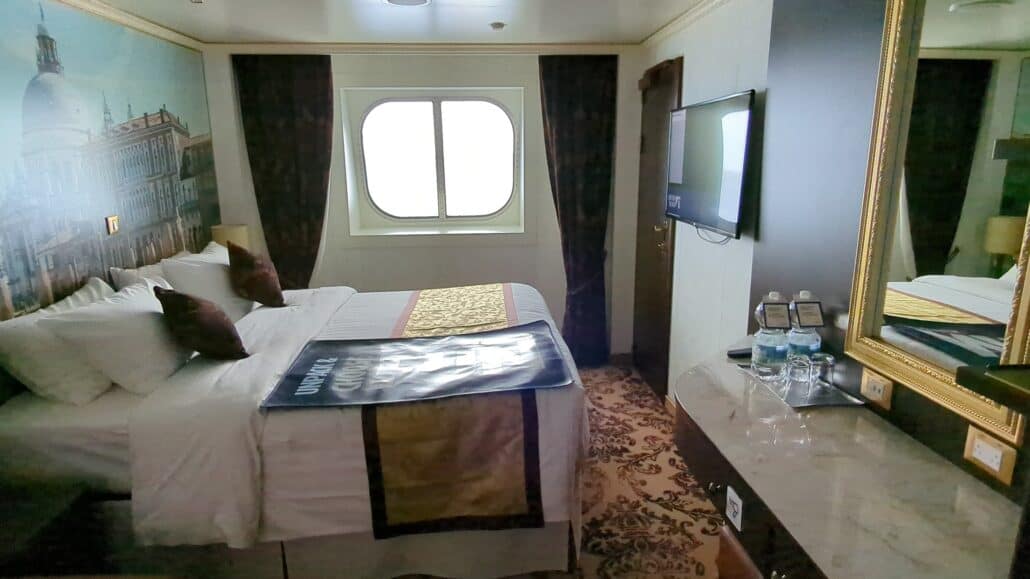 Staterooms here come in three categories. These are Standard Ocean View, Deluxe Ocean View cabins with Obstructed Views, and Deluxe Ocean View Staterooms without the obstructed view.
It's important not to confuse Ocean View staterooms with Ocean Suites, which are much larger and feature balconies and extra amenities, including access to the Terrazza Carnevale area.
Balcony Cabins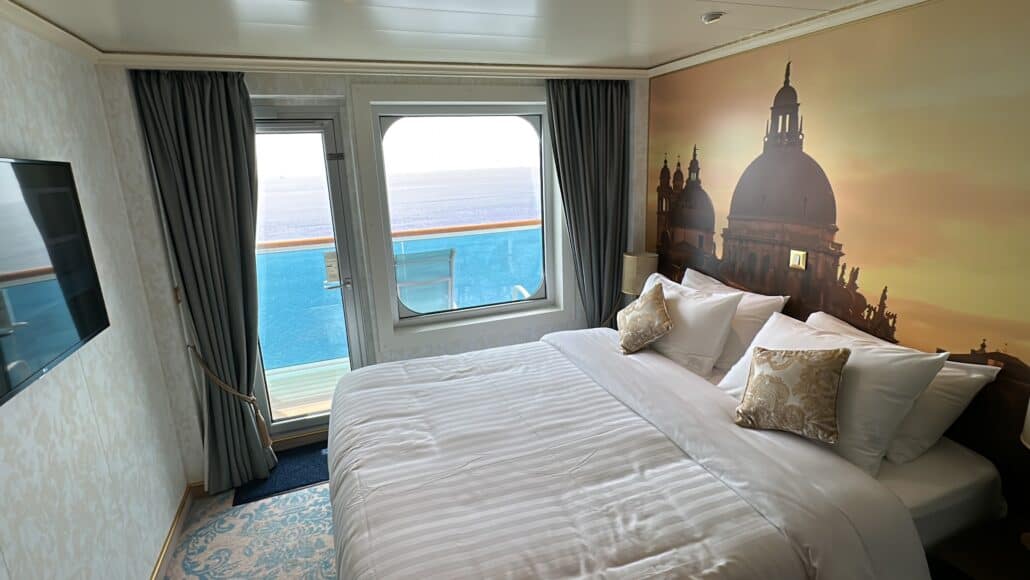 Fun fact: If you grew up watching episodes of The Love Boat, you might remember that even the highest-end staterooms on Captain Stubing's vessel did not have balconies.
Now, balconies are wildly popular, explaining why most cabins on this ship — like most other modern vessels — fall into this category.
Not only are there more staterooms in this category, but there are eight different subcategories, ranging from Cove Balconies to Terrazza Premium Vista Balconies.
This is where it pays to do a little bit of research, and one of the reasons we strongly recommend booking with a travel agent.
After all, their job is to understand the subtle differences between the various staterooms on board!
So, what are the balcony staterooms you'll find on Carnival Venezia? Let's take a closer look.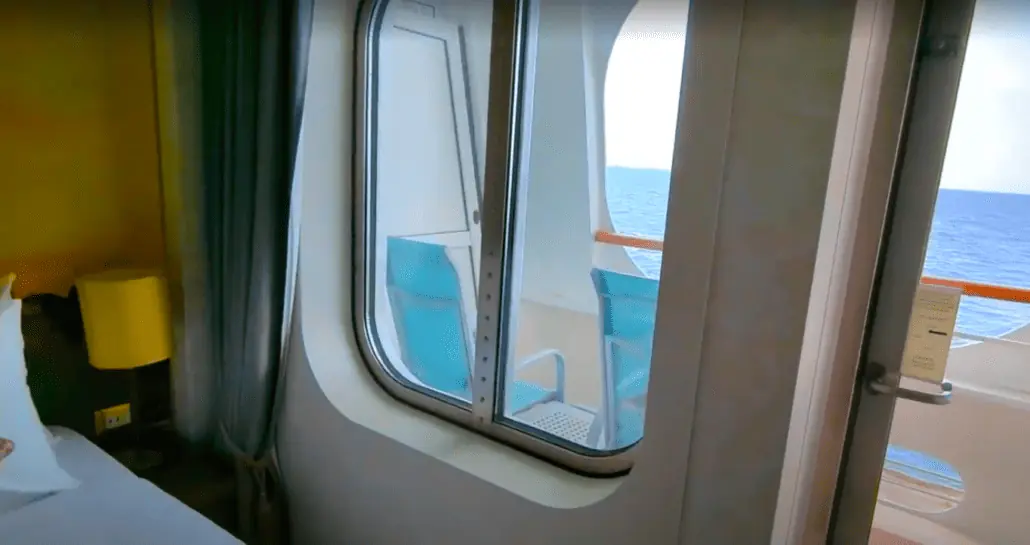 • Cove Balcony. Although not for everyone, this particular type of balcony is excellent for anyone who wants to be as close to the water as possible.
A "cove" balcony is built into the ship's hull for those unfamiliar. They are almost like an enormous picture windows without glass. Because they are on lower levels and tend to experience less movement during rough weather, these staterooms run 235 square feet, including the interior and the balcony.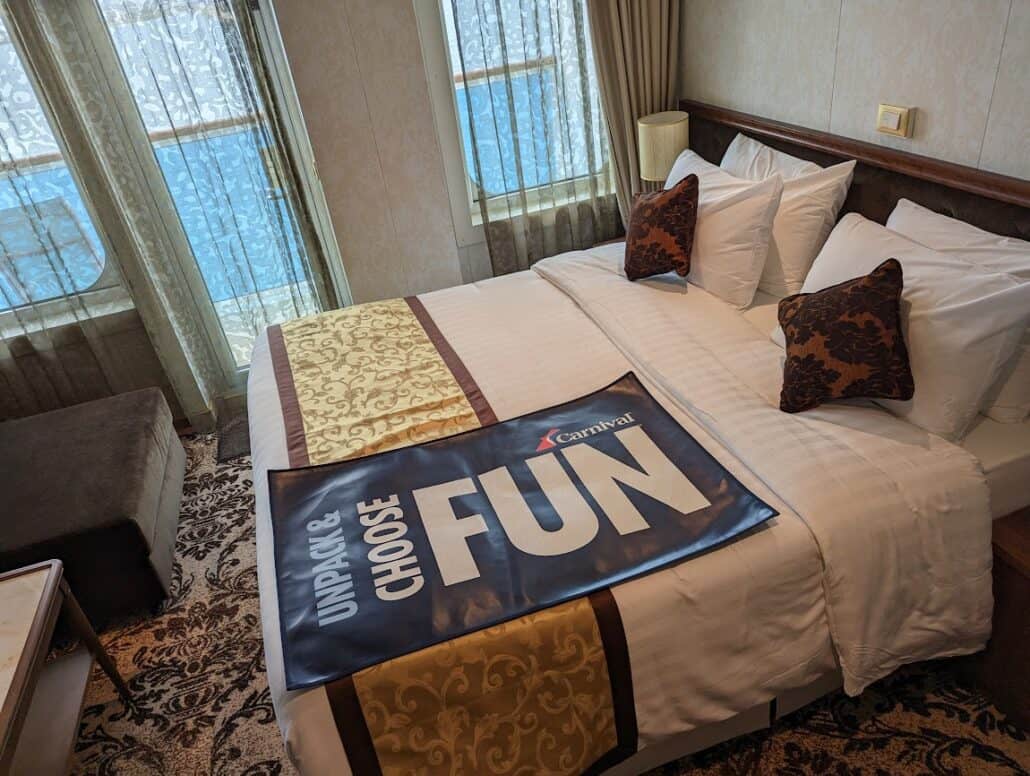 • Standard Balcony. These are the most common and popular staterooms on the ship, and are precisely what one thinks of when they hear the word "balcony." Interestingly, standard balconies run slightly smaller than Cove, coming in at 235 square feet, including the interior and the balcony.
• Aft-View Extended Balcony. Perched on the back of the ship, these staterooms have a killer view of the wake. Size-wise, they range from 245-297 square feet, including the interior space and the balcony.
• Premium Balcony. Balconies in this category tend to be slightly wider than you'll find with the standard balconies. Even looking at them on the deck plans, you can see the difference in width compared to other nearby balconies. Space-wise, they run between 265-295 square feet, including the interior space and the balconies.
• Terrazza Cabana. Yes, these are the staterooms with those cute patios, which feature two comfy loungers and a hammock.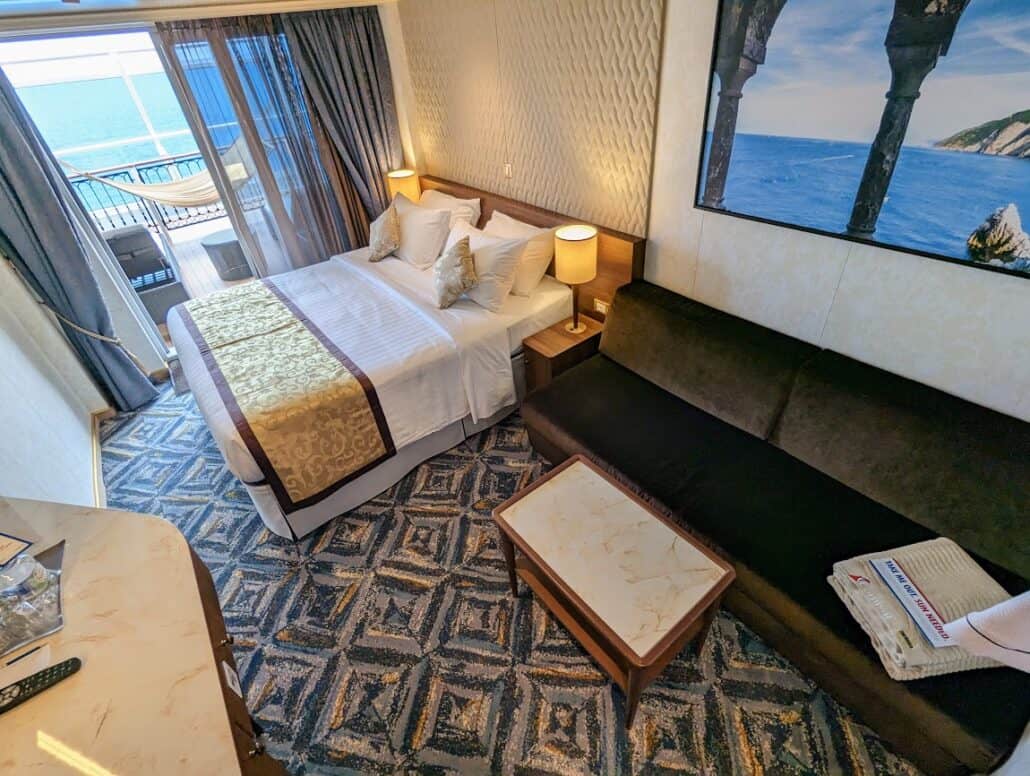 One thing it's essential to know is that while these are listed under "balcony," they do not directly overlook the ocean like a traditional balcony.
Instead, they are located on a promenade (accessible only by other guests staying in the Terrazza area). While the windows overlooking your patio are tinted for privacy, the patio is open for any to see.
One nice feature of these staterooms? You can use your keycard to enter the front door and via the balcony door.
These staterooms run between 254 and 335 square feet, including the stateroom and the patio area.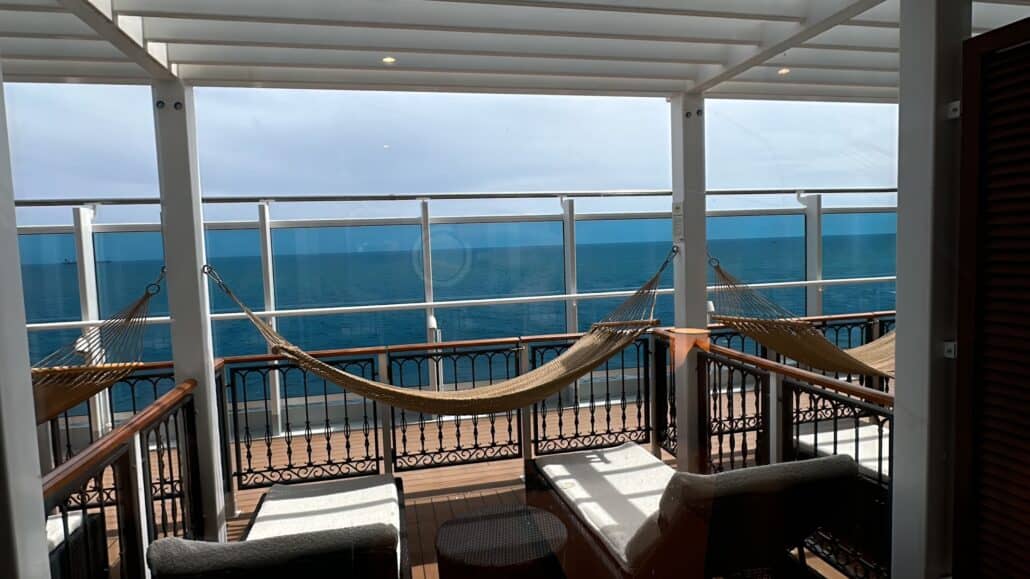 • Terrazza Aft-View Extended Balcony. All the features of an aft-view extended balcony, but with access to the Terrazza area and its perks. It's important to know that all guests in Terrazza staterooms — no matter the category — must be at least 12 years of age at the time of sailing.
• Terrazza Premium Vista Balcony. The square footage of these staterooms is massive at between 410 and 482 square feet. But it's important to note that the enormous wraparound balconies account for much of that. Several rooms feature odd layouts, no couch or secondary seating area, and minimal storage. The balconies also offer surprisingly little seating (the standard two chairs and a small coffee table).
Carnival Venezia Suites
The only Suite category on Carnival Venezia comprises Ocean Suites, which come in two varieties: The standard Ocean Suite, and those with obstructed views. Ocean Suites feature a walk-in closet, a huge bathroom (including a combo whirlpool tub/shower), a sitting area with a coffee table, and a balcony that, while decent size, is surprisingly tiny for so lovely a stateroom.
Additional Info about Staterooms
As we mentioned from the start, there can be differences from cabin to cabin, even within the various subcategories we've listed.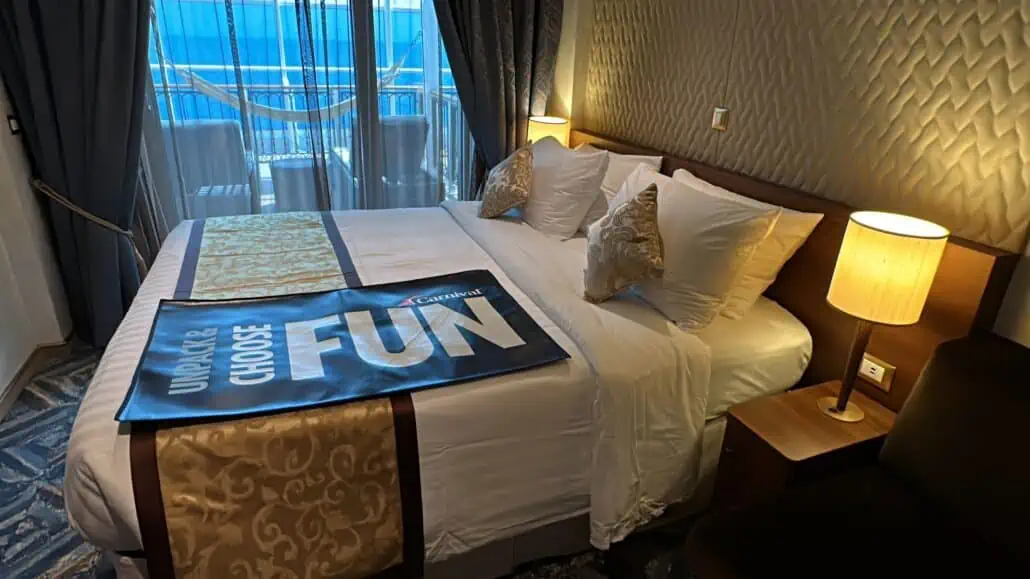 One of the reasons that we highly recommend consulting with either a travel agent or one of Carnival's cruise consultants is to get information about any quirks a given room might have.
For example, approximately 20 staterooms on board come with a king bed that can not be converted into two twins. Similarly, some stateroom bathrooms contain a junior-sized tub/shower and a separate shower.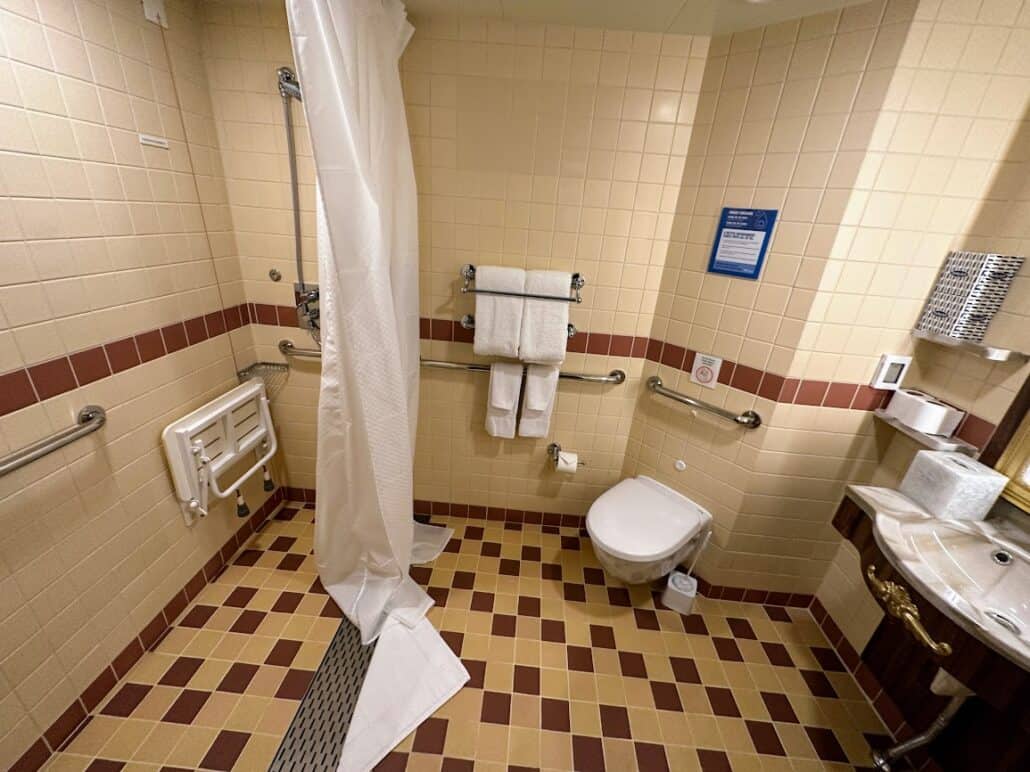 Additionally, there are ADA-compliant/accessible staterooms available in most categories. Across the board, these cabins have lower shelves in the stateroom, a more expansive stateroom and bathroom door, a roll-in shower, and a lower bed. The basic amenities are the same throughout the cabins.
As you can see, there is a lot to unpack when looking at Carnival Venezia cabins, and it far exceeds just picking an interior, ocean view, or balcony.
Go Deeper: Comprehensive Carnival Venezia Review