Carnival Cruise Line has revealed new details on its upcoming Venice-class ship Carnival Venezia, which is being transferred to the fleet from sister line Costa Cruises.
During a livestream today, Carnival Cruise Line president Christine Duffy and Director of New Build Product Development Glenn Aprile revealed many of the dining venues, bars, and spaces that guests will find on board.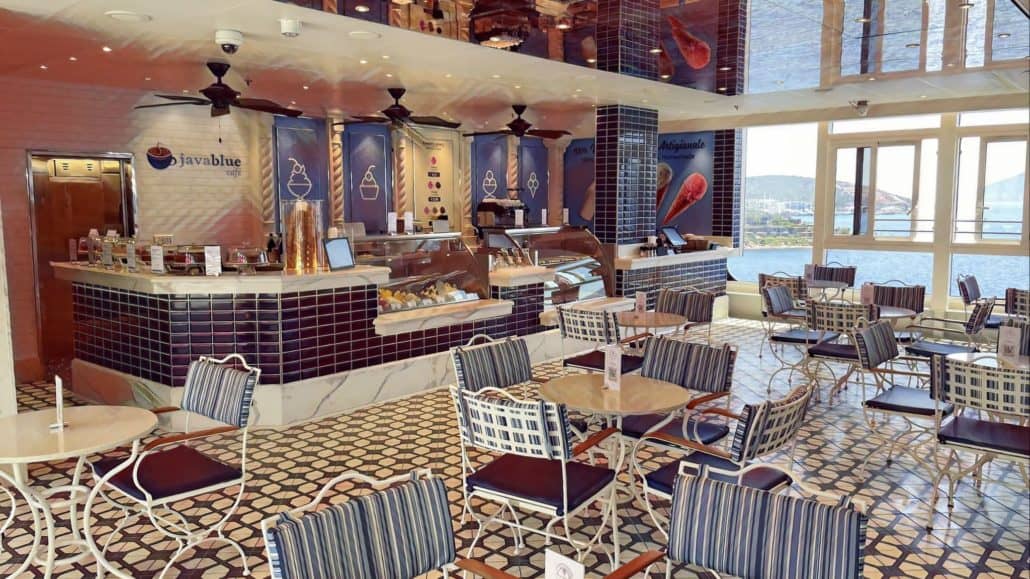 Dining Venues
Guests already familiar with Carnival will find many of the line's signature restaurants on Carnival Venezia, including Fahrenheit 555 steakhouse, Bonsai Sushi & Teppanyaki, Seafood Shack, and Pizzeria del Capitano. New or reimagined restaurants will include:
Guy's Burger Joint: Italian flavors and ingredients will transform some of Guy Fieri's famous burgers. Along with classic American burgers and fries, new menu items will feature an Italian twist such as the pepperoni pizza burger and the Big Mozz — a burger smothered in melted mozzarella cheese.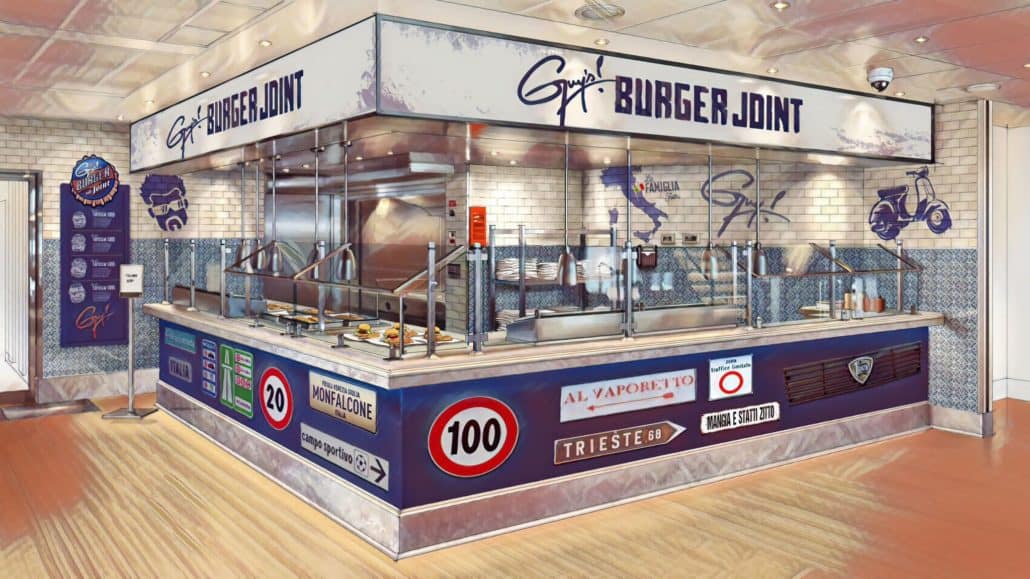 La Strada Grill: This street food-esque venue will serve salads, grilled meats, and sandwiches.
Tomodoro: Standing in place of BlueIguana Cantina on other Carnival ships, Mexican Italian fusion restaurant Tomodoro will feature ingredients such as Italian meatballs and Sicilian rotisserie chicken alongside traditional Mexican tacos and burritos. It will be open for breakfast and lunch.
Canal Grande and Marco Polo Restaurants: These main dining rooms will both offer three-course meals in spaces surrounded by Italian sculptures and architectural designs; one with a real gondola in the center. In addition to the classic menus, special Italian dishes will be offered including favorites from Carnival's signature Cucina del Capitano specialty restaurant.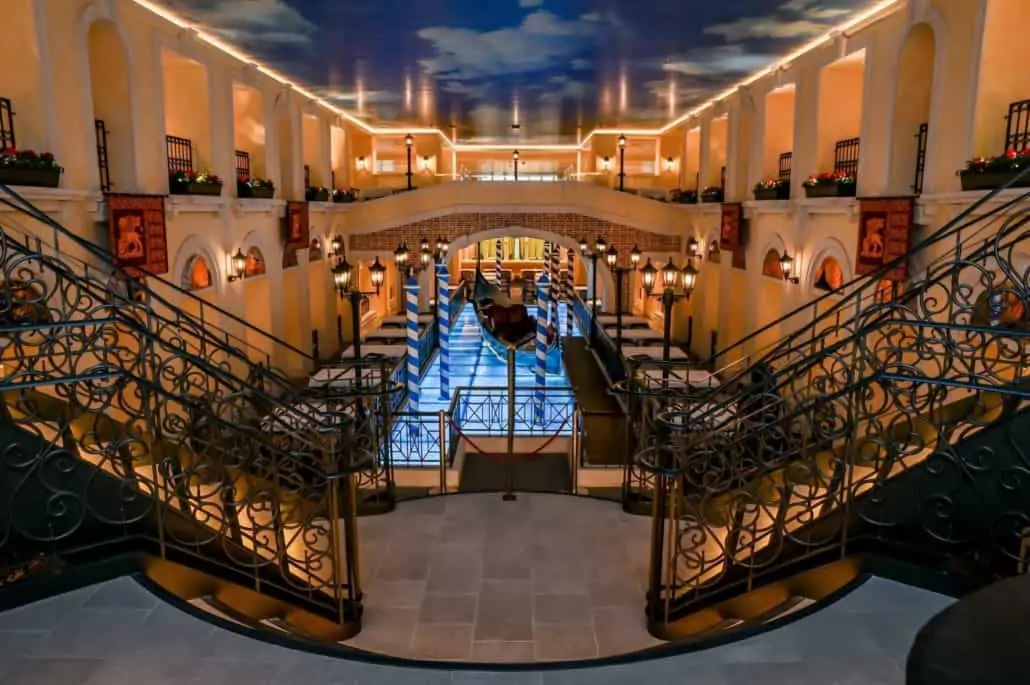 New Italian Restaurant: Speaking of Italian specialty restaurants, Carnival Venezia will feature a new one complete with an oven that makes focaccia bread. More details on the venue, which will be open for brunch on select sea days as well as dinner, will be revealed at a later date.
Bars and Lounges
Like with restaurants, Carnival Venezia will feature some bars and lounges that are already mainstays on other vessels in the fleet, including Piano Bar 88 and Heroes Tribute Lounge. Some venues will feature new Italian menu items, such as gelato at JavaBlue Café. Here are some new and reimagined venues:
Amari: Similar to Carnival's Alchemy Bar, Amari will offer expertly-crafted cocktails featuring a variety of Italian liqueurs and bitters. This elevated cocktail experience will include drinks such as negroni, americano, Amalfi martini, and sbagliato. Select Alchemy Bar favorites will also be available.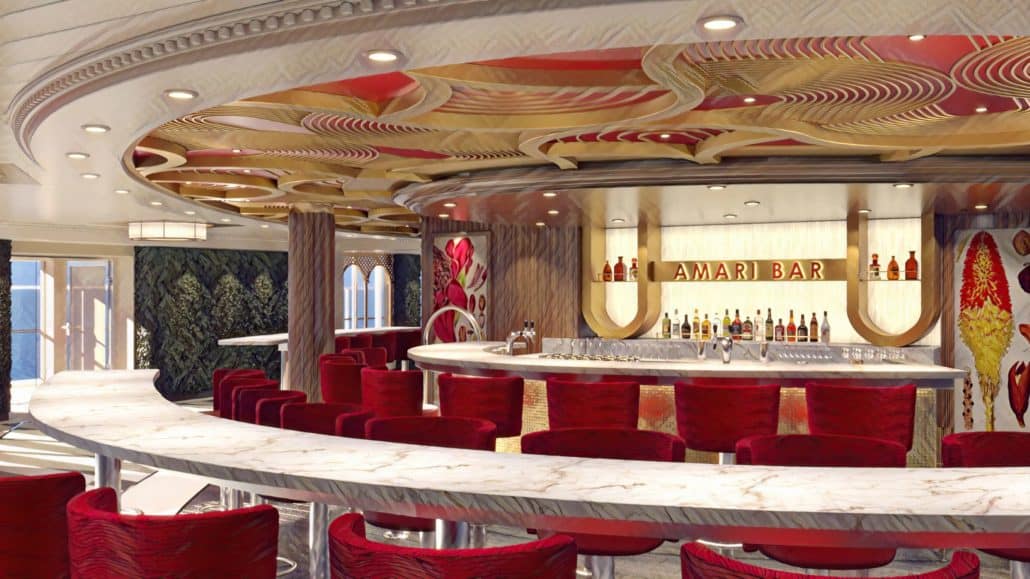 Frizzante: A variety of bubbly drinks, from prosecco to spritzes and bellinis are served here, along with Italian beer. Authentic Italian coffees and biscoiti will be served throughout the day.
Carnevale Bar & Lounge: Tasty cocktails are served in a lounge inspired by the elegance of Venetian masquerades during Carnevale and features beautiful scenes of the celebration on LED screens, complete with live music, fine Italian wines, and classic cocktails.
Gondola Lounge: Inspired by the canals of Venice, this space (which is where Ocean Plaza is on the other Vista-class ships) features a large stage with a dance floor as well as seating for enjoying live entertainment.
Rococó: Refreshing frozen drinks including frozen limoncello, margaritas, daiquiris, and piña coladas will be served at this fun bar that Carnival describes as "Baroque Goes Pop."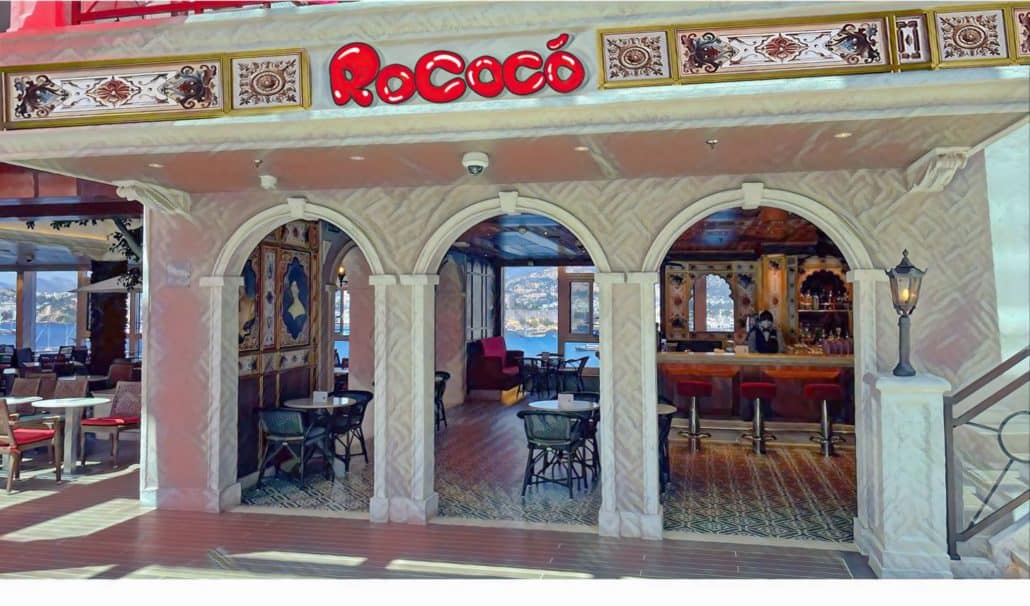 MORE: Icon of the Seas to Feature Royal Caribbean's First Family Buffet & Lemon-Themed Bar
Entertainment and Activities
On Carnival Venezia, guests can expect the high energy they are familiar with on Carnival's cruise ships.
Parties and Gatherings
During the Captain's Venetian Toast, the captain will greet guests in true Venetian style while live music fills the atrium and cast members don Venetian costumes. Guests are encouraged to wear Venetian masks, which they can either bring from home or purchase on board.
Little Italy meets Lido for the Italian street party featuring rotating entertainment at the main stage while competitions such as spaghetti and gelato-eating contests keep everyone entertained.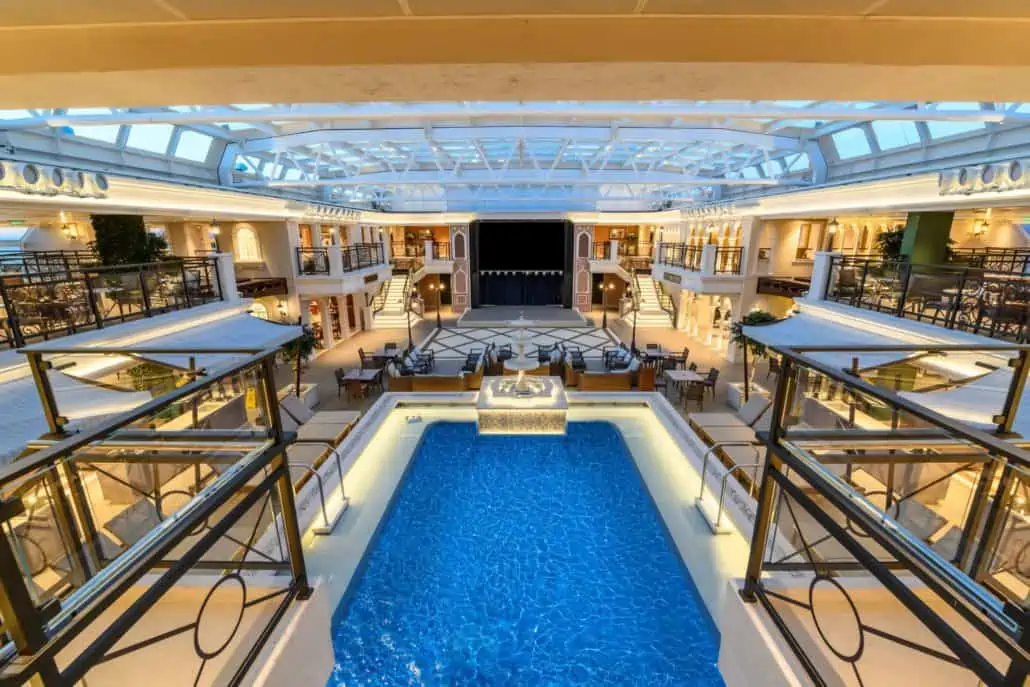 Playlist Productions
Color My World: Carnival Venezia will be only the second ship in the fleet to feature this brand-new show, which debuted on Carnival Celebration last month. The Indie rock and pop love story combines different art mediums to create a visually stunning experience, and it will feature an artist painting live on stage.
Broadway Beats: This show connects the audience to the ship's homeport with a larger-than-life journey through New York City.
Vintage Pop: This modern musical features a '20s spin tying in with New York's prohibition era.
Epic Rock: This show features rock staples from artists like Journey, Aerosmith, and Bon Jovi.
Kids and Family Activities
In Camp Ocean and Club O2, kids, teens, and families can experience different regions of Italy through crafts, games, and themed activities such as gondola racing, Futbol challenges, Italian hopscotch, and more.
In addition to popular SportSquare games such as basketball and pickleball, families can also choose Italian activities including bocce ball and foosball. Other top-deck favorites such as the ropes course, mini golf, and WaterWorks aquapark will also be featured on Venezia.
Cabins
Since the ship is transitioning to the U.S., standard American power outlets are being added to the staterooms both in the vanity area and by the beds. Cabins will feature artwork of various scenes from Venice at the head of the beds, as well as other Italian touches in the staterooms such as gold-framed mirrors.
Carnival Cruise Line is also introducing a new concept called Terrazza staterooms, which is in place of the Havana staterooms and public areas on other Vista-class vessels. Located on decks five to nine aft, Terrazza staterooms include interiors, balconies, and Terrazza Cabanas which feature private patios with plush loungers and hammocks. These cabins offer exclusive access to Terrazza Carnevale, an outdoor terraced deck with two hot tubs, a bar, and a lounging space.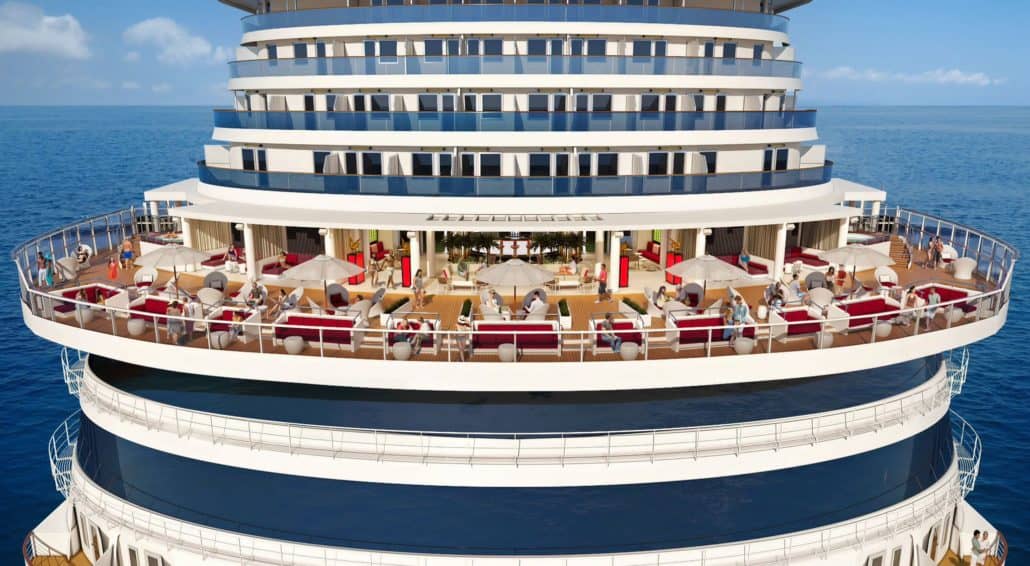 "Carnival Fun Italian Style is a new take on our recipe for creating memorable Carnival cruises, but certainly, fun will still be at the heart of everything we do on board," said Duffy. "Guests will feel right at home on Carnival Venezia, with our friendly team members and many familiar venues and experiences on board, but the addition of several creative new concepts from dining and beverage to entertainment will surely offer some new favorites and further enhance the ship's Italian theming."
Carnival Venezia will operate a wide range of itineraries from Manhattan starting June 15, 2023.
In 2024, Carnival Cruise Line will welcome a second "Carnival Fun Italian Style" ship, which Carnival Firenze joined the fleet and begins sailing from Long Beach, California.
READ NEXT: Historic Queen Mary to Reopen After Nearly 3 Years