The journey started from Jacksonville, Florida and brought me to Barcelona to meet Carnival Vista.
I didn't know what to expect when I first boarded the ship. Over the past 18 months I've seen the ship come to life through a series of events in NYC, videos, renderings, and photos. Now that I've been on the ship for my first 12 hours, I can say it was everything that I thought it would be and more.
Before I get started, I'm going to tell you that these live Carnival Vista blogs aren't for everyone. Not everyone cares what I'm doing out here, but if you want to know my thoughts, opinions, and see some photos of the ship – you've come to the right place.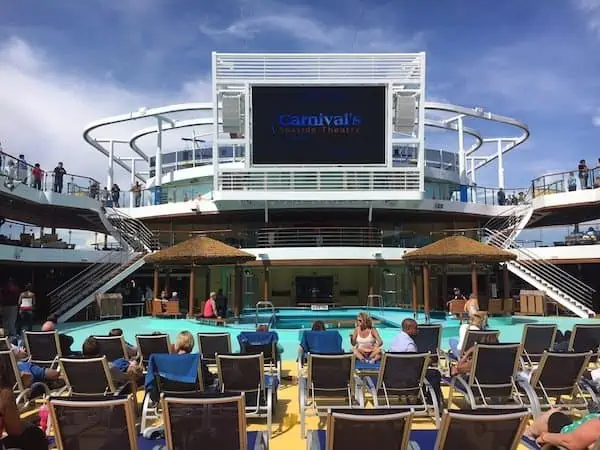 Getting Here
I took an overnight flight to Barcelona via Atlanta and hit the ground running. We took the transfer to the ship. Next time I take a cruise out of Barcelona, I'll come in a day early and leisurely get to the cruise pier. The transfer area was a disaster with 100s of people swarming the agents to check their luggage – embarkation at the pier wasn't much better. They're using new technology for check in, and it probably didn't help that this was the first ship they were using it on.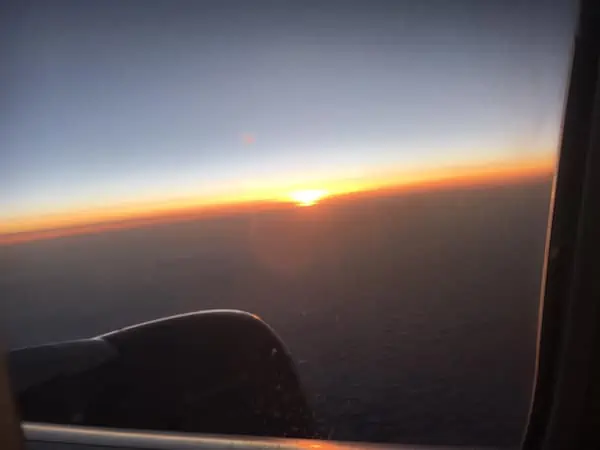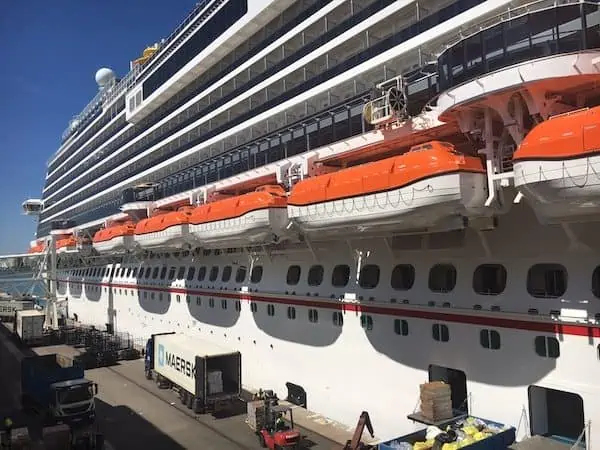 First Impressions
The ship is beautiful. The centerpiece in the atrium is stunning and a focal point for the ship. It's the first thing you see. Usually when I think of Carnival ships, glass elevators in the main atrium come to mind – not on Carnival Vista. The ship is designed for flow and with entertainment in mind. More on that later.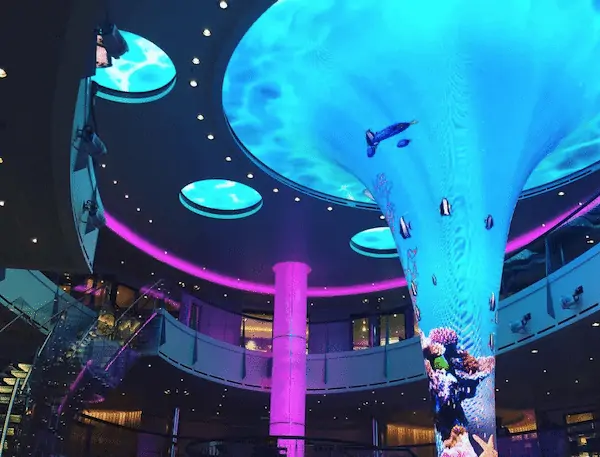 Heading to the Seafood Shack
Anyone that knows me, knows that I head straight for Guy's Burger Joint when boarding any Carnival ship. But on Carnival Vista, there's a for-fee Seafood Shack on the aft lido deck and that's exactly where I went. For $12 I got a fresh lobster roll and fries; they also serve oysters, fish, shrimp, and chowders there. It did not disappoint. I've grown up around seafood (my dad was a shrimper at one time) and Carnival nailed it with this.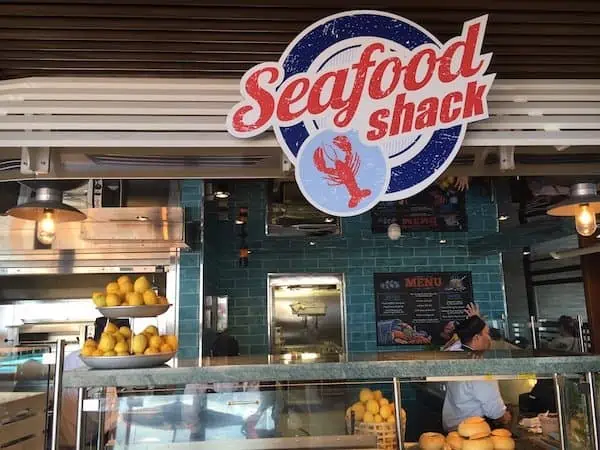 Lifeboat Drill
Who doesn't dread the lifeboat drill? Sitting around packed like sardines canned up and usually sweating off. I've noticed a couple different things with the lifeboat drill on Carnival Vista. The technology scans one person's card and everyone in your stateroom pops up, they can check everyone off in your party instead of doing it one by one. Also, instead of lining up single file along the lifeboats, were in the Liquid Lounge on deck four. Since the lifeboats are already sitting on deck, we didn't have to stand up next to them. The drill lasted 20 minutes.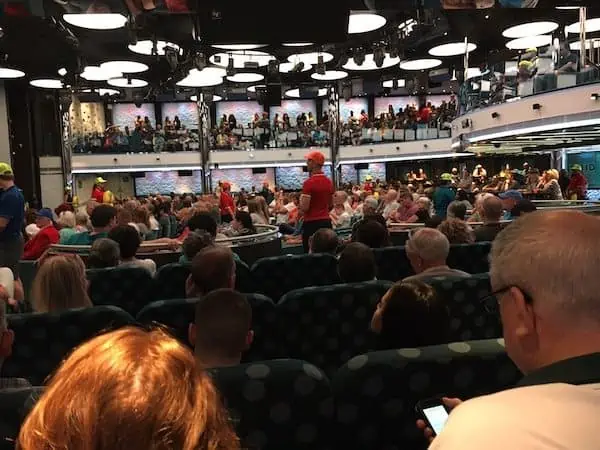 Lido Deck
This is your standard lido deck with the exception of there being on more level of chairs. Guy's Burger Joint and BlueIguana Cantina were both hopping and the sail away party was attended by 100s of people. Out of all the cruise director's I've seen, I think Matt tops the cake with his energy and charisma he brings.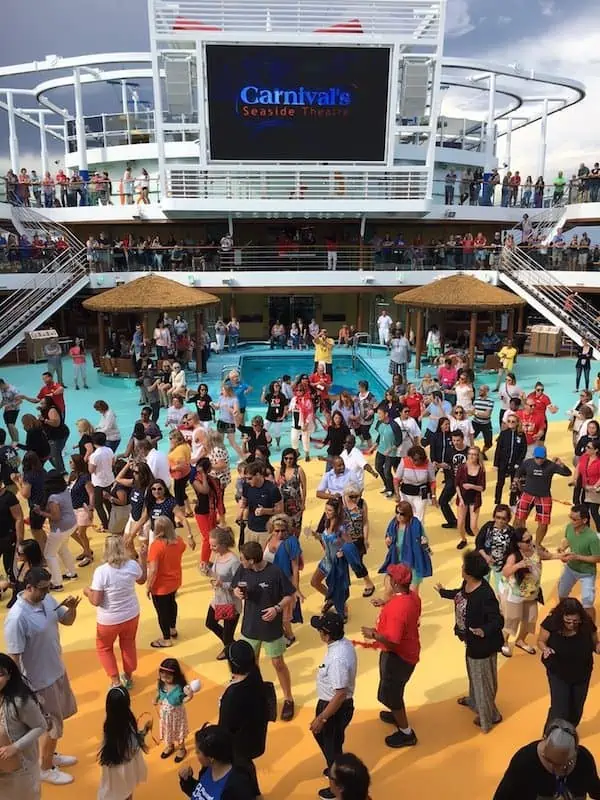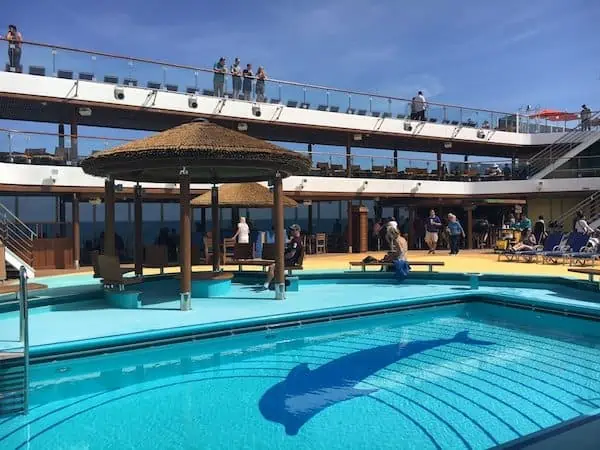 Question: How bad is the indoor smoking areas on Carnival Vista? 
Not being a smoker, that was one thing I worried about. With the casino being in the middle of the ship, will the smoke drift out of deck five and make its way through the ship, particularly the atrium bar or up a level to the dining? You can smoke in the casino but I haven't noticed it around any other areas of the ship; it must be well ventilated.
Check out our other days aboard Carnival Vista by clicking below!
Pin this!