Overview: Carnival Cruise Line is the world's most popular cruise line, with 24 ships and 2 more in the works. It's known as being extremely family-friendly and a great option for families with kids.
Programs for Babies: Babies 6-mo and older are allowed to sail with Carnival, and there is a babysitting service available for them for a fee. Times vary. For toddlers, there is a free program called Camp Ocean and kids ages 2-5 are called Penguins. Staff will even change diapers on toddlers 3 and under if their parents provide the supplies. Some activities for Penguins include musical icebergs, sing-alongs, ocean bingo, and sea creature aerobics.
Programs for Kids: For kids ages 6-8, they're in Camp Ocean and are called Stingrays. Kids ages 9-11 are called Sharks. The Camp Ocean area of each ship includes a space called the Party Reef, where all the kids in each age group of Camp Ocean have a common area that brings them together. When they're off doing things in each group though, some activities for Stingrays include a pirate game night, seashell crafts, and design your own aquarium. Sharks can have fun making ocean origami, having an inner tube relay, video games, and designing their own cruise ship.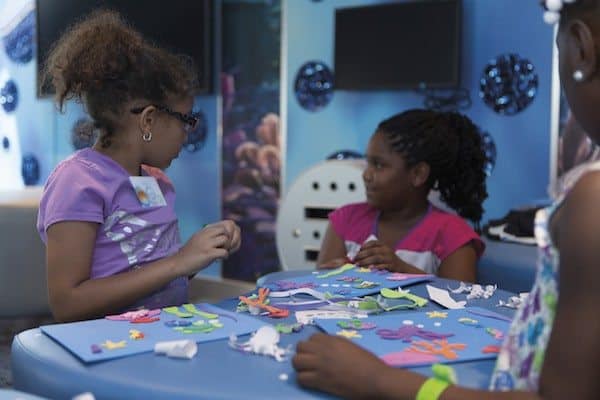 For all age groups in Camp Ocean, there is a special kid's-only dinner from 6-6:45pm where kids can eat with their camp counselors. This is every night of the cruise except the first one. There is also a strict sign-in/out policy for Penguins and Stingrays where a parent must sign them in and out. For Sharks, this is optional and the parents can decide if they want their child to need to be signed in and out or not.
On sea days, there are supervised activities all throughout the day at various times in Camp Ocean. On port days, there is supervised free play from port arrival until approximately 2pm and then supervised activities throughout the evening.
Carnival also offers Night Owls for kids 6-mo to 11 years, which is babysitting for a fee between 10pm and 1am. Night Owls offers activities throughout the night.
Programs for Tweens: Tweens and young teens ages 12-14 can enjoy Circle "C"; a program that includes parties, games, and activities. Circle "C" includes a lounge with a dance floor, video games, and TVs for movie watching. Some other activities offered in Circle "C" include karaoke, sports, crafts like bead-making, scavenger hunts, and twister waterslide racing.
Parents must register their tween for Circle "C", but once registered they can come and go as they please throughout the cruise and don't need to be signed in or out.
Programs for Teens: For teens ages 15-17, Carnival's got them covered with Club O2. This lounge includes a dance floor, video gaming pods as well as tournaments, karaoke, scavenger hunts, sports, and themed parties. When there aren't activities going on, though, Club O2 is the perfect place to kick back and relax. It was designed for lounging and comfort.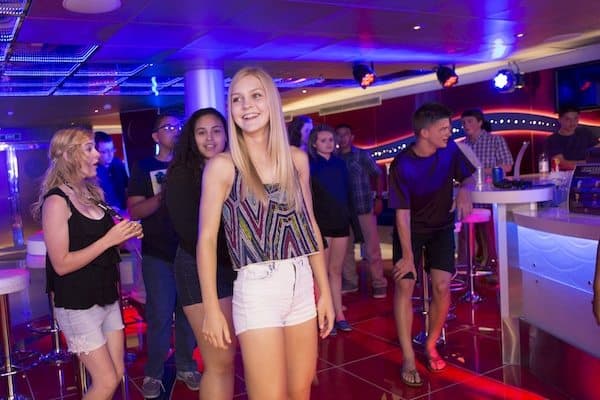 Family Programs: Dr. Seuss abounds on Carnival ships, with a program called Seuss at Sea. Kids and parents alike can participate in a Dr. Seuss parade, a special green eggs and ham breakfast, story readings with guest participation, character meet and greets, and more.
Carnival also offers Hasbro, The Game Show, where guests get to play giant versions of their favorite games onstage like Connect 4 Basketball, Sorry! Sliders, Operation Sam Dunk, and more. You get to team up with your friends and family to compete in this live show and win prizes. All ages are welcome, so it's fun for the whole family.
Family-Friendly Shipboard Amenities: Carnival offers an onboard water park called WaterWorks, which includes waterslides, bucket soakers, water jets, and more fun. There's also a sky-high ropes course, a sports square, mini-golf, live stage-shows, movies out on the pool deck, and more.