We're under three months away from the launch of Celebrity Cruises' next Edge-class ship, Celebrity Beyond. The cruise line is calling the vessel its most luxurious ship ever, as it builds on many elements from Celebrity Edge and Apex and takes them a step further.
With its April 27 inaugural cruise on the horizon, we thought we'd gather together 17 beautiful renderings (plus one actual photo!) of the ship to give you an idea of what's in store aboard Celebrity Beyond.
Let's start with a beautiful photo of the exterior, which was taken in early February 2022 during Beyond's sea trials. It's easy to tell it's an Edge-class ship because of the bright orange Magic Carpet platform suspended on the side.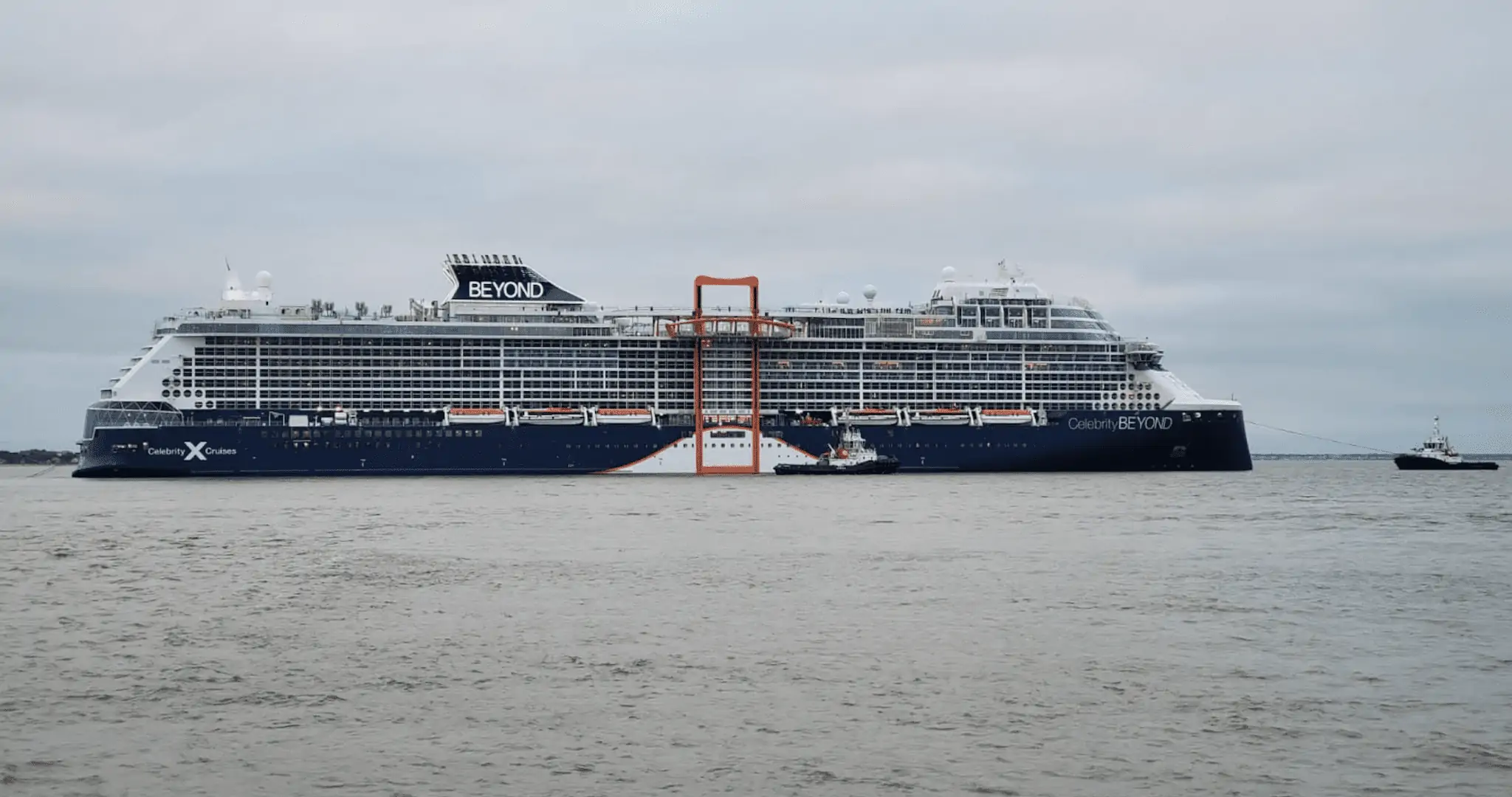 Next, take a look at the ship's atrium — called the Grand Plaza. If the rendering is any indication, this space is bright and elegant.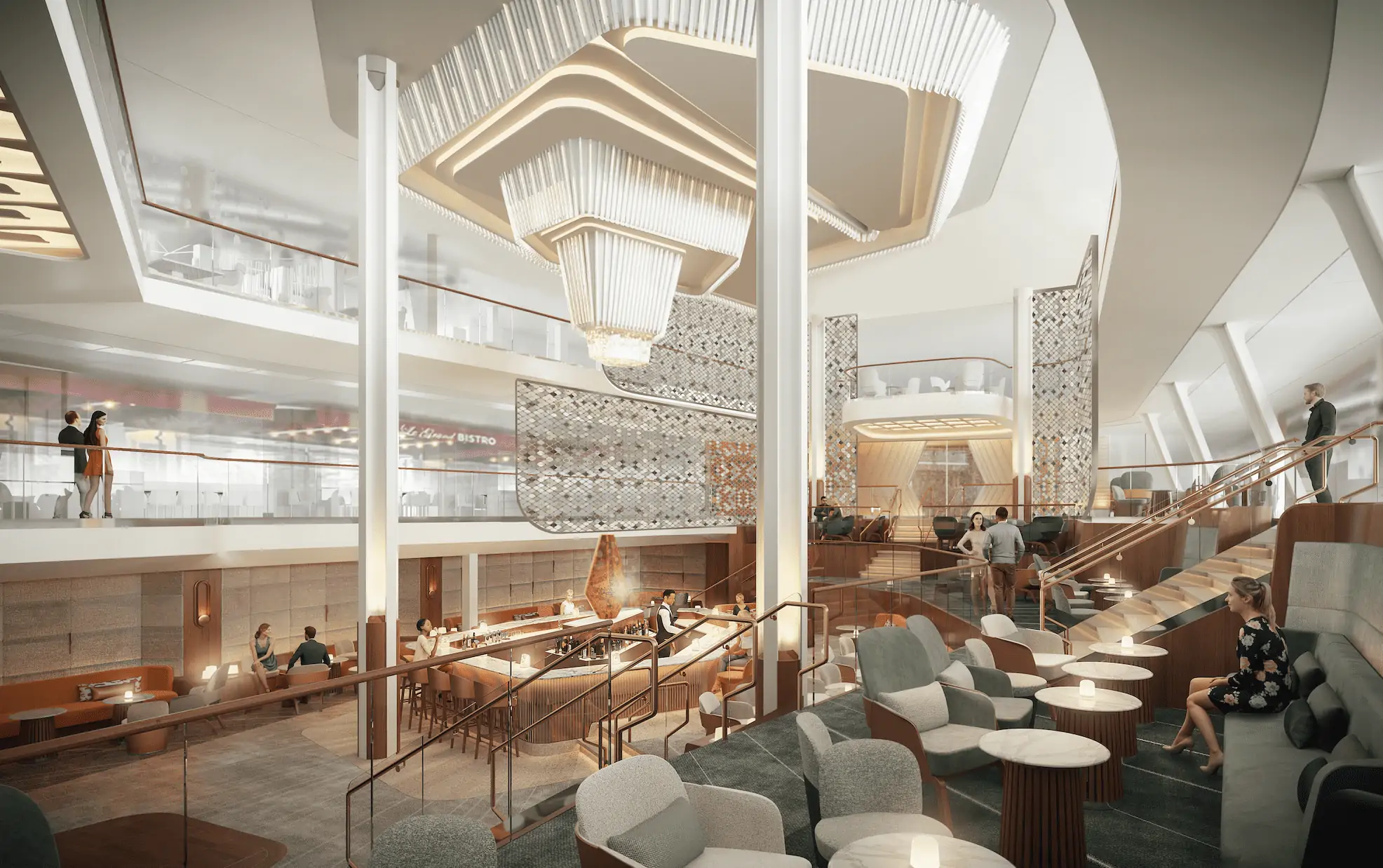 If you've been on Celebrity Edge or Apex, or seen photos of them, the main pool deck will seem familiar. While Beyond's Resort Deck is not identical, it features a massive, long pool like its sister ships.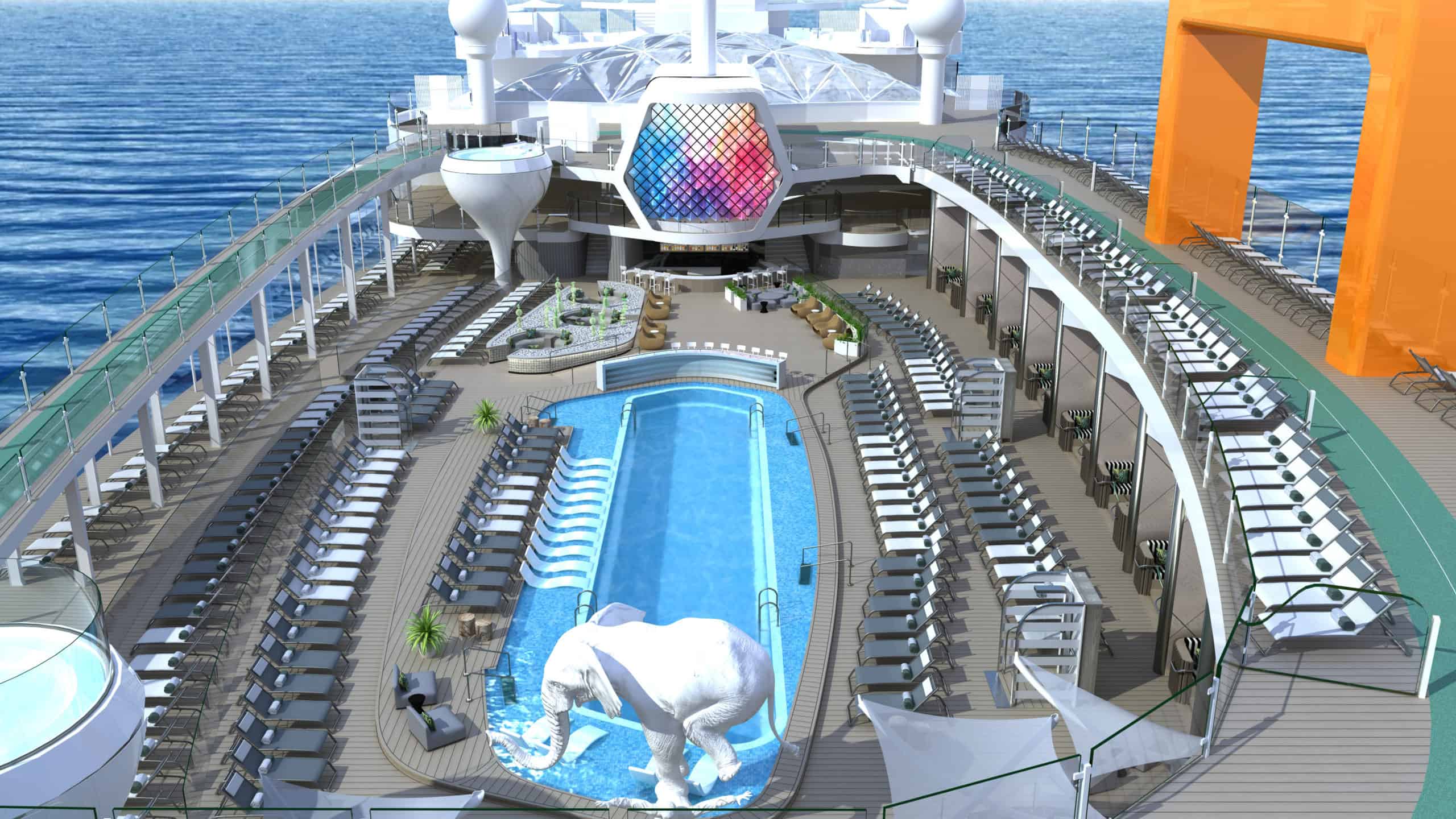 What is this, the 1970s?! Just kidding, we actually love the idea of a sunken conversation pit on the Resort Deck — these pool decks are often so massive and there's nothing intimate or cozy about them in the least. Adding these defined gathering spaces offers a bit more intimacy to a generally-bustling public deck.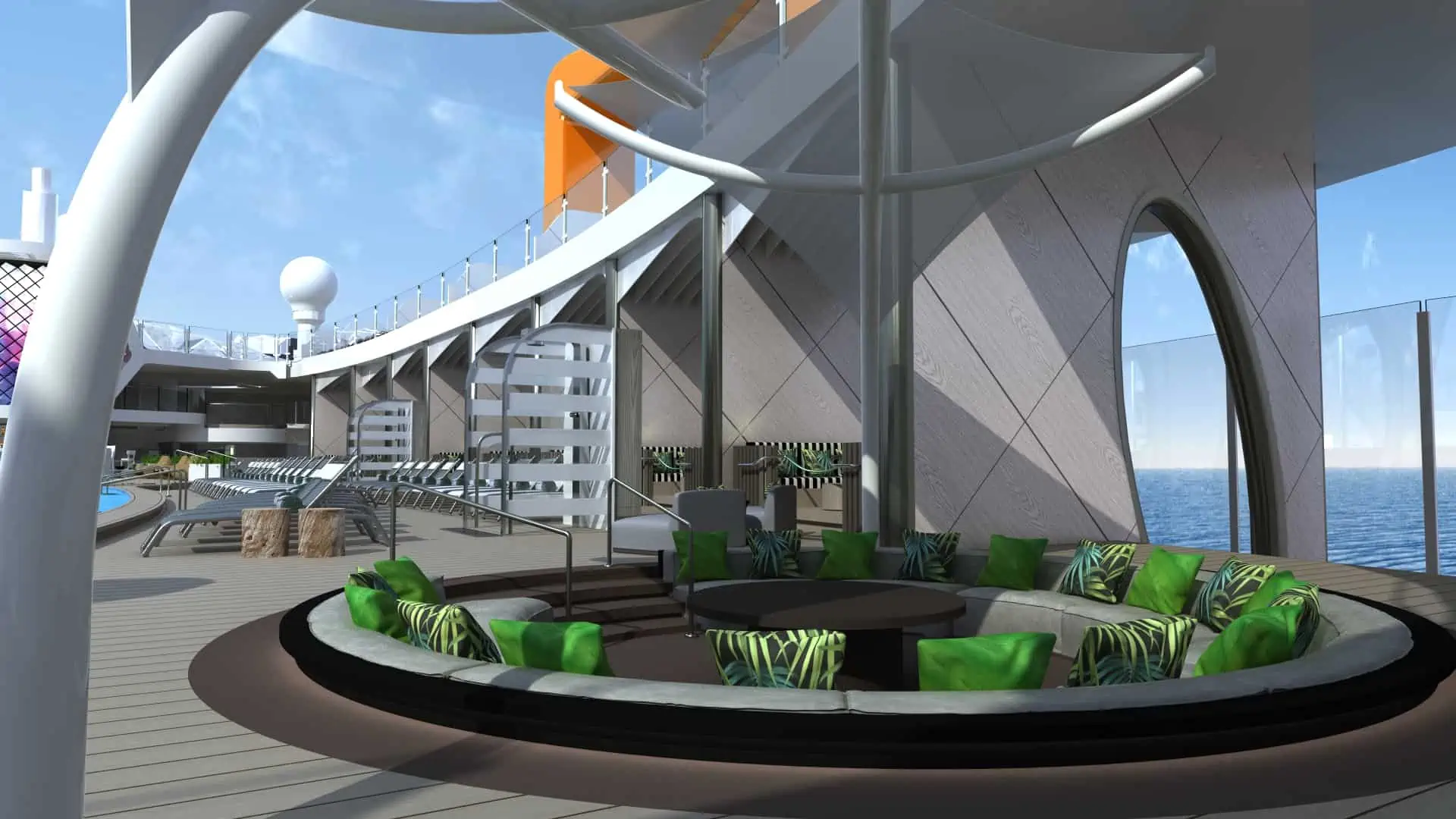 MORE: Celebrity Reveals New Details on Third Edge-Class Cruise Ship
Celebrity Beyond features the fleet's largest Sunset Bar ever — about twice the size of the guest-favorite venue on other ships. The space is inspired by Morocco, and features conversation niches and covered enclaves for enjoying cocktails with friends and family.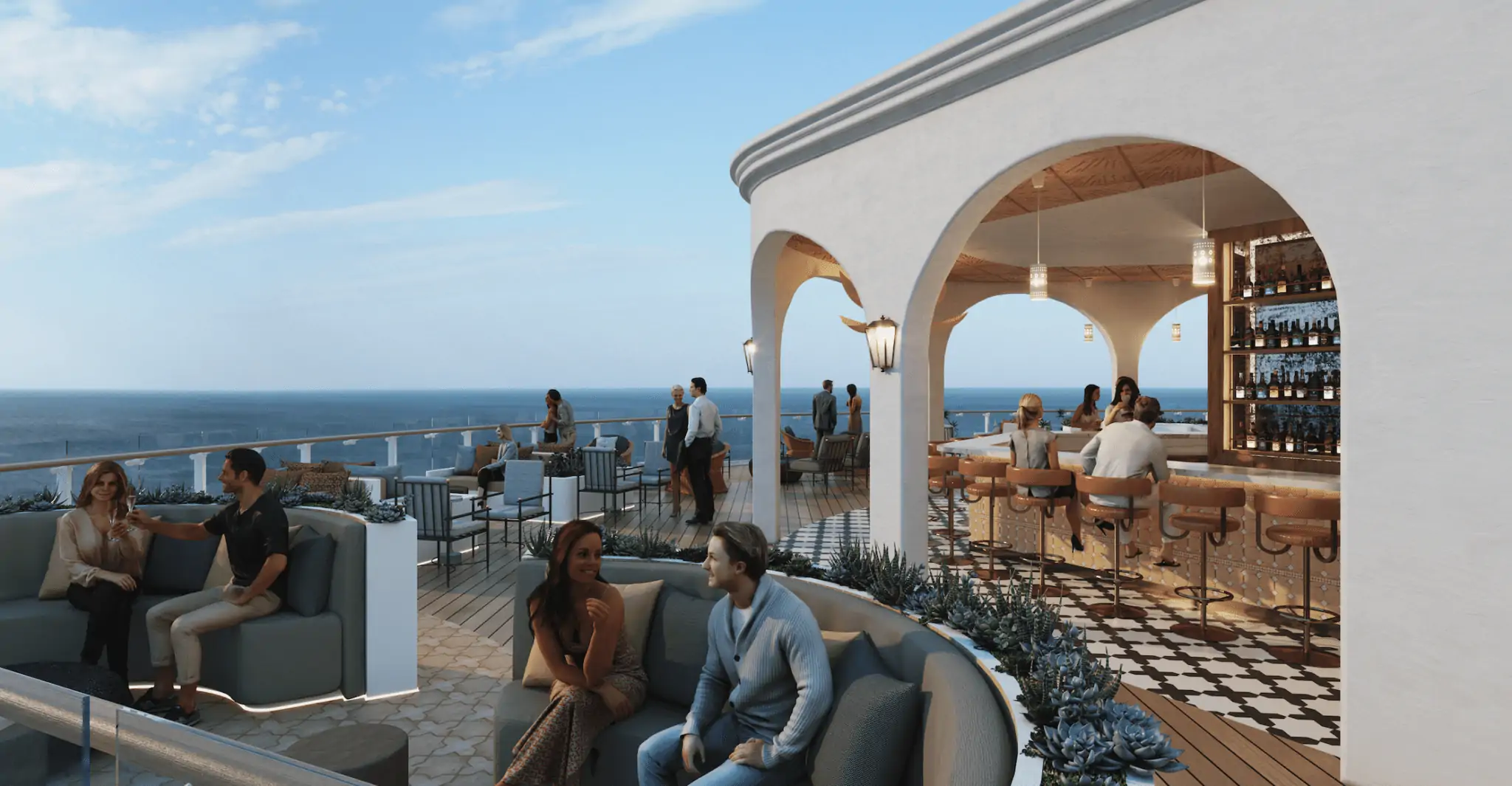 Another view from behind the bar at the Sunset Bar.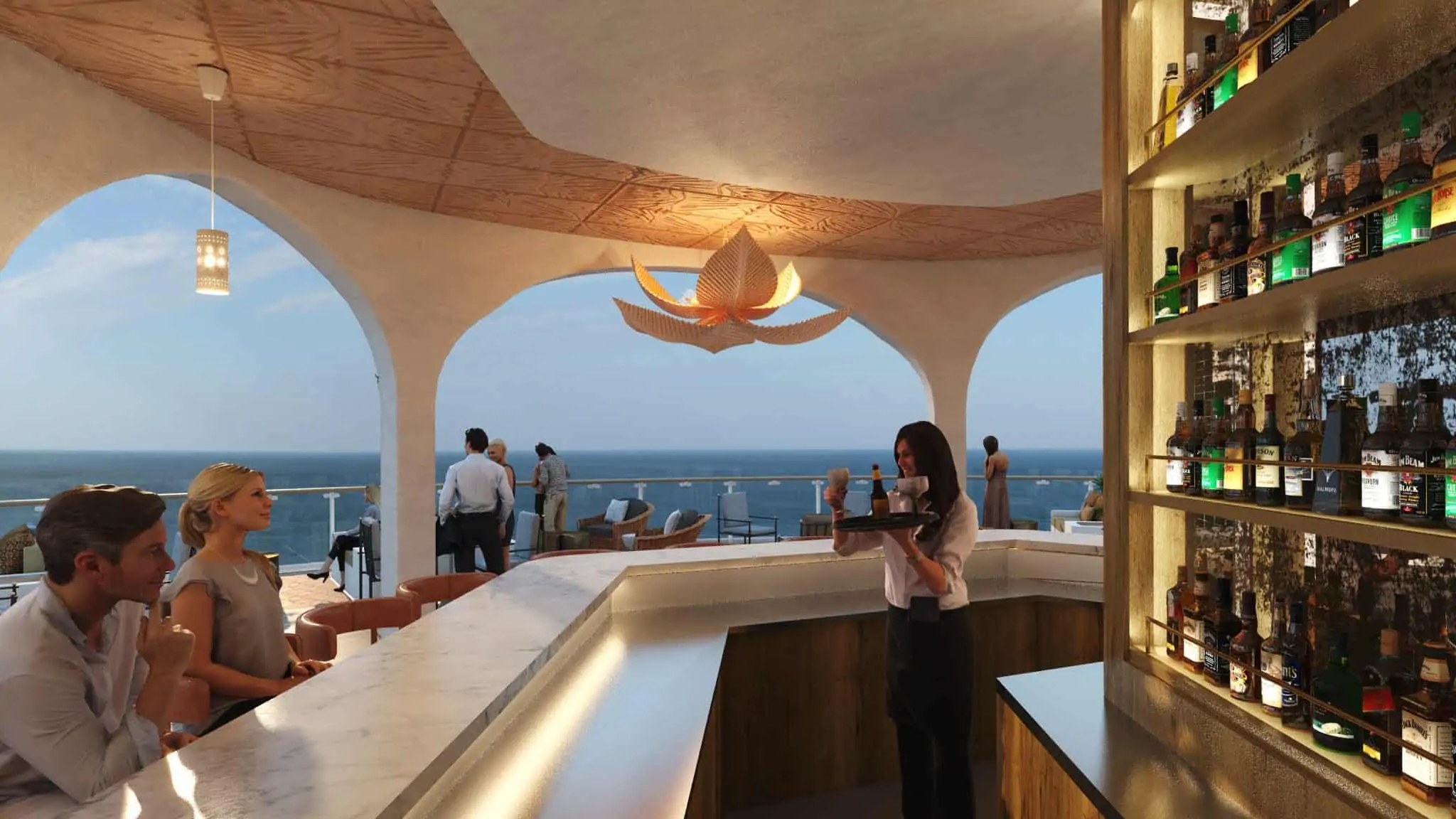 Moving on to staterooms, here's an idea of what some of the ship's Infinite Veranda staterooms look like.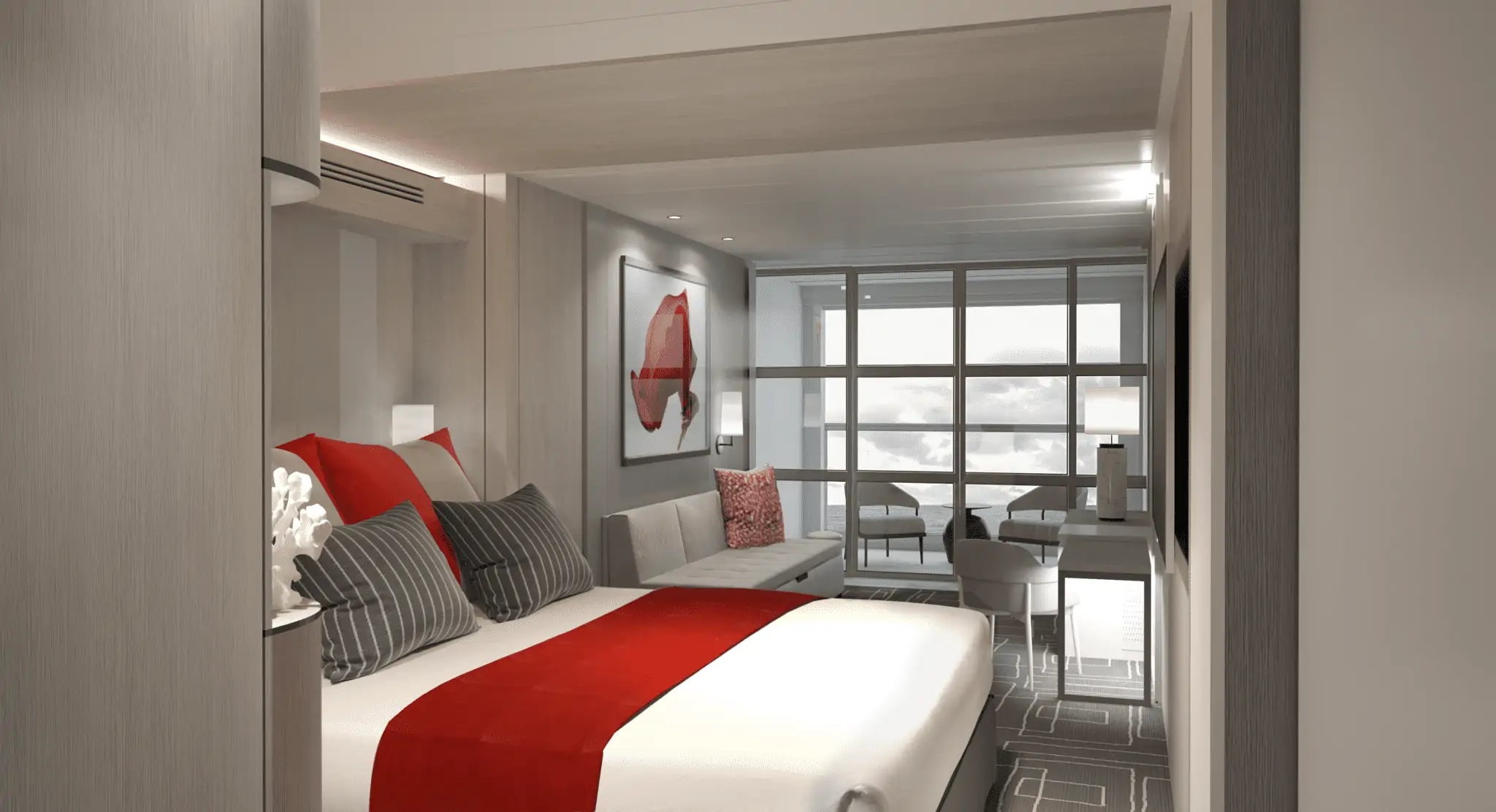 The AquaClass SkySuites have a ton of space to move around, not to mention floor-to-ceiling windows that face out to a private balcony and beyond.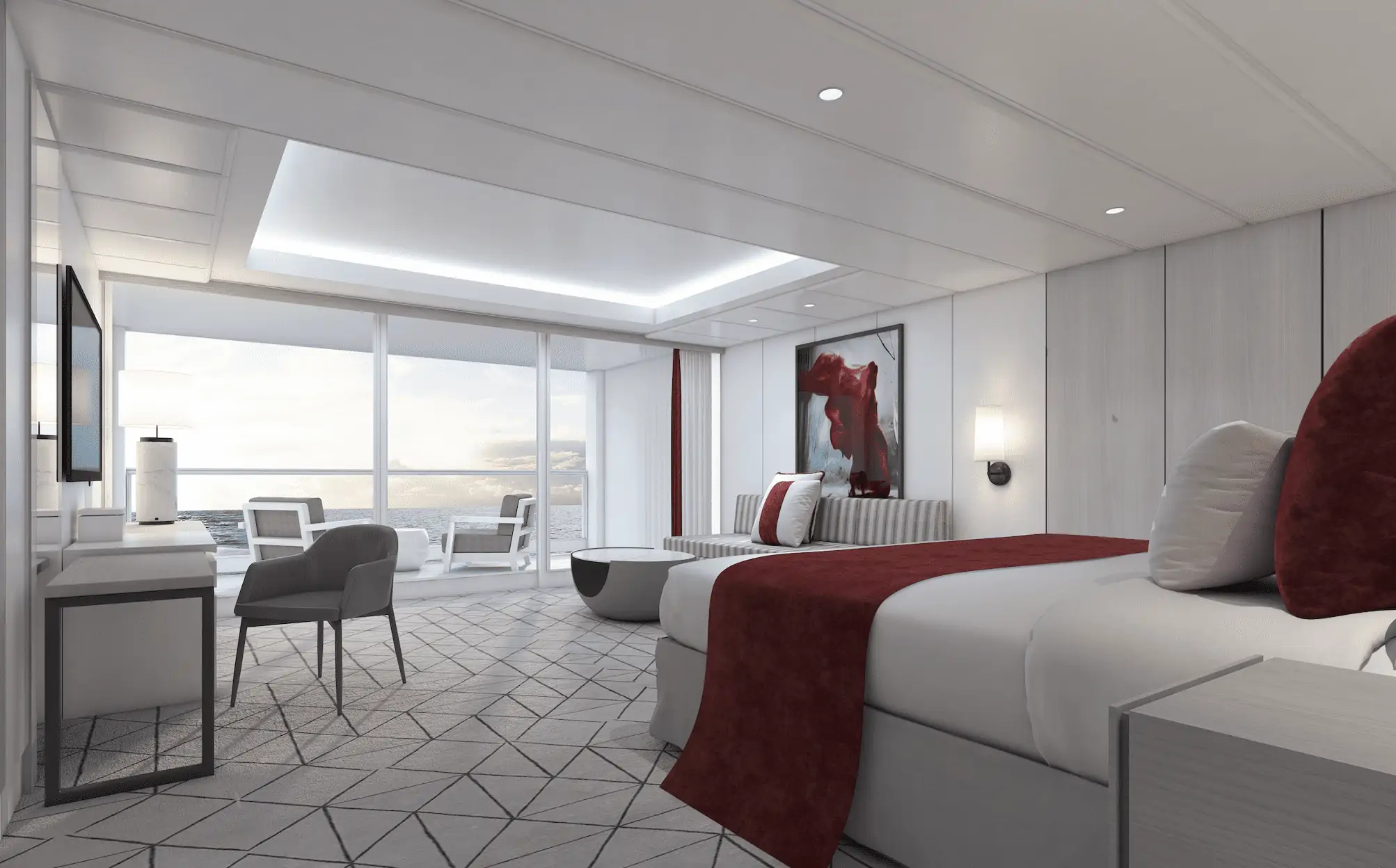 Below is a two-story Edge Villa, complete with a private balcony, plunge pool, and direct access to The Retreat.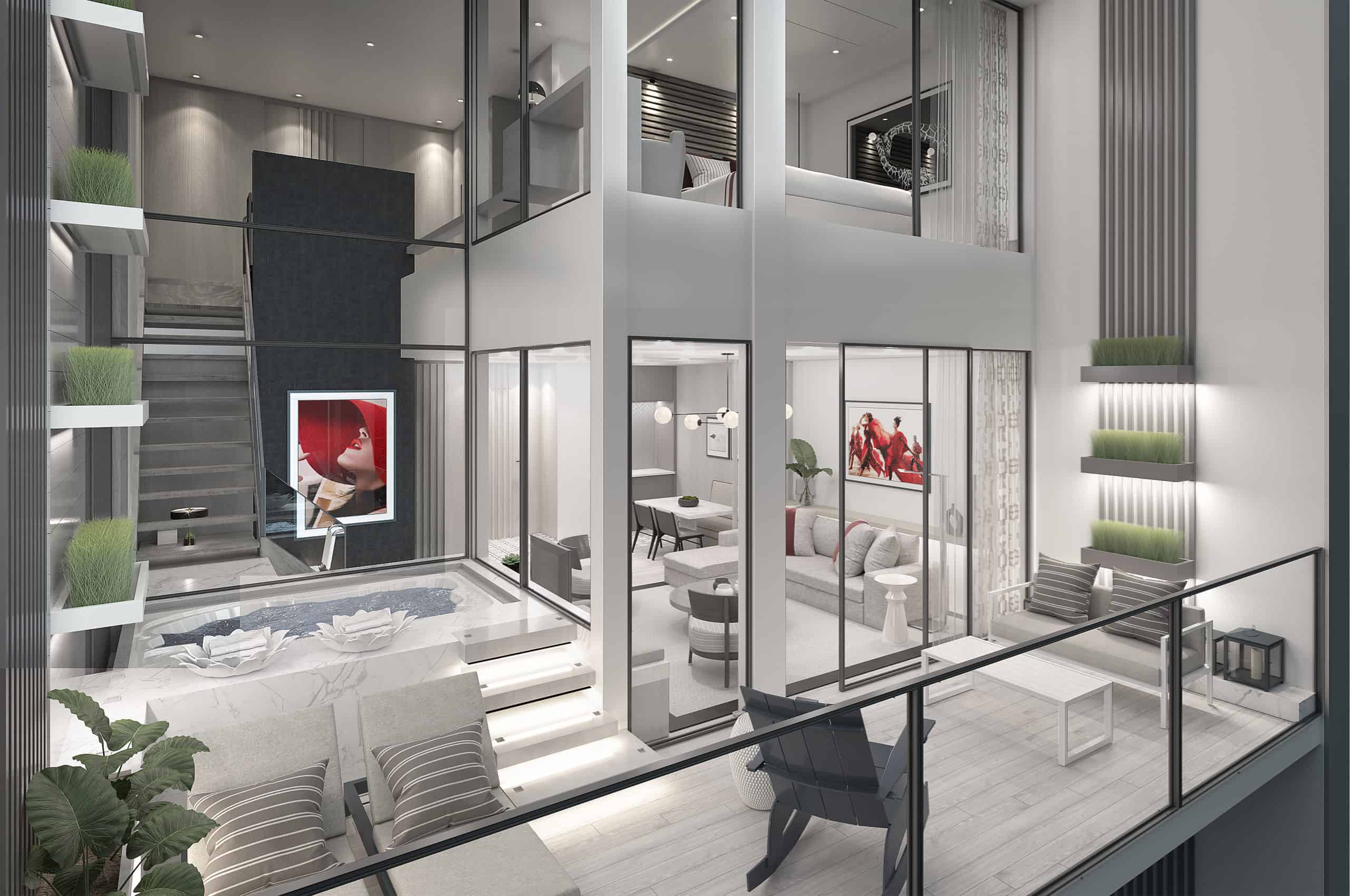 Speaking of The Retreat, let's take a peek at some renderings of that space. If you're unfamiliar, The Retreat is an exclusive part of the ship that is only open to those staying in a suite. It includes a sundeck, pool, hot tubs, lounge, and restaurant. Pictured below is The Retreat's sundeck.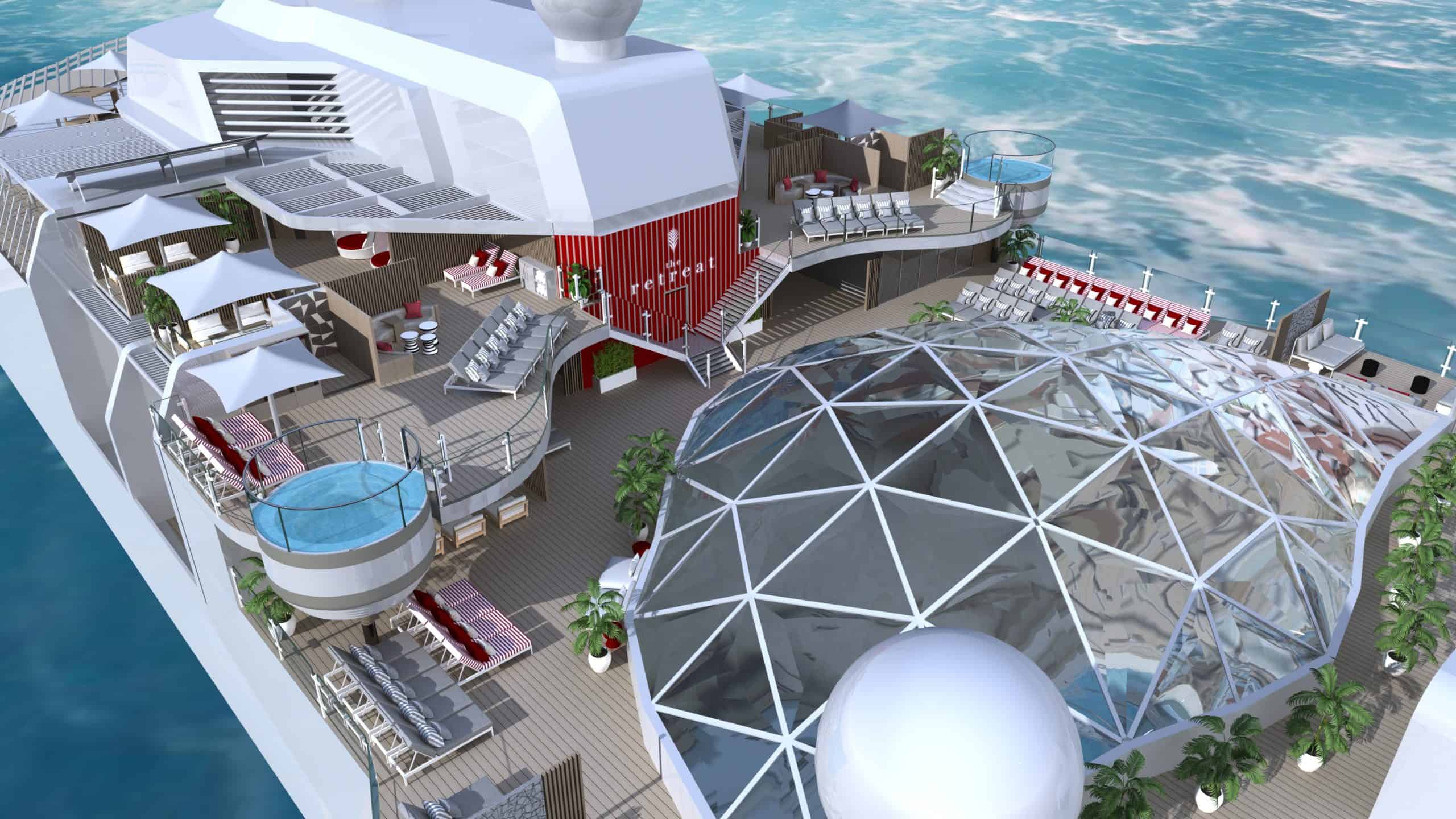 Pictured below is another part of The Retreat sundeck.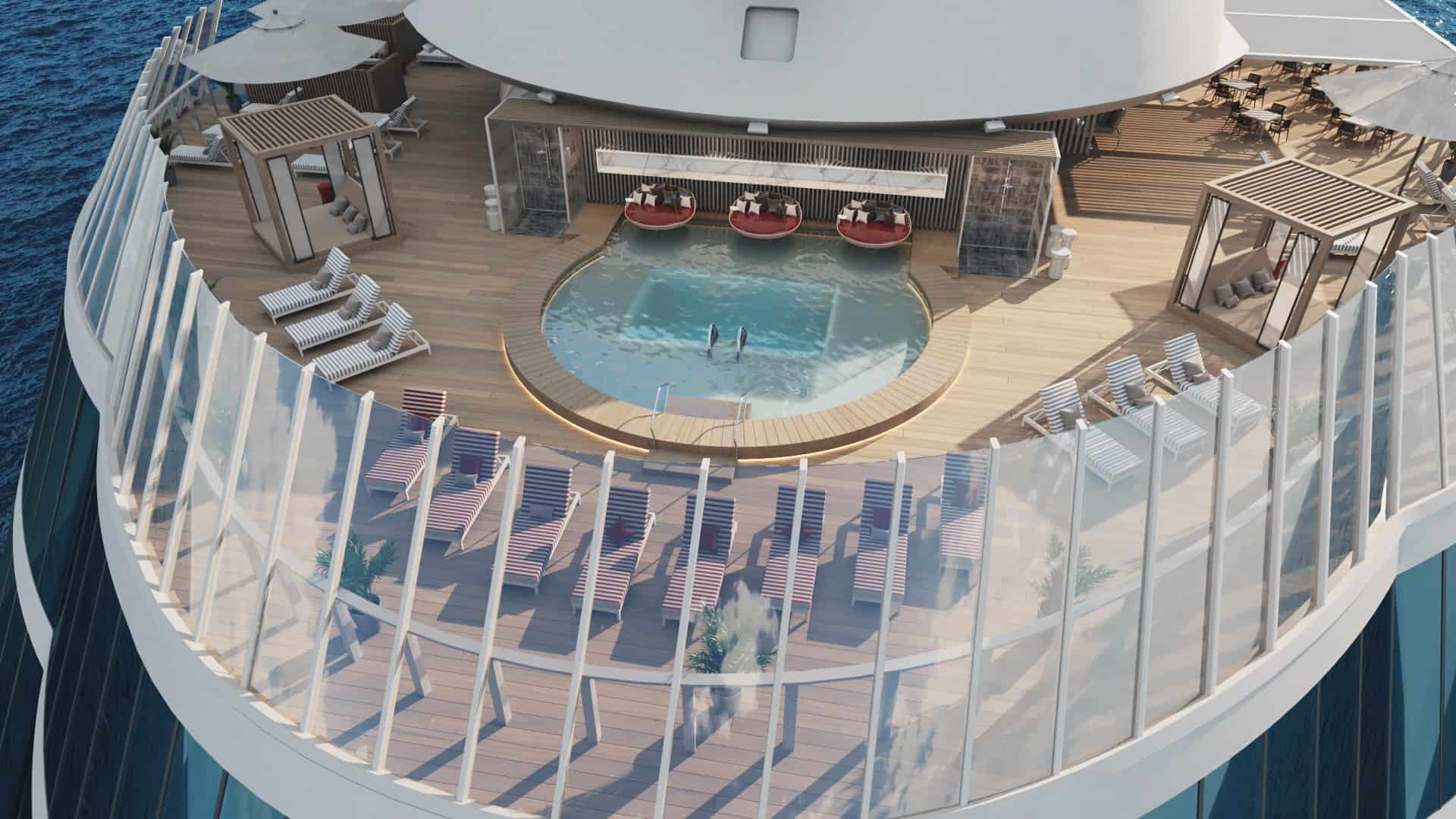 This is Luminae at The Retreat, the restaurant that's exclusive to suite guests. It features floor-to-ceiling windows at the front of the ship and menus crafted by Celebrity's Michelin-starred chef.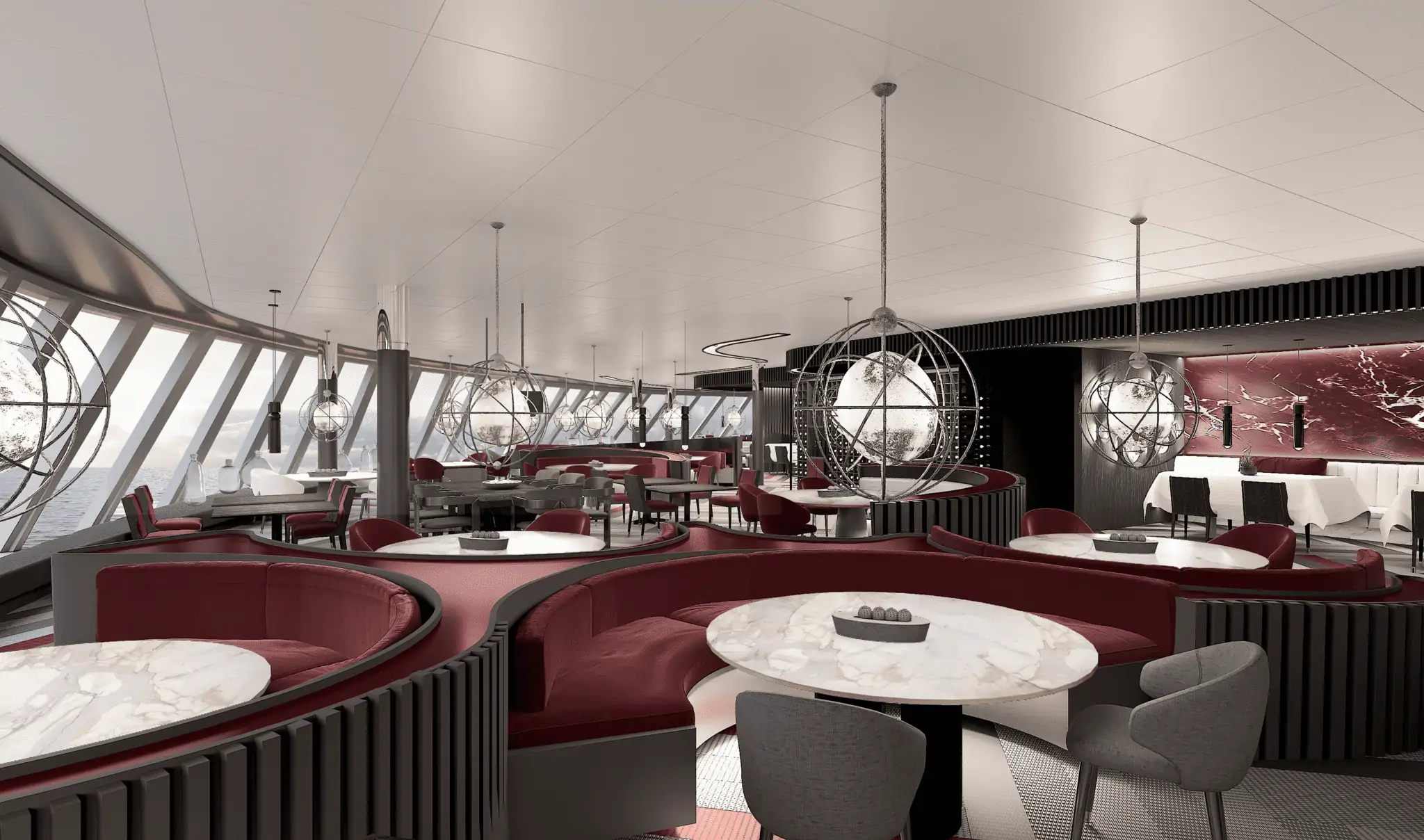 Now heading out of The Retreat and back into the ship's public spaces, let's look at the Rooftop Garden — a unique space on Celebrity Edge and Apex which has been expanded upon for Celebrity Beyond. Here's a view from above of the space.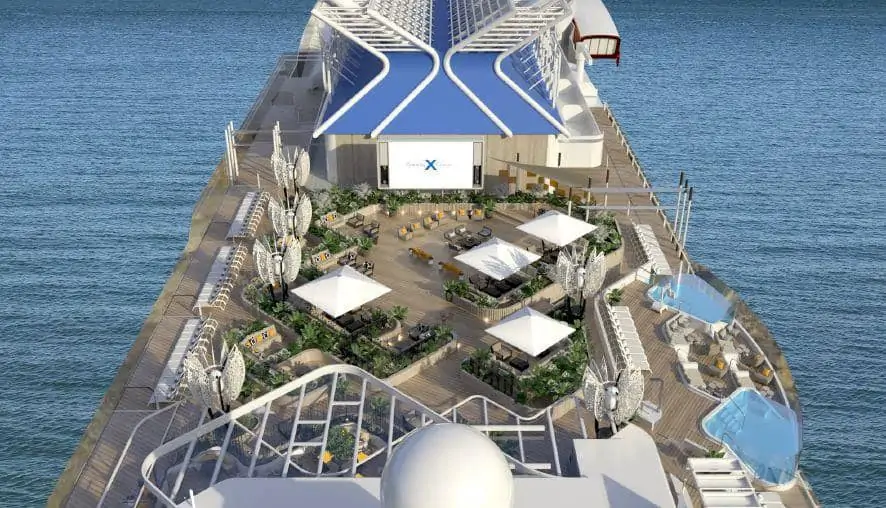 Celebrity Beyond's Rooftop Garden will feature two cantilevered float pools — a first for the space. While they aren't actually infinity pools, we can only imagine that they invoke the same type of feeling when you're in them.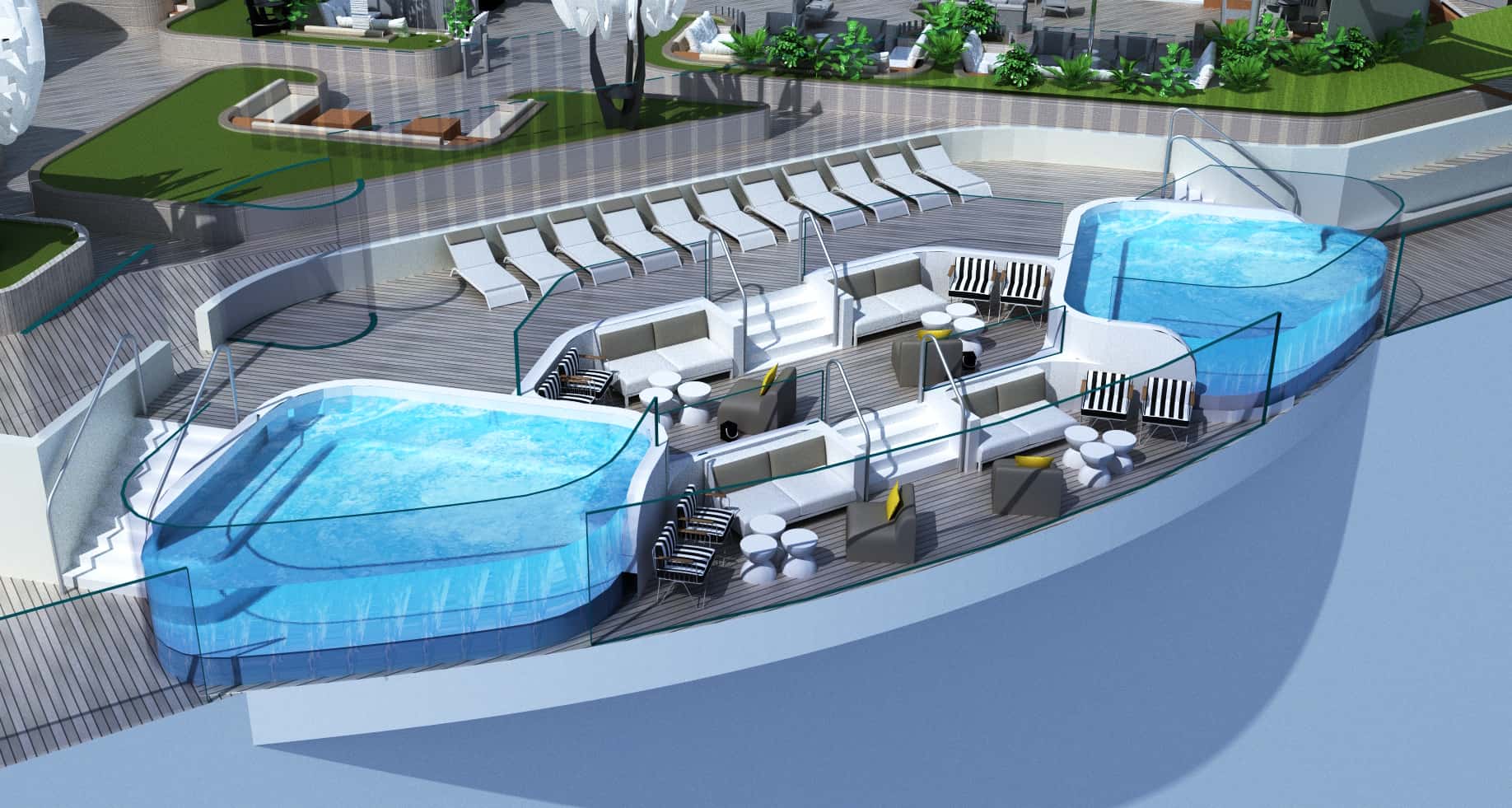 RELATED: 7 Cruise Trends You'll See in 2022
Of course, the Rooftop Garden wouldn't be complete without the Rooftop Garden Grill specialty restaurant. Celebrity Beyond's iteration features a bit of a different style than the ones on Edge and Apex — and we LOVE that lemon tree.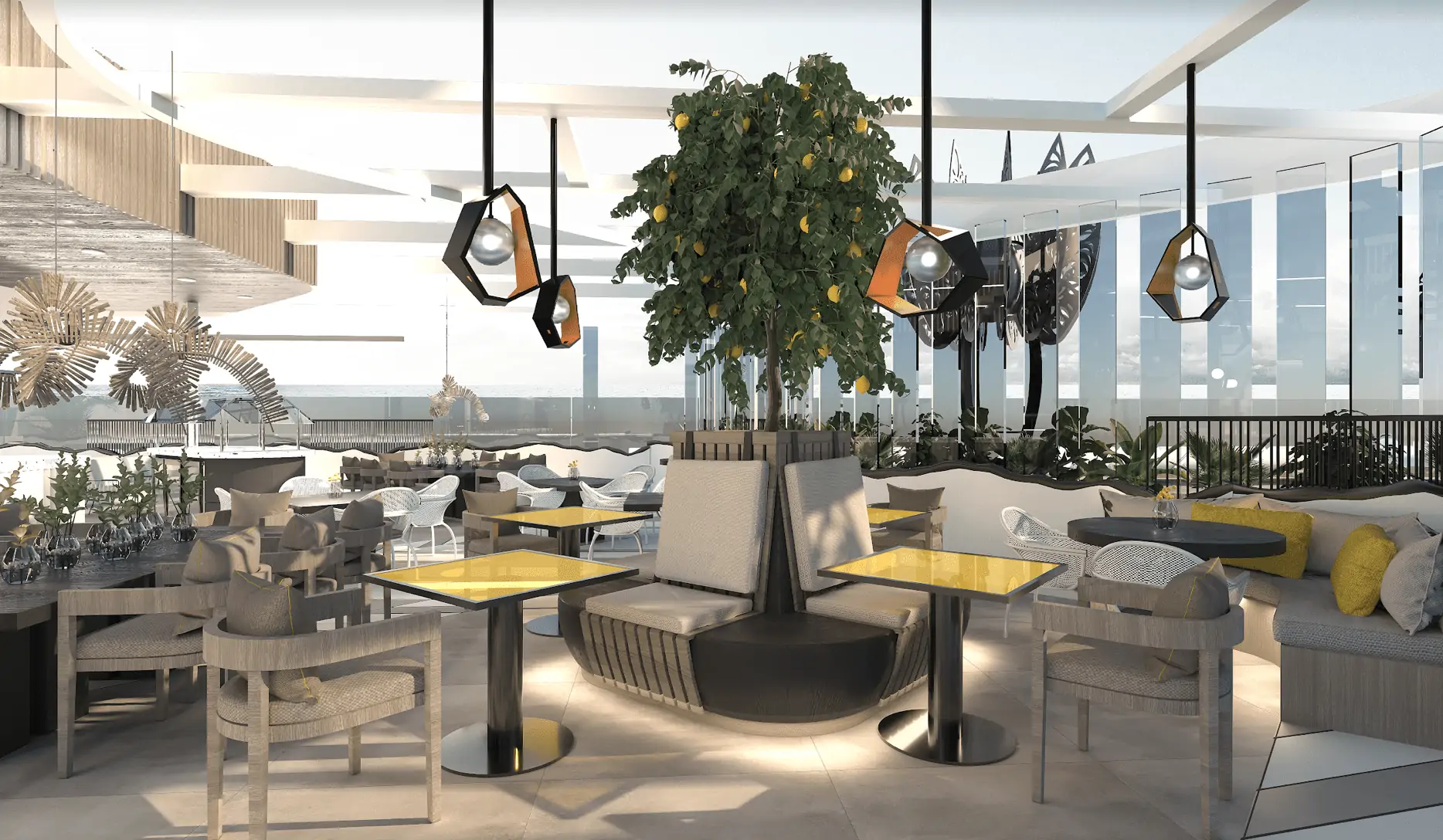 On the topic of specialty restaurants, there will be a brand-new one for Celebrity on this ship called Le Voyage. It's the first fine dining restaurant at sea by French chef Daniel Boulud.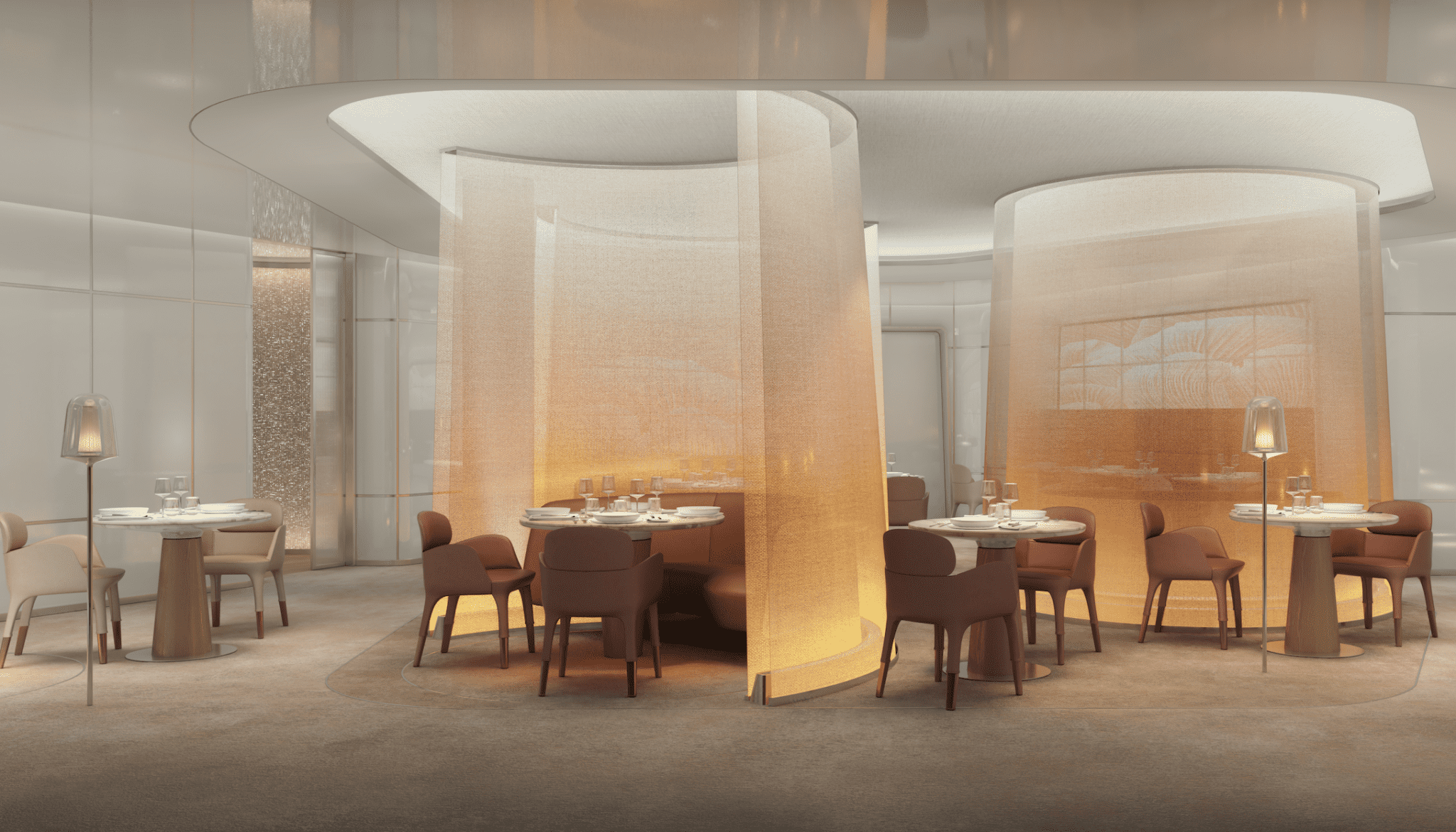 Pictured below is Beyond's upscale World Class Bar.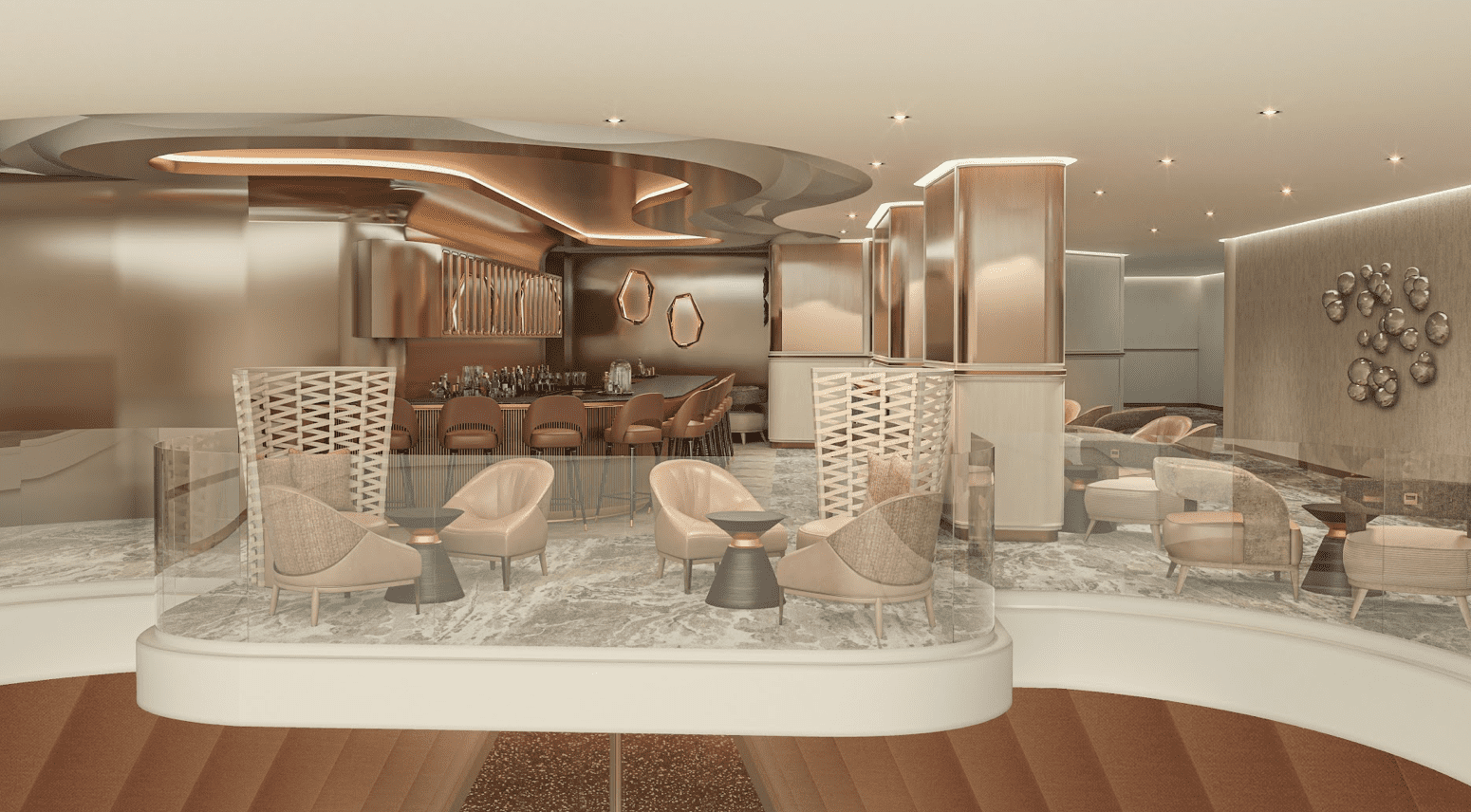 And finally, we will leave you with a taste of ultimate relaxation on Celebrity Beyond — the spa's massive sauna complete with massive windows.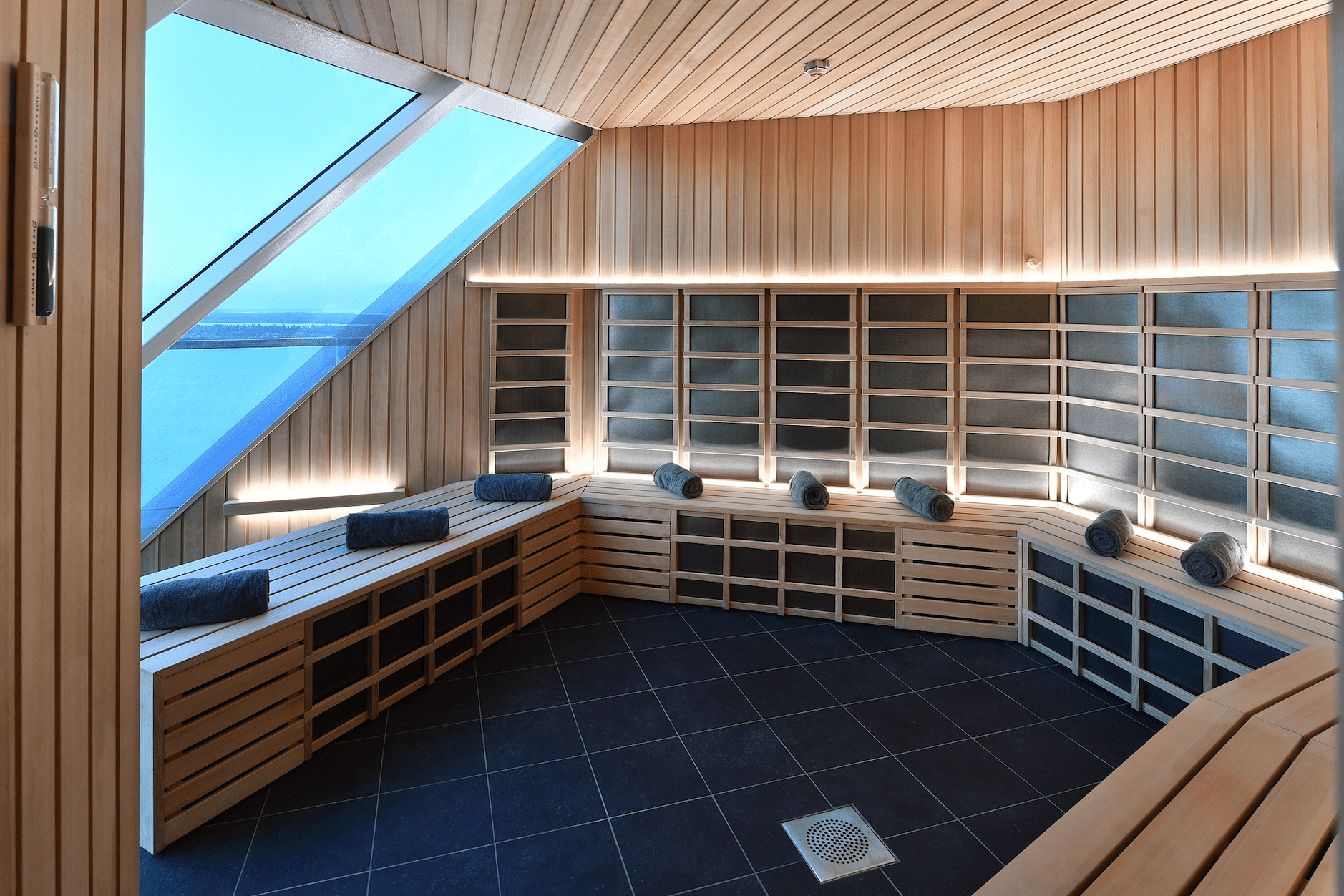 We hope you enjoyed this mini tour of Celebrity Cruises' next Edge-class ship!
READ NEXT: Celebrity Beyond Will Have New Dining and Bars
Pin it!