Talk about time flying when you're having fun! We only boarded Celebrity Beyond 24 hours ago and here we are, on the last full day of our cruise. But that's how preview sailings like this one go. It's like trying to take in all of Walt Disney World in a day. You can't actually do it, but trying is a whole lot of fun.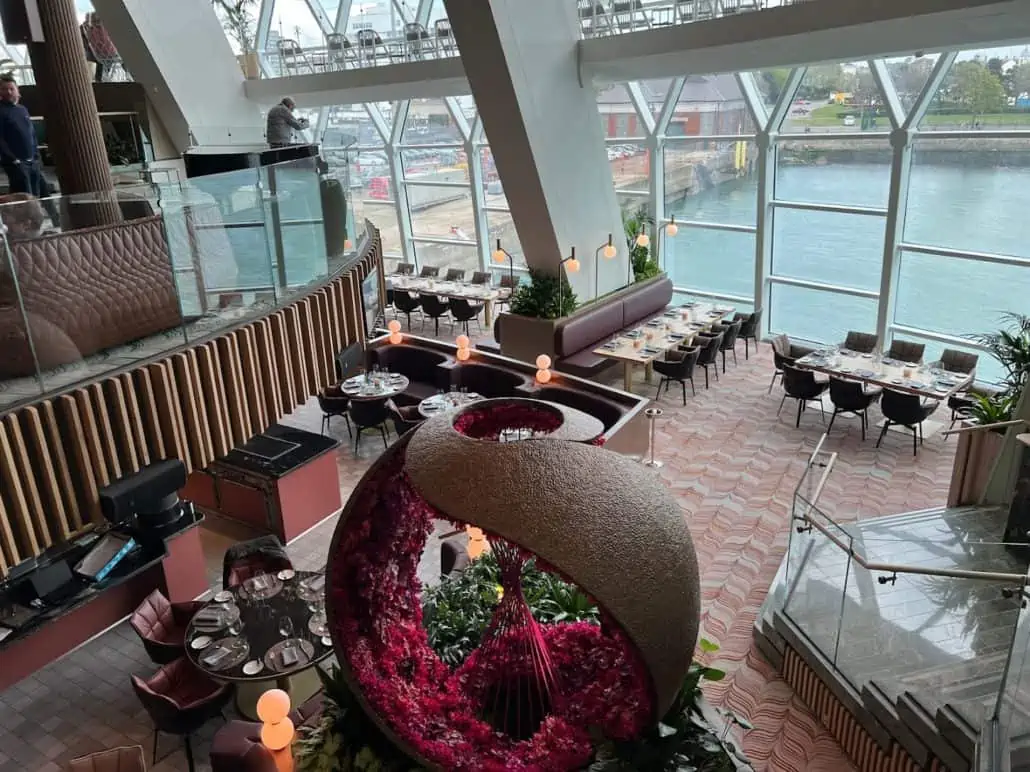 This morning started with checking out the Magic Carpet in launch platform mode. I'll be the first to admit that when Celebrity announced they were going to have this big orange contraption on the port side of their Edge-class ships, I thought it was little more than a weird-looking gimmick. But three ships later, it turns out the Magic Carpet is actually a valuable extension of the ship that serves multiple persons.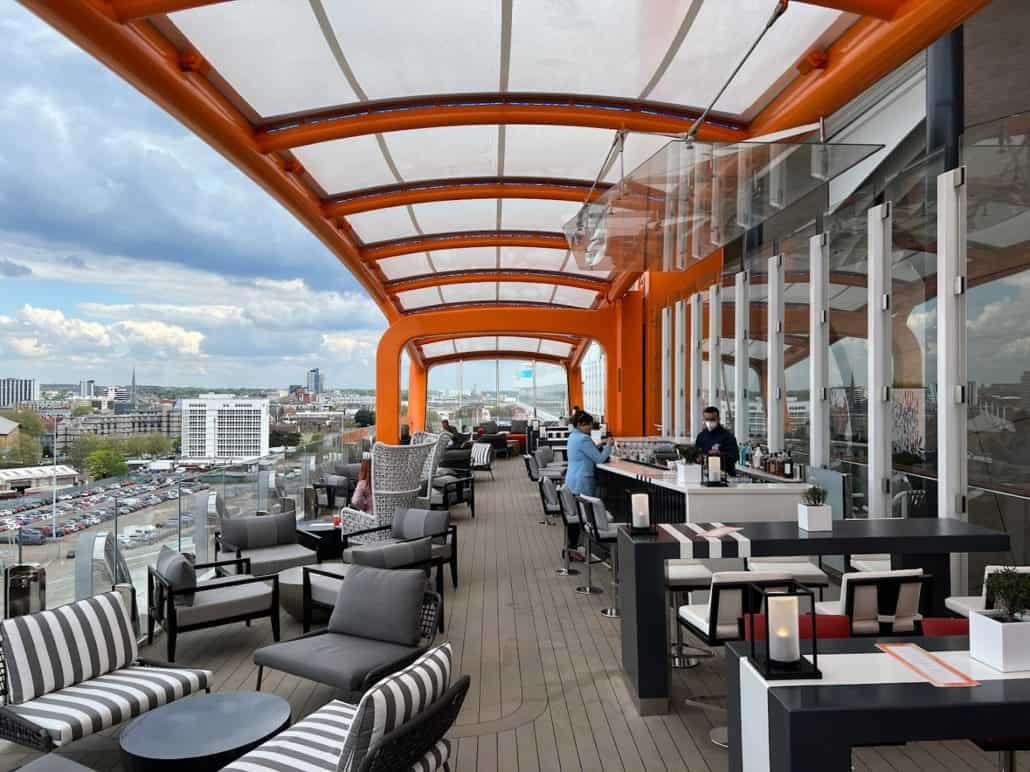 During yesterday's sailaway it was used as a bar on the pool deck. It was an open area where guests could watch the ship leave from a unique point of view. If they did nothing but use it as a cool venue for drinks extending over the edge of the ship, I'd say mission accomplished. But it doesn't stop there.
After sail away, the Magic Carpet was lowered to deck five where it became an extension of the seafood venue Raw on Five. Of course, this is all weather dependent, because if it's too windy, you wouldn't want to be out there trying to eat. I'm always surprised to hear people complaining that you can't ride the Magic Carpet up and down, like the Rising Tide Bar on some Royal Caribbean ships. Never mind that in that case, the bar is located inside the ship as opposed to suspended on the side!
In its lowest position, the Magic Carpet is used when the ship is visiting a port that requires tendering, such as Grand Cayman or Belize City. The Destinations Gangway is located on deck two and you scan your card out just like you would to leave the ship while it's docked. But in this case, you walk out onto the Magic Carpet platform and board a tender boat that'll take you to shore. On return, you'll board the ship at the same place. This is just like a tender operation you'd do on any other cruise line but this one has a landing area… with a bar!
Welcome to The Retreat
Cruise lines love doing two things: Being the first to do something… and jumping on a trend started by someone else. Remember when early and late seatings were the only way to dine on a cruise ship? Or when Deal Or No Deal was suddenly being played on every ship? One of the biggest trends to spread like wildfire over the past few years is the ship-within-a-ship concept — you know, a high-end area where guests pay extra to have a slew of high-end facilities for their exclusive use.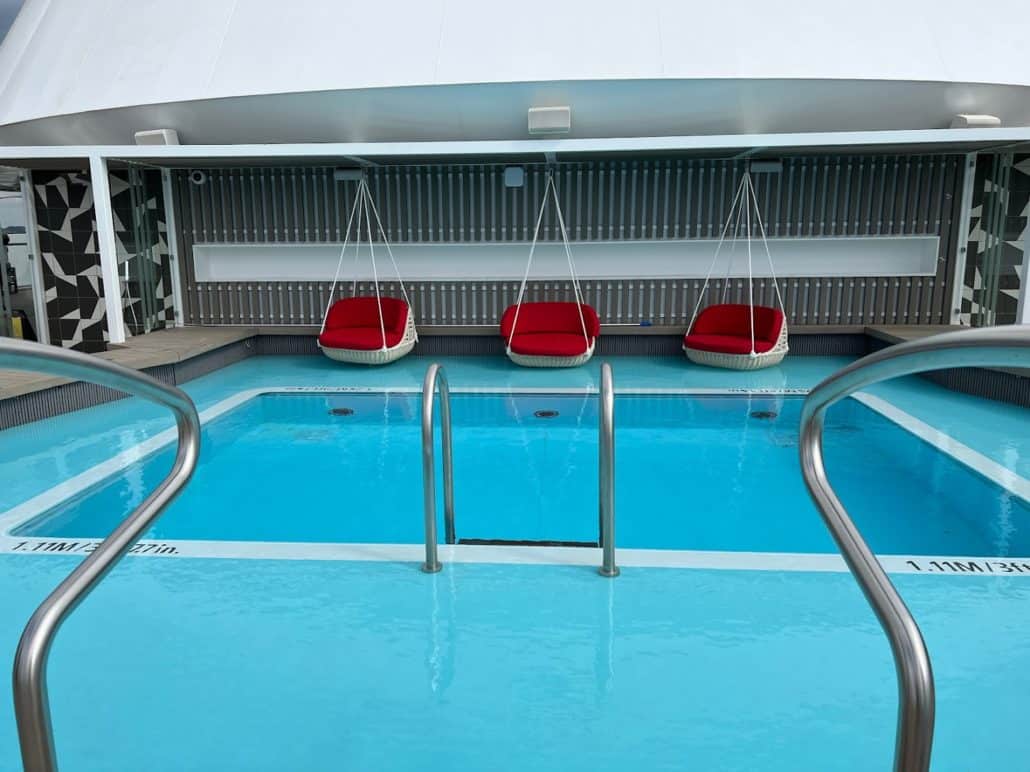 On Celebrity Cruises, that area is called The Retreat. Like Norwegian Cruise Line's The Haven, it comes with access to a private restaurant and sundeck, as well as a whole lot of other perks. The Edge-class ships have really taken this idea and run with it, creating areas that are stunning. And on Beyond, they have taken things a step further.
On this particular ship, for example, The Retreat's sundeck spans two decks and an additional hot tub. As we discussed in yesterday's report, this ship has really expanded on the idea of personal space, and of course, that extends to The Retreat.
Another difference in The Retreat on Beyond is that Luminae, the restaurant for suite guests, as well as the Retreat Lounge, have been moved to the front of the ship and offers the kind of views that we get on ships to enjoy.
Foodie Flashback
I can't believe that I completely forgot to talk about dinner in yesterday's trip report! I can only blame jet lag and exhaustion because I've been on the go for what seems like ages now.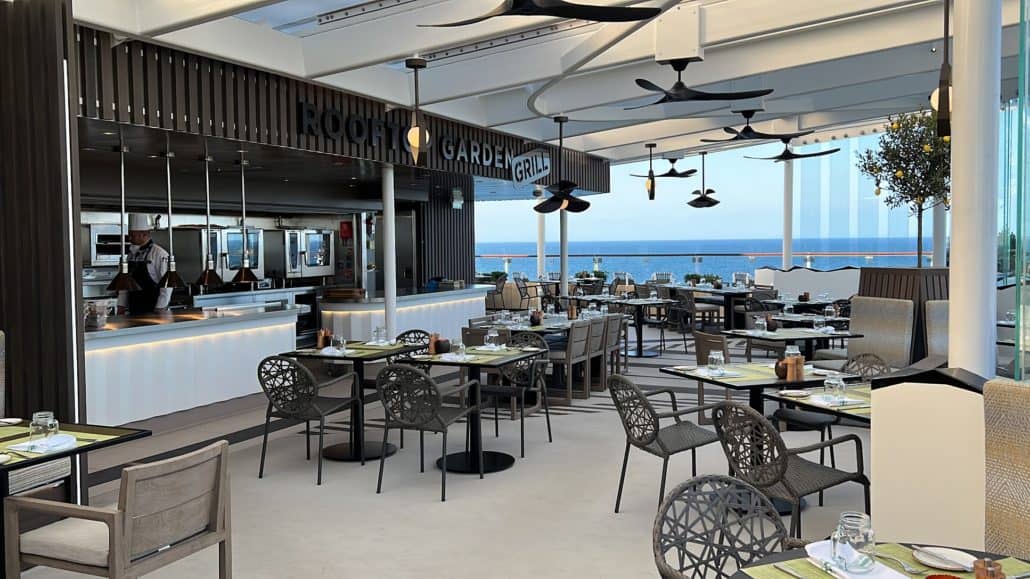 But anyway, we wound up eating at the Rooftop Grill. This specialty restaurant — which is sort of like an upscale, outdoor barbecue joint — comes at a cost of $45 per guest.
So what's included? You get to select an appetizer, salad, a main entree and a dessert. I was pretty sure going in that this was going to be a smash with me if it was even halfway decent, because I'm a big fan of barbecue. I went with the smoked chicken wings, watermelon and feta salad, BBQ grilled half chicken and a peach cobbler dessert. Every dish was spot on. My recommendation: Do what we did and go with friends so that you get to try what everyone else orders, too.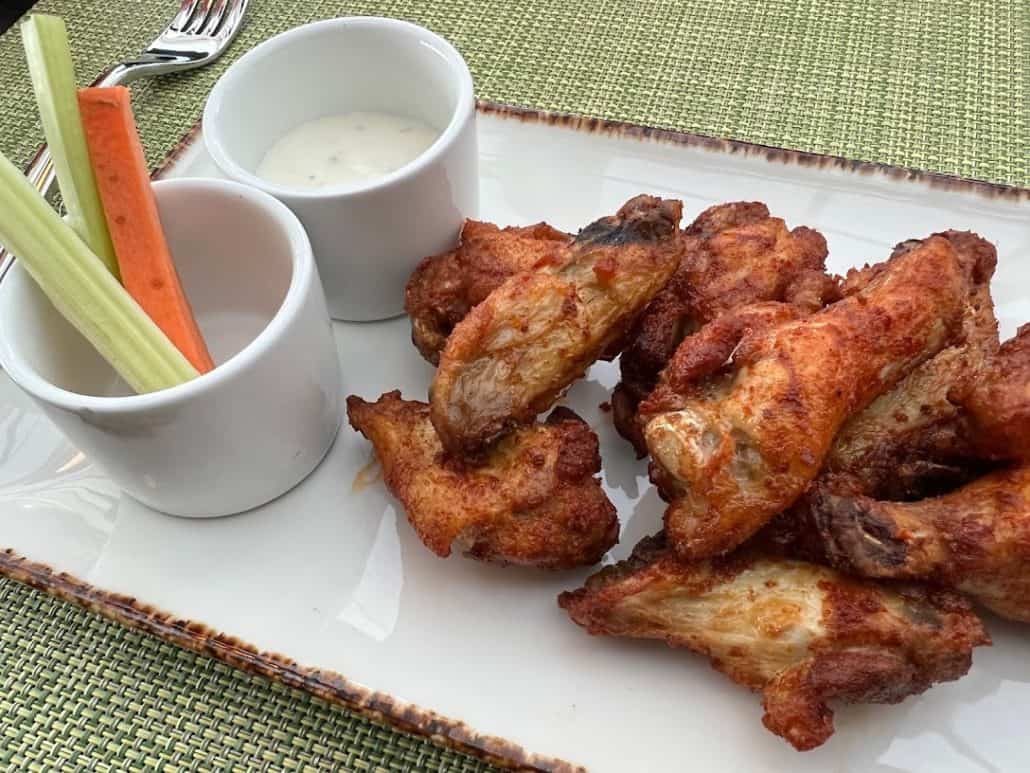 If you're dining here, keep in mind that it's located on the rooftop of the ship, so you are exposed to the outside weather conditions. They have some panels to help block the wind but if it's a chilly evening, you'll want to dress for it. It was in the 50s when we sat down, and we all had jackets. However, it's rare to experience that kind of temp when the ship is sailing in the Caribbean.
Bring On the Steak!
For dinner tonight we did the Fine Cut Steakhouse, which was solid as usual. The steakhouse is much larger on this ship with about 40 more seats. I noticed that they took out the private dining area in the steakhouse and opened it up in order to better utillize the space with more tables.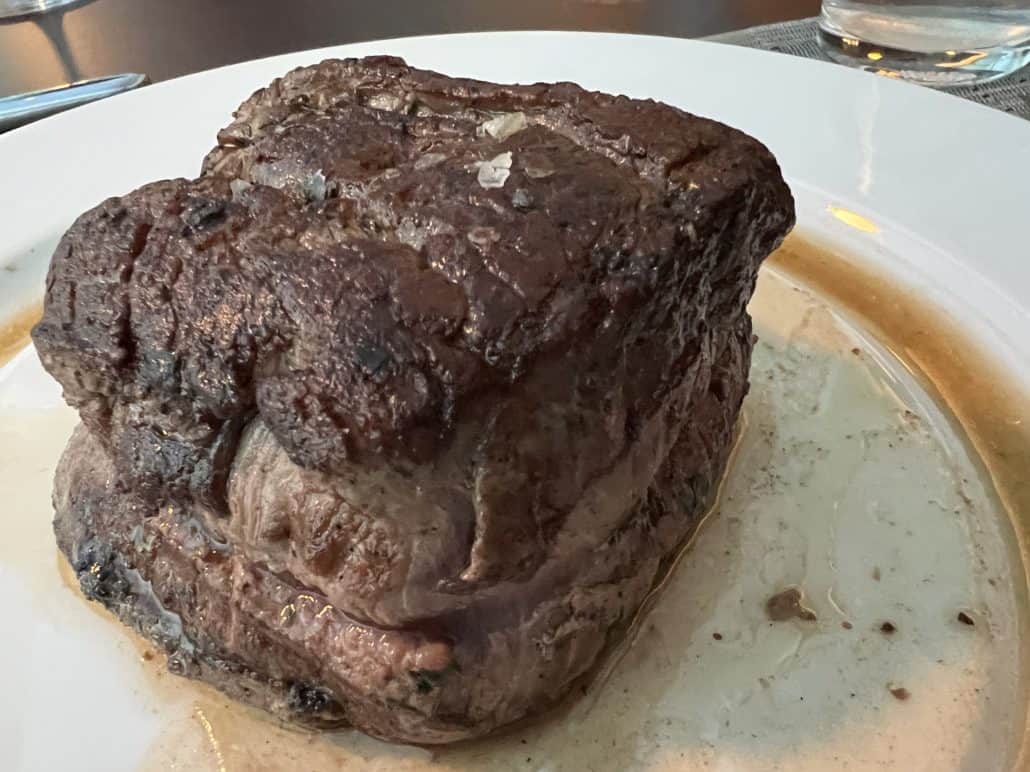 I went with the lobster cocktail, filet mignon, and the ultimate chocolate sundae. I try my best to eat healthy but am a carnivore at heart. So for my money, there's nothing better than enjoying really good meal in a steakhouse, which is exactly what this was.
It's Showtime!
Since we were sailing out of the UK, it was appropriate that the line incorporated a mix of Broadway and West End musicals into the theater production Stage Door. As with last night's show, what really made this come to life for me was the fact that the band and performers were live.
Honestly, that makes all the difference in the world. Prerecorded music, if not done right can sound awful… and let's face it, we've all seen examples of that. The shows on Beyond ran 45 minutes and although I didn't stay through the entire performance, the feedback from friends who did was great. With the stage setup and the 270-degree 4K screen, it really feels like you're right in the middle of the production with no one else in the room. From a tech standpoint, the graphics were amazing.
Time to Explore
I briefly mentioned yesterday that there were a lot of spaces around the ship to really connect with the ocean. What I didn't mention is that there are a lot of cool spaces inside the vessel also. Some are great for relaxing in, others are more vibrant. Of course, this being such a short trip, I didn't really get to fully experience any of them because I was so busy trying to simply take in as many as possible.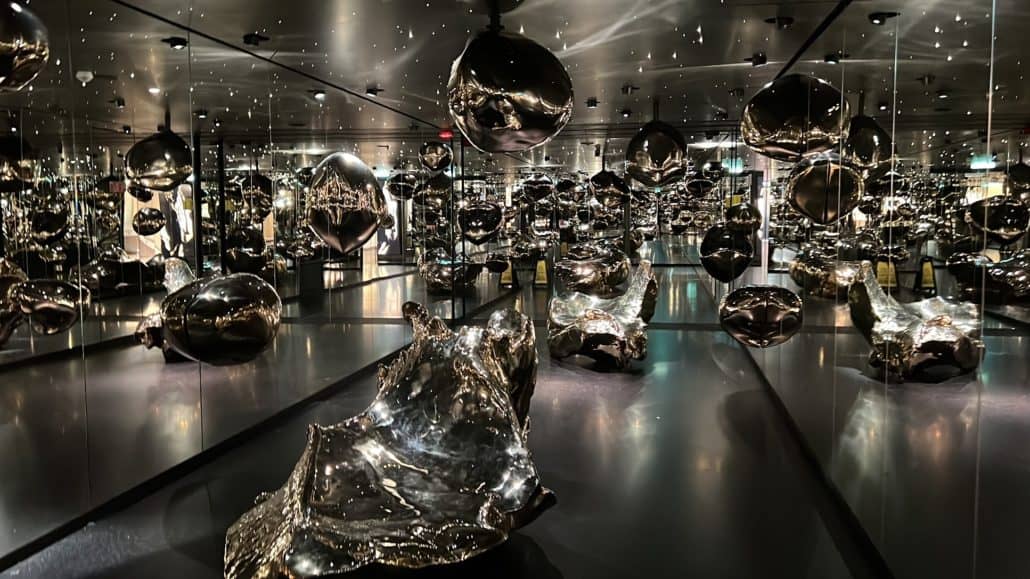 There is this space on deck five where you are walking aft toward Eden. You'll walk through a tunnel that's something of a dark, mirrored space featuring really psychedelic artwork. The name of the display escapes me at the moment, but as you can see from the photos, it's really cool and almost like walking through a funhouse. Just watch out where you are walking because it's one big optical illusion!
At this point, we only have a few hours left on the ship before we have to get off and head to the airport to fly home.