Waking up at sea on the second day of my Celebrity Edge sailing was a little surreal. When you've been waiting for something for so long and then suddenly, it's real, you kinda can't help but wonder if it's a dream.
But it wasn't a dream, and neither was all the food I ate yesterday. So vacation or not, it was time to hit the gym. The plan was to run a couple of miles and do an upper-body workout, but I wasn't sure what to expect as I wandered down to the gym, still half asleep.
Would I have to make an appointment for a time to visit? Would the equipment be spaced out?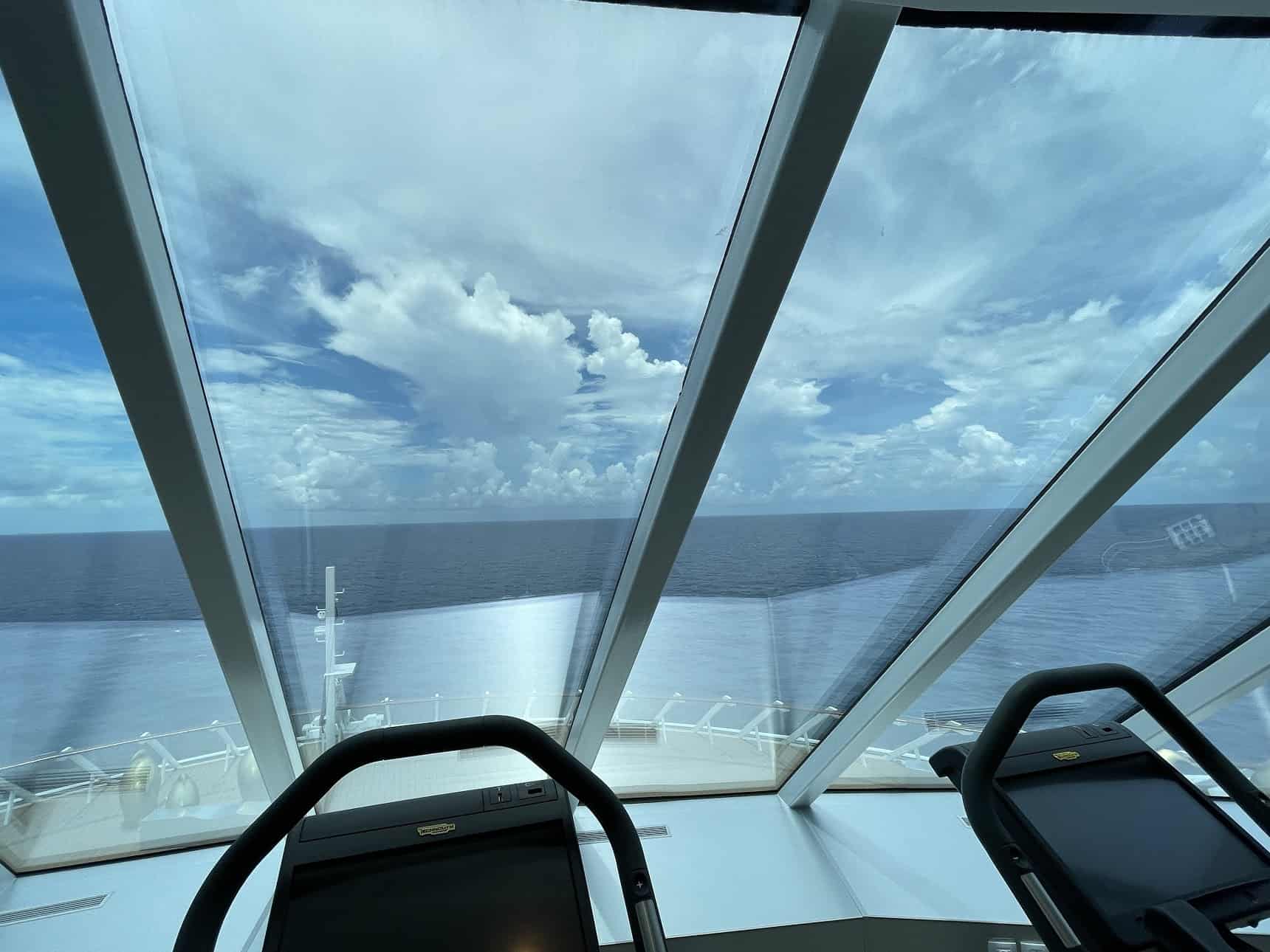 As it turned out, none of those things were true. Like many other experiences I've had since boarding the ship, you could almost forget everything that's happened over the past year, as things are pretty much normal.
Except, of course, that the crew is wearing masks. That takes a little getting used to. You almost feel a little strange not wearing one when they have to.
Having had a good workout, it was time for breakfast. Because that's how it works when I'm on a cruise. Work off some calories and then almost immediately replace them. Ready to refuel, I headed to Luminae.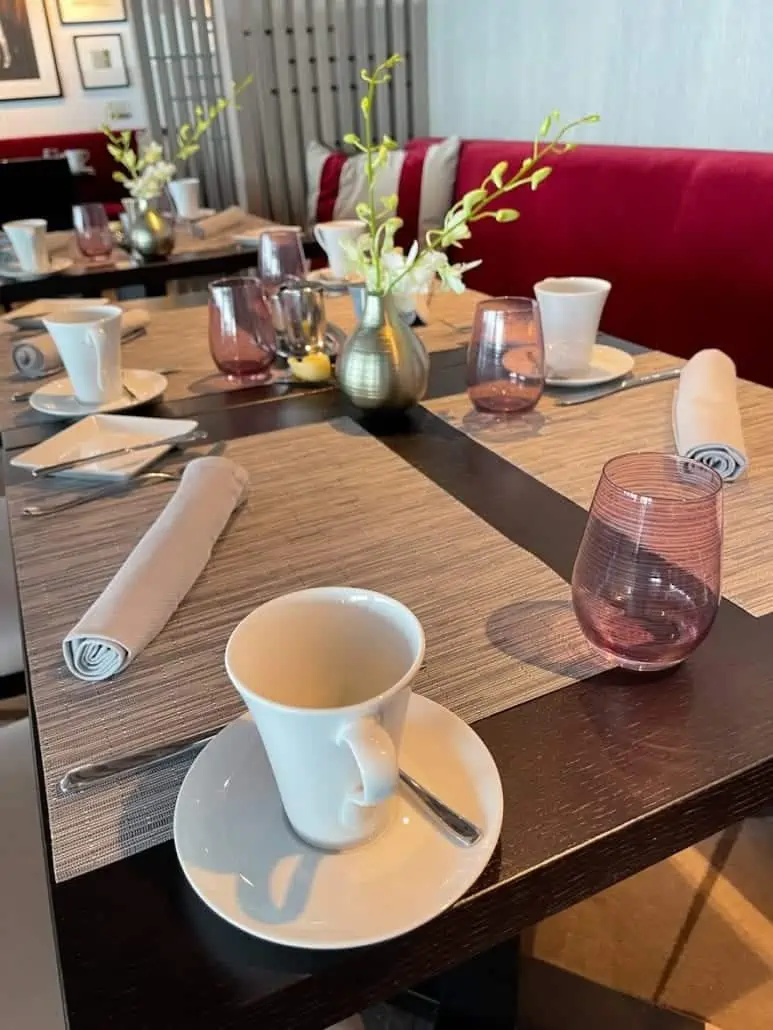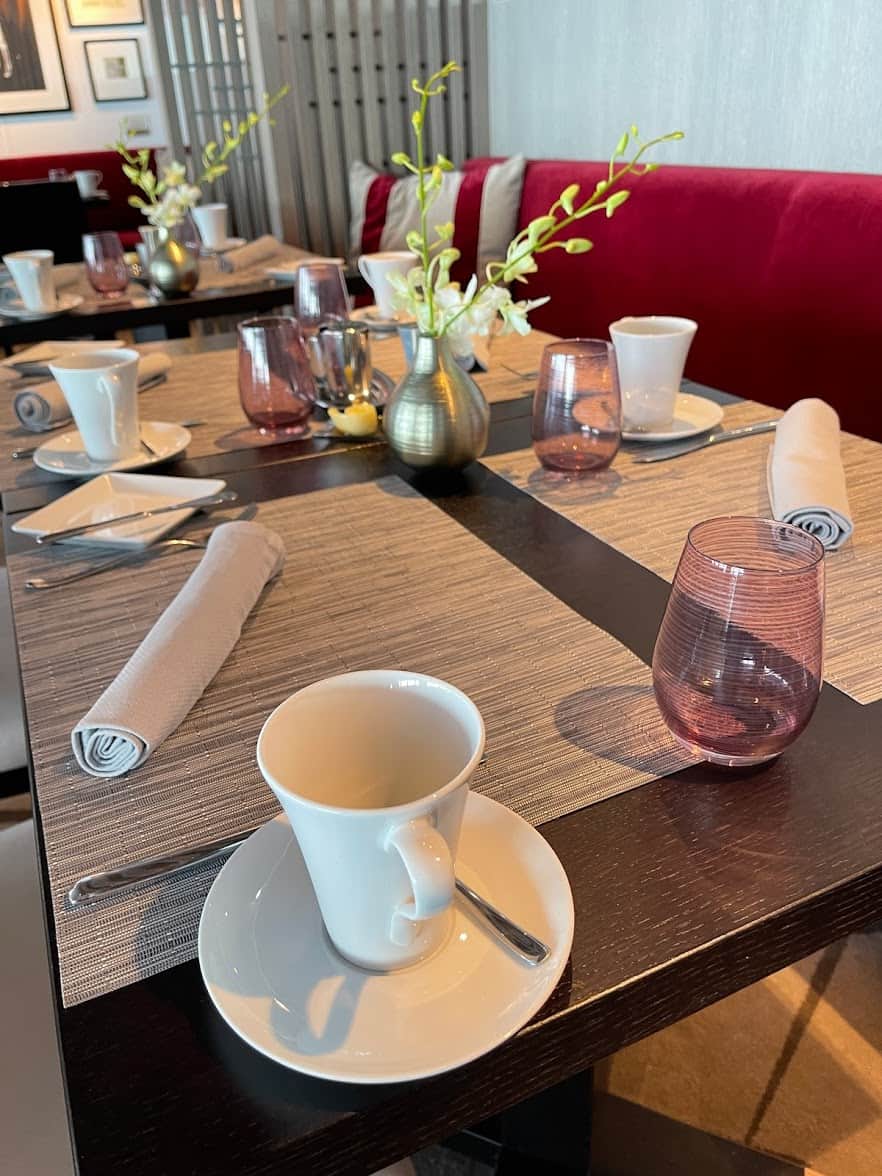 Like several of the other spots I've eaten so far on this trip, Luminae, which is located inside The Retreat, is a space exclusively available to guests who are staying in Aqua Class staterooms and above.
I'm realizing that I may not have told you this yet, but it turns out that the stateroom Celebrity assigned me to on this sailing is a Sky Suite. What's wonderful about this particular type of stateroom is the incredible views. Look at the picture below… it may take you a minute to realize what you're seeing.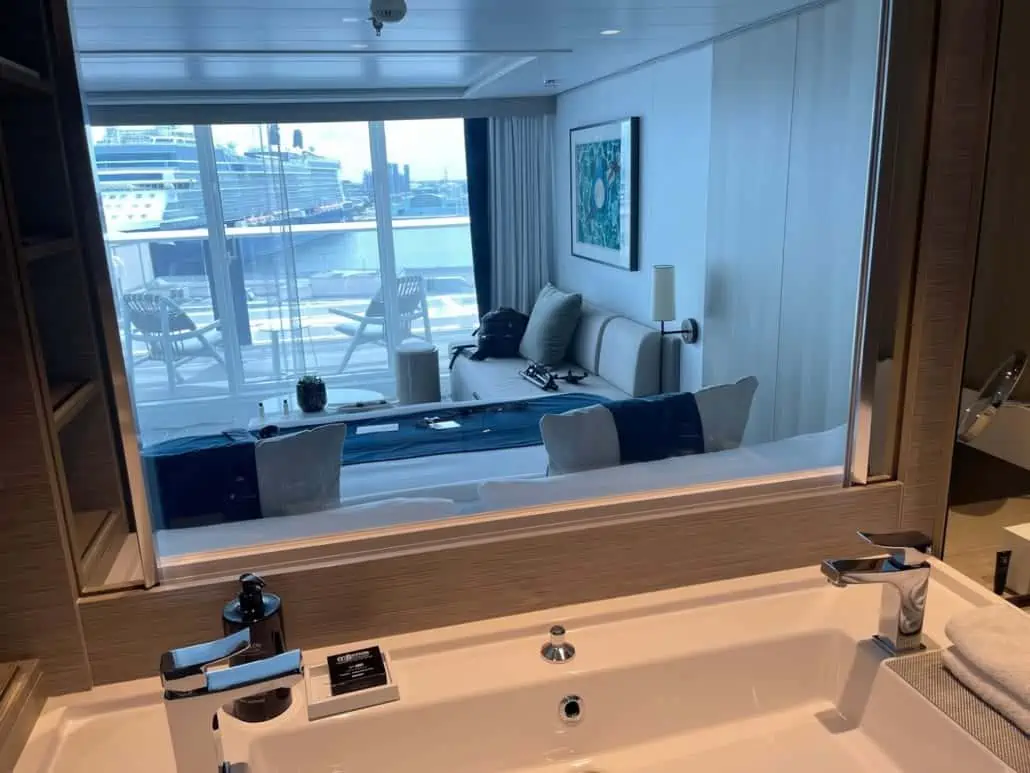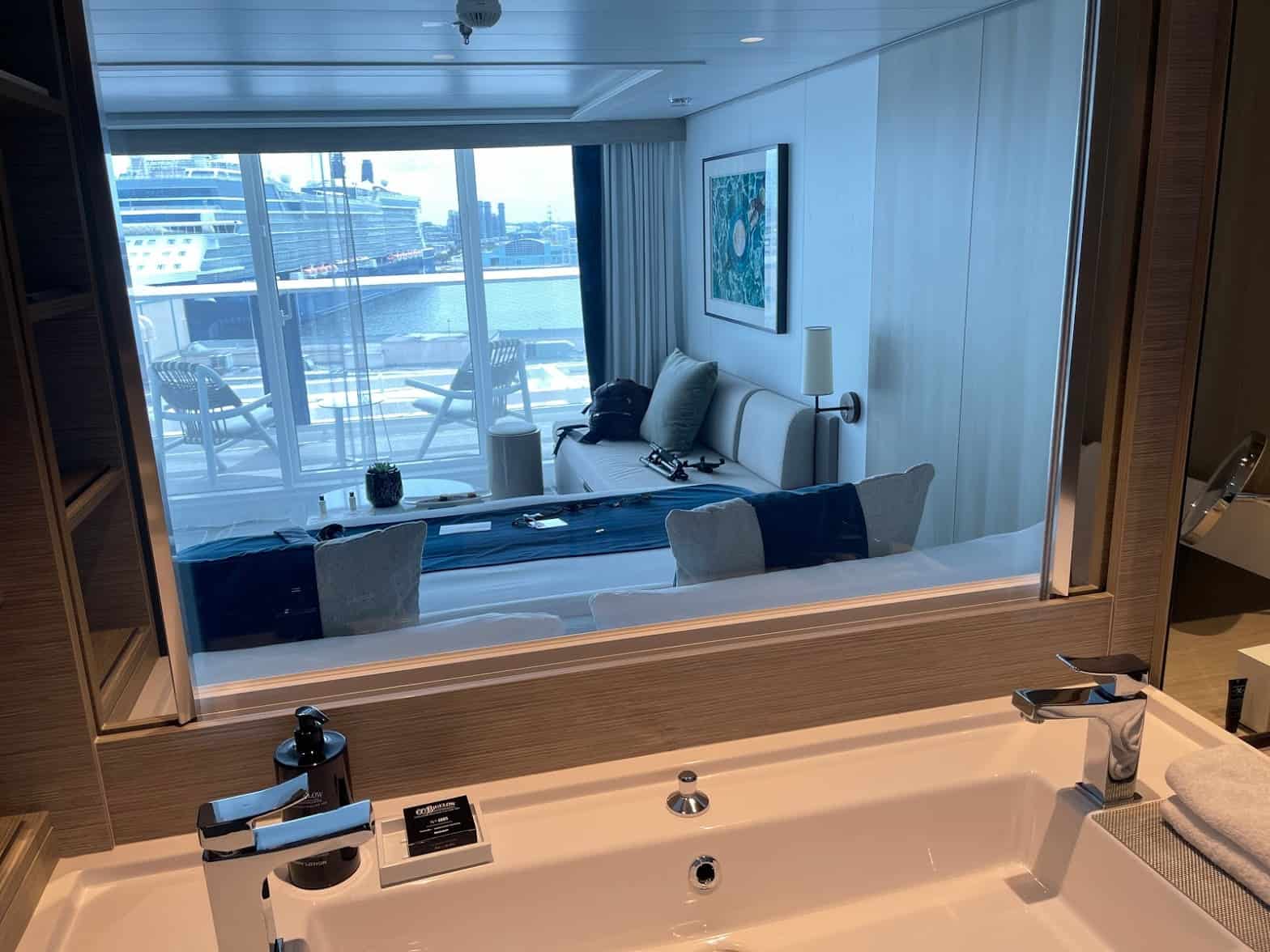 This is the view from the bathroom. When you're standing at the sink, you can either look in a standard mirror or move the panels aside and you have a view straight across the room to the veranda. You'll also notice that the bed is positioned so that when you're laying in it, you're looking toward the veranda.
These suites do not have the "infinite veranda" that Celebrity introduced with this ship but frankly, I think I like this style of veranda better.
Oh, and did I mention the stateroom comes with the service of a butler? Given that I'm not really a butler kinda guy, I'm not sure exactly what to "do" with him. I'm sure some people have him bring them lunch and pack their suitcases but I suspect we'll mostly just nod at one another in passing.
READ MORE: 14 Photos From Celebrity Edge's Sail Away
Anyway, back to breakfast. The menu here is simple…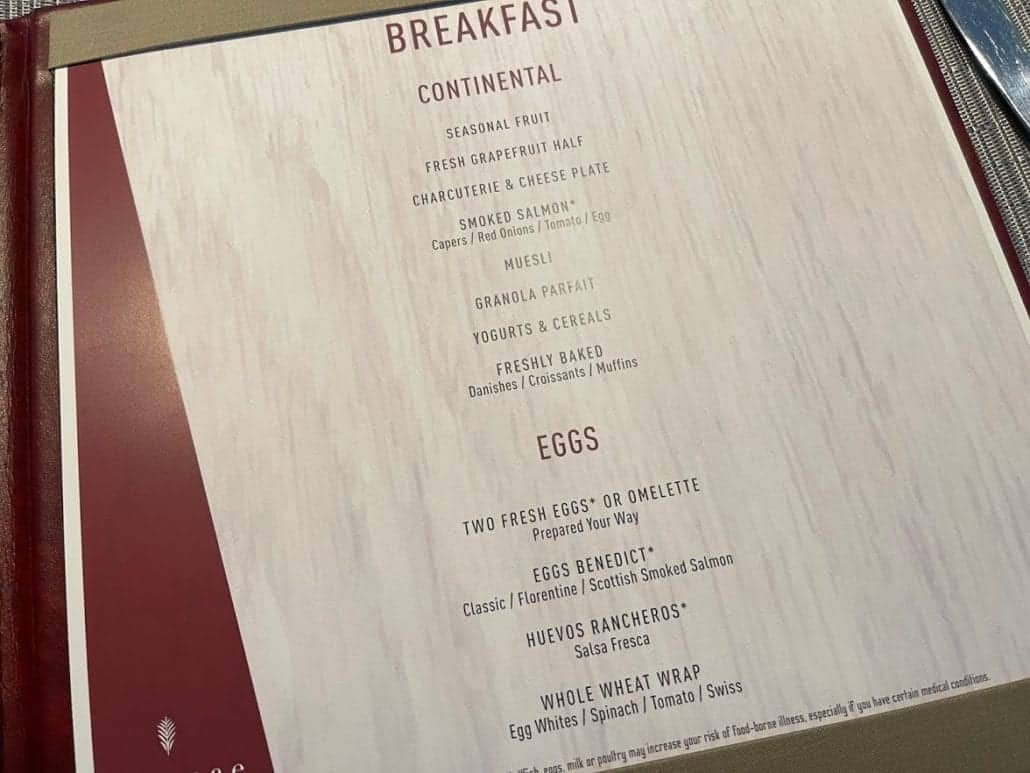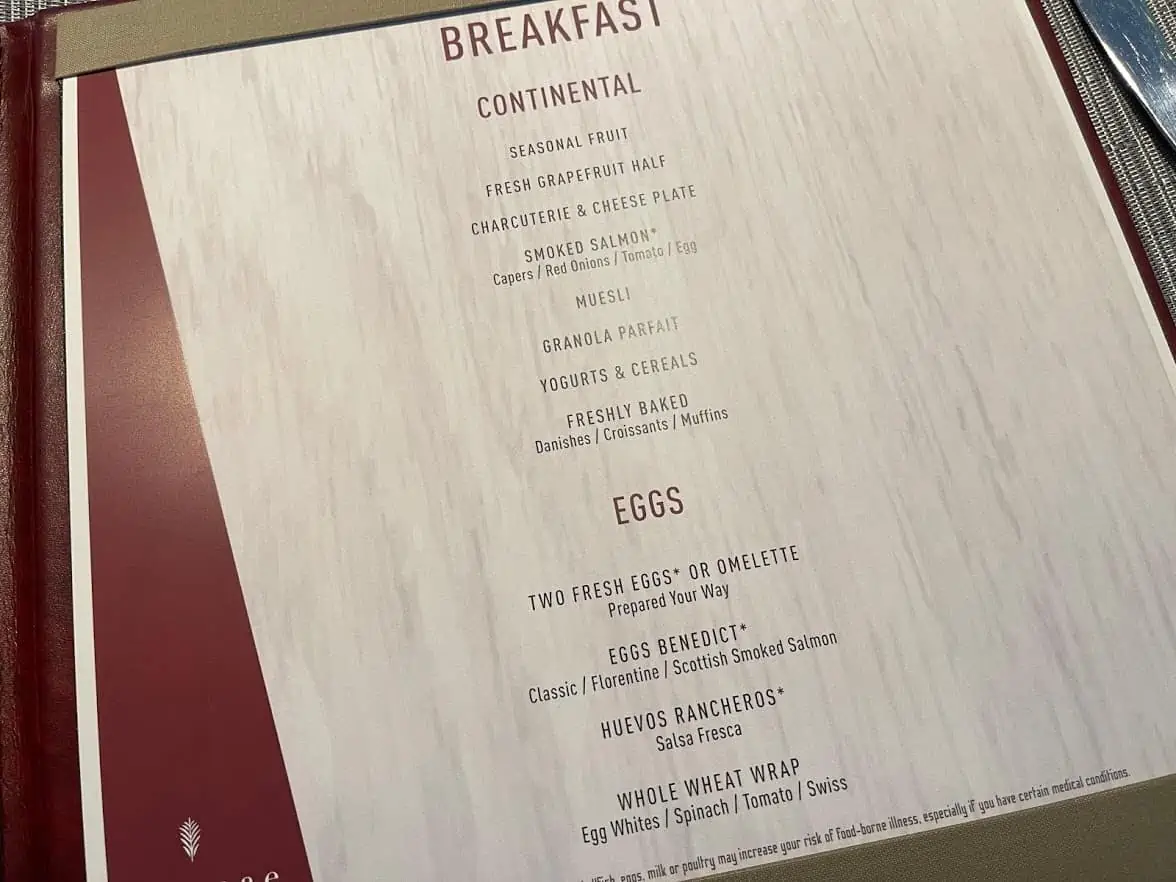 … and the food delish. I went with the smoked salmon (which comes with all the fixings) and it was about as fresh tasting as you could ever want. Yes, there are other options, including the buffet, but when I'm on a ship, I love to have a sit-down meal. I can serve myself at home. Why not let someone bring me food while I relax and prepare for the day ahead, right?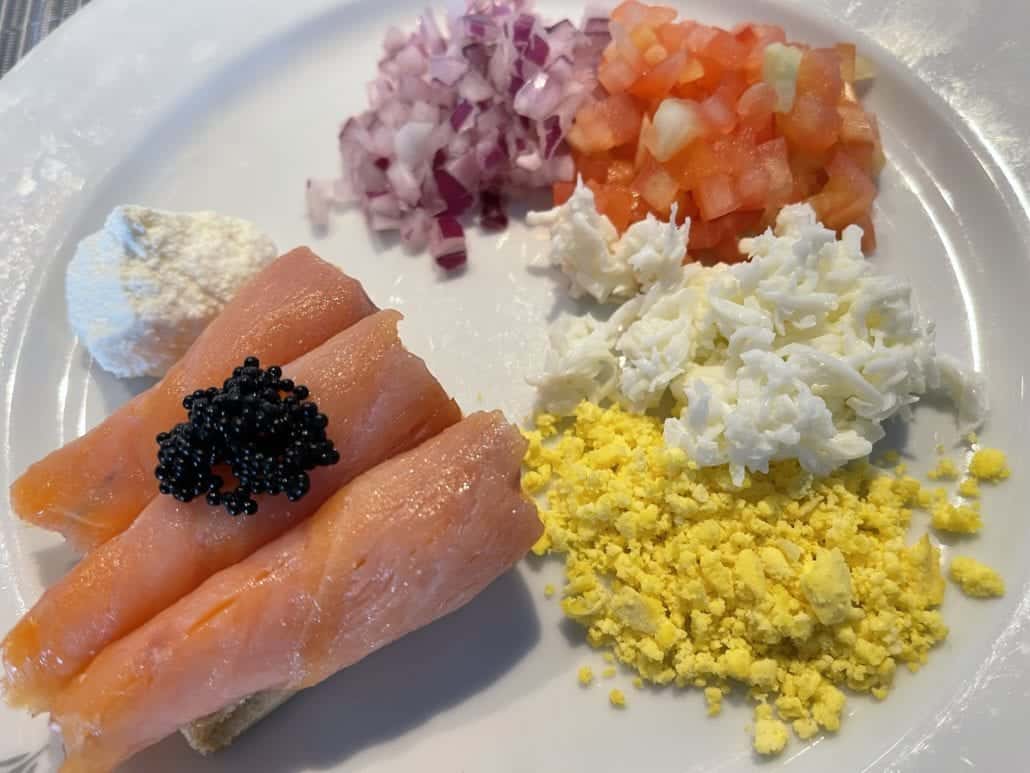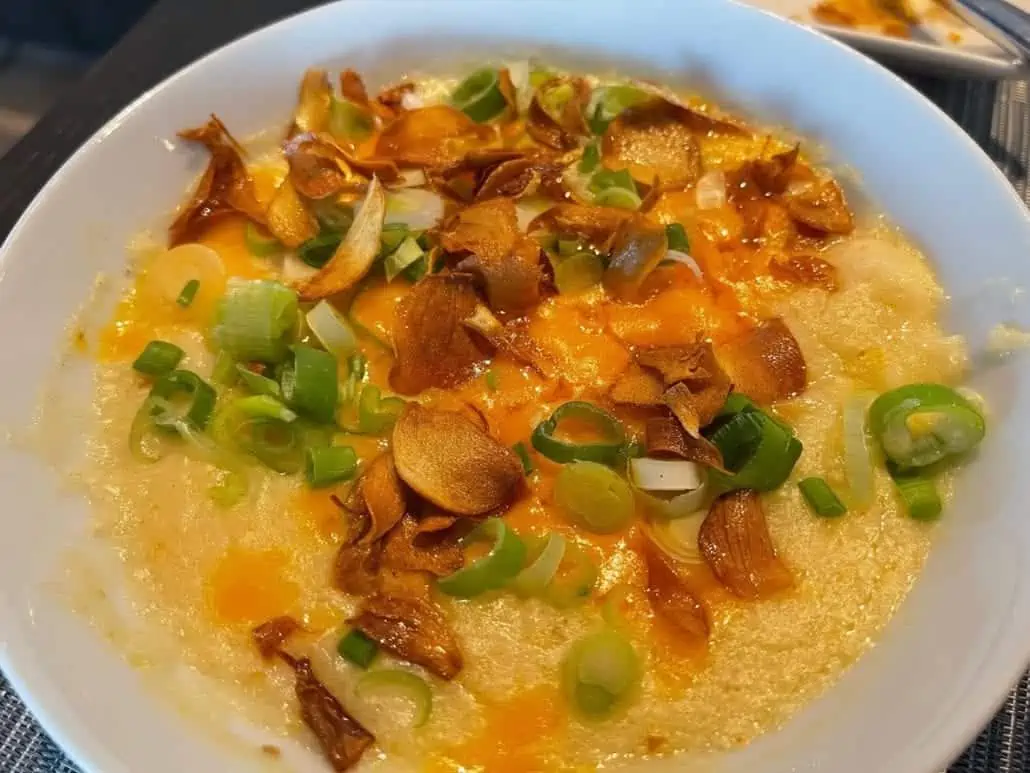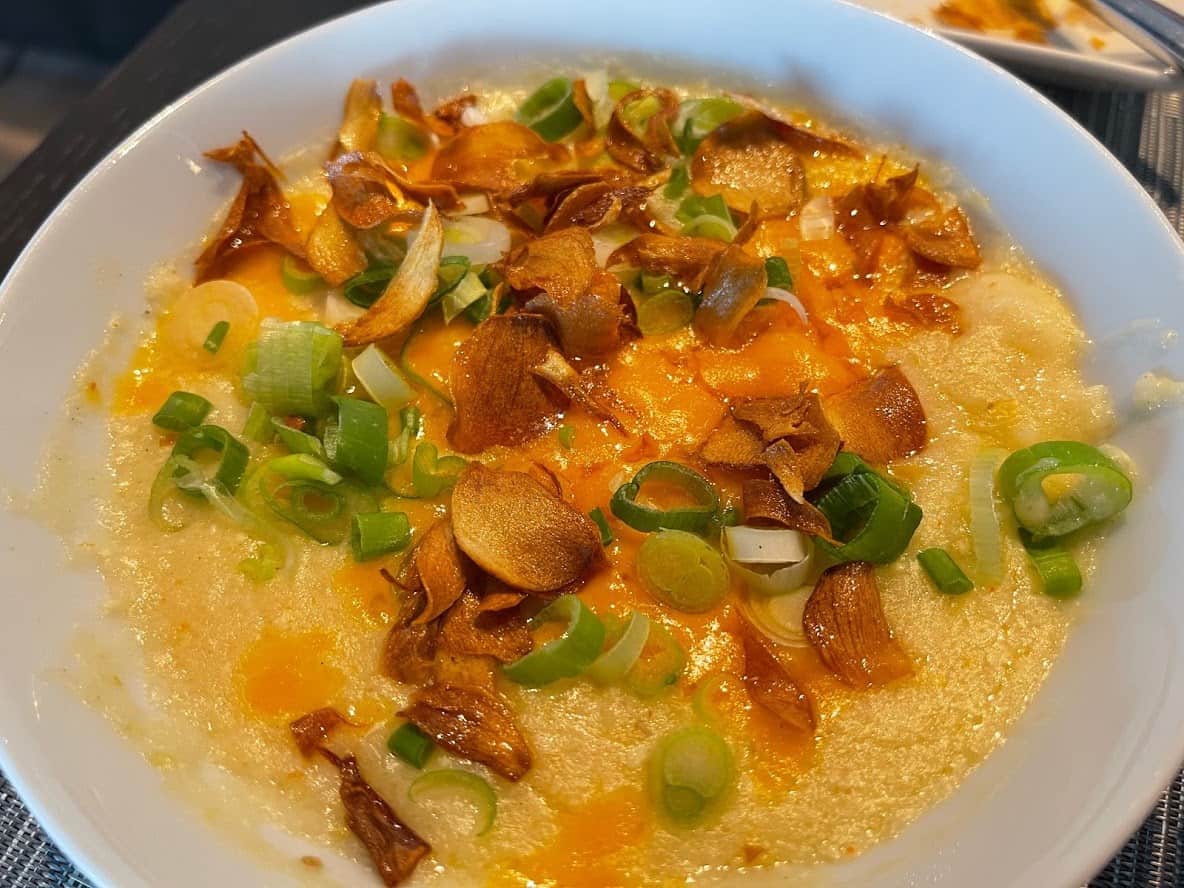 After breakfast, it was time for a meeting with some of the Celebrity and Royal Caribbean Group bigwigs. On hand and answering questions were Richard Fain (CEO of Celebrity's parent company, Royal Caribbean Group), Brian Abel (Senior Vice President of Hotel Operations for Celebrity) and Captain Kate McCue, probably the most famous woman to command a ship since Star Trek's Captain Janeway… and she wasn't even real.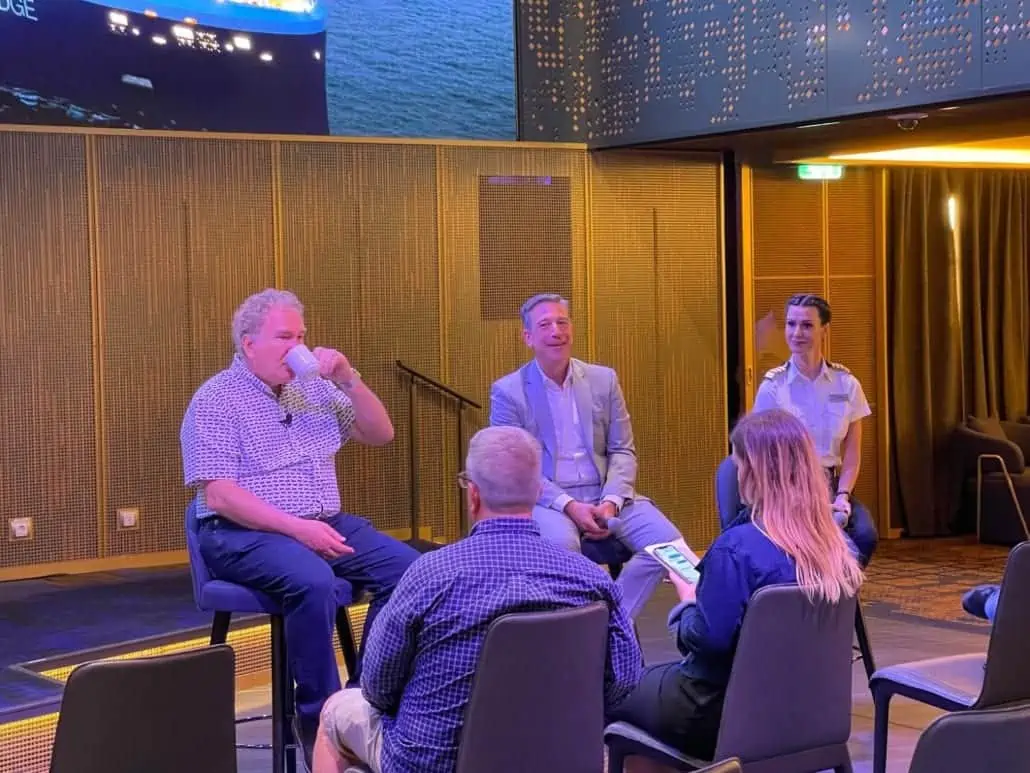 A lot of what was said you've heard before, specifically about how the protocols were designed and how well they're working. I was impressed that the trio did not shy away from talking about the cases which broke out during the return sailing of Celebrity Millenium.
Instead, Fain made it clear that there likely will be further outbreaks — whether on the ships he oversees or those of other lines — but that that's to be expected.
"We are better today than we were a month ago," said Fain. "We will be better next week. We will be better a month from now."
READ MORE: What's Next for Celebrity Cruises?
The session ended with yet another reason that Celebrity is excited about the future, as Abel talked about the upcoming Celebrity Beyond, sister ship to both Edge and the newly-launched Apex. The elevator pitch: If you like Edge, you're gonna love Beyond because it takes this ship's best features and amplifies them.
What's The Buffet Like?
By this point it had been at least an hour since I ate, so it was time to swing by the Ocean Café Buffet. This is probably the one place on board the ship where the health and safety protocols are most noticeable. Remember ages ago, when cruise execs (including Fain) started talking about the fact that perhaps when cruising returned, buffets wouldn't exist? They had suggested that their space might be completely re-imagined.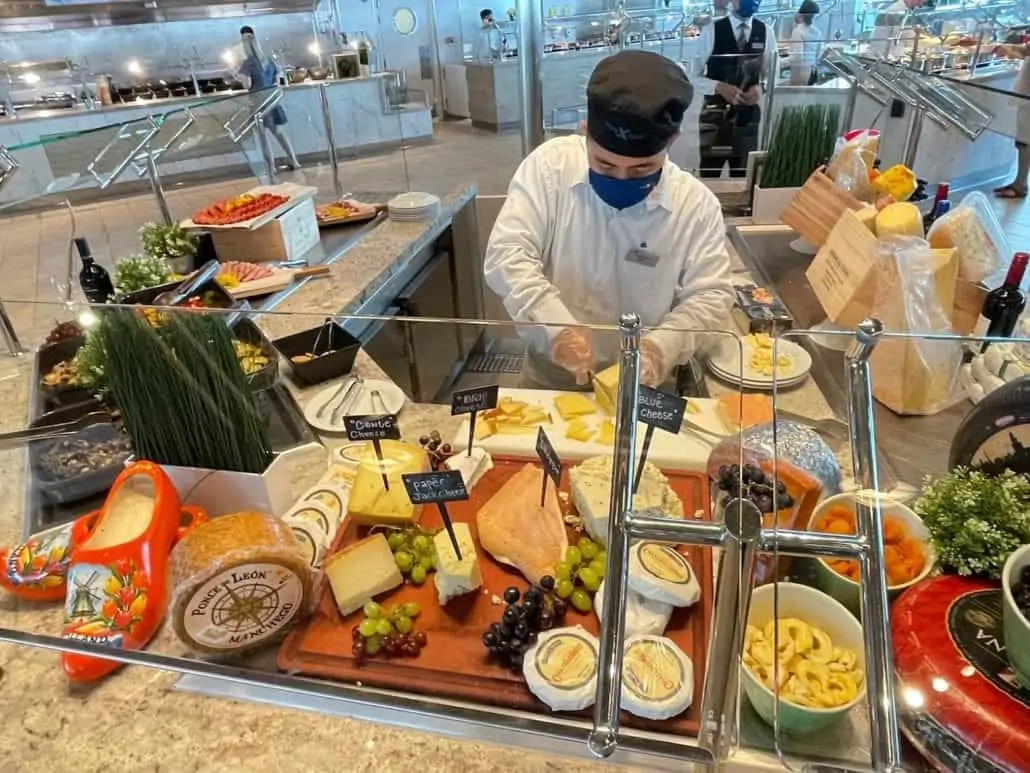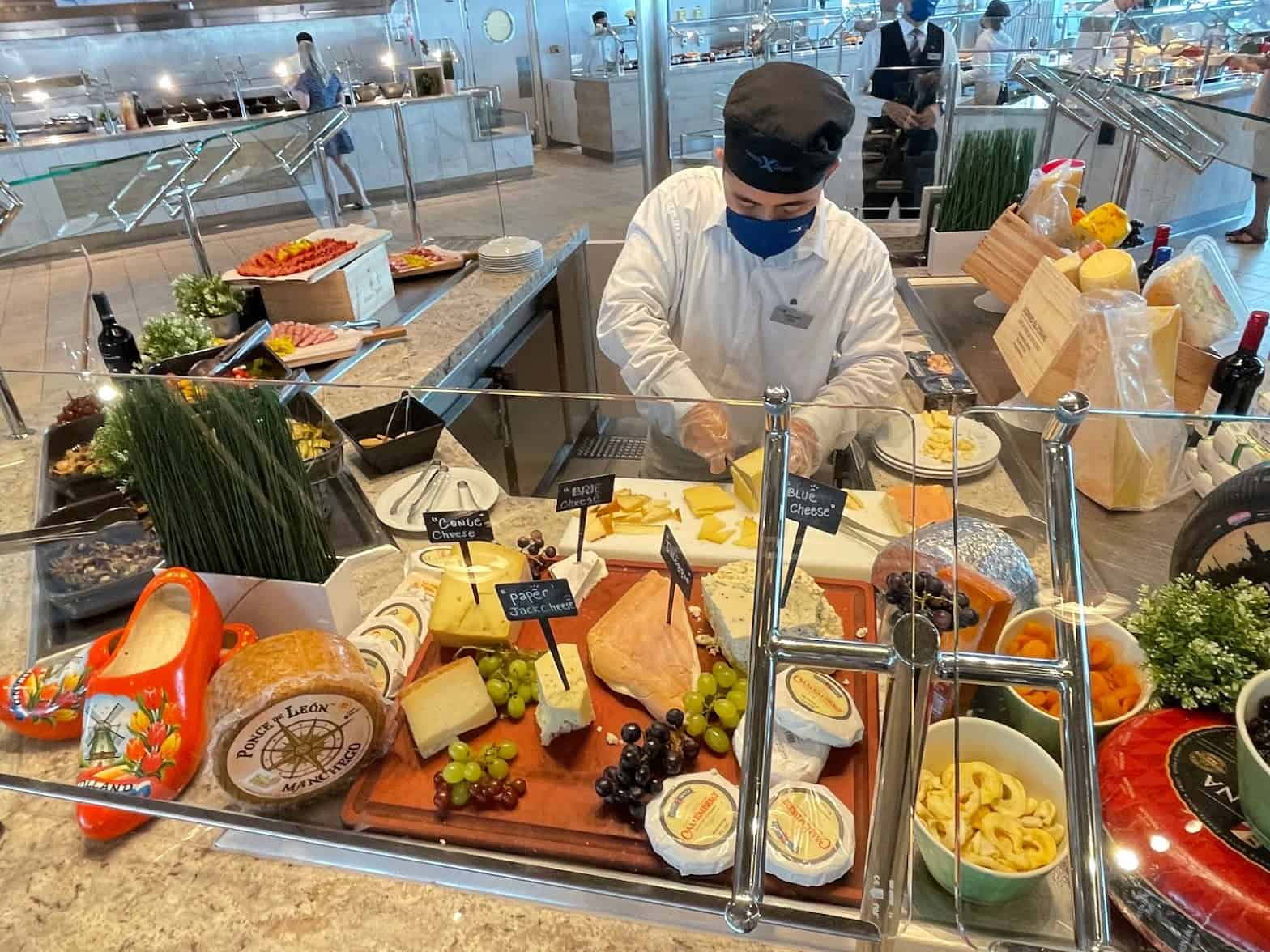 Turns out, that's not at all what happened. Instead, Celebrity made one simple change (although one that I know rubs some people the wrong way): Instead of serving yourself, crew members now serve the food to you at each station. I wasn't sure how well this would work when you get a bunch of hungry cruise guests grazing, but my experience was pretty great.
It's worth noting something here: The ship is sailing at under 40 percent capacity. So many of the things which are functioning so smoothly — and many of the spaces which are virtually empty, such as the buffet — aren't being put to the true test yet.
That will only come with time, as the cruise lines slowly but surely begin to increase capacity. When will that be? When asked during the earlier meeting with Fain, he wouldn't speculate other than to say they hope to have the entire fleet sailing by year's end… but at what capacity? Only time will tell.
It's Always Happy Hour at Sea
As the afternoon wore on, I eventually found myself heading to the Sunset Bar. Located on the aft of the ship, this is, without doubt, one of the best spots on board to head for a drink on a gorgeous day. With the sound of the wake and killer views, there's a lot to like about this bar.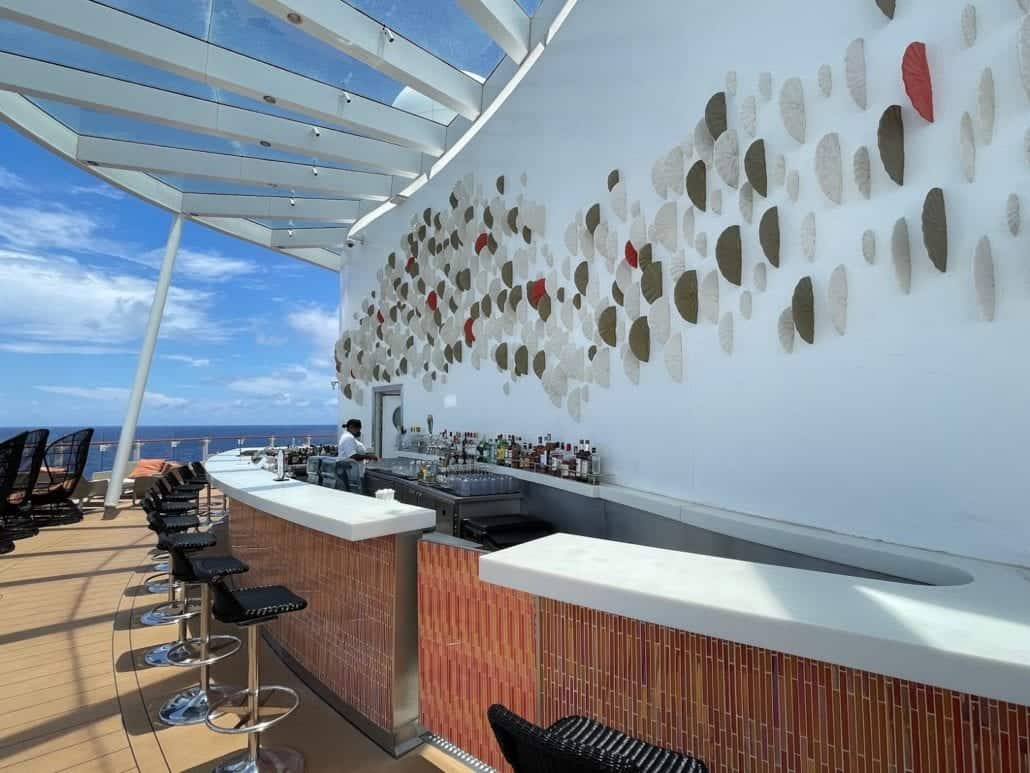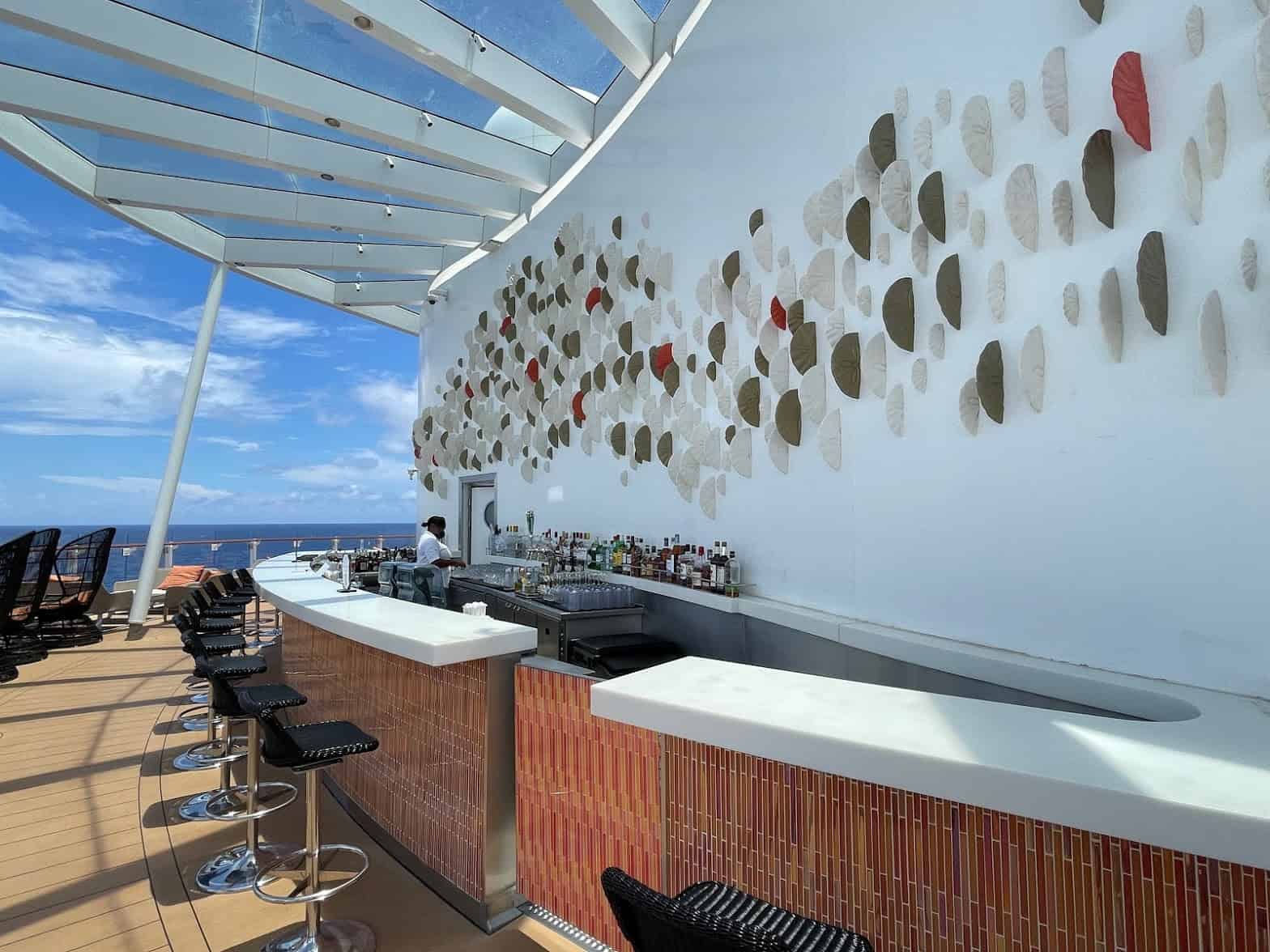 One really nice feature of this area is the wide variety of seating areas. Sure, you can sit at the bar (all the better to make small talk with the bartender), but only a few feet away are comfy seats that are pretty much designed for afternoon naps.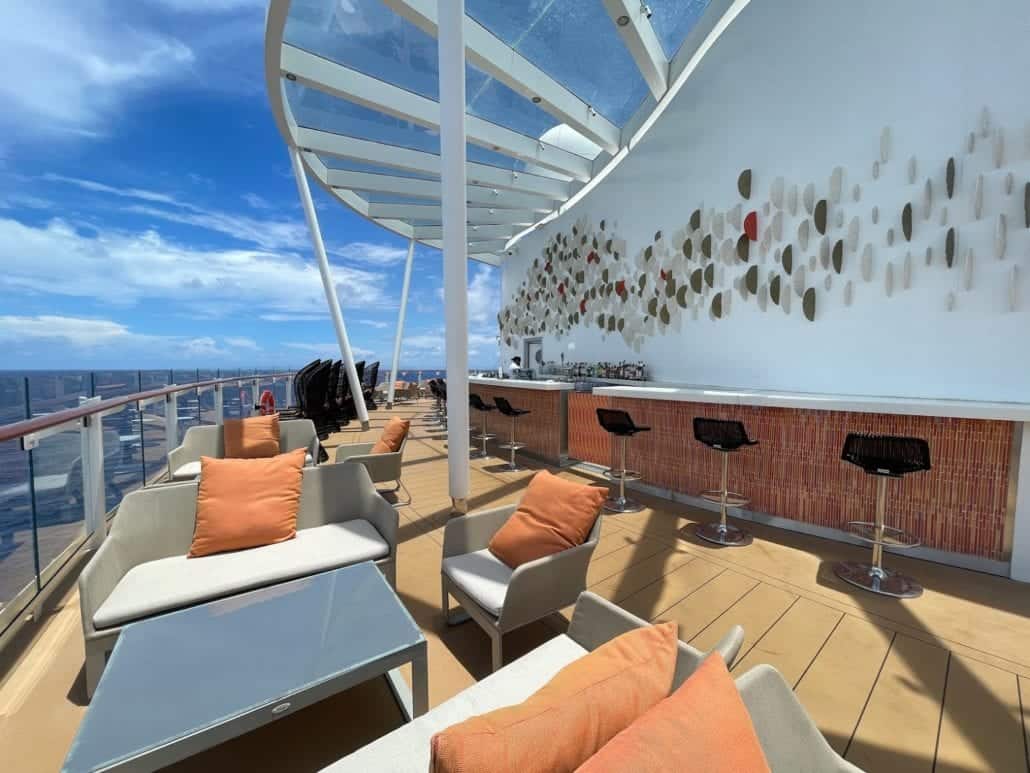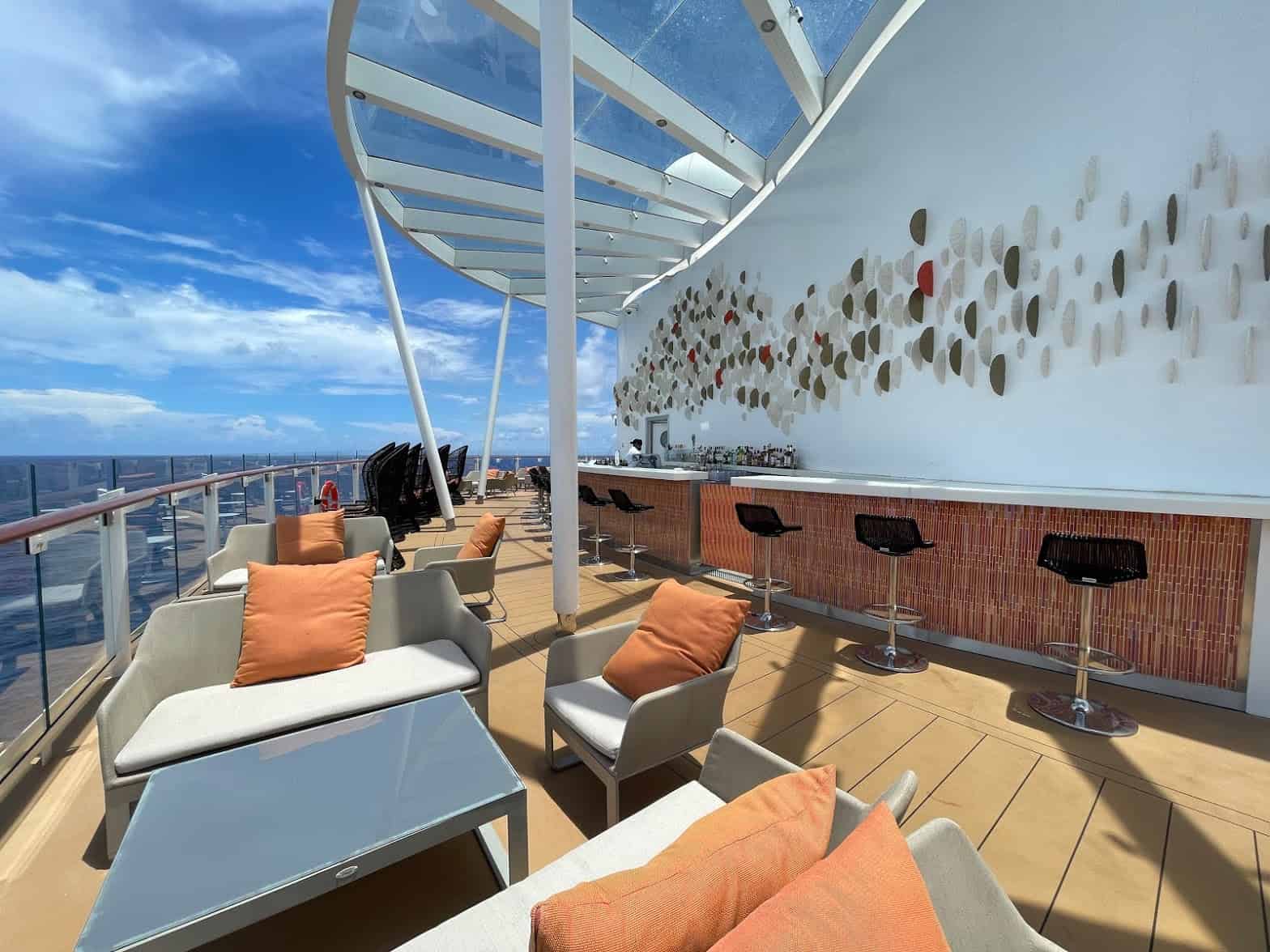 When eventually it was time to wander, I headed to the Grand Atrium and one of the signature hot spots, the Martini Bar. Now, it's not at all unusual to find the bartenders here putting on a little bit of a show… but what is unusual is what was happening when I arrived. Because there, behind the bar (and doing his damndest to match the flare of the bartenders) was none other than Richard Fain.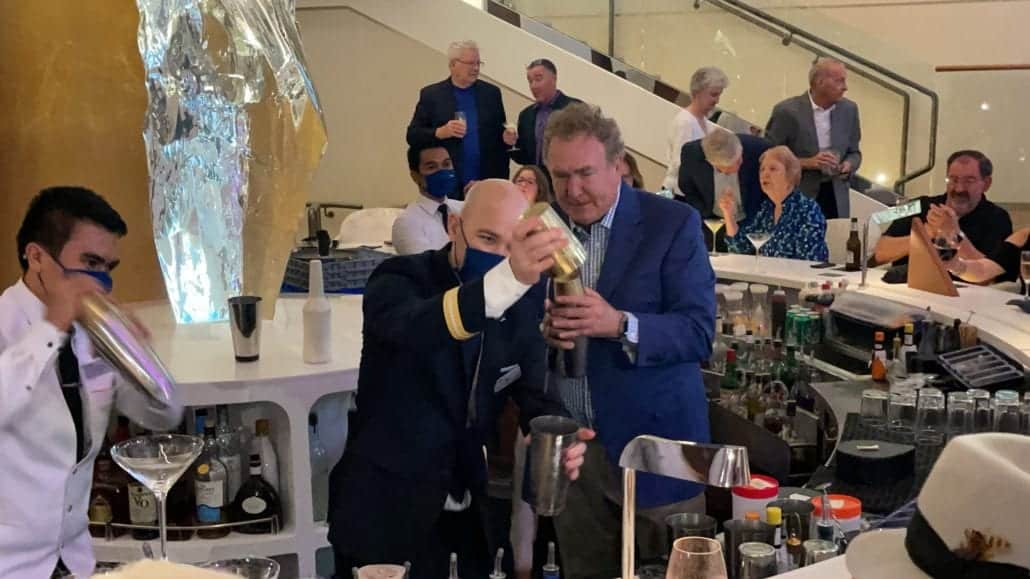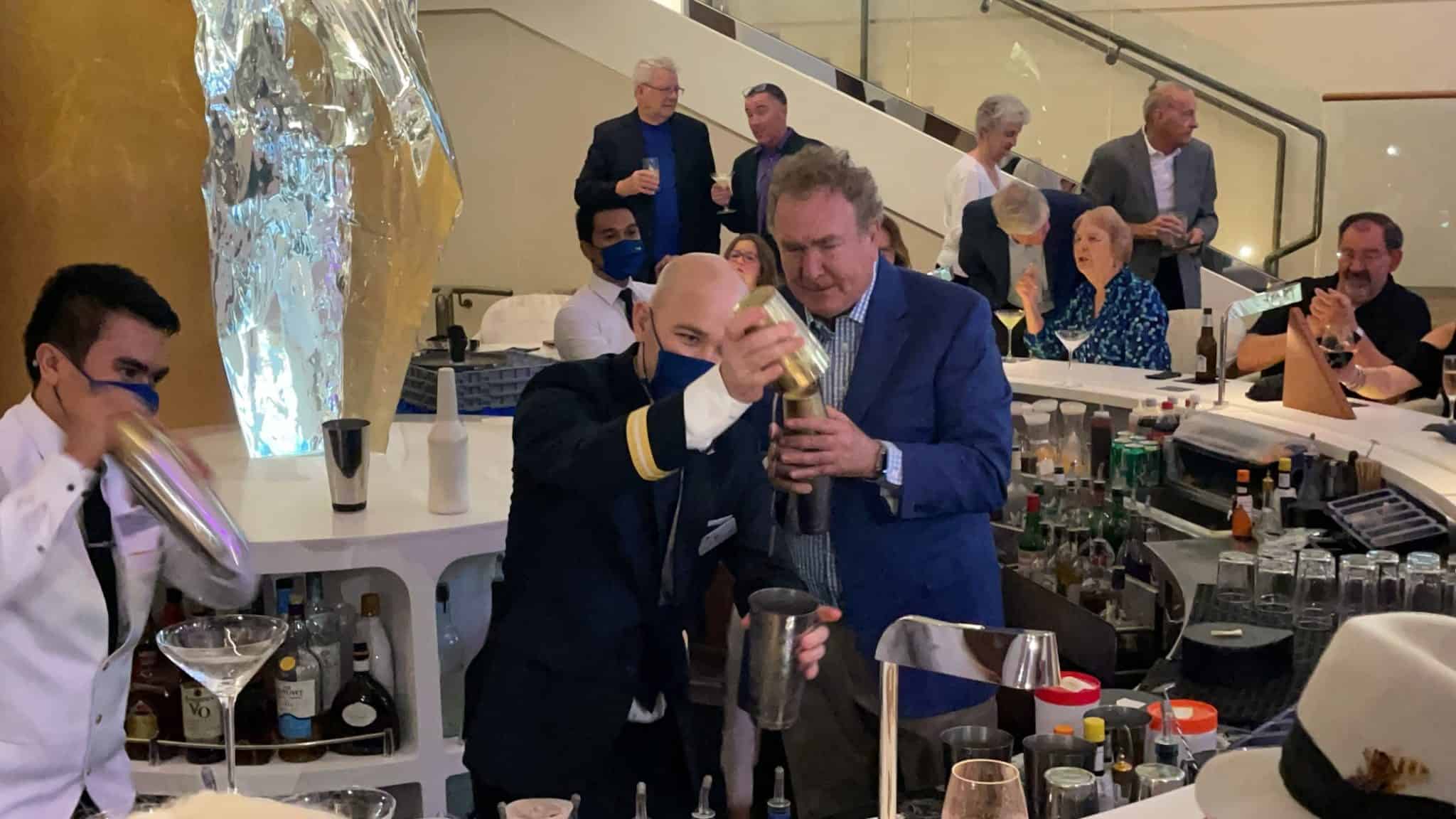 It's not every day you see the CEO of a company mixing cocktails. But hey, when you're the boss, who's going to tell you no, right?
Welcome to Eden
When Celebrity Edge was introduced, one of the most buzzed-about areas on the ship was Eden, the multi-level, multi-functional space which, as beautiful as it was, was a bit confusing to some. The after-dark entertainment featured interactive experiences which were a little too in-your-face for some people (myself included). But tonight, I was heading to Eden for a five-course tasting menu, not the entertainment. (We'll talk about that later in the week, and see if anything's changed.)
So how was the food in Eden? Indescribable. And I mean that literally, because there really are no words I could think of to accurately depict the dishes that were served.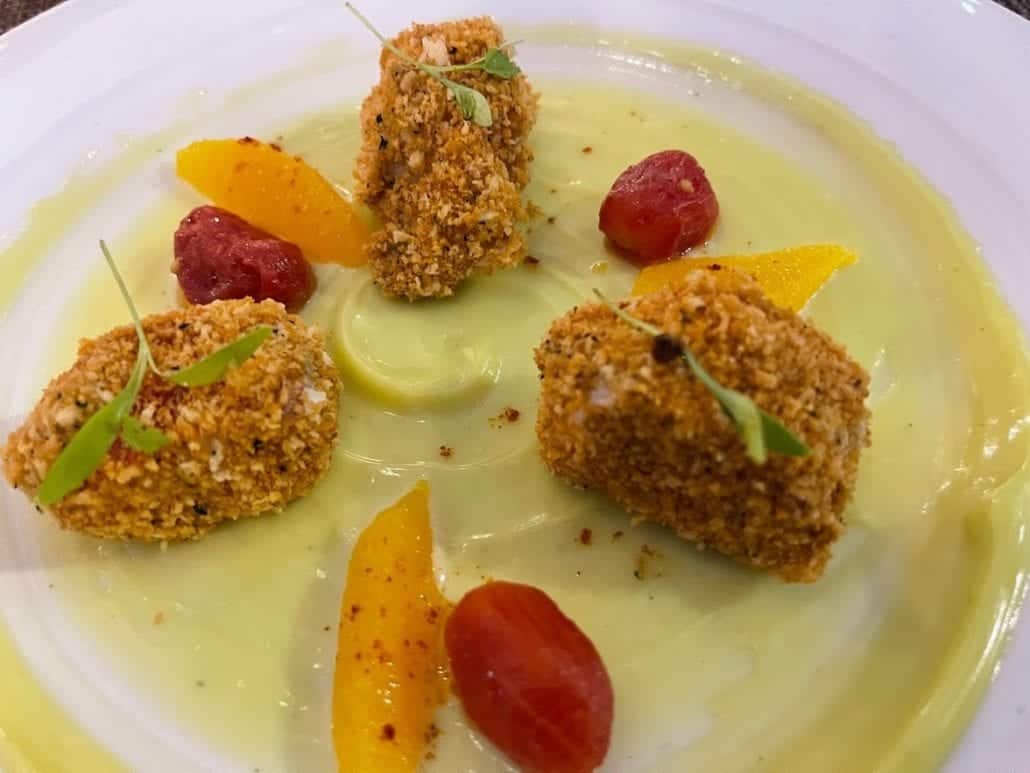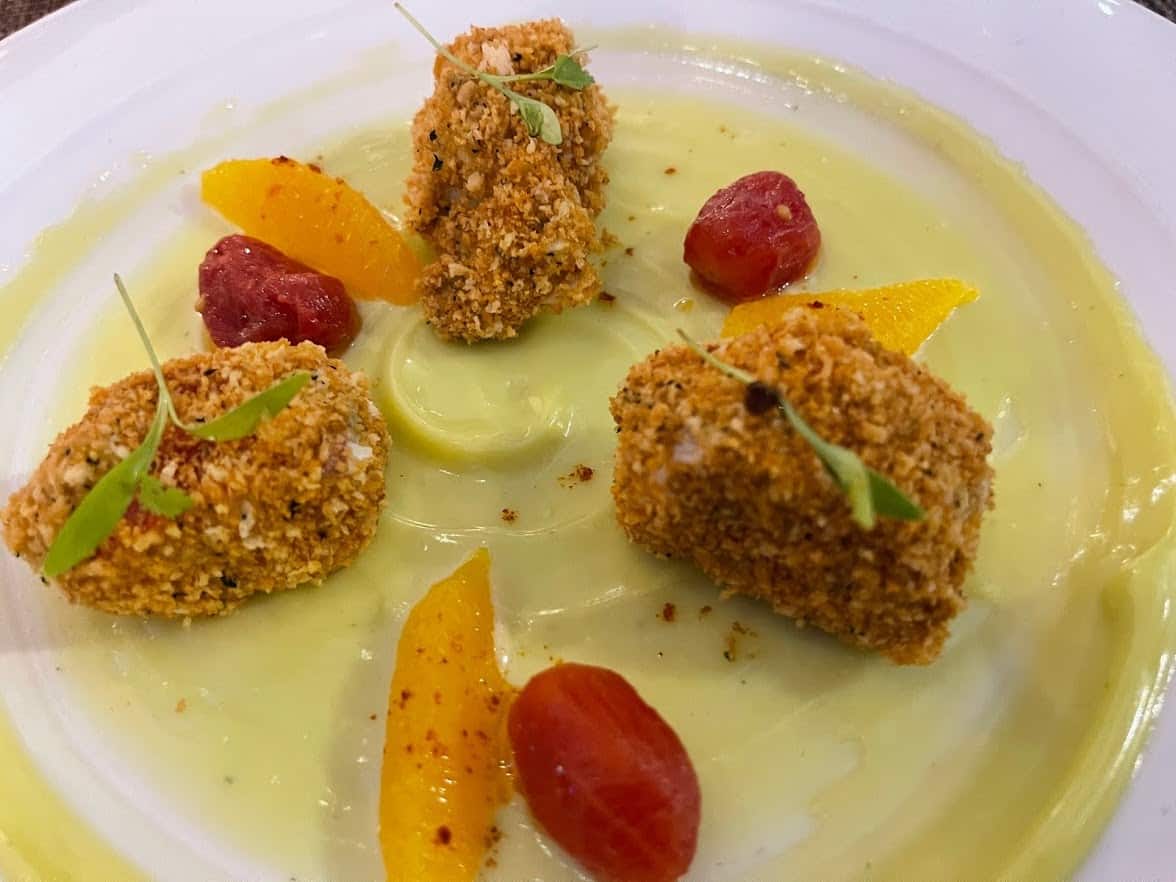 I am not a foodie by any means. But I am a pretty adventurous eater. The closest experience I've had to the meal served at Eden was when I did the Chef's Table aboard the Carnival Sunrise. Every single thing they put in front of me was beautifully plated and incredibly delicious.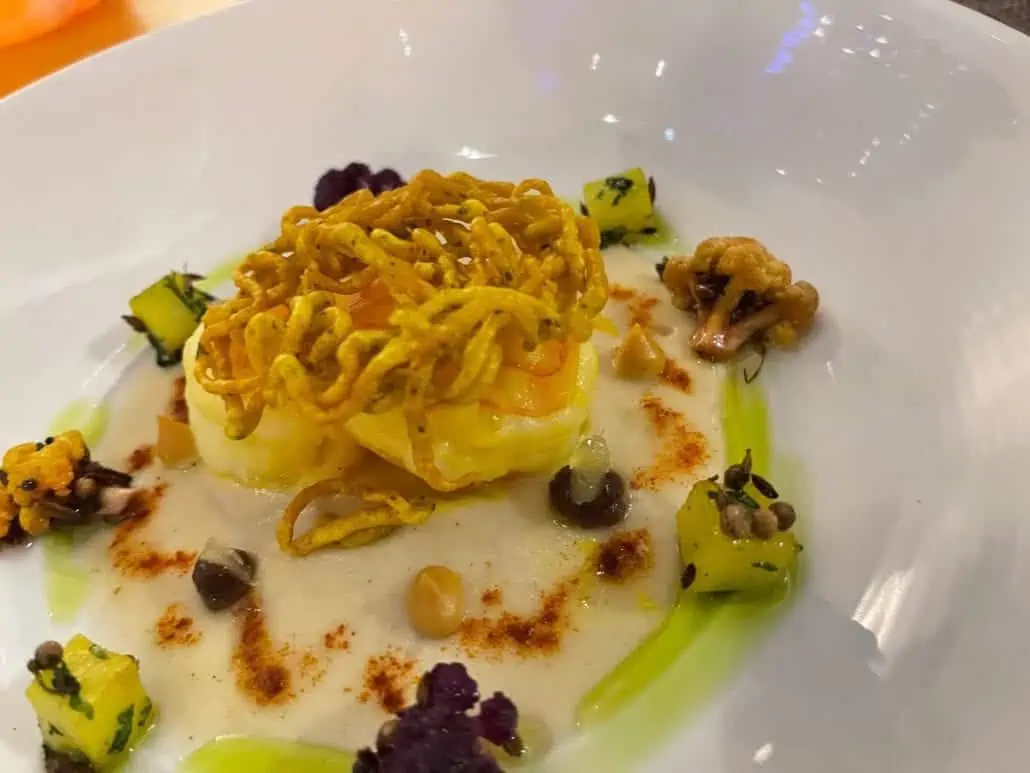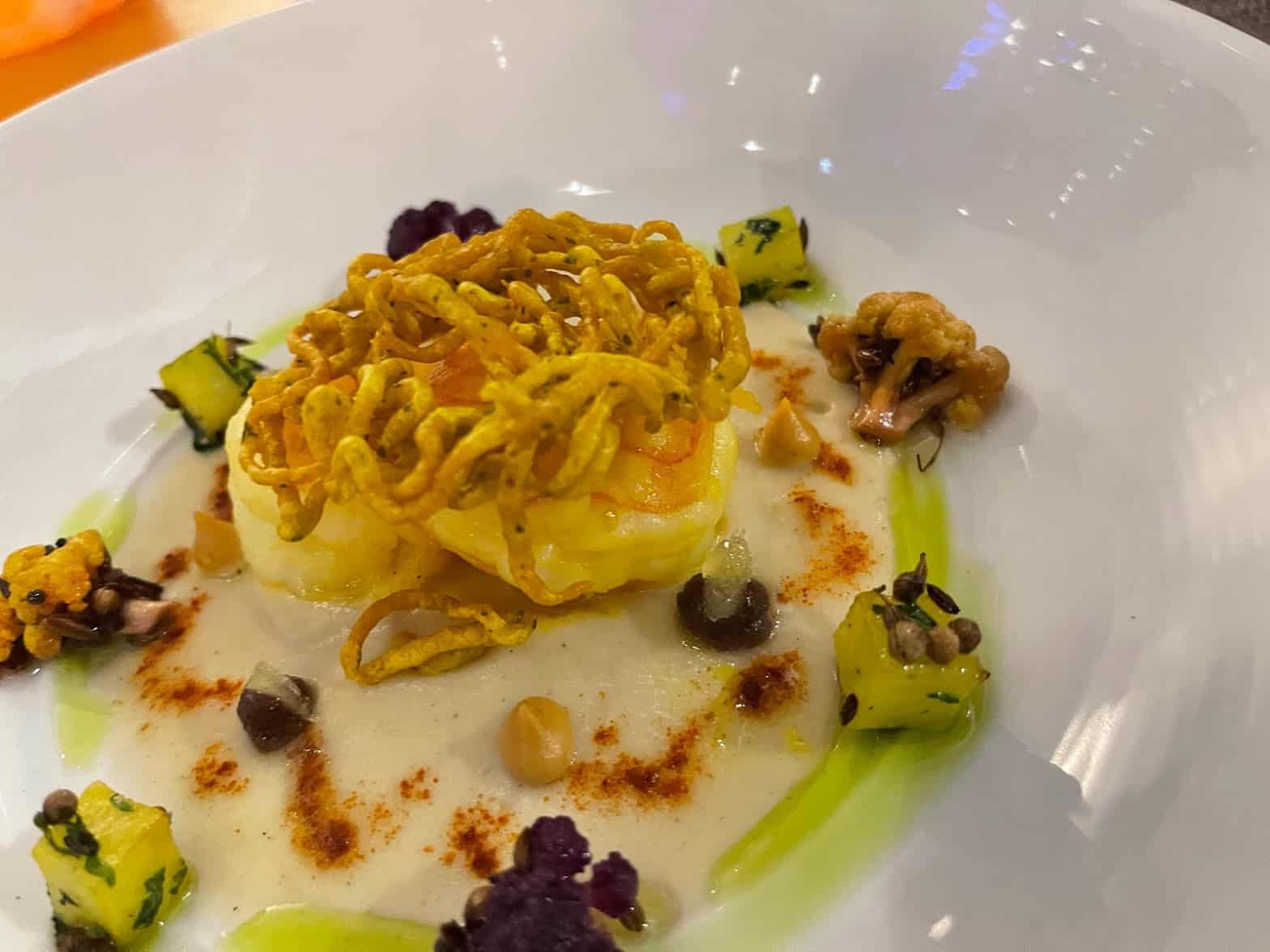 This was one of those restaurant experiences that you will never forget, not only because it's so unique, but because you couldn't recreate these dishes at home even if you tried. For example, if you had to guess, what would you say are the ingredients featured in the above photo? I'm just going to stop you there and say "wrong." Unless, of course, you happened to guess scallop, egg yolk, caviar, and chicken skin.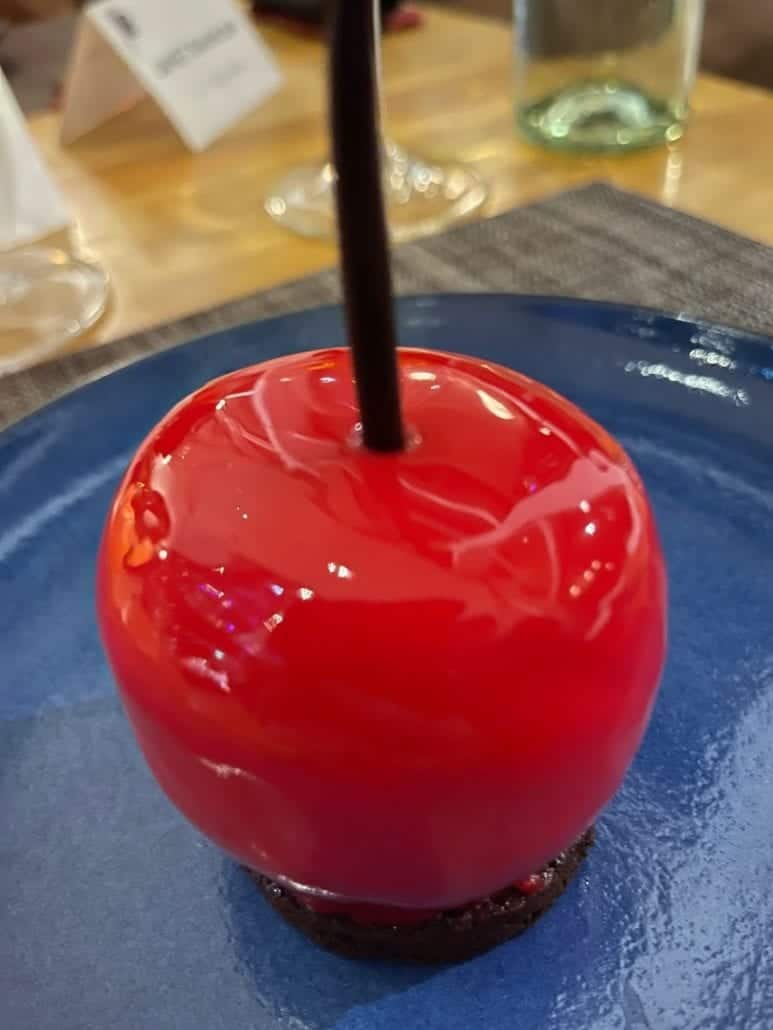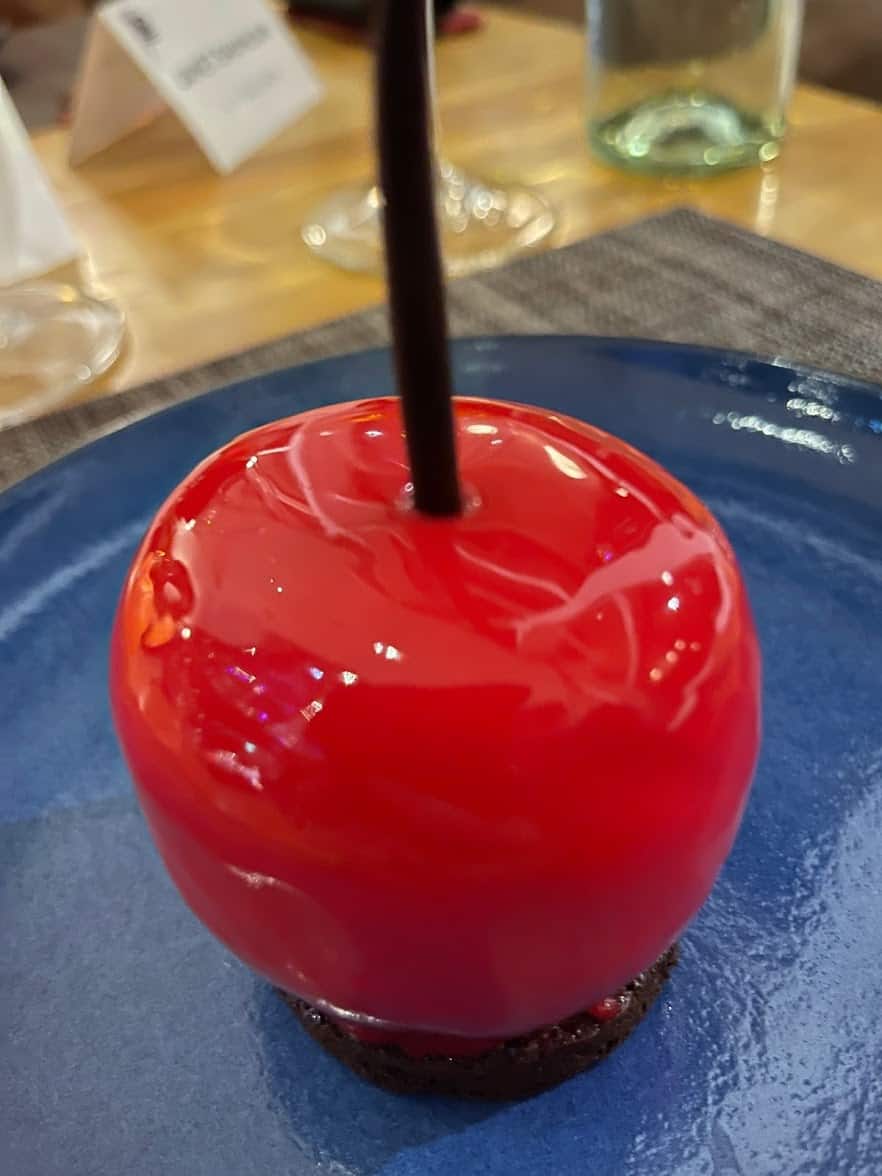 Among the desserts was this deceptive-looking treat. Looks like a candy apple, the kind of thing you'd get at a carnival, right?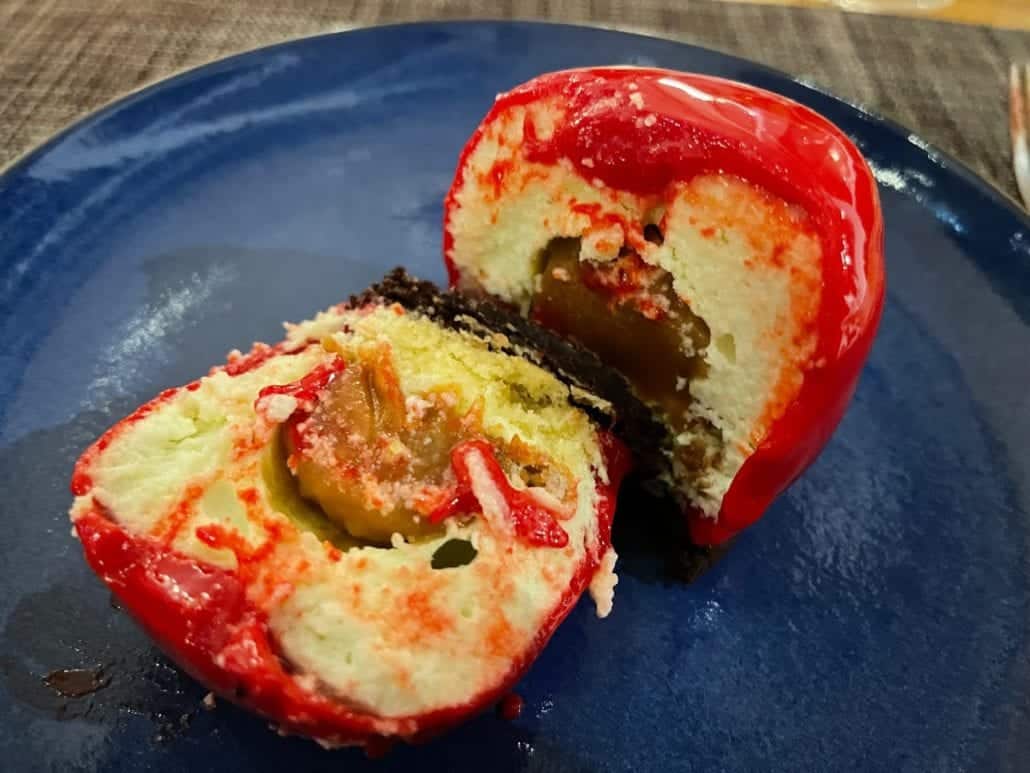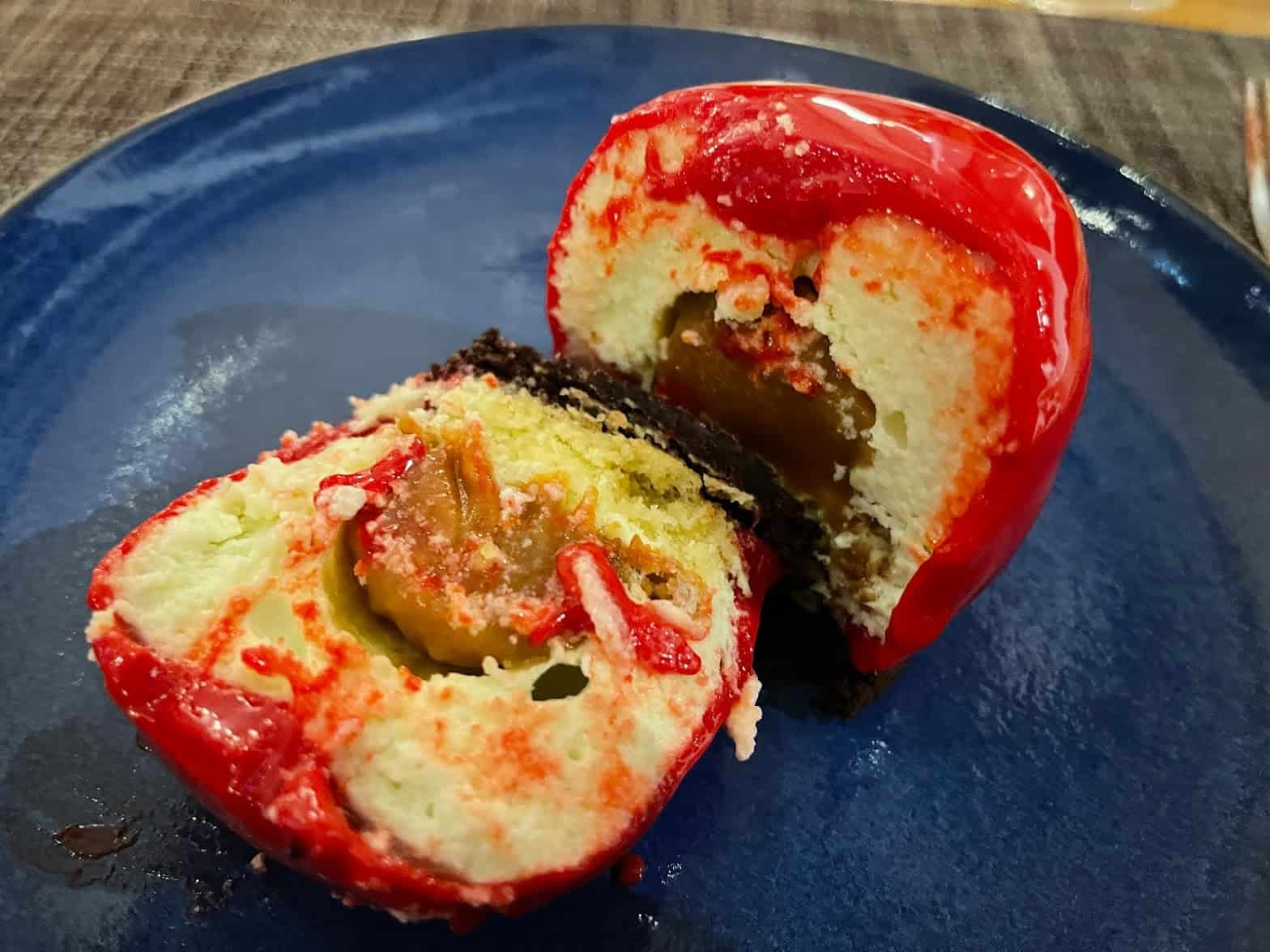 Cut it open, and it wasn't a candy apple at all. It did have apple as an ingredient, though, along with caramel and almond. It was seriously incredible. There was another dessert featured, but I'm actually going to do you a favor and not show you pictures. Why? Because dinner at Eden is the kind of meal that should offer up a few surprises. Like Wonderland on some Royal Caribbean ships, Eden's tasty treats aren't going to be for everyone. But for the adventurous eater, it's going to easily rank as one of the all-time favorite meals at sea… and probably on land, too.
The last stop of the night — and after that meal, I was fading fast — was a performance of Kaleidoscope, one of the ship's big productions. Regular readers know that when it comes to shows, I get bored really quick. I tend to look for a seat on the aisle so that when I start to get fidgety, I can make a break for it.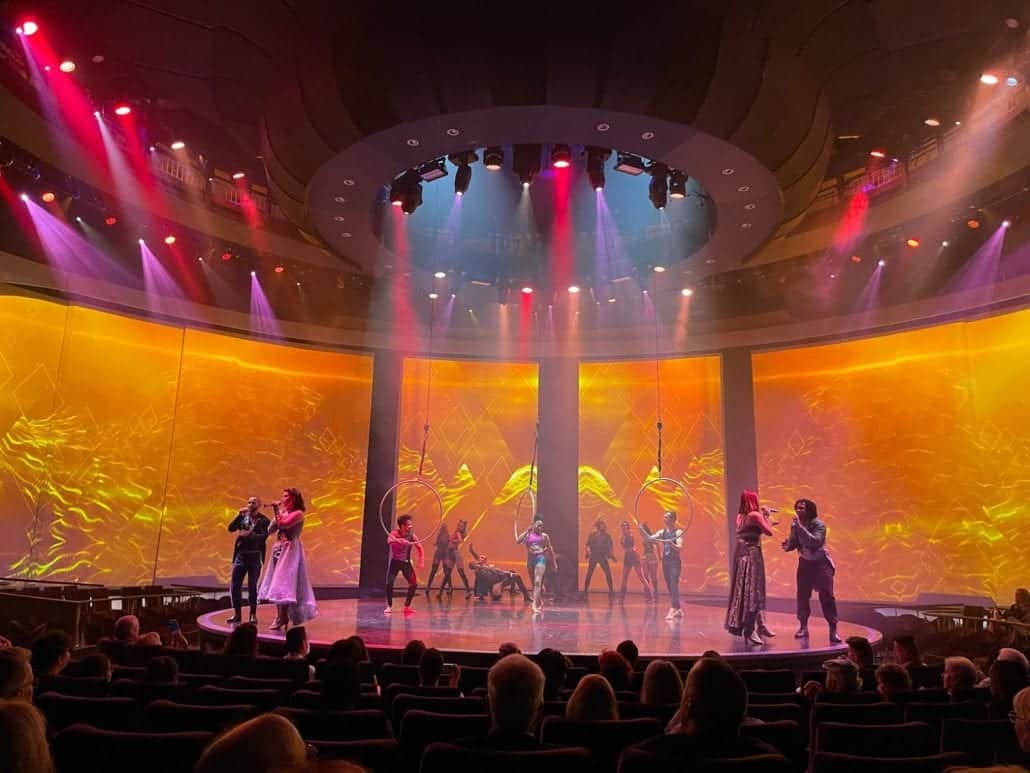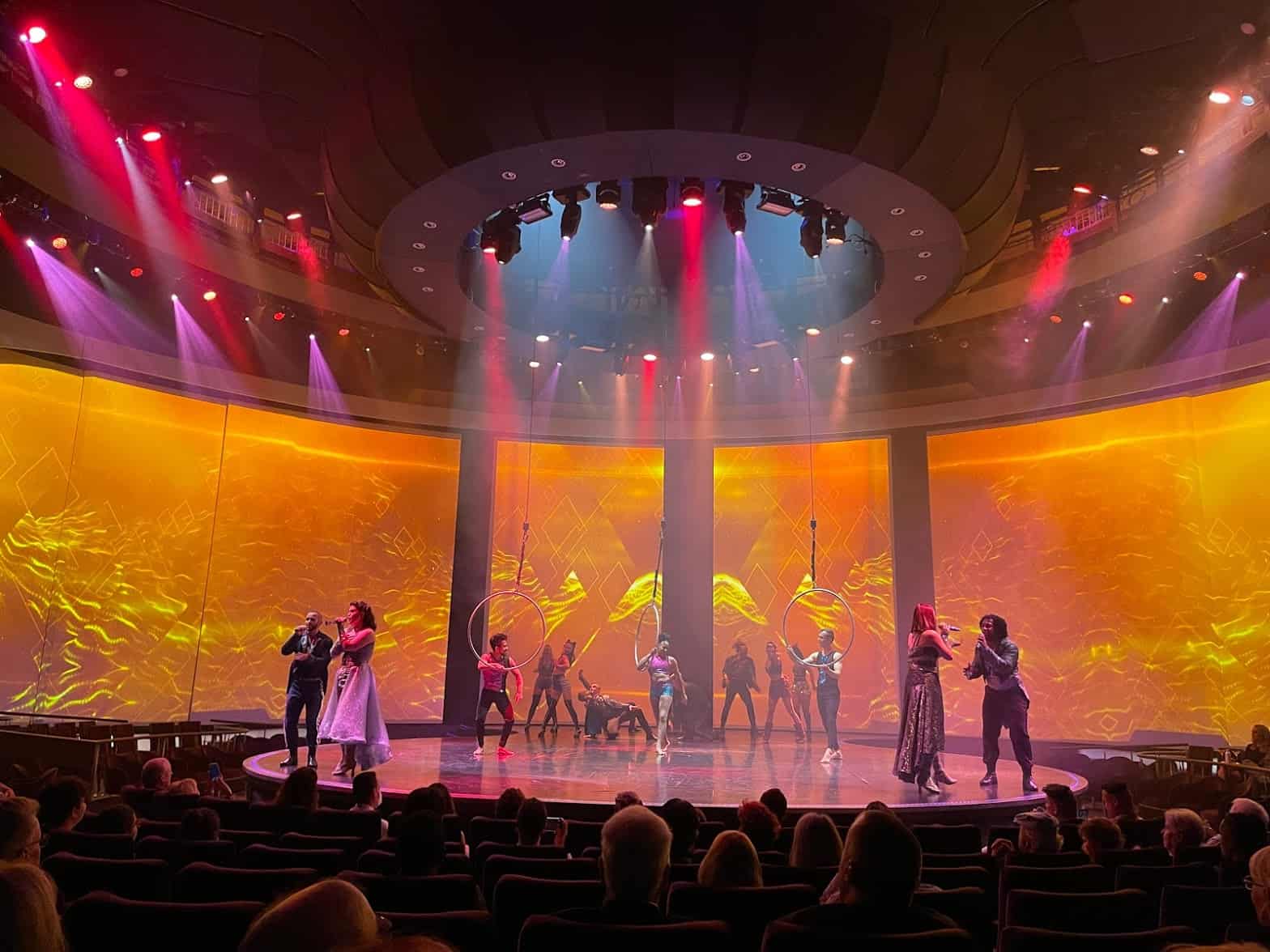 Honestly, this show was no different for me. Like so many other cruise ship productions which other people rave about, it just wasn't my thing. The energy was high and the performers were good, but these things have sort of a "been-there, done-that" feel for me at this point. I'm sure it's awesome for folks who enjoy these kinds of shows, but I was ready to crash… so that's what I did.
Tomorrow is another sea day, so we'll be doing some more exploring… and of course, more eating. See ya then…
Catch up on my other Celebrity Edge trip reports: