Thanks to the seemingly endless cruise industry shutdown in 2020 and 2021, there was sort of a traffic jam where new ships were concerned.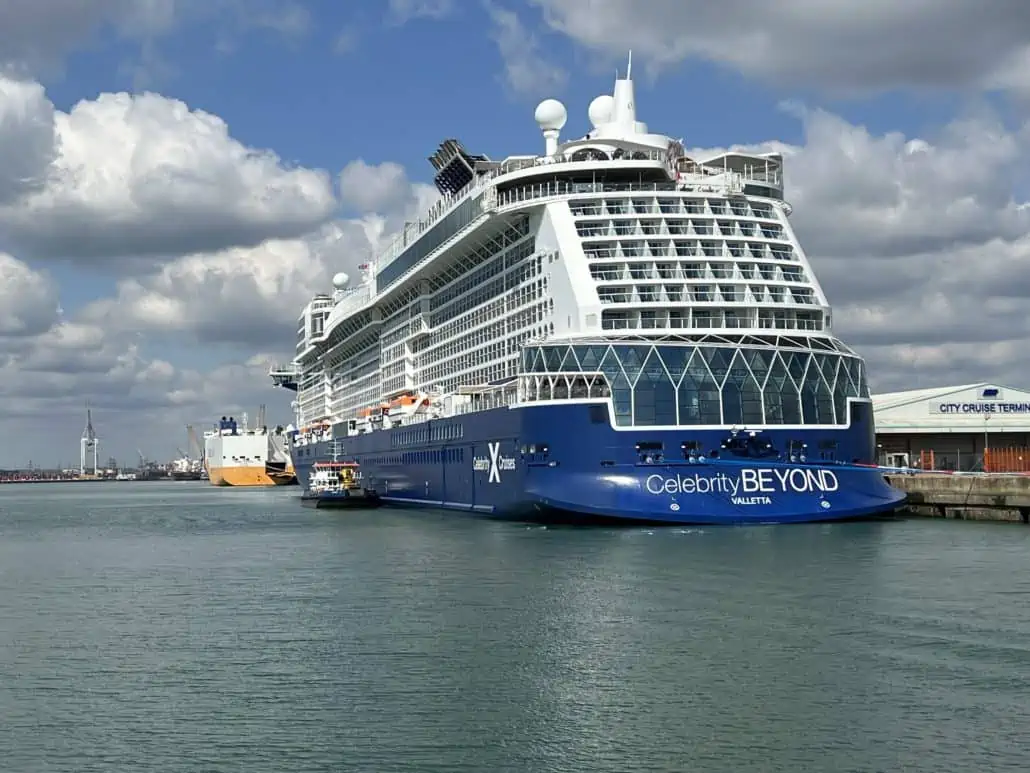 Think about all the ships that have launched over the past few months, not to mention the ones still in the pipeline. In November alone, we got the Celebrity Apex, Odyssey of the Seas, and Holland America's Rotterdam… and it kept going.
Now, less than six months after the debut of Celebrity Apex, along comes her sister ship, Celebrity Beyond. I was invited by the cruise line to spend a couple of days on board the new ship as she did her final sailing roundtrip from the United Kingdom before repositioning to the Mediterranean.
Regular readers know I'm big on two things: transparency and honesty. So while I was a guest of Celebrity for this particular sailing, that in no way, shape, or form factors into the trip report you're about to read.
The Same, But Different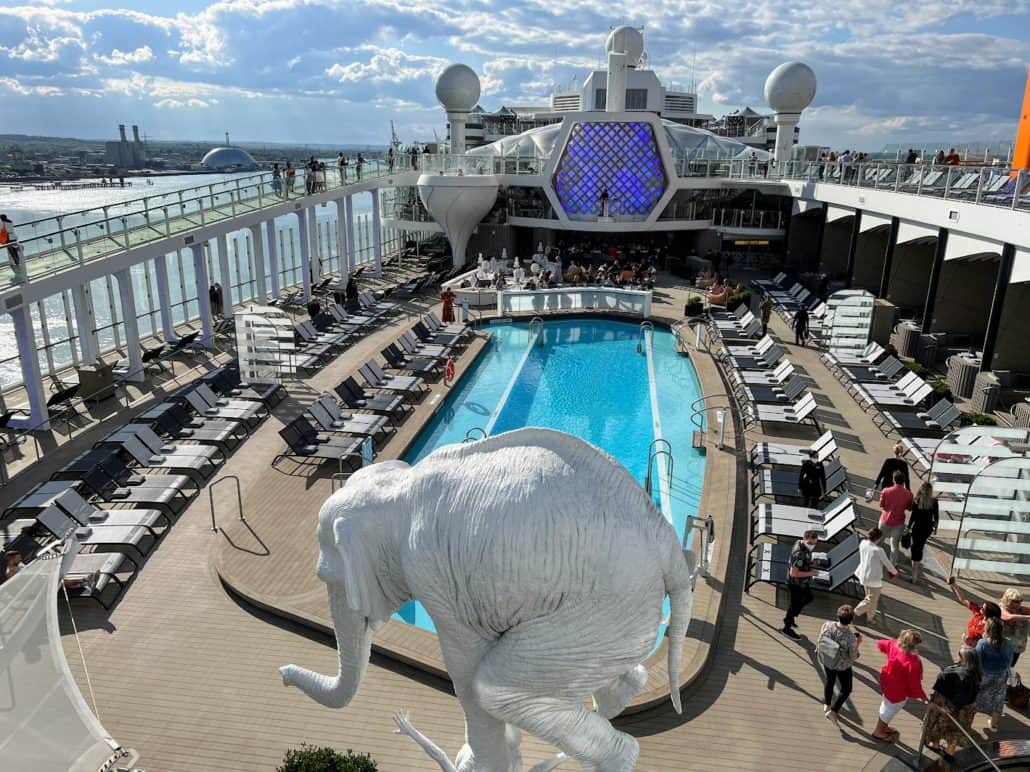 At this point, I'm pretty familiar with the Edge class of ships, having sailed all three within the past nine months. But I was curious about a few things where Beyond was concerned.
One was how they would meet the challenge — faced by every new ship introduced by any line — of staying true to the line's aesthetics while at the same time adding something different.
Why is that important? Because "different" is what gets your attention, especially from mainstream outlets that aren't necessarily excited simply by the prospect of a new ship.
In this case, Beyond had 20 extra meters to play with, so I was curious how that would be used. On a personal level, I was stoked to check out the Sunset Bar, which has always been one of my favorite spots on Celebrity ships and, on this one, was spread out over two decks.
Hello, London!
After flying over to London from Jacksonville, Florida we took the 90-minute cruise line transfer bus from Heathrow airport to the cruise port where we would board Beyond.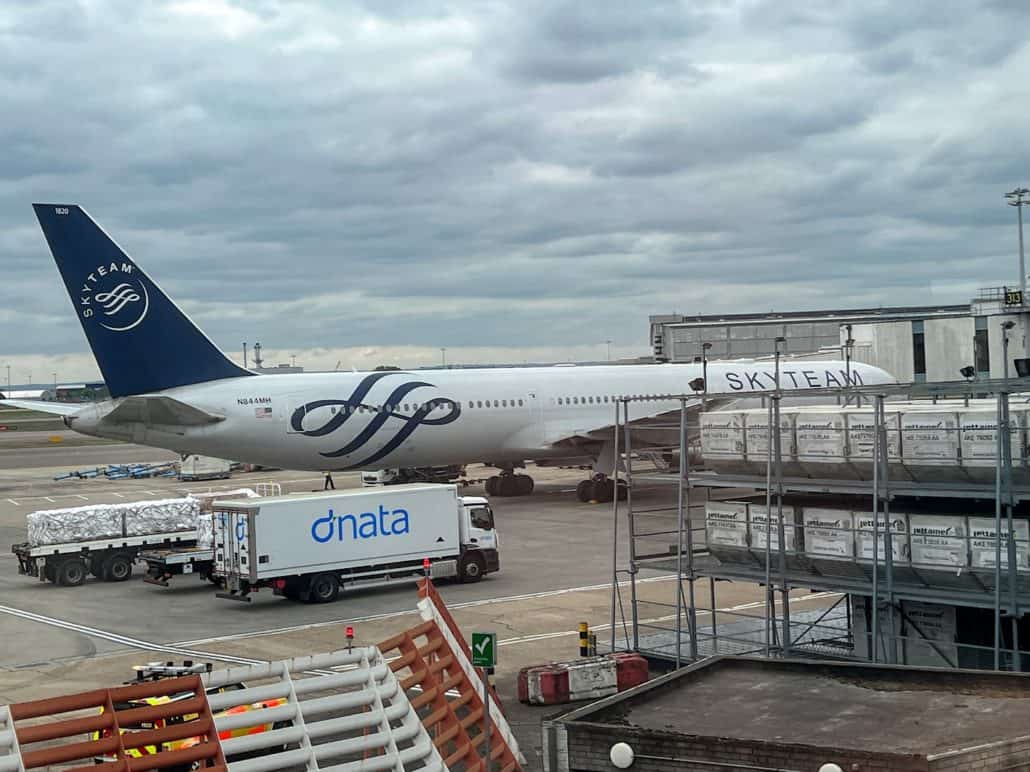 This was my first time ever being in the UK so I didn't know what to expect as far as embarkation. You always wonder if a foreign port might do things differently, but I'm happy to report everything was basically the same as back home.
It was a quick, painless process, and within a few minutes, we were heading up the gangway, ready to explore. Just make sure you complete ALL of your paperwork before arriving at the cruise pier. Otherwise, it won't be so seamless.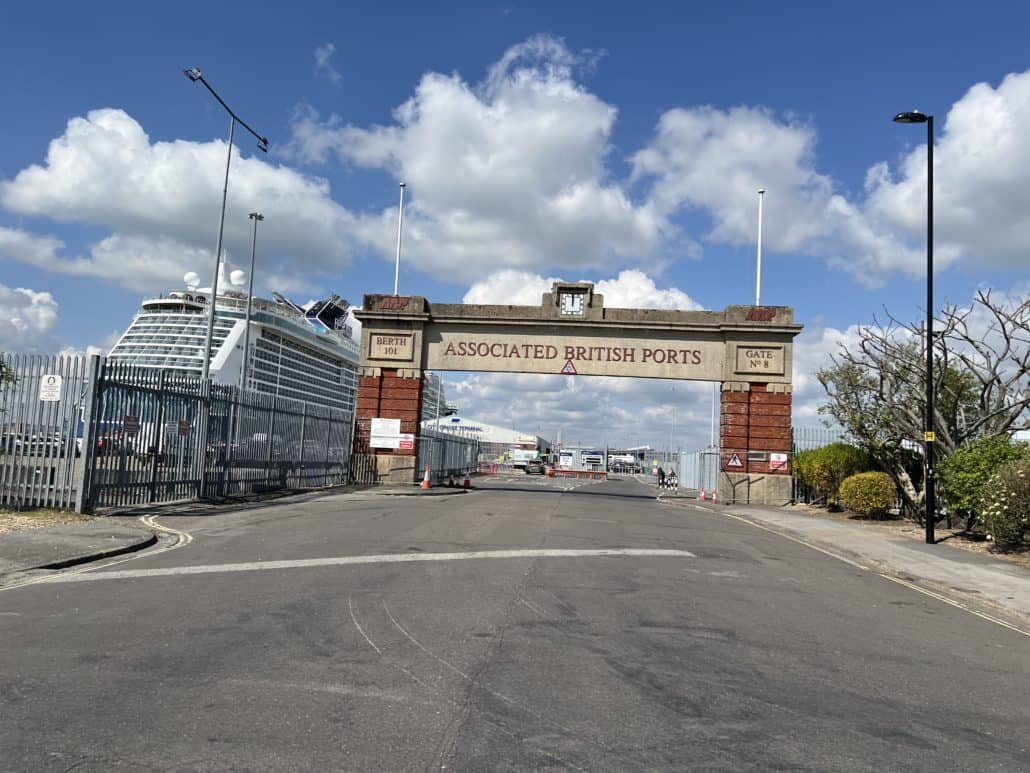 First Impressions of Celebrity Beyond
We entered the ship on deck five, walking directly into the Grand Atrium. As on the previous two ships in the class, this is a beautiful, impressive space.
Beyond's version was both familiar and slightly different at the exact same time thanks to a more spacious and open design.
Of course, the huge chandelier remains, and the popular bar where bartenders serve drinks and, on a pretty regular basis, a show. Proving herself to be the coolest captain at sea, Beyond's Captain Kate McCue even stopped by to get behind the bar and show off some mad mixology skills.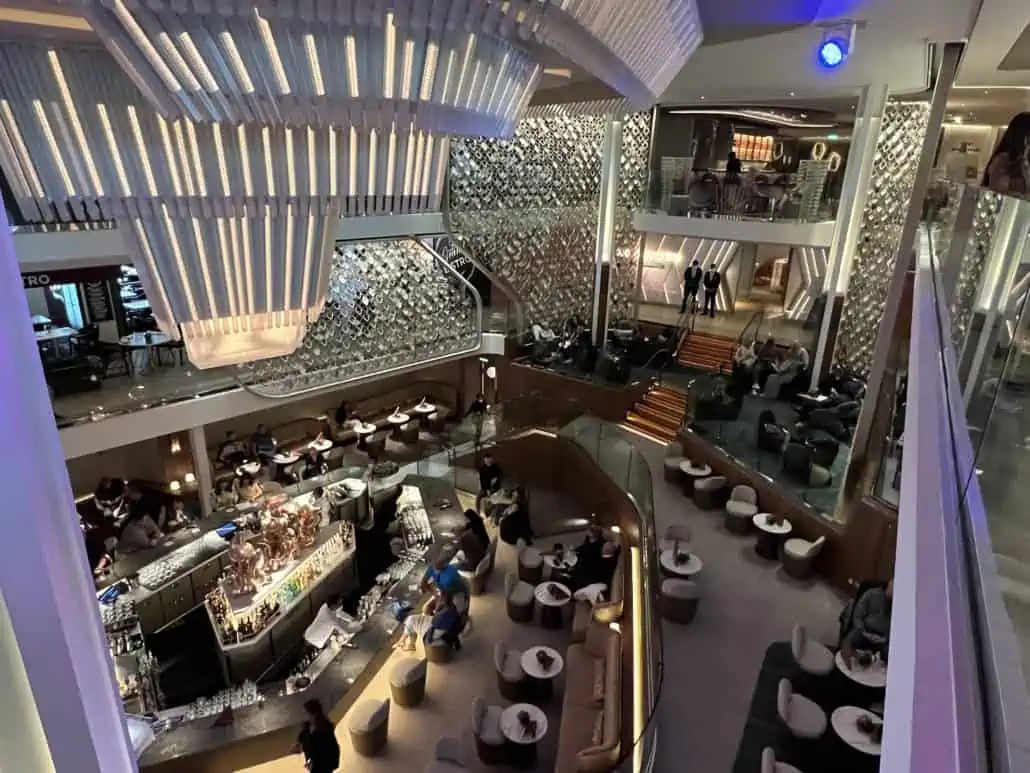 It's not just the atrium that's expanded. As I wandered around the ship, I kept thinking to myself, "There's so much space!"
To be fair, we were only sailing at around 50 percent capacity, but it was pretty easy to tell that even full, there would be more personal space in the various public areas than cruisers might typically be used to.
The first thing we did was head to the stateroom to drop off our bags. Our stateroom was one of the much-discussed (and sometimes debated) infinite veranda (balcony) cabins.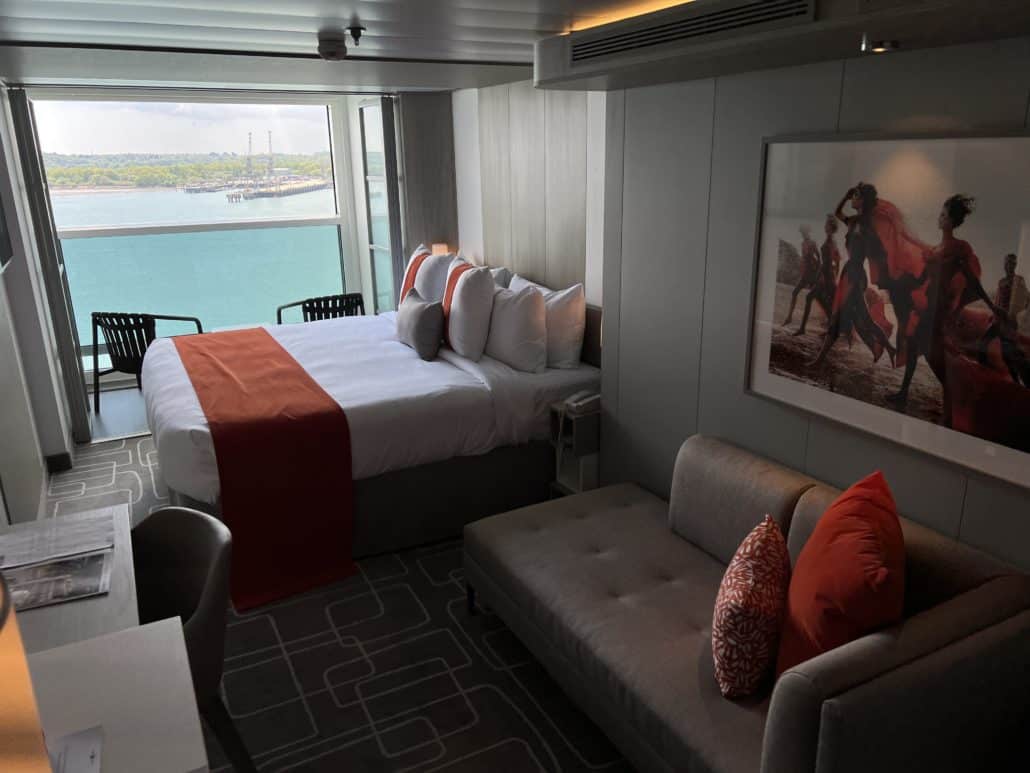 There's plenty of storage space, the bathroom is a decent size (and has a shower with a glass door as opposed to a dreaded shower curtain), and — as with the previous ships in this class — there's a lot of technology on display.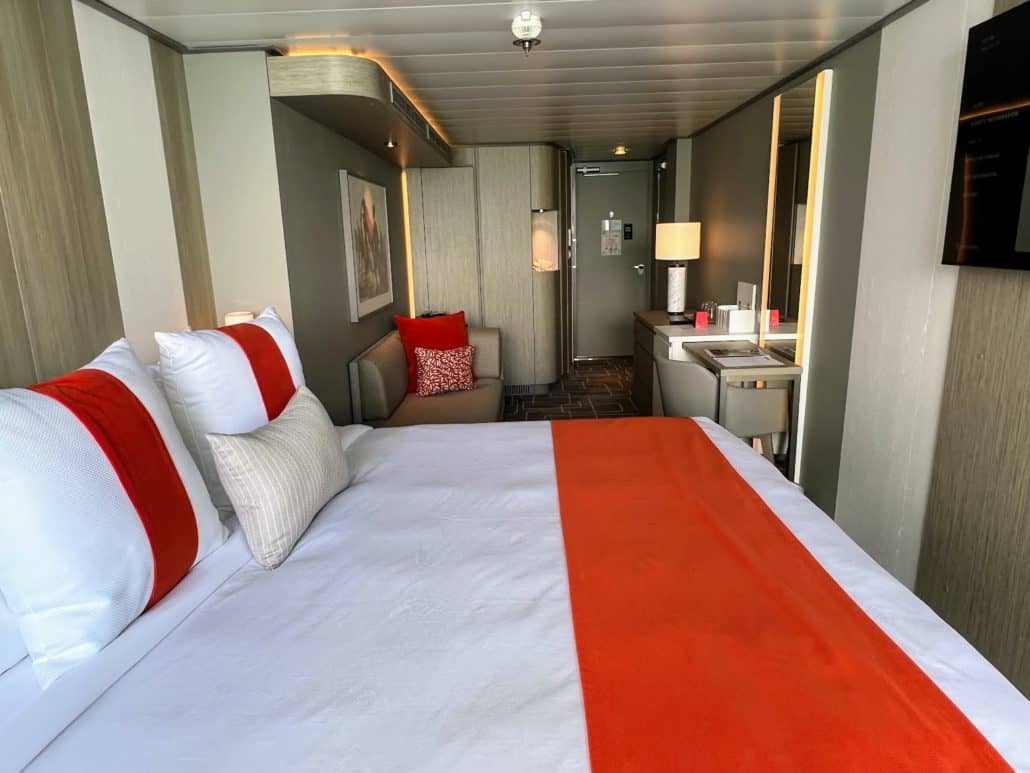 Touch a button on the digital panel and the veranda window opens, another will bring down a blackout curtain, and a third will allow you to adjust the lights. And as is becoming the norm with cruise lines, almost all of this can be done via the Celebrity smartphone app.
So Much Food, So Little Time
This being a preview cruise, we only had two days onboard… meaning there was absolutely no way we'd get to experience everything.
To power up, we headed straight to the Oceanview Cafe to grab a bite to eat. At this buffet, they are (as of this writing, at least) still having the crew members serve guests as opposed to allowing self-service. I know there are people who absolutely hate this, but I'm a big advocate of having the crew serve the food. I truly believe it helps cut down on the amount of waste.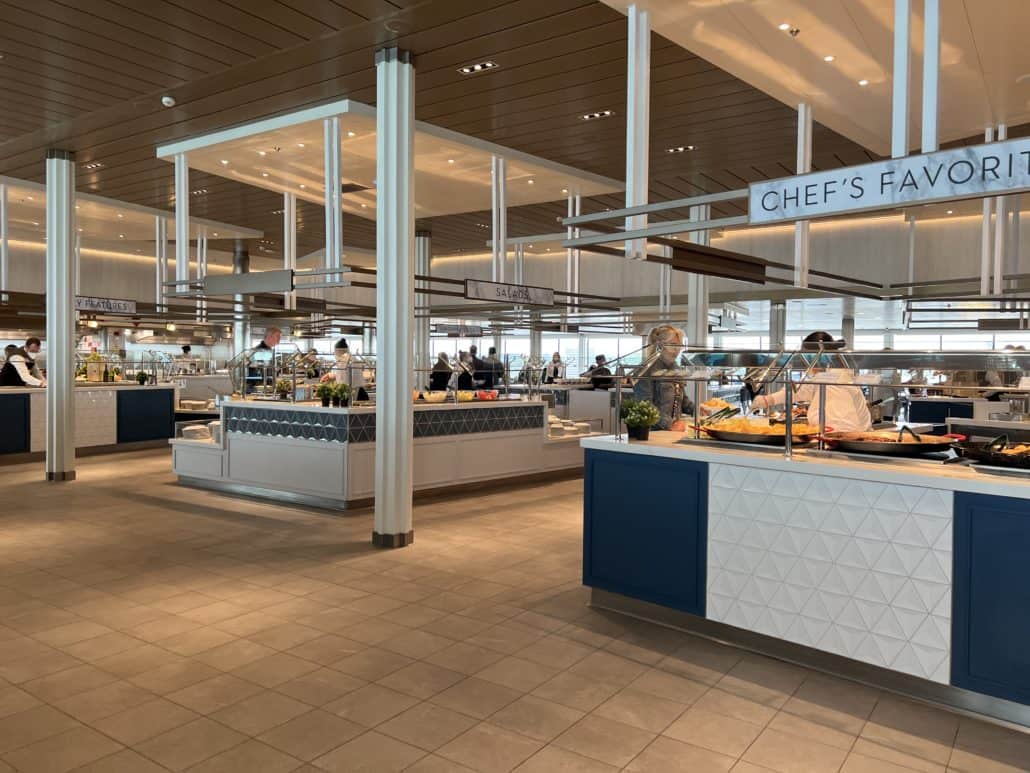 On a recent sailing, I watched a guest create a literal mountain of mashed potatoes on their plate while laughing that they were "getting their money's worth" out of this cruise.
Out of curiosity, I watched from a distance as they sat down, took a few bites — and of course the requisite Instagram pic — and then walked away.
Both the presentation and food quality were very solid and we didn't have a bad meal the entire time eating in there.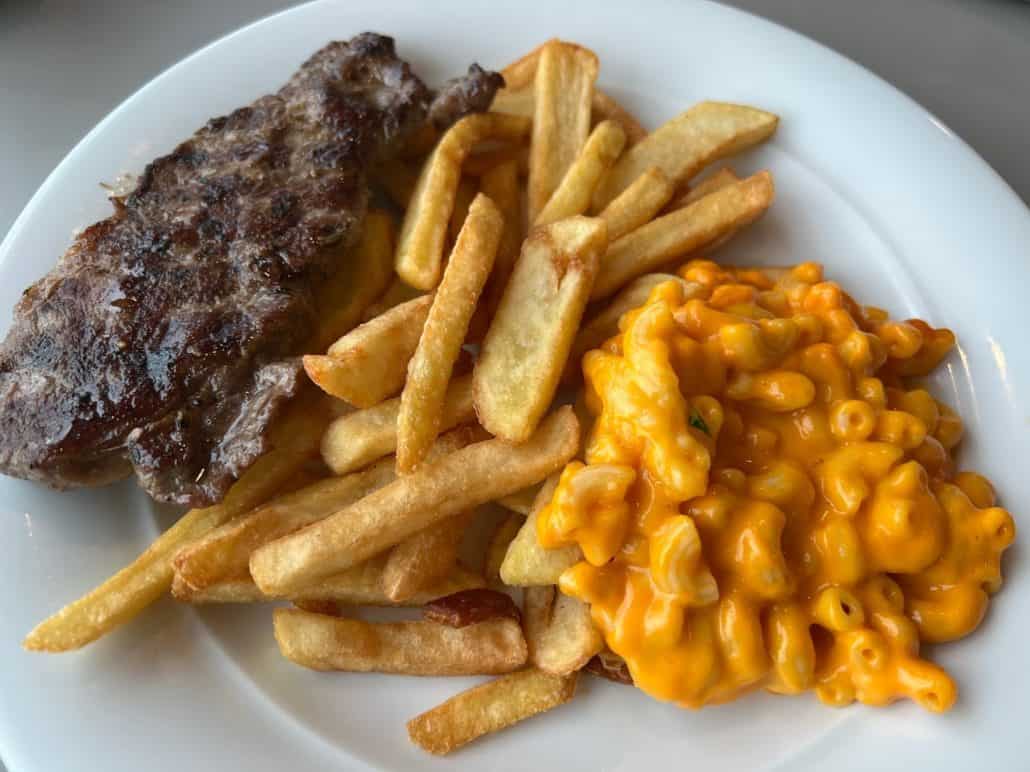 Our sailing is a little chilly, but while sailing in the Caribbean the aft patio of the Ocean Cafe is going to be very popular. Something else that is noticeable is that because the jogging track is two decks, it allows the port side of the buffet area to have high ceilings and floor-to-roof windows.
Return to Eden
The production in the main theater was called Elements and, as the name implies, it used a combination of music, lights, and acrobatics to bring the essential five elements — earth, fire, air, water, and space — to life.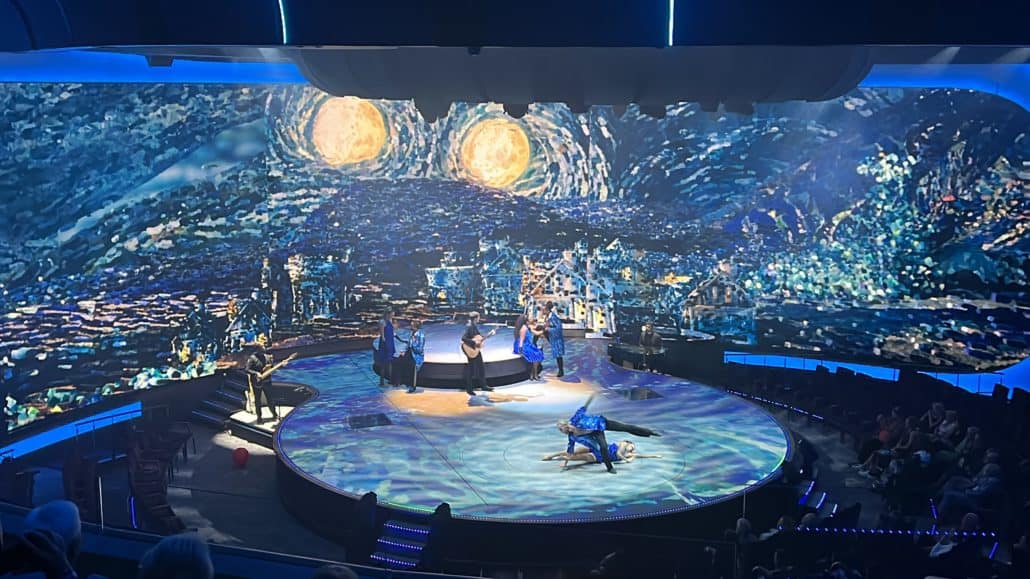 Regular readers know I'm not much for shows, but this was pretty captivating… or at least the 15 minutes I caught were. Then I ducked out to head to Eden for that venue's production show.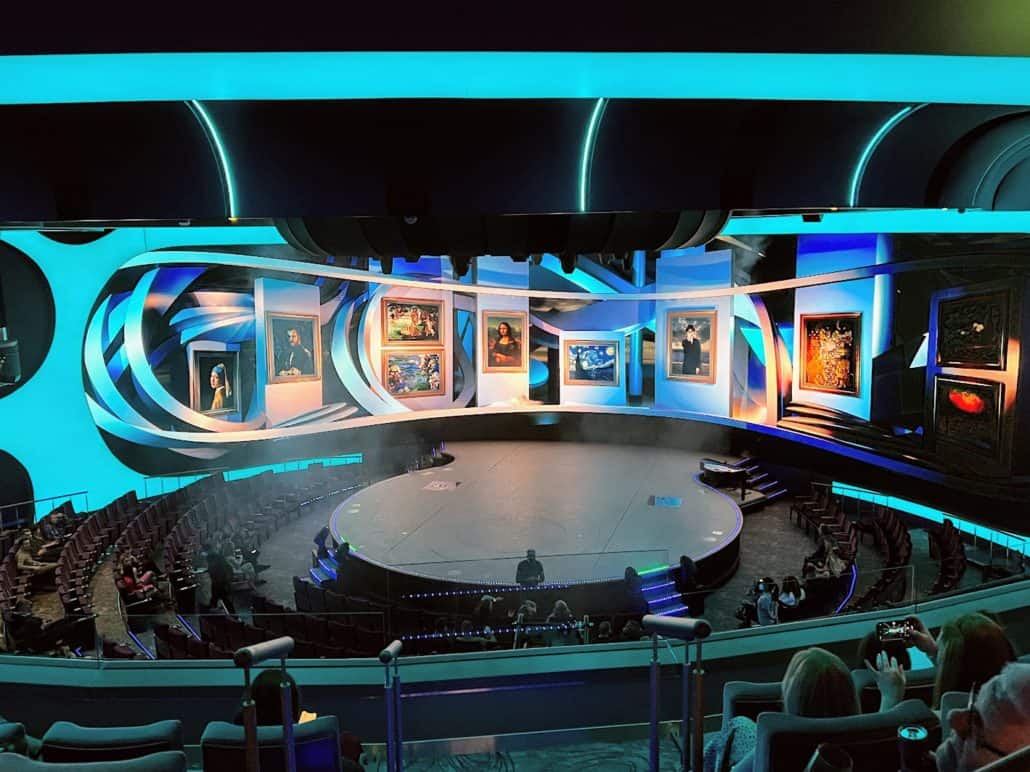 The first time I experienced Eden was on Celebrity Edge when first that ship was introduced, and I'll be honest: It wasn't really my thing. It was certainly interesting, using music, lights, and actors playing Eden's residents to craft a dreamlike state.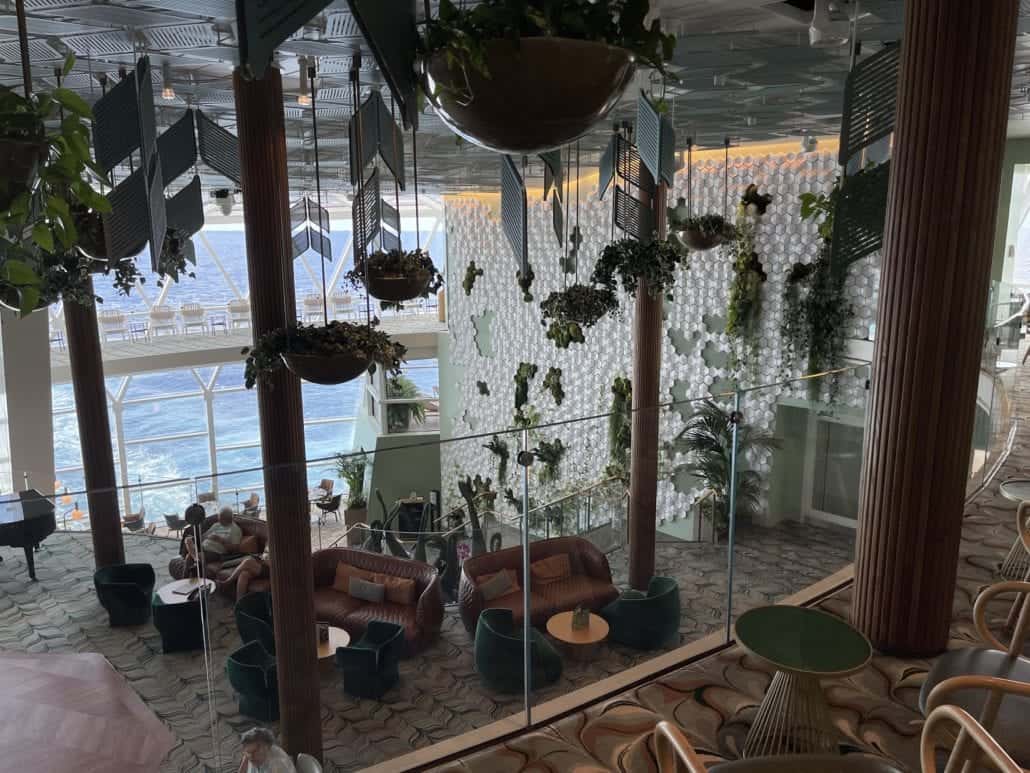 For me — and, it would turn out, a lot of others — the whole thing was a little too interactive. Honestly? It kinda freaked me out! Eventually, Celebrity went back to the drawing board, did some tweaking and, in essence, relaunched the experience.
Now, what you experience in Eden is a bit more toned down and less interactive. As I'm sure was the goal, it's still different from what you'll find on any other cruise ship, but it's at least a little bit more accessible. There was a talented singer who kept everyone on their feet as he mixed and mingled while singing Queen and other party anthems. This was a version of Eden I could totally get into.
Karaoke with a Twist
After the Eden performance, I went to check out The Club. This is a multi-purpose venue in which they put on a variety of shows, and tonight it was karaoke time. I fully admit to loving karaoke on a cruise ship because it's usually a mix of really good, non-professional singers and… well, people who are having a blast, but couldn't carry a tune in a bucket.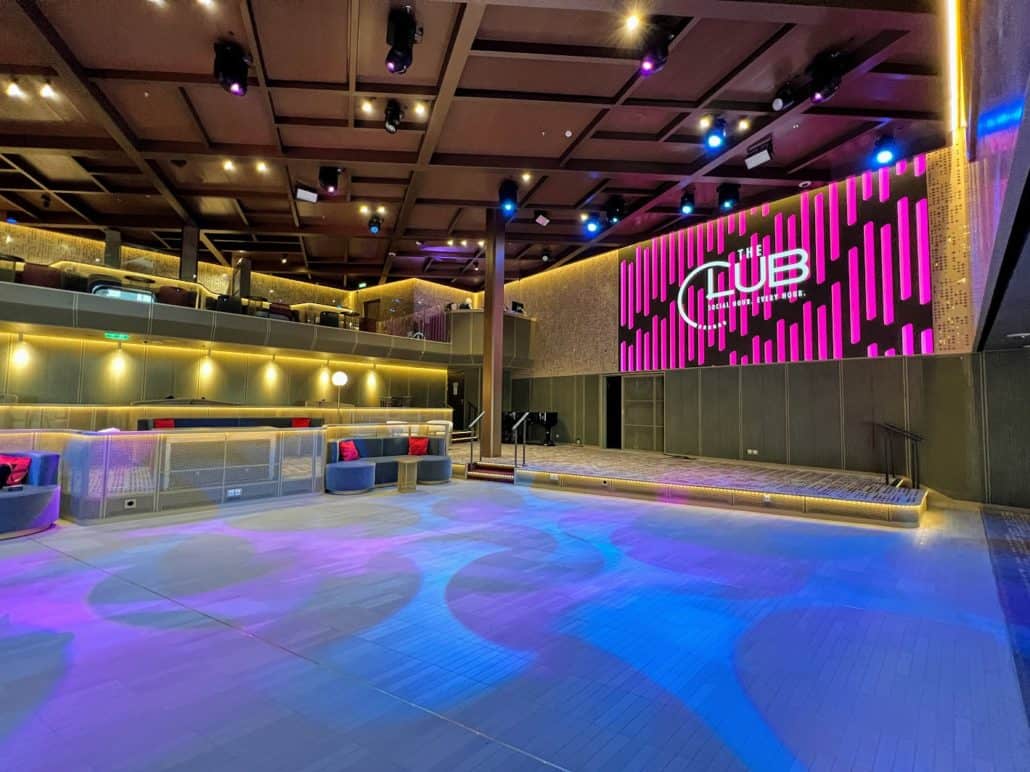 What's fun about this venue's karaoke is that instead of performing to pre-recorded tracks, there's a live band and backup singers lending support to those brave enough to get up there. Not only is this probably a better experience for the audience, but singers get to feel like they're part of a real band, at least for however long it takes them to belt out Pat Benatar's "Hit Me With Your Best Shot."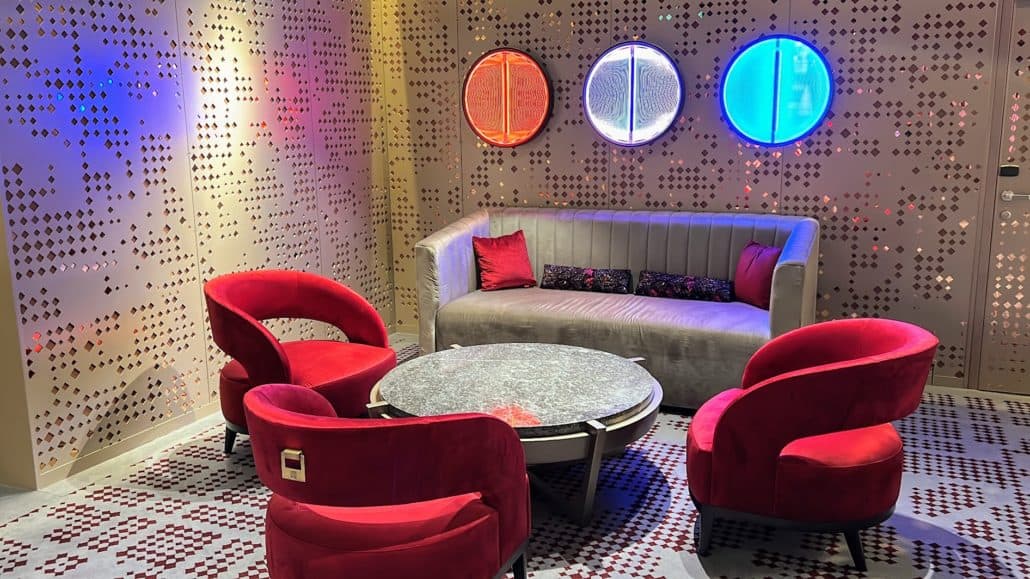 Carnival did a version of this called Superstar Karaoke for a while, but it was discontinued after a few years. Norwegian also did something similar on several of their ships, although I didn't notice it being offered the last time I cruised with them. Anyway, I'm glad to see it being offered here, because it's fun and — like so many other things you'll find on this ship — just a little bit different than what others are offering.
I wanted to check out a few other places before calling it a night so we swung through the casino to see if they had the claw machines I'm a total sucker for, but I couldn't find any. One thing I love about Celebrity's casino is that it is non-smoking.
Yes, I heard some grousing from people who didn't know this before boarding. But aside from a few designated outdoor areas, the entire ship is a no-smoking zone.
The martini bar in the atrium was still going strong around midnight, so I decided to take a walk on the pool deck and score some pizza before bed. Celebrity has solid cruise ship pizza and it's open late. Of course, if we're being honest, pretty much any pizza is going to taste good if it's after midnight and you've got the munchies.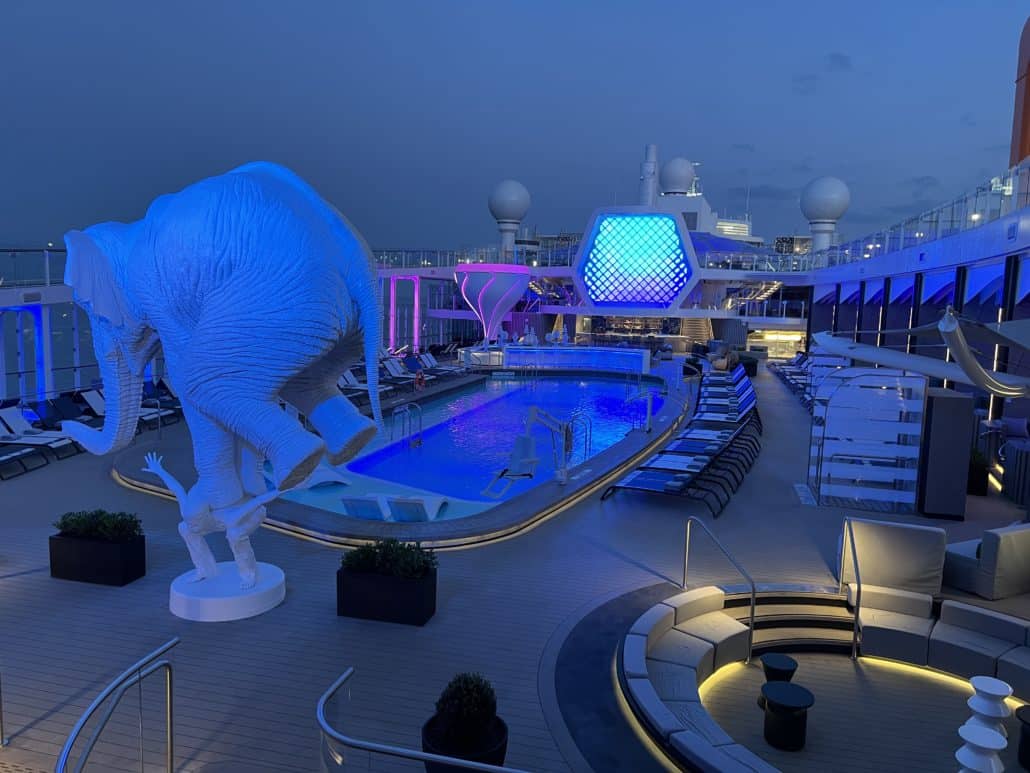 Listener Question: Our last cruise was on the Celebrity Edge in 2019. I know that since the return to service, a lot of cruise lines have changed their muster drill process. How is Celebrity doing theirs? — Debbie, Kansas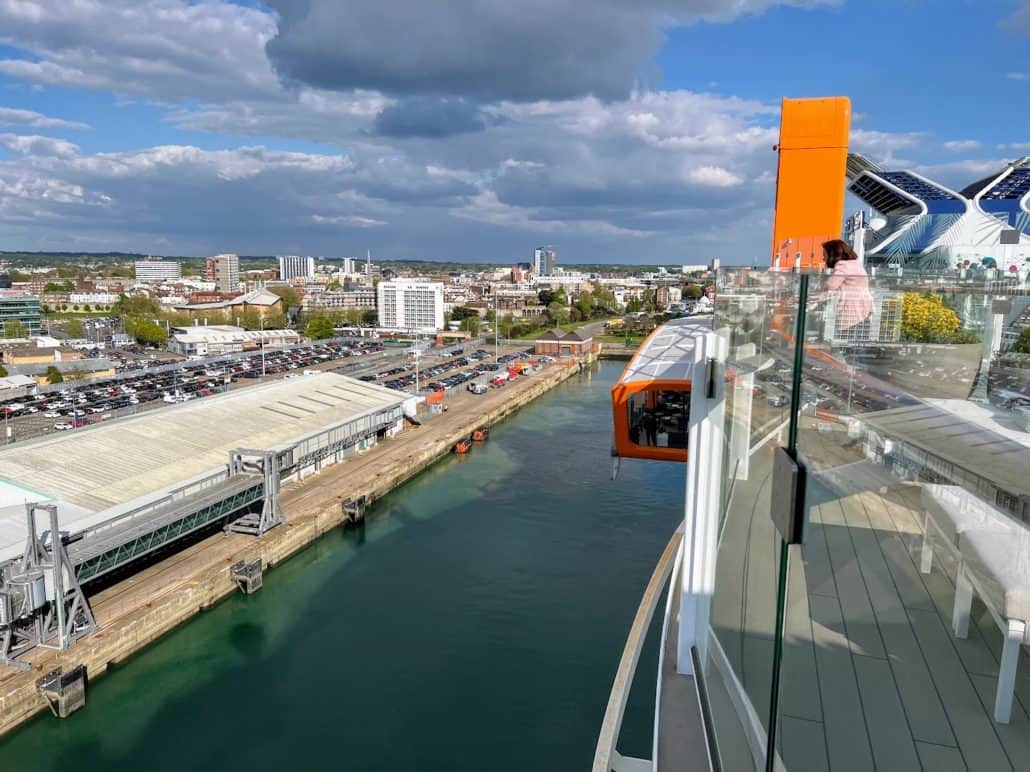 Our Answer: After receiving approval from the Coast Guard, all of the cruise lines wound up rolling out new, easier muster drills.
And while there are some differences from line to line, they're generally the same.
At Celebrity, you watch a short video on their app or the TV in your stateroom, then head to your muster station in order to do a quick check-in. Obviously, it's a very streamlined process that has proven extremely popular with passengers!
There's a five-hour time difference between Florida and the UK, and it's safe to say that at this point, it was kicking my butt. So it was time to roll down the blackout curtain and catch some sleep.
After all, there was still a whole lot of ship to explore in the morning!
Check out day 2 of my Celebrity Beyond trip report: So Much Ship, So Little Time.