It's been nearly a year since the last patty sizzled on a Guy's Burger Joint grill aboard a Carnival Cruise Line ship.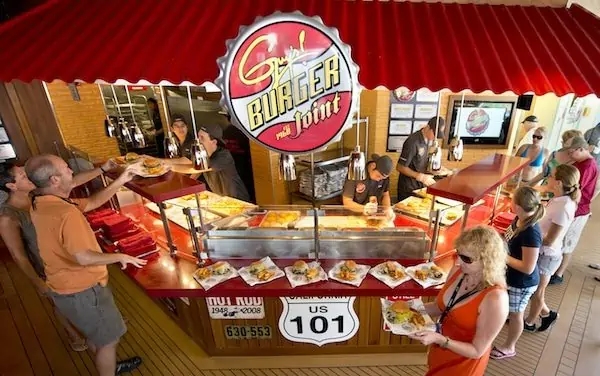 Whether you were a Plain Jane, preferred life Straight Up, or liked to think of yourself as a Ringer, there was a Guy's Burger for every cruiser. And while GBW (Guy's Burger Withdrawal) is not the worst manifestation to result from the extended pause in cruising, it still takes its toll on stomachs that grew accustomed to multiple trips to the 'little burger stand that could' on the Lido deck each and every cruise.
But at last, there's hope! While Carnival still hasn't announced a return to sailing, it's now possible to get a Guy's Burger delivered right to your door in many parts of the United States.
You're probably asking yourself: "How is this possible? Do the burgers rise to the challenge?" And most importantly, "how can I order mine?"
Guy's Ghost (Kitchen) is in an Italian Restaurant Near You
Several years ago, Guy Fieri partnered with Robert Earl, the restaurateur known for creating the popular Planet Hollywood and Earl of Sandwich chains, to spice up the burger and sandwich menu at Planet Hollywood. The partnership grew in 2018 to include Chicken Guy!, a chain of fast-casual restaurants that serve chicken fingers and sandwiches accompanied by Fieri's famous dipping sauces.


Now, Fieri and Earl have yet another creation — Guy Fieri's Flavortown Kitchen. But the twist is, there are no physical restaurants… you can't walk in and order a burger. Flavortown Kitchen is delivery only, bringing the good stuff right to your door via food delivery apps.
So, where does the food come from? Flavortown is a "ghost kitchen," operating out of several Italian restaurant concepts owned by Earl, including Buca di Beppo, Brio/Bravo, and Bertucci's.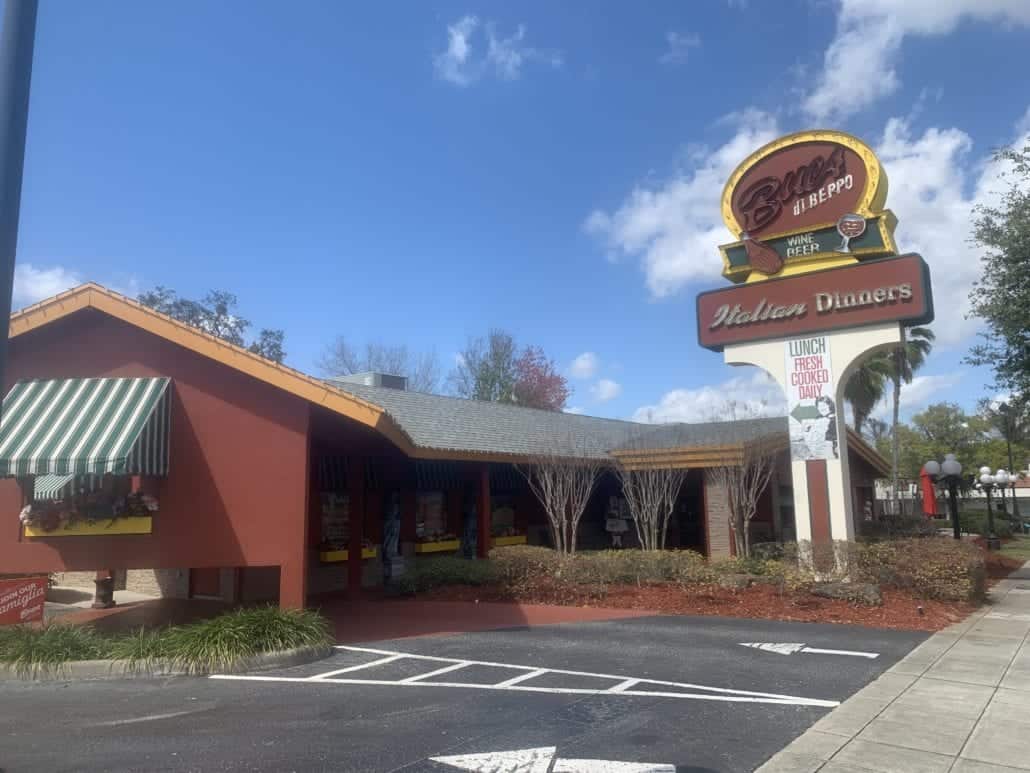 This strategy has allowed Flavortown to launch with an impressive 121 locations across 25 states and the District of Columbia, and it maximizes use of restaurant kitchens, where business has been impacted by the pandemic and the resulting lack of demand for in-restaurant dining. So, Flavortown Kitchen not only brings Fieri's food within reach of hundreds of thousands (if not millions) of hungry diners, but it also gives a critical lifeline to restaurants weathering a historic downturn in business.
Does Guy's Burger Joint Deliver?
Flavortown Kitchen offers a full menu of Guy's signature dishes, including Cajun Chicken Alfredo, Chicken Parm-eroni, the Crazy Cuban Sandwich, Jalapeño Pig Poppers, Mac Daddy Mac & Cheese, and even the Chicken Guy! Classic Sandwich. But we know you're most interested in the burger — and how it stacks up to Guy's Burger Joint on your favorite Carnival ship.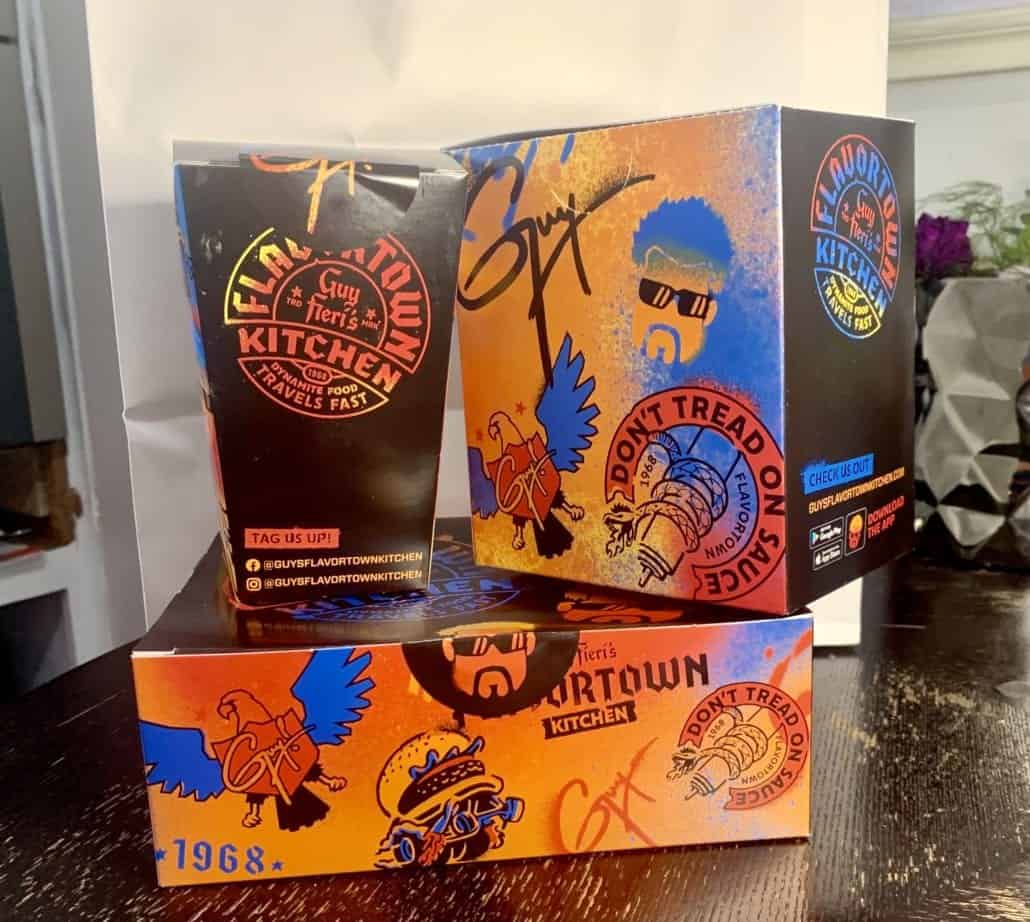 There's three burgers on the Flavortown Kitchen Menu: The Real Cheezy Burger, the Bacon Mac N Cheese Burger, and Morgan's Veggie Burger.
We tried the Real Cheezy Burger, which is, for all intents and purposes, a clone of the Straight Up from Carnival's Burger Joint: 80/20 Ground Beef, SMC (Super Melty Cheese), LTOP (Lettuce, Tomato, Onion and Pickle), and Donkey Sauce — all on a buttered brioche bun.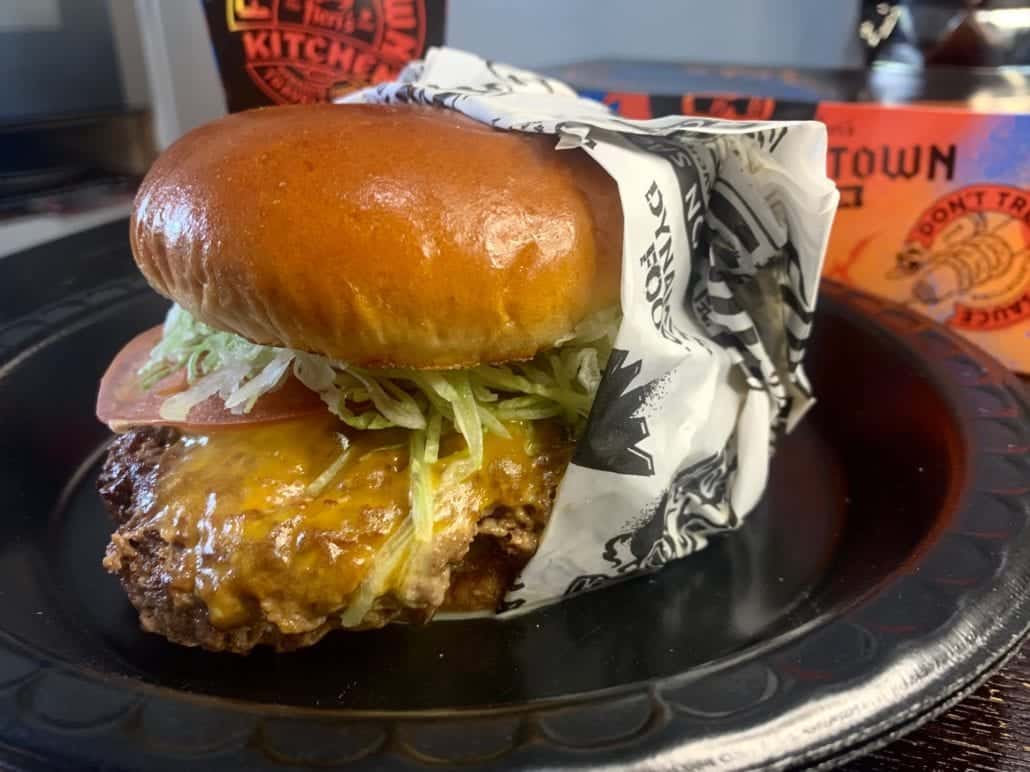 We also ordered Flavortown Fries and Bourbon Brown Sugar BBQ wings to round out the meal.
When we opened the box containing the burger, that unmistakable aroma hit our nose and brought us back, however briefly, to the Lido deck. Thanks to the scent of perfectly cooked beef, melted cheese, and the garlic-tinged essence of Donkey Sauce, we could almost hear children splashing in the pool and feel the unmistakable, warm Caribbean breeze on our face.
The burger was hefty — it felt much more substantial than our last Straight Up on Carnival; but for $11.99, you expect a filling meal. They didn't skimp on the Donkey Sauce… Guy's famous garlic aioli was dripping from the burger and onto the plate and our fingers. The burger patty was so large it over-hung one side of the bun with a generous serving of LTOP on top.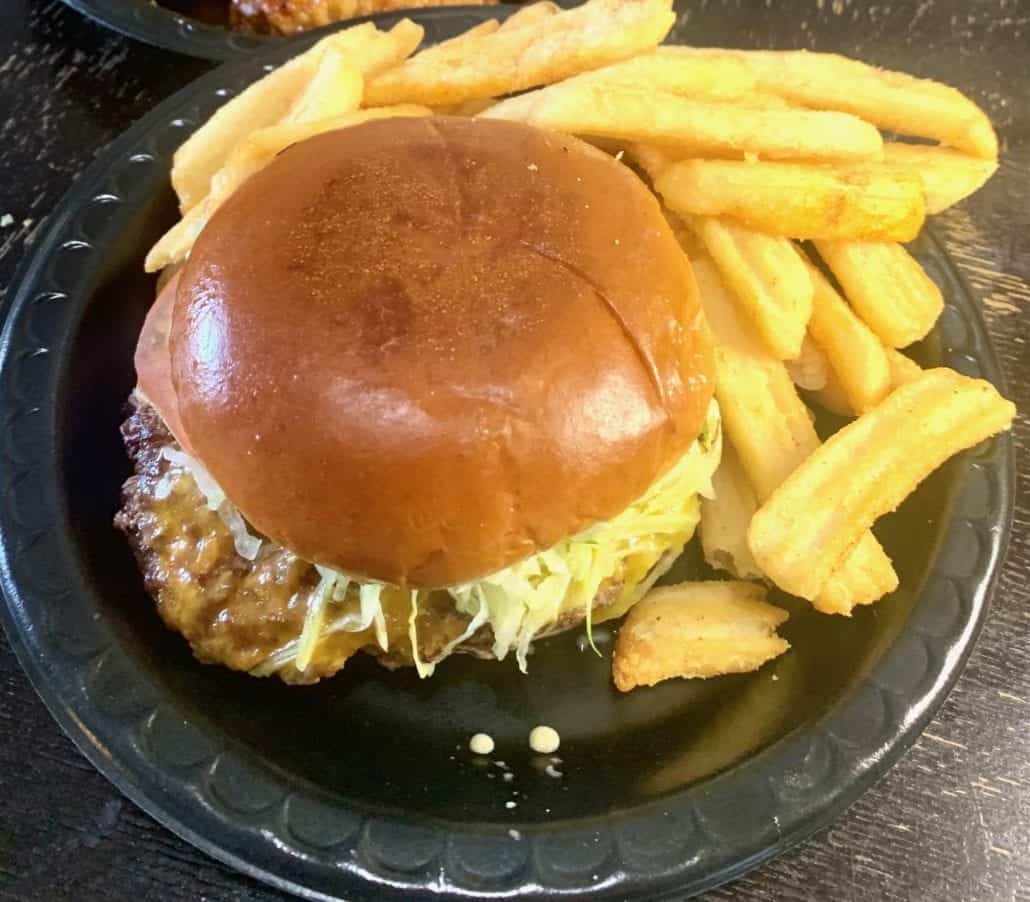 We bit in, and there was no doubt we were eating a Guy's burger. That flavorful beef, the Guy's seasoning, and especially the savory taste of the Donkey Sauce told us this was the real deal. The garlic-buttered brioche bun seemed to be an upgrade from the buns served at the Burger Joint, and it really added to both the flavor profile and heft of the sandwich.
MORE: Carnival Reveals Guy's Secret Burger Recipe
Not Only Burgers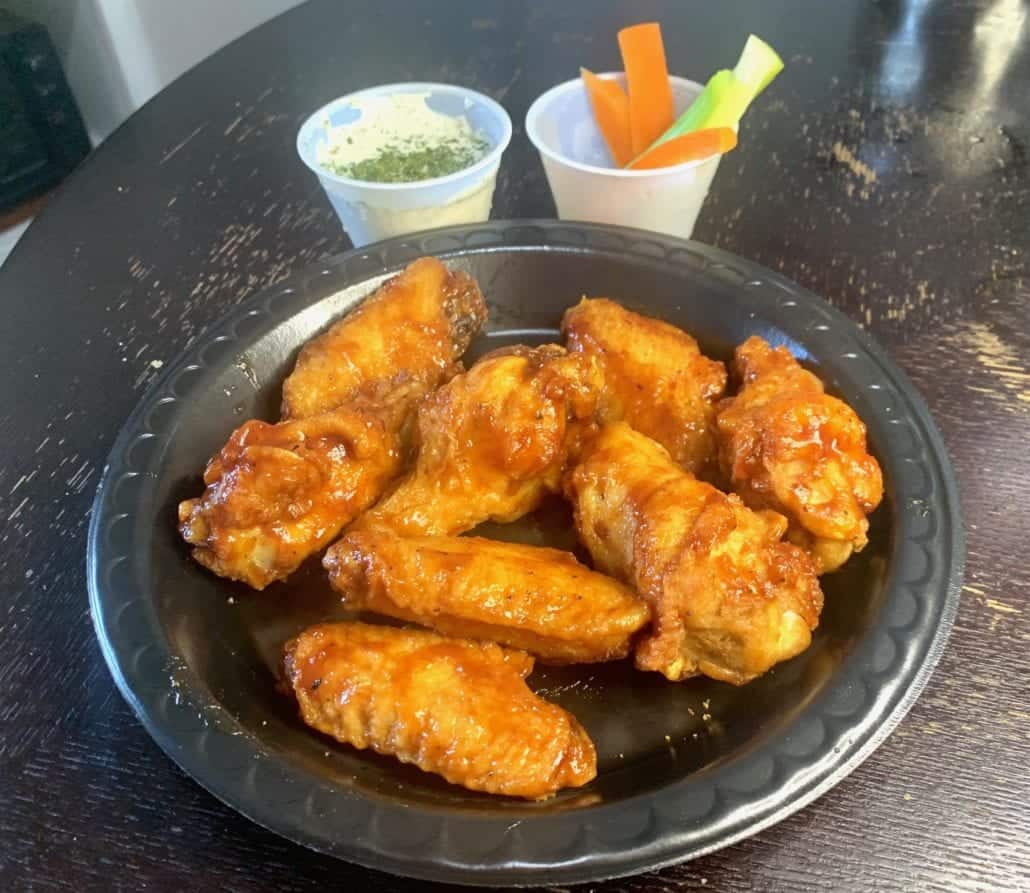 The Bourbon Brown Sugar BBQ Wings are billed as a Shareable, able to feed two people, and the portion was 8 wings for $13.99. They came with blue cheese, carrot sticks, and celery. Guy's Bourbon Brown Sugar BBQ sauce makes an excellent wing sauce — perfectly sweet but not too sugary. They were very reminiscent of the Nothing Butta Chicken Wing served at Guy's Pig and Anchor Smokehouse | Brewhouse on Carnival Horizon and Carnival Panorama.
The wings themselves were about average size, with plenty of meat on the bone. While they were delicious, they seemed a bit overpriced at $13.99, or $1.75/wing, and a serving of 8 would be barely adequate for two hungry people unless it was used as an appetizer.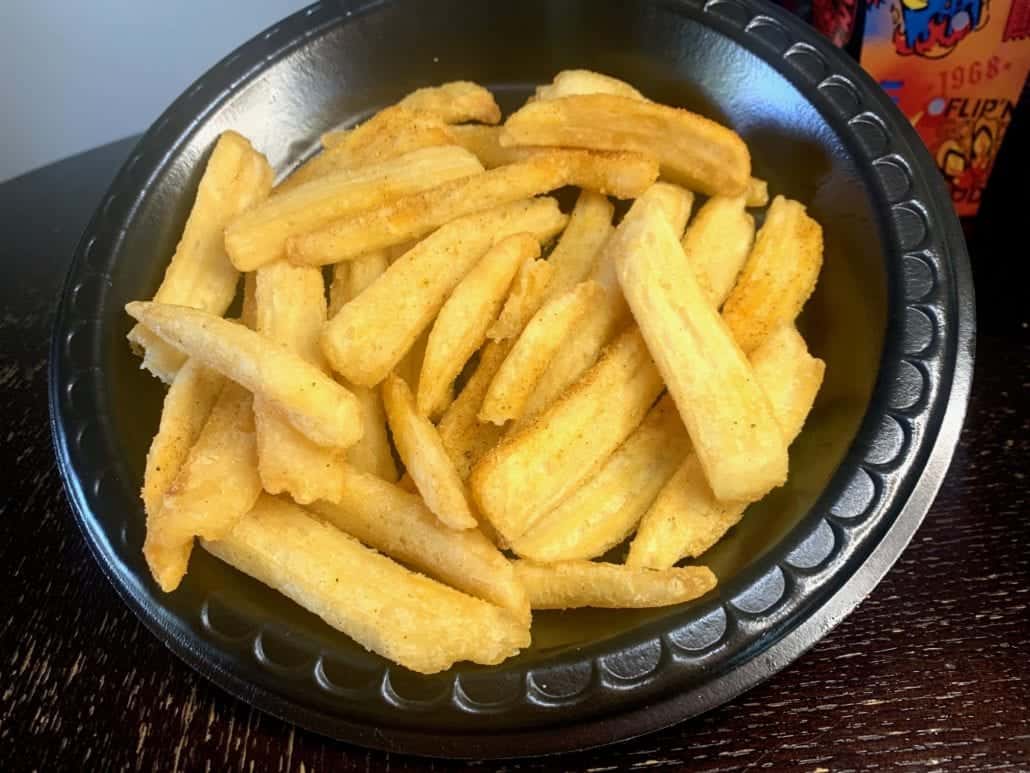 The Flavortown Fries ($4.99 for a single serving) are different from the spuds served at Guy's Burger Joint on Carnival. These are thick steakhouse-style fries, but with ridges and cooked to crispy perfection. The seasoning is similar to what you'll find on the ship, but it seemed a bit less intense. They were a perfect complement to the burger, and it's hard to imagine enjoying one without the other.
Our meal came to $27.97 before tax, delivery fee, service fees, and driver gratuity, but after a $3 discount was applied to our order from DoorDash. A similar special was also offered for Flavortown Kitchen on UberEats.
Looking for a burger? You gotta know a Guy
So, you're sold. You want a burger, maybe some Mac Daddy Mac & Cheese and those Flavortown Fries. There are two ways to make that happen.
There is nowhere to call to place your order, and there's no signage at any of the ghost kitchens that indicate Guy has set up shop inside, so you can't walk in to get a burger. You have to order online through the Guy's Flavortown Kitchen website, or through an app like UberEats, DoorDash or GrubHub. And you can't choose to pick up your order, it has to be brought to your door by one of the delivery services.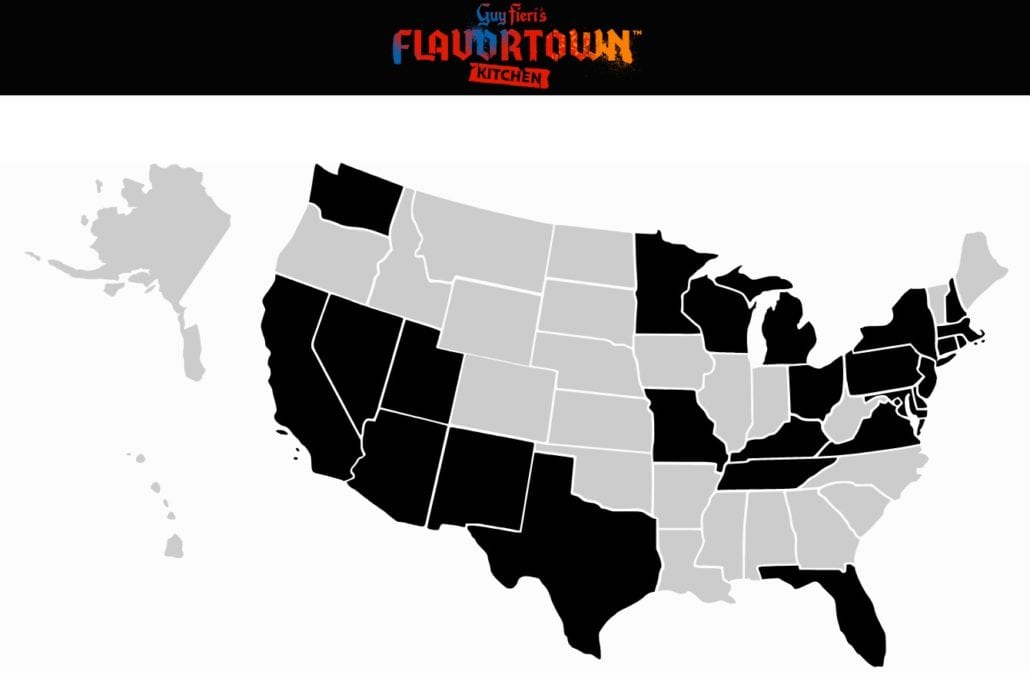 To get started, check if you're within a short drive of one of the Flavortown Kitchen locations that span 25 states and the District of Columbia. If you are, you can place your order right there on the website; you'll pay a delivery fee of around $4.99 (though that could vary by your distance from the location), and the restaurant will arrange for one of the delivery services to pick up and bring your order to you. (There are also Flavortown Kitchen apps for iPhone and Android, but we encountered a poor user experience during our test and thus don't recommend them.)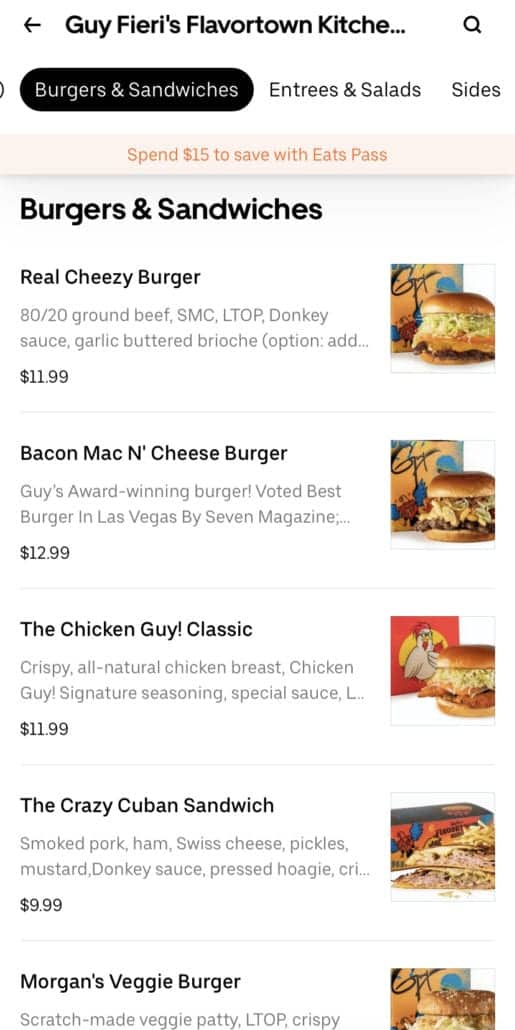 The best option is probably to try out UberEats, DoorDash, or GrubHub. The prices are the same as the Flavortown Kitchen website, but you'll likely pay a lower delivery fee; and, if you have UberPass, DashPass, or a similar membership program through one of the apps, you might not pay any delivery fee at all. Plus, you'll be able to take advantage of any special offers the app has (like the $3 off a $15 order deal we utilized).
Was it worth it?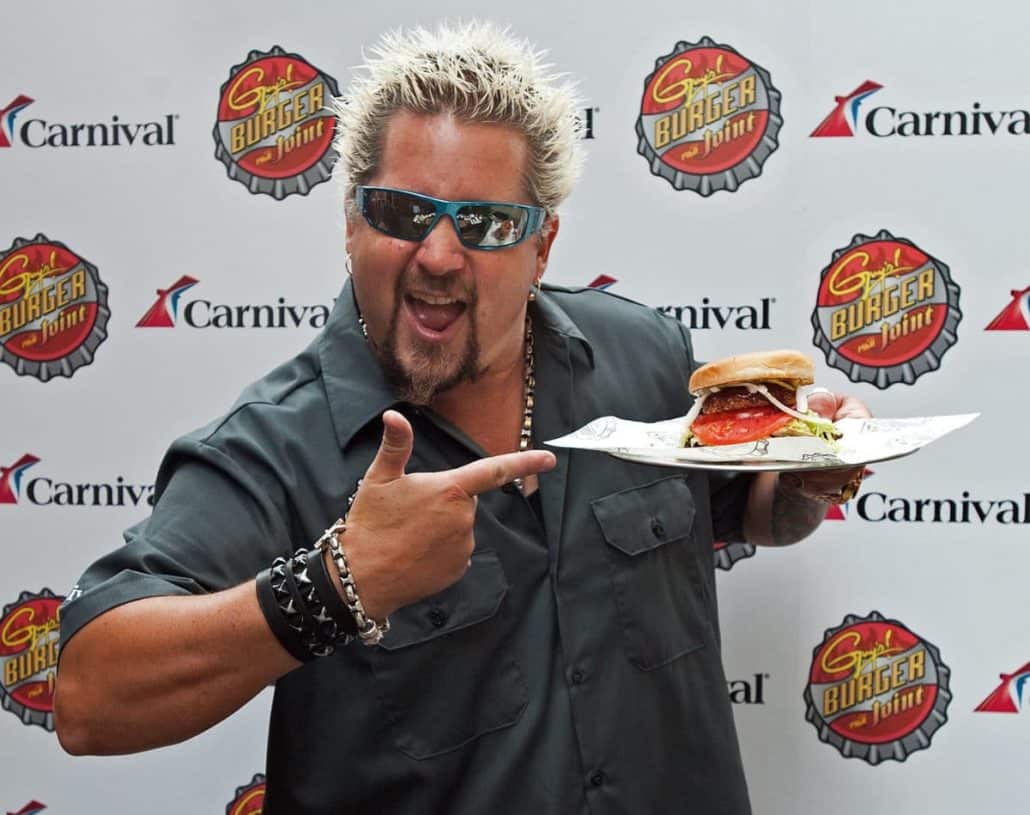 Overall, it was a satisfying experience, and the burger itself was well worth the $11.99. Would we rather be getting them at no charge on Carnival? Of course, but this is definitely a viable choice for an occasional treat while cruising isn't an option.
There's no shortage of places to get a burger in most cities across the U.S., but if you're missing cruising as much as we are, you'll likely do just about anything to feel like you're back on a ship. Sinking your teeth into a Guy's Burger is an excellent way to recreate that memory. Yeah, $30 for a burger, fries, and some wings isn't cheap, but it's still less than you paid for your last cruise. Go ahead and treat yourself. Guy would want you to.